Do you remember which phone you had before the dawn of the iPhone?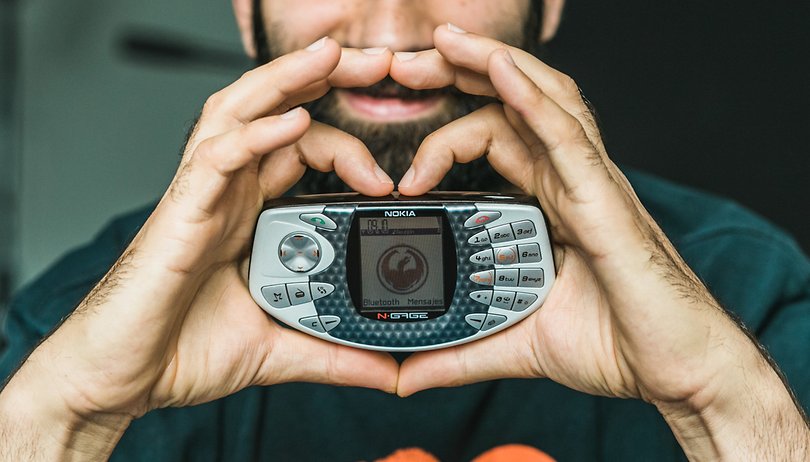 It was the first month of a what turned out to be a wild 2007, the economy was going full steam ahead, and it seemed like every day something new was being created. At the end of that first month though, something radically changed the look and experience of mobile technology forever: the iPhone. The original, the first, a smartphone that transformed the world. But what were smartphones like before then?
Nothing's changed since 2007
If you lined up every cell phone ever made, you'd see a distinct difference in the way cell phones looked in 2007 compared to phones today. There were two devices launched in that fateful January. The first was presented on January 9 by Steve Jobs, in his famous "golden path". Since 2004, Apple had been developing devices with 1000 or so employees, and they put them on the US market on June 29 of that same year. The second device was launched on January 18, the LG (KE 850) Prada, though its design had been leaked a couple of months before. It won the IF Design Award in 2007, earning the nomination in September of 2016. Obviously, there's controversy over which came first and LG has even gone so far as to sue Apple over it.
Since 2007, almost every smartphone has looked the same
From that moment on, every smartphone has basically looked the same: a large touchscreen, glass display, volume buttons on the side and maybe a button below the display. Here's a sample of some of the best smartphones in 2017. They all pretty much look the same, don't they?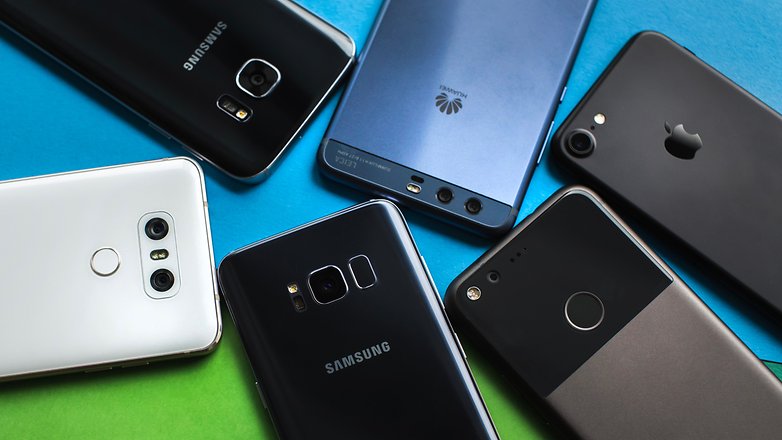 So... what smartphones were there before the iPhone?
One year before year zero
In 2006, the smartphone scene was ruled by a motley crew, the mini USB connector was king, some even had cables and weird adapters to connect them to a computer or a set of simple headphones. There weren't many touchscreens, and Blackberry-type devices with a full keyboard were everywhere. I'm talking about devices like the BlackBerry Pearl 8100, Motorola Q or Palm Treo 680.
The other extreme from these devices were Nokia, with its N93 phone which converted into more of a video camera type of device. Nokia has always been a leader in quality and innovation, but it didn't know how to look at where the future was headed.
There were others that were a bit out of the norm as well, like the HTC TyTN, which looked a lot like a second generation smartphone. It had a touchscreen, some buttons under the display, Wi-Fi, 3G a 2.8-inch display, 240 x 320 resolution, a full drop-down keyboard and it ran Windows Mobile. Well, no one's perfect. At least with Wi-Fi and 3G, it would survive in today's world.
Another device, similar to the TyTN, was the T-Mobile Sidekick 3, with its Danger OS, its own photo cloud and app store. Now we're headed in the right direction. In the end, Microsoft bought the company, and everything came to a halt. Pretty much the same thing that happened to Nokia.
The funny thing is that in 2006, every device had a physical keyboard. That was standard at the time. But hold up, had nobody thought about a virtual keyboard then? Actually, they had, and the idea had been circulating for quite a while, but honestly, at that time, displays weren't very finger friendly. The only ones that responded well to touch were capacitive screens, and at that time they were a luxury item, manufacturers couldn't afford to put them on their devices. Almost every device required a PDA-style stylus.
Many things made the iPhone great but what really made it stand out is that it took on a lot of different technologies that no one was paying attention to at the time, wisely combining them all together to solve a huge number of headaches that users were having.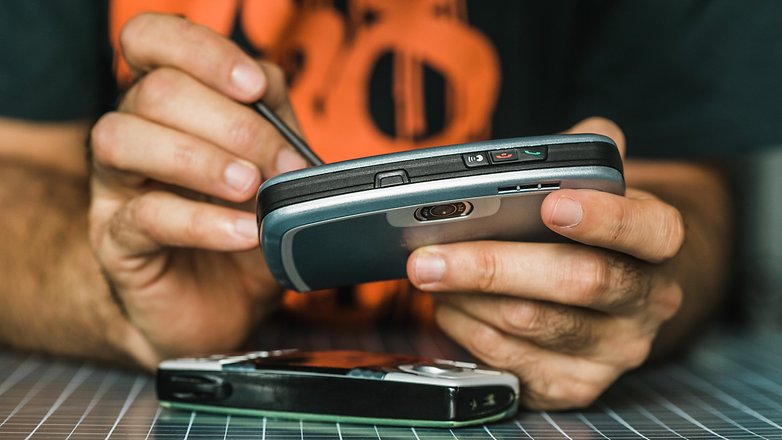 Ok, so there were smartphones before the iPhone. Then where'd it all start?
A careful evolution
Smartphones before 2007 weren't like what we have nowadays, but they could still accomplish a lot. To start with, cell phones had come equipped with a camera for years. The majority of phones between 2003 and 2007 could connect to the Internet, whether it was through mobile networks or Wi-Fi.

Plus, there were dozens of websites to find apps. The downside was that most apps weren't compatible with the majority of devices. They were dedicated to high-end phones only, and they may not have even been compatible with older versions of the same operating system. Also, each manufacturer had its own operating system, which would sometimes change between models, and updates weren't like they are today. Pretty much every model had a different version. It sounds a lot like the fragmentation that Android is dealing with today.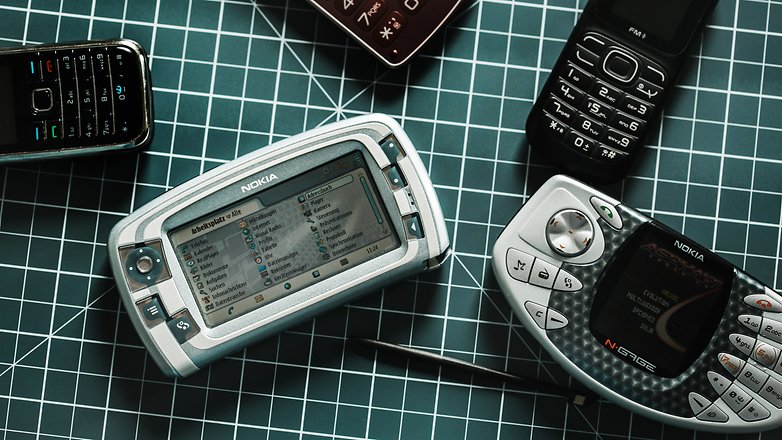 In the first few years of the 2000s, there were a lot of smart devices, but they looked a bit different than what we're used to today.
The first smartphones of the millennium
In 2004, Nokia presented its Nokia 7710, the first smartphone to come with Symbian OS v7.0 Series 90 operating system. It had Wi-Fi, touchscreen, camera, a stylus and it even supported Adobe Flash Player, something that neither Android nor iOS can claim. It was an incredibly smart device at that time. It was very efficient, but there was one glaring problem. Its design was in complete contrast to Nokia's tradition, and the idea users had of a phone at that time.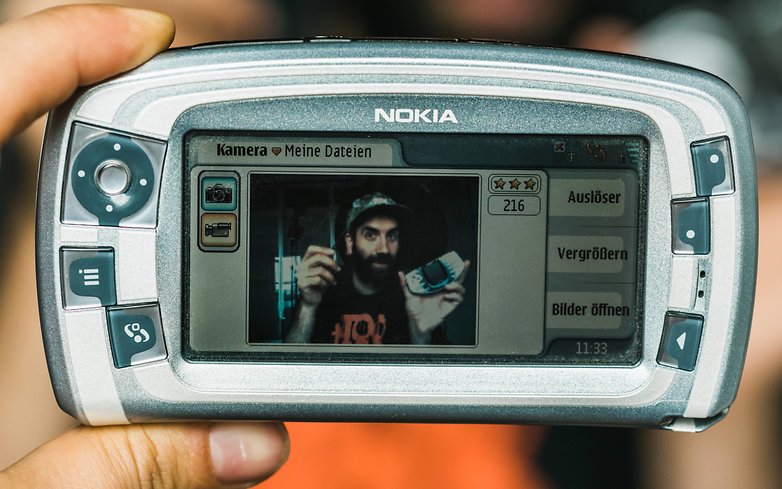 This device could also have been a reference point in smartphone history, but the brand didn't put a lot of emphasis on it, so it drowned under user biases.

Also in 2004, the Sony Ericsson P910 was launched. This phone-developing business alliance gave us a great device, and it's worth mentioning it for its retractable keyboard. It also came with handwriting recognition, and could act as a remote control for your Sony TV thanks to its infrared port.

A year before that, in 2003, Nokia launched the first portable console that was also a phone: Nokia N-Gage. This design had already been used on a few of the manufacturer's models, but it really hit its stride with this model and the subsequent model, N-GAGE QD.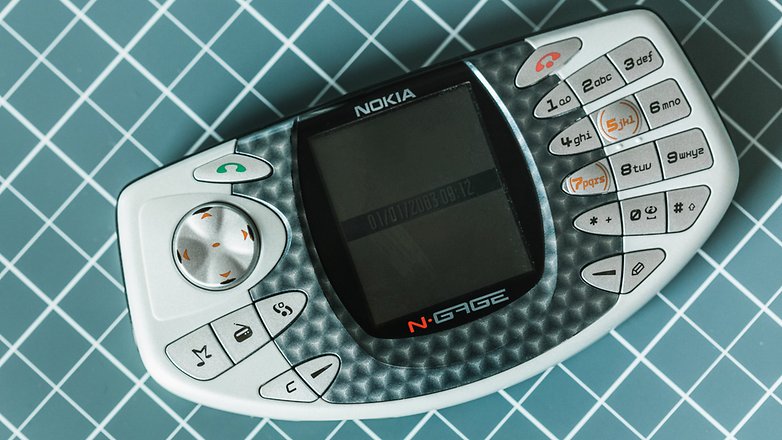 It didn't have a touch screen, but thanks to the directional pad for one finger and the number keyboard for the other, it was quite productive. It was an all-in-one device that had it all: radio, MP3 player, Java apps, video player, mini-jack, mini-USB, memory card and games. While my classmates were all carrying around an MP3 player, phone, and a Game Boy, all I needed was my N-GAGE. The only snag was that the battery only lasted me a day. Nowadays, that seems pretty standard, but in 2003 most phone batteries lasted a week. Oh! I almost forgot. If you wanted to talk to you had to hold it sideways, but I thought it was comfortable.

I was using this device well into 2008. It had everything I could ask for and, despite its appearance, I think it was at the peak of technology at the time.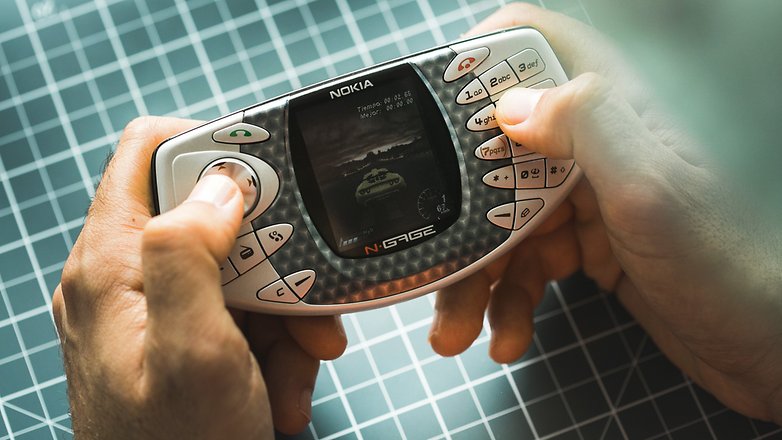 In 2003, Palm (bought by HP in 2010) launched its last phone ever with the Palm Treo 600. It was part of a series that had started in 2001 running its Palm OS operating system. This manufacturer made the jump from PDAs to smartphones with a full keyboard. The goal was to be able to write a decent email and while the device was quite comprehensive, it was pretty big and had a protruding antenna.

In 2002, the famous Canadian manufacturer launched its BlackBerry 5810. It was the first mobile device that came with GSM/GPRS technology, which basically turned a PDA into a phone, although you still had to use headphones with it.
The best phones of the 20th century
A few smartphones also came about before the turn of the century. They might not have been as smart as those from the 21st century but weren't confined to just calls and the game Snake. A few good examples are the Ericsson R380 (2000), the Nokia Connect 9110 (1998) or the Ericsson GS88 (1998). The last two were more of a mini laptop converted into a cell phone.

The first smartphone in history, which even came with a touch screen, appeared in 1994 from the minds of IBM and constructed by Mitsubishi Electric: IBM Simon. An enormous black box with a touchscreen that only responded to a stylus, but it was the most advanced thing there was for years.
Obviously, I've left out quite a lot of smartphones from before 2007, but I think it's your turn now. Do you remember your first smartphone? Tell us your story.