A DIY transparent glass back for your Galaxy S8
Authored by:
Deactivated Account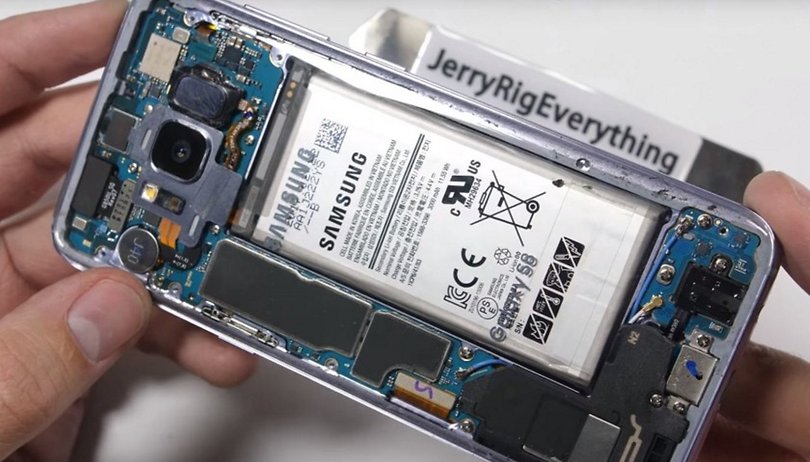 The Samsung Galaxy S8 with its curved glass and the slim bezels around its display is a real eye-catcher, no doubt about that. But, you can make it even better - that is, if you're a fan of a more transparent look.
For those of you old enough to remember, back in the day, the transparent Nintendo Gameboy was the most awesome thing to happen in the world of gaming. Now, it seems like the Galaxy S8 is following in Nintendo's footsteps - unofficially. Samsung itself doesn't offer a transparent S8, but with a little DIY and voided warranty, you can create your own. The vlogger JerryRigEverthing shows us how you can create a transparent back for the Galaxy S8, at the low, low cost of a few dollars for paint thinner.
Once the back of the Galaxy S8 (or S8+) has been removed, you'll just need to remove a few of the components that have been glued to its back. Then the paint thinner does its magic. Applied liberally, the paint thinner strips the lacquer from the glass. At this point, you can strip the underlying film from the glass. After what amounts to about five minutes of work, you're left with a transparent glass back. Interestingly (and pleasantly) enough, the Samsung logo survives the whole process.
When putting the phone back together, it's important not to forget to place the fingerprint sensor back in its original place. The cable is relatively short, so a special tool is needed to do this. When resealing the phone with adhesive, you'll have to be quick and make sure that its fits in one go - or else you'll have to remove the adhesive and try again. The downside of modifying your phone this way (and this shouldn't be a surprise) is that your Galaxy S8 won't be water and dust resistant anymore, at least not officially, and the warranty will be voided.
What do you think? Would you try this out?