Unveiling the Differences: Apple vs. Samsung Menstrual Health Features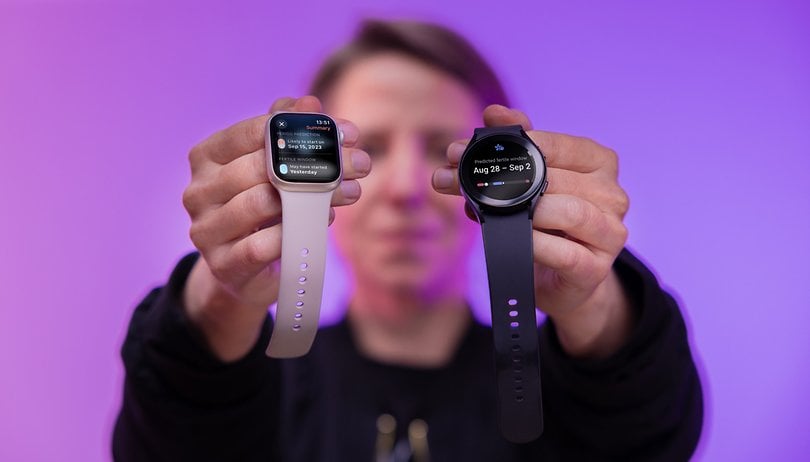 If you own an Apple or Samsung smartphone, you can easily track your menstrual cycle. But how do the menstrual health approaches of each company differ?
In my exploration of how big tech has harnessed technology to support individuals who menstruate, we arrive at the fourth article in nextpit's series on menstrual health. Having provided an in-depth overview of Apple's and Samsung's cycle tracking and ovulation estimates, we now delve into their similarities and, more importantly, the differences between them.
---
RELATED:
---
I'd also like to clarify that while Apple and Samsung are not the only smartphone manufacturers to offer cycle tracking features, they dominate in terms of market share according to Counterpoint Research in both the smartphone and wearable sectors. In the future, we'll incorporate user experiences from other brands, such as Withings, Fitbit, Garmin, Oura, and more.
Table of Contents:
Cycle tracking features: A quick comparison
Apple Cycle Tracking
Samsung Cycle Tracking
Availability

Available on iOS 13+ and watchOS 6+

Available on Galaxy phones, Galaxy watches, Android phones and Apple iPhones

Tracking Methods

Manual entry and automated detection

Health Integration

Syncs with Samsung Health

App Integration

Integrated with the Apple Health app

Integrated with the Samsung Health app

User Interface

Simple and user-friendly interface

Predictive Insights

Predicts periods and fertile windows

Cycle tracking feature

Yes, developed in partnership with Natural Cycles

Ovulation Estimate

Retrospective Ovulation (developed by Apple)

Ovulation Prediction (developed by Natural Cycles)

Notifications
Sync Across Devices

Syncs data between iPhone and Watch

Syncs data between Galaxy devices

Skin Temperature Measurements

Apple: Apple Watch Series 8 or superior; Apple Watch Ultra
Samsung: Samsung Galaxy Watch 5 (Pro) and Samsung Galaxy Watch 6 (Classic)

Basal Body Temperature
Data Collection

Menstrual flow, symptoms, fertility, skin temperature (limited to specific smartwatches' series)

Third-Party Apps

Limited third-party app integration

Privacy Focus

Emphasizes data security and privacy

Customization

Limited customization options

Compatibility

Apple iPhones
Apple Watches
Apple iPad

Samsung Galaxy smartphones
Samsung Galaxy Watches
Android devices
Apple iPhones

Accuracy

Generally accurate tracking
Cycle Tracking App
Let's begin with the Cycle Tracking feature. Both Apple's and Samsung's health platforms offer valuable information on your menstrual cycle, though there are several key differences to consider.
Apple's Health app, integrated into its ecosystem of iPhone and Apple Watch Series 4 or later, provides a comprehensive overview of menstrual health, including period predictions, symptom logging, and curated educational content.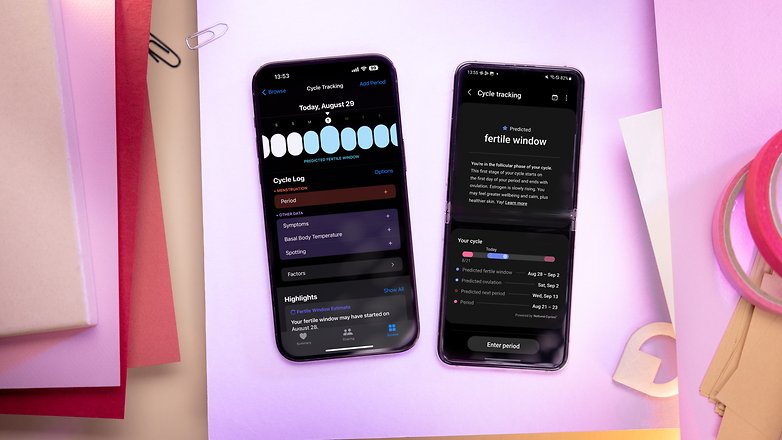 Samsung's Health app is more flexible in terms of device compatibility, as it's available not only for Galaxy smartphones but also for various Android devices and even iPhones. However, unlike Apple, which leverages data from the Apple Watch such as resting heart rate to refine its cycle predictions, Samsung's Health app primarily relies on user-input data for cycle tracking.
One unique selling point of Samsung's Health app is its partnership with Natural Cycles, a company specializing in fertility tracking. This collaboration aims to provide robust research-backed algorithms for more precise tracking and predictions.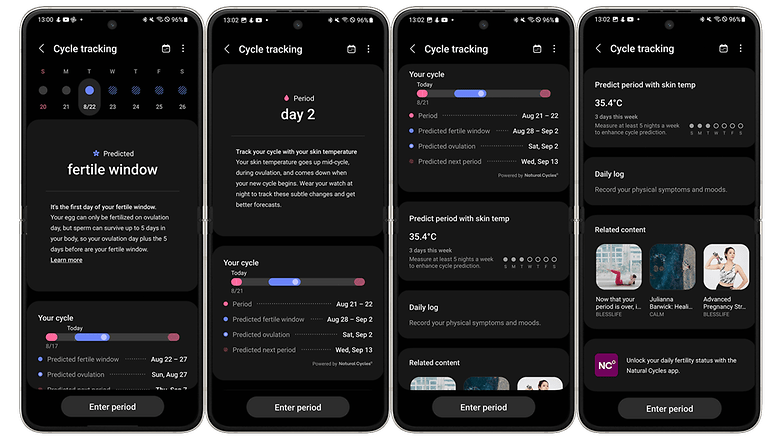 Apple, on the other hand, doesn't promote third-party cycle tracking apps within its native Health app, instead opting for its home-grown algorithms and data from wearable devices to inform its cycle predictions. However, Apple's approach is less commercial, avoiding the "pushy" marketing of third-party apps and subscriptions within its tracking feature, as noted in Samsung's platform.
Both platforms allow users to manually log symptoms and offer notifications or reminders for better tracking accuracy over time. Nonetheless, Apple appears to offer a more holistic approach to menstrual health, including educational content and information on other cycle factors such as cycle deviations.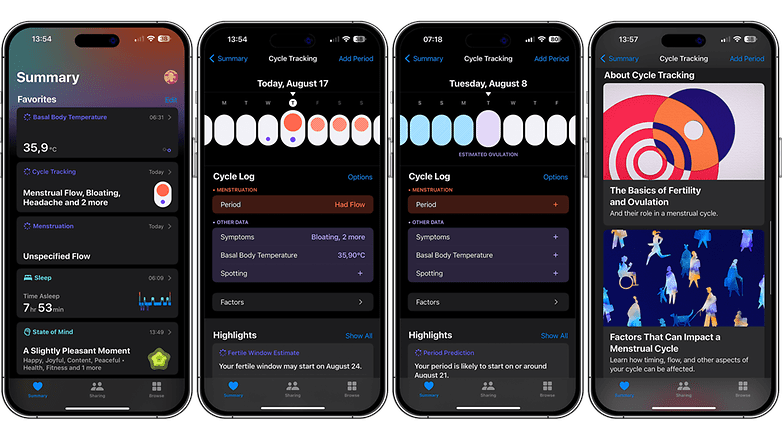 Samsung focuses more on tracking and predictions, supplemented by third-party programs on well-being, but falls short in offering in-app educational support on specific cycle-related aspects.
In conclusion, regardless of the service you choose, consulting a healthcare professional for personalized medical advice remains essential.
Ovulation estimation approach
Besides the cycle tracking feature, both Apple and Samsung have pushed the envelope of cycle tracking with their respective smartwatch models, leveraging temperature measurement techniques to offer users retrospective ovulation estimates.
The Apple Watch Series 8 (review) and Watch Ultra (review) employ an additional sensor that measures nighttime wrist temperature fluctuations. The sensor captures data to within 0.1 degrees and uses this data to estimate ovulation, enhancing period predictions in the process.
In contrast, Samsung's Galaxy Watch 5 and Watch 5 Pro (review) models utilize an infrared temperature sensor to track skin temperature changes during sleep. This data is then integrated with algorithms adapted from Natural Cycles, offering a robust, research-backed approach to cycle tracking.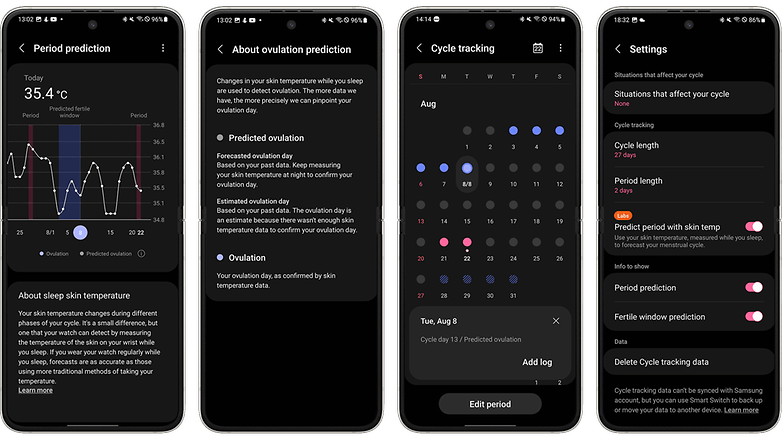 Both companies have outlined specific guidelines to ensure accuracy in ovulation estimates. Apple emphasizes wearing the watch every night for at least two menstrual cycles to accumulate sufficient data, whereas Samsung advises users to activate sleep mode on the Galaxy Watch and wear it for at least 4 hours during sleep at least five times a week.
However, there are some unique offerings and limitations to consider. Apple provides an option for users to download and share ovulation graphics with their healthcare provider in PDF format, albeit without the option for more versatile spreadsheet data. Samsung does not offer such a data download feature, although it allows sharing health data with contacts, including doctors.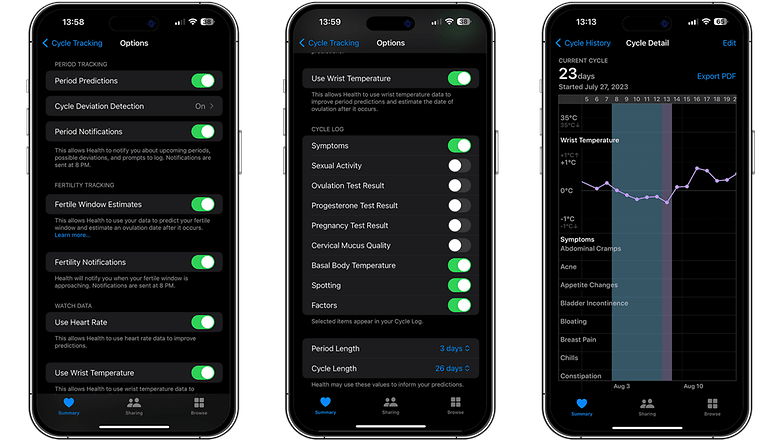 Cycle tracking data and privacy
Arguably one of the most pertinent aspects of this comparison is how both companies prioritize the sensitivity of reproductive health data with respect to data collection and privacy. Apple and Samsung offer various levels of encryption and security features to protect users' menstrual cycle and ovulation information.
In Samsung's case, data is stored using encrypted data storage methods, and the company does not possess the decryption key. Apple also encrypts all health and fitness data in the Health app, using end-to-end encryption when the data is synced to iCloud. Thus, Apple also doesn't have access to this data.
Despite these safeguards, the responsibility for data privacy ultimately lies with the user. It's imperative to secure your devices with strong passwords, passcodes, or biometric features like Face ID or Touch ID.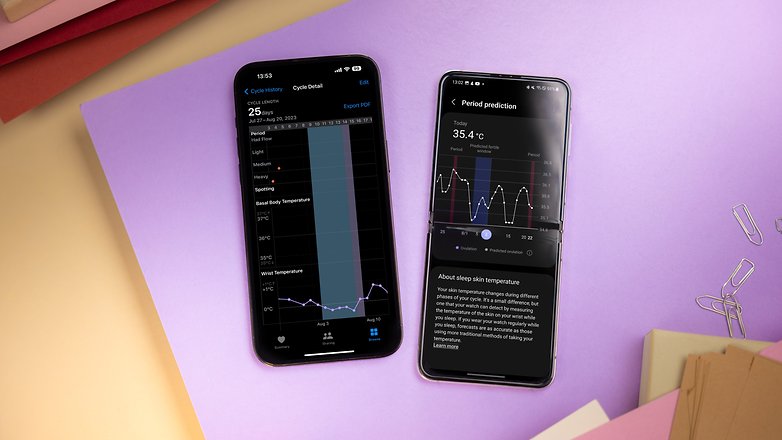 The overturning of Roe v. Wade has led to heightened concerns about the privacy of reproductive health data, especially given the new legal landscape that makes abortion a state-by-state issue in the U.S.
While menstrual cycle tracking apps have come under scrutiny, experts suggest that other digital footprints like Google searches and email transactions are more likely to pose risks. The changing legal environment serves as a crucial reminder to be proactive about using all available security and privacy features and to be conscious of the data you generate.
Both Apple and Samsung allow sharing of health data with third-party apps, family members, or physicians. Though these platforms design their health apps with user privacy in mind, managing these permissions is up to the user. It's advisable to regularly review and update these settings, particularly if you frequently download new health-related apps or have growing concerns about data privacy.
Remember, while the companies provide the tools for secure data storage, it's your responsibility to use them effectively to safeguard your personal information.
Conclusion
In recent months, I've been testing the menstrual health features offered by Apple and Samsung, and the experience has been quite enlightening. Before sharing my opinions on their different approaches, I'd like to acknowledge that both Apple and Samsung are doing an impressive job of advancing menstrual health in the tech industry.
It may have taken some time, but both companies have initiated a strong conversation around the topic. Apple developed its features in-house, partnering with healthcare institutions and universities to promote research and broaden the scope of menstrual health. Meanwhile, Samsung chose to collaborate with Natural Cycles to build upon their ongoing research.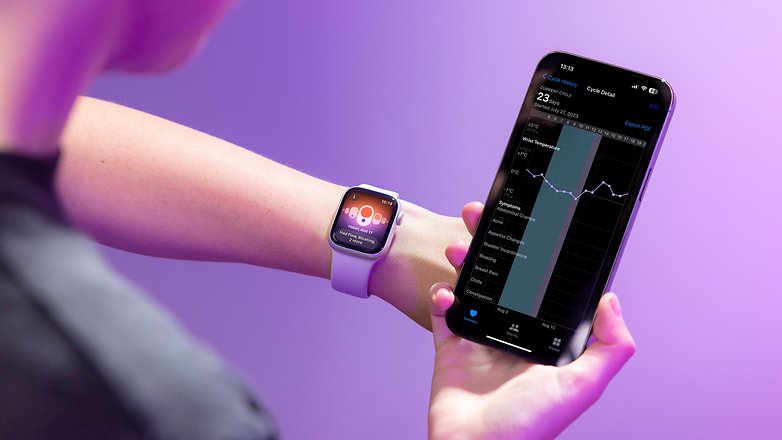 Both Apple and Samsung offer closely integrated ecosystems for using their smartphones and smartwatches together, allowing for more accurate data tracking of menstrual cycles and ovulation. My first recommendation for those interested in using one of these companies' solutions is to stick with the ecosystem you are already accustomed to.
Furthermore, both companies are authorized to offer cycle tracking and ovulation estimation worldwide. They are also well-known for their robust software development practices and long-term policies for system and application updates.
That being said, Apple's approach to menstrual health features seems more robust. The company collaborates closely with healthcare institutes to enhance both its software and hardware, offering a comprehensive solution as part of its advanced Health Services. Samsung, in its partnership with Natural Cycles—an already complex service—appears to offer a solution that feels more like a commercial agreement than an in-house development.
Now, I'd like to hear your thoughts: Which service do you prefer, and why?