BlackBerry KEYone review: The keyboard is here to stay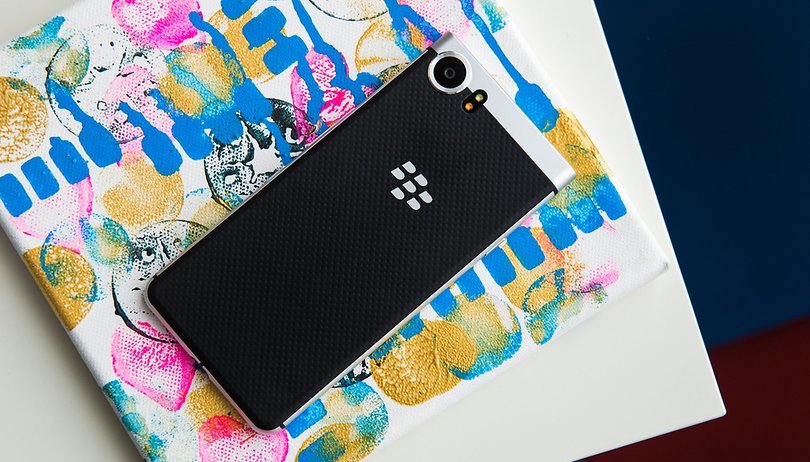 The KEYone is BlackBerry's brand new smartphone, which was presented at the Mobile World Congress. This is the first smartphone of a new generation of BlackBerry phones manufactured by TCL (a second model should be launched this year). But do we really need a smartphone with a keyboard in 2017? Are there still customers out there looking for a keyboard smartphone? The answer is in our comprehensive review.
Good
Physical keyboard

Quality manufacturing

Battery life (and very fast recharge)

Apps and useful extensions
Bad
Average performance

No dual SIM

Price
BlackBerry KEYone release date and price
After briefly sowing its face at CES in Las Vegas under the code name Mercury, the new BlackBerry KEYone was finally made official at MWC 2017. The smartphone is available worldwide, and was released in the US on May 31, 2017 after arriving to the UK on May 5. The KEYone is listed at $549 in the US and £499 in the UK.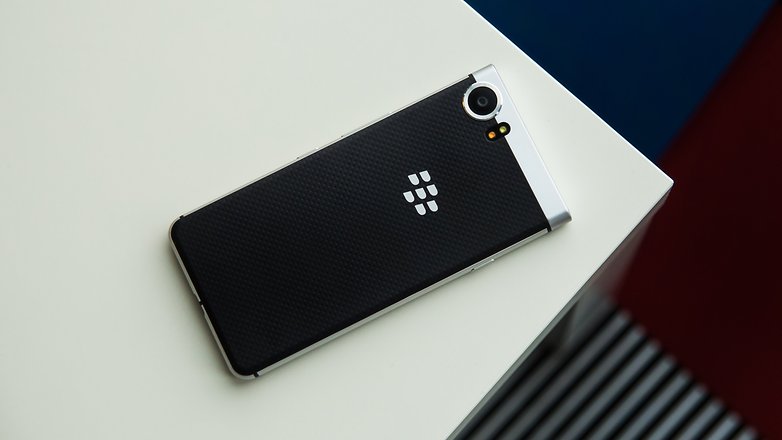 BlackBerry KEYone design and build quality
The KEYone is a phone created for hardcore BlackBerry fans. While some of the manufacturer's previous smartphones, such as the DTEK50 may have disappointed the Canadian firm's followers, this is not the case for the KEYone, which is the first model of this new generation manufactured by TCL. TCL is not a newcomer to the industry, as Alcatel's smartphones are already being designed by the company.
This new BlackBerry smartphone is clear in its positioning: it is aimed at people who prefer physical keyboards (or those who like the professional side of a BlackBerry smartphone). This market, abandoned by other manufacturers, is acclaimed by many users according to the brand, including former customers who are aiming to improve the productivity of their smartphones.
The device is therefore better suited for business customers. The feeling that the physical keyboard provides is indeed impossible to recreate with a virtual keyboard and some people just cannot do without this feature.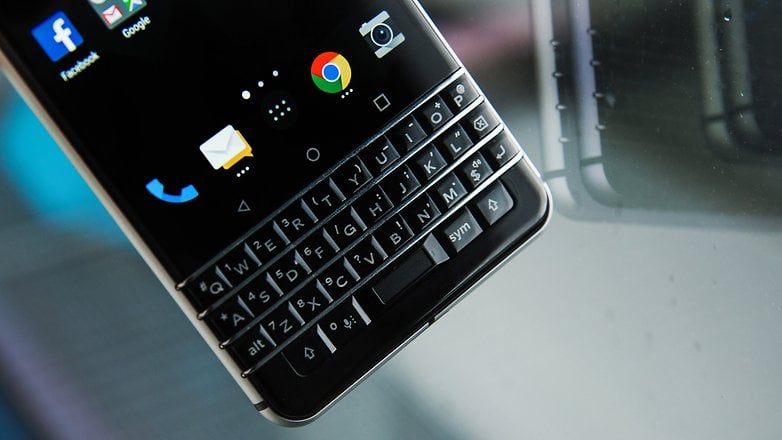 In terms of design, BlackBerry no longer uses the slide-up format of the Priv and returns to its origins, which is quite pleasant in the end. The KEYone is in this way a large monobloc smartphone composed of a screen and a QWERTY keyboard. Even with the keyboard, the smartphone is relatively compact as it remains as impressive as most 5.5-inch smartphones (Google Pixel XL, iPhone 7 Plus, OnePlus 3T, etc.).
Of course, the smartphone would benefit from being slimmer and lighter (it's 180 grams), but BlackBerry has done a great job overall, since the smartphone has an elegant professional look thanks to its combination of gray and black on the chassis. It also grips well (even with one hand) because of its good ergonomics.
In addition, although the gray chassis is made of aluminium, the keypad keys are plastic and the back of the smartphone has a soft, rubbery finish. The KEYone features a fingerprint reader that is integrated in the space bar on the front panel of the keyboard. I have to admit that the idea is clever and proves to be very practical and effective everyday.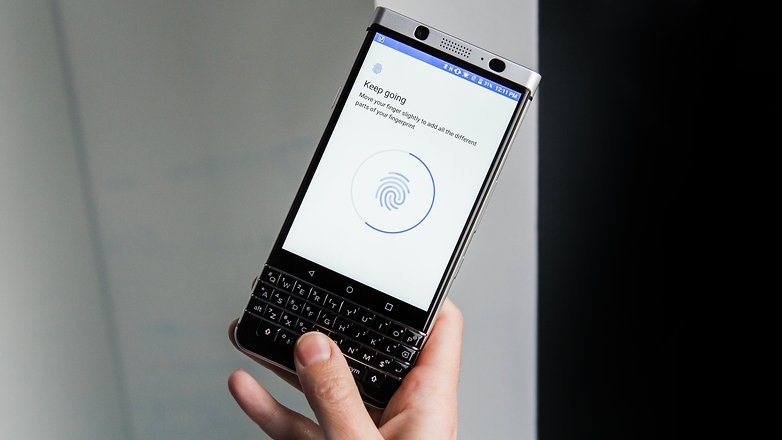 Below the screen, BlackBerry has kept Android's navigation buttons the way they are. It's a little disappointing that these are constantly visible, even when the smartphone is turned off or in standby.
The rest of the design is quite traditional. On the left there's the power switch. On the right there's a slot for a SIM card and SD card, volume buttons and a utility button on the right (I'll return to this later). Personally, I think that Blackberry's greatest flaw was that it didn't allow for dual SIM compatibility. Since the device is intended for professionals, it's unfortunate that this option isn't available.
On the bottom, there is a Type C USB port and the speaker (there are two speaker grids, but only the one on the right contains a loudspeaker). The good news is that BlackBerry kept a minijack plug on the top of device.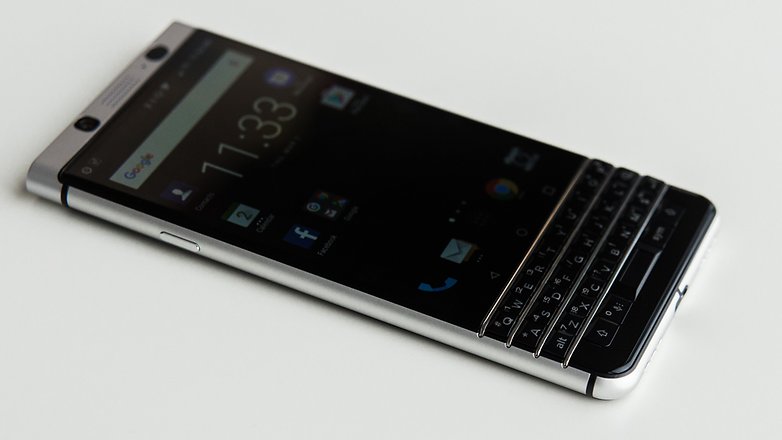 I have to also commend the quality of the manufacturing, which BlackBerry obviously takes quite seriously. The adjustments are good and the smartphone breathes quality. The idea of a rear rubber coating allows the KEYone to distinguish itself from other smartphones.
BlackBerry KEYone display
The BlackBerry KEYone features a 4.5-inch IPS LCD display with full HD resolution (1620 x 1080 pixels). Unlike the latest innovations, such as the Galaxy S8 or LG G6, which offer an 18:9 or 18.5:9 ratio, or traditional smartphones with a 16:9 display, the KEYone offers a 3:2 ratio. This can sometimes cause some problems with some games or videos as black bars appear above and below.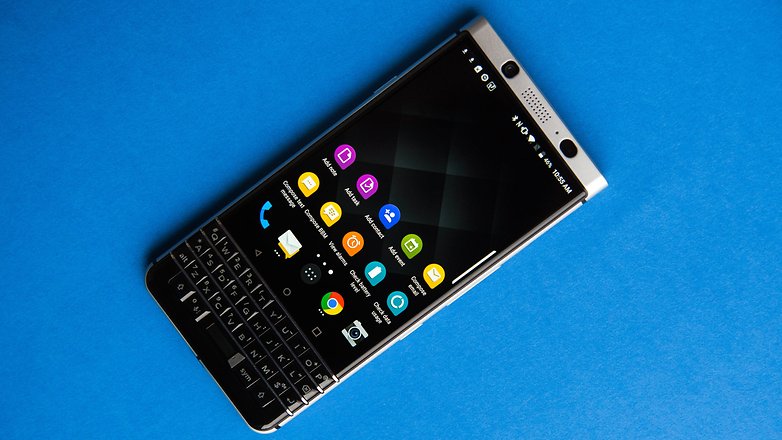 In normal light conditions, the KEYone's screen gives a good first impression. All the details are displayed clearly and the colors are bright. It's certainly not AMOLED and the blacks aren't as deep as on a Galaxy S8, but it will suit most users.
In the display options you can change the brightness and color temperature according to your preferences. Unfortunately, there's no mode to filter blue light.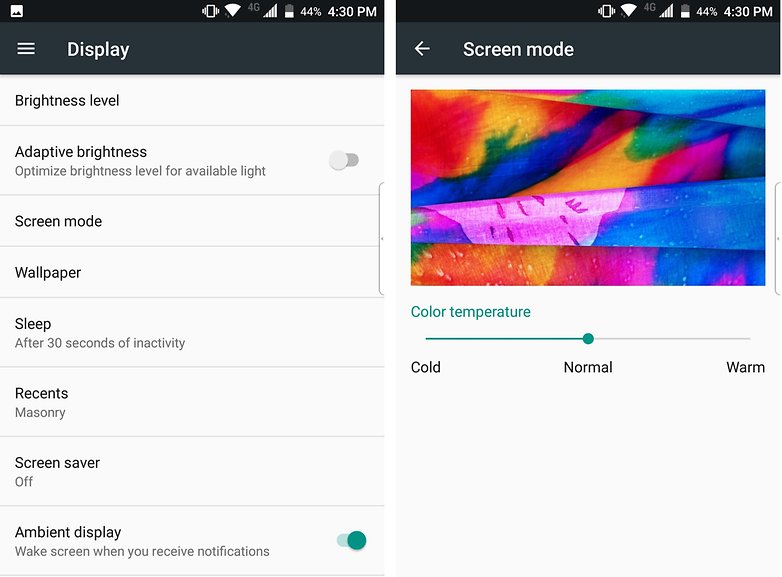 You should also note the the BlackBerry KEYone features the Ambient display feature that wakes up the phone when you receive a notification as well as the Dual tap feature to wake up the screen.
BlackBerry KEYone special features
The physical keyboard
This smartphone's special feature is that it offers a keyboard. Those of you out there who are accustomed to this type of keyboard on their old BlackBerry won't be phased by this. Some of you, like me, will have to learn to type with a physical keyboard again, which may require some patience. The keyboard looks very narrow at first glance, but it works well when you use it with both hands. Whether you like it or not, you have to admit that the KEYone's keyboard is successful.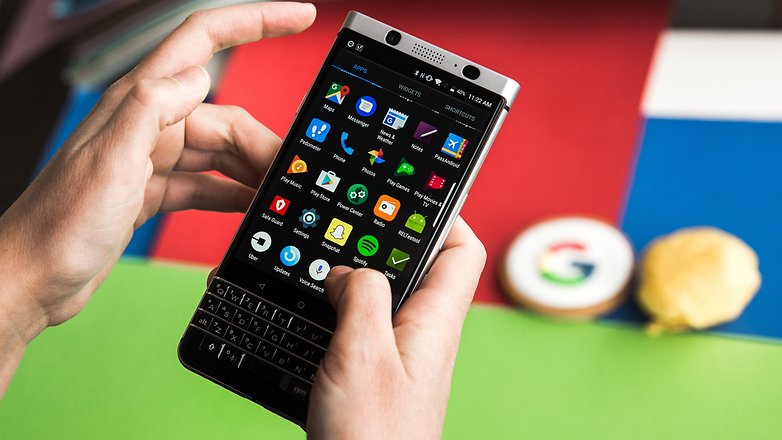 This keyboard, similar to the BlackBerry Priv's, has gesture capabilities. So it's not just used for writing, it can be used as a trackpad as well. You can move up and down as well as left and right around your home screen, or even scroll through applications. Other features are also possible: you can copy and paste, double tap to display the cursor, or swipe to the left to delete a letter.
It's also possible to create shortcuts using the keyboard (52 in total). You can then choose a letter to open an application. For example, I chose Y for YouTube, W for WhatsApp and G for Gmail. The only thing you have to do to use these shortcuts is use the BlackBerry launcher.
In the end, the BlackBerry keyboard is full of features that you can discover as you go along. For example, I found out that I could take a picture with the space bar by accidentally pressing on it. And if you're not a fan of the keyboard, you can always activate the virtual one.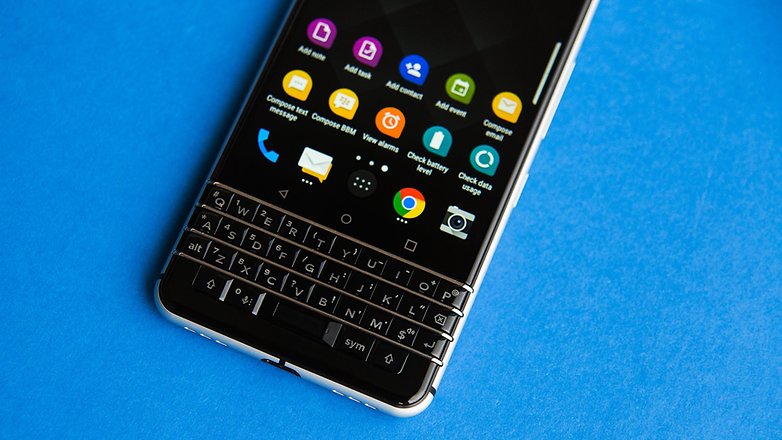 Utility button
The KEYone also features a utility button on the right side. This is similar to what Alcatel has on a number of its smartphones. It's no surprise to find it here, since TCL is the manufacturer of Alcatel devices as well as the KEYone. This button allows you to access additional software features on the smartphone. You can, for example, open an application or a shortcut. If at the beginning this button seems rather strange, it will quickly become very useful.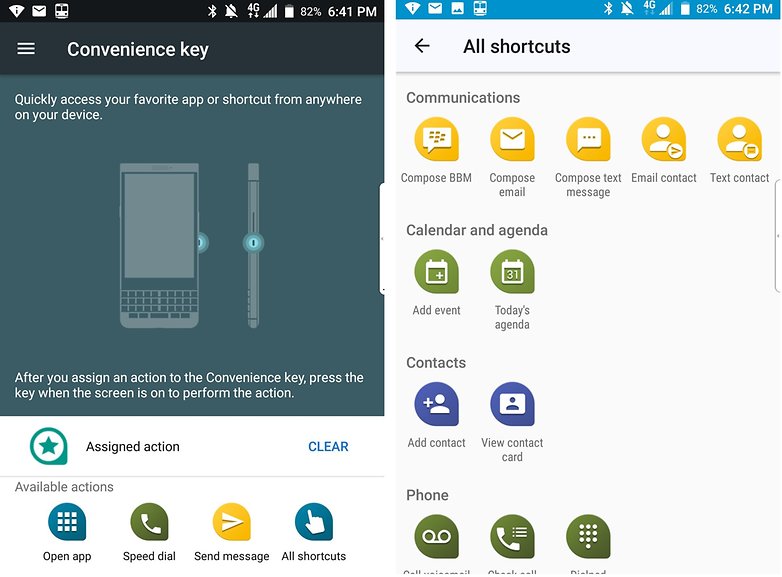 BlackBerry KEYone software
The BlackBerry KEYone features Android 7.1.1 Nougat (including the security patch). BlackBerry has confirmed that security updates will be issued continuously throughout the lifespan of the product, and this obviously includes Google's monthly security updates for Android. BlackBerry also encrypted the processor for added security.
If you're familiar with BlackBerry smartphones with Android, the interface won't seem out of place. It's quite close to Android stock software, but there are still various BlackBerry additions that focus on organization, security and productivity.
The BlackBerry launcher is filled with features to help you with your daily tasks. For example, if you drag your finger up or down on some applications, you can create a widget. It may sound trivial to you, but it's really very useful. The app drawer gives you access to three tabs: applications, widgets and shortcuts. In addition, as always on Android BlackBerry smartphones, you'll find the productivity tab on the right, which is activated by swiping to the left and provides access to shortcuts (calendar, contacts, settings, etc.).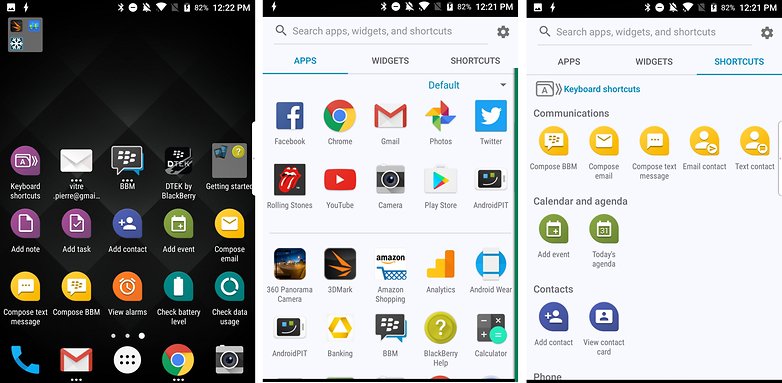 Some of BlackBerry's homemade applications like BBM, BlackBerry Hub, and DTEK from BlackBerry are also on the device. As its name suggests, the BlackBerry Hub is a hub that gathers all your notifications, emails, text messages and messages from different social networks and even reminders and appointments. It's awfully handy, but unfortunately the Hub can become very quickly overloaded if you have many notifications and it's not easy to delete all of them.
As a reminder, BlackBerry DTEK takes care of your privacy and confidentiality. This application allows you to restrict access to the microphone, camera, location and personal information. And finally, you'll find that the KEYone comes equipped with Google Assistant.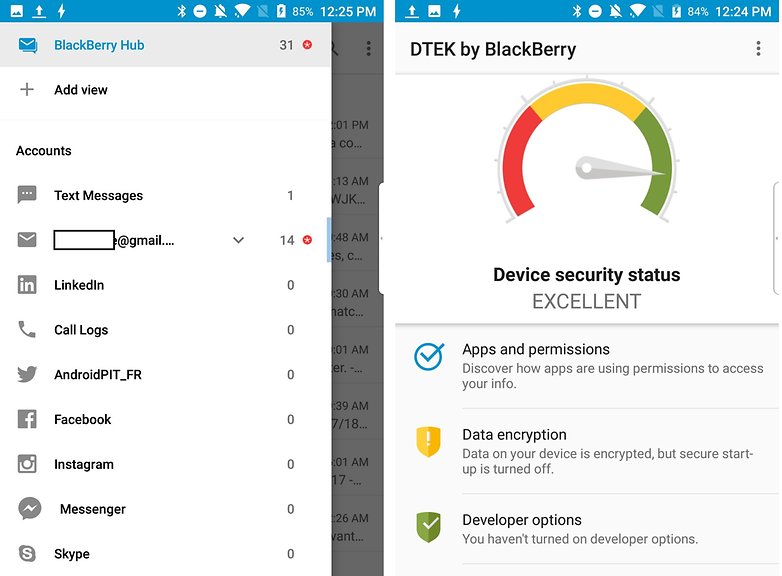 BlackBerry KEYone performance
There's a Snapdragon 625 processor under the hood of the KEYone. Those who were hoping for more with a Snapdragon 835 will be disappointed. Qualcomm's octacore processor, however, is quite sufficient and has the advantage of low power consumption thanks to the 14 nm LOB process. You'll notice this in the smartphone's battery life.
Coupled with 3 GB of RAM and an Adreno 506 chip (an extension for a microSD card is also included), it allows the smartphone to offer flawless fluidity. This means that the phone supports multitasking perfectly. In terms of productivity, the smartphone meets expectations and professionals will be satisfied with it. In the end, only games or applications requiring good graphic performance will cause the KEYone to flicker, which then shows its limits. A few slowdowns are therefore to be expected.
It's no surprise to see such behavior for a smartphone equipped with a mid-range processor, but we were expecting a little bit more out of the device, especially considering the device's price at $549. An LG G6 that is now available at this price offers a lot more performance (Snapdragon 821 and 4 GB of RAM).
BlackBerry KEYone benchmark comparison
| | BlackBerry KEYone | Samsung Galaxy S8+ | HTC U11 | Xperia XZ Premium |
| --- | --- | --- | --- | --- |
| 3DMark SlingShot ES 3.1 | 426 | 3.132 | 3.599 | 3.245 |
| 3DMark SlingShot ES 3.0 | 720 | 3.336 | 4.129 | 3.697 |
| 3DMark Ice Storm Unlimited | 12790 | 28.742 | 40.034 | 40.286 |
| Geekbench Single Core | - | 2.014 | 1.905 | 1.898 |
| Geekbench Multi Core | - | 6.479 | 6.454 | 6.294 |
| PCMark Work Performance | 4949 | 5.094 | 6.787 | 6.338 |
| PCMark Storage | 3435 | 4.772 | - | 4.989 |
| Google Octane 2.0 | 4358 | 10.440 | 11.928 | 11.086 |
BlackBerry KEYone audio
The KEYone offers a mono speaker that provides enough quality to play videos or music. However, you should not expect extraordinary sound quality, since when the volume is too high the sound is somewhat distorted. The audio output is average. Those of you who still have high-end headphones will be a bit disappointed with its audio quality.
That being said, the sound quality during phone calls is very good, even when you turn on the speakerphone.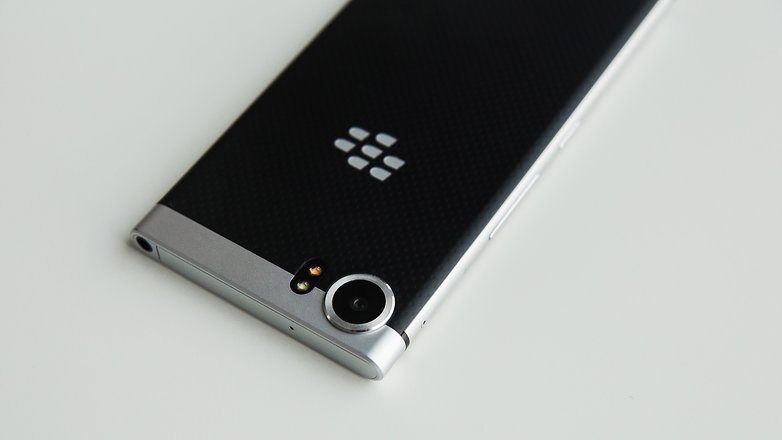 BlackBerry KEYone camera
The BlackBerry KEYone offers a 12 megapixel main camera (Sony IMX378 sensor) with an f/2.0 aperture. Unfortunately it doesn't have optical stabilization. The front camera has a resolution of 8 megapixels. The phone can in 4k at 30fps or in Full-HD at 60fps for video.
The device proves that to have a good camera you need more than a very good sensor. Although the phone is equipped with the same very good sensor as the Google Pixel, the Sony IMX378 image sensor, the quality of the images is quite different. This starts with the fact that KEYone has difficulty focusing properly, especially when you're taking portraits.
In addition, its white balance and color reproduction are lagging behind current flagships. The auto HDR mode is lower than Google Pixel, resulting in overexposed and underexposed areas in high contrast images. Although this is a common problem for smartphones and devices with small sensors, the KEYone simply can't compete with the Google Pixel.
The KEYone offers correct image quality and is close to the current flagships. Its detail reproduction is good under daylight conditions and it has correspondingly low ISO values. In low lighting conditions, the KEYone needs to increase ISO sensitivity, which causes more noise in the images. Compared to many competitors, BlackBerry uses very optimistic shutter speeds to keep ISO speed as low as possible. On the one hand, this leads to better image quality, but you also need very stable hands when taking pictures. That's why you may have a lot of blurry pictures if you move around too much.
Color reproduction in daylight is generally good with occasional hiccups regarding white balance. In darker conditions, increased noise reduction disturbs color reproduction, resulting in bland images, which is typical for smartphones.
Overall, KEYone offers correct image quality and is close to the current flagships. Even if we could have expected more, this is a big step for BlackBerry, which up until now had been a bit disappointing when it came to camera technology. KEYone changes the game. But don't expect the same quality as the Pixel, because Google has more control over the camera's software.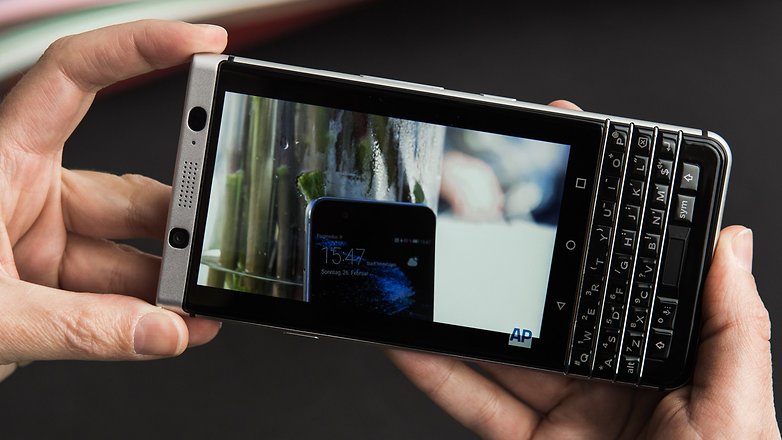 BlackBerry KEYone battery
This is clearly one of the strong points of the KEYone. The smartphone has an integrated 3505 mAh battery pack that ensures great battery life. In addition to this good battery capacity, the KEYone has an energy-efficient processor and only has a 'small' 4.5-inch screen to run.
In everyday use, the smartphone can easily last a day and a half, or even longer, with somewhat intensive use (calls, text messages, internet, videos...). I was therefore able to have more than 6 hours of screen time without the battery completely draining. In the PCMark battery test, the battery lasted 9 hours and 25 minutes, going from 100% to 20%.
There's some more good news as well, since the KEYone is capable of charging 50% in 36 minutes with Quick Charge 3.0. In this respect, KEYone has one peculiarity: When you plug the device in, you have two different charging options: the recharge mode or the boost mode, but the boost mode blocks many items (including notifications) to speed up charging. This lets you charge the phone even faster, since it immerses the KEYone in an energy-saving mode to maximize the device's charging efficiency.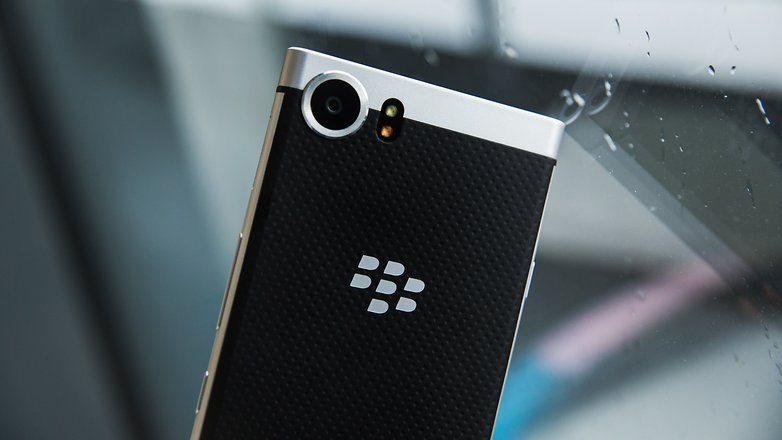 BlackBerry KEYone technical specifications
Final verdict
No, BlackBerry's not dead. The KEYone is proof of this (at least thanks to its partnership with TCL). The telephone with the slogan "Distinctly Different" stands out from many of its competitors because of its physical keyboard.
The KEYone is therefore a solid smartphone with good performance that is perfectly suited to people who are looking for a phone with a keyboard like this, and for those seeking a professional look. The software is complete, the photo quality is decent and its battery life is remarkable.
The KEYone, however, is not flawless. The smartphone won't allow you to write any faster or make you more productive, and while the keyboard may not be a priority for you, the smartphone market today offers a whole range of devices that are better than the KEYone, including some that are cheaper.