Best free texting apps for Android in 2018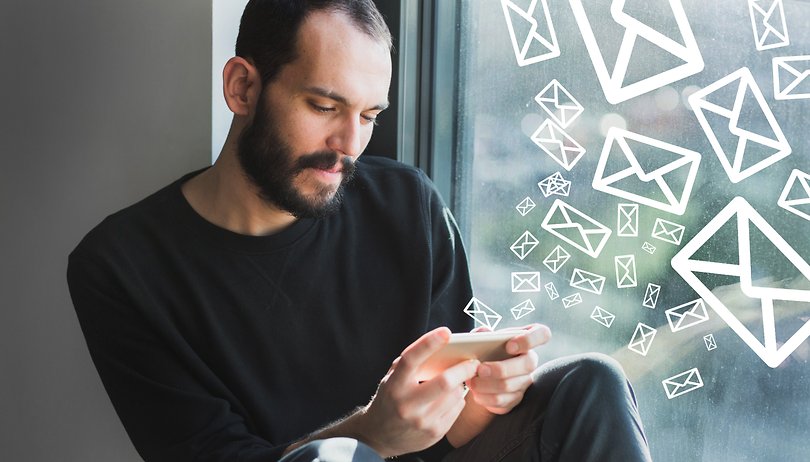 Not everybody uses WhatsApp or Facebook Messenger: there are some instances where a good old SMS message is still preferred. We've gathered a list of the best apps for doing just that.
Many of you probably have unlimited texts as part of your data plan but let's face it, they don't get much use with apps such as WhatsApp and Facebook messenger being so popular. Perhaps you want to ditch Facebook and WhatsApp following the data privacy issues. It makes sense then, to download an SMS app to have a better texting experience with improved security, customization, and more.
Jump to:
Best for fun features: Mood Messenger
Mood Messenger is a newer messaging/SMS/MMS app that is perfect for casual users, offering a good spread of nice features from internet messaging apps like animated emojis, location sharing, typing indicator and chat heads. It's also great for the creative types who enjoy customization with a bunch of themes and backgrounds available. Best of all, the app is free with no ads shoved in your face.
Best for themes: GO SMS Pro
GO SMS Pro is a great all-inclusive texting app. It really helps you get the most out of those unlimited texting plans. There are some advertisements, but often you need to click on the advertisement-animation feature to see them. You have some excellent features but the best part of this app is the themes and stickers.
The themes on the GO SMS Pro app are really well designed and integrate well with its interface. You need to download each from Google Play but once you do they are easy to set up. Many of them are free but if you want specialized ones, you need to pay extra.
The 'Delay to send' option is a good idea to activate just in case you make a mistake. This happens a lot; I've had plenty of messages I sent I wanted to quickly get back. If you've ever accidentally sent a swear word to a contact then you'll probably want to use the blacklist function so it doesn't go, well...you get the point.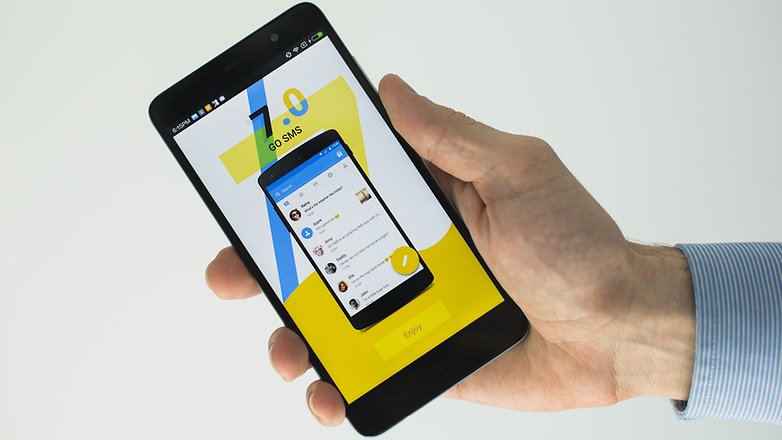 Best for customization: Handcent Next SMS
It takes a few minutes to get set up but Handcent Next SMS has some excellent customization features that give you a seamless personalized experience, making texting enjoyable and is similar to messenger apps like WhatsApp or WeChat.
You'll notice that it is a really clean experience. It feels like you can move quickly through its functions without clutter everywhere distracting you. It also has features like festive e-cards or text messages for birthdays or holidays. You can even get some inspiration from heartfelt messages made public by other texters.
The customization features really make Handcent shine and we highly recommend you take advantage of them. You can use a skin for their interface and there are a few good ones to choose from, which they update frequently. There are some pretty neat themes too. The in-text customization features really keep you coming back because they change the way you interact with texting in general.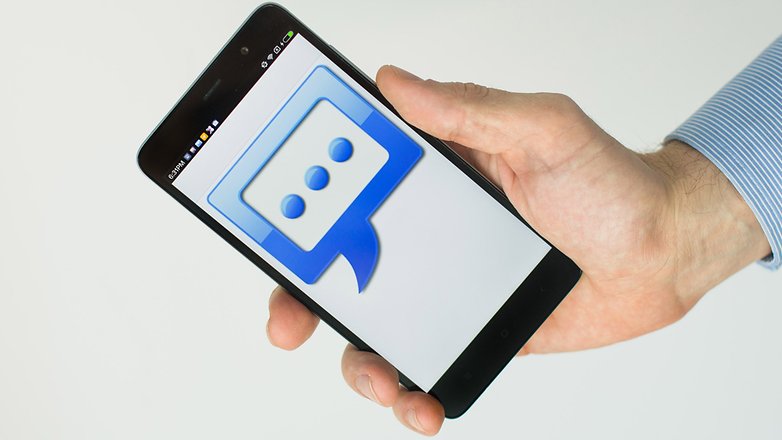 Best for simplicity: Android Messages
We're not fans of Hangouts, which complicates the simple process of sending texts, but Android Messages is another story. It makes use of many of Hangouts' finer qualities while cutting out the clutter. Messages has an eye-soothing interface and, as well as sending texts, you can take photos and record audio messages from within the app.
It's a typical Google app in that it nails the essentials of what it should do.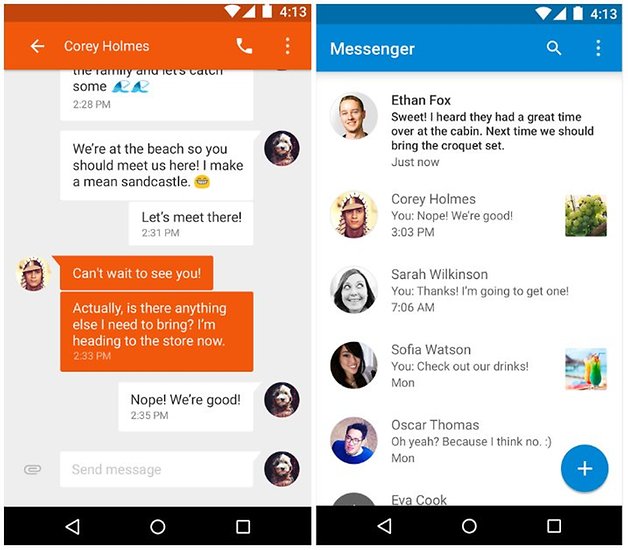 Best for multiple devices: MySMS
MySMS comes garlanded with rave reviews from press and users alike. It's available for Windows, Mac and web browsers as well as Android, which means you can post from a computer or tablet using your Android phone's number.
It supports group messaging and MMS, message scheduling, message export and backup, and connects with services such as Evernote, Dropbox and Google Drive. Many of the advanced features require a premium membership, but at just US$9.99 per year, MySMS is hardly going to break the bank.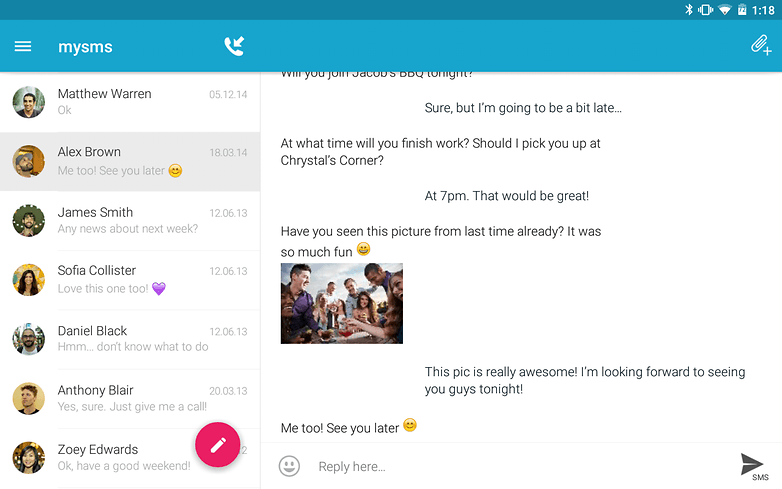 Best for security: Signal Private Messenger
If you like to err on the side of caution, it's hard to overlook Signal Private Messenger. It's super secure – you can't even take screenshots of the app. Signal Private Messenger encrypts your personal communications with end-to-end encryption protocols as soon as you register your number.
As you may recall, the NSA has a habit of intercepting SMS content as it passes through data centers. Signal only handles encrypted content so your messages are safe in transit. All of your attachments are also encrypted.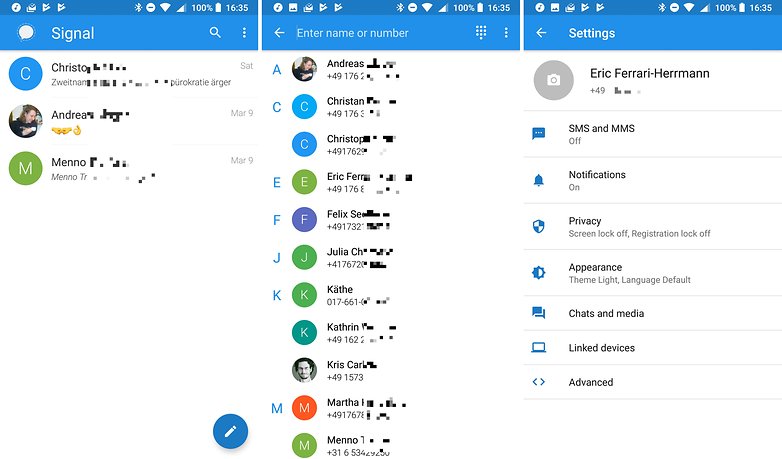 Best for comprehensive service: chomp SMS
chomp SMS has been around for a long time, and has become one of the most popular Android SMS apps. Its features include a huge array of emojis, passcode app lock, message locks, intense privacy options, blacklists and quick reply popups, not to mention a ton of customization options, plus it offers Pushbullet and Android Wear compatibility.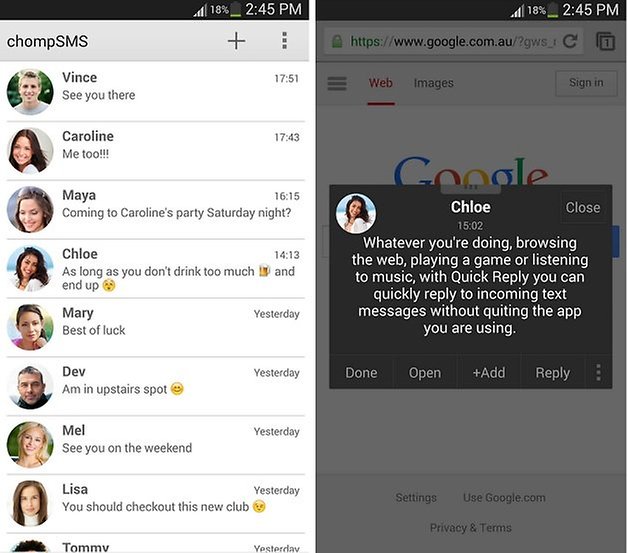 Best looking: QKSMS
QKSMS is one of the prettiest SMS apps we've seen, offering Material Design plus a range of themes, night mode, customization, quick replies, group messaging, message scheduling and more in an ad-free environment. The basic app is free but if you want to unlock all the color options and advanced features, you can get premium mode in exchange for a US$1.99 in-app purchase.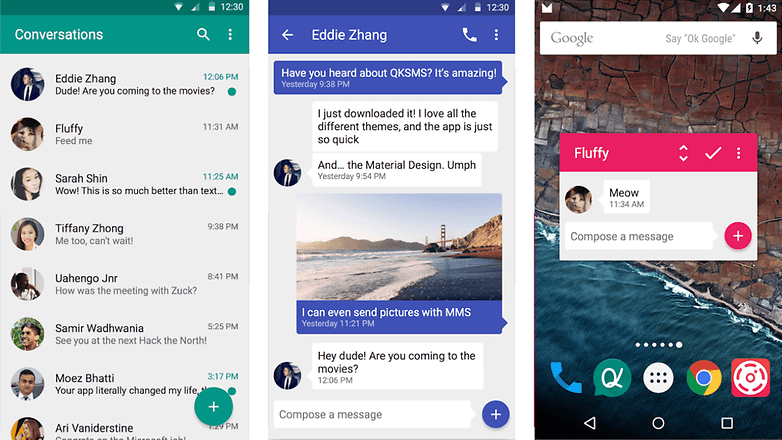 Best all-rounder: EvolveSMS/Pulse
EvolveSMS is the Google-inspired SMS app that we wish Hangouts was. EvolveSMS is feature-packed, with support for multimedia messages (including GIFs) and even smartwatch compatibility. The default orange interface looks great, but you can also grab more themes if you're willing to drop a little coin for the customization pack.
Swiping between conversations and a navigation drawer make it a breeze to navigate, and there are plenty of free pre-loaded customization options. If you want an SMS app that does everything, go with Evolve.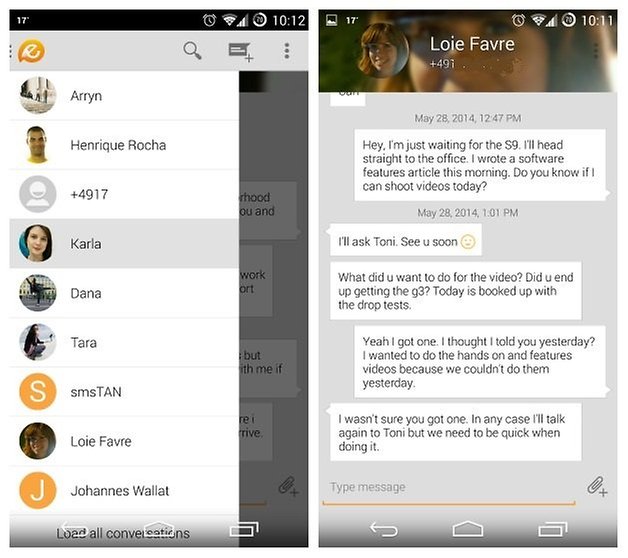 The developer of EvolveSMS has made not only one, but two SMS apps and frankly, the second is also deserving of a place on the list. Pulse SMS offers a full-fat SMS app for your phone for free with all the bells and whistles: nice interface, customization, media sharing, contact management, blacklisting and so on. It also lets you use it from other devices such as your laptop, at an additional subscription fee.
Do you use your unlimited texts? Do you prefer any of these apps to WhatsApp or messenger? Let us know in the comments below!