The 5 best RSS reader apps for Android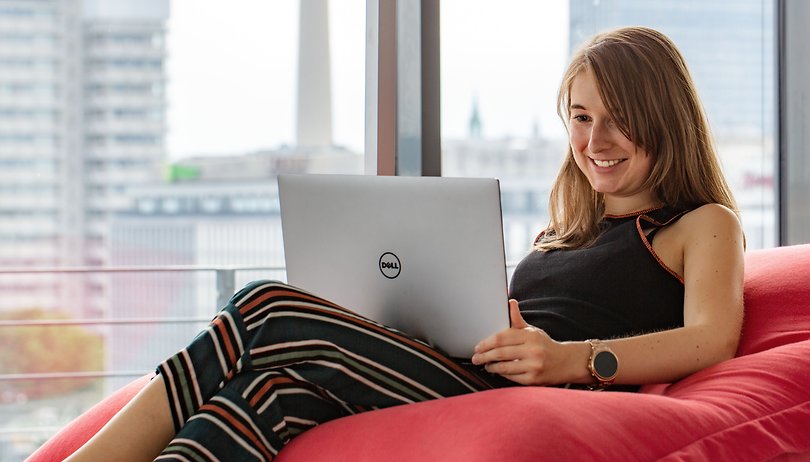 The golden age of RSS might be over but for some power users, these apps are still an excellent way of gathering news from multiple websites into an easy-to-read format. Not every news site still supports RSS, but many do. Here are the best RSS reader apps available for Android in 2019.
Shortcuts:
Feedly is perhaps the go-to RSS reader for Android. It's the one I personally use to gather news and reviews from all the best tech sites in the world. You can pull in posts from online magazines, newspapers, and blogs, and everything is easy to organize in either a list, card, magazine or tile-only view. Feedly also supports YouTube channels and you can track keywords, brands, and companies to tailor your feed to your own reading tastes.
There are several premium plans for Feedly for those who really want to get the most out of the service. Feedly Pro adds features such as Power Search and the ability to share via LinkedIn and Hootsuite. You'll also get new articles up to 10 times faster than with the free plan, according to the company. It costs $6 a month. Feedly Pro+, which adds an AI research assistant, costs $12 per month, whilst Feedly Business costs $18 per month and adds cybersecurity tools to protect your business.
Inoreader is one of the most-used RSS readers for tech enthusiasts. Its main strength is how clean and light the experience is. For a clutter-free read, Inoreader is your best bet. It works a little differently than some other popular RSS readers, focusing on topics and categories rather than media outlets to pull in news.
There are also plans on offer here, too. The free plan is pretty feature-rich and comes with both day and night reading modes and the ability to save articles for later reading. The Pro Plan, which costs $50 annually, adds push notifications and an offline mode so you can read your content when you don't have an internet connection or just want to save on mobile data.
News Republic is the RSS reader for the big headlines, the viral topics, and the biggest breaking news stories. News Republic is powered by artificial inteligence and pulls stories from sources worldwide. Some of the biggest names in journalism are supported, such as CNN, Cosmopolitan, Elle, TIME, Money, Fortune, Entertainment Weekly, People, Sports Illustrated, Mashable, and USA Today. You'll also get trending videos pinged directly to your device.
The app supports both Facebook and Google sign-ins so you don't have to mess around signing up for a new account and add another password to remember to your list. The only real downside to News Republic is that, as it's a collection of the most popular and viral stories, you'll often get a lot of sensationalist content. Expect to see a lot of Donald Trump, for example, but some people are into that. There's a premium plan for $2.99 per month too.
Palabre is one of the most customizable RSS readers available today and comes with a couple of nice features that you don't find at all with the competition. The first is the ability to integrate Twitter and Flickr timelines into the app as feeds. Secondly, you can also integrate Feedly or Inoreader, which means you can take advantage of two or three RSS readers at once.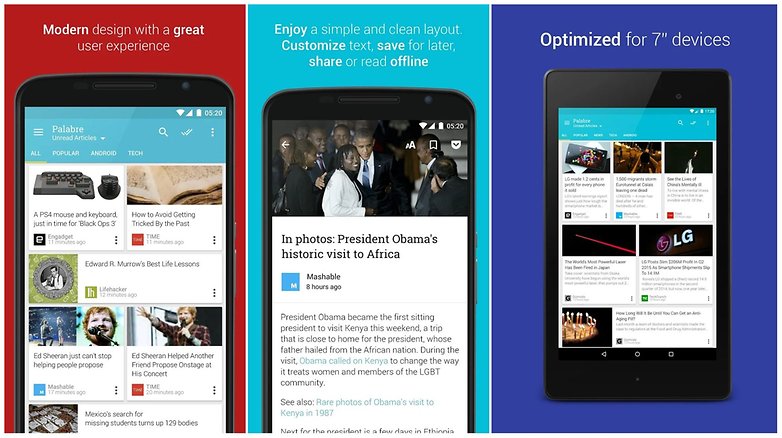 The UI is clean and clutter-free, providing a painless reading experience. There's also a dark theme and several font customizations to get the look you want. As is customary, there's a premium plan available in the form of a Pro version. It's also optimized for 7-inch displays, making it ideal for smaller tablet users.
Read is a relatively new RRS reader app that keeps things nice and simple. If you are not interested in premium plans, AI-powered organizers, and fancy add-on features, Read is the RRS reader for you. Everything here is simple, with uncomplicated menus and a does-what-it-says-on-the-tin attitude. It's also completely free, and completely ad-free, and the developer has promised to keep it that way.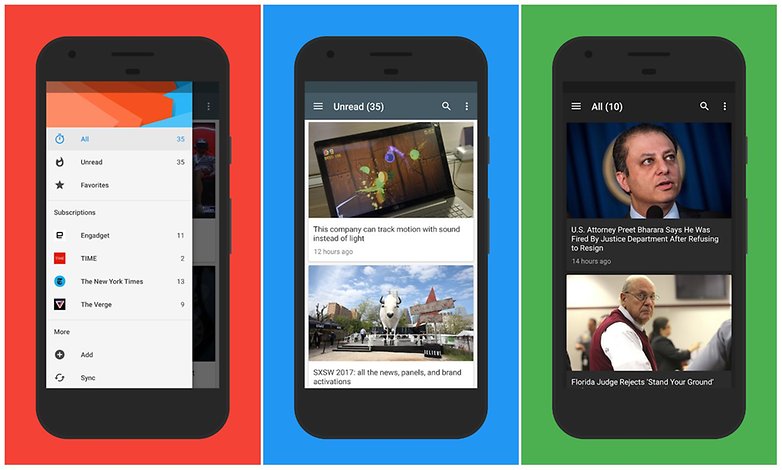 That doesn't mean you have to give up all of your favorite features to start using Read. You can still save articles for reading later with the star/favorite system. Notifications for when new articles arrive in your feed are also baked into the app. Not bad for a free app that doesn't try to get you with upgrades and in-app purchases.
Do you have a favorite RSS reader app on Android? Share your tips in the comments section under this article.