The 8 best icon packs for Android in 2019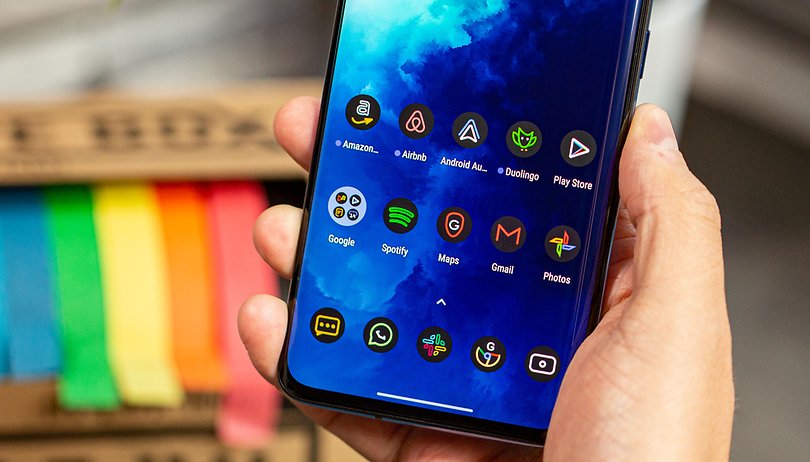 Did you know that you can give your smartphone or tablet a unique new look without having to replace it? There are several methods to changing this appearance, one of which is to simply to modify the icons. We have selected for you our six favorite icon packs: choose the one you like best!
Jump to section:
An icon pack is an application that replaces the icons on your Android device with original designs. Please note that most of these icon packs require the use of a launcher; some only work with specific launchers (for example only with Nova) If you don't have a custom launcher and want to see the best on the Google Play Store, check out our article:
Most of the best Android icon packs are compatible with the main launchers, if unfortunately the icon pack you are interested in is not compatible with your launcher, you can send an email to the developer, or change the launcher (but hey, we all know that such a change is very difficult...).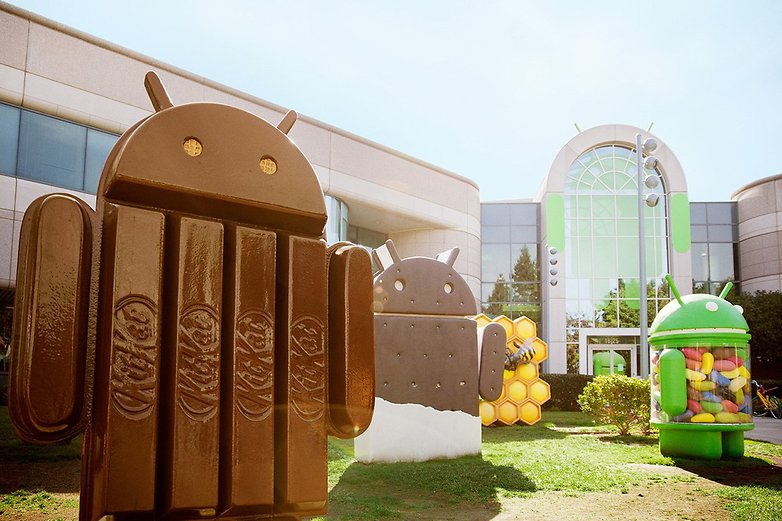 Tastes and colors are different from one person to another. Therefore, it is impossible to make a real ranking since the subject is far too subjective, but we suggest those that we think are the best, in no particular order.
Many icon packs look like Click UI but it has the merit of being the first to offer icons with long shadows that give them the illusion of being in motion. You can also access many other icons (color and shape variants) if you wish. You can also configure your wallpaper and the lock screen, but there are better applications for this.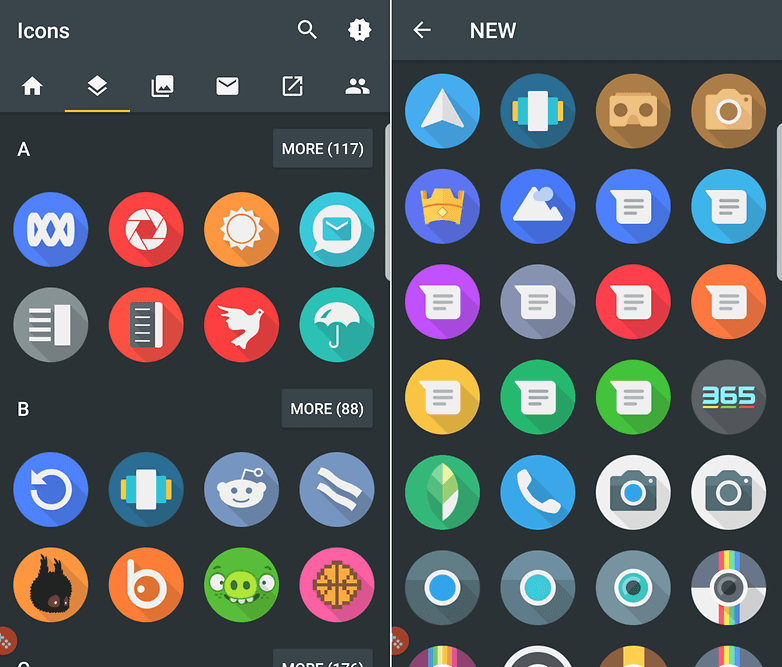 Compatible Launchers: Nova, Apex, Action, Go, Solo, Trebuchet, Smart, Aviate, Next, KK, Nine, Blur, Unicon, ADW
Retrorika offers you beautiful graphics with a touch of retro, all with Material Design. Each icon has a unique design: every detail has been worked on and that's why it appears in this list. Retrorika is one of the best icon packs if you want to have a retro and modern look in your device. Of course, you can also use it to configure your wallpaper.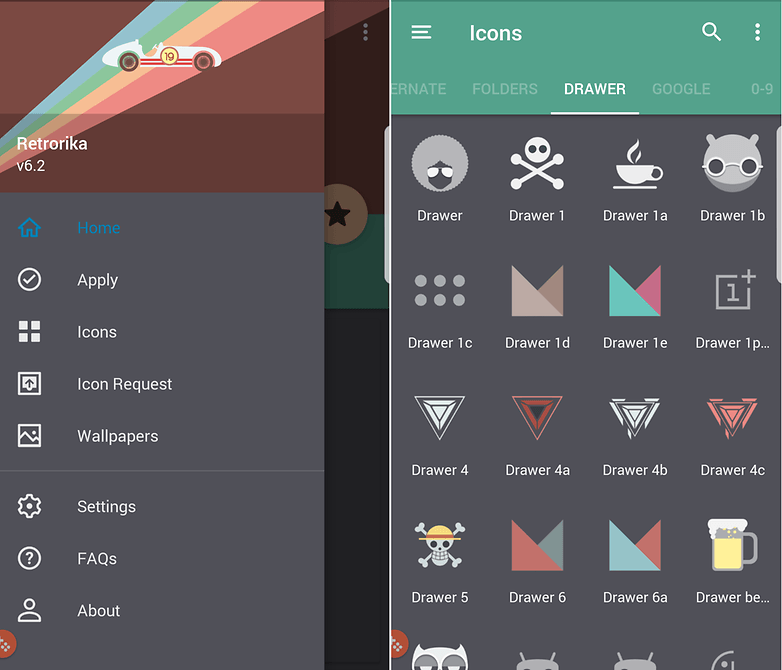 Compatible launchers: 27 launchers, probably including yours
As its name suggests, PixBit offers highly pixelated icons that will appeal to geeks and fans of the 80s and 90s... The application also offers wallpapers (also pixelated). Will you be able to have pixels permanently on your screen? Personally, I enjoy it for a while, but I wouldn't be able to have it all the time.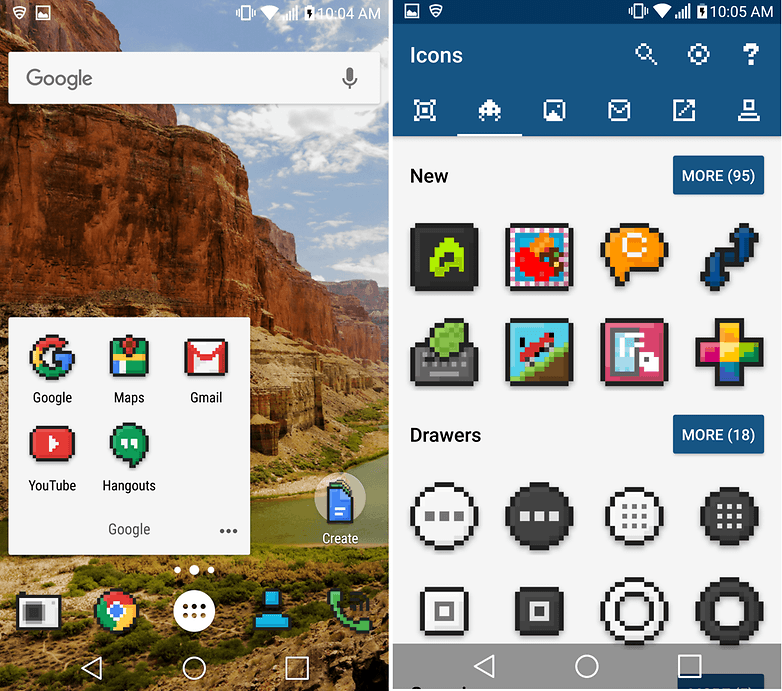 Compatible launchers: Apex, Nova, ADW, Holo, Action, Aviate...
VIT Icon Pack has more than 2000 icons that give your Android device a pure look. Be careful, it's not possible with Android stock but pure in the graphic sense: white, grey and detail. In addition to these icons, you can also set your wallpaper, so these two elements allow you to have a smartphone with a totally different look. The icons have a standardized design but are still very elegant. VIT is free and compatible with many launchers. However, it should be noted that the application has not been updated since 2015.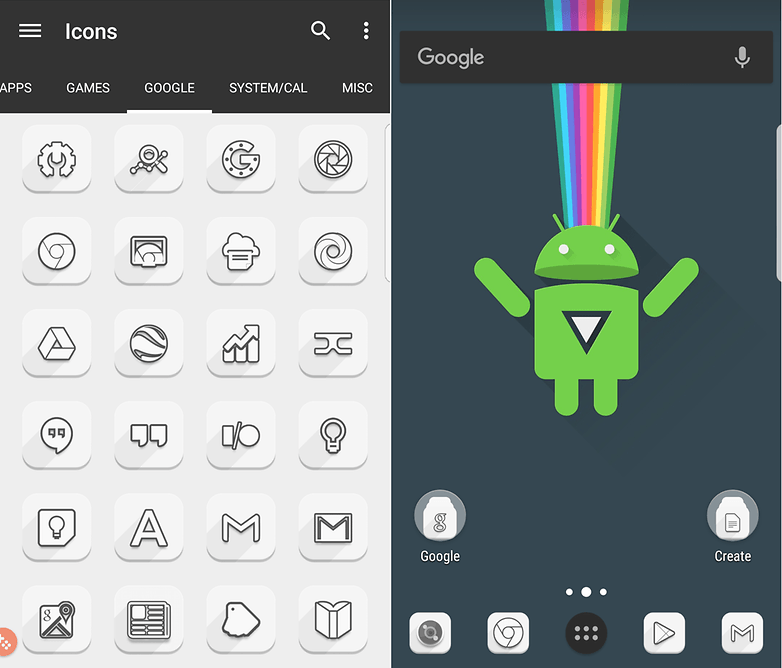 Compatible Launchers: Nova, Apex, Action, Aviate, Themer, Smart, Atom, Inspire, KK, Solo, Holo, ADW, Nine, Unicon and some others
If you miss the Stamped Black Icon pack, which is no longer available on the Play Store, the Zwart Black Icon Pack by Randle is an excellent replacement, offering a minimalist monochrome look that fits just about any smartphone. In addition, the application has cloud wallpapers and Muzei support, and more than 5,000 icons are already available, but if you find one not on the list, you can still request it via a tool provided in the application itself.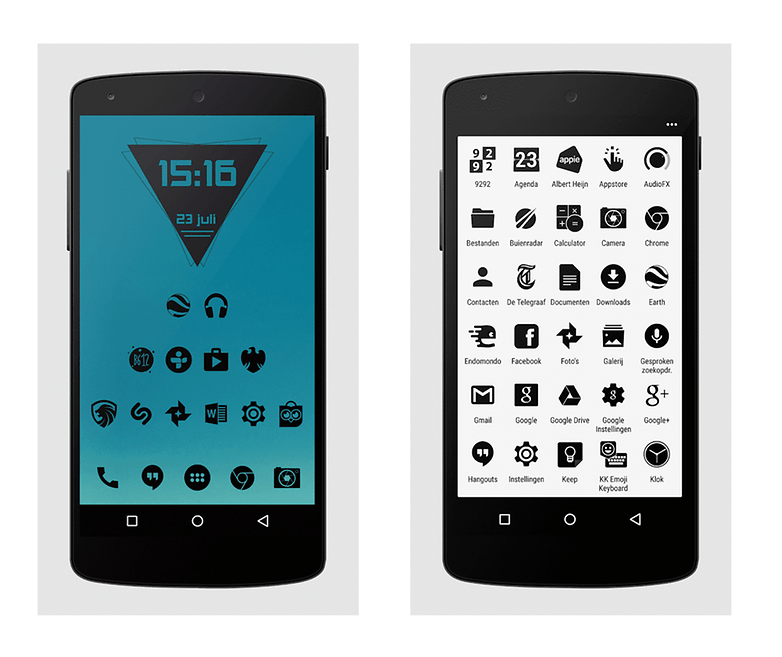 Compatible Launchers: Nova, Apex, Action, Go, Solo, Trebuchet, Smart, Aviate, Next, KK, Nine, Blur, Unicon, ADW
Atran will become a fast favorite for all those who like unified circular icons with a retro filter effect. With more than 4,000 icons (and 30 HD wallpapers), your investment will be worthwhile and others are added all the time, so if you're looking for icons with a little originality, Atran is worth paying for.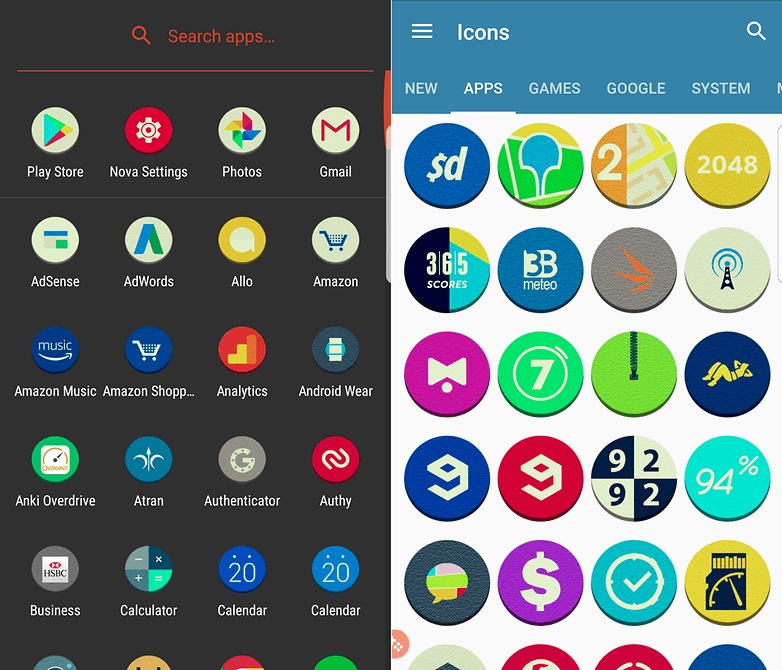 Compatible Launchers: Action, Adw, AdwEX, Apex, Atom, Aviate, Everything.me, GO, Inspire, KK, Lucid, Next, Nine, Nova, Smart, Solo, TSF, CM Theme Engine, Bubble Cloud Widgets and many others
This is another set of icons that probably won't please everyone's design sensibility, but if you have a penchant for 3D and want a little more depth in your icons, discover Tigad Pro. In total, this pack contains more than 7,800 custom icons, all designed in 3D and supporting their application directly or via most popular Android launchers, and like most other users in this list, it offers a number of wallpapers that also work with its icons in the application.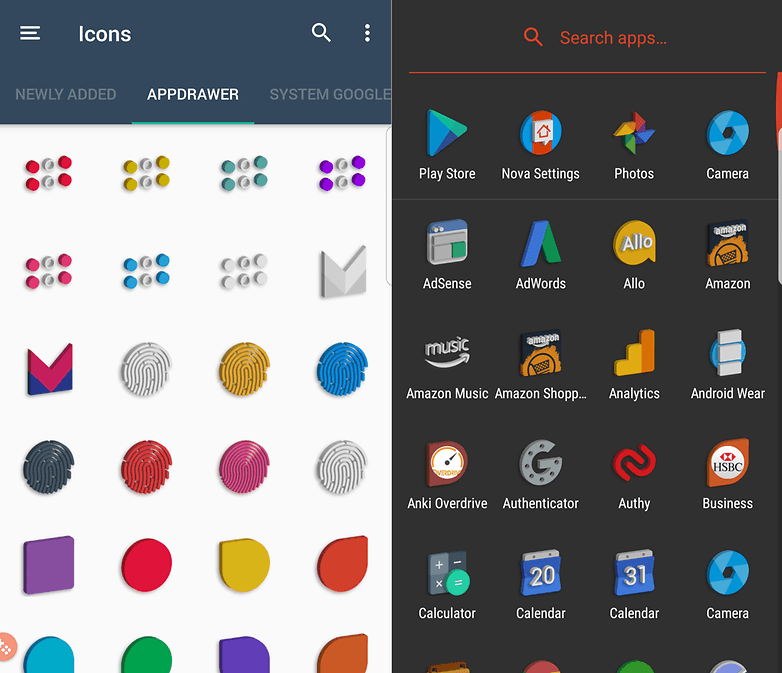 Compatible Launchers: L, Lucid, GO, Next, Apex, Action Pro, Nova, ADW, Holo, Holo HD, Aviate, Smart, Mini, KK, Solo, Epic, Inspire, Nine, Atom, Nemus, S, TSF Shell, LG Home (some issues), ThemerCM Theme Engine, Launchy Widget, Trebuchet, Unicon, maybe more
Icons that seem to have been dragged through the dust, why not? This icon pack has an aesthetic that matches its name. Despite this, the icons have a certain appeal, especially in combination with the 89 themed wallpapers included in the application. With its 3560 HD icons, Ruggon will give your phone that elegant post-apocalyptic look.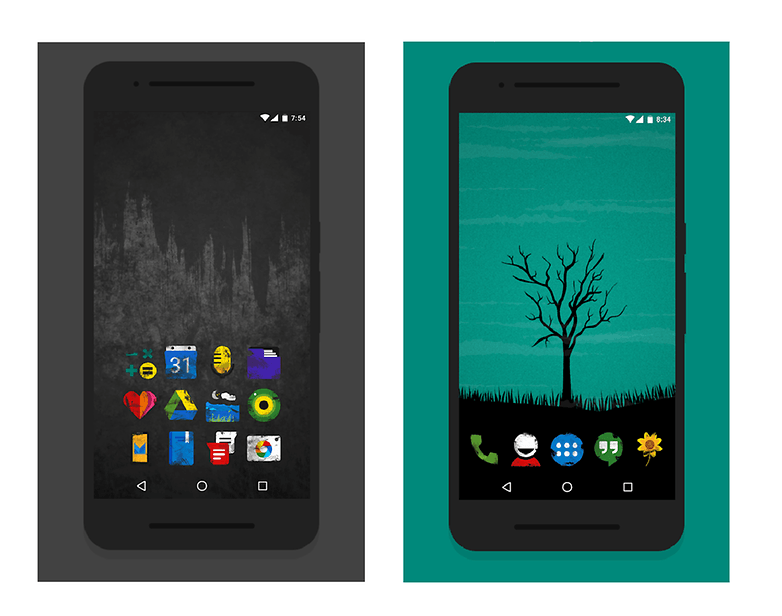 Compatible Launchers: Nova, Apex, ADW, Action, Go, Smart, Solo, Aviate, KK, Nine, Holo, Lucid, Evie, Next, TSF Shell, Unicorn
Which icon pack do you use? Let us know!