Need to pass some time? Here are the best card games for Android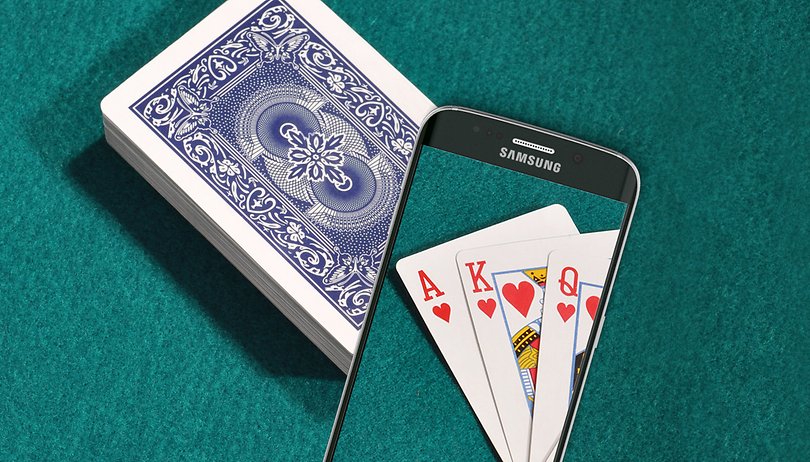 It's Winter: it's cold out, it's raining and sometimes it's even snowing. So why not stay at home and indulge in a guilty pleasure that some might find a bit outdated? That's right, playing card games. Don't have anyone to play against? Then try your luck against Android. NEXTPITTV
Solitaire
As the name suggests, this game is meant to be played alone. It's so well-known because Microsoft has always included it on Windows. Of course, a lot has changed as the years have gone by, but the game has stayed the same.
The game we'll show you in this article is a variation of Windows Solitaire (they all look alike, don't they?). You can play this old-fashioned loner game on your smartphone or tablet. I assume I don't need to explain the rules...
App version: 5.1.6.396
App size: 51.22 MB
App compatibility: Android 4.1 or higher
Price: free
Multiplayer Tarot Game
This tarot game may remind you of the fortune tellers who use it to predict the future (although not always correctly). This game is somewhat different and refers to the traditional French card game. It can be played with either 3, 4 or 5 players. It's most fun with 5 because then you really have to play as a team.
The app is the Multiplayer Tarot Game, which as its name suggests, lets you play online with and against other players. The game is free and you can play against either other people or test your luck against a CPU. You can choose your table by playing with chips, a system that the application uses to monetize the game.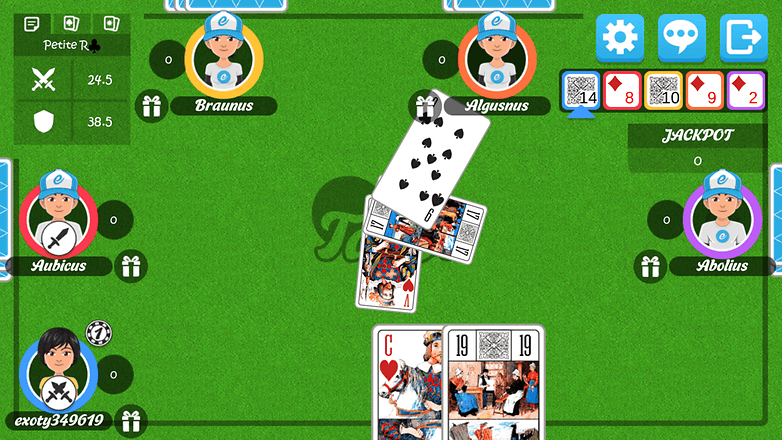 App version: 71.1.0
App size: 63.32 MB
App compatibility: Android 4.0.3 or higher
Price: free with in-app purchases
Poker Offline
Poker has been booming in recent years. The game has several variants and Texas Hold'em is undoubtedly the most famous. The problem with many poker games is that you have to play online, although some people would prefer to play offline.
There is one solution: Poker Offline. As you can guess from the name, you can play it offline without an internet connection, but still have the benefit of certain functions (there is no limit on the amount of money you can win, games start with 20,000 chips, etc.). In short, anyone who wants to play offline poker will appreciate this app. If you want to play online, you can do so as well.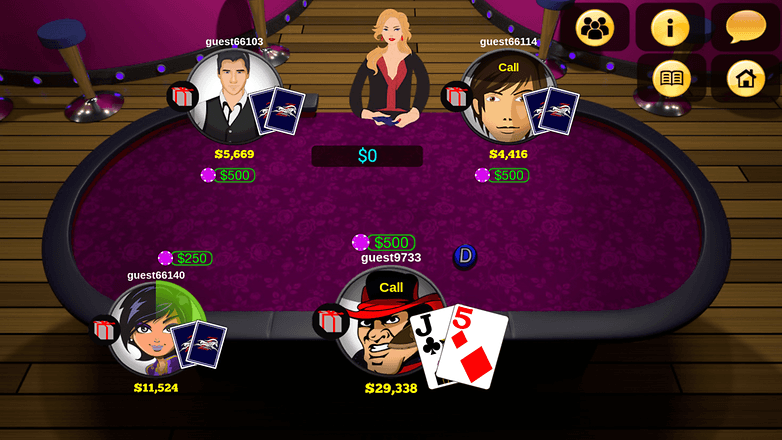 App version: 2.5.8
App size: 51.57 MB
App compatibility: Android 4.0.3 or higher
Price: free with in-app purchases
War: The card game!
War is the best-known card game for children. We all remember playing it at one time or another. Since the rules are so simple we don't need to repeat them here. Did you know that this game also exists on Android?
The game is modestly called 'War' and lets you rediscover the game that rocked your childhood. The icing on the cake is that you can choose to play alone against the computer or with another player, so you can kill some time together if you'd like. This app will surely make all children happy.
App version: 1.0.1
App compatibility: Android 2.3 or higher
Price: completely free of charge
Hearts
This game is also one of the veterans from Windows. It of course doesn't quite enjoy the popularity of Solitaire or other games mentioned above, but it's just as interesting. The rules may be a bit more complex, but it's really not too hard to learn.
This game is played with 4 players (although the 4th player is hidden behind an ad) and the opponents are generated by the computer. Unlike most games, the goals is to get as few points as possible, and the game ends when one player reaches 100 points. Whoever has the least points wins. The app is simple and intuitive, so if you don't know the rules you should be able to learn them quickly.
App version: 2.5.6
App size: 57.27 MB
App compatibility: Android 4.1 or higher
Price: free with in-app purchases
Of course there's also Bridge, Free Cell, Black Jack and many more. Are there any card games for Android that you particularly enjoy? Let us know in the comments!