Best Android Wear apps: get the most out of your smartwatch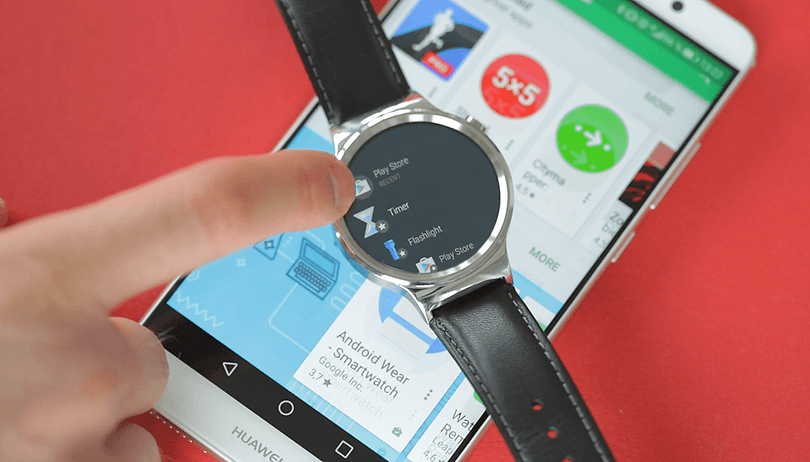 Which Android Wear app should it be? One to help you find your way around the city? Or maybe one that allows you to listen to music on the go? No matter which one you're looking for, here are some of the best Android Wear apps currently available.
Jump to a section:
First thing's first: installing and searching for Android Wear apps
It's a simple as this: you'll need to download this app to connect your smartwatch with your Android phone.
When you first synchronize your Android Wear device with your smartphone, any compatible apps will already become available on your smartwatch. Google apps, such as Notes, Calendar, Fit and Hangouts are all hallmarks of the Wear apps and are, naturally, already fully compatible.
How to search for your own apps
If nothing grabs you in the list we've compiled on the best Android Wear apps, you can always do your own research. In addition to the Android Wear section in the Google Play Store, there is also a dedicated store for Android Wear, called Smartwatch Center Android Wear. This store is maintained by a third-party supplier, but is a trustworthy source as it is available in the Play Store. As a result, you'll be able to connect to it from your smartphone.
Android Wear app versions
First, you have to choose between apps that support Android Wear only and those that are specifically designed for your watch. The latter can be launched on the watch independently and live up to their full potential. These include music players that can be played offline or apps that use the watch's sensors. With the newer versions of Android Wear, you launch your Wear apps by opening the app drawer from the right-hand side of the display.
Best Android Wear apps for everyday use
Bring
Bring is a digital shopping cart. On the smartphone, you create your shopping list and you'll be able to access it on your smartwatch. You can also share your shopping lists with your family, friends or roommates, and you can even upload pictures so you can be sure everyone gets the right brand. It's a clever and convenient way to get around some of the hassles that can accompany a weekly trip to the supermarket.
Wunderlist
"OK, Google. Make a note!" Wunderlist is an ideal "to-do" app for anyone who needs to organize a range of different tasks. Wunderlist instantly syncs between your phone, tablet and computer, so you'll be able to access your lists from almost anywhere.
Google Calculator
The Android Wear version of Google Calculator will be sufficient for most of your basic mathematical needs, as the app's capabilities are limited by the smartwatch's size. For complicated calculations, it's best if you let your smartphone do all the heavy lifting.
Best Android Wear multimedia apps
Spotify, Play Music & Co.
If you like to use your smartphone to listen to music, you'll now be able to use your Android Wear smartwatch as a remote control. Spotify allows you to access the control functions on the Smartwatch, as well as Playlists and Spotify radio stations. Google Play Music even has an option that allows you to use the Watch as an audio player.
Shazam
Shazam has also developed an app for Android Wear. Shazam is able to recognize which song is currently playing, and it works just as well as the smartphone app.
Best Android Wear messenger apps
Messenger
Google's messaging app can be used on Android Wear. This app allows you to search through your SMS messages, and even send short messages. Android Messages uses Android Wear's input methods, so you don't have to fumble around with a keyboard. That said, you'll still need to use the messenger on your smartphone as a standard SMS app.
Facebook Messenger
With Facebook Messenger, you can easily respond to messages via the watch, "Like" them, or mute them without removing your phone from your pocket - saving your phone's battery life, too.
Threema
Threema is a favorite amongst those who are wary of hackers, corporations and governments looking into their personal details. As a result, Threema didn't wait too long before making its app available on Android Wear.
Telegram
Telegram is now also available on Android Wear. You'll be able to access messages from all your devices at once, so you can start typing on your smartwatch and finish the message from your tablet or laptop.
WhatsApp
Compatibility with devices has always been one of the main strengths of WhatsApp. As a result, it's not really that surprising to find that the chat client can also display your messages - and even pictures - on Android Wear devices.
Talon for Twitter
The Twitter addicts out there are also now well supported on Android Wear, thanks largely to Talon for Twitter. You can now send tweets off from the comfort of your own smartwatch.
Best Android Wear launcher apps
Wear Mini Launcher
The Wear Mini Launcher brings all your apps directly to the start screen. This means you no longer have to run the apps via "Ok Google" or do a manual search. An added bonus is the launcher makes the Smartwatch look a bit more like a smartphone.
Bubble Launcher
Bubble Launcher is the first animated and intelligent app launcher designed for Android Wear smartwatch. In addition to a scrollable overview of all installed Wear apps, the Bubble Launcher also provides a button to switch between the apps on the watch. You can open watch apps quickly via animated launcher on left side of the screen, which are sorted automatically based on which ones you use the most.
Best Android Wear watch face apps
Weareal
The standout feature of the Weareal watch face is its realistic reflection. Everything is interactive and fully responsive. It also simulates metallic luster, which travels across the display depending on the rotation of the watch. After the initial installation there are a few lagging issues, but after you give a few seconds the reflection moves smoothly and realistically and gives your watch a brand new glow.
Fluid Watch Face
Are flat watch faces too boring for you? If so, then you should consider trying the free Fluid Watch Face app. It brings not only a nice background to any Android Wear watch, it also has some very attractive animations. A total of five different background images are currently available.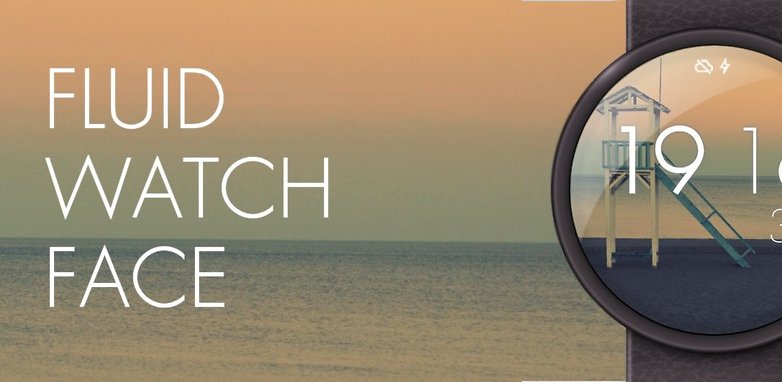 Watch Face - Minimal & Elegant
Watch Face is characterized by the fact that it is minimalist and elegant, without compromising useful information. As a result, not only can you see the current time, you can also see the weather and battery status (watch and smartphone). You can also customize the Watch Face according to your needs and tastes, such as by changing colors, text fonts and much more.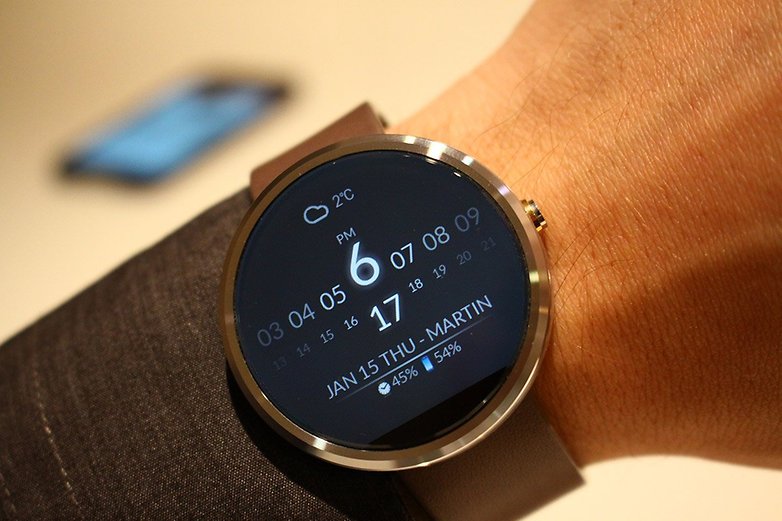 WatchMaker Premium Watch Face
Are you not happy with what's available and want to bring your own style to your watch? WatchMaker Premium Watch Face is the app you've been looking for. Although there is also a selection of pre-designed watch faces, the app is actually an editor for watch faces, so you'll be able to let your creative side run wild. If there is just too much choice for you, there are several thousand watch faces available that have already been created by other users of the app.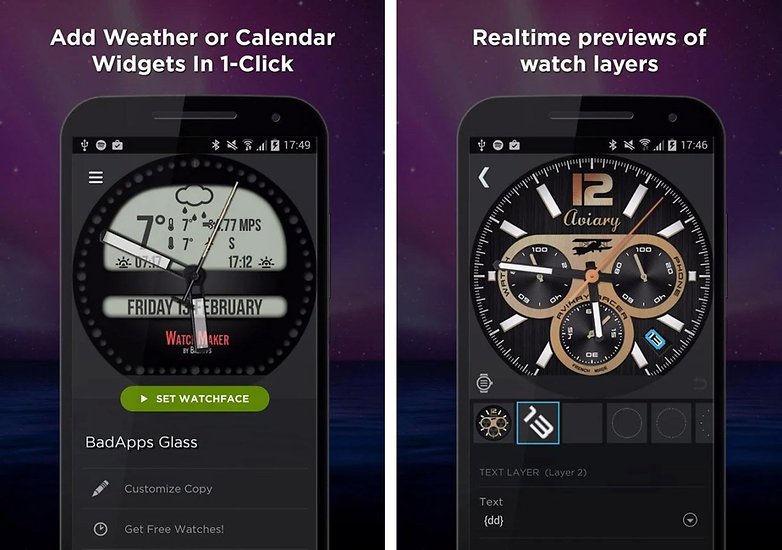 Street Art watch face
Thanks to the enterprising people at Google, a number of artists have been recruited so that they can bring a little urban touch to your Android Wear smartwatch. In addition to the motifs, you'll be able to specify how your display is set up by using a connected smartphone. A list of the involved artists is available in the Play Store.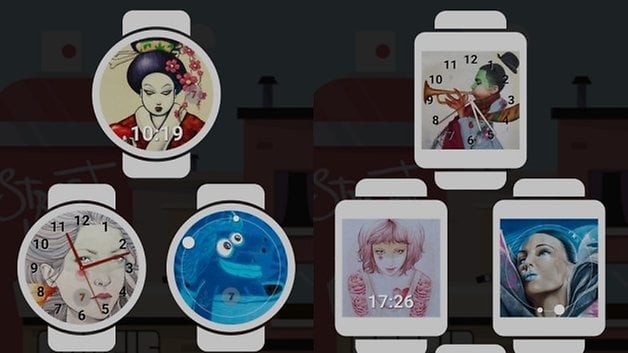 Knight Rider Watchface
Genuine 1980s charm has made its way to Android Wear with the Knight Rider Watch face. Who hasn't wanted to be like David Hasselhoff and go hunting down criminals in a talking car? This watch face brings you a little bit closer to realizing that dream. Although you won't be able to communicate with KITT via the watch, you can always call for help with "Ok, Google."

Are you currently using any of these apps on your own Android Wear device? Are there any others you would include in this list? Let us know in the comments below.