Asus Zenfone 10 review: Tiny, compact, and sometimes fantastic!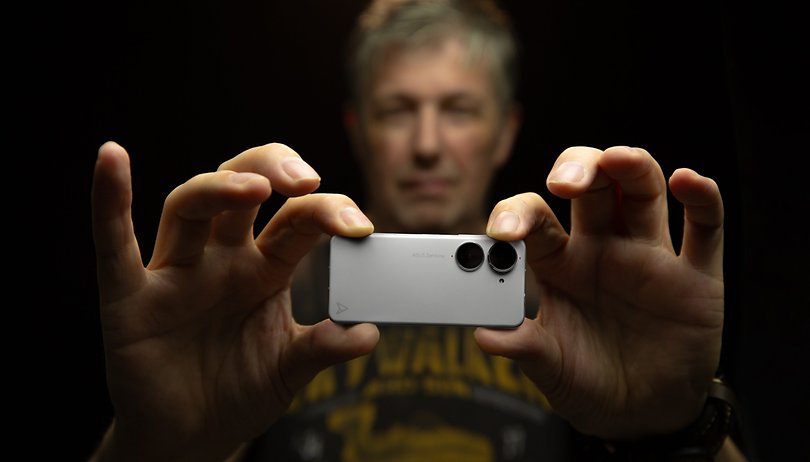 Good
Non-stop performance beast

Small, compact, and easily portable

3.5mm audio jack

Many useful additional functions
Bad
Where is the 2MP macro camera?

Chassis gets very hot easily

Average software update policy

No microSD slot
Asus Zenfone 10: All deals
The Asus Zenfone 10 in a nutshell
It looks like Asus has taken stock of feedback from reviews over the years with their latest smartphone release. The power button as well as the fingerprint sensor is now correctly located, and you get 15 W wireless charging. The choice of material for the back of the Zenfone 10 is also of a higher quality and is not only fingerprint resistant, but also feels secure to hold.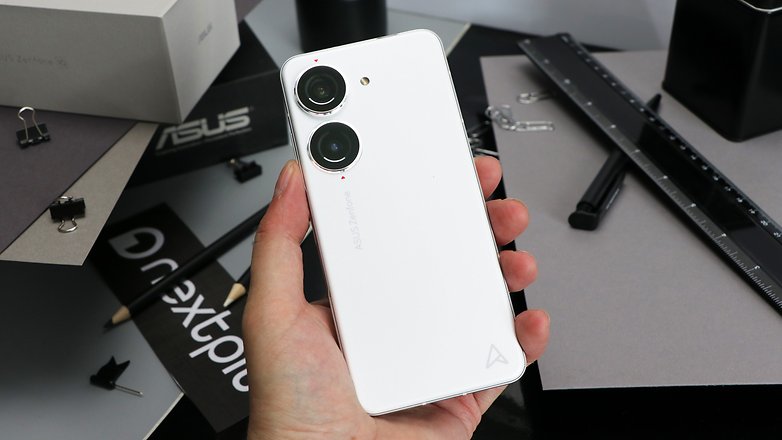 Furthermore, the Taiwanese company also reworked the camera setup for it to deliver really good results during both day and night. The Snapdragon 8 Gen 2 SoC is a mixed bag, though. It is not because it lacks performance—that is certainly not the case—but rather, the aluminum chassis can get really hot under extreme load.
In fact, it becomes so hot that you will not want to hold the Zenfone in your hand for a second longer. The software update policy still needs some improvement, but the overall price-to-performance ratio impressed us.
Where can you buy the Asus Zenfone 10?
The Asus Zenfone 10 is now available in Europe for a recommended retail price of €799 (8 GB RAM/128 GB storage), while those living Stateside will have to wait until Q3 for it to debut. US pricing details remain unknown at press time.
The available colors for the Zenfone 10 are Midnight Black, Starry Blue, Aurora Green, Eclipse Red, and Comet White (our review sample). Those living in Europe can expect the smartphone to ship from July 7, 2023.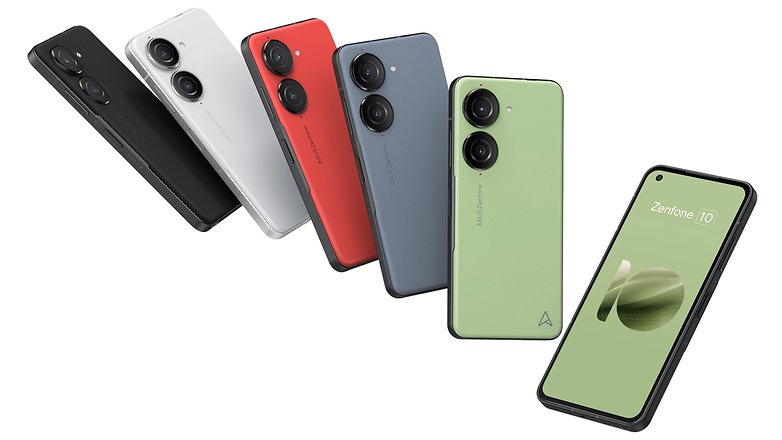 Furthermore, the Asus Zenfone 10 is available in 8 GM RAM/256 GB storage for €849. The maximum configuration of 16 GB LPDDR5 RAM and 512 GB internal UFS 3.1 program memory costs a whopping €929. However, Asus also has a so-called Early Bird promotion where you get the next more expensive version for 799 or 849 Euros. In other words: You can get the 16/512 GB version for 849 Euros for a limited time.
Asus Zenfone 10 design and build quality
At first glance, the Asus Zenfone 10 hardly shows any visual changes compared to its predecessor, the Asus Zenfone 9 (review). That is not a bad thing at all. Rather, it is the opposite. Due to the rougher back, the compact smartphone feels secure to hold in the hand. Its 172 g weight is comfortable enough to tote around, be it in your grasp or in your pocket.
---
Pros:
Small, compact, and highly portable.
Everything is well positioned.
Cons:
Unreliable fingerprint sensor.
---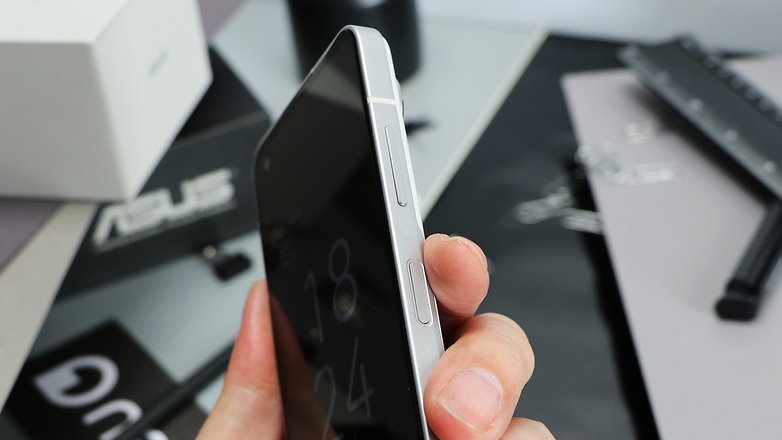 The power and standby buttons that Ben complained about in the Zenfone 9 series are now in the right place, along with the fingerprint sensor. One ought to take note that it did not recognize the stored fingerprints consistently in our review. However, since I hold the smartphone in my left hand, my left index finger seemed to have the highest rate of success when it comes to unlocking the device.
There are one or two manufacturers on whom you can rely to include a 3.5 mm audio jack even for flagship devices. Sony is one of them, while the other would be Asus. Stereo speakers are also part of the deal, where they offer acceptable audio quality courtesy of "Dirac Virtuo" and individual settings. Of course, they could be a bit louder, but isn't that always a possibility?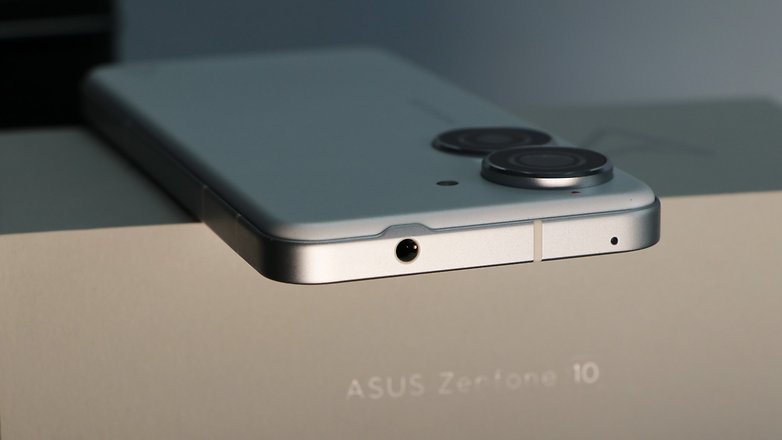 The design is rather bland to begin with, which is not a bad thing at all. Sure, the aluminum chassis will surely be called out for closely resembling the iPhone, but that is not a bad thing at all.
At the back, two circular, vertically arranged camera lenses are located on the upper left, where the top-most one is the 50 MP primary shooter that protrudes slightly more thanks to its 6-axis stabilization. Thankfully, this did not annoy me that much. Overall, the build quality is outstanding, which is typical for Asus.
Asus Zenfone 10 display
A compact smartphone tends to suggest the presence of a small display. However, the AMOLED screen measures exactly 5.92-inches across diagonally and is not as small as expected. It can be operated using just one hand and to our surprise, the Taiwanese company did not skimp on the resolution or refresh rate.
---
Pros:
Beautiful display, even in bright daylight.
Up to 144 Hz refresh rate (for gamers).
Always-on display.
Cons:
Bezels are too thick.
Touch input is spotty at times.
---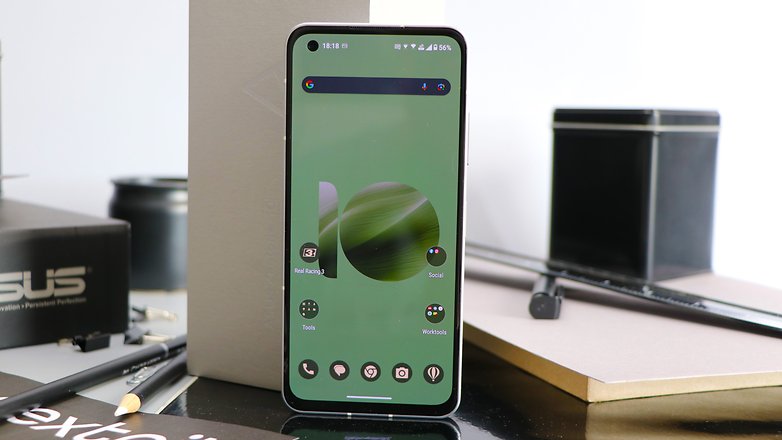 Overall, the Zenfone 10 offers a 2,400 x 1,080 pixel resolution and a maximum refresh rate of 144 Hz which is available only for gaming. I found that to be an acceptable compromise. Normally, you would live with a 120 Hz refresh rate 20:9 aspect ration display with a 446 ppi pixel density.
This is rather impressive for a compact smartphone, and the bouquets also extend to the contrast, color reproduction, and viewing angle. However, I have to criticize the screen for its unsightly and unnecessarily thick bezels. If there is already so little space available to begin with, it should not be wasted unnecessarily.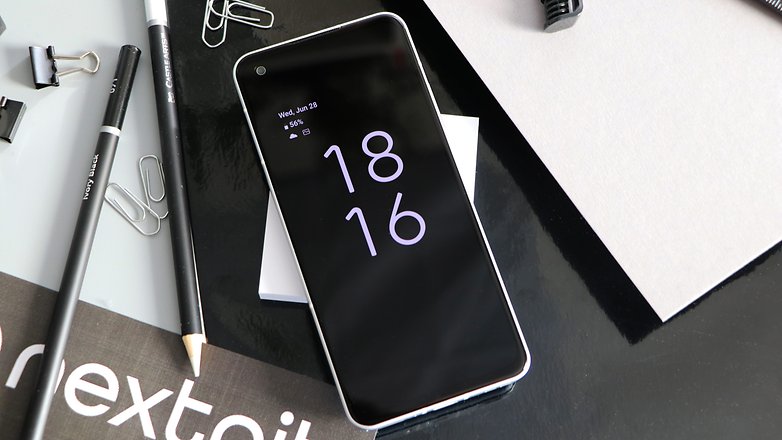 Of course, Asus offers you a few settings to choose from for the display which is protected by Corning Gorilla Glass Victus. From the automatic brightness and refresh rate to the optimal color temperature in Splendid or the animation speed of windows, icons, and apps, you are spoilt for choice.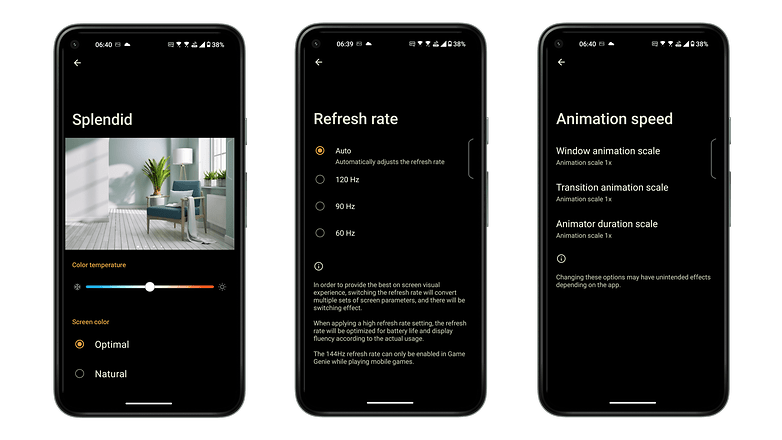 Of course, the Zenfone 10 also offers an Always-on Display, albeit in a more simple manner without too many bells and whistles, unlike Xiaomi's MIUI. At least it is completely sufficient and functional. Last but not least, I have one more criticism: I sporadically experienced spotty touch input even when my finger was as dry as a bone. In fact, I am actually at a loss and will update the review with new information as I spend more time with the device.
Asus Zenfone 10 software
I still remember the Asus in the past, where the smartphone was bloated with its own applications that you completely lost track of what's available. That has changed in 2023 with the Asus Zenfone 10. There is no bloatware this time around, unless you include Facebook and Instagram.
---
Pros:
No bloatware.
Pre-installed apps by Asus are useful.
Cons:
---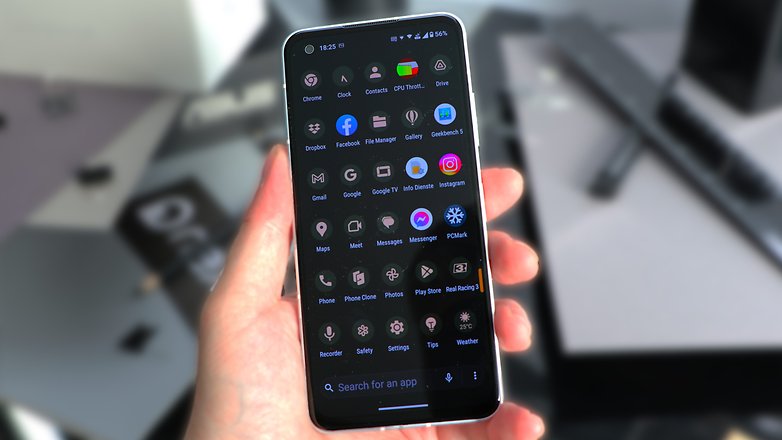 Instead, I found a few useful features in ZenUI, but they do not necessarily impose themselves on the user. For example, the practical "Back Tap" gesture to launch different applications, the "Edge Tool" that is located on the sidebar that carries the most frequently used applications, or "Game Genie", which allows different settings within a game—such as Real Racing 3 as shown below.
Last but not least, you can pull down the quick menu by sliding your finger downwards on the fingerprint sensor at the side.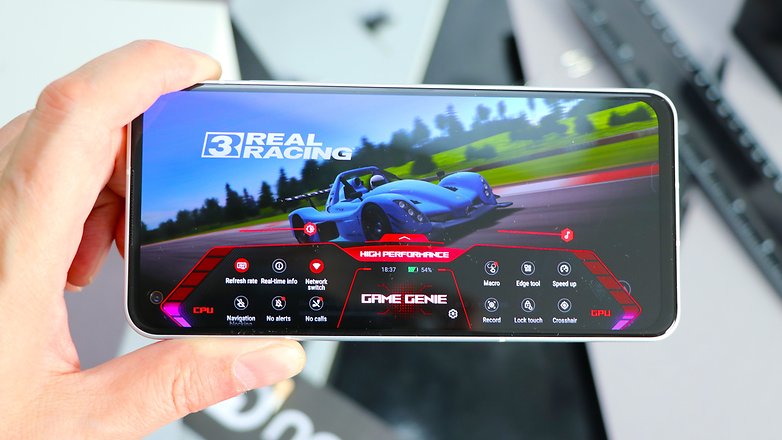 As soon as the Asus Zenfone 10 arrived in our editorial office, we received a system update to the latest Android 13 version. However, the Google security patch still remained from April 5, 2023. Here we are right before the calendar enters July 1, 2023—this is probably the final major shortcoming of Asus: its update policy. Overall, the Zenfone 10 disappoints with just two years of system updates and four years of security updates.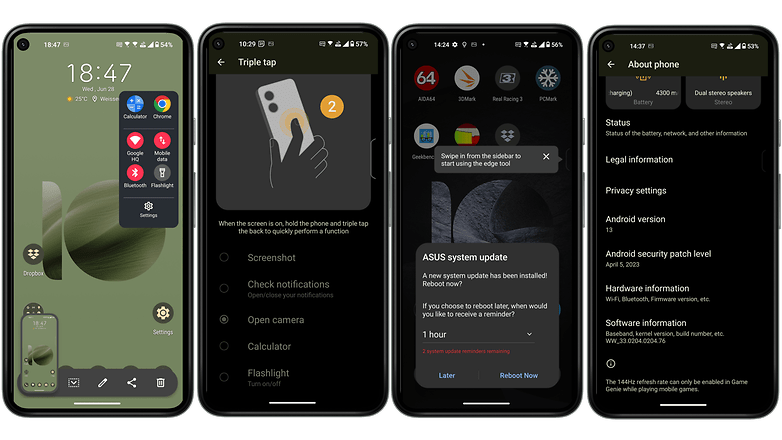 Please take note that we are not talking about two system updates, but two years of system updates. According to my understanding, this does not necessarily mean the Zenfone 10 will also receive Android 15.
Asus Zenfone 10 performance
Asus' Zenfone is powered by a Snapdragon 8 Gen 2 SoC, the latest and fastest chipset from the Californian chip manufacturer, Qualcomm. What would normally lead to tears of joy streaming down when playing the most demanding games in terms of performance might end up as tears of frustration when you push the handset to its limits.
---
Pros:
The SoC's performance rocks.
Smooth system performance.
Sufficient memory to run all apps.
Cons:
No microSD support.
Chassis gets too hot to hold, let alone touch.
---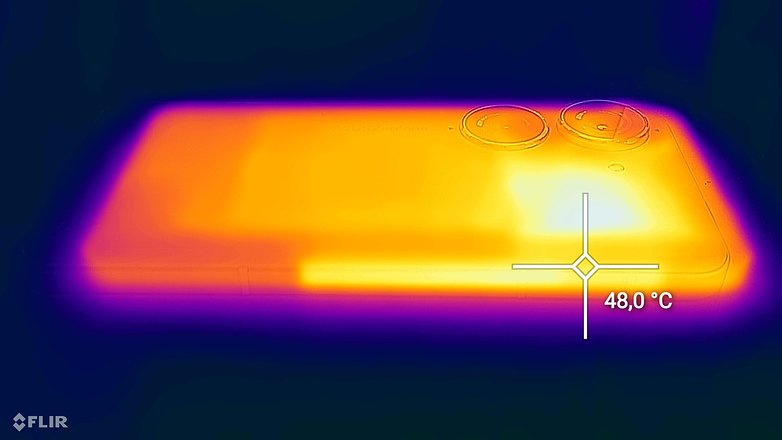 If you were to ever push the octa-core processor, which is manufactured using the 4 nm process, it will 'reward' you with a very hot aluminum chassis. I would think that it got so hot that mimosas like me have no other recourse but to peel our delicate digits away from the smartphone to prevent third-degree burns. I jest, but it gets really hot! This is probably a burden that this compact smartphone has to bear.
Just what kind of performance is this portable computing device capable of? Of course, we would like to find out and compare that using the typical benchmark tools.
Asus Zenfone 10
Sony Xperia 5 IV
Samsung Galaxy S23
Motorola Razr 40 Ultra
Asus Zenfone 9
Processor
Snapdragon 8 Gen 2
Snapdragon 8 Gen 1
Snapdragon 8 Gen 2
Snapdragon 8+ Gen 1
Snapdragon 8+ Gen 1
3D Mark Wild Life
Maxed Out!
6,838
Maxed Out!
Maxed Out!
Maxed Out!
3D Mark Wild Life Stress Test

Best Loop: 13,502

Worst Loop: 6,181

Best Loop: 8,771

Worst Loop: 4,737

Best Loop: 11,049
Worst loop: 6,169

Best Loop: 7,010

Worst Loop: 3,563

Best Loop: 10,524
Worst Loop: 5,617
Geekbench 5
Single: 1,468
Multiple: 5,175
Single: 813
Multiple: 3,133
Single: 1,537
Multiple: 4,807
Single: 1,303
Multiple: 3,712
Single: 1,263
Multiple: 3,899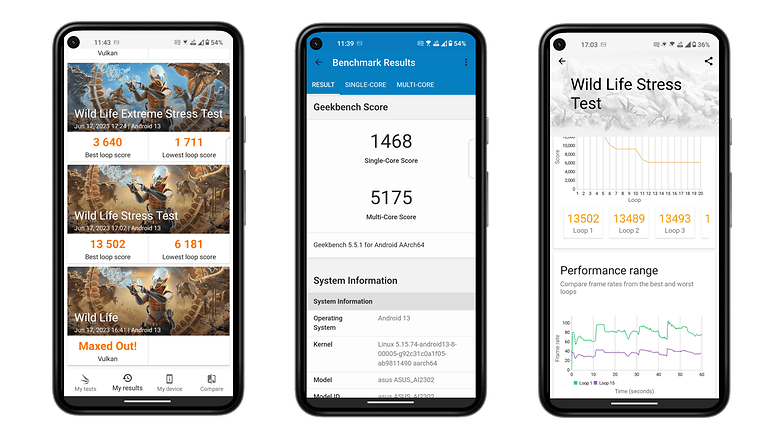 Okay, the benchmarks already show that the Asus Zenfone is the fastest arrow in the quiver of compact smartphones. This is because even the Samsung Galaxy S23, which is powered by a pimped-up Snapdragon 8 Gen 2, lags behind the Asus Zenfone 10 in the "3D Wild Life Stress Test".
Asus once again leads by example when it comes to storage: Although there is no support for expandable memory, the user has different memory configurations to choose from before buying the device. Thus, you will find combinations 8/128 GB, 8/256 GB, and 6 GB LPDDR5 RAM and 512 GB internal UFS 3.1 program memory available.
Okay, the eternal critic in me would have considered the 12/256 GB configuration as perfect, but at some point, you have to shut up—which now is exactly the right time to do so—until one takes the camera into consideration.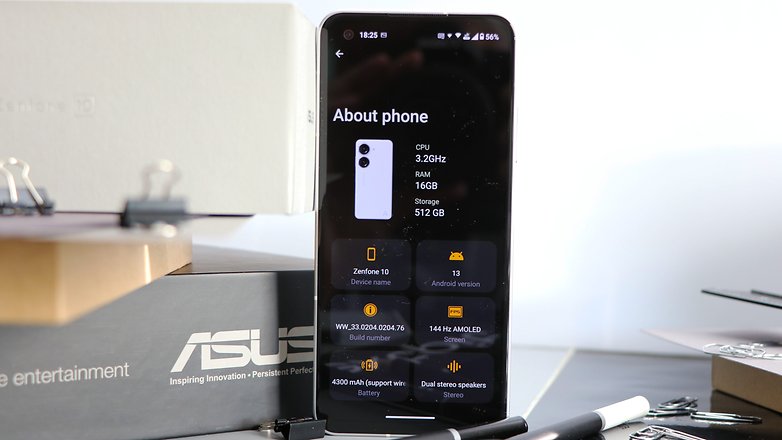 Asus Zenfone 10 camera
Asus installed dual main cameras at the back of the Zenfone 10. If the results are as good as in our review samples today, we only have this to say: everything was done right. Who would have thought? However, it probably does not need a third 2 MP macro camera behind.
---
Pros:
Great pictures from the main and ultra-wide angle cameras.
The Gimbal camera is not a marketing gimmick but actually works.
Record up to 8K videos at 24 frames per second.
Cons:
No telephoto camera to zoom in on further subjects.
Annoying ring around the selfie camera.
Glaring color differences at times.
---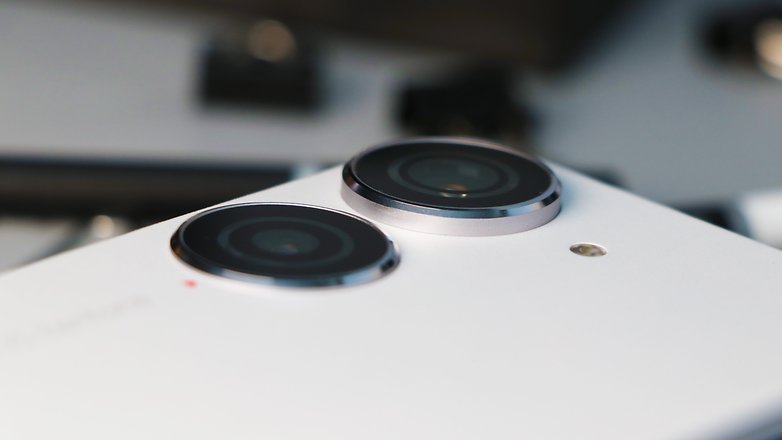 A flagship smartphone with only two cameras behind—is that even justifiable? Yes, it is! At the very least, that would be your answer when you view photos taken. A 50 MP main camera and a 6-axis gimbal stabilization (v2.0) are responsible for that. Behind this lens that protrudes from the chassis, lies an IMX766 image sensor from Sony, which measures 1/1.56-inches with an f/1.9 aperture that has the equivalent focal length is 24 mm.
Below that is a 13 MP ultra-wide angle camera with a 120-degree field of vision and an f/2.2 aperture. The front-facing camera, for whatever reason, was placed right in the top left corner of the display in a punch-hole design, offers a 32 MP resolution. That is quite an achievement, even though the photos are above average.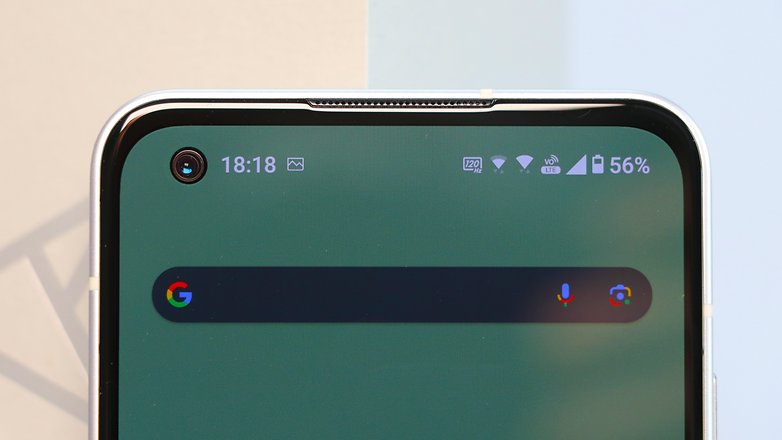 The Asus Zenfone 10 shows off its strengths at the back. Of course, a telescopic lens would be icing on the cake in a dual camera configuration. ?This is especially so since the maximum magnification already ends at 8x zoom. However, you do not get totally poor results like the Motorola Razr 40 Ultra (review).
In contrast to the Lenovo subsidiary's handset, the Zenfone 10 also takes rather decent photos at night. Apart from the decent level of light intensity, the 6-axis gimbal hardware offers anti-shake OIS while the improved software algorithm delivers electronic image stabilization (EIS) for fast autofocus. By the way, the Zenfone 10 captures videos at 8k resolution and 24 frames per second.
Asus Zenfone 10 battery
Asus installed a 4,300 mAh battery in the Zenfone 10. Apart from the 30-watt power adapter that is included in the packaging, the compact smartphone can also be charged wirelessly at a maximum of 15 watts. Do take note that not all docking stations are compatible with the Zenfone 10. This is due to the height of the installed inducers in the Zenfone 10.
---
Pros:
Surprisingly good battery life.
30 W adapter is included.
Wireless charging (15 W) is supported.
Cons:
15-W "HyperCharge" is not that fast.
Not every Qi charging dock is compatible.
---
Another criticism of the Zenfone 10 that comes to my mind is the actual charging time. I am aware that this is not considered too important by many, but I still want to mention it. Thus, 5 minutes connected to the included charger delivers a whopping 11 percent battery charger. Half an hour later and you get a 48 percent charge, while Asus' charger fully fills up the battery after one hour and 22 patient minutes of charging.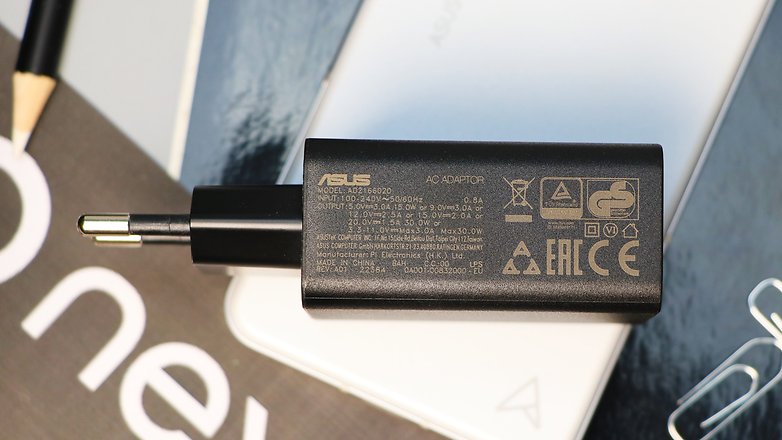 However, a full charge will give you two whole days of battery life for the average user. In my opinion, this is rather respectable and compensates for the longer charging time.
The device lasted a whole 11 hours and 28 minutes in the "PC Mark Work 3.0" battery test. This test requires a 100 percent full battery, a display brightness of 200 nits, and flight mode activated to run.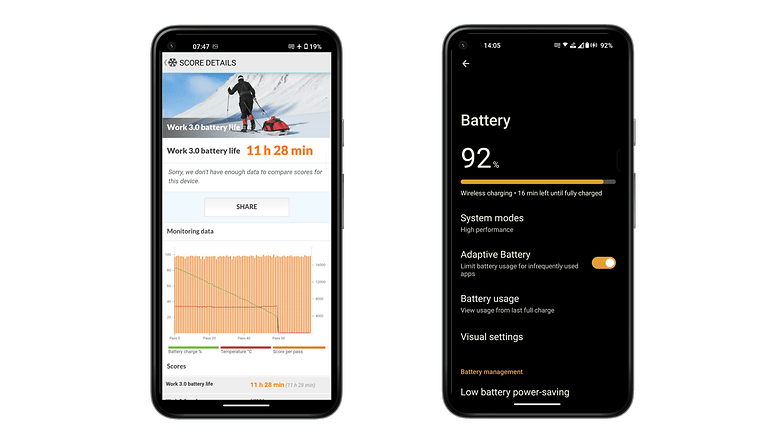 In comparison, the Motorola Razr 40 Ultra that I reviewed achieved 10 hours and 44 minutes at 4,200 mAh.
Asus Zenfone 10 technical specifications
Technical specifications
Device
Image
Screen
5.92-inch OLED, Full HD+ resolution, 144 Hz refresh rate
SoC
Qualcomm Snapdragon 8 Gen2
Memory
(varies depending on region)
up to 16 GB LPDDR5 RAM
up to 512 UFS 3.1 ROM
Software
Android 13 | ZenUI
Expandable memory
None
Main camera
50 MP | f/1.9 | 23.8 mm focal length | 1.0 µm pixel size | PDAF | Gimbal OS
Ultra-wide-angle camera
13 MP | f/2.2 aperture | 14.4 mm focal length | 120° viewing angle
Selfie
32 MP | f/2.5
Video
4K at 30/60 fps | 8K at 24 fps
Audio
Stereo speaker
Battery
4,300 mAh
Charging via cable
Max. 30 W
Wireless charging (Qi)
15 W
UWB
No
Final verdict
There are not too many compact smartphones in the market at the moment. Even Cupertino has retired its compact Apple iPhone 13 mini form factor. Our list of the best compact smartphones provides a nice overview of the current situation. The newest device to make it to this list is the Asus Zenfone 10, which is not only compact but also technically quite capable.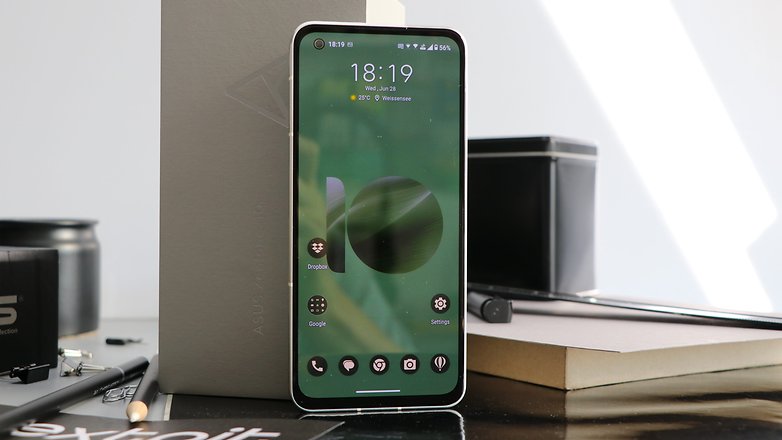 It features Qualcomm's latest and fastest Snapdragon processor, which can sometimes get quite nasty when it heats up the aluminum chassis when under load, and a 5.9-inch AMOLED screen that also has a decent refresh rate.
At the back, we find a relatively unspectacular-looking dual camera that takes excellent photos during the day and at night, of which the 6-axis gimbal is responsible for such results.
What's great about this handset? The Taiwanese company can still improve the battery life and the software update policy, but Asus has already improved the Zenfone 10's button position, included wireless charging, and some other useful features.
Thus, the starting price of €799 (~$799) is definitely on the right track. As we already know, it is already slim pickings for smartphones of this size, so Asus really outdid themselves this time around.