Asus ROG Phone 7 Ultimate review: The king of gaming, but where are his subjects?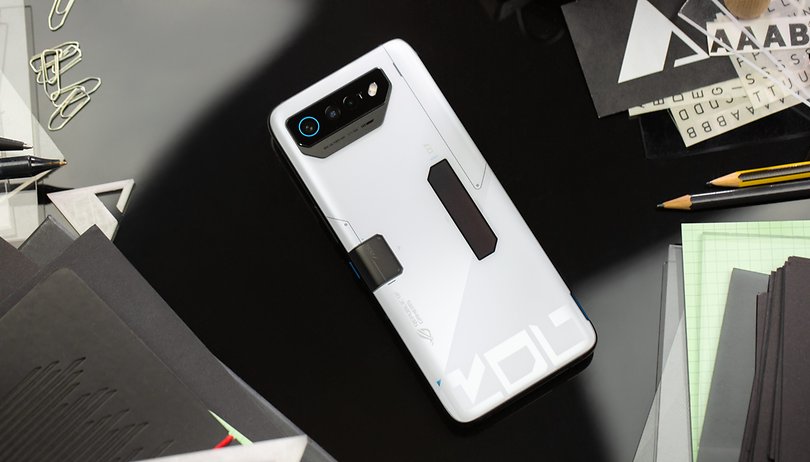 Asus continues to invest in the niche gaming smartphone market with the ROG Phone 7 Ultimate. Does this top-of-the-range, overpowered gaming smartphone that sells for more than $1,500 perform better than a "non-gaming" model from Samsung or Xiaomi? I share my full and honest opinion in this Asus ROG Phone 7 Ultimate review.
Good
Sublime 165 Hz AMOLED screen

Premium design with Gorilla Glass Victus and aluminum frame

Best battery life in the market

Efficient 65-watt charging

Top drawer Snapdragon 8 Gen 2 performance
Bad
Disappointing photo quality that is unworthy of such an expensive smartphone

Poor update policy

No wireless charging support
Asus ROG Phone 7 Ultimate: All deals
The Asus ROG Phone 7 in a nutshell
Asus has somewhat simplified its range this year. There are two models to choose from: the ROG Phone 7 and the ROG Phone 7 Ultimate.
The Asus ROG Phone 7 Ultimate has been available in Europe since April 13, 2023, arriving in a single 16/512 GB memory configuration and priced at €1,429. The basic ROG Phone 7 is available in two configurations of 12/256 GB and 16/512 GB, and are priced at €1,029 and €1,199, respectively. For those living Stateside, you can pick it up for $1,549.99 a pop on Amazon.
Make no mistake about it, this is a gaming smartphone through and through. Hence, we know the drill. You get plenty of RAM upfront, up to 16 GB, a powerful Snapdragon 8 Gen 2 SoC, a big, long-lasting 6,000 mAh battery, haptic triggers on the side, and... a very average non-telephoto camera configuration.
In short, this iteration from Asus doesn't bring any major changes from last year's ROG Phone 6 Pro (review). Asus is still the undisputed champion of gaming smartphones. The battery life of the ROG Phone 7 Ultimate is the best in the market, there is no question about it. The performance is obviously top-notch.
But why should you spend more than $1,500 to play Train Surfers in 4K at a constant 20,000 FPS?
Design
The ROG Phone 7 Ultimate from Asus is a gaming smartphone from the get go, hence its very distinctive design. However, it is also a high-end smartphone. As a result, the finish is meticulous and the quality of materials used is top-notch.
---
What I liked:
Gorilla Glass Victus in front and Gorilla Glass 3 behind.
Aluminum frame.
IP54 certification.
Dual SIM port and a 3.5 mm jack.
Integrated fan inside the case.
What I disliked:
The tiny OLED screen at the back is of little use.
Fairly heavy at 239 grams.
---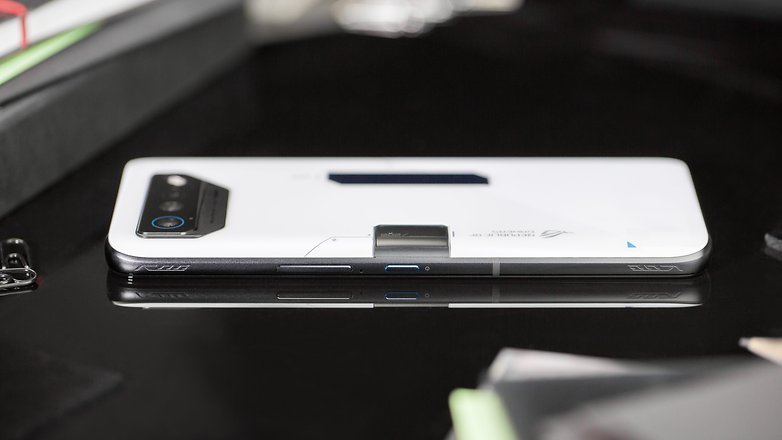 The look of the Asus ROG Phone 7 Ultimate is anything but boring. The white back is criss-crossed by lines that evoke an industrial drawing or construction diagram. There are a few touches of metallic neon blue around the main camera lens, the lock button, and the SIM port. Personally, I like this design, but it's very loud and not minimalist at all.
The finish, on the other hand, is top-notch. The back is made of matte glass protected by Gorilla Glass 3 and is very pleasant to touch. The flat screen is covered with Gorilla Glass Victus. The frame is made from aluminum, and the smartphone is IP54-certified for water and dust resistance.
The ROG Phone 7 Ultimate also features an integrated fan. A tiny 2" OLED display at the back is also present as well in this iteration and can be customized as required.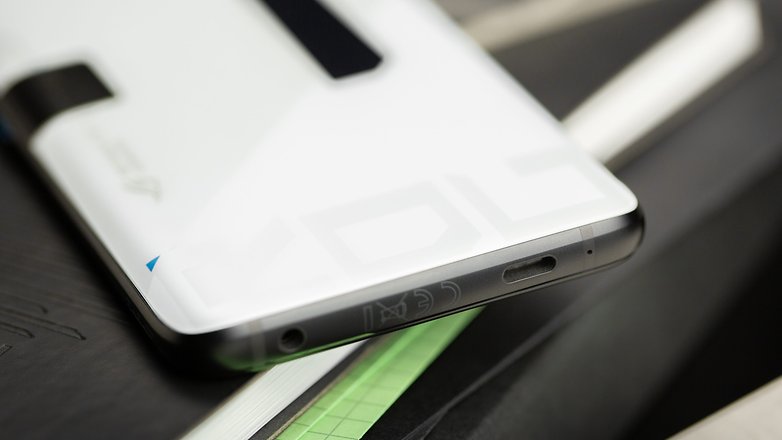 Screen
The screen of the Asus ROG Phone 7 Ultimate is a 6.78-inch AMOLED panel with a refresh rate of 165 Hz, sporting a maximum brightness of 1,500 nits, and a resolution of 1080 x 2448 pixels. The flat screen is brighter this year, and still provides excellent quality.
---
What I liked:
No curved edges.
Gorilla Glass Victus.
165 Hz refresh rate.
Average brightness of 1,000 nits.
720 Hz touch sampling rate.
What I disliked:
---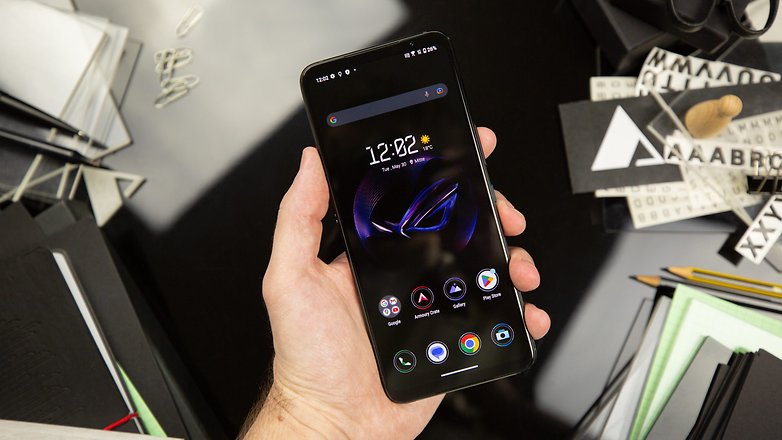 Color rendering using the default "optimal" mode is a little too cold in my opinion. It tends to trend toward blue tones. The "standard" mode offers a more neutral colorimetry.
The 165 Hz refresh rate doesn't help much, let's be honest with that. I didn't notice any visual difference when using the 120 Hz mode, which is also available. Asus also offers 90 and 60 Hz options. However, when you are on 120 Hz and run mobile games at 120 FPS, the result is very impressive. It's hard to beat this level of performance in this price range.
The maximum brightness of 1,500 nits can only be achieved at peak on a tiny part of the screen. In HBM mode, with maximum brightness, 1,000 nits can be achieved for the entire screen. This is very good and ensures excellent legibility under all circumstances. I was able to quietly play my games on the office terrace under direct sunlight instead of working on my articles.
In short, the ROG Phone 7 Ultimate's screen is perfect for consuming content. The fact that it's flat rather than curved makes it easier to handle for gaming. In addition, with the selfie camera hidden underneath a black bar, it offers a good degree of gaming immersion.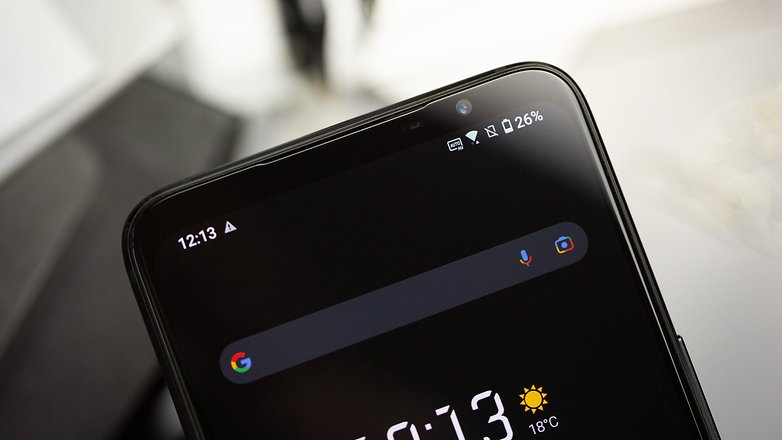 Interface/OS
The ROG Phone 7 Ultimate runs on Android 13 with the gaming-oriented ROG UI skin to deliver its icons and theme. There's also the famous Armory Crate menu for customizing the smartphone's performance. However, Asus still lags behind its peers when it comes to updates.
---
What I liked:
Highly polished, bloatware-free interface.
Comprehensive Armory Crate and Mode X menus for customizing performance.
What I disliked:
2 years of Android updates and 4 years of security updates.
---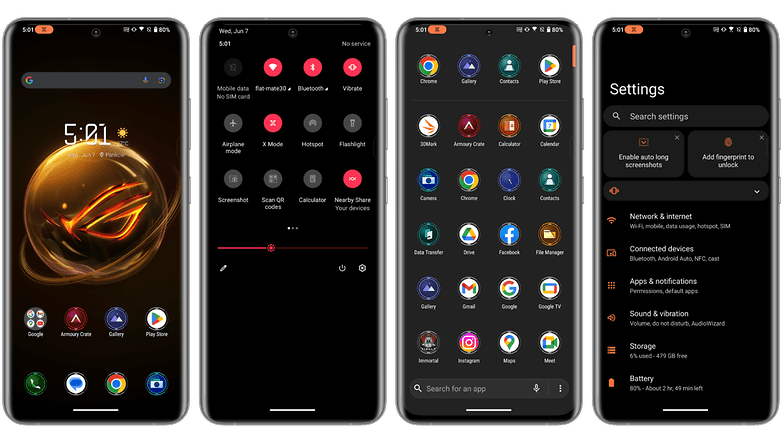 On the ROG Phone 7 Ultimate, you can choose between two interfaces: ROG UI and Zen UI. The first is the gaming UI which is visually very cluttered, sporting lots of custom icons, themes, and "gamer" wallpapers. The second is the classic Asus interface which is very streamlined and looks close to Android Stock.
Thankfully, Asus included virtually zero bloatware on their handset, which is a good thing. The Armory Crate menu still offers just as many options for adjusting performance to suit your usage pattern and games. Asus even made the effort to integrate selections of games that are capable of exploiting the screen's 165 Hz refresh rate. You can download them directly from the Play Store.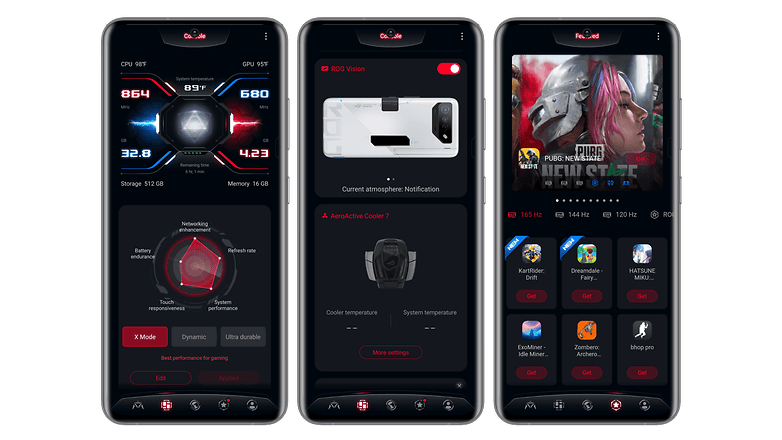 This menu can be quite confusing at first glance as there are plenty of settings to choose from. You might even wonder if it really has any impact on performance. However, it does! I appreciate being able to prioritize network connectivity, touch response, refresh rate, and power consumption according to the game I'm playing.
Apart from Armory Crate, there's also the X mode to boost performance to the maximum level. In reality, this mode simply limits the impact of thermal throttling. It's great for benchmark scores, but in real-world use, its usefulness is relative.
Finally, I have to give Asus a pat on the back for its software update policy. The manufacturer is still content with the bare minimum of two Android versions and four years of security updates. As I write this review in June, I'm still on the March 2023 security patch.
Performance
The Asus ROG Phone 7 Ultimate features the Snapdragon 8 Gen 2 SoC coupled with 16GB of LPDDR5X RAM and 512GB of UFS 4.0 storage. The smartphone heated up quite a bit on benchmarks, but not that much in actual use. Interestingly, the external fan that is sold separately proved to be extremely effective.
---
What I liked:
Dynamic mode is more than enough to run all games at full speed.
Near-perfect stability with an external fan.
What I disliked:
X mode heats up the smartphone.
---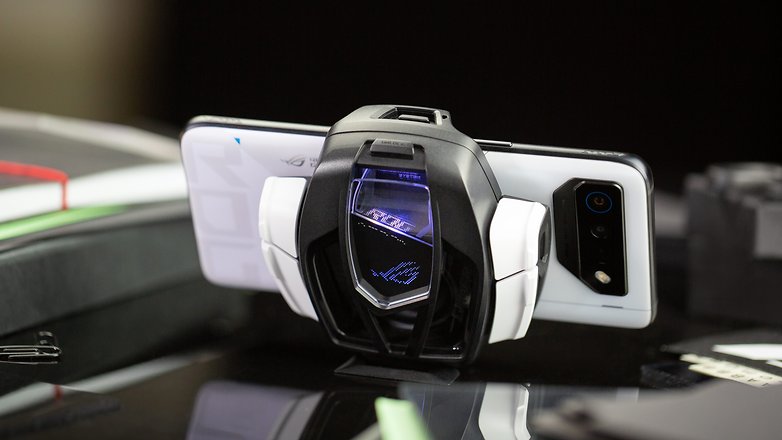 I ran three types of tests on the 3DMark Wild Life Stress Test benchmark. It simulated intensive gaming use for twenty minutes. I ran a series of tests with the dynamic performance mode (the most balanced), followed by the mode X (the most intense), and mode X with the external fan connected.
In dynamic mode, i.e. the standard mode, the ROG Phone 7 Ultimate delivered unstable performance. The stability rate was 65%, which is not optimal for a gaming smartphone.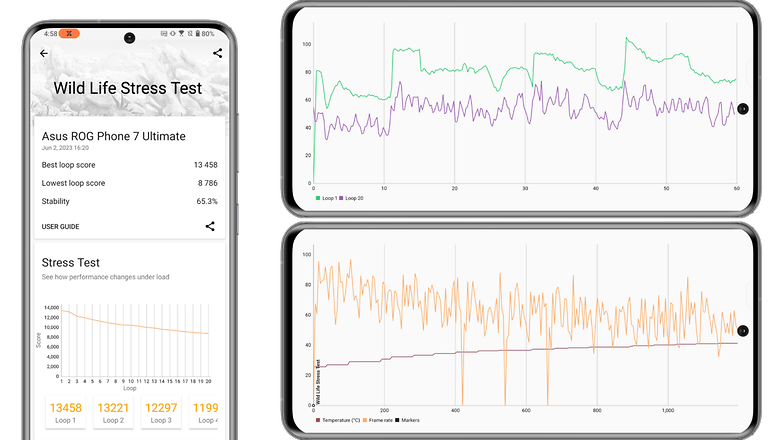 With X mode, the stability rate jumped to 95%. You can see the impact on performance, but the smartphone was literally burning up. I couldn't hold it in my hand.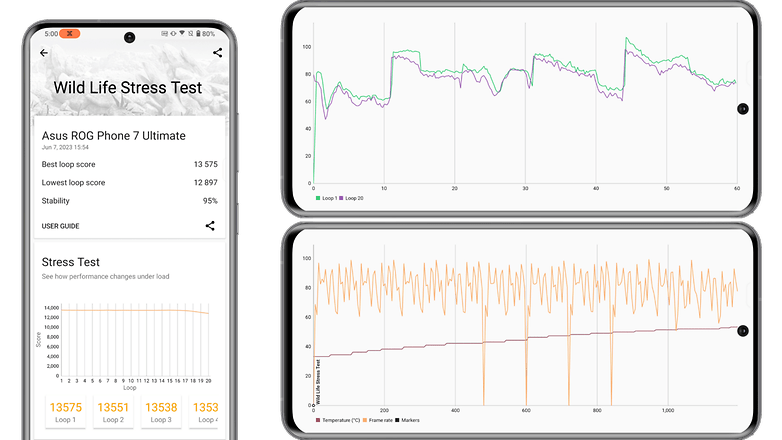 With X mode and the external fan connected, I achieved the best results. The stability rate was 99.5% and the temperature didn't exceed 39°C.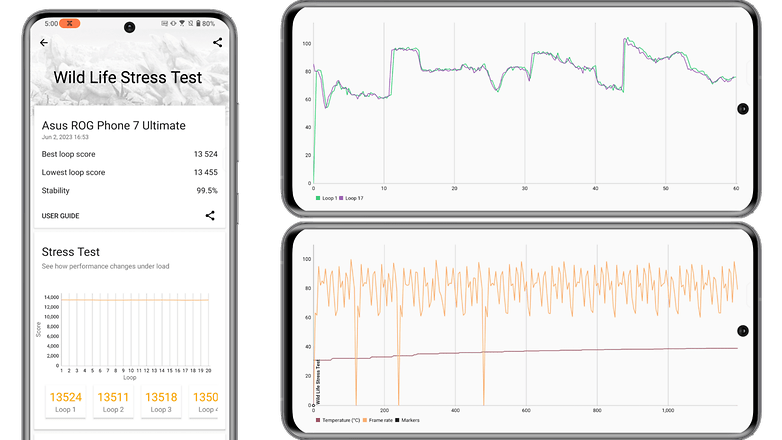 In actual use, I used dynamic mode most of the time. There was no slowdown whatsoever. I had all the graphics settings cranked to the maximum and the refresh rate set to 120 Hz, and never did I once experienced any overheating.
Photo quality
The Asus ROG Phone 7 Ultimate features a triple rear camera module. There's a 50 MP main lens, a 13 MP ultra wide-angle lens, and a 5 MP macro lens. The selfie camera offers 32 MP resolution. The ROG Phone 7 Ultimate's camera performance is disappointing for such an expensive smartphone, which remains unsurprising as it had been that way for years.
---
What I liked:
Good primary lens.
Rather decent selfie camera performance when outdoors.
Shoots 4K video at 60 FPS.
What I disliked:
Overall disappointing photo quality at such an expensive price.
Useless macro sensor.
Poor quality low-light and night photos.
---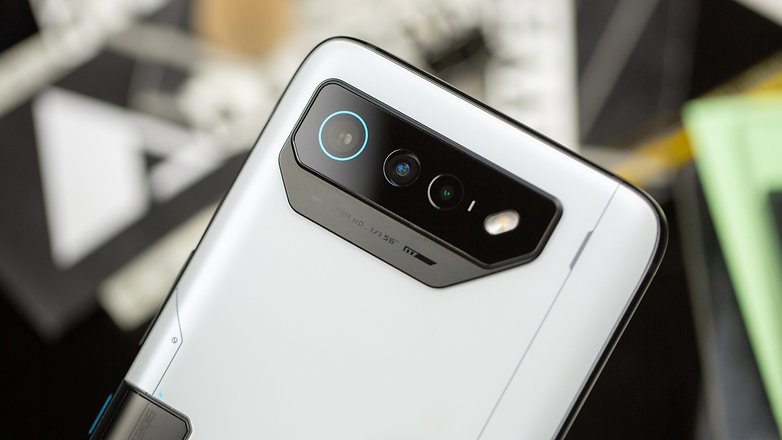 The sensor behind the main lens is a Sony IMX766, which is widely used on affordable high-end and premium mid-range models. I found the level of sharpness satisfactory. Colors remain saturated, but that's what most people like.
I found dynamic range management to be rather poor though. Complex contrasts result in insufficiently detailed shadows and overexposed highlights.
The ultra-wide angle lens showed too many colorimetric inconsistencies compared to the main lens. The macro sensor is simply a gimmick. This is probably a bias on my part, but I find these macro lenses to be useless all the same regardless of resolution.
Zoom performance is disappointing as it is digital in nature. You can choose between 2x and a maximum of 8x magnification. The loss of detail beyond the 2x zoom is clearly noticeable and the 8x zoom is too weak to allow any real shooting versatility.
My night shots were really not very usable. I preferred not to include them in my photo gallery for this review. A $1,500-plus smartphone deserves much better than this.
As for video, the ROG Phone 7 Ultimate can shoot up to 8K at 24 FPS, or up to 4K at 60 FPS. A final word on the selfie camera — it proved to be pretty decent outdoors.
Battery life & recharging
The ROG Phone 7 Ultimate features a large 6,000 mAh battery that supports 65 watts of wired charging and 10 watts of reverse wireless charging. The smartphone's battery life is nothing short of spectacular, and is the best we've ever come across.
---
What I liked:
The best battery life on the market, literally.
Efficient 65-watt wired charging.
Reverse wireless charging.
What I liked:
No wireless charging supported.
---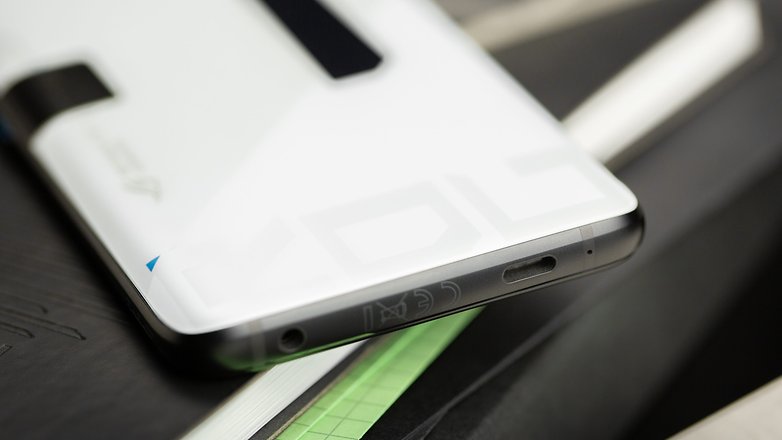 The ROG Phone 7 Ultimate simply shattered the battery life record in all our reviews this year. On the PC Mark benchmark, the smartphone lasted for over 22 hours before dropping below 20% remaining battery life.
This is an extremely high score. This is the top-of-the-range smartphone with the best battery life in 2023, without a doubt. In real-world use, you can easily get through two days of use, even while gaming.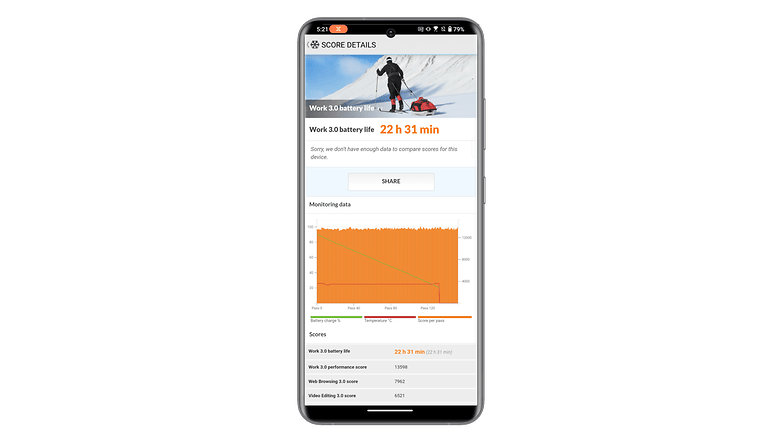 Charging speed isn't the fastest in the world, but with the official battery pack and cable, I was able to complete a full charge in 50 minutes or less. For a 6,000 mAh battery, that's quite respectable, and eminently better than what Samsung or Google offers.
| | |
| --- | --- |
| Charging time | Asus ROG Phone 7 Ultimate |
| 5 mins | 12 % |
| 10 mins | |
| 20 mins | |
| 30 mins | |
| Full charge | |
| PC Mark Battery test | |
Technical specifications
Asus ROG Phone 7 Ultimate technical specifications
Image
Screen
6.78-inch AMOLED
165 Hz refresh rate
SoC
Qualcomm Snapdragon 8 Gen 2
Memory
16 GB LPDDR5X RAM | 512 GB UFS 4.0 storage
microSD
No
OS
Android 13 with ROG UI
Camera
Main lens: 50 MP, f/1.9, PDAF
Ultra wide-angle camera: 13 MP, f/2.2, 120° lens
Macro camera : 5 MP,f/2.0
Selfie camera
32 MP, f/2.5
Battery
6,000 mAh
Wired recharging 65 W
Reverse wireless charging
Connectivity
5G, LTE, WLAN 802.11 a/b/g (2.4 GHz), Wi-Fi 4.5 (2.4 GHz + 5 GHz), Bluetooth 5.3
IP certification
IP54
Colors
Phantom Black and Storm White
Dimensions and weight
173 x 77 x 10.3 mm, 239 g
Price
$1,549.99
Conclusion
In what seems to be an annual occurrence. Asus releases the best gaming smartphone on the market. It's hard to argue with that. However, is the title 'King of Gaming Phones' really relevant?
Battery life is excellent, making it the best on the market in my opinion. The 165 Hz AMOLED screen is sublime for consuming content. The Snapdragon 8 Gen 2's performance is top-notch, and the temperature control is top-notch as well.
But the photo quality is still tragically disappointing for such an expensive smartphone. I'm sick of the excuses made to include macro sensors and middling sensors on the grounds that this is a gaming smartphone. Asus is also always a rather poor advocate of a decent update policy.
Personally, I'm much less enthusiastic about mobile gaming. We have overpowered machines that are perfectly capable of running AAA titles which is very close to a console experience. The Alien Isolation port is a perfect example.
This is where the ROG Phone 7 Ultimate shines on its own. The problem is, developers aren't keeping up. There aren't enough titles on the Play Store to make the most of gaming smartphones, and thus make the purchase worthwhile for users.
I'm not going to get into e-sports on Candy Crush or any of the other silly mini-games that you launch when you've got five or ten minutes to spare. And I'm certainly not going to spend slightly more than $1,500 to see the Google Pay animation scroll at 165 FPS when I make in-app purchases on Call of Duty Mobile.
It's not Asus's fault, but this is a fact that remains. The mobile gaming niche doesn't have the same ambitions as gaming smartphone manufacturers.