Asus ROG Phone 6 Pro review: The best (& most expensive) gaming phone of the year!
Every year, it seems as though Asus has taken back its throne as the king of gaming smartphones and this year is no exception. The ROG Phone 6 Pro flagship designed for gamers offers the ultimate experience for mobile gaming but also costs €1,299 (around $1,300 plus taxes in the States). Is this exorbitant price worth it? I give you my opinion in this complete test of the Asus ROG Phone 6 Pro.
Good
Well-calibrated Amoled screen with a refresh rate of 165 Hz

Large 6000 mAh battery with excellent autonomy

Very cool and fully assumed gaming design

3.5 mm jack and IPX4 rating

The second USB-C port placed on the edge

Effective temperature control and X mode that really boosts performance

ROG UI gives you full control of the device
Bad
The photo module is neither inventive nor versatile

The rather limited update policy

The price
The Asus ROG Phone 6 Pro in a nutshell
The Asus ROG Phone 6 Pro launched in France on July 5, 2022 and will be available for pre-order from August 1. It comes in a single 18/512 GB version sold for roughly $1,300 (plus taxes, naturally) in the States.
Yes, we agree—this will hurt your wallet. It's cheaper than the Samsung Galaxy S22 Ultra (about $1,400) or the iPhone 13 Pro Max (just under $1,700), with the same storage.
In my opinion, such an expensive and niche smartphone is hardly advisable. On the other hand, the ROG Phone 6 Pro undeniably offers the best gaming experience on the market in 2022, by far. And when you consider that many of its features and benefits are found on the basic ROG Phone 6, which starts at just over $1k, I think that Asus' formula is still relevant.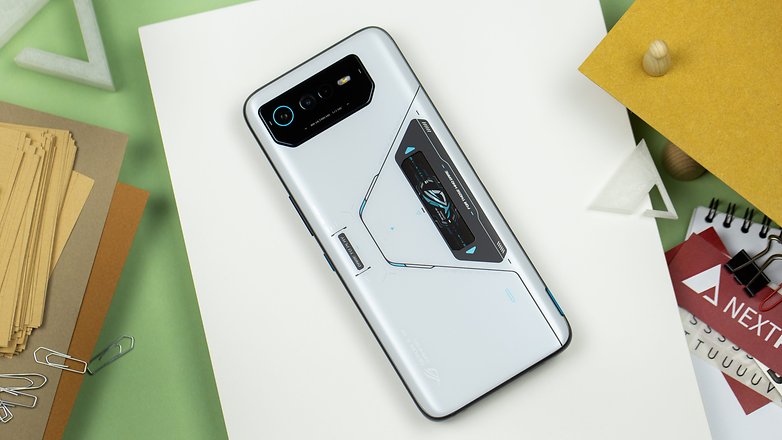 Design: A spaceship with a back screen
The Asus ROG Phone 6 Pro has a futuristic design evoking the fuselage of a spaceship. It features backlit LEDs as well as a small PMOLED add-on display on the back.
---
I liked:
Great Storm White color scheme with matte finish.
The small screen ROG Vision is a nice gimmick.
3.5 mm jack and finally an IPX4 rating.
The haptic triggers are always so responsive.
I didn't like it:
Massive form factor and bulky weight.
No microSD port.
---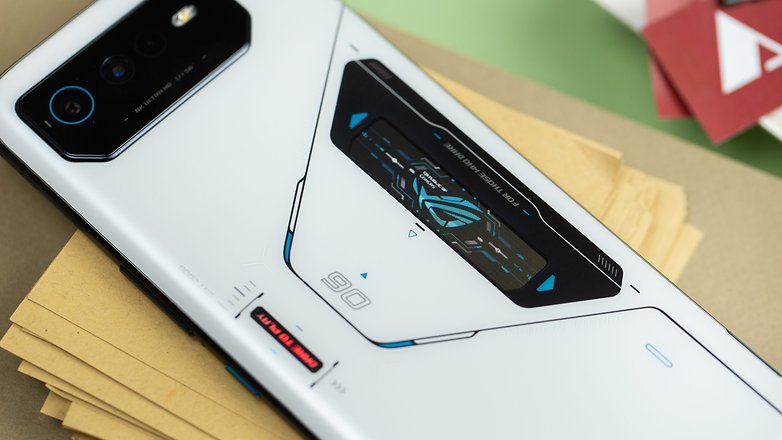 The Asus ROG Phone 6 Pro comes in a single white color called Storm White. The matte glass cover is very pleasant to the touch and contrasted by black and light blue metallic screen prints. On the back, there is a small backlit LED with the slogan "Dare to play". Just below, we have the small PMOLED display called ROG Vision which displays 60 contextual animations (time, notifications, etc). It's gimmicky, but it's cool and that's all that matters.
You can of course disable all of this to preserve your battery. The camera module is slightly off-center on the left but remains centered enough while not sticking out too much to prevent the smartphone from feeling wobbly when laid flat. The screen of the ROG Phone 6 Pro is quite flat with 2.5D edges and the grip is frankly good despite its massive dimensions of 173 x 77 x 10.3 mm and its weight of 239 g.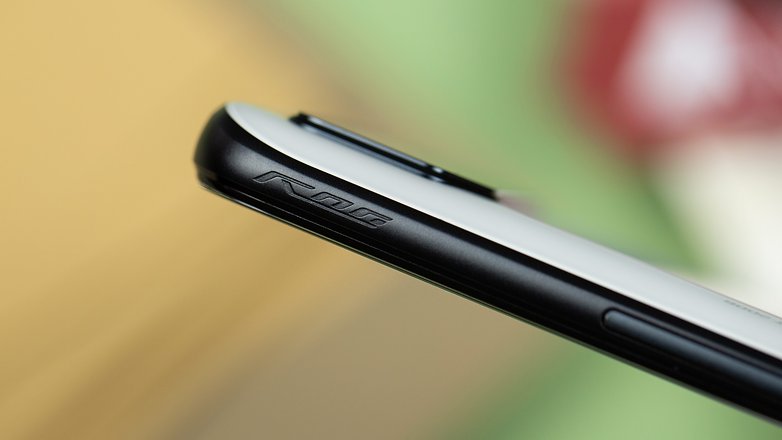 For the first time, the ROG Phone 6 Pro also has an IPX4 rating for resistance to water and dust. There is also a 3.5 mm jack which is always a pleasure. On the other hand, there is no microSD port to expand the storage. The front of the ROG Phone 6 Pro is protected by Corning Gorilla Glass Victus and Gorilla Glass 3 on the back.
Asus is also one of the few manufacturers that understands that a USB-C cable is the enemy of mobile gamers because it hinders the grip when holding the smartphone in landscape mode. That's why the manufacturer offers two USB-C ports, one on the bottom cross slice (USB 2.0) and one on the left side slice, at the bottom in landscape mode (USB 3.1).
Finally, we find the classic haptic triggers (called Air Triggers) that are still as responsive and offer more possibilities for your touch controls.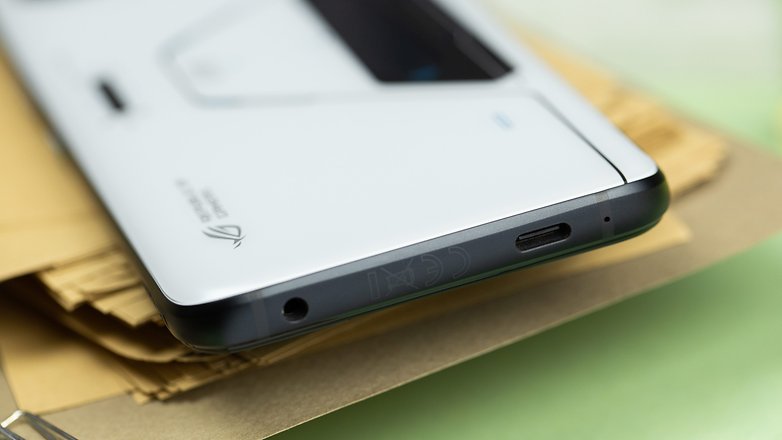 Screen: A large Amoled panel in 165 Hz
The Asus ROG Phone 6 Pro packs a 6.78-inch Amoled display with a Full HD+ resolution of 2400 x 1080p with a variable refresh rate of up to 165 Hz, a touch sampling rate of 720 Hz and a maximum brightness of 1200 nits.
---
I liked:
The refresh rate goes up to 165 Hz.
Colorimetry well calibrated by default.
Response time of 1 ms and touch latency of 23 ms.
I didn't like:
The refresh rate not adaptive enough.
The 720 Hz touch sampling rate is a bit weak compared to some competitors.
---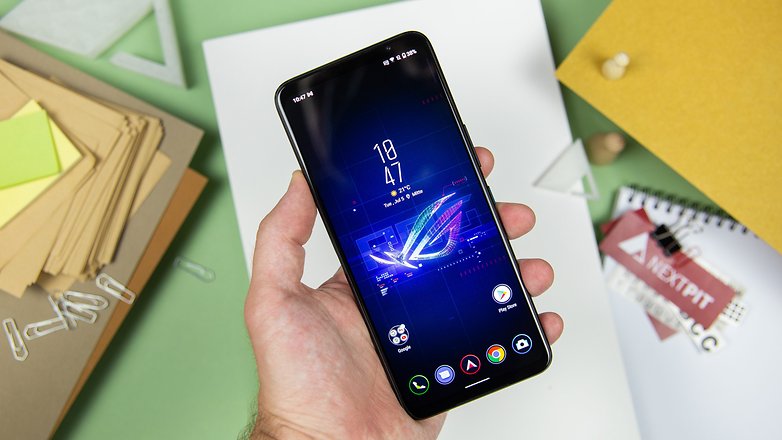 The Amoled screen of the ROG Phone 6 Pro is perfectly suited for gaming and multimedia use. The default colorimetry is very accurate to the naked eye. The display is HDR 10+ certified and features a 1ms response time (the time it takes for a pixel to change color) as well as a very low touch latency of 23ms. Combined with the 720Hz touch sampling rate, this latency allows for very responsive touch controls.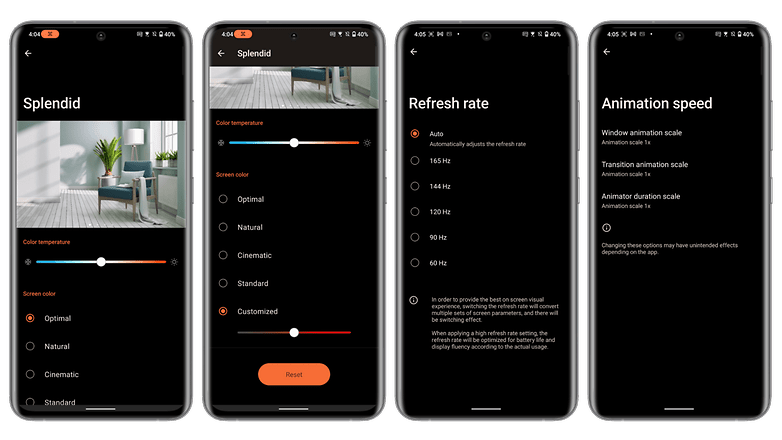 The refresh rate is adaptive, but Asus has not integrated the LTPO 2.0 technology. So it doesn't vary much according to the different usage scenarios you can subject it to. By default, I was stuck at 120 Hz in the interface, even when I wasn't touching the screen. On YouTube, I never went above 60 Hz, no matter what the framerate of the video in question was. And in games, I had to activate the X mode to go from 120 to 144 Hz.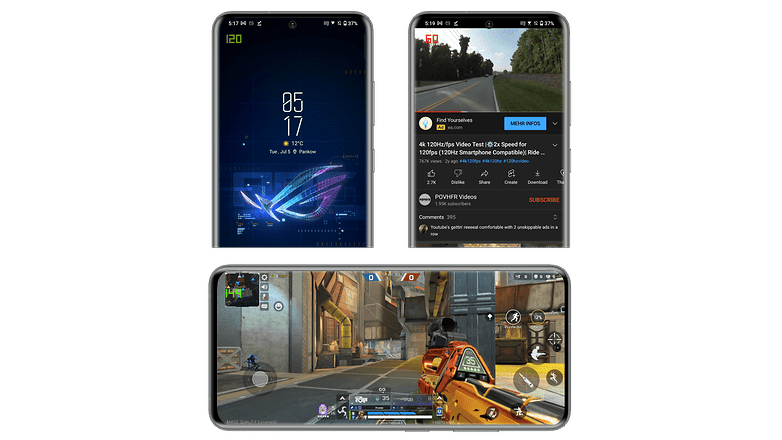 By the way, strangely enough, I could only reach 165 Hz by forcing it in the settings, by disabling the auto refresh rate. But even stranger, when I activated the X mode, which is supposed to boost performance, I went back down to 144 Hz by default.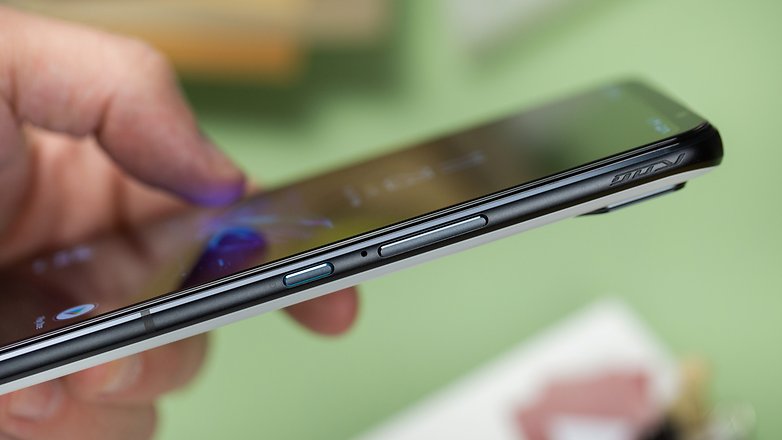 In fact, Asus seems to voluntarily block the refresh rate at 144 Hz with the X mode. Maybe the manufacturer thinks that 165 Hz is not very useful since no game runs at 165 FPS and it is better to keep performance to allocate to other tasks. But this is quite counterintuitive.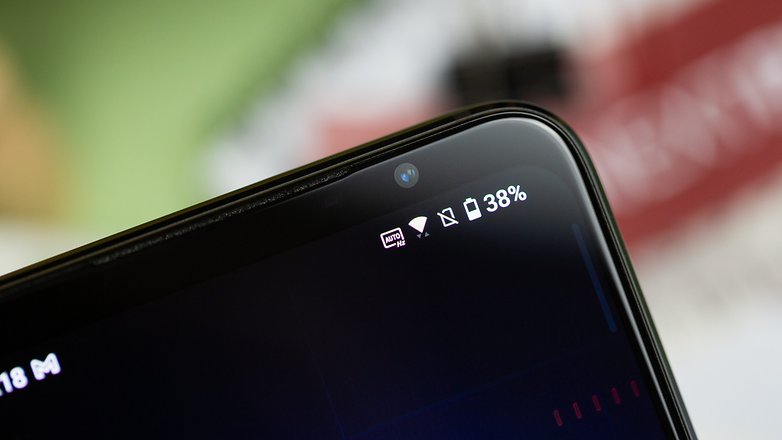 Interface: ROG UI based on Android 12 and the famous X mode
The Asus ROG Phone 6 Pro runs on the ROG UI overlay, a gaming version of ZenUI, Asus' Android 12-based interface, and the manufacturer promises a fairly limited update policy.
---
I liked:
ZenUI and ROG UI are lightweight Android interfaces.
Android 12 features are well implemented.
The Armoury Crate menu is as complete as ever.
The ability to switch between ROG UI (gaming design) and ZenUI (more sober design) very easily.
I didn't like it:
The too limited update policy.
Some bloatware (Facebook, Instagram, Messenger, Netflix).
---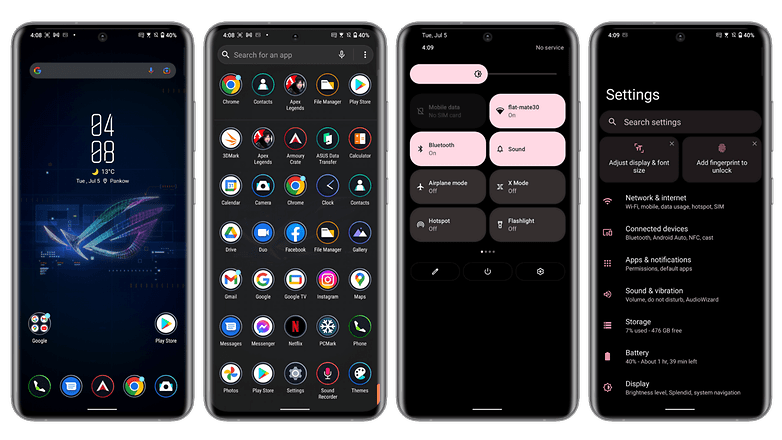 The ROG UI is a customized and gaming-oriented version of ZenUI, Asus' overlay based on Android 12. This interface is basically very light and close to stock Android. Asus has implemented the dynamic themes of Android 12 as well as the Privacy Dashboard.
And, apart from a few typically gaming stylistic effects on the icons and wallpapers, ROG UI does not push the envelope too far and remains quite sober.
Asus also offers a very basic update policy, guaranteeing only two major Android versions and at least two years of security updates.
The highlight of ROG UI is still the Armoury Crate menu, which allows you to manage the different performance modes: X mode, balanced mode and ultra durable mode. The X mode is the one that allows you to boost all the performance to concentrate the computing power of the CPU and GPU, the allocation of RAM, and your network to the game.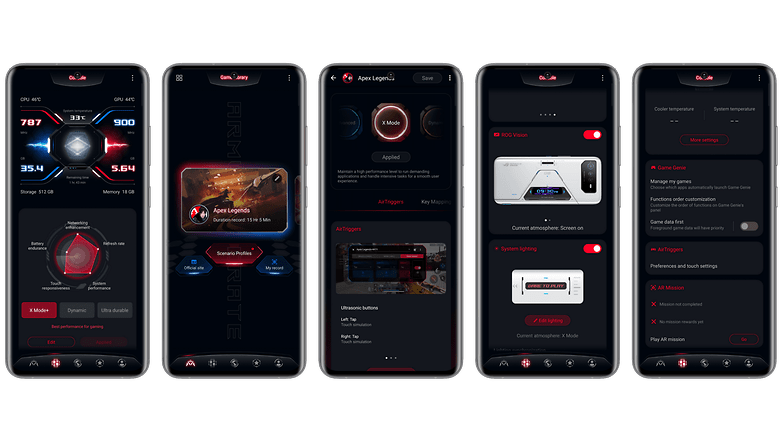 You can also quickly access several in-game settings via a pop-up pane called Game Genie, which allows you to manage the refresh rate, enable haptics, manage the intensity of the external fan, or display certain information such as the temperature of the phone or the framerate in real time.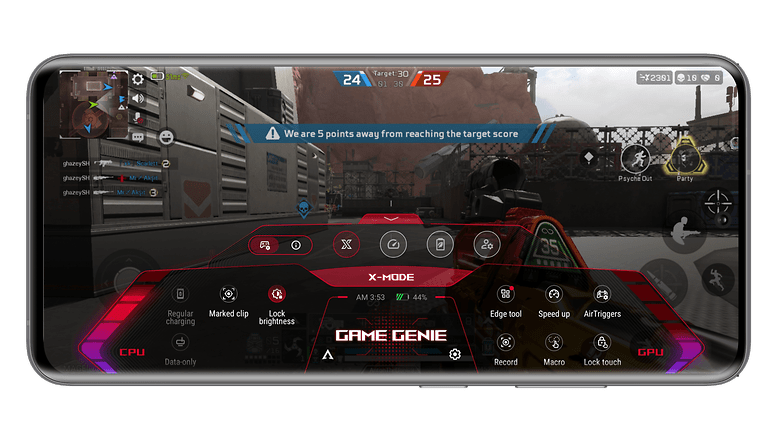 In short, nothing new under the sun, but this menu is still very complete. And it's really nice to be able to create presets for your different games individually. You can also activate some filters and features to optimize graphics and especially change the threshold of the thermal throttling to push the smartphone to its limits as you please.
Asus really wants to give the user a level of control and performance customization that comes close, admittedly, to what you can do on a PC. And I think that's great.
Performance: X mode really works
The Asus ROG Phone 6 Pro is powered by Qualcomm's Snapdragon 8+ Gen 1 SoC and Adreno 730 GPU, all coupled with 512GB of UFS 3.1 storage and 18GB of LPDDR5 RAM. Asus has also reworked its GameCool cooling system.
---
I liked it:
X mode really works and really boosts performance.
Zero overheating in real use.
The hyperefficient external fan.
I didn't like:
Overheating on a 20-minute benchmark with X mode enabled.
---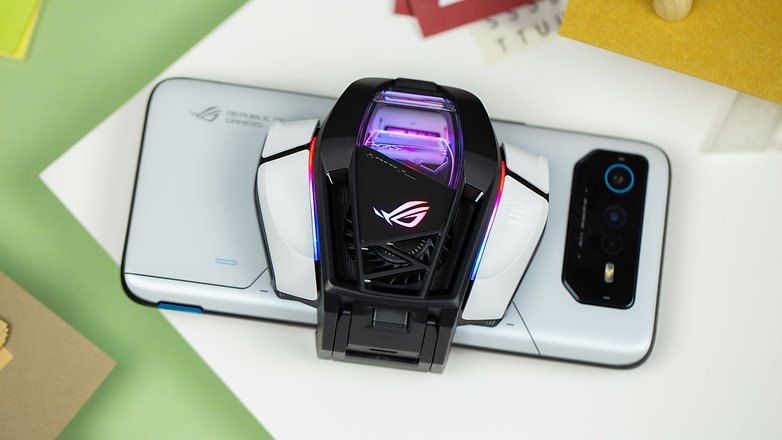 The ROG Phone 6 Pro is one of the first smartphones launched in Europe to debut the high-end Snapdragon 8+ Gen 1 SoC, so logically, some benchmarks need some time to adapt. That's why 3D Mark's scores on the Wild Life benchmark (simulating one minute of intensive use) didn't give much away. The smartphone did not overheat at all, but 3D Mark simply indicated at the end of the test that the ROG Phone 6 Pro was too powerful.
Asus ROG Phone 6 Pro
Snapdragon 8+ Gen 1
Realme GT 2 Pro
Snapdragon 8 Gen 1
Xiaomi 12
Snapdragon 8 Gen 1
OnePlus 10 Pro
Snapdragon 8 Gen 1
3DMark Wild Life
Without X mode: Too powerful
8939
9926
9541
With X mode: Too powerful
3DMark Wild Life Stress Test

Best loop without X mode: 9177
Worst loop without X-mode: 6193

Best loop: 9118
Worst loop: 6048

Overheating

Best loop: 9845
Worst loop: 6069

Best loop with X mode: 10.477
Worst loop with X mode: 7206

Geekbench 5
Single without X mode: 1305
Multi without X mode: 3987
Single with X mode: 1313
Multi with X mode: 4147
On the other hand, what is interesting are the results obtained with the famous X mode which boosts performances. This was indeed the case on the 3D Mark Wild Life Stress Test benchmark (simulating intense gaming use for 20 minutes). We can note a notable gain in raw performance. But the smartphone was literally burning up.
But the smartphone did not lose stability, remaining around 70%. In other words, the X mode simply pushes back the threshold at which the smartphone will start thermal throttling. If the smartphone heats up, but the framerate remains stable, it means that there is little or no throttling.
Be careful, because I can already see my die-hard detractors racing to the comments section. The fact that a smartphone overheats on a free, public, non-custom benchmark does not mean that its performance is bad. It just tells us how the smartphone behaves in an extreme scenario. A scenario that you are very unlikely to reproduce in real conditions (playing whatever), a scenario that is deliberately extreme to show a behavior that would otherwise be imperceptible in use. Here it is!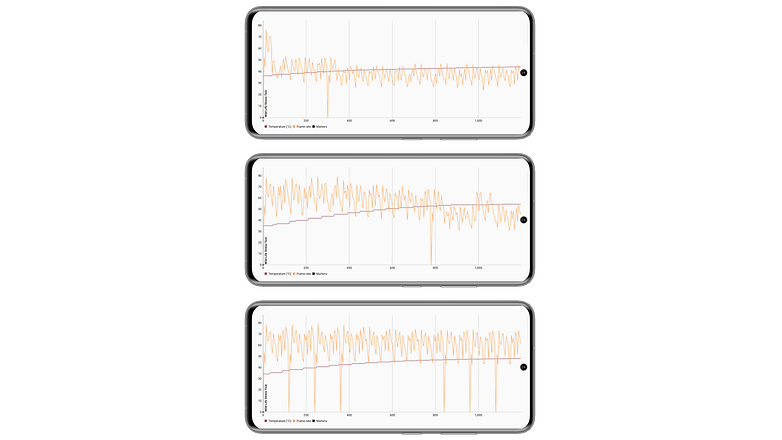 But where Asus signs a real case study is on the efficiency of its external fan, the Aero Active Cooler 6. Below, we can see two tests performed on the 3D Mark Wild Life Stress Test benchmark in X mode without the fan (top) and then with (bottom). The difference between the first and last loop of the test is almost non-existent with the fan. We went from 70 to 95% of stability. It really is a tour de force.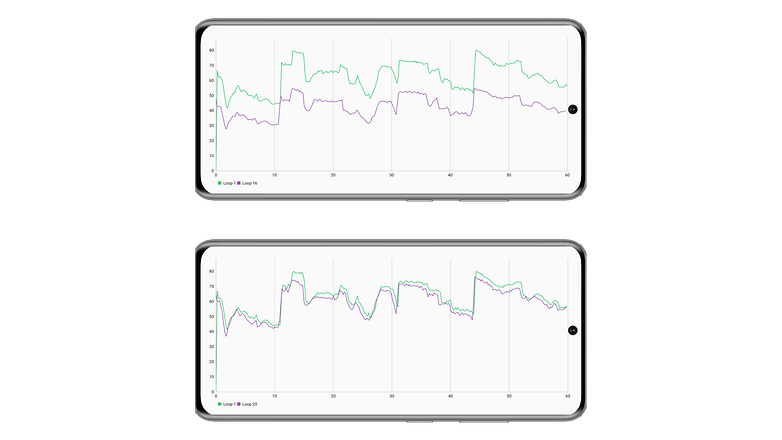 In real-world use, you will be able to run your games without any graphic concession. Even Apex Legends Mobile, a game that is not 100% optimized, runs full speed at 60 FPS with graphics and framerate at maximum. I didn't experience any slowdowns and above all, no overheating in real conditions, even when I left the X mode on for several hours.
I've put a short excerpt of gameplay for you to see. This demonstration of my talent was recorded in 1080p at 120 FPS (the screen recorder settings do not allow more).
Photo: We take the same ones and we ROGommence
The Asus ROG Phone 6 Pro features a triple camera module on the back, with the well-known Sony IMX766 sensor for the main 50 MP lens, a 13 MP ultra-wide angle lens and a 5 MP macro lens. As for the selfie camera, it offers a 12 MP resolution.
---
I liked:
The Sony IMX766 which has proven itself both day and night.
The light photo processing and the natural colorimetry.
Didn't like:
Exactly the same ultrawide angle and macro lenses as the ROG Phone 5.
No dedicated telephoto lens, digital zoom too limited.
Average selfies.
---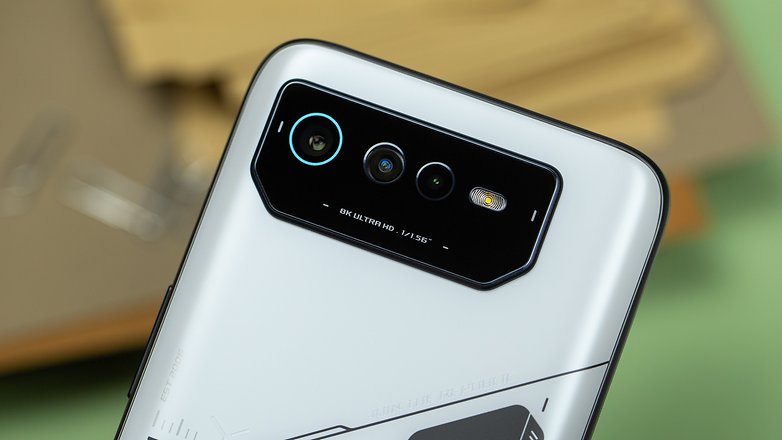 I'm really going to skim over the photo part because Asus has absolutely not messed around this year. It's exactly the same photo module as on last year's ROG Phone 5.
The only thing that's new is the 50MP main lens with the integration of the Sony IMX766 sensor. You've seen it everywhere, in our tests of the Oppo Find X5 Pro, the OnePlus 10 Pro or the Realme GT 2 Pro.
It has proven itself and offers a very good level of detail overall, with shots rich in sharpness—a good dynamic range in short—I feel like I wrote the same thing in 5 other different tests.
The ultrawide angle shots are a bit disappointing because they are rather bland and less rich in detail. The digital zoom is frankly limited as soon as you go beyond x2 magnification, no surprise there. And the macro sensor? Well, it's a macro sensor. 2 or 5 MP don't make a big difference to me.
Overall, I find Asus' software processing to be quite light, which gives a rather natural colorimetry. But sometimes, when there is a lack of light, the pictures can be a little too bland for my taste. In short, I am not at all excited by this photo module. And I understand that a gamer is not necessarily looking for a high-flying photo smartphone.
But the photo remains one, or maybe THE, essential purchase criteria for many users. It's a shame to see Asus neglect this part when you know that with the computing power of the ROG Phone 6 Pro, there would be plenty to do.
In video, the ROG Phone 6 Pro can record up to 8K at 24 FPS with its main rear lens. The ultrawide angle is limited to 4K at 30 FPS maximum. As for the selfie camera, it can produce videos in 1080p at 60 FPS. I'll leave you the clips below to get an idea.
The Asus ROG Phone 6 Pro in 8K video at 24 FPS (main lens)
The Asus ROG Phone 6 Pro in 4K video at 30 FPS (ultra wide angle lens)
The Asus ROG Phone 6 Pro in 4K video at 30 FPS (selfie camera)
Autonomy: Big battery, big autonomy
The ROG Phone 6 Pro features a 6000 mAh battery that supports 67 watts of wireless charging. That's it, but it's more than enough.
The ROG Phone 6 Pro's battery is dual-cell, and those cells charge using the MMT (mid-mid-top) protocol. Basically, the cells charge from the middle to the ends instead of linearly from one end to the other. This is a method well mastered by most manufacturers.
---
I liked it:
Big ass 6000 mAh double cell
67W fast charging does the job
Excellent battery life
USB-C charger included in the box
I didn't like:
---
On our PC Mark benchmark with the display set to an auto refresh rate and brightness set to 200 nits, the ROG Phone 6 Pro took 19:17 to drop below 20% remaining battery life. That's an excellent score. Personally, I consider that a battery life is very good from 15 to 16 hours minimum. Here, the ROG Phone 6 Pro does very well when you consider that it powers a very greedy SoC, a large 6.78-inch AMOLED screen and all the LEDs as well as its auxiliary screen.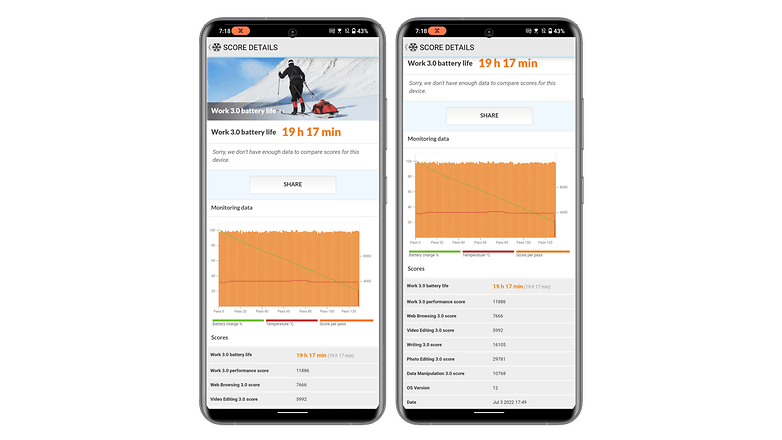 As for the fast charging, it is more classic with a power of 67 watts. The USB-C charger is included and it has the merit of being compatible with USB PD 3.0 and therefore PPS as well as Qualcomm's Quick Charge 5 standard. You can use it for most of your devices.
On the other hand, the ROG Phone 6 Pro does not offer wireless or reverse wireless charging. All in all, it took me no more than 45 minutes to charge this big 6000 mAh battery from 0 to 100%. And in any case, the USB-C port placed on the edge of the smartphone allows you to play serenely by plugging the ROG Phone 6 Pro into the mains without being bothered by the cable.
Technical data
Technical data
Product

Asus ROG Phone 6 Pro

illustration
Color
Storm White
Dimensions & Weight

173 x 77 x 10.3 mm | 239 g

Display
AMOLED | 6.78 inches | Full HD+ 2400 x 1080 pixels | refresh rate 60/90/120/144/165 Hz | max brightness 1200 nits | touch sampling rate 720 Hz
Memory
18/512 GB | UFS 3.1 and LPDDR5
CPU & GPU
Qualcomm Snapdragon 8+ Gen1 | Adreno 730
OS
ROG UI based on Android 12 | 2 major updates + 2 years of security patches
Photo Module

Main wide-angle lens: 50 MP
Ultra wide-angle lens: 13 MP | 125° FOV
Macro lens: 5 MP
Selfie: 12 MP

Video

Main Lens: 8K and 4K at 30/60 FPS | 108
Ultrawide angle lens: 4K at 30 FPS | 1080p at 30/60/240 FPS | gyro-EIS
Selfie: 4K at 30 FPS

Battery
6000 mAh | HyperCharge 67W wired fast charging | no wireless charging
Audio
5 stereo speakers | 3.5 mm jack
Price
€1,299
Conclusion
The Asus ROG Phone 6 Pro is too expensive for my taste. I think that a very large part of the mainstream audience will be totally turned off by a whopping price of $1,300 (plus taxes!) in the US of A.
However, it's not much more expensive than the flagship phones from Samsung or Apple, or even Xiaomi. And Asus hasn't increased its prices compared to last year either, since the ROG Phone 5S Pro already costs so much. But these 'mainstream' high-end smartphones are much better at photography, and that's a big plus.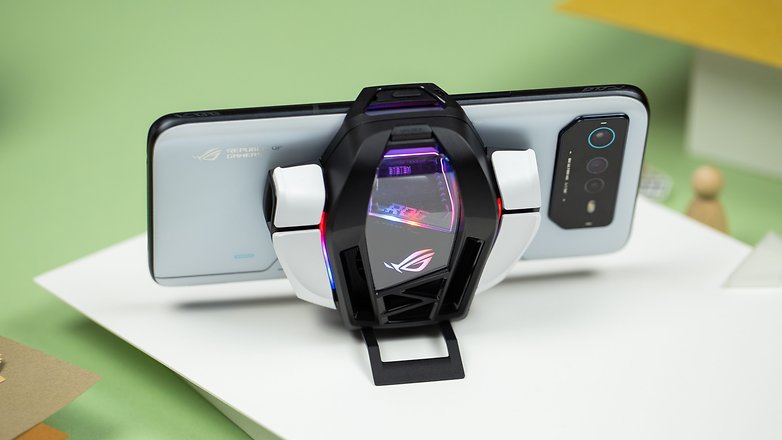 Still, for someone like me, who uses his smartphone mainly for gaming, the ROG Phone 6 Pro is the Holy Grail. And I'm sure that this niche of users is not that niche. I want to be able to play all the games in the Play Store without experiencing any slowdown and without having to play with eye-popping graphics. And most importantly, I want to be able to play for one, two or even three hours at a time without my smartphone turning into a hot potato that burns my fingers.
The ROG Phone 6 Pro allows me to do all that. But in fact, so does the basic ROG Phone 6, and for $300 less. So okay, I lose the rear display, which has its charm, but at the end of the day, both models have exactly the same specs.
So if the ROG Phone 6 Pro seduced you after this test but, like me, you are not ready to drop $1,300 dollars, then go for the ROG Phone 6. And if you can afford it, if you're blowing your nose in 100's of dollars, then PLEASE buy the ROG Phone 6 Pro, the best gaming smartphone of the year.