Top 5 Apps of the Week: Pizza, Games and Gamified Learning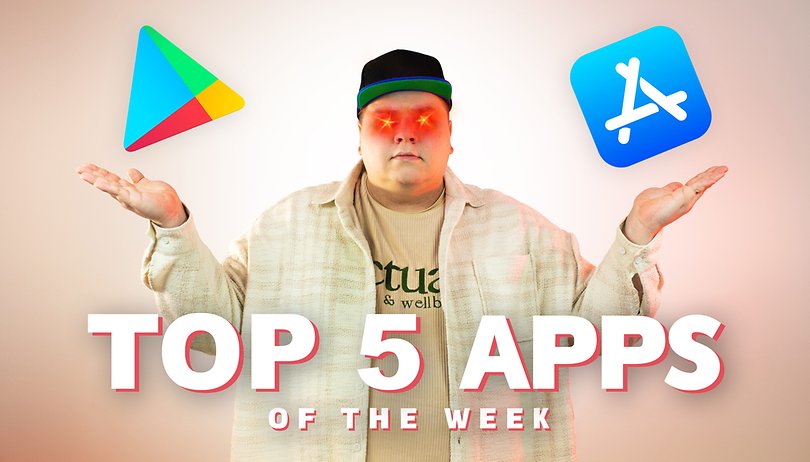 It's been raining for days and you are stuck at home, unable to go out for some fresh air? Not a problem at all! This is because every day, a ton of new apps and games for Android and iOS are released. So, make yourself comfortable on your couch and find out what's trending right now. Just like every other week, we have selected and tested five apps and games for you. Have fun trying them out yourself!
What helps on gray and gloomy days? Clearly: soul food, and that's why two of our five apps are about pizza. Apart from that, you get a gloomy, autumn mobile game as well as Pixel Search for any Android smartphone and a learning app so you can do something more useful on the toilet than looking at memes—um, yeah.
The Wreck (Android & iOS)
In keeping with the autumn season, our selection begins with a gritty storytelling game from The Pixel Hunt. The Wreck is a visual novel in which you help the protagonist, Junon, survive the most important day of her life. Various sensitive topics are dealt with. For example, the story begins in France with her mother, who is in the hospital after suffering a brain aneurysm. Your task now is to guide her to her destiny and save Junon's life from a crash.
The gameplay is relatively simple. You are given the story of the scriptwriter Junon, which you direct using the various answers available. Red words appear again and again in the text, through which you can get new answer options. Tapping them will change the storyline, giving you numerous and different dialog options.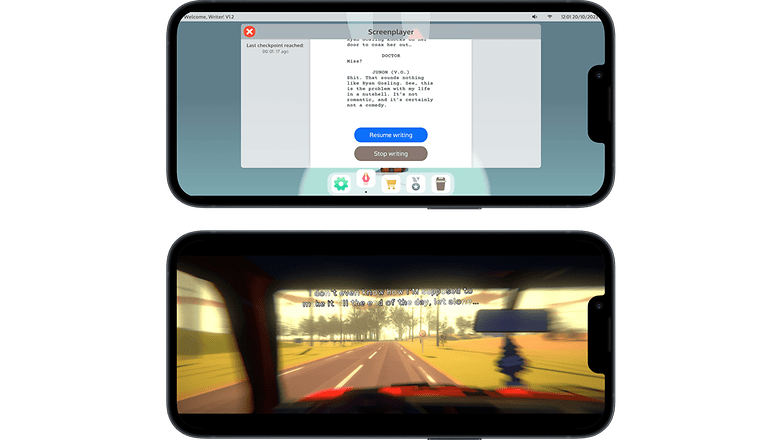 Price: $5.99 / Advertising: None / In-app purchases: Yes / Account required: No
Graphically, "The Wreck" boasts a comic book polygon look and the individual characters move at a maximum of 5 FPS, but this is more than enough to be conducive to the story. The look defuses the game's harsh themes somewhat and definitely brings life to the game. The game is also dubbed in English, but you can change the language of the text output to German in the game itself.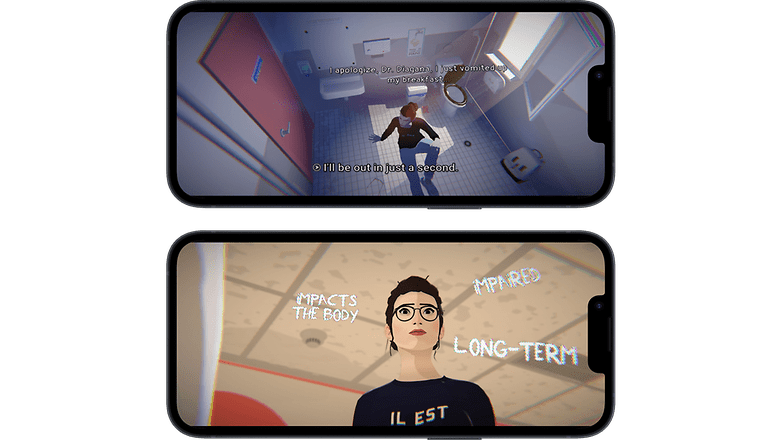 So, if you don't have a problem with sensitive topics and want to play an exciting visual novel, you should take a closer look at "The Wreck". You can follow the beginning of the story for free on Android & iOS, while you have to pay $5.99 for the full version.
Good Pizza, Great Pizza (Android & iOS)
Are you a lover of Italian cuisine and want to upgrade your pizza skills? Then jump into Good Pizza, Great Pizza as soon as you can! In this app, you'll run your own pizzeria and serve numerous customers. The gameplay is very simple: you make pizzas. In this game, a steady stream of people will visit your food stall and place various pizza requests.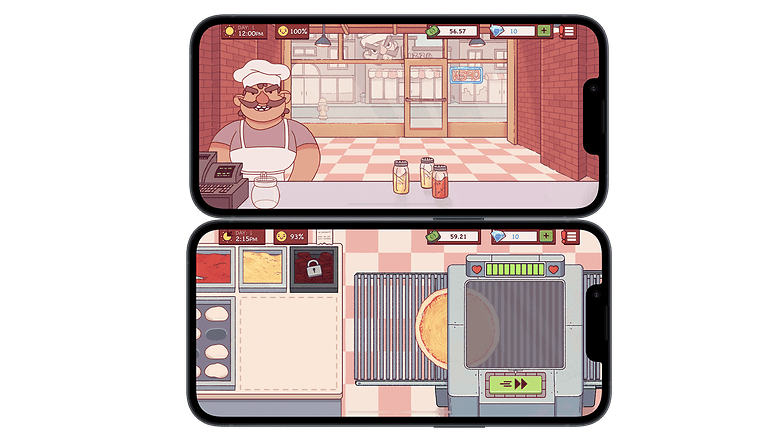 Price: Free / Ads: None / In-app purchases: Yes / Account required: No
You fulfill the pizza orders and unlock more ingredients over time. However, the entire experience is not without stress, because the longer you take to prepare your pizzas, the more impatient your customers become. What's funny is that people are not shy of criticizing you. The game never gets boring, because you always have tasks to do and a storyline that guarantees long hours of fun.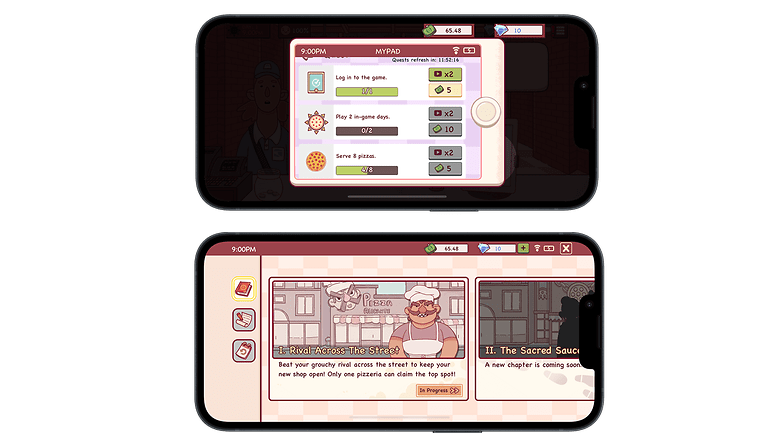 PizzApp+ (Android & iOS)
If you're craving for real pizza now, there are two options: Order one or make it yourself. For the latter, there are (what a surprise) apps to calculate the right amount of dough and all that jazz. The favorite of the global pizza-making community is PizzApp+ with its simple yet complete interface.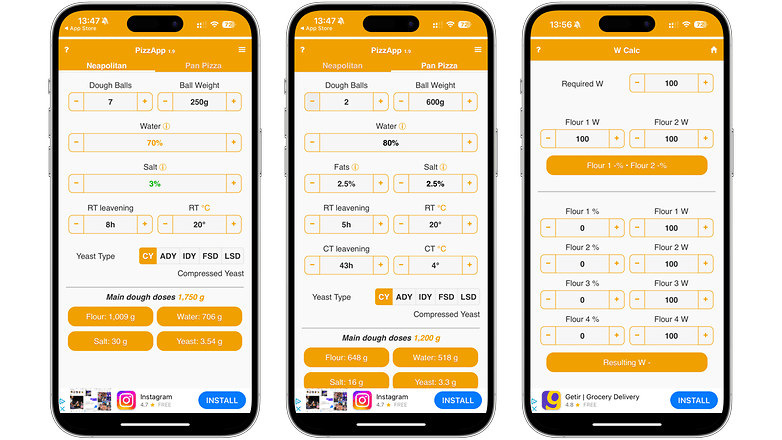 Price: Free / Ads: Yes / In-app purchases: None / Account required: No
You simply select how many pizzas you want to make here, either round pizzas or whole trays, and the app will fill in the rest of the gaps. After that, you'll find recommendations in the app for the weight per pizza dough piece as well as the flour-to-water ratio. Depending on the room temperature and the desired dough rising time, PizzApp+ even adjusts the amount of yeast. If you are starving and want it to get baked really fast, you logically need more yeast.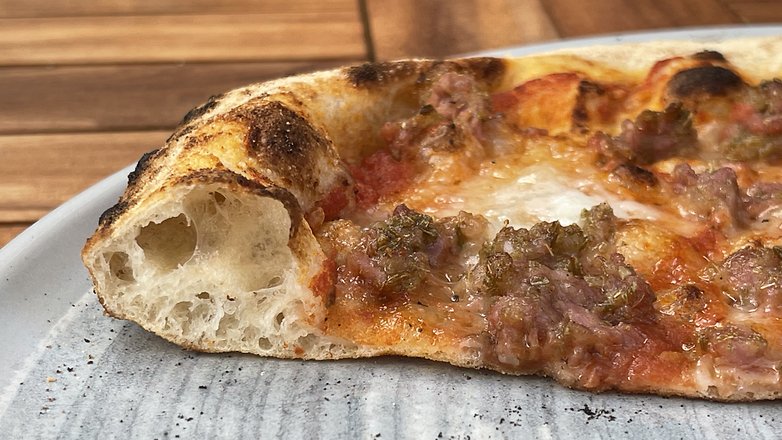 Following that, you just have to knead the individual ingredients really well, let the dough rest for a short time, and divide it into the desired number of portions. After that, let these individual balls rest for the registered time. Oh, and if you want the pizza to be Neapolitan-fluffy, please do not roll out the dough, but stretch it and then bake it as hot as possible. YouTube pizzaiolo Vito Iacopelli explains how to do this in this video.
Pixel Search (Android)
Now let's move on to the Pizza Pixel Search app. As the name suggests, this imitates Pixel Search, which can be found on all Pixel smartphones. It doesn't matter if you launch the app via the app icon or the widget: The experience is indeed reminiscent of the original Pixel. It does not only access Google search, but you can also search apps, files, web suggestions, or even your contacts. Depending on the installed app, you can perform a search for a band or a movie title directly in Spotify or Netflix.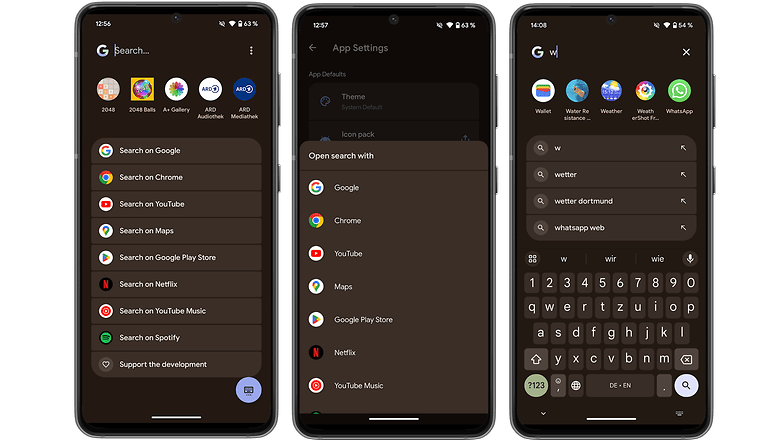 You will also be asked during the setup, among other things, whether the contacts may be accessed. However, this is optional, and moreover, the developer explained that all permissions are only used for search purposes. No data is shared, everything is stored locally on the device and completely deleted when the app is uninstalled. Speaking of search: You can of course use search engines other than Google with this app.
Price: Free / Ads: None / In-app purchases: None / Account required: No.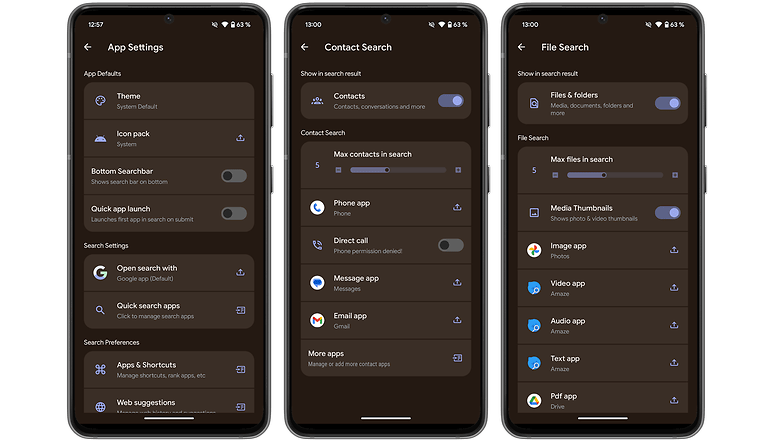 If you like, you can create shortcuts for apps, select the theme and in the future, you can also place apps on a block list to deliberately leave them out of the search. All this is available for free and without advertising, so that every Android fan without a Pixel smartphone should take a look at this search app.
Imprint
Actually, yes, we would all love to read super smart books that help us get ahead in life. Books that make us more mindful, improve our diet, or ...oh, TikTok.
Imprint addresses exactly this issue, namely our extremely short attention span. To do this, the app divides books into visual morsels that would just as easily fit into an Instagram story or a YouTube shorts video. This way, Imprint turns the books into small bites that you can click through chapter by chapter and internalize what you've learned in a quiz.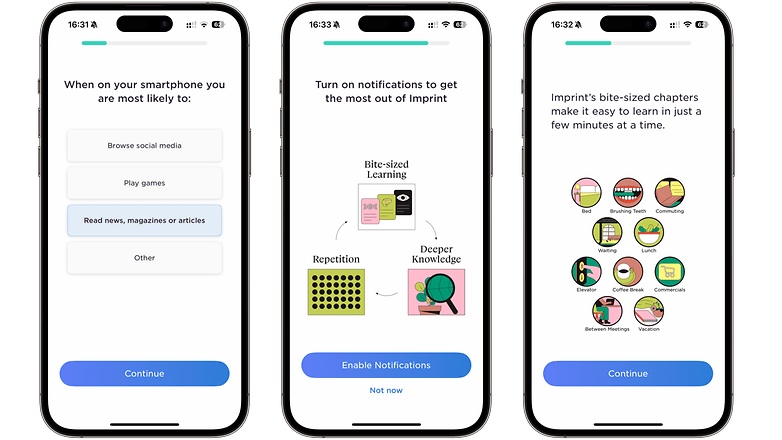 Price: Free / Ads: None / In-app purchases: Yes ($99.99 per year, $15.99 per month) / Account required: Yes
You can try Imprint for free for a week. The app promises that you'll already feel a real impact if you invest 15 minutes of your time each day for those seven days. According to the app, this time can always be carved out from your daily schedule, be it on the bus, in bed in the morning, or in the quiet lavatory. Regularity is such a big part of the program that Impact will even kick you out of the course if you miss just one day.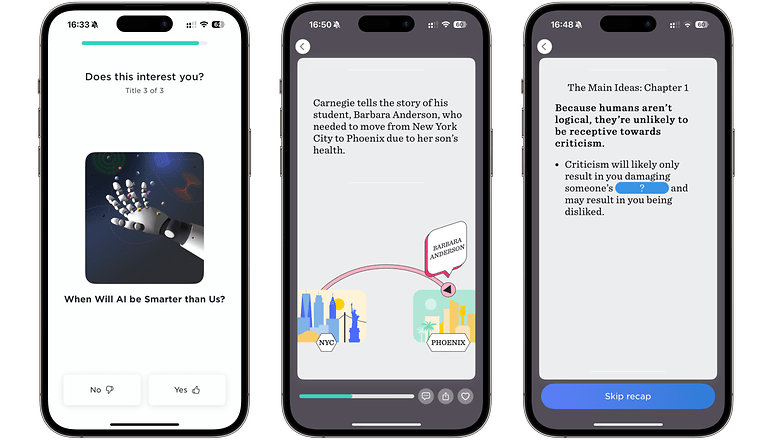 How do you start? It's easy: Impact asks you a variety of questions about your interests and habits, and then presents you with a series of book suggestions. Choose a title, and you're ready to go. If you like the concept, Imprint costs either $99.99 per year or $14.99 per month.
That's it for this week with our five favorite apps from the nextpit editorial team. Which app is your favorite? Did we forget a current trending app? Write your recommendations in the comments!