Top 5 Android and iOS Apps of the Week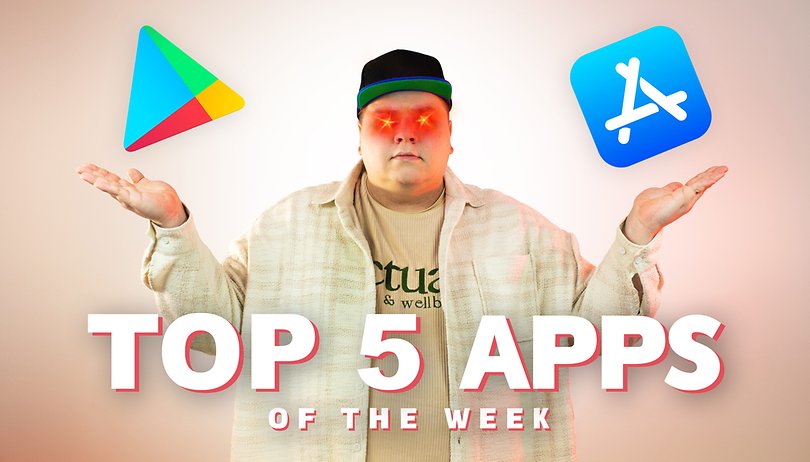 With new apps rolling out on a daily basis, it can get pretty hectic trying to separate the chaff from the wheat. At nextpit, we have done the heavy lifting for you by recommending a combination of 5 apps and mobile games for you each week. With both iOS and Android users in mind, we do hope our selection will be something that will keep you occupied over the weekend. Check out just which 5 apps we have in store for you.
Netflix subscribers will be pleased to note that they have yet another game to keep them occupied on their smartphones and tablets: OXENFREE II: Lost Signals. This is a mystery adventure game that has plenty of twists and turns to keep you riveted! In addition, there is a self-improvement app, a travel app, and a journaling app that helps you pen down your thoughts for a more reflective you.
While we recommend our free apps selection twice each week without testing those apps out (although we do read the user reviews and ensure that all the apps listed have a minimum 3.5-star rating), our Top 5 Apps of the Week is a totally different story as we do download and install every single one of them while ensuring they are not security risks.
Journey (Android & iOS)
Life is complicated enough as it is, so you should take every opportunity to be grateful for all that you have at the moment. Everybody comes from different backgrounds in life, and the Journey diary is an interesting app that helps you be more reflective of what has happened so far. Journaling in the Journey diary might just help you feel better about yourself and have a deeper sense of gratitude for life.
Price: Free / Ads: None / In-app purchases: Yes / Account required: No (but recommended for syncing purposes)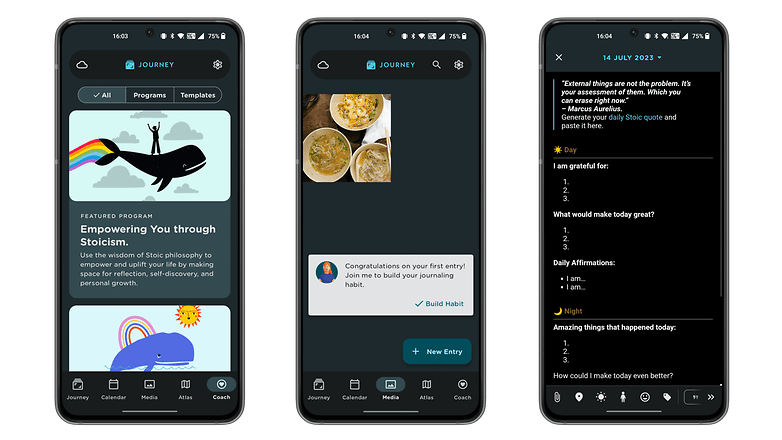 Journey helps you by being a central repository to store your daily reflections in a private manner since not everyone is able to access it as you can assign it a biometric security measure or passcode. You can use it to record all the memorable moments, and also take down notes as and when required. For moments when you feel stressed, you can just pour out your feelings into the app or perform a brain dump when you are overwhelmed.
The user interface is easy enough to use and navigate without taking too much time to figure out. Kudos to the developer for creating a holistic app that assists those who have trouble maintaining a journaling routine. When I felt really down and flipped through my list of things to be grateful for, I could sense that a little bit of that dark cloud has lifted.
If words are not your thing, you can also capture moments via photos, videos, or even an audio recording. There is also a wide range of options in the diary editor when it comes to paragraph style, stylized text, organization, and color.
MindValley: Self-Improvement (Android & iOS)
There is no denying that we live in an extremely fast-paced environment. It is all too easy for any one of us, even the very best, to feel burnt out at the end of the day, even more so after a particularly grueling work week. MindValley requires you to have some form of internal drive if it is to be truly effective since this is a self-learning skills platform with various courses for self-growth, personal growth, mindset and mental health improvement, self-improvement, and self0care. After all, why be good when you can be great, right?
Price: Free / Ads: None / In-app purchases: Yes / Account required: Yes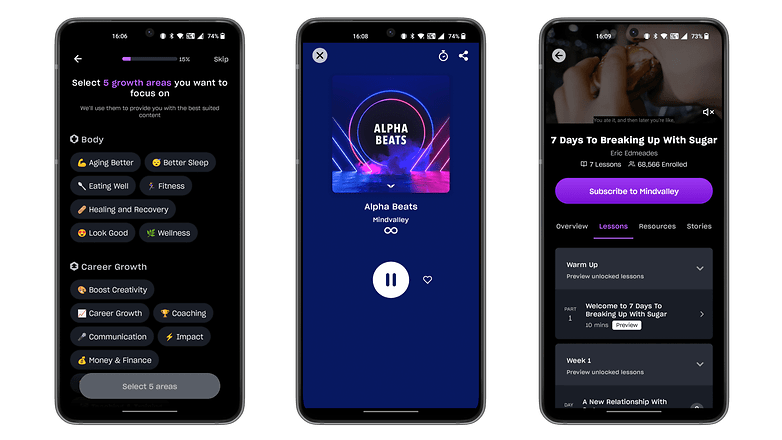 You begin by selecting 5 different areas in which you would want to see growth and improvement, and the app will use its algorithm to serve up what it thinks are appropriate self-learning programs for you to consider.
There is also a MindValley community and network that will connect like-minded people together. Who knows? Through this, you will be able to collaborate with others in your journey to a better version of yourself while making the world a nicer place to live in as you help others!
A lot of the more notable programs are available behind a paywall, so you might want to consider investing in the different lessons if you are truly serious about seeing positive changes in your life. Otherwise, the free stuff in this app is pretty limited, but if you need just meditation lessons, then there should be more than enough available tracks to keep you occupied without requiring you to fork out a single penny.
Stippl: The Travel Planner (Android & iOS)
Do you love traveling? It is pretty difficult to find someone who just wants to remain cooped up at home, especially when summer is in full swing (sorry Australia!). The thing is, traveling can take up plenty of time to plan unless you pay more and go for a tour so that someone else does all the thinking for you. Stippl caters more to the adventurous, to those who are willing to micromanage their entire itinerary, right down to the very last penny.
As you create a new itinerary, you can classify it under a place to sleep, things to see and do, things to eat and drink, and even paste URLs from other sites that might come in handy as a quick reference by adding it as an article or guide. For instance, creating a trip to the Maldives lets me add the different places I will spend the night at, the distance between them, how much I think I will spend, and even right down to the stuff that I will pack! Talk about details!
Price: Free / Ads: None / In-app purchases: None / Account required: Yes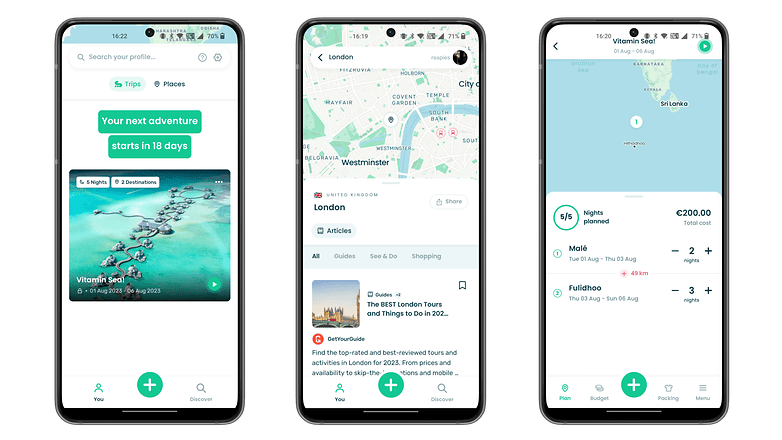 Strangely enough, I could not find Turkey as one of the countries that can be visited, but you can apparently create an itinerary for North Korea. Go figure! Perhaps it is an oversight that will be fixed in a subsequent app update, or was it left out on purpose? This is something only the developers know. Overall, this is an interesting app that all travel lovers should download and give a go if you do not already have an existing travel planning app.
Aerodocs - Document Manager (Android)
The longer you are alive, the more documents you have to keep track of. I know that many of us have already taken the digital route when it comes to our bills, but there are still plenty of documents that have not yet been digitized. Aerodocs is an interesting document manager app that functions as a central repository for all the documents in your life.
You can upload existing documents and photos of documents to their respective categories, or simply snap a photo of an existing document and upload it on the spot. The different categories available are Identity Cards, Bank Documents, Insurance Documents, Educational Documents, and Vehicle Proofs. Thankfully, you can also create custom folders to suit your needs.
More importantly, there is a Secure Vault folder that lets you store documents that are meant for your eyes only. Access to the Secure Vault is available upon entering the correct PIN or Pattern input, although I would have liked to see it secured by biometric means for that added peace of mind. Still, this is a commendable effort.
Price: Free / Ads: Yes / In-app purchases: Yes / Account required: No (but recommended)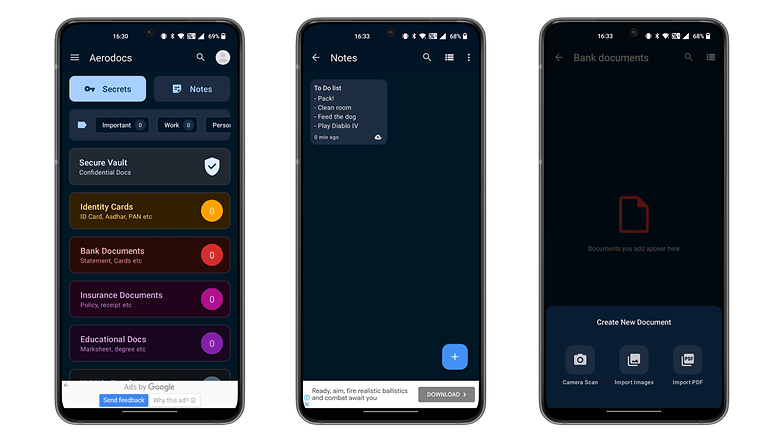 While you can live with the free version, I found the banner ads that appear at each screen right at the bottom to be a tad annoying. I am sure that it is no big deal in exchange for an app that makes life more organized, but for those who want to have a totally clean user interface, perhaps paying to get rid of it might be a sound idea. Oh yes, did I mention that Aerodocs also has a built-in notepad function?
Oxenfree II: Lost Signals (Android & iOS)
Remember the "Choose Your Own Adventure" series of books? Simple adventure stories that progress differently based on the choice that you make. Netflix members will be pleased to know that they can now indulge in yet another mystery adventure title, Oxenfree II: Lost Signals where you come face-to-face with shadowy cult members, encounter spacetime portals, and investigate ghostly radio signals.
Price: No, Netflix subscription required / Ads: None / In-app purchases: Yes / Account required: Yes
This is a sequel to the narrative adventure game known as Oxenfree (obviously!). They share only the title, as this is a new standalone story for everyone to get started without having to know about the backstory. Alternatively, you can dive deeper into the game's universe as the original game is also included. This reminded me of Day of the Tentacle which contained the original Maniac Mansion as an Easter Egg.
All your conversations and dialogue choices will shape the outcome of the story. For instance, you come across an old acquaintance from your more youthful days at school and can choose to forge a deep friendship, or in another situation, you can also ignore people to your own peril/advantage. Much like in real life, your choices will shape your destiny.
The graphics do look haunting enough to keep you mesmerized from one scene to another. There is also an interesting radio mechanic for you to pick up additional clues in the game.
We are done for today with the top 5 apps of this week! We hope that there was something suitable for you and we look forward to your feedback. You are also welcome to suggest apps if you think we should feature your recommendation next week.