Top 5 Android and iOS apps of the week: Pure Magic, Staying Fit, Get Artistic!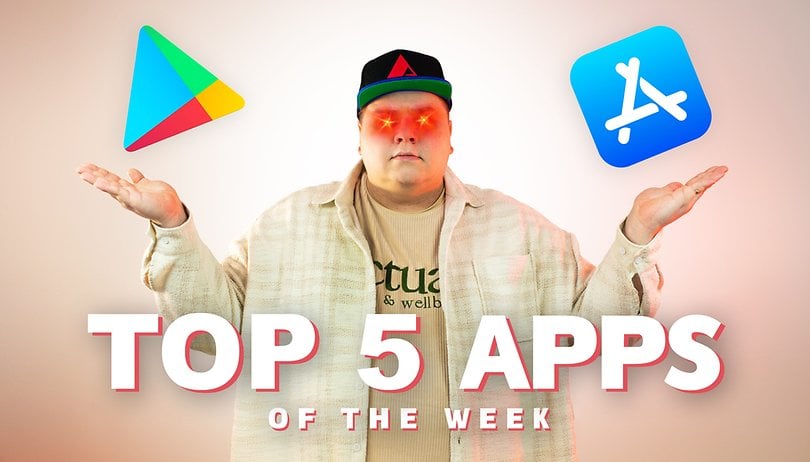 The weekend beckons once again—and this calls for us to hunt for the top 5 app recommendations to keep you entertained. This weekend, we are pleased to say that all the magic has not disappeared from the Harry Potter franchise just yet with the latest game making a splash on both iOS and Android platforms! You will also be able to fast with greater discipline and create fantastic-looking pixel art, among others.
If you are on a tight budget, there is always our twice-weekly free apps of the week that is published every Tuesday and Friday. These are apps that normally come with a price tag but so happen to be free this week as a promotion. Without much further ado, let us kick off our app recommendations. Do take note we have tried them all out personally for you to make sure they're legit!
BodyFast: Intermittent Fasting (Android & iOS)
It does seem that one of the best ways to lose weight fast (pun unintended) these days is intermittent fasting, where you do not take meals for a prolonged period of time in order to burn as many calories as possible, without going into starvation mode. This app, BodyFast, is a guide for those who want to lose weight healthily, using an app as a guide.
I have never really gone on a serious fast, apart from a detox session where I survived on nothing but fruit juices for a few days. This app caters to both beginners and experienced fasters by offering a personalized fasting plan from the BodyFast Coach each week.
Price: Free / Ads: None / In-app purchases: Yes / Account required: Yes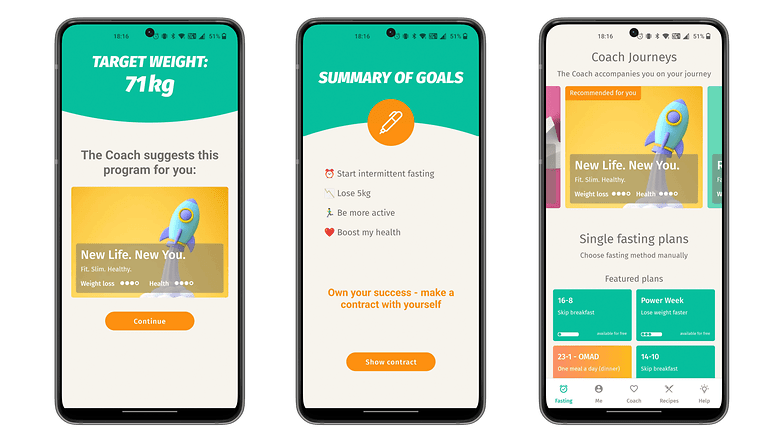 Since every individual is different, BodyFast can be tailored to your very own goals, marking your progress accordingly. You will be able to receive daily coaching knowledge and tips to help progress, and keep tabs on what you eat. After all, you are the sum of your meals when breaking things down to their most simple form.
The app also helps keep track of your weight and body measurements, letting you know of each 'victory' attained. I myself do not go without drinking less than 3 liters of water each day, and it is nice to see the app sport a water tracker as well. Just in case you need a kick in the proverbial butt, there are weekly challenges to consider embarking upon to achieve better health and experience additional physical activity.
With over 10 fasting plans to choose from, I was spoilt for choice! Ah well, everyone has to start somewhere!
Divoom: pixel art editor (Android & iOS)
Do you see yourself as an artistic person? Do you have creative juices that simply flow and need an outlet to be expressed? I always had a fondness for pixel art, and this app is an absolute delight to play with. As its name suggests, this is a pixel art editor that comes complete with an integrated online pixel art gallery and community.
With this, you can create and share your pixel art animations, while interacting with other pixel artists worldwide. This is surely one of the better platforms to get connected with other like-minded people without geographical constraints.
Price: Free / Ads: Yes / In-app purchases: None / Account required: No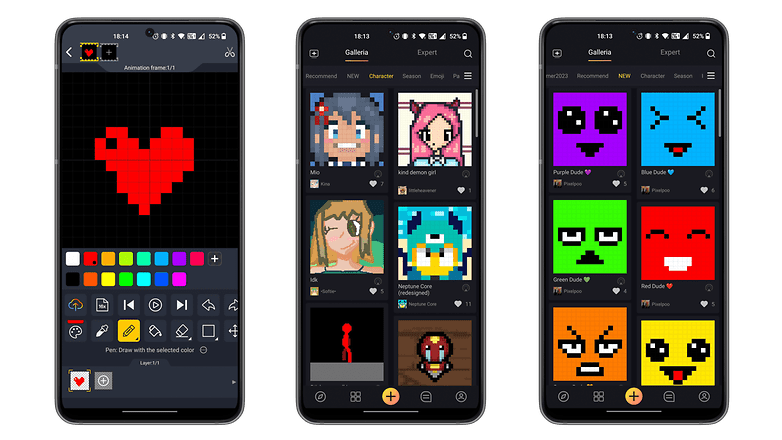 Any self-respecting pixel artist would love to have professional drawing and animation tools such as multiple layers, color canvas, and text editors, among others. You can not only create lovely-looking animation, but you can also merge your artwork and even record background music!
The Pixel Art community is definitely a place I got lost time and again. In fact, with more than 700,000 pixel art designs to choose from and a user community that numbers over a million, it is definitely a cool place to hang out! You can also see where you stand by indulging in a pixel art drawing contest that is held monthly. When you get bored, you can always enjoy some Color By Number games.
Harry Potter: Magic Awakened (Android & iOS)
If you love all things Harry Potter, you would know that there have been hits and misses in the past. Harry Potter: Magic Awakened brings a mix of CCG (collectible card games) and RTS (real-time strategy) mechanics that require you to think things through, not to mention plenty of minigames to keep you occupied.
I loved the amount of detail that had gone behind the scenes, where there is a careful balance of fan service done right. The cutscenes are definitely worthy of the franchise, keeping you riveted to your screen for hours on end. However, the million-dollar question is this: Is the gameplay any good?
Price: Free / Advertising: None / In-App Purchases: Yes / Account Required: None (but recommended)
I am happy to report that the developer has certainly got it right with this game. Each time an enemy is engaged in a battle, basic spells come into play. You will have to literally play your cards right if you want the more powerful spells to come into effect and tip the balance of the battle in your favor. It does not take much to get started, but I am quite sure it will not be long before you look up the different guides and strategies online in order to gain an edge.
That wand is not a plaything, boy! / © nextpit
There is a healthy number of side-quests and content drops to keep you going. While it makes sense to complete the story mission first, the true test of your capability would be ranked PvP games, where you throw spells at your opponents in what can be deemed as a glorious mess. Sure, there is an element of Pay-2-Win here, but which game does not have that these days?
After all, a free game does not bode well for the developers, and they will need some way to monetize all their hard work. I suspect that only hardcore fans of the franchise will be the last ones standing in the long run, but it is an accessible and enjoyable game for most Potterheads to pick up.
Polycam: 3D Scanner & Editor (Android & iOS)
Take your photography to a whole new level with this app that I recently discovered, Polycam! It has received rather high ratings from its many users, being a 3D capture app. Whether you are an architect, a budding artist, a designer, a contractor, or simply a shutterbug who cannot stay away from taking photos, Polycam will help you see the world in a whole new light! I know my creative boundaries have extended through the use of the app.
Price: Free / Advertising: None / In-App Purchases: Yes / Account Required: Yes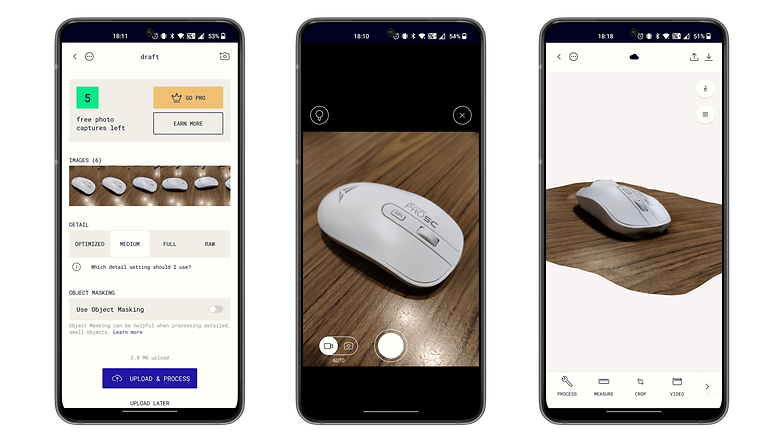 Basically, using the app is easy peasy. As its name suggests, Polycam will transform photos into 3D models using advanced photogrammetry. This lets you scan complex objects as well as scenes that contain intricate details, where it will then work behind the scenes to generate 3D assets that can be used on virtually all compatible computer graphics applications.
I myself was surprised by the system requirements as an Android user. The developer claims that Polycam can run smoothly on any Android device with at least 2 GB RAM. Obviously, most devices these days come with 6 GB or more RAM, so it should play nice even with older handsets.
The next time you feel like you want to be a creativity beast and come up with something different, why not give Polycam a go? As a free 3D capture app, it is pretty tough to go wrong!
Hand Talk Translator (Android & iOS)
If there is one language that I have always wanted to pick up but never got off my lazy bum to do so, it would be ASL (American Sign Language). From where I come from, differently-abled people sometimes make a living selling tissues from table to table, and I am unable to communicate with them better apart from a nod and a smile. If only I could sign some words of encouragement to them…
Hand Talk Translator helps bridge the gap with Hugo, the world's most lovable 3D interpreter, translating both text and audio to American Sign Language (ASL) as well as Brazilian Sign Language (Libras) through the use of Artificial Intelligence.
Price: Free / Ads: Yes / In-app purchases: Yes / Account required: No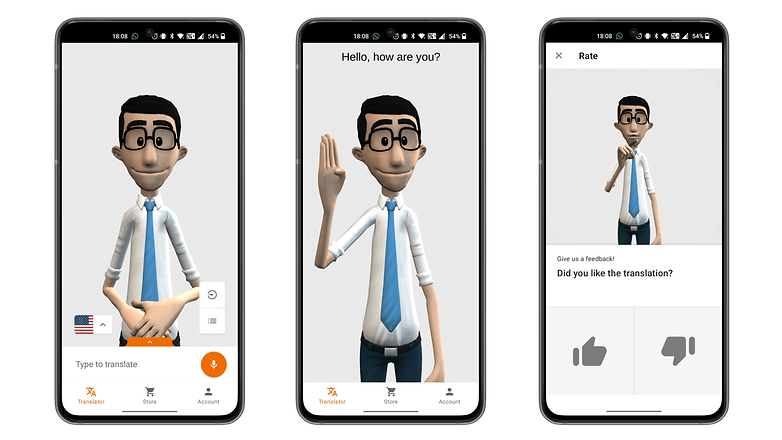 This is definitely one of the platforms where I can pick up a new language in a practical and fun manner. In fact, the app continues to learn over time since you have the opportunity to rate the accuracy of Hugo's translations while saving your favorite ones. Just in case things become too fast or slow, there is the option to adjust Hugo's speed.
That's it for now concerning this week's top 5 apps on nextpit. Which app captured your attention the most? Did you also discover a particularly fantastic app that you would like to recommend to the nextpit community this week? Share your discovery with us in the comments!