Top 5 Android and iOS apps of the week: Games, Travel and News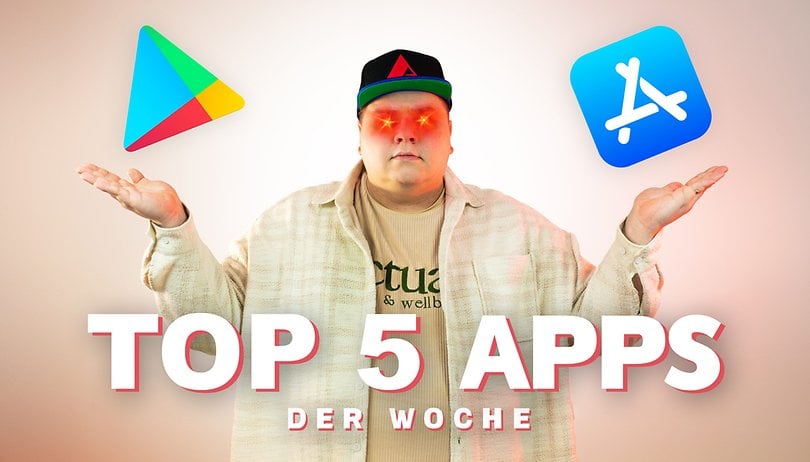 Every Sunday, NextPit has five hot app recommendations for you on both Android and iOS platforms. This week, we bring you on a journey, be it in real life or in a lucid dream. What's more, we will also include a fantastic news aggregator and a couple of insane mobile games. Check it out!
As usual, we've tried each of these apps out for you as part of our quality controls. If you're looking for a quick app bargain, be sure to also take a look at our free apps of the week which feature a list of apps and games that are free for a limited time only.
Oniri (Android & iOS)
What sounds like a new sushi variant is derived from the Greek word "oneiros", which means "dream". You can log your dreams using Oniri, as well as explore lucid dreams. This is where things get really exciting.
First of all, we have a dream diary: It is here where you take down notes about your dreams (if you can remember them, of course). If you do this regularly, you will train your brain to remember dreams and soon you will be able to remember your dreams in detail almost every morning. I can confirm this is true based on my own experience.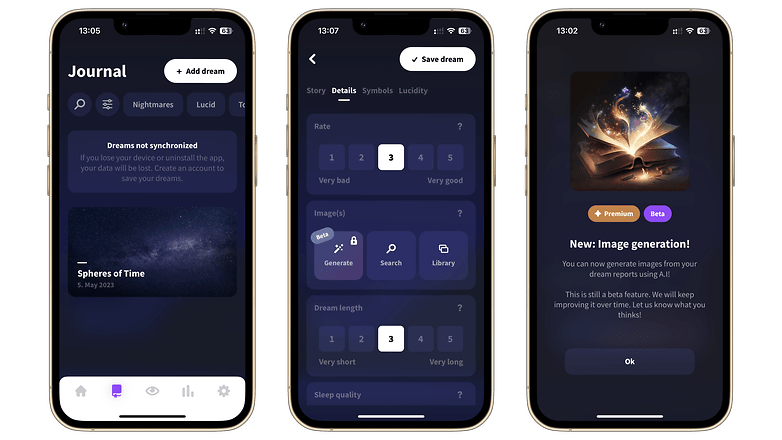 The more exciting part concerns lucid dreams. In a lucid dream, you wake up and continue dreaming at the same time. Get this: You are fully aware that you are dreaming and thus are able to take full control of your dream. You will be able to do whatever you want, visit any place, or meet any person.
The easiest way to achieve lucid dreaming is to perform reality checks during the day. For example, you can press your right finger into your left palm and imagine piercing your hand with your finger. Of course, this doesn't work in the real world.
If you regularly practice this, sooner or later, it will happen in your dreams. This is where the reality check will tell you that you are dreaming. The same idea in Christopher Nolan's Inception was described as a 'totem'. At this moment, you take control of the dream. You can find detailed instructions on how to do this in the app, with the app sending you regular reminders to perform Reality Checks.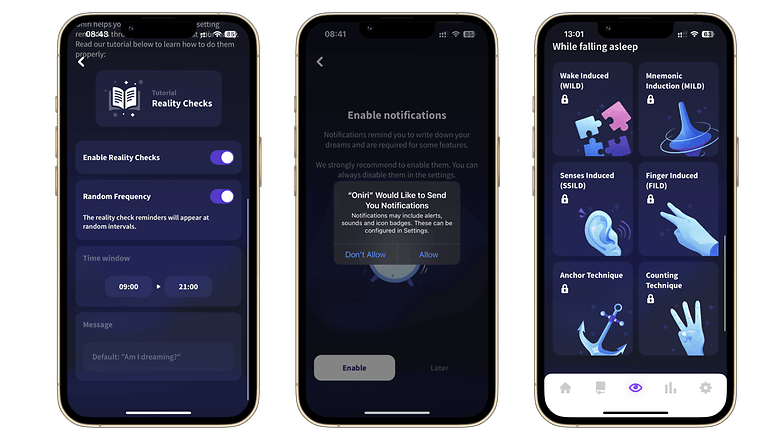 In the free version, you can take advantage of the dream diary and lucid dream training with reality checks involved. For advanced lucid dreaming techniques like WILD, MILD, or SSILD that allow you to enter a lucid dream directly from the waking state, a subscription is required, which costs $7.99 per month or $47.99 per year.
Price: Free / Ads: None / In-App Purchases: Yes / Account required: Optional
Oniri has been available for the iPhone for several years now and has an excellent rating of 4.9 out of 5 stars. Since this week, the app is finally available for Android users as well. By the way: How come you have not dreamed of your smartphone despite using it every single day? Maybe we'll clarify that some other time ;-)
Polarsteps (Android & iOS)
With Depeche Mode concert trips coming up, Casi's wanderlust has begun to creep in again. Hence, it is probably natural that he stumbled upon an excellent travel app known as Polarsteps. This highly-rated app helps you record your travels. The travel app can keep track of your trip when you're on the road, as well as let you plan trips in advance. In short, you can record your completed trips as beautiful memories.
Price: Free / Ads: None / In-app purchases: None / Account required: Yes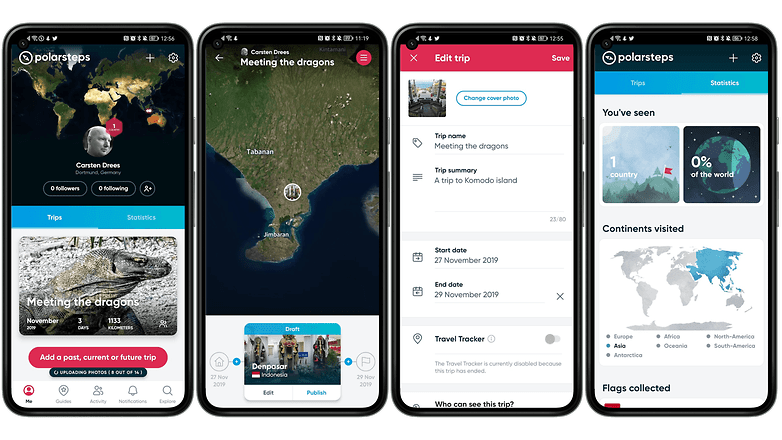 You can feed the app with hotels, restaurants, and other places you have visited, including photos and videos. This lets you relive the trips on your smartphone. In addition, there is a statistics tab that would love to be fed with relevant information, lending a somewhat addictive slant to it.
You can also plan your upcoming trips and not only receive curated information about the destinations you're headed to, but you can also have recommended routes that take various travel options into account. You can decide at any time if your trips can be seen by the public, for your friends only, or to be seen by your eyes and nobody else. You can follow other users and share your trips across various platforms. This lets you create your very own travel social network.
The entire app is free and has no pesky advertising and in-app purchases for you to deal with, although it requires an account. If you're up for it, you can also have a travel photo book made from your trips. It's cool that the app can also be used offline. Another neat trick is the ability to optimize the app to minimize battery consumption while using the app.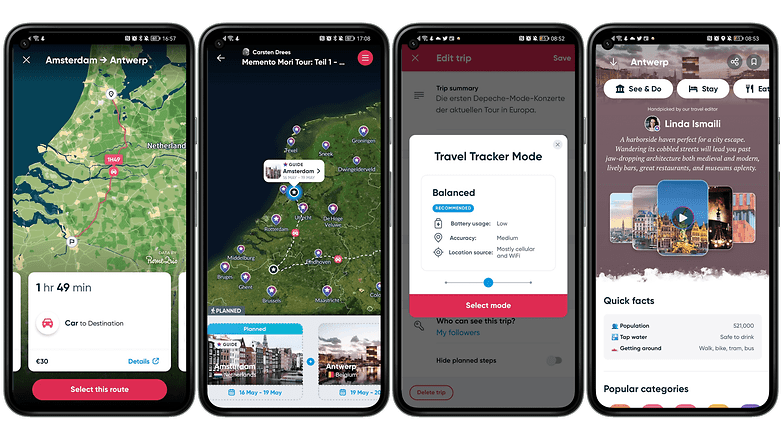 Substack Reader (Android & iOS)
Substack is practically a symbiosis of Twitter and your typical news aggregator. Substack gained its fame from, of all people, Elon Musk, when he accused the creators of stealing content from Twitter and unceremoniously marked the company as unverified. The actual "primary tool" is Substack Notes, which aims to pay news and content creators for their work. Ladies and gentlemen, I present "Substack Reader", an app where you don't have to pay anything if you don't want to.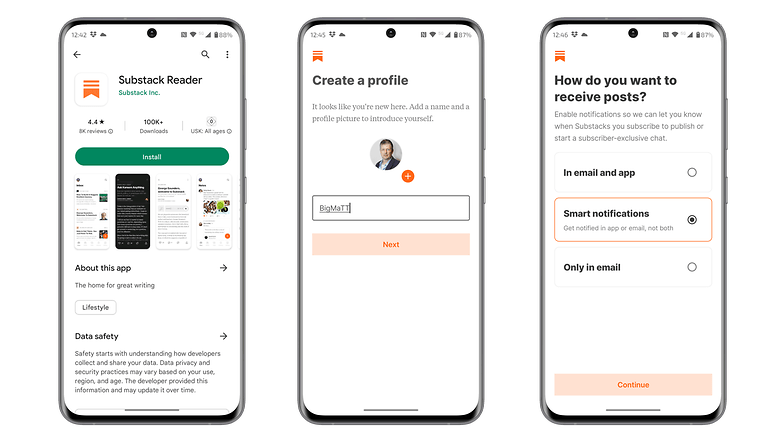 All you have to do is register using your e-mail address, decide how you want to be informed about news in the future, and then subscribe to your desired content via an exhaustive list of newsletters and authors. Of course, you will also find Casa Casi, our weekly podcast, where Casi discusses and sometimes argues with Fabi and Sascha Pallenberg about happenings in the world of technology. This can sometimes drift into the last Schalke vs. Borussia Dortmund game, but it's always entertaining.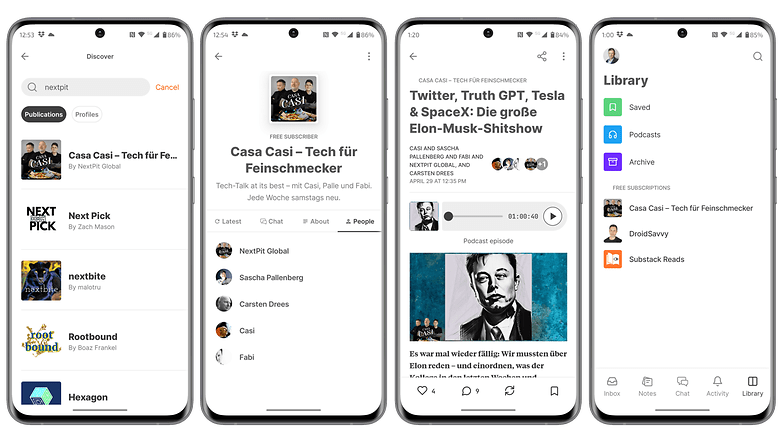 The app is rather clear and simple to use. You have a tab bar at the bottom where you can jump to the five most important categories of the app. If you still run into problems because your activities were not saved, then be a little forgiving. The app receives regular updates (last four days ago) and is constantly being improved upon. As an editor, it's a very helpful app in my daily search for tech news that I probably would have missed otherwise.
Price: Free / Ads: None / In-App Purchases: None / Account required: Yes
Brotato: Premium (Android & iOS)
Our gaming expert Dustin mingled with the roguelike fans this week and picked out Brotato: Premium for you. As the name suggests, in this 8-bit game, you play a potato and must brave various waves of enemies to upgrade your equipment and stats to become even stronger. Wait, a potato? Not quite, but a potato bread. This is because you have the choice of different classes, all of which feature different advantages and disadvantages.
Price: $4.99 / Advertising: None / In-App Purchases: None / Account required: None
In the beginning, you will have to choose one of the said Brotatos, as well as a starting weapon. After that, you will be thrown into the game where your left thumb controls the Brotato. The Brotato takes care of aiming and shooting automatically, so your only task is to dodge enemies. What sounds easy becomes much more challenging as the game progresses, since not only do more enemies appear, but they are also far more durable. Tactics is the keyword here.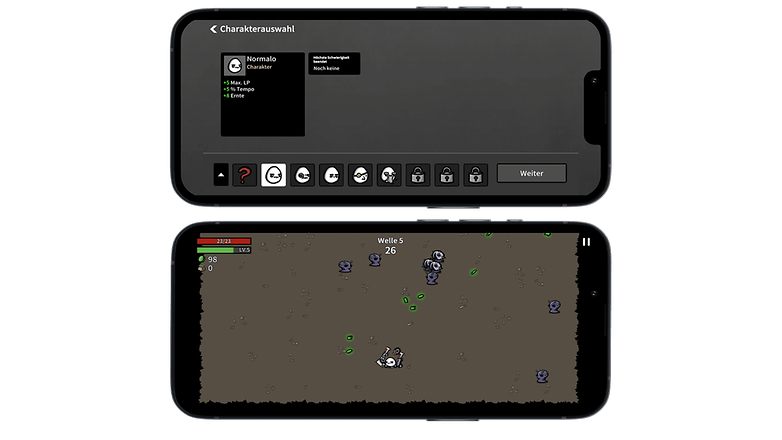 You'll receive various upgrades after completing each wave, which only lasts a short time. Among other things, you have the possibility to unlock new weapons or items if you have collected enough of the in-game currency. In addition to the pistol, you can also use a circular saw or a simple stick, which you should never underestimate. The right combination of the individual items is therefore essential here.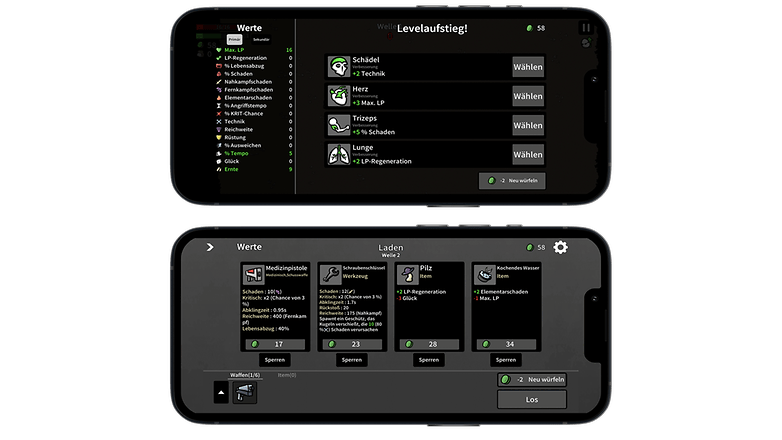 Viking Rise (Android & iOS)
Are you familiar with Norse mythology? No? Then it's about time you get acquainted! With Viking Rise, we present you with the right game that is highly addictive. In Viking Rise, you create your own Viking world. You build new buildings, explore the world and fight enemy troops or monsters along the way. As the game progresses, you can find more troops to join your army or even liberate villages.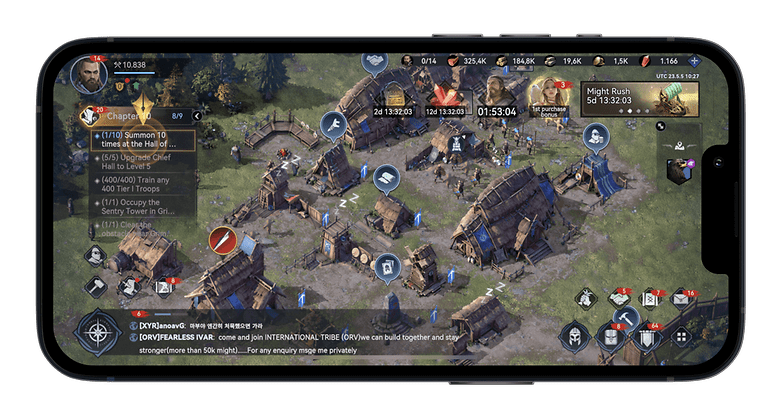 In addition to having many different warriors to choose from, you'll also acquire stronger troop leaders with unique abilities over time. What's especially cool is this: You can also network with other players and support each other to speed up your progress. This means buildings will be completed faster or your troops will complete their training faster. If your progress isn't fast enough for your liking, you can nudge it along using in-app purchases. However, with a little patience, your world will still grow without having to drop a single penny, albeit slower.
Price: Free / Advertising: None / In-App Purchases: Yes / Account required: No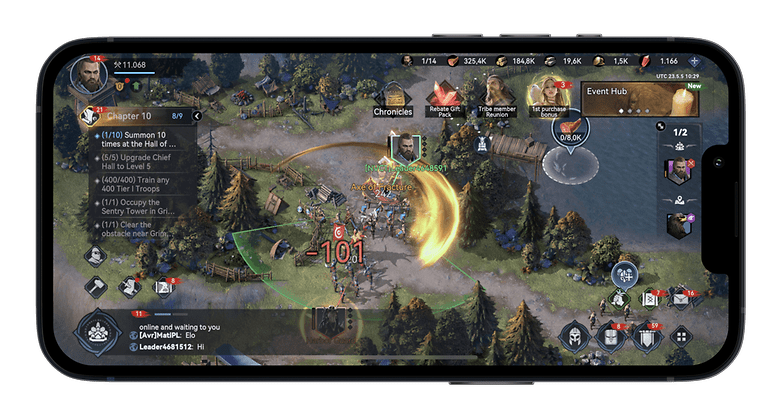 Which recommended app do you like best this week? What apps have you recently discovered that the NextPit community should definitely try out? We look forward to your comments!