Top 5 Android and iOS apps of the week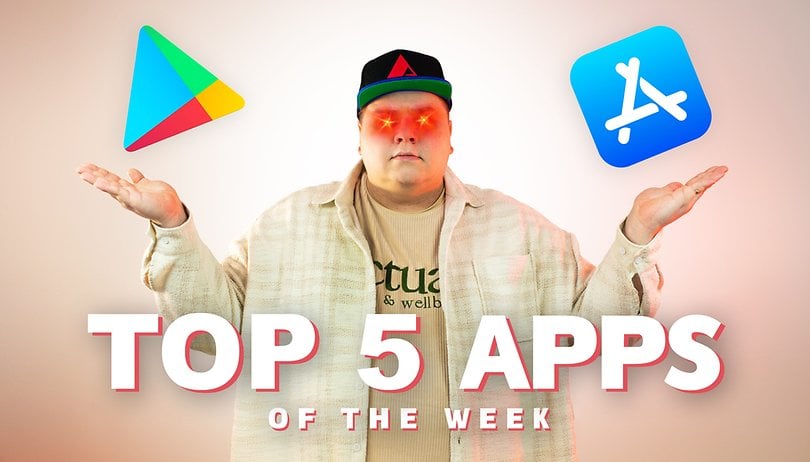 Can you believe that we are about to enter the fourth week of January? Time sure flies by too fast. Regardless of how we perceive the passage of time, there are still constants in life that help maintain the harmony of the universe - by working hard behind the scenes to present the Top 5 apps of the week for both Android and/or iOS platforms to our beloved readers.
We must stress that this article is different compared to our twice-weekly edition of free apps of the week. We do far more than just read about these apps. In fact, we actually download and installed these apps individually, going through them in greater detail and checking them out personally to ensure that none of them come with unwanted in-app purchases. This does not refer to essential functions. Obviously, we will also make sure that none of them go behind your back and mine your data or personal information with wanton abandon, as we too, want to maintain our privacy in a safe and secure manner!
This article is published on a weekly basis, so do go through our Top 5 apps from last week and see whether anything appeals to you. This week, we have a new kart racing game that is popular outside of the US, and also has a sizeable following. Without any further delay, these are the following apps that made it on our list this week!
Monefy (iOS & Android)
Extremely easy to use, this app lets you keep track of your expenses so that you do not end up busting your monthly salary on non-essentials that it becomes tough for you to remain warm through the bitter winter. It also helps that you can manage multiple accounts on a single device, where all the various accounts can be integrated in order to view the total value. It is ideal for those who are stepping out to know more about themselves by learning about their personal spending and saving habits. The kicker is, you will need to remember to key in your everyday expenditure in order to ensure a more accurate level of data collection.
All data is displayed in a pie chart, which might be limited in terms of interpretation if you are a power user. It would be nice to see additional data visual options in future updates. Be aware that there is a paid version of this app that allows you to obtain all the benefits of a subscription, albeit with a one-time payment. If you need something basic to help you get started on your journey to financial independence, then the free version of Monefy will do. Otherwise, you might want to consider getting the paid version of the same app.
Price: Free / Advertising: Yes / In-app purchases: Yes / Account: Not required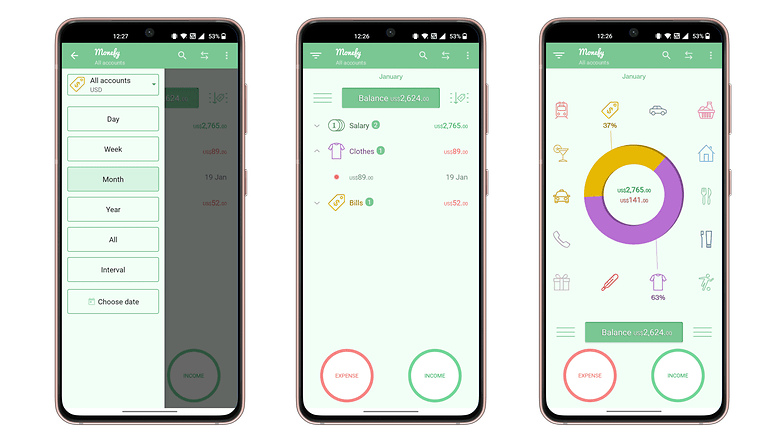 The Wonder Weeks (iOS & Android)
Life is all about moments, and new parents are (mostly) always excited about the latest addition to the family. This is even more pronounced for first-time parents, as there will be a lot of 'firsts' that they can look forward to. If you are a stickler for details and are way more comfortable with a smartphone compared to pen-and-paper, then The Wonder Weeks is perfect to greet your new arrival.
This app keeps track of your baby's mental development right from the moment of birth all the way to the 20-month mark. Hopefully, it will make you a better parent as you learn about the 10 mental leaps, ensuring you are well-positioned to provide the right assistance to your baby during the different stages of a leap. All of the milestones can be recorded in a diary, as you look at the world anew—through your baby's eyes. With more than 350 milestones to explore, you might end up having another baby sooner than you think!
Price: $4.99 / Advertising: None / In-app purchases: Yes / Account: Not required (but recommended)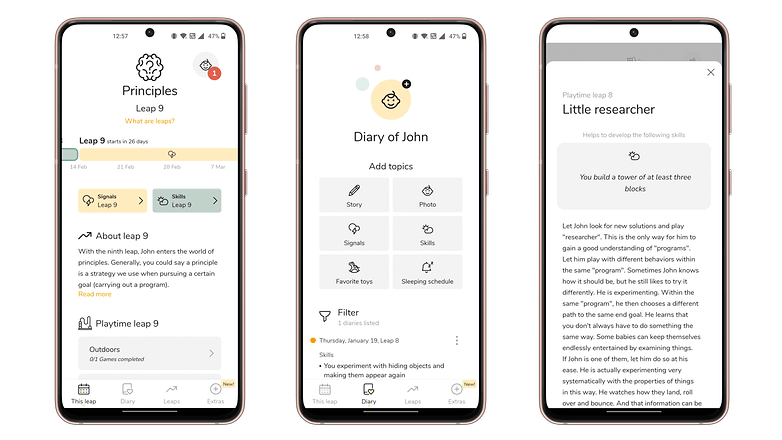 Bookey (iOS & Android)
If you found yourself to be in a rut while doing your annual new years review recently, perhaps Bookey might have the right thing to keep you motivated and increase your self-esteem. It is basically a repository of key ideas and quotes that will deliver key insights from the world's bestsellers within 30 minutes so that you can boost your personal growth and explore your potential to the fullest.
Ideas that are covered include a curated list of books that include Personal Development, Biography, Leadership, Art, and Business, among others. You even get a mind map for each book that highlights the individual essence so that it takes a simple glance to capture the entire gist.
If you think that Bookey has helped you in your self-growth journey greatly in due time, perhaps it is time to look at the Premium version that offers unlimited access to all titles with full audio and text, in addition to unlimited access to the mind map of each title while having the ability to save the data plan.
Price: Free / Advertising: None / In-app purchases: Yes / Account: Required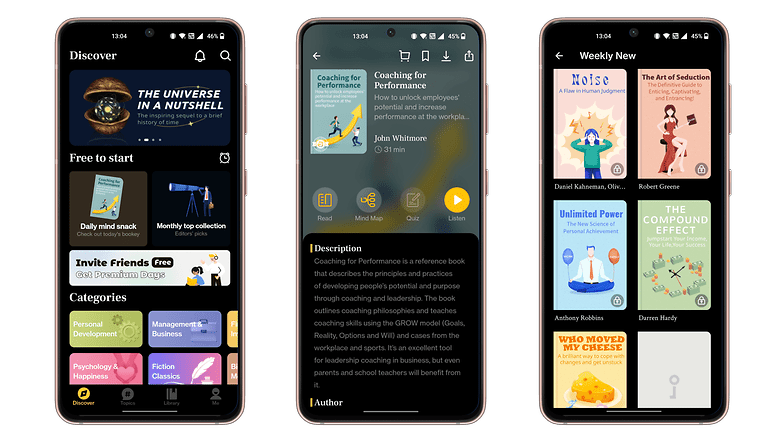 Tilla - Subscription Manager (Android)
We live in a subscription-based society these days, where virtually everything comes with a degree of subscription—be it monthly or annually. Streaming has become the de facto standard where on-demand home entertainment is concerned. If you are like me, I tend to get all confused with the different subscriptions, and coupled with my aversion to auto-billing, there are months when I drop the ball and forget to pay.
Tilla makes it easy to organize all of my subscriptions under one roof, sending me a timely reminder (of which I can set the frequency) before the due date. Since having this app, life has become a whole lot more manageable for me and I never had to scramble to make overdue payments! The paid version will feature local backups and cloud synchronization, which allows you to migrate from one device to another device without losing all your precious information.
Price: Free / Advertising: None / In-app purchases: Yes / Account: Not required (but recommended)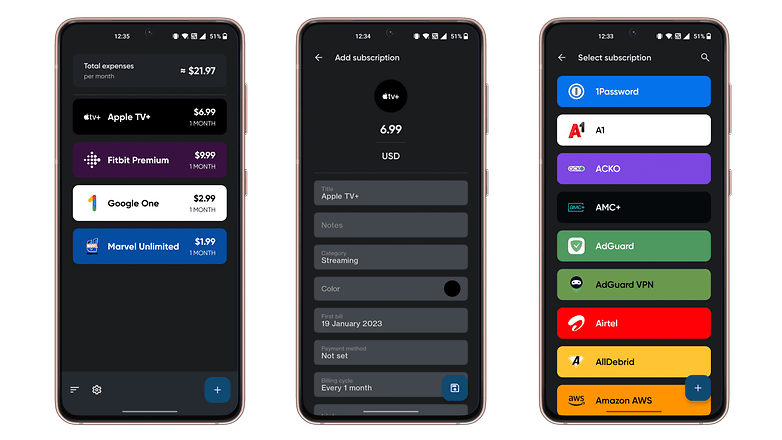 Static Shift Racing (iOS & Android)
Want to own a race rocket of your own? Static Shift Racing fits the bill perfectly as a free-to-play game. Of course, there are in-app purchases that allow you to boost your ride to insane levels of capability. The graphics are definitely amazing to look at, and rather than being confined to a limited number of tracks, you will be able to explore the vast open world. In other words, you have the pleasure of cruising around in your collection of cars at your own pace.
The entire theme of this game is more about car customization than anything else. You will be able to indulge in mods like rims, bumpers, side skirts, spoilers, hoods, and even go for a total makeover with full-body kits and a custom paint job. Of course, having a fast-looking car doesn't mean it is fast - pitting your skills against human opponents worldwide is another attraction. There are also daily challenges that will surely make you return time and again.
Price: Free / Advertising: None / In-app purchases: Yes / Account: Required
That's it for this week's offerings that we have curated specially for you! How do you think our list of the Top 5 apps of the week compared to what you have in mind? If you have something you would like to recommend or want to share your own suggestions, leave a comment in the section right below!