Every Apple WWDC 2020 announcement: iOS 14, watchOS 7, and Apple Silicon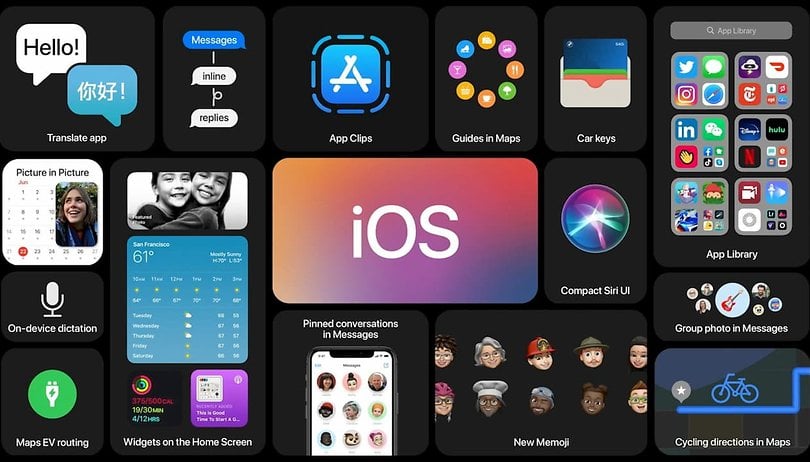 Last night, Apple held its annual Worldwide Developers Conference. The digital event, which consisted of a series of pre-recorded (and very slick!) presentation broadcast online, allowed fans to get a first look at the future of the Apple ecosystem. There was news about iOS 14, watchOS 7, and the long-rumored departure from Intel for its MacBook and iMac computers was confirmed. Here's everything that was announced at the WWDC 2020.
Shortcuts:
Apple has dropped the curtain: iOS 14 is official and brings a lot of cool new (for Apple) features, most of which Android users among you have been using for quite some time.
Apple fans are getting excited about Widgets
Apple finally brings widgets to the home screen. With iOS 14, the classic tiled view of apps will be a thing of the past. During the keynote, the demo looked interesting. Compatible apps will be able to be displayed in different sizes in the future. The size and content of the app widget can be adjusted.
It's nice that Apple finally brings more individualization to the home screen. Here's what it looks like: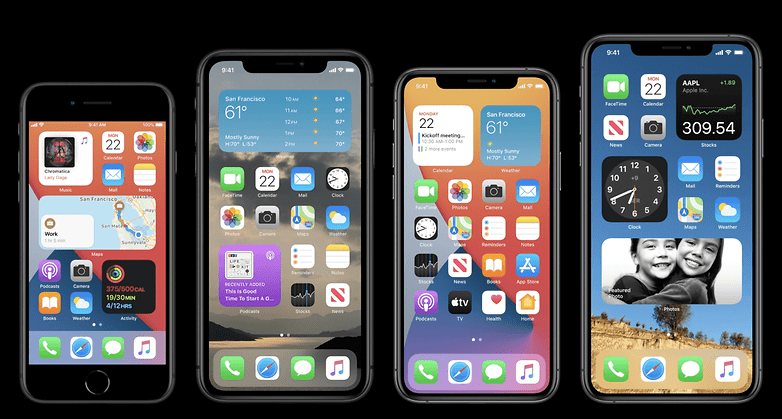 In iOS 14, you will also be able to sort apps in the new App Library, so folders containing apps can now be customized. In addition, apps can be found quickly using the letter wheel, similar to the contacts app. Entire pages with apps can also be hidden or shown.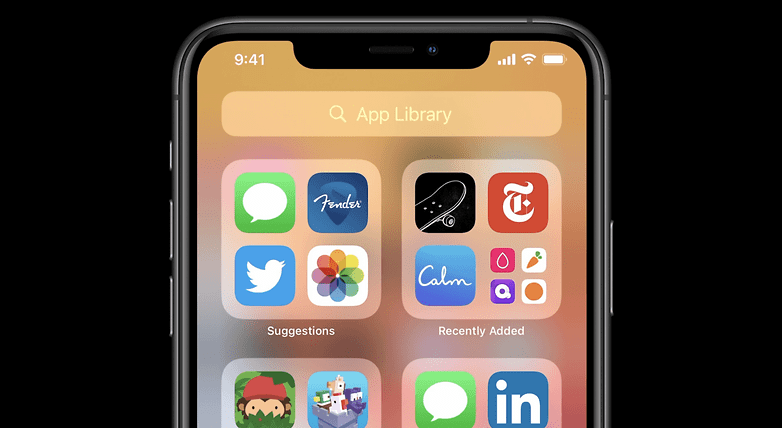 Picture-in-picture video
Another new feature will be picture-in-picture. In the future, iPhone users will be able to play a video while opening other apps or surfing the internet without the video disappearing. It remains in the foreground and can be moved flexibly. Again, any Android users will know this feature.
Siri gets a new design
Apple's language assistant Siri also gets new features in iOS 14 and has been visually adapted. Siri now appears in a bubble at the bottom of the smartphone and fades over the current page instead of showing a black background. Siri will also be able to send voice messages in the future.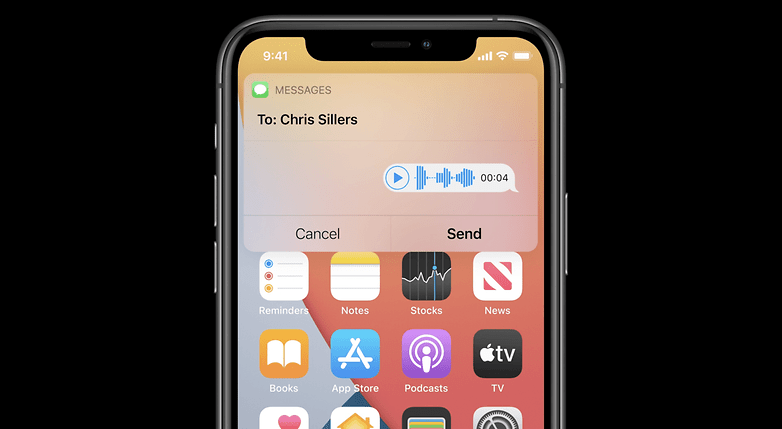 Offline translation with a new app
As already suspected, Apple has also presented its own translator app, which will also work offline. During the demo, the app reminded us quite strongly of Google Translate...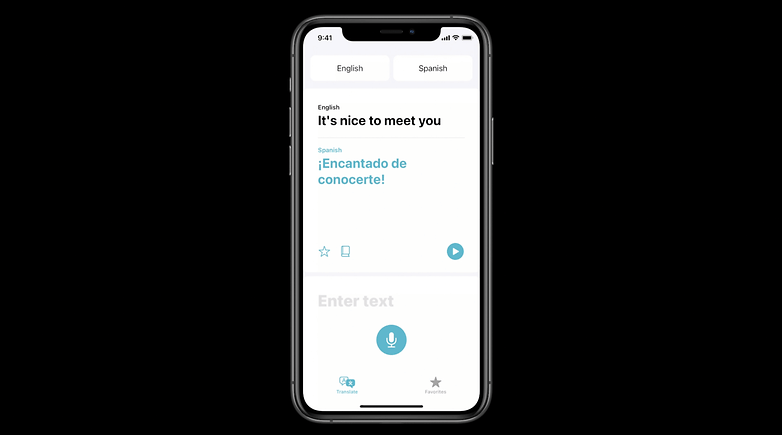 New features in Messages
Apple's first-party messaging app will also see further development under iOS 14. In the message overview, important contacts and conversations can now be pinned. At the moment the most current chat is at the top. Memojis get more individuality with iOS 14. More than 20 new design features like face masks have been added. Memoji stickers also get new gestures. In group chats, it will be possible to send a notification to a person directly. We know this from WhatsApp, for example, where a group member can be addressed via "@".
Apple Cards
With iOS 14, Apple Maps gets a new design. In addition, Apple Maps will make it easier for people to find places of interest, such as restaurants or destinations for excursions. Apple implements so-called guides in Apple Maps, which are probably recommended and provided by the Apple editorial staff just like in the App Store. Cyclists will also benefit from the update to iOS 14. You can now see a new icon next to pedestrians, cars, or public transport to better identify cycle paths and suitable roads.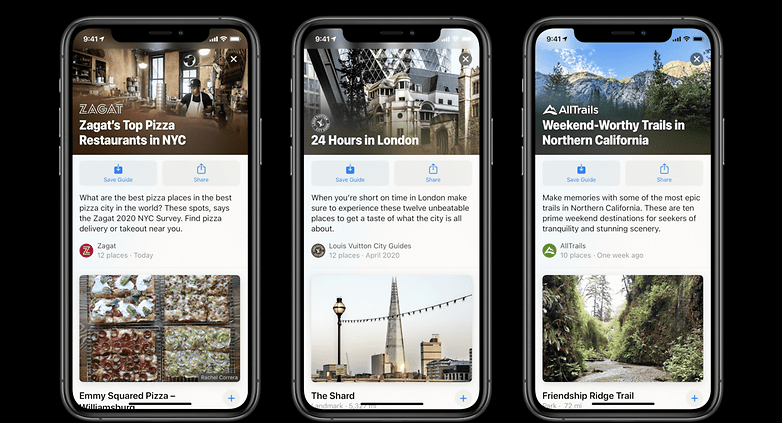 Innovations for Apple Car Play
Apple's Car Play finally gets wallpapers that can be used in your car to change the background image on the display. Apple has also finally announced more details about its new Apple Car Key. Compatible cars, such as those from BMW, can be opened and started via your iPhone. You can also share your key with other iPhone users. This is made possible by Apple's U1 chip, which is only found in newer models.
Apple App Store
There will be some new features on the App Store on iOS 14. Apple introduced the so-called App Clips. This allows you to use apps without installation and they will not appear on your home screen. In the demo, Apple showed an example with e-scooters. If you want to use an electric scooter, you have to hold the iPhone on NFC tags or QR codes and the app runs without installation. The input of payment data or the creation of an account is no longer necessary because App Clips works with Apple Pay and 'Sign in with Apple'. Think Android Instant Apps and you get the idea.
In addition to iOS 14, Apple also showed off the new Apple Watch operating system at the keynote at WWDC 2020. WatchOS brings some new features and functions to the Apple Watch.
Share Watch Faces
Apple's Watch Faces can now be shared. This can be done via message or e-mail so that in the future there will probably be a rich selection of Watch Faces with different features available for download online.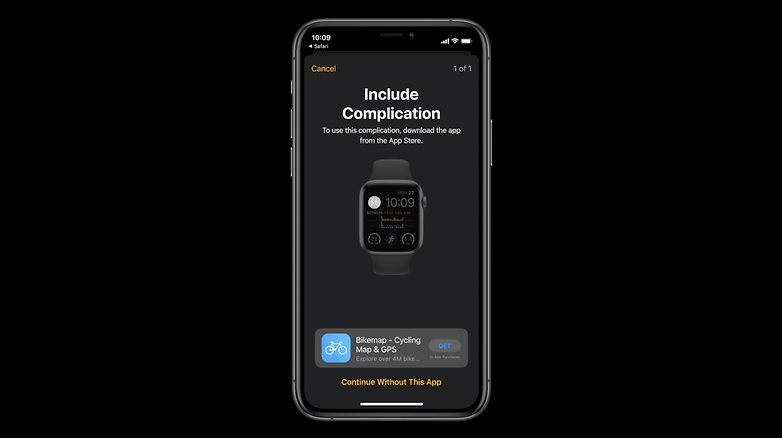 With watchOS 7, Watch Faces can also be customized thematically. For example, new parents can set up various suitable iterations. Athletes, photographers, and divers can also get suitable Watch Faces. In return, Apple gives developers the possibility to offer more features for their apps.
Using young parents as an example, Apple demonstrated this with a timer for breastfeeding or pumping, sleep tracking, and more from the hands of the developers of the Glow Baby app. On the other hand, surfers can get information about tides, wind speed, and water temperature from Dawn Patrol.
Sleep tracking
For the first time, Apple offers its own sleep tracker on watchOS 7. Until now, third-party apps could be used to get more detailed information about sleep quality and duration. The accelerometer in the Apple Watch is able to record micro-movements that contribute to sleep evaluation. In the morning, Apple Watch users will then receive a summary on their watch.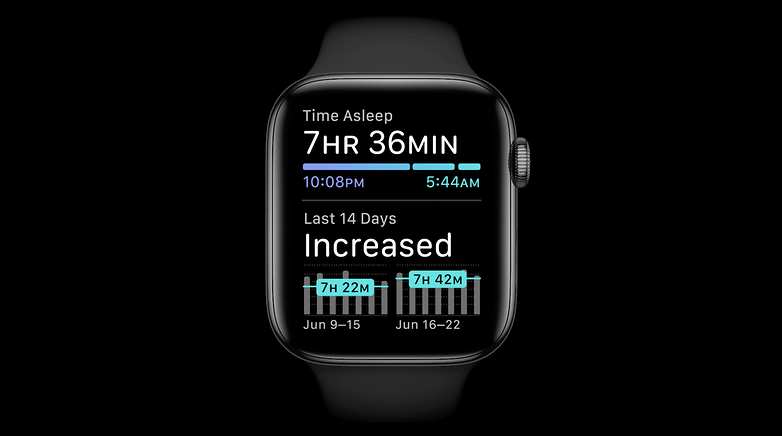 The alarm clock in the Apple Watch has also been adapted. New tones, vibration patterns, and strengths are now available. If the clock is also below a certain battery level before the predicted bedtime, the app quickly reminds you to recharge before going to bed.
Automatic hand wash recognition
Whether Apple would have rolled out this feature without the current health situation is questionable. But it is also practical without a pandemic. On watchOS 7, there will be automatic handwashing recognition, which should recognize when the user washes his or her hands thanks to a microphone and machine learning. Thereupon an (admittedly, somewhat cheesy) countdown timer with 20 seconds will appear. The Apple Watch can also remind users to wash their hands immediately after returning home. GPS makes it possible.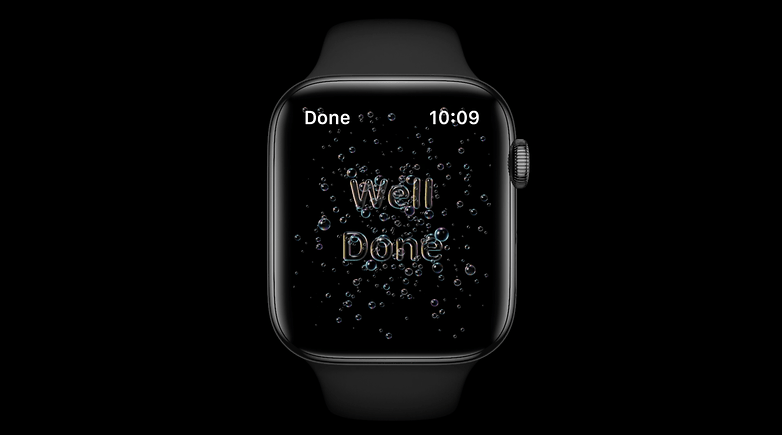 New dance workouts
With "Dancing" a new workout is added to the Apple Watch. For this, Apple has analyzed different arm movements of common dance styles with the help of the gyro sensor and accelerometer. Among them are Bollywood, cardio dance, hip-hop, and Latin.
WatchOS 7 will probably be officially rolled out for some models in autumn. It is not yet clear which models these will be.
We've been talking about it for years and the rumors have intensified in recent weeks, but it's now official: Apple confirmed during its WWDC 2020 keynote on Monday, June 22, that it will leave Intel in favor of its own Apple Silicon processors for the next iMac and MacBook computers.
When we see the lead Apple has taken on Android with the power of its Bionic mobile chips for iPhone, we can only welcome this historic transition from Intel's iMac and Macbook processors to the Apple Silicon platform. As on iPhone and iPad, these new processors will have an ARM architecture and Tim Cook said that new computers equipped with this homemade chip are already in the works.
Tim Cook announced that the first models equipped with this SoC ARM could arrive as early as the end of the year. The transition will last about two years. Intel Macs are still in development, so the platform changeover will not be total or immediate.
Apple Silicon, a change in superlatives
Apple has no shortage of superlatives to boast about the benefits of this transition for its computer processors: "In 10 years, the performance of the iPhone has increased 100-fold, the graphics performance of the iPad 1,000-fold," we were told during the conference. Apple thus wants to take this know-how acquired on its mobile platforms to apply it to its computers, which it wants to make more powerful than on the current Intel x86 processors.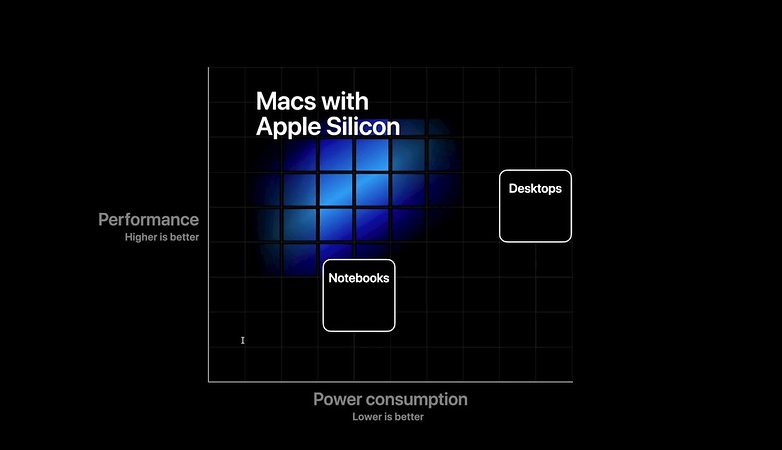 One of the strengths of this move to ARM is that it would allow products to be designed with a common architecture across the Apple ecosystem. Enough to allow developers to easily develop applications for iPhone, iPad, and macOS in a homogeneous way.
All Apple applications will also be available natively on Apple Silicon. Apple also promises developers a smooth roadmap and that only a few days on Xcode will allow them to port their applications to this new architecture. So it's the promise of unparalleled fluidity that Apple is formulating not only on its own applications, but also those of third-party developers. It's a promise that's almost too good to be true, because it's so dreamy.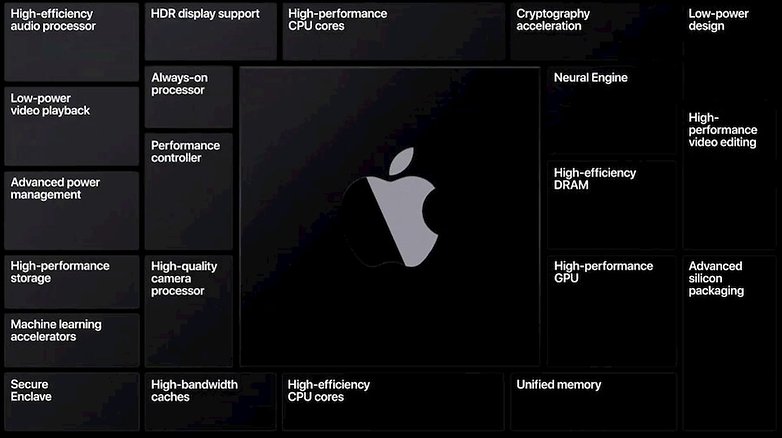 What about compatibility problems with applications on Macs, and with Big Sur macOS?
Logically, the question of the compatibility of existing applications and services on new Macs under ARM arises. With the new architecture, users may no longer have access to their software if it has not been developed on this platform, and developers may find it difficult to make the transition as well, until they understand the architecture.
On this point, Apple wants to be reassuring and assures that all its applications (Apple applications) have already been adapted to the new Apple Silicon ARM architecture, so they will run natively, as explained above. For the rest, Apple has partnered with third-party vendors such as Microsoft and Adobe to migrate their Microsoft Office and Adobe Creative Cloud software suites to be compatible with the ARM platform.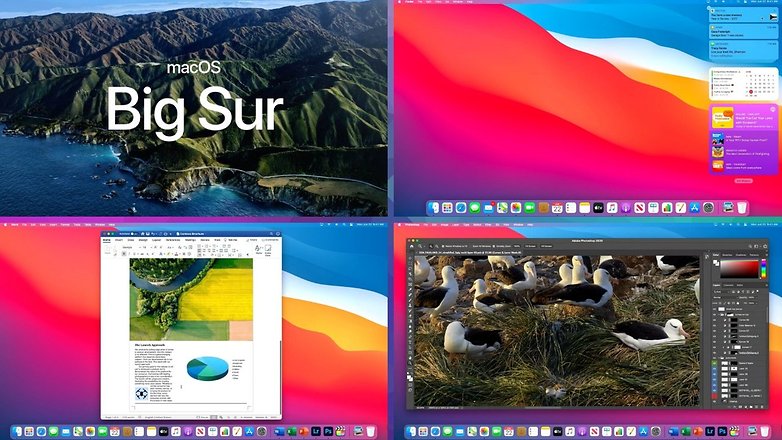 For third-party developers, Apple has updated its Xcode software, which allows professionals to develop directly and, according to Apple, easily for the ARM architecture. Other software solutions have also been implemented to simplify the transition.
Thus, a development kit is already at developers' disposal. Called "Developer Transition Kit", this development platform includes a Mac Mini with a Bionic A12Z SoC (the same as the iPad Pro 2020), 16 GB of RAM, a 512 GB SSD for storage, and pre-installed macOS and Xcode.
It only remains to be seen how "easy" this transition will be for developers and which of the third-party developers will be the first to make the leap to the ARM platform.
What was the biggest announcement of WWDC 2020 for you? Have your say below the line.