60Hz Displays For Apple's Vanilla iPhones Until 2024?
Apple may only switch to an advanced LTPO (Low-Temperature PolySilicon Oxide) display on its standard iPhone models when 2025 rolls around, which is also when the iPhone 17 is slated to debut. Based on a recent report, the faster panel will retain its fair share of advantages and remain an exclusive feature on the premium iPhone Pro and iPhone Pro Max for a couple more years.
This year's iPhone 15 and iPhone 15 Plus are expected to boast Apple's Dynamic Island pill-shaped display, but the duo will likely continue to feature a 60Hz refresh rate enabled by LTPS (Low-Temperature PolySilicon). In the shared roadmap, display analyst Ross Young forecasted that this trend is going to continue until the 2024 iPhone 16 series.
The consultant also highlighted that the LTPO-type panels with a 120Hz refresh rate are planned to debut with the iPhone 17. If that is the case, the iPhone 17 Pro should also adopt an under-display Face ID mated to a selfie camera in a punch-hole format. He added that these hidden sensors will also feature on the standard iPhones shortly. The term "shortly" here means two years down the road.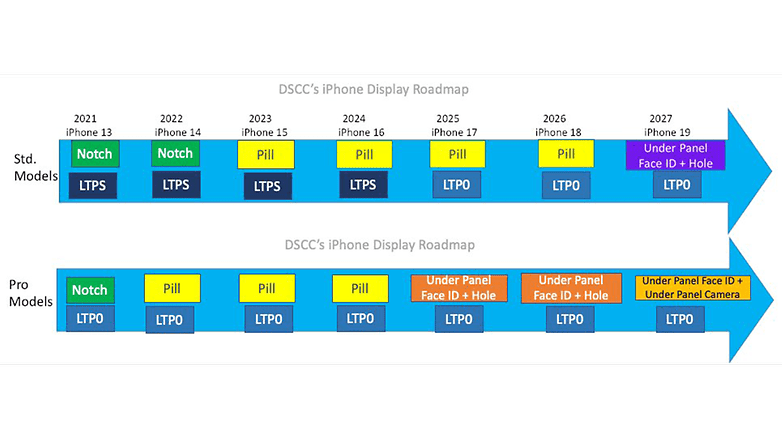 Apart from smoother scrolling and a more fluid user experience, benefits of displays using LTPO technology over LTPS include allowing the always-on display mode. At the same time, power efficiency is exceptionally higher thanks to the oxide-equipped panels that are capable of lowering the refresh rate to as low as 1 Hz.
Apple is late on bringing invisible cameras
Compared to other major brands like Samsung that have deployed a hidden selfie camera on selected Android smartphones, it would take another four years from today's timeline, or 2027 to be exact before the iPhone manufacturer could pull off a similar feat. However, all of these are based on the consulting firm's estimated timeframe, so it is not impossible to see changes happen along the way.
What are your thoughts on Apple further segregating its vanilla iPhones and its Pro range? Would you consider that this is Apple's way of funneling its userbase to purchase the more expensive iPhone Pro? We'd like to hear your opinion in the comments.