iPad Air 2022 Revisited: (Still) Pro in Performance and Mini in Price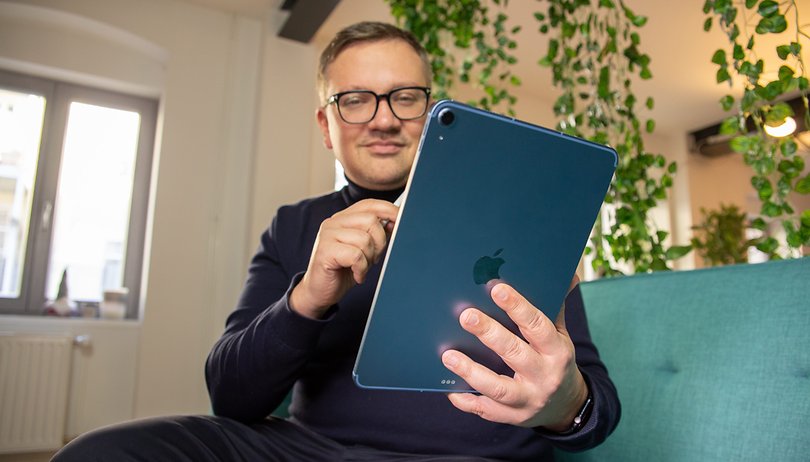 Apple has upgraded the iPad Air with the M1 chip, the same processor found in the powerful iPad Pro 2021, along with a new 5G antenna for faster connectivity. This 5th generation tablet boasts incredible power and features that rival the iPad Pro 2021. Is the new iPad Air a more affordable version of the iPad Pro? NextPit is retesting the device after the latest software update to find out.
Good
Boasting high-speed and top performance

Equipped with Stage Manager for multitasking

Features an exceptionally long battery life

Supports use with Apple Pencil and Magic Keyboard

Enables rapid data transfers and external display connectivity through USB-C
Bad
Storage space may be limited for those with large storage needs

Lack of Face ID (although this may not be an issue for some)
Price and Availability
Apple announced the iPad Air 2022 on March 8, 2022, during its Peek Performance event, and the device is available on store shelves since March 18. The Wi-Fi-only variant starts at $599, the 5G cellular option is available from $749. Both variants are available with either 64 GB or 256 GB of internal storage.
After being available in stores for a year, you can now expect some discounts on the iPad Air 2022. If you want to find out whether this device is currently on sale, check out our deals page.
Apple iPad Air 5 (2022) design and build quality
In terms of design, Apple stays true to its line and changed: Nothing. With dimensions of 9.74 x 7.02 x 0.24 inches (24.76 x 17.85 x 6.1 mm), the new iPad Air measures just as much as its predecessor from last year. At 461/462 grams, it is barely heavier than the 4th generation.
---
Pros:
Perfect size and weight .
A variety of exciting new colors.
Compatible with the Magic Keyboard and the 2nd generation Apple Pencil.
Cons:
Lack of Face ID (only Touch ID available).
The front camera position is not optimal for video calls—as on the iPad 2022 (review).
---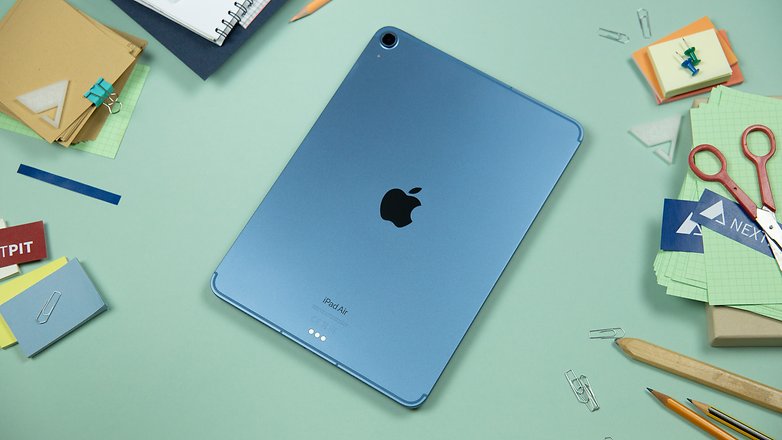 The corners are still rounded, the on/off button is located at the top of the narrow side, the volume buttons next to it on the long side. The front camera is still (unfortunately!) on the narrow side of the iPad for video calls, I think it would be more helpful if the camera was installed on the wide side.
There is a new color, though—and I have to say, I like it! The new blue replaces the green iPad that was still around last year.
Finally, the iPad Air 2022 is also compatible with the Magic Keyboard and the 2nd generation Apple Pencil, which is an exciting with its performance.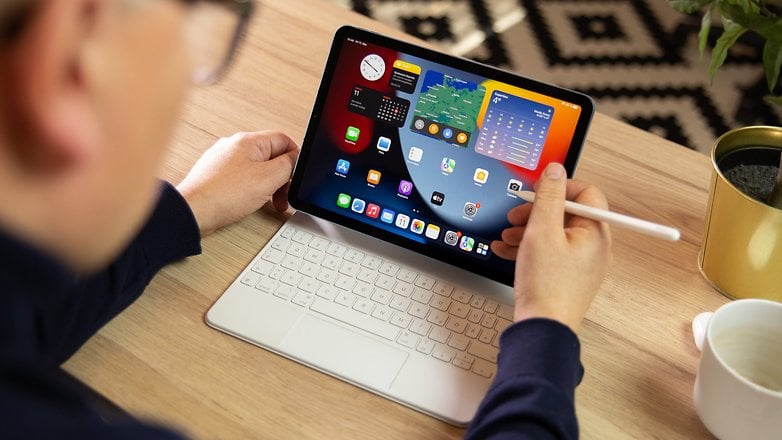 Apple iPad Air 5 (2022) display
The display of the iPad Air is great. It reproduces rich colors and uses the so-called True Tone technology, which is supposed to reproduce the colors of the display more naturally.
---
Pros:
Offers vivid, true-to-life colors for an immersive viewing experience .
Cons:
---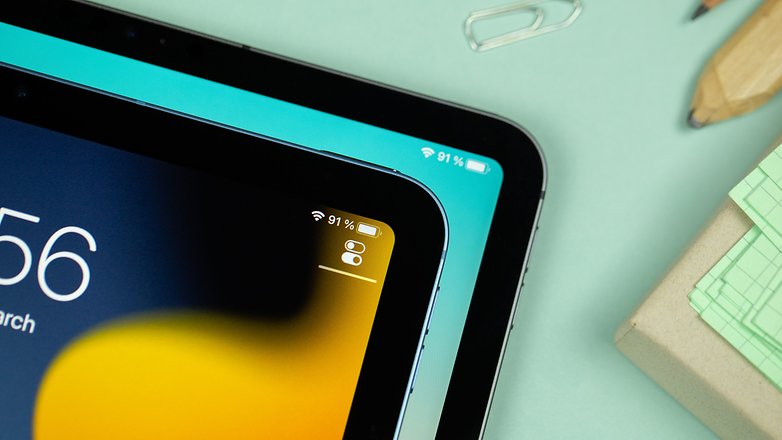 It is the same panel that Apple used last year: A 10.9'' or 27.69 cm diagonal Liquid Retina display that resolves with 2360 x 1640 pixels and typically has a brightness of 500 nits. Compared to the iPad Pro, the ProMotion technology, which can be used to display particularly smooth transitions during movements at up to 120 Hz, is missing.
If you look at the two iPads, i.e. the new Air and the Pro, side by side from above, you might notice the slightly larger bezels on the Air if you look closely. But even the missing ProMotion should hardly be noticeable in numerous instances.
Interface/OS
Since October 2022, the iPad Air runs with iPadOS 16, and since the iPad Air has the M1 chip, the tablet should be assured of all software updates for the next four to five years as well.
---
Pros:
Stage Manager supported .
Center Stage feature available.
Universal Control support.
Freeform feature support.
Four to five years of software updates.
Cons:
---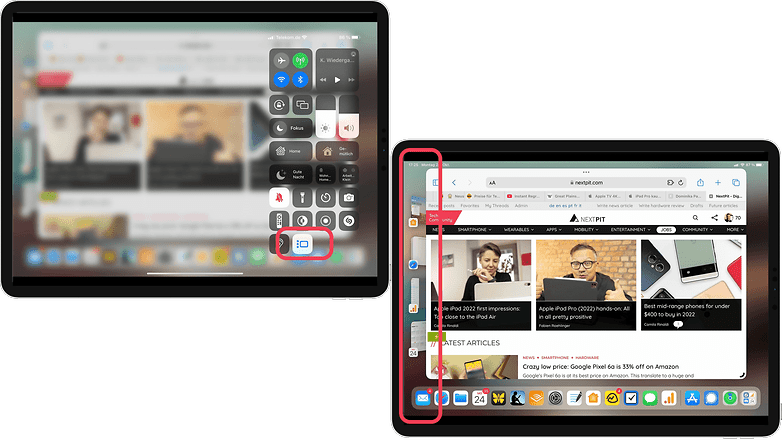 If you're in the market for a truly multitasking iPad, you should definitely consider the Air series. With the iPadOS 16 update, the iPad Air 5 now offers the Stage Manager feature, which provides a new window management experience that's similar to what you get on a MacBook. This feature allows one window to be centered on the screen while all other applications move to the left side in groups.
The Stage Manager feature lets you group applications together to use at the same time. For instance, if you need to transfer text from Safari to a Photoshop image, you can have both apps side by side. Meanwhile, you can also check your email and easily switch between the app pair and your mail program, thanks to Stage Manager. And you can open up to eight programs in windows at the same time.
With the iPad Air 5, you can also take advantage of the Freeform app, a digital whiteboard that lets you create graphics, mind maps, and link various documents with the Apple Pencil. One of the app's best features is the ability to collaborate with others on the same file, eliminating the need to merge different versions later on.
Furthermore, the iPad also comes equipped with Universal Control, allowing you to connect and manage the tablet with other devices and peripherals. For more information on the essential software features of Apple's tablets, check out our iPadOS 16 guide.
Apple iPad Air 5 (2022) performance
On our iPad Pro review released in 2021, I wrote about the M1 chip: "Apple's first system-on-a-chip has 8 CPU cores, 8 cores for the GPU, and 16 Apple Neural Engine cores. Apple says the M1 brings a 50% performance boost and 40% better graphics performance."
Why am I rehashing an almost two-year-old quote—even more so because these are actually meant for an entirely different device? Because they sum up exactly what applies to the iPad Air as well. Apple's mid-range tablet device, the iPad Air, also gets the M1 chip, making it the fastest tablet in its price range.
---
Pros
The (still) powerful M1 is on board .
Boasting high-speed and top performance.
Enables rapid data transfers and external display connectivity through USB-C.
Cons
Storage space may be limited for those with large storage needs.
---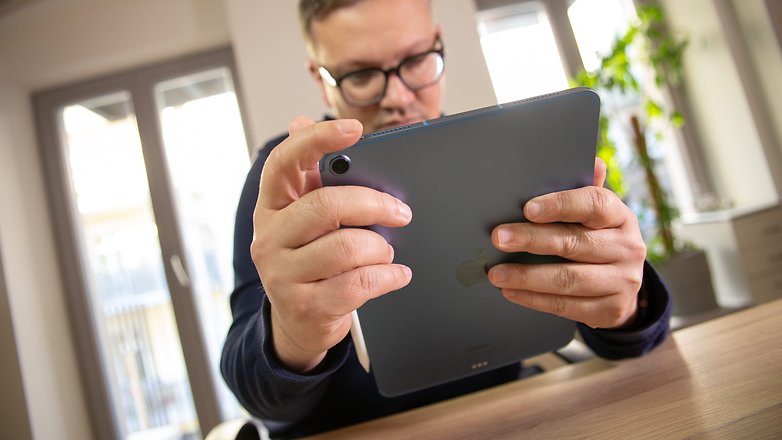 In case that was perhaps too fast, here is a summary: The iPad Air has the same chipset which Apple had not only installed in the iPad Pro (2021), but also in last year's MacBook Pro. Graphics-intensive games, video editing for home use, or multithreading is no problem with the new iPad Air. This makes you wonder: Why should I even buy an iPad Pro if the iPad can do so much?
A good question, which I will clarify in more detail in the conclusion. However, it should be noted that the iPad Air is only available in 64 GB and 256 GB versions. This might be too low for people with a hunger for data. Nevertheless, I would like to point out at this point that it is possible to store data wonderfully and hardly noticeably together with iCloud. Most of the time, iPadOS even does this job without you noticing: Data that is not or rarely used remains in the cloud and does not steal valuable storage space.
Even a year after its release, the current version of iPad Air boasts impressive performance capabilities. Recent benchmarks conducted with the device running iPadOS 16 reveal that it remains one of the most powerful tablets on the market. In AnTuTu benchmark tests, the Air variant is outperformed only by the Pro versions, while 3DMark results demonstrate a consistently stable performance, ranking the device #5 for Wild Life Extreme performance.
By the way, it's also fast when it comes to connectivity. The iPad Air comes with a 5G antenna as well as Wi-Fi 6, which is not yet very widespread. But in terms of future-proofing, that is certainly a plus point.
Camera and Audio
In relation to the front-facing camera: Apple uses the 12 MP ultrawide camera here, which is also used in the iPad Mini and iPad Pro. This also enables Center Stage—Apple's new function for video conferencing. The camera always seems to follow you and keeps the speakers in focus.
---
Pros
12 MP ultrawide camera.
Center Stage capability.
Cons
---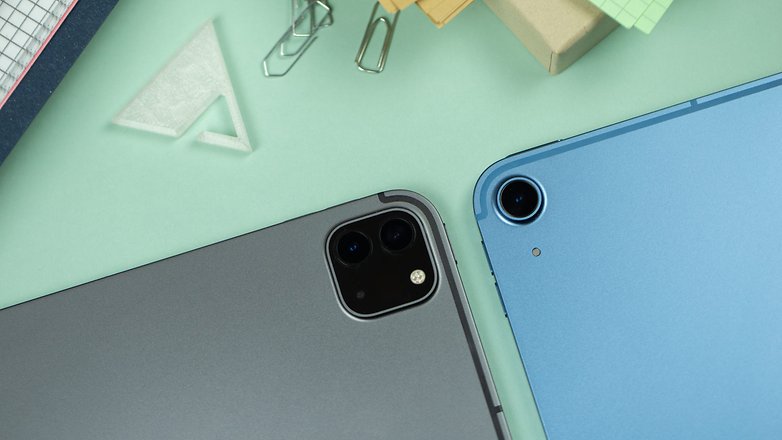 The main camera consists of only one lens with a ƒ/1.8 aperture. A 5x digital zoom is possible with it. Videos can be recorded in 1080p or 4K. If you want to see Center Stage in action, here's an article on how to (de)activate Center Stage on the iPad and a video showing the function.
Apple gives its Air two speakers that sound good for their size. Those who have already enjoyed the iPad sound know what I mean. However, not much more can be said about the sound.
Apple iPad Air 5 (2022) battery
It is really spectacular what Apple now gets out of the batteries. As usual, Apple does not give exact mAh specifications and specifies the performance of its battery in runtime. Apple specifies the battery performance with up to 10 hours for web surfing and video via Wi-Fi and up to 9 hours when using mobile data.
---
Pros
Features an exceptionally long battery life .
Charging via USB-C port.
Cons
---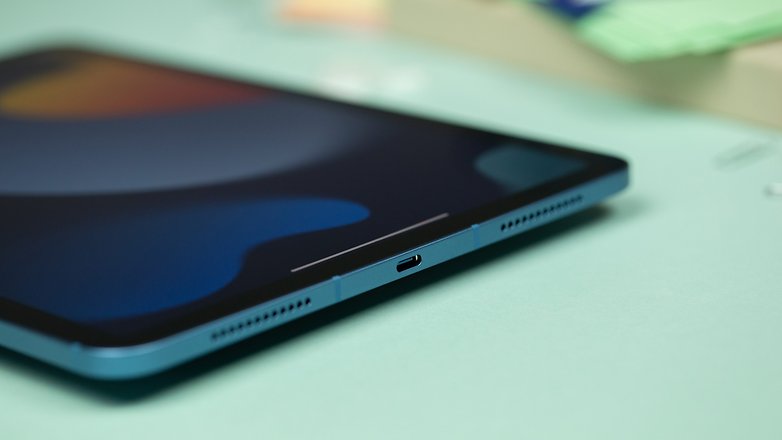 I can easily confirm this value. The iPad has accompanied me throughout my day for the last few days. In the evening, despite intensive use—like writing emails or articles, surfing, or watching a video—there is still some juice left. So, if you don't mainly perform computing-intensive tasks or play graphics-heavy games without connecting the tablet to an external power source, you can easily get through the day.
Apple iPad Air 5 (2022) technical specifications
Specs table
Product
Picture
Display
10.9-inch LCD IPS
2360 x 1640 pixels (264 PPI)
60 Hz refresh rate
Processor
Apple M1
8-core CPU
8-core GPU
RAM
8 GB
Rear camera
12 megapixels (wide-angle)
Flash
LED
Video
4K recording at up to 60 fps
HDR video up to 60 fps
3x digital zoom
Mono recording
Front camera
12 megapixels (ultra-wide angle)

Internal storage
64 / 256 GB
Removable storage
No memory card support
External storage using USB-C
Connectivity
Wi-Fi 6 - 2.4 & 5 GHz
Bluetooth 5.0
Cellular models:
nano-SIM / eSIM
3G / 4G
5G: sub-6 GHz
Battery life
Up to 10 hours (WLAN)
Up to 9 hours (4G/5G)
Dimensions
9.74 x 7.02 x 0.24 inches
(24.76 x 17.85 x 6.1 mm)
Weight
Wi-Fi: 1.02 pounds (461 g)
Cellular: 1.02 pounds (462 g)
Authentication
Touch ID (top button)
Accessories
Apple Pencil (2nd generation)
Magic Keyboard
Smart Keyboard folio
Offers*
Conclusion: (Still) Pro in performance and mini in price
Last year, Apple implemented substantial technical upgrades to its Air lineup, to the point where the differences from the iPad Pro, aside from the design, are barely noticeable and require close scrutiny. Despite this, the price of the Air remains comparable to that of the iPad mini, which currently starts at $499.
This appears to be a key component of Apple's 2022 strategy. Notably, the new iPhone SE has also been upgraded with a chipset that places it on par with the performance capabilities of the iPhone 14 series. While Apple has not provided a clear answer as to why they pursue this strategy, it makes perfect sense upon closer examination and consideration.
Despite being almost two years old, the M1 chip remains powerful. However, as noted in our review of the iPad Pro 2022, the new devices are equipped with the latest M2 chip, putting the Pro variants ahead in terms of both performance and power efficiency.
Nonetheless, the iPad Air remains a robust machine that offers a plethora of features. If you find yourself torn between the iPad Pro 2022 and the iPad Air 2022, what should you do? Moreover: Should you wait for the new iPad Air?
When comparing the current variants, it is evident that the iPad Pro 2022 outperforms the iPad Air. If you prioritize high-performance and top-notch power efficiency, the M2-equipped Pro variant may be the better choice for you. Additionally, it is likely that the next iPad Air release in 2023 will also feature the M2 chip, potentially at a more affordable price point compared to the previous year's Pro variant.
Despite the latest advancements in newer iPad models, the iPad Air 5th generation is far from being an average device; in fact, it remains a powerful tablet with exceptional features thanks to iPadOS 16, with even more software updates to come. Additionally, the price of the iPad Air is becoming increasingly affordable. As someone who has used the iPad Air for months, I can confidently attest to the fact that it is a device that will age well due to its implementation of Apple's latest chipset technology.
As part of our editorial initiative to revisit product tests after a year (or more) of publication, we have updated this review. Do you find this approach useful? Are you considering purchasing the iPad Air 2022? Furthermore, which other devices would you like us to revisit in 2023? We value your feedback and suggestions.
---
This review underwent a complete revision in March 2023, in which we retained the original editors' overall opinion while incorporating a fresh perspective. Update by Camila Rinaldi.