Animation Sketch & Draw: create your own cartoons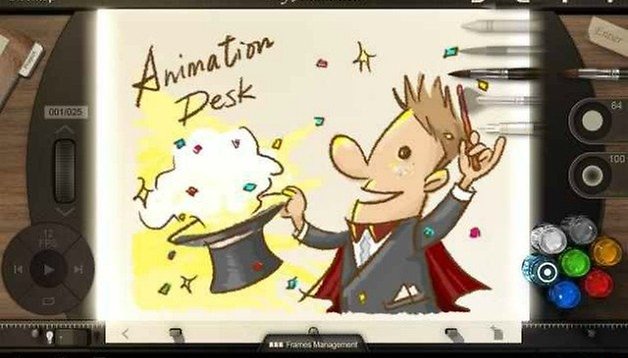 Have you ever wanted to create animations and cartoons but aren't willing to spend a lot of money or invest a lot of time in the art? Well, you can try your hand at creating animations right on your Android tablet. One app that could help you on your way in becoming the next Walt Disney is Animation Desk Sketch & Draw, an app designed solely for tablets. In our app review, we will see if it really does the trick.
Good
Nice 3D design

Great idea

Extensive functions
Bad
Missing tutorials

Controls not intuitive

Steep learning curve
| | | | | | |
| --- | --- | --- | --- | --- | --- |
| Reviewed on | Android version | Root | Modifications | Reviewed version | Latest version |
| Google Nexus 7 (2013) | 4.4.2 | No | | 1.0.8 | 1.0.48 |
Features & Use
When I first opened up the app, I was brought to the main project portion where you start creating your animations. What I was missing straight off of the bat was some sort of welcome or tutorial screen to get me started. I felt lost at the beginning, and many of the buttons in the app didn't seem very intuitive at first. I finally was able to locate the help section of the app in the action overflow (menu button) on the top right corner of the screen. Here it shows you what all the functions mean and do.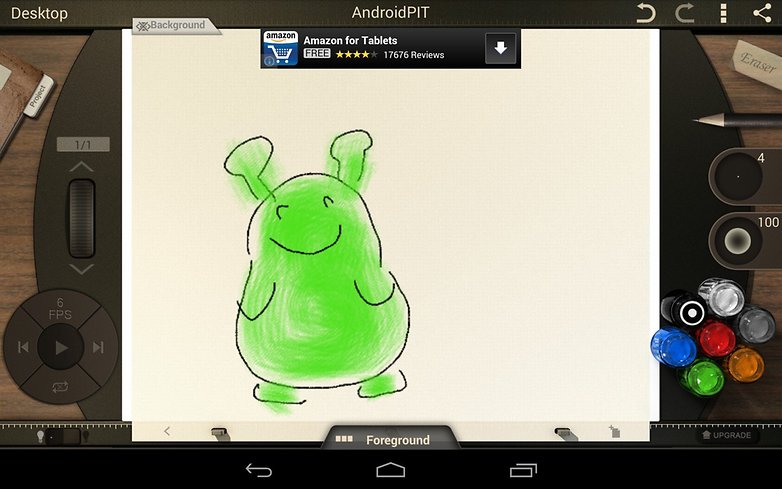 To wrap your brain around this app, you need to remember that animations are made of many still frames, each of which you have to create one at a time. I quickly came to the realization that creating any kind of good animation (and more than just stick men) would indeed take a long time, therefore a lot of patience is required. Using your own finger, you draw on each frame using the various painting tools and colors offered on the right side of your drawing board. You can change the brush size and opacity. To adjust these, you tap on the various settings and drag your finger up and down to increase or decrease the intensity. You can also select a color from the palette by double tapping on the 'paint pots'.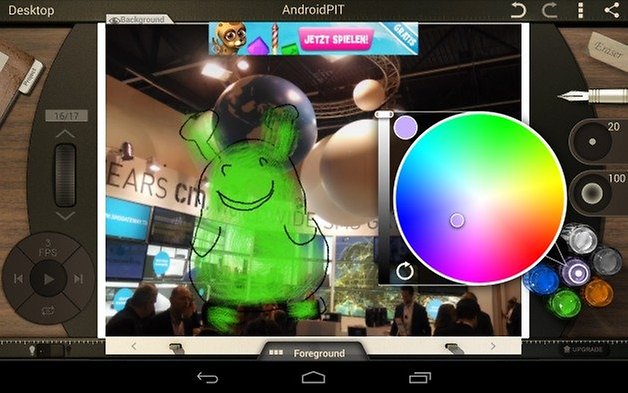 On the left, you will find the project manager button with all your stored projects, finished or in progress, and a counter with the number of total frames you have created so far which you can sift through by swiping the scroll button. Underneath, there is a controls ring with the play speed (frames per second), frames navigation, loop/play once option, onion skin and finally show/hide background. Onion skin, just to clarify for all the non-animators, is a technique used in creating animated cartoons and editing movies to see several frames at once. This way the animator or editor can make decisions on how to create or change an image based on the previous image in the sequence. Another feature is that you can choose an already created background from your Google Drive folder.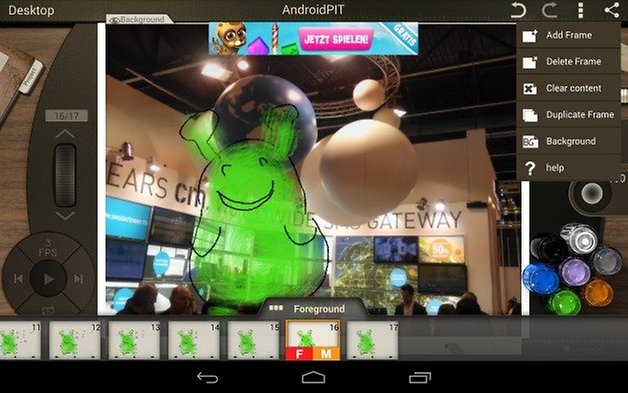 At the bottom of the screen, there are options to go to the previous frame, add frames and you can also switch from foreground to middle ground and have an overview of what you've accomplished so far.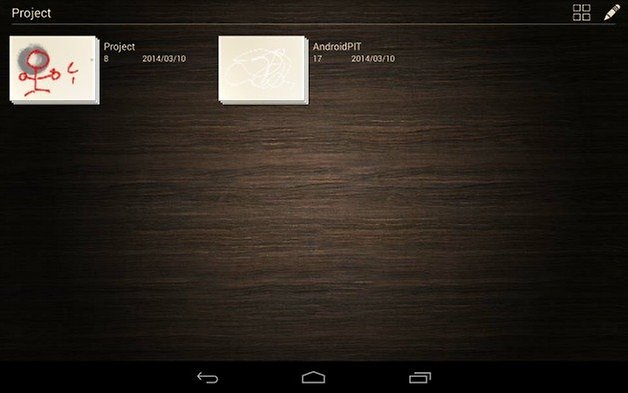 Needless to say, this app takes some getting used to. So far, my first impression tells me that for the average user, a group in which I'm included, it's a fairly steep learning curve, plus you need to have some artistic talent and good ideas. For those interested in art, animation or who have a colorful imagination, not to mention a lot of patience to be able to make each frame individually, they would likely find it easier to get the hang of. Though, like I say above, it would be nice to have a welcoming tutorial when you open the app for the first time.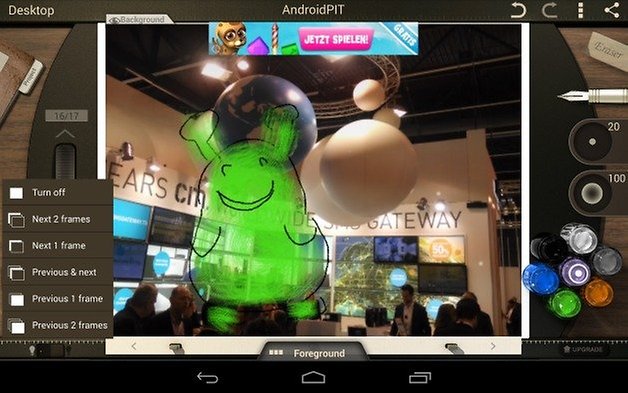 A trick that I found while using this is that by duplicating the frames, you won't need to create each frame from scratch, you can just alter the picture a little for the next frame to create a more fluid animation. Using the onion skin will help as well: you can choose to see the next one or two frames, the previous one or two frames as well as the ones previous & next. I'm certain that those used to making animations are familiar with the techniques.
When you are done, your animation can be saved by tapping on the share button at the top right corner, which then exports it and saves it into your Albums app.
Screen & Controls
The entire app has very nice 3D design and a large area for creating the animation. The app is only available for tablets, which makes most sense in terms of creating precise work. The controls on the other hand, were not that intuitive. I feel that the controls were a bit scattered and besides an introductory tutorial, a more complete welcome screen with all the necessary informative details in the forefront would have been appreciated. In the end though, you do get the hang of it. I did feel like sometimes the touch response was a bit off. For example, I tapped multiple times on one color and it chose the color next to it. This could either be the fault of the tablet I was using or the app though.
Speed & Stability
There were no issues in terms of speed and stability. The app didn't crash once during the testing period, and I need to give the developers praise for this.
Price/Performance Ratio
The free version of the app is quite extensive and offers animators or any user in general all they need to make decent animations, if they are willing to put in the time and effort. There are ads within the app, however they didn't get in the way.
Final verdict
Animation Desk Draw & Sketch is a really good idea and an app with a lot of potential. The design has a great 3D design and lots of functions that can be the perfect medium for users and those interested in animations that want to make some cool creations. The things you'll need is an idea, patience and the time to get used to the app and learn all of its functions until you can use it with ease. To improve the app, a welcome page and a user-friendly tutorial would be two welcome additions, especially for the first moments of getting used to it. Otherwise, I can see quite a few users installing and uninstalling soon thereafter out of mere frustration. Taking the good asepcts and the points that could be improved into consideration, I'm rating the app 4 stars out of 5. Try your hand at the app and see your ideas turn into real animations.