Google "Zerg Rush" and Defend Your Search Results Against Evil "O"s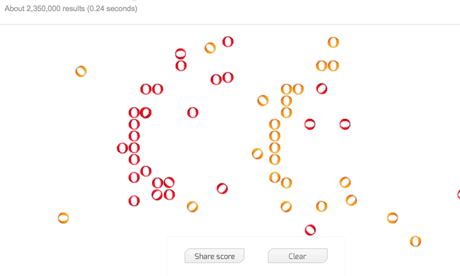 NEXTPITTV
Google is well known for their awesome doodles celebrating famous scientists, musicians and national holidays. But it's rare that Google creates their own online game. Google "Zerg Rush" if you'd like to see what I'm talking about. A squadron of flying Os attack your Google search results, and you must defend the webpage.To win, you just need to click the Os as many times as possible to destroy them and save your Google search results.
I just love that Google is willing to get wacky and create things like this. The last time they seriously messed with search results was way back in December when they added snow fall and a "foggy glass" effect when users Googled the phrase "Let it Snow."
Here are a few other great Google "easter eggs":
If you type in "do a barrel roll," your search results will do an impressive 360 degree roll before your eyes.
If you type in "askew," Google will slant your search results.
If you search for "anagram," Google will suggest you meant to search for "nag a ram."
Even though Google is by now known for these playful stunts, I still get a thrill out of each and every one.