PopCap Games to be Pre-Installed on New Sony Ericsson Phones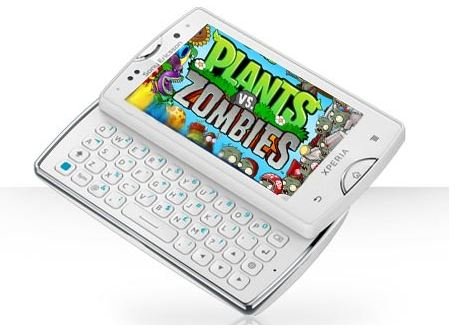 NEXTPITTV
The zombies are coming...to new Sony Ericsson phones.
PopCap has secured an exclusive deal with Sony Ericsson to bring their Plants vs. Zombies, Peggle and Chuzzle games to upcoming Xperia Pro and Xperia Mini Pro phones. This'll be the first time European subscibers will get a chance to play the game on their phone since it's currently only available to U.S. users of Amazon's App Store (although fans can always play it online over at PopCap's website).
Plants vs. Zombies and Chuzzle will come as trial versions while Chuzzle will be available as a full version. This development comes just after PopCap was bought by EA Games in a deal potentially worth billions.
Click below for the full press release.
DUBLIN, July 20, 2011 /PRNewswire/ – First Worldwide Mobile Partnership Marks the Arrival of PopCap's top Game Titles on Android in Europe

As part of the agreement, PopCap hits such as Plants vs. Zombies™, Peggle® and Chuzzle® will be embedded on smartphone devices that will start to roll out later this Summer. PopCap's multiple award-winning title, Chuzzle, will be pre-loaded in its entirety while other PopCap hits such as Peggle and Plants vs. Zombies will be included as unlimited trial modes - with the option to purchase full editions of the games using a directly integrated billing service.

"We are delighted to partner with Sony Ericsson to fulfill our promiseto Android users and bring PopCap's hit mobile games to an ever-widening base of smartphone users," said Giordano Bruno Contestabile, PopCap's senior director of global product and business strategy for mobile. "As the Android ecosystem matures, PopCap is committed to providing best-in-class game experiences for Android game players. The Sony Ericsson Xperia™ mini devices are equipped with superior processing power and exceptional screen resolution on the Reality Display with Mobile BRAVIA® Engine, which provides an excellent platform for delivering the quality fun that our fans have come to expect."

"By partnering with companies such as PopCap, we are demonstrating our commitment to bringing the very best communication and entertainment experiences to our phones," said Fredrik Mansson, Global Product Marketing Manager at Sony Ericsson. "Games such as Plants vs. Zombies™, Peggle® and Chuzzle® are becoming increasingly popular amongst Android users and we are proud to be able to offer them exclusively on our Xperia™ mini and mini pro."
PopCap Games, the worldwide leader in casual games, today announced that it has signed a global agreement with Sony Ericsson to pre-load Games By PopCap on Sony Ericsson Xperia™ mini and Xperia™ mini pro smartphone models. The partnership will officially mark the arrival of PopCap's game titles on Android devices in Europe.