Xiaomi Watch S1 Pro hands-on: What's so Pro about it?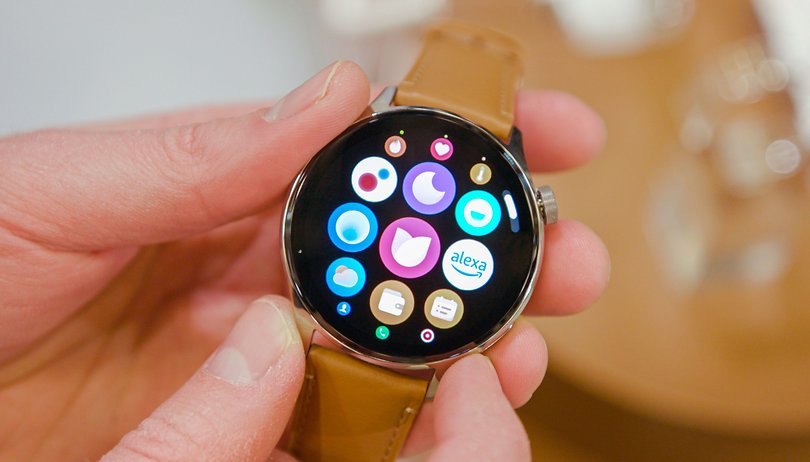 With the Xiaomi Watch S1 Pro, the Chinese manufacturer ventures into the realm of high-quality Android smartwatches and follows in Huawei's footsteps. NextPit took a first look at what the Watch S1 Pro has to offer apart from incorporating high-quality materials like sapphire glass and leather.
Good
Stylish design

High-quality materials

Dual-band GPS
Bad
Not very flexible operating system

Mobile payment available after some tweaking

No app store

Expensive
The Xiaomi Watch S1 Pro in a nutshell
High-quality materials, chic design, and a focus on Android users: The Xiaomi Watch S1 Pro follows a similar path as Huawei's smartwatches. This is understandable because while Huawei continues to bravely cling to third place among the world's most successful smartwatch manufacturers, Xiaomi slipped down the charts from eighth to eleventh place last year.
In terms of hardware, Xiaomi did really well here. The Watch S1 Pro has a high-quality build and should keep you happy for a long time thanks to the sapphire glass that protects the display. The stainless-steel case also gives off a high-quality impression and feels great when worn on the wrist.
Even though Xiaomi promoted "MIUI Watch" at its press conference, the Watch S1 Pro does not have much of it to show. There is still no app store in 2023, and mobile payments are only possible after jumping through some hoops. Unfortunately, that is not good enough for a 300 Euro (around $317) smartwatch. This smartwatch does not have a MSRP for those living in the US, as it is not available officially there.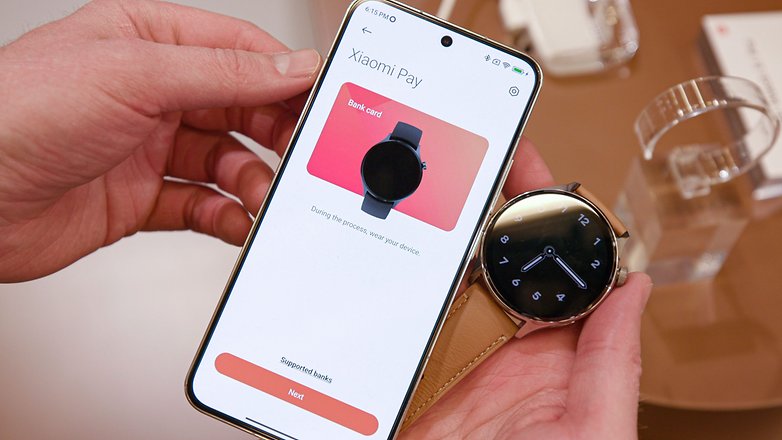 Design and display
There is no question about it: The Xiaomi Watch S1 Pro looks incredibly chic and hopefully, the design will also last in the long run. The case is made of stainless steel and sapphire glass located right above the display. Depending on the version, the watch comes with a brown leather strap or a black sports strap. The display also made a leap forward compared to the non-Pro version.
The round case of the Watch S1 Pro only comes in one size: 46 mm. Right on top, you will find a 1.47-inch AMOLED display with a 480 × 480 pixels resolution that looks really chic and should always be legible outdoors thanks to the maximum brightness of 600 nits. In addition to sapphire glass, the smartwatch also offers water protection up to a diving depth of 5 ATM, although there is no official IP certification.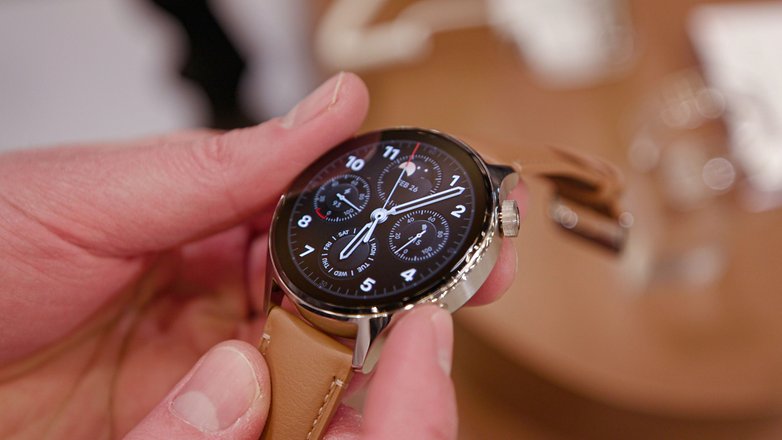 On the one hand, the device can be operated via the touchscreen, of course, while the rotatable and pressable crown is on the right side. It feels excellent to the touch with its grooved surface but does not offer any haptic feedback when turning it. Pressing the crown launches the main menu or the home screen, and there is a configurable button underneath that opens the workout menu with the factory settings.
In Germany, the watch comes with two different wristband options. The black sports strap is made of fluoroelastomer and is thus particularly sweat-resistant, while the brown leather strap is more of a chic everyday companion. However, you can also use any standard wristband with the Xiaomi Watch S1 Pro thanks to the quick-release fastener.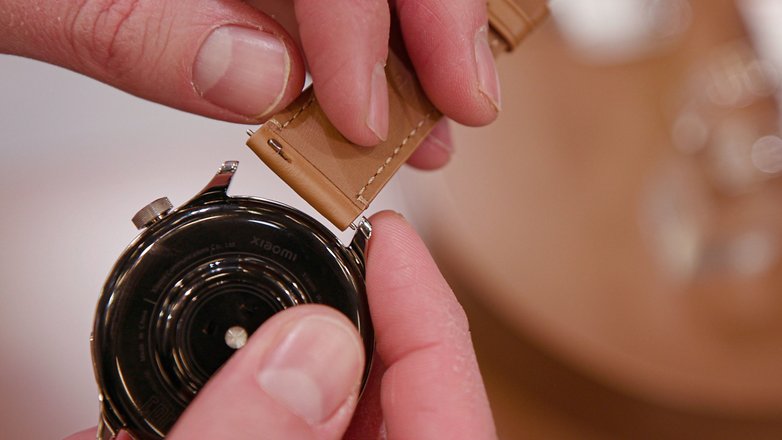 Xiaomi Watch S1 Pro software
The Xiaomi Watch S1 Pro runs on its proprietary operating system known as "MIUI Watch". However, that sounds more exciting than it is. The 300 Euro smartwatch only differs marginally from the much cheaper fitness trackers like the Xiaomi Smart Band 7 Pro (review) in terms of smart features. Unfortunately, this is also where Xiaomi has the most catching up to do right now.
Yes, MIUI Watch is not a full-fledged smartwatch operating system à la Wear OS from Samsung, Google, or Apple's wearOS. You should not expect an app store with thousands of apps. Heck, you don't even get three apps. While Xiaomi itself keeps talking about the possibility of enabling app installation later, the bottom line is this: It still does not work at the moment.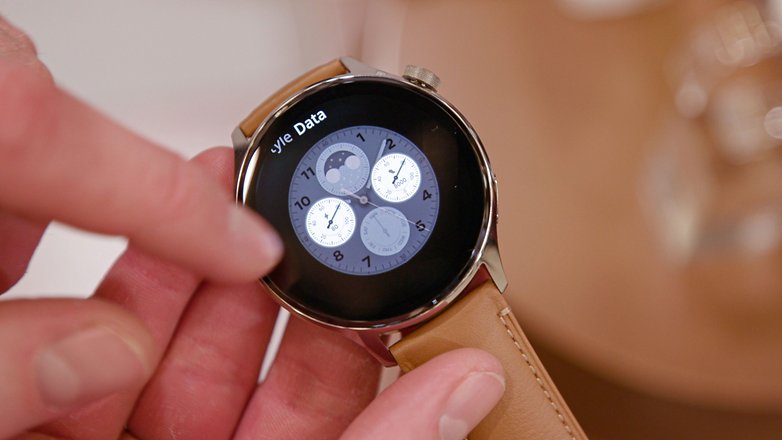 Until then, you will have to accept the fact that the watch is used more for notifications on the wrist and as a hands-free device thanks to the microphone and speaker. Even the 100 different watch faces can't help much. At least there is the option of customizing individual elements in the watchfaces and perhaps to display your heart rate instead of the number of steps taken.
Mobile payments are theoretically possible with the Xiaomi Watch S1 Pro thanks to the NFC chip. In reality, however, there are many banks that are supported, with the solution to mobile payments being a virtual debit or credit card in 2023, which you can set up using a "physical" credit card for an additional fee.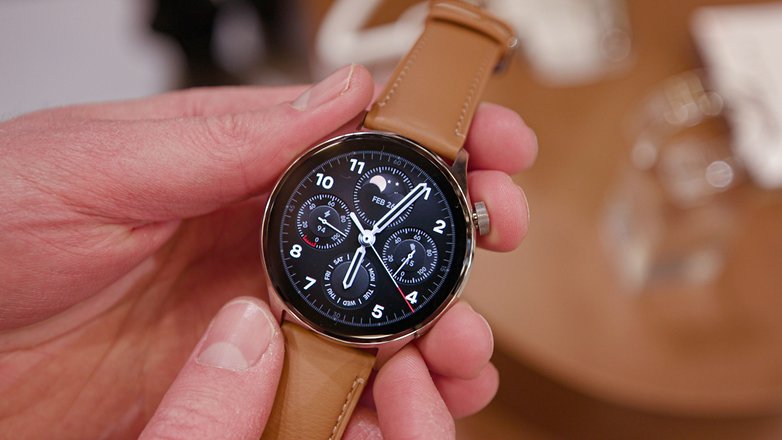 After all, the minimalist operating system also has an advantage: the battery life is amazing with up to 14 days of use according to the manufacturer. The watch comes with a wireless charging puck that is supposed to charge the 500 mAh battery from zero to 100 in 85 minutes.
Fitness tracking and sensors
The Xiaomi Watch S1 Pro offers a colorful setup of sensors, including standard issue candidates like the heart rate sensor and SpO2 sensor, and also dual-band GPS, and an altimeter. In addition, there are more than 100 sports modes to choose from. But does the watch have what it takes to become a fitness smartwatch à la a Garmin watch?
An extensive review of how precisely the individual sensors function is, of course, still pending. Therefore, we cannot say how accurately the dual-band GPS or the heart rate sensor will work in reality. However, it is certain that the Watch S1 Pro cannot keep up with dedicated sports smartwatches from Garmin, if only because it is not possible to connect external sensors.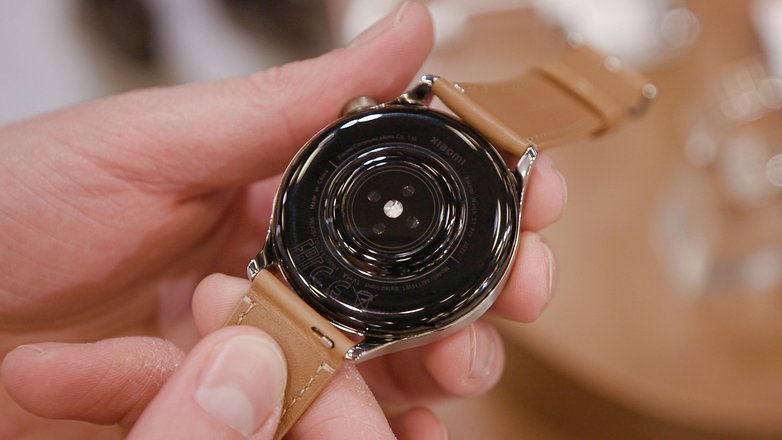 You'll also look in vain for advanced features like heart rate variability to track your exercise load on the Watch S1 Pro. The same goes for EDA sensors, which current fitness smartwatches use to measure stress levels. With the exception of dual-band GPS, the Watch S1 Pro is more of a fitness tracker than a sports watch in terms of sports features.
Sure, there are over 100 sports modes. That is quite nice by itself, but the options are extremely limited. At least you can mark individual intervals during interval training, the watch counts your jumps when jumping rope, and the distance covered is measured via GPS during outdoor running. However, there is no separate content universe with yoga workouts, mindfulness exercises, or training plans like on the Garmin or Fitbit watches.
Early Verdict
Yes, the Xiaomi Watch S1 Pro looks really high-quality and offers a whole bunch of sensors. The dual-band GNSS is particularly interesting for outdoor athletes, as it did an outstanding job in the Amazfit GTR 4 (review) or the Garmin Forerunner 955 (review). Besides that, there are basically the sports features that you will also find in the $120 Smart Band 7 Pro (review).
However, the smartwatch features quickly fade into the background after using it for a while. Instead of Wear OS, Xiaomi's proprietary MIUI Watch operating system is used, which only offers a handful of apps. Mobile payment is theoretically possible thanks to NFC, but it only works via a virtual credit card.
The bottom line is a really stylish smartwatch that, on the one hand, cannot compete with rivals like the Amazfit GTR 4 in terms of its sports features based on our initial hands-on. On the other hand, it is not a full-fledged smartwatch à la Google Pixel Watch (review) or Samsung Galaxy Watch 5 Pro (review). Unfortunately, that is not enough, Xiaomi.