Poco X5 5G review: A solid all-rounder—no more, no less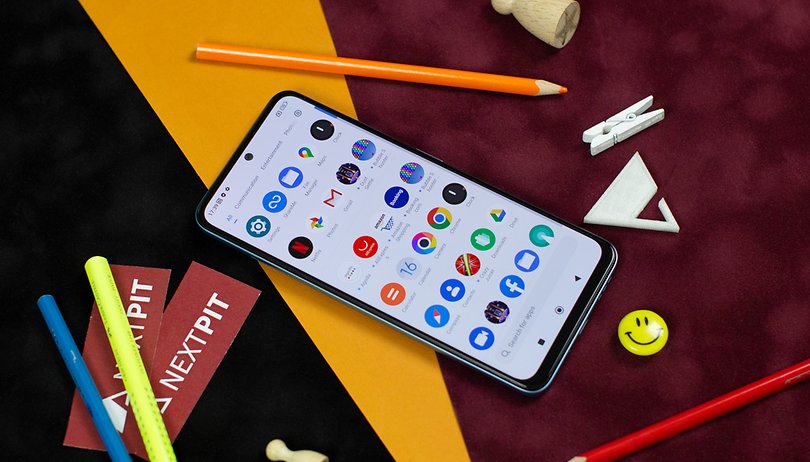 Xiaomi launched two inexpensive smartphones in western markets with the Poco X5 5G and the Poco X5 Pro 5G. Once again, the Chinese company wants to bridge the gap between low prices and sophisticated technology. Will it succeed? We will tell you in NextPit's detailed review.
Good
Affordable all-rounder

Decent 48 MP main camera

3.5 mm jack and microSD support

Good battery life
Bad
Only mediocre night photos

Mono speaker
Price and availability
Those who want to get their hands on the Poco X5 can do so since February. You can choose between the three colors green, blue and black, and two storage variants:
6 GB of RAM + 128 GB of internal storage: €299.90 (~$330)
8 GB of RAM + 256 GB of internal storage: €349.90 (~$380)
Shoppers in Europe will have the option of getting an early bird discount during the launch. And as always, the Poco twins won't be officially available in the US market.
Design
No design experiments in Poco Land. You get a well-made phone with a matte plastic back and Gorilla Glass 3 at the front. Missing is an IP certification and a second speaker.
---
What I liked:
Beautiful, matte colors.
Decent build quality.
Support for microSD cards.
3.5 mm jack connection.
What I disliked:
No IP certification.
Bulky camera island.
The design is relatively unspectacular if you ask me. With dimensions of 6.53 x 3.00 x 0.31 in (165.88 x 76.21 x 7.98 mm) and 6.67 oz (189 grams) of weight, we're dealing with 6.67-inch clunkers like we see many times in the mid-range at the moment. "Many times" also fits the clunky camera island on the back. We know a very similar arrangement from Poco, for example in the Poco X4 GT, but also from Realme devices like the Realme 9 5G (review).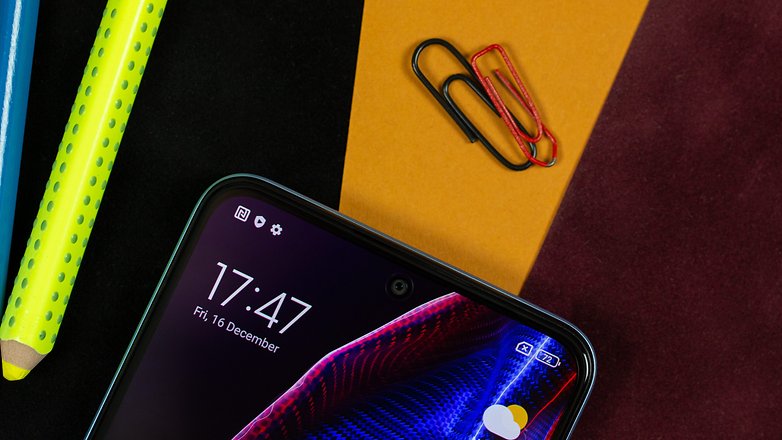 The Poco X5 is a well-made plastic bomber with Gorilla Glass 3 on the front and plastic on the back. My test model is presented in matte blue, alternatively, you can still opt for the colors green or black. The camera area is framed in black with a contrasting color. This area covers the entire width of the device, although the cam only occupies the left half. Another bold Poco lettering is emblazoned on the right.
Fortunately, the Chinese manufacturer provides us with a port for a 3.5 mm jack as well as for a micro-SD card slot. The latter can be placed on the SIM card slot. You have the choice of either the memory expansion or a second SIM card in the hybrid slot.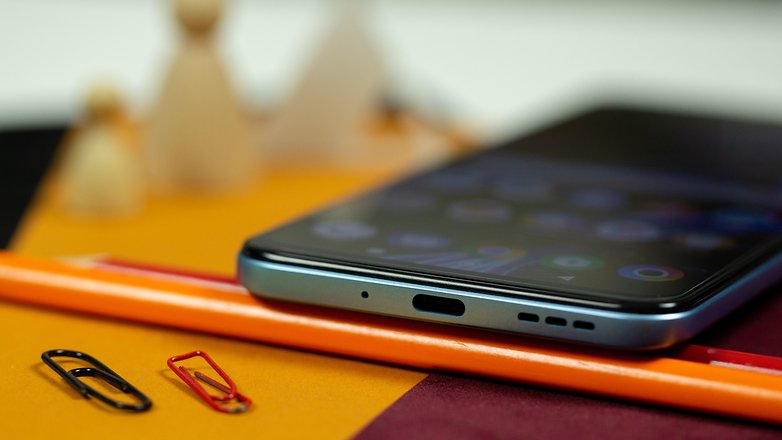 If we look around the device, we see a power button on the right below the volume rocker, which also functions as a fingerprint sensor. This also responds very quickly and reliably. The buttons only protrude very slightly and have very little play—so nothing wobbles. Besides an IP certification, I miss a second speaker. Due to the positioning at the bottom right, there is a fair chance that you will cover the speaker when gaming in a horizontal position. Of course, this could also be due to my fat fingers.
Display
6.67-inch AMOLED with 2,400 x 1,080 pixels, 120 Hz refresh rate and peak brightness of 1,200 nits—that sounds really good and looks even better.
---
What I liked:
Beautiful AMOLED panel.
120 Hz refresh rate.
Bright display.
What I disliked: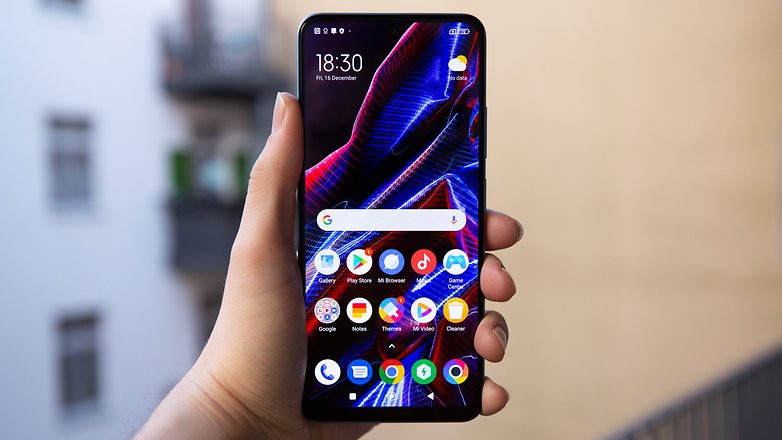 FullHD+, a high refresh rate, and then also an AMOLED panel—basically, we are in the flagship department here. And indeed, it all looks really great. Stable viewing angles, crisp colors, and a brightness of 700 nits, even 1,200 nits at the top. By the way, the whole experience is protected by Gorilla Glass 3.
If you want to find a fly in the ointment, you can note that the refresh rate is not adjusted adaptively, so you can only choose whether the action is displayed at 60 or 120 hertz. The touch sampling rate of 240 hertz is not exceptionally high either, but hey—the Galaxy S23 Ultra (hands-on) for $1,199 does not offer more!
Software: MIUI 13 and Android 12
MIUI 13, but only Android 12. Poco can still improve several aspects in the software discipline. Apart from that, there is the usual superior MIUI experience.
---
What I liked:
MIUI 13 is the usual beautiful overlay.
Many customization options.
What I disliked:
Only Android 12.
A lot of bloatware.
Only two years of Android updates.
Phew, the Poco X5 is full of bloatware. There is a lot of stuff preinstalled that no one needs. On the other hand, everyone needs a decent Android that is supported for a long time. Therefore, it is a shame that four months after the release of Android 13, MIUI 13 is only based on Android 12.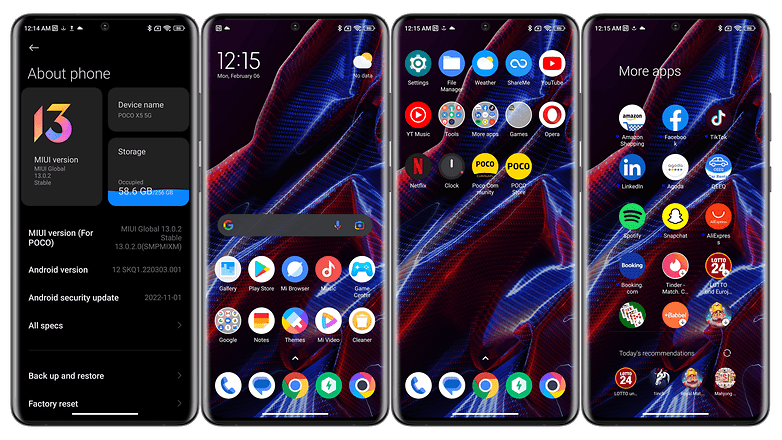 Be sure to take a look at the following articles if you want to know more about how MIUI 13 works:
Of course, I'm also putting the links here so that I don't have to write everything x times that we've long since discussed in detail about MIUI. What I like about MIUI is that it lets you customize the look very granularly. I also like practical features like taking a screenshot by just swiping from top to bottom with three fingers. What else I like: This gimmick that conjures up a colored border around my always-on display when notifications pop up.
Poco still has to improve the updates. At best, you will get two major Android updates, which makes the pre-installation of Android 12 even more annoying at this point: You will thus buy a smartphone in early 2023, whose last possible update - Android 14 - will also be released in 2023. Yes, MIUI updates and security patches are available for longer, but I still see a need to catch up here.
Performance and hardware
Poco makes a good hardware choice for the Poco X5 5G with the Snapdragon 695. Coupled with up to 8 GB of RAM and 256 GB of expandable storage, this is a prime example of a very balanced mid-ranger.
---
What I liked:
Decent performance.
No heat development.
Expandable memory via microSD.
5G.
What I disliked:
Mono speaker only.
Only Wi-Fi 5 and Bluetooth 5.1.
In the performance section, we are dealing with an old acquaintance: The Qualcomm Snapdragon 695 has already been on the market since 2021, but it is still far from being old news. This is worth mentioning because the Poco X5 was supposed to be released with the new Snapdragon 4 Gen 1 according to rumors—and the somewhat old Snapdragon 695 even has a slightly better performance.
I would have liked to provide you with impressive benchmark test results, but you can see that the 3DMark results are missing in the following table. Unfortunately, one or the other new smartphone sometimes resists us from determining the benchmarks, as you can also read here.
Everything you need to know about the mid-range SoCs like the Snapdragon 695.
Xiaomi Poco X5
Motorola Edge 30 Neo
Samsung Galaxy A53
Xiaomi Redmi Note 11 Pro
Google Pixel 6a
3D Mark Wild Life
-
1.205
2.280
1.096
5.762
3D Mark Wild Life Stress Test

-

Best loop: 1,208

Worst Loop: 1,109

Best Loop: 2.298
Worst Loop: 2293
Best Loop: 1,099
Worst loop: 1,094
Best loop: 4,941
Worst loop: 2,860
Geekbench 5
Single: 690
Multi: 2,096
Single: 1,208
Multi: 4,310
Single: 1.155
Multi: 3,356
Single: 505
Multi: 1,754
Single: 1,038
Multi: 2.890
However, we have tested a few devices with the Snapdragon 695, so you do not have to mope around just because a benchmark test here goes awry. For example, take a look at our review of the Oppo Reno 8 Lite or the Motorola Edge 30 Neo. You will then read that we are not dealing with a performance powerhouse, but that no performance problems are to be expected in everyday use.
You can play games like Genshin Impact on low graphics settings without any problems. I simply turned them up to full speed and it still played quite well. The heat development is also kept under control, but please don't expect any framerate world records.
All in all, the Snapdragon 695 proves to be a useful companion for everyday use, where you are usually not limited in terms of cell phone usage. Depending on the model, you get 6 GB of RAM and 128 GB of internal storage, or the 8 GB/256 GB upgrade SKU.
I already mentioned the mono speaker above, but stereo sound would have been desirable. We also have to make slight concessions in connectivity: Wi-Fi 6 or even 6E is missing and the Bluetooth wireless standard is only available in version 5.1. However, I would say that these are exactly the compromises that we should be aware of in a smartphone for 300 dollars. Since the "5G is even listed in the official smartphone name, its support is also a matter of course.
Camera: Moderate to okay
Whenever lighting conditions allow, you can achieve very decent results with the 48 MP camera. Behind that, an ultra-wide-angle camera with 8 MP and a 2 MP macro camera complete the triple setup. In front, it's directed by a 13 MP selfie shooter.
---
What I liked:
Decent photos in good light.
What I disliked:
Very noisy night photos.
Zoom and macro are only conditionally usable.
The Poco X5 5G's camera is "everything Gen Z adventurous tech lovers need to capture great moments." At least that's what the press release claims, and I'm surprised that said Gen Z is apparently a very frugal generation.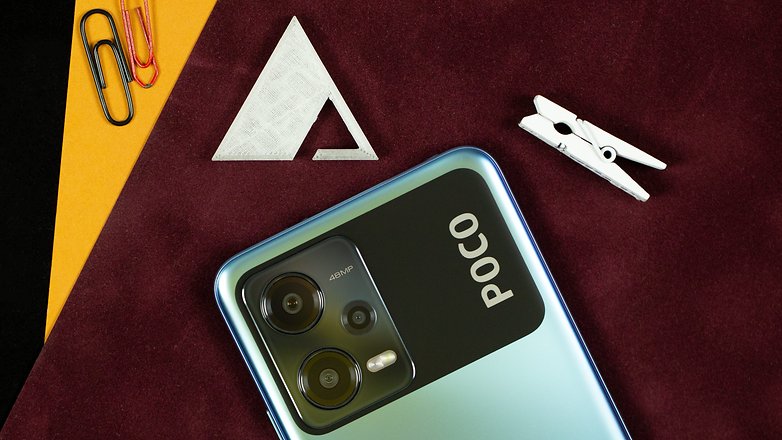 By that, I mean that while Poco offers us a usable snapshot snapper in good lighting conditions, you certainly shouldn't buy the device if your top smartphone priority is photography. Let's take a look at the camera lineup first:
48 MP triple camera—aperture: f/1.8
8 MP ultra-wide-angle camera—FOV 118°.
2 MP macro camera—aperture: f/2.4
13 MP front camera—aperture: f/2.45
Sounds like the usual camera setup from the "affordable mid-range" construction kit and the performance presents itself accordingly. Excusingly, I have to say that I had the device in the house for a good week and there was nothing but rain and gray skies here in Germany for exactly this period of time. This makes the photos look sometimes more brittle than they actually are. So keep that in mind when you take a look at the following gallery.
By the way, while I'm writing these lines, the sun is coming out for the first time in eons, I'm freaking out!
If you mainly want to delight Instagram with "look what I'm up to" photos, the main camera will do just fine. The photos can look really good in good light, even without selecting the 48 MP mode. The worse the light, the worse the results will be. You already learn this in the smartphone mid-range basic course, so it is not really surprising.
I also often lose too many details in the ultra-wide-angle mode. The sensor is even more susceptible to moderate lighting of the scenery. Finally, the macro sensor... oh come on, let's not talk about 2 MP sensors anymore. It's even better than many a 2 MP competitor, but that's really a very low compliment now.
On my night round, a partly hair-raising picture presented itself to me. The camera set works almost as well in relation to the city as it does in relation to the cam. Both with and without night mode, you reap noisy, low-detail images in abundance. The only thing that is abundant at times: Light sources around which huge halos of light form or even streaks of light that stretch across the entire width of the photo. Sometimes, though, when there is no direct light source, a night photo looks really okay out of nowhere.
The front camera seems solid to me. Due to the difficult subject, I am always a bit biased in the test photos. However, the performance of the 13 MP cam is okay and backgrounds are also reliably blurred in portrait mode.
Once again: It works during the day, but it gets difficult in the evening. There are a few reasons to get this phone. However, you will find the fewest of them in the camera section.
Xiaomi Poco X5 5G battery
The combination of 5,000 mAh capacity and fast charging at 33 watts is a rock-solid one.
What I liked:
Large battery.
Charger is included in the package.
What I disliked:
Basically, everything has already been said with the first sentence above: The battery thus charges up to 33 watts. I deliberately did not list this speed among the drawbacks, even though 33 watts are not exactly record-breaking in 2023. In my opinion, this speed is easily sufficient for everyday use.
It takes about ten minutes to bring the battery from 0 to 25 percent. The device is half-full after about 23 minutes of hand-stopping. After 41 minutes it is 80 percent and after about 64 minutes the battery reaches 100 percent. The PCMark battery benchmark shows 12 hours and 27 minutes and confirms my positive impression. So, you can easily get through the day with this device.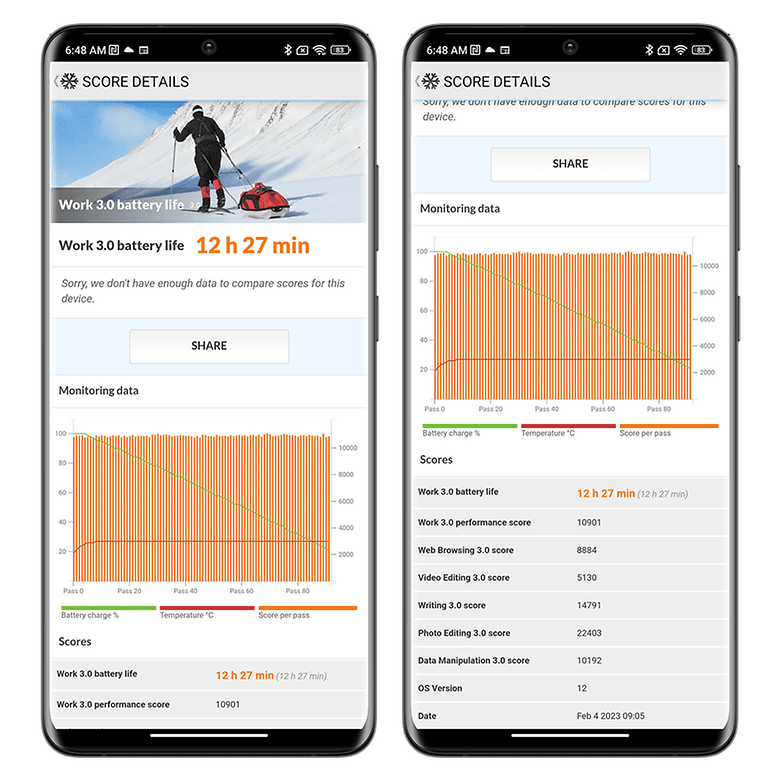 Meanwhile, I find it a pity that wireless charging is not supported. However, the feature is not really common in the Poco X5 price range and there naturally have to be these cuts somewhere. At least Poco did not skimp on the wired charger, which is included in the box.
Xiaomi Poco X5 5G technical specifications
Technical specifications of the Poco X5 5G
Product
Image
Display
6.67-inch FHD+ AMOLED dot display, 2,400 x 1,080 pixels,
120 Hz refresh rate, touch sampling rate 240 Hz
Dimensions
6.53 x 3.00 x 0.31 in
(165.88 x 76.21 x 7.98 mm)
Weight
6.67 oz (189 g)
SoC
Snapdragon 695
RAM
6/8 GB RAM
128/256 GB ROM
Software
Android 12 with MIUI 13
Expandable memory
Hybrid slot for 2nd SIM or microSD
Main camera
48 MP, (aperture f/1.8)
Ultra-wide-angle camera
8 MP, (FOV 118 °)
Macro camera
2 MP, (f/2.4 aperture)
Selfie
12 MP, (f/2.45 aperture)
Audio
Mono speaker, 3.5 mm jack socket
Battery
5,000 mAh
Charging via cable
33 watts
Wireless charging (Qi)
n/a
IP certification
n/a
Connectivity
802.11a/b/g/n/ac, 5G, NFC, Bluetooth 5.1, GPS
Colors
Green, Blue, Black
Conclusion
For around $300 you get a smartphone with which the vast majority of smartphone users can do everything they usually demand from such a device.
Are you planning to pre-order? Then I won't stop you. After all, you get a fine all-rounder for the price, which really has a lot to offer. The performance is good, 5G is available, the battery will keep you smiling for long and demanding days, and the display is really great. Yes, even gaming is possible and if you catch more sun than I do, you can even take nice photos during the day.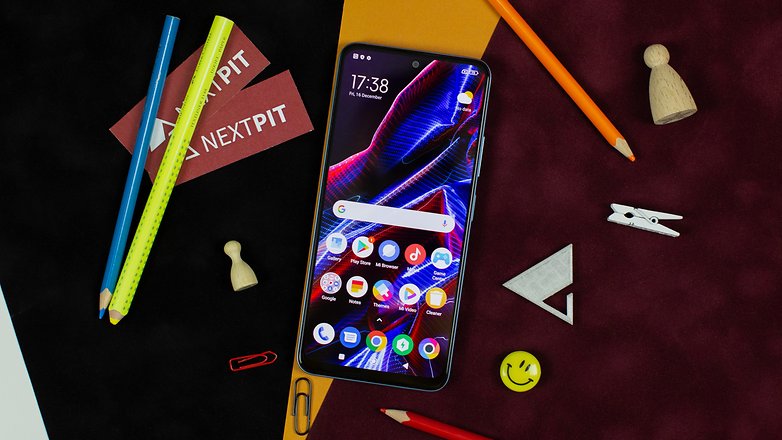 Not so nice, however, is the quality of the night photos, the lack of wireless charging, and the somewhat slanted mono sound when you turn the volume up. Android 13 instead of 12 would have been great, as well as a smaller number of preloaded nonsense apps—and longer updates.
At least you can connect your headphones via cable and there is also room for a memory card. Thus, you do not get more than a really okay mid-ranger that offers everything you can expect in this price range in 2023. I give it a solid four stars for that.