Xiaomi Black Shark performance test: enough power for gamers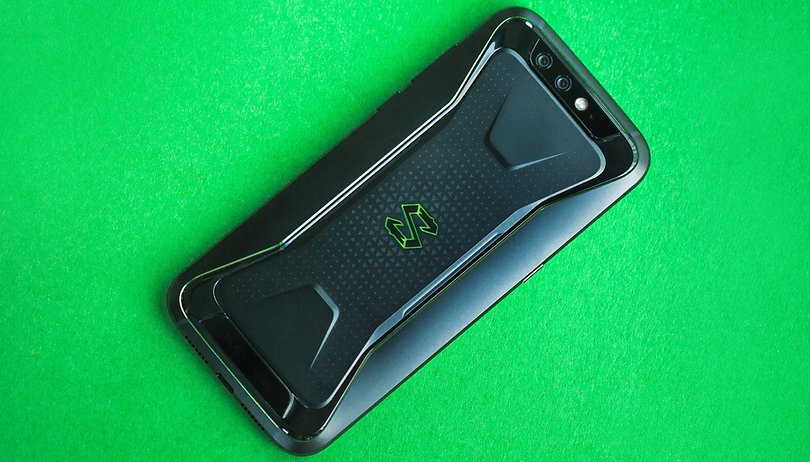 The field of smartphones specialized for gaming is small, although the target group is gigantic. After the Razer Phone, Xiaomi wants its share of the cake with the Black Shark. In our performance test, we'll reveal to you whether the import of the up-and-coming Chinese manufacturer is already worthwhile or whether you should instead keep your hands away.
Nothing for introverts
With traditional smartphones it is becoming more difficult for manufacturers to earn money day by day, since the market is saturated and sales figures are stagnating or even declining. So what can manufacturers do to compensate for the declining sales figures? Conquer new markets, both geographically and with products designed to meet the needs of specific customer groups. We already know this from countless industries, starting with clothing, food and modes of transportation like bicycles, scooters, and automobiles. There are specialized product categories in every market.
For some time now, smartphones and mobile phones have also been offering separate products for different target groups. Smartphones for seniors and outdoor smartphones represent only two of these target-specific smartphones. Several manufacturers also tried their hand at mobile gaming devices. The good old Gameboy from Nintendo, Nokia's N-Gage or Nvidia's Shield Portable or the later Shield Tablet are just a few examples of portable gaming devices. But the younger products have failed miserably so far, despite a rapidly growing mobile gaming market. According to Statista, the market for gaming apps is expected to grow to a whopping 74.6 billion US dollars by 2020, which would represent an increase of over 114% compared to 2015.
Mobile games finally at a high level
The mobile games market is growing and growing, but why are manufacturers rushing to this target group right now? Let's say it diplomatically, until recently the App Store was still unattractive for both iOS and Android for die-hard PC or console players. Except for arcade-style racing games, numerous Candy Crush clones, hundreds of Endless Runners and strategy games, there are hardly any attractive games for console or PC players.
But right now, with the hits like Fortnite Battle Royal for iOS and PUBG Mobile, graphics-obsessed players including myself really feel at home. Of course, you can still play games like this with good mid-range smartphones, but you still can't experience the highest level of detail provided by the developers.
Games want to stand out
When I look at the design of the Xiaomi Black Shark, I notice the analogies to gaming PCs. Black is also the dominant color and bright colors and high-quality materials are used as accents. A flashing component can to be integrated that attracts an extra amount of attention.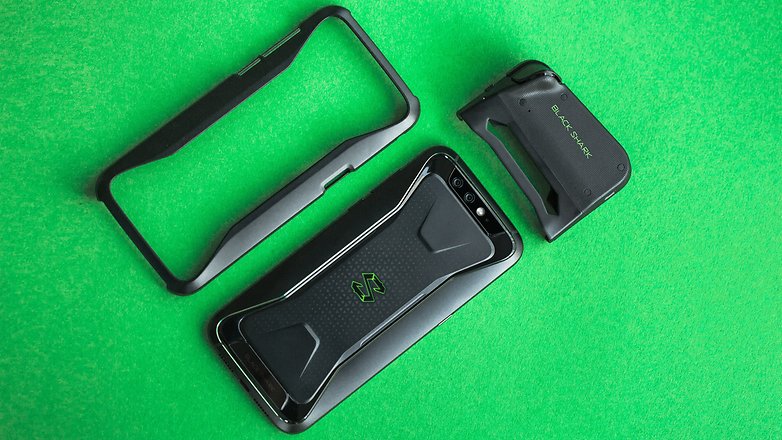 Xiaomi's Black Shark follows the gaming PC formula very closely, especially when you look at the back. Metal alternates with glass and in the middle there's a green-encased S that briefly flashes when you receive incoming calls or notifications. The metal plate in the middle is part of a cooling system so that the smartphone doesn't overheat. Don't worry, you won't burn your fingers, since during my test the Black Shark got warm, but not unpleasantly hot.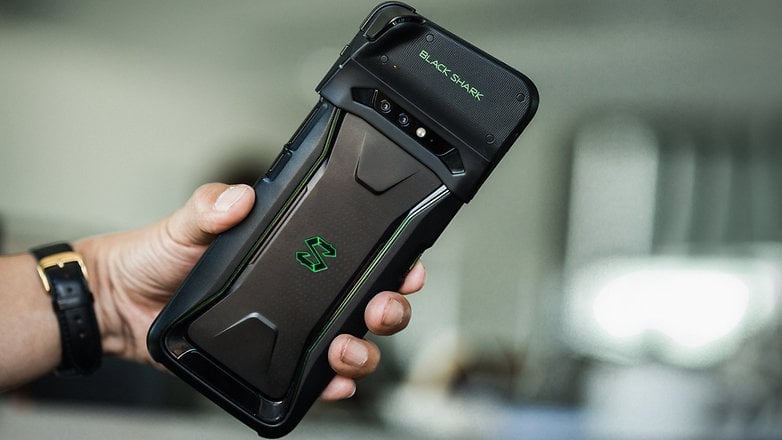 Another striking feature of Xiaomi's gamer phone is the dedicated Shark button. When you press it, your phone switches to landscape mode and opens a gaming environment. You can manage your games and configure the GamePad. While you use it, the device switches to maximum performance.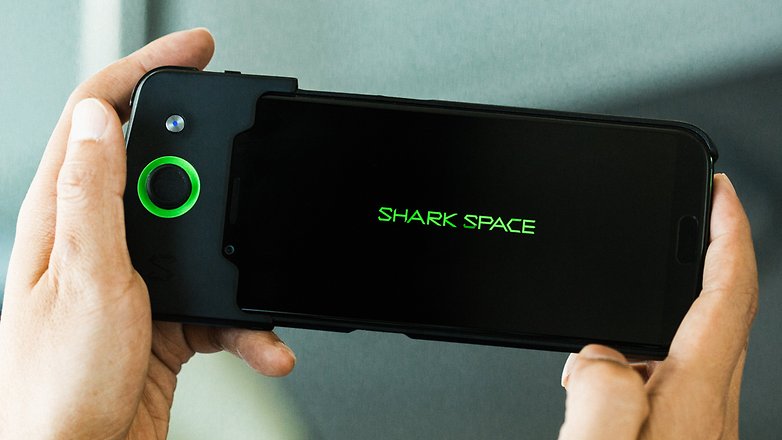 ...
Full power
Inside the Black Shark, Xiaomi contains an octacore CPU (4x2.7 GHz Cryo 385 Gold and 4x1.7 GHz Cryo 385 Silver), 8 GB RAM and the Adreno 630 GPU. With this combination of hardware, the smartphone should hardly have any trouble.
Xiaomi Black Shark benchmark results
Xiaomi Black Shark
Razer Phone
Huawei P20 Pro
Galaxy S9+ (QHD+)
Sony Xperia XZ2
Geekbench CPU
Single core
2,441
1,932
1,920
3,771
2,412
Geekbench CPU
Multicore
8,498
6,700
6,780
8,923
8,420
3D Mark
Sling Shot ES 3.1
4,644
3,731
2,972
3,257
4,679
3D Mark
Sling Shot ES 3.0
5,056
5,007
3,346
3,910
6,140
3D Mark
Ice Storm Unlimited ES 2.0
60,450
42,526
30,602
38,302
63,589
PassMark Memory
(RAM)
11,038
14,630
14,087
24,164
12,418
PassMark Disk
(Storage)
73,561
74,882
64,144
67,765
73,208
The Xiaomi Black Shark has very similar results to the Sony Xperia XZ2 in our benchmark results.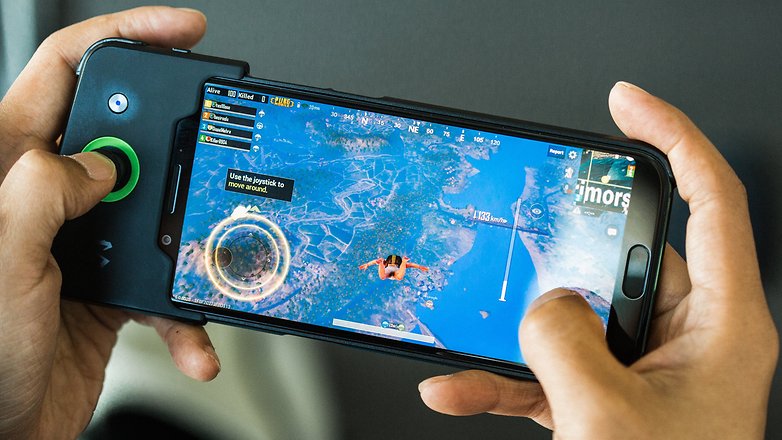 With games like PUBG Mobile and Shadow Gun Legends there is hardly any feeling that the Black Shark breaks a sweat. Everything runs smoothly and the frame rates are stable. Interestingly, the cooling system is very effective because the Black Shark only got warm during our benchmark test and the heat distribution was slightly higher on the top, but it didn't get hot.
...
Xiaomi Black Shark technical specifications
Early Verdict
From our performance test with Xiaomi's Black Shark, the gamer phone is more than sufficiently equipped to smoothly display the modern graphics-intensive games. In the next few days we'll look at the device's battery power and look at the display.
What do you think of the Xiaomi Black Shark? Would you like to get a smartphone as a gaming device? Let us know what you think in the comments!