Xiaomi 13T Pro vs Samsung Galaxy S23+: Flagship phones compared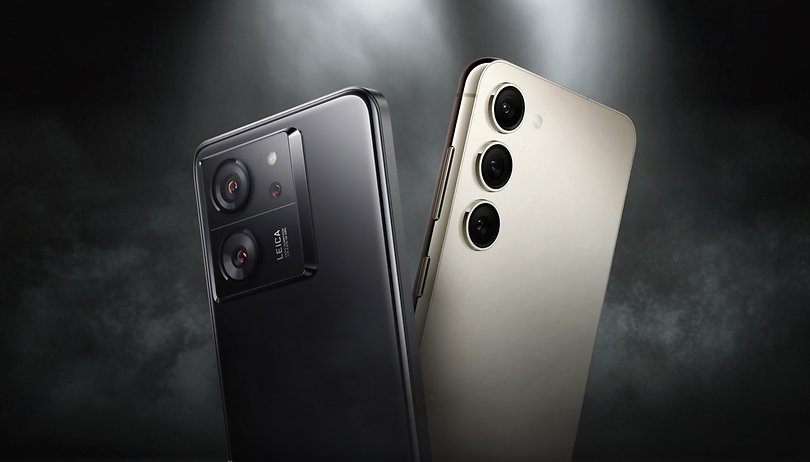 With the Xiaomi 13T and the Xiaomi 13T Pro, the Chinese company recently unveiled two smartphones that do not have to fear other more expensive flagship smartphones despite their more affordable price tags. Today, nextpit gets to the bottom of the matter and compares the Xiaomi 13T Pro with the Samsung Galaxy S23+.
Xiaomi 13T Pro and Samsung Galaxy S23+: Technical specifications compared
We have already reviewed both smartphones for you. Before we dive into our detailed comparison, let us first compare the bare facts in the form of their respective technical specifications:
Xiaomi
Samsung
Device
MSRP
from €799.90 (not available in the US)
from $1,019.99
Image

Reviews

Xiaomi 13T Pro review

Samsung Galaxy S23+ review
Display
6.67" AMOLED
2712 x 1220 px
144 Hz refresh rate
6.6", Dynamic AMOLED
2,340 x 1,080 px
120 Hz refresh rate
SoC
MediaTek Dimensity 9200+
Snapdragon 8 Gen 2 for Galaxy
Working memory
12 / 16 GB RAM
8 GB RAM
Storage
256 GB, 512 GB and 1 TB
256 GB, 512 GB memory
microSD
❌
❌
Software
Android 13, based on MIUI 14
OneUI 5.1 based on Android 13
Main camera
50 MP | f1.9 aperture | OIS
50 MP | f/1.8 aperture | OIS
Ultra-wide angle / macro
12 MP | f/2.2 aperture
12 MP | f/2.2 aperture
Telephoto lens
50 MP | f/1.9 aperture
10 MP | f/2.4 aperture
Selfie
20 MP | f/2.2
12 MP, aperture f/2.2
Audio
Stereo, Dolby Atmos
Stereo, Dolby Atmos
Battery
5,000 mAh
4,700 mAh
Charging speed
Max. 120 W HyperCharge
45 W
Wireless charging
❌
Wireless charging 15 W
Reverse Charging 5 W
Robustness
IP68
IP68
Connectivity
eSIM, 5G, Wi-Fi 7, NFC, Bluetooth 5.4
eSIM, 5G / LTE / Wifi 6E / Wifi Direct / Bluetooth 5.3 / NFC, UWB
Colors
Alpine Blue, Meadow Green, Black
Green, Phantom Black, Lavender, Cream.
Only with Samsung: Graphite, Lime
Dimensions and weight
162.2 x 75.7 x 8.49 mm | 206 g - Meadow Green, Black
162.2 x 75.7 x 8.62 mm | 200 g - Alpine Blue
157.8 x 76.2 x 7.6 mm | 195 g
Pros

Leica camera with top day and night shots
144 Hz display with natural color reproduction
120 W power supply included
Improved update policy
IP68 certification

Great workmanship and trendy design
Competent performance
Excellent camera system
Long battery life

Cons

No LTPO technology
No wireless charging
A lot of bloatware

A lot of unwanted, pre-installed apps
Fast Charging still lags behind the competition

Check offer*
The specifications already provide the backdrop for an exciting comparison. There are some similarities between the models, but also many different approaches where you can stand out from the competition. We'll dig through all that now.
Table of contents:
Xiaomi 13T Pro vs. Samsung Galaxy S23+: Design and Display
Design is also always a matter of personal preference, making this a very subjective matter. From that point of view, the back of the current Samsung models appeals to me more. The three camera sensors are separately arranged whereas Xiaomi has the usual clunky camera island, which flaunts the Leica logo at the very least.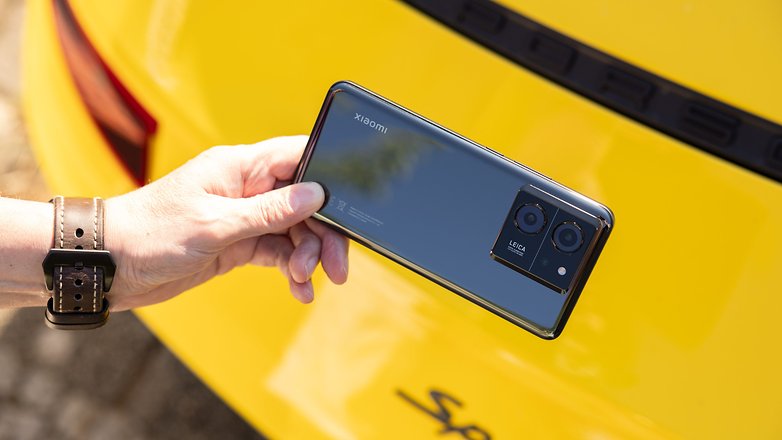 Both models are similar in size, with a slight weight disadvantage for Xiaomi. The version with a vegan leather back weighs 200 grams, while the two glass variants tip the scales at 206 grams. Samsung's representative undercuts both versions with its 195-gram weight and not only looks more refined but is also not as much of a fingerprint magnet as Xiaomi's glass back.
Matt praised the great feel and good build quality of the Xiaomi 13T Pro in his review. This is especially pronounced in the "BioComfort Leather" model that visually impresses as well as caters to your touch with its soft texture. Samsung is also known for a very high-quality build and does not show any weaknesses in its choice of material with Gorilla Glass Victus. Both make do without audio jacks and ports for microSD cards, and both also come with IP68 certification.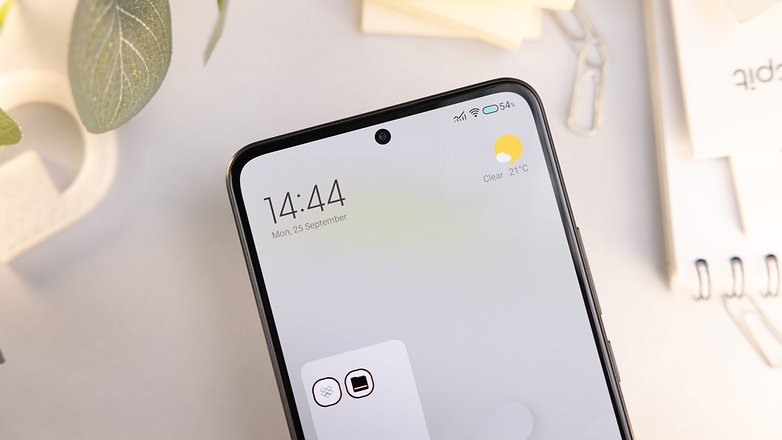 Let's take a look at the display, which has always been one of the South Koreans' strengths. The 6.6-inch AMOLED display has a resolution of 2,340 x 1,080 px with a refresh rate of 120 Hz. However, our reviewer Matt also suspects a Samsung panel in action in the Xiaomi 13T Pro, which in this case, offers a 2712 x 1220 px resolution with a screen measuring 6.67 inches across diagonally while offering a 144 Hz refresh rate. Coupled with a high maximum brightness (peak brightness under direct sunlight: 2,600 nits), Xiaomi really does not have to hide from its competitor, Samsung.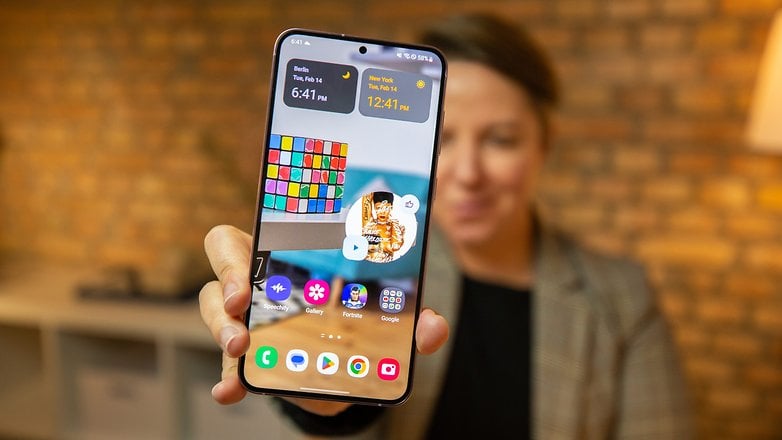 Xiaomi 13T Pro vs. Samsung Galaxy S23+: SoC and performance
Unlike the other models in the 13 series, such as the Xiaomi 13 Ultra (review), the two 13T devices rely on a processor from MediaTek. MediaTek's Dimensity 9200+ is manufactured using the 4nm process, and it has certainly matured to kick the Snapdragon 8 Gen 2's butt a bit. The latter is also found in the Galaxy S23+ in the version optimized for Galaxy handsets.
We also have a benchmark test comparison for you, but it is rather incomplete because the 13T Pro cannot establish a server connection when it comes to the 3DMark test. The South Korean smartphone is slightly ahead in the Geekbench 5 test, but as Matt wrote so nicely in his Xiaomi 13T Pro review:
No matter which performance-hungry game I have played in the past few days, the MediaTek Dimensity 9200+ is a worthy opponent for the Californian CPU flagship.
Take a look at our table now, but keep in mind that we will have another look at the 13T Pro when the 3DMark test also gets server access.
Samsung Galaxy S23+
(Snapdragon 8 Gen 2 for Galaxy)
Xiaomi 13T Pro
(MediaTek Dimensity 9200+)
Apple 15 Pro Max
(A17 Pro)
Xiaomi 13 Pro
(Snapdragon 8 Gen 2)
3DMark Wild Life
3DMark Wild Life stress test

Best loop: 12,958
Worst loop: 8,047

Best Loop: -
Worst loop: -

Best Loop: 12,784
Worst Loop: 4,416

Best Loop: 13,232
Worst Loop: 10,402

Geekbench 5 / 6

Single (5): 1,528
Multi (5): 4,823

Single (5/6): 1,457/1,290
Multi (5/6): 4,699/3,536

Single (6): 2,936
Multi (6): 7,453

Single (6): 1,403
Multi (6): 5,106
What about the other hardware? Well, if you were to keep up with Xiaomi: 12 or even 16 GB of RAM are available, whereas Samsung only offers 8 GB of RAM. In terms of storage, both devices offer us a choice between 256 and 512 GB, but Xiaomi also has a 1 TB ace up its sleeve. By the way, both manufacturers rely on UFS.4.0 storage.
Both devices support eSIM cards and 5G, but UWB support is only available in the Galaxy stable. Bluetooth 5.3 and Wi-Fi 6E will have to suffice for the S23+, while Xiaomi offers the best that is currently available with Bluetooth 5.4 and Wi-Fi 7.
Xiaomi 13T Pro vs. Samsung Galaxy S23+: Camera
The rivals compete with triple cameras here. On paper, both smartphones are also similarly positioned: Samsung offers a 50 MP main camera, a 12 MP ultra wide-angle camera, and a 10 MP telephoto camera. Xiaomi, on the other hand, sends a 50 MP main camera, a 12 MP ultra wide-angle camera, and a 50 MP telephoto camera into the race. Xiaomi has a 20 MP shooter in front, while Samsung keeps up the pace with 12 MP in the S23+.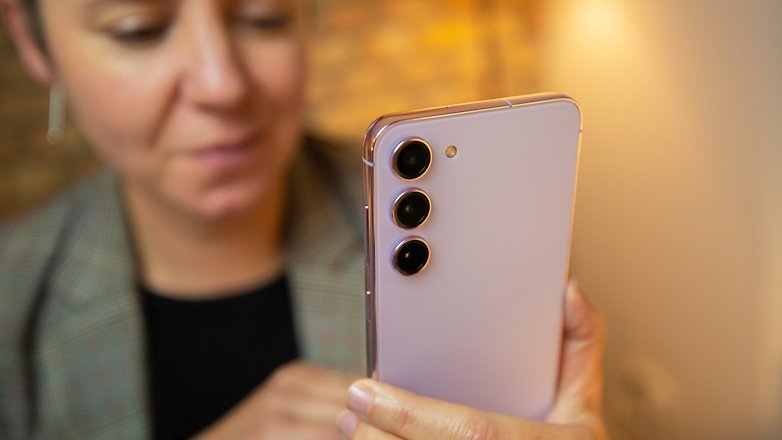 Both phones can handle the RAW format, with Samsung scoring better thanks to Expert RAW. In general, our reviewers Camila and Matt were very enthusiastic about the camera results in their reviews. This is true for the main cameras, which allow for excellent photos both during the day and under poor lighting conditions at night.
Of course, we cannot conclude this camera section without talking about the elephant in the room: Xiaomi's partnership with Leica! The result of this collaboration expresses itself with two original Leica photo styles (Authentic Look and Vibrant Look) and six Leica filters, among other things. Since the S23+ has also made strides when it comes to features and camera software, I do not like to comment on which device has more to offer in terms of image processing.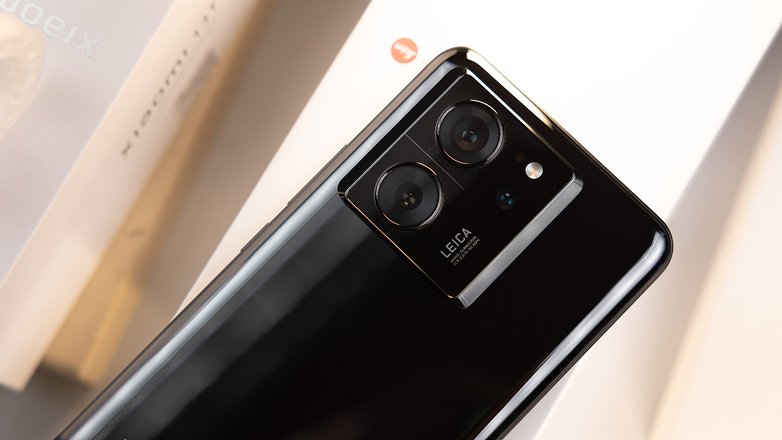 I would also like to point out a small difference in the video department: Samsung lets us shoot 8K movies at 30 frames per second, Xiaomi allows you to capture 8K videos at 24 fps.
Why am I blathering on so much? Why not just let the pictures do the talking? Here are two galleries that show you what you can get out of the cameras of the Xiaomi 13T Pro and the Galaxy S23+:
Gallery of sample photos taken by the Xiaomi 13T Pro:
Gallery of sample photos taken by the Samsung Galaxy S23+:
Xiaomi 13T Pro vs. Samsung Galaxy S23+: Software
The software section is also one of Samsung's main strengths. For one, Samsung's OneUI is extremely popular and also a very successful Android skin. Samsung also scored points via its modern software philosophy that lasts years, providing us with support for four major Android versions and five years of security updates. The Galaxy S23+ is powered by OneUI 5.1 which is based on Android 13.
However, Samsung cannot easily score an easy victory point in this category. That is because Xiaomi has pulled even in this department! We are also looking at four major system updates and up to five years of security updates. Just like Samsung's smartphone, you will find Android 13 on the 13T, but one that is based on MIUI 14 in this case.
Xiaomi's smartphones are often criticized, and for good reason, because so much bloatware comes preinstalled. Unfortunately, Samsung does not behave that much better either, as a lot of unnecessary software was preinstalled on their handset as well. In terms of design, personal preference is the deciding factor when it comes to the software and the prettier skin between the two.
Xiaomi 13T Pro vs. Samsung Galaxy S23+: Battery life and fast charging
Samsung and batteries are always a hot topic. It begins with the fact that the chargers are not included. Is that really a valid criticism point or even a pro-argument due to the sustainability aspect? I'm unsure of that because an already existing charger doesn't do me much good if it cannot maximize the charging speed.
But that brings us to the next point: Samsung stuck to 45 W in its flagships! Xiaomi is clearly behaving quite differently here. In the time that Samsung fans can just grumble "Where is the damn charger?" while peering into the box, the 13T Pro charges completely from empty to 100 percent thanks to its 120 W "HyperCharge" technology.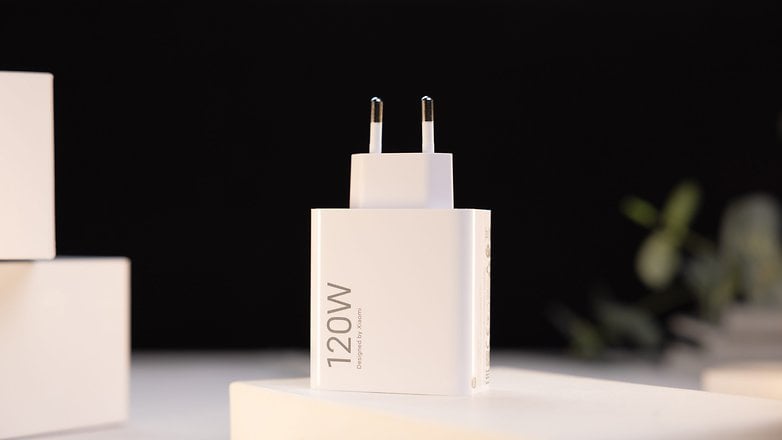 Xiaomi actually includes the charger in the packaging and with 5,000 mAh of battery capacity, its battery is also a bit bigger than in the S23+ (4,700 mAh). This also brings us to the point of this battery comparison where Samsung really comes up tops: The Galaxy S23+ lasted for a great 15 hours in the test whereas the Xiaomi 13T Pro "only" lasted for just under 13 hours in the battery benchmark test.
You can also charge the Galaxy phone wirelessly, and even reverse charging is possible. Unfortunately, the Xiaomi 13T Pro cannot be charged inductively in any way. Decide for yourself what is more important to you: A longer battery life and wireless charging support or a very short charging time and an included charger?
Xiaomi 13T Pro vs. Samsung Galaxy S23+: Price and availability
Xiaomi prices its T models well below flagships from other manufacturers. For the Xiaomi 13T Pro, this means that the fun begins at €799 ($845). Again, Xiaomi does not sell their devices officially in the US, so there is no US price equivalent. According to the MSRP, the Galaxy S23+, against the Xiaomi phone it competes with here, costs a whopping $1,019.
Even the comparison is a bit flawed because both entry-level models come with 256 GB of storage, but Xiaomi even offers 12 GB of RAM compared with Samsung's 8 GB of RAM. The more expensive storage variants are priced at €899 (12 GB / 512 GB) and €999 (16 GB / 1 TB) for Xiaomi.
Logically, the Galaxy S23+, which was released in early February 2023, is no longer selling for the same price. Depending on where you look, the Galaxy S23+ can be picked up for as low as $799, while the more expensive model (8 GB / 512 GB) which has a MSRP of $1,119 can also be found for slightly more than $900.
Since its market launch and until October 11, 2023, you can get a Redmi Pad SE worth €199.90 (MSRP) for free when you buy a Xiaomi 13T Pro or 13T on all channels. Once again, this is available only in Europe and not Stateside. Unfortunately, one model—namely the Xiaomi 13T Pro with 12 GB + 256 GB—is excluded from the promotion. The following table shows the recommended retail prices for the devices of the Xiaomi 13T series as well as the prices (MSRP and street price) of the Galaxy S23+:
Xiaomi 13T Pro
Xiaomi 13T
Samsung Galaxy S23+
MSRP
MSRP / Street price
8 GB RAM + 256 GB ROM
-
€649.90
$1,019 / $799
8 GB RAM + 512 GB ROM
-
-
$1,119 / $919
12 GB RAM + 256 GB ROM
€799.90
-
-
12 GB RAM + 512 GB ROM
€899.90
-
-
16 GB RAM + 1 TB ROM
€999.90
-
-
Conclusion
Let's move on to the grand finale and the question of which of the two smartphones is better. The good news? If you are looking for a smartphone with a crystal-clear, crisp AMOLED display, a powerful SoC, long software support, and a versatile camera that allows you to take great photos during the day and at night, you can buy both devices without any regrets.
Both are also well-made and IP68-certified, with a slight connectivity advantage going to the Xiaomi 13T Pro. Personally, I would go for the Samsung model in terms of design, but those who don't want to spend an excessive amount of time plugged in will grab the 120 W monster from Xiaomi.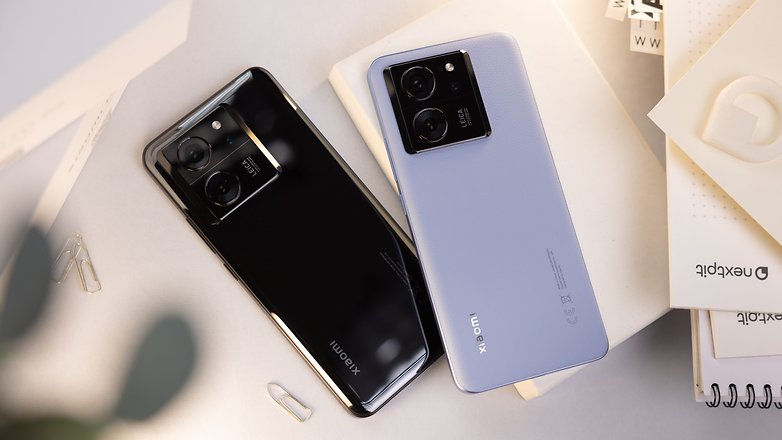 As you can see, it always depends on where your personal priorities lie. If you want a huge 1 TB storage, there is no way around that other than the 13T Pro in this comparison. Are you as indecisive as I am in view of the absolutely versatile and well-equipped smartphones in both cases?
If so, perhaps the price could tip the scales in your favor: Even the street price of the larger Samsung phone with 512 GB of storage is currently over $900 and for that money, you can get the Xiaomi 13T Pro with twice as much RAM (16 GB) and double the storage (1 TB). Thus, Xiaomi definitely has the price advantage on its side, even if you were to buy it at the MSRP and do not want to wait for the price to drop.
It is high time to pass the question on to you: Who do you think has the edge in this smartphone duel? List your winner in the comments and let us know your arguments.