Why Are So Many Women Still Struggling To Break Into Tech?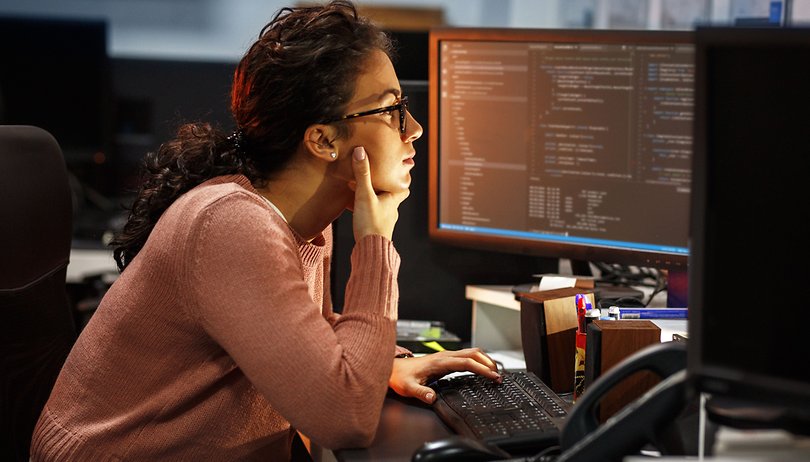 When you look at the statistics surrounding the amount of girls versus boys who study STEM subjects in early education, it becomes apparent that the gender gap in tech is a systemic issue that starts at an early age.
According to a study from American Association of University Women (AAUW), negative stereotypes about school-age girls' abilities in math can measurably lower their test performance and actively discourage them from studying them in later life.
"Girls and women are systematically tracked away from science and math throughout their education, limiting their access, preparation and opportunities to go into these fields as adults," the report states.
AAUW also found that women make up only 28% of the workforce in STEM, and men still hugely outnumber women majoring in most STEM fields in college.
And when it comes to the workplace, women breaking into the sector are more likely to stay in entry-level positions compared to their male counterparts. Similarly, there are fewer female founders in tech and only 14% of solo startups in 2021 were headed up by women. They also received just 2% of venture capital (VC) funds in 2022.
One woman on a mission to change this trajectory and close the gender gap in tech is Anna Brailsford, CEO of Code First Girls, one of the largest providers of free coding courses for women globally.
Since launching, Code First Girls has helped more than 120,000 women learn to code.
"One thing that our research has shown is that women come at technology slightly later," she shared recently at the Dublin Tech Summit.
"Switcher wise, we get teachers, nurses, and accountants who would like to be their own boss, and we're providing them with the vehicle to do that. Ultimately, they come with a plethora of skills so [it's about] creating alternative ways to get in technology."
Having worked in tech throughout her career, Brailsford has experienced the gender gap in tech first-hand and admitted that sometimes being the only woman in the room—figuratively and literally—was difficult for a myriad of reasons.
"When the company I worked for was acquired by a big Californian Silicon Valley tech company, I was like the only woman in the group. When the acquisition took place all the guys walked in, and they were all wearing jeans, a check shirt and a gray Patagonia hoodie.
"So all of a sudden, I'm sterilizing some things. As a woman [in tech], how do you dress for the board room without people thinking, 'oh, she's aggressive' or 'she's not really a presence'. It's this minefield because all these guys had a uniform and while that sounds really basic, it's actually really, really significant."
The key to breaking through these kinds of barriers? Cultivating an executive presence and being a subject matter expert, as Brailsford explained.
"Five percent of executive presence is appearance, right? But unless you get over that 5%, somebody won't give you a chance to begin with, to get to the rest. What's beyond that 5%? Around 26-27% is communication. And the remaining 70% is gravitas, which you can kind of figure out for yourselves, you might have your own definition of what that means.
"But the definition of gravitas is the ability to hold a room because your subject matter knowledge is so deep and so convincing and circumventing that nobody can bring themselves to question what we say."
She also believes that those already working in tech—women and men—need to actively disrupt the status quo to encourage more women into the fold.
"The more that you can make an impact in your own organization, the more you can innovate, the more you can bring new ideas, the more you can create products that are representative of your actual design," she elaborated.
"A career in tech is not for everyone, but we want women to make an informed autonomous choice about what areas they want to go into what industries they fit the best in and why."
Looking for your next job opportunity?
The NextPit Job Board is the perfect place to start your search as it features thousands of jobs in companies that are actively hiring, like the three below.
SoC Security Engineer, Platform Architecture, Apple, Portland
As part of the Platform Architecture organization, the Security Architecture team has a mission to provide rock solid security foundation to Apple's products. As a SoC Security Engineer you will work with a multi-functional engineering team to define, design, and verify security systems. See more details here.
Senior Data Analyst, Cash App Compliance, Cash App, San Francisco
The Senior Data Analyst will join the analytics team to deliver applicable analytics to leaders throughout the Cash App business. Focused on quantifying compliance risks, you will build databases, design dashboards, and define metrics to support scale, analyze risks, and provide easily understood reports for operational teams and senior management. View the full job description here.
Staff Designer, GenerativeAI Video Experiences, Adobe, San Jose
Adobe Design is seeking a Staff Designer with expertise in video creation/editing to join its MINT (machine intelligence and new technology) division and help build the best GenAI video tools for creativity. As such, you will define and communicate strategies, explore design ideas and liaise with prototypers, engineers and researchers to understand the capabilities of new and developing technologies to match user needs. Get additional information here.
Accelerate your career today via the NextPit Job Board. This article was written by Aoibhinn Mc Bride.