Vivo X90 Pro hands-on: This flagship will surprise you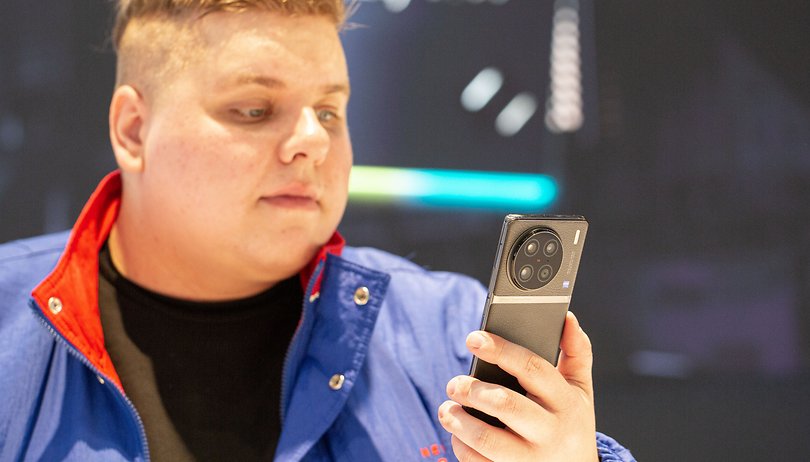 The Vivo X90 Pro is perhaps THE high-end smartphone that will surprise you in 2023. Very focused on photography with its 1-inch sensor, it also has a very complete technical sheet with, among others, the brand new MediaTek Dimensity 9200 SoC and 120 W fast charging. I was able to test the Vivo X90 Pro and I give you my first impressions.
The Vivo X90 Pro in a nutshell
The Vivo X90 Pro is available since February 22, 2023, in France. It comes in a single memory configuration of 12/256 GB sold for 1199 euros. The model should be available in most countries Vivo is present at, which at this time excludes North America.
Vivo is not the most dominant manufacturer in Europe. And Vivo smartphones are not the most widespread among users. But on paper, the Vivo X90 Pro really has almost everything to please.
It embeds the brand-new MediaTek 9200 SoC with a second chip dedicated to photo processing. Its triple camera module has three 50 MP lenses, one of which has a 1-inch sensor. Its 4870 mAh battery accepts a 120 W wired and 50 W wireless charging. It also has UFS 4.0 storage and LPDDR5X RAM.
Add to that a rather iconic look with a vegan leather cover and the Vivo X90 Pro really has nothing to be ashamed of when compared to its more mainstream competitors like the reviewed Samsung Galaxy S23 Ultra or the Xiaomi 13 Pro.
Design
The Vivo X90 Pro adopts a very classy design with an embossed vegan leather covering on the back that is somewhat reminiscent of camera cases.
---
Pros
A very classy design with a leather finish.
The beautiful black color.
IP68-certified aluminum frame.
Cons
I am concerned about the durability of the leather back.
---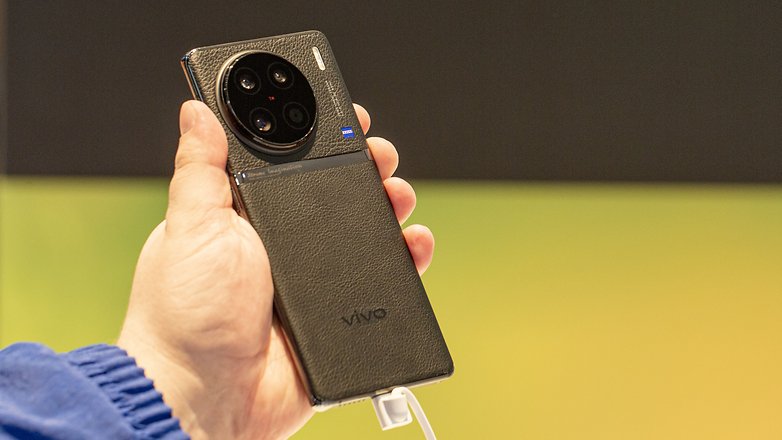 I am a big fan of this leather effect finish. The "legendary" black color is very well done and gives a sober look to the smartphone. I also really like the metallic line, named "Skyline" by Vivo, which separates the photo module from the rest of the back.
This photo module is quite massive, it stands out a lot in relief and occupies almost the entire width of the back. With the Zeiss logo and this design, the Vivo X90 Pro finish really looks like a DSLR camera. And according to Vivo, this layout of the elements on the back (camera module, Skyline) is supposed to be a reference to the Fibonacci golden spiral.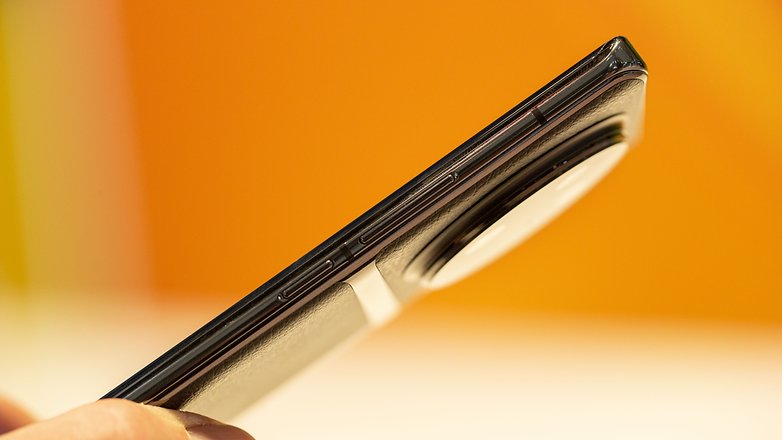 The smartphone is IP68 certified for water and dust resistance. The screen is protected by SCHOTT Xensation Up glass. The frame is made of aluminum. All boxes are checked, no microSD port or jack.
Screen
The Vivo X90 Pro features a 6.78-inch AMOLED display with 1260 x 2800 resolution, 120 Hz refresh rate, and 1300 nits (peak) maximum brightness.
---
Pros
Nice 120 Hz AMOLED display.
Maximum brightness of 1300 nits.
Cons
Curved edges (for those who don't like it, otherwise, it's not a flaw).
---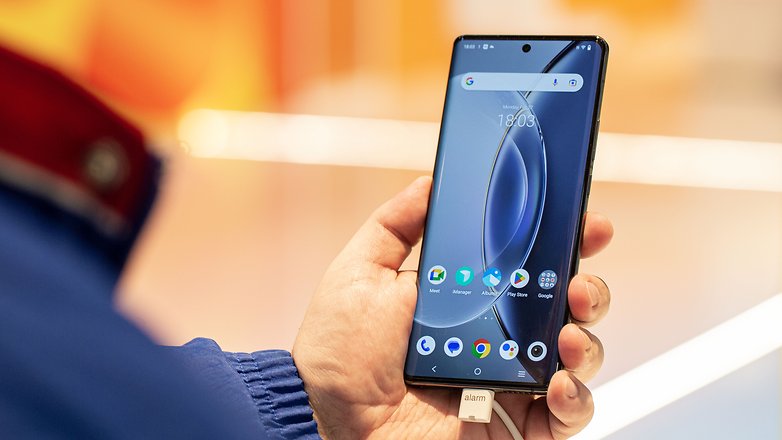 The screen of the Vivo X90 Pro seemed very good to me at first glance. The edges are curved and there is a central punch to accommodate the selfie camera.
The maximum brightness of 1300 nits is only reached at peak. But the Vivo X90 Pro screen still seemed very readable to me, even with the complicated lighting conditions on the MWC stand where I tested it.
A totally nerdy remark that no one cares about: The haptic feedback is very pleasant. And Vivo offers many settings to adjust the screen, especially for gaming.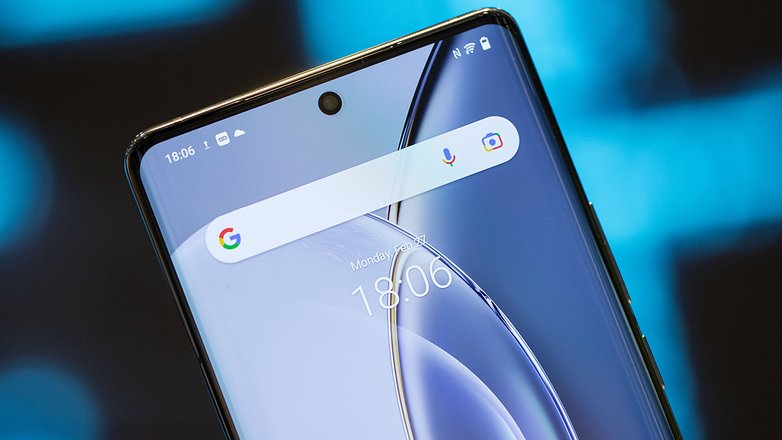 Interface/OS
The Vivo X90 Pro runs on Funtouch OS 13, based on Android 13, and will receive three Android updates and four years of security updates.
---
Pros
Proper update policy.
Lots of customization options.
Cons
Some bloatware on a smartphone priced at over 1,000 euros.
---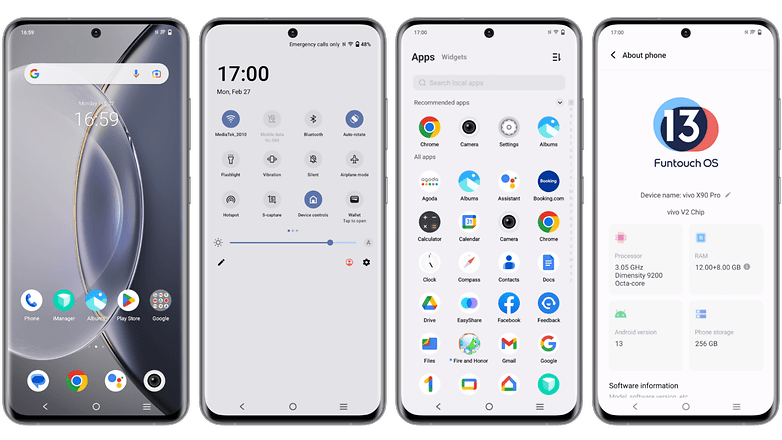 I couldn't take 15,000 screenshots during my hands-on at MWC. If you want a full test of Funtouch OS 13, let me know and I will devoutly comply.
But Vivo's overlay is visually clean enough while offering plenty of customization options that stray from stock Android. But I'll tell you more in my full review.
Performance
The Vivo X90 Pro features the Snap SoC... ah no. Sorry, I've gotten used to it. But unlike almost all Android flagships in 2023, the Vivo has not adopted the Snapdragon 8 Gen 2. Instead, the latest Mediatek Dimensity 9200 is featured.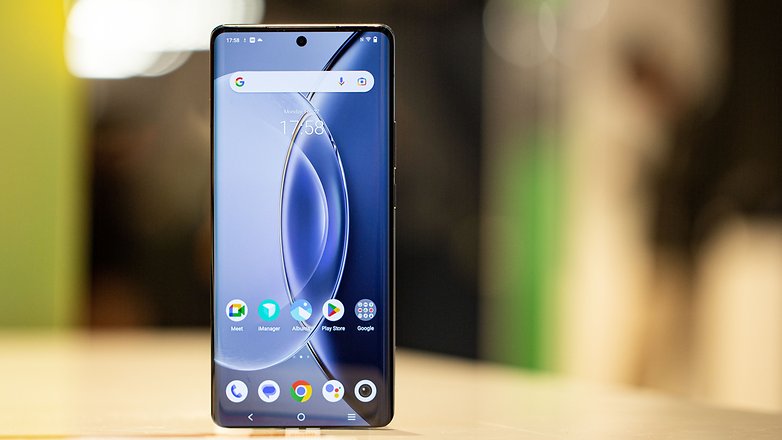 As always in a hands-on, I can't comment on the performance. The Dimensity 9200 combines a powerful Cortex-X3 core clocked at 3.05 GHz, three Cortex-A715 cores clocked at 2.85 GHz, and 4 high-efficiency Cortex A510 cores limited to a clock rate of 1.80 GHz.
The Vivo X90 Pro also relies on UFS 4.0 storage and LPDDR5X RAM, the latest standards available in the memory department. I'll tell you in my full test what Mediatek's chip is worth against Qualcomm's.
Photo quality
The Vivo X90 Pro comes with a triple camera module. We have a 50.3 MP main lens with a 1-inch sensor, a 12 MP ultra-wide angle lens, and a 50 MP telephoto lens that is also supposed to capture excellent portrait photos.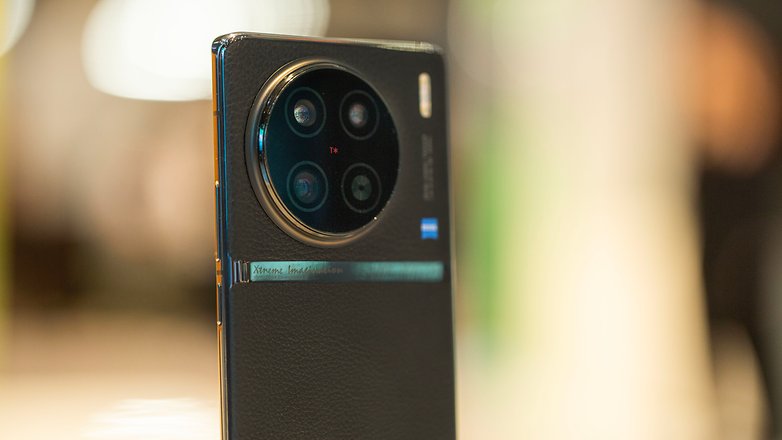 The Vivo X90 Pro's 50.3MP main lens incorporates a Sony IMX989 sensor with a physical size of 1 inch, like on the Xiaomi 13 Pro reviewed here on NextPit, among others. A bigger sensor means more light captured, and therefore better quality for your photos. Anyway, this lens looks promising and I can't wait to be able to test it to see how it performs in real conditions.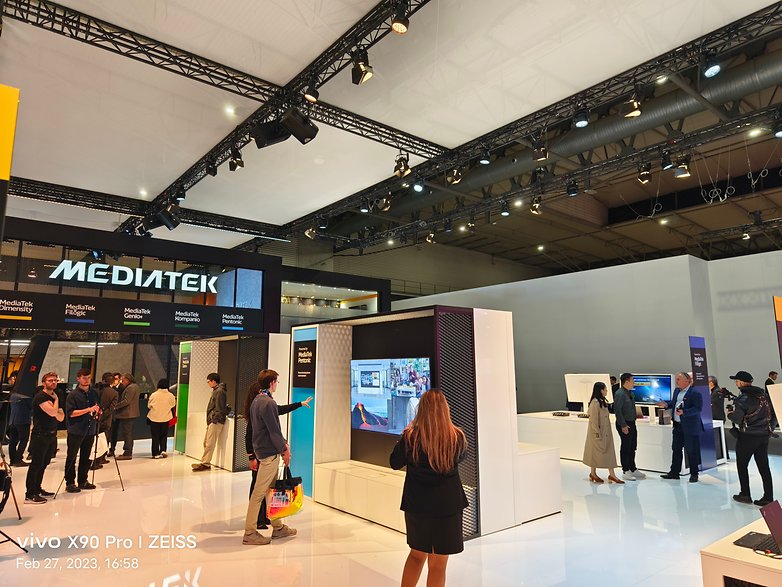 The ultra-wide angle lens offers 12 MP resolution and a field of view (FOV) of 108 degrees. I find this FOV quite narrow, usually, we are around 120° on this kind of lens. But it should at least limit the effect of distortion on the edges of the image.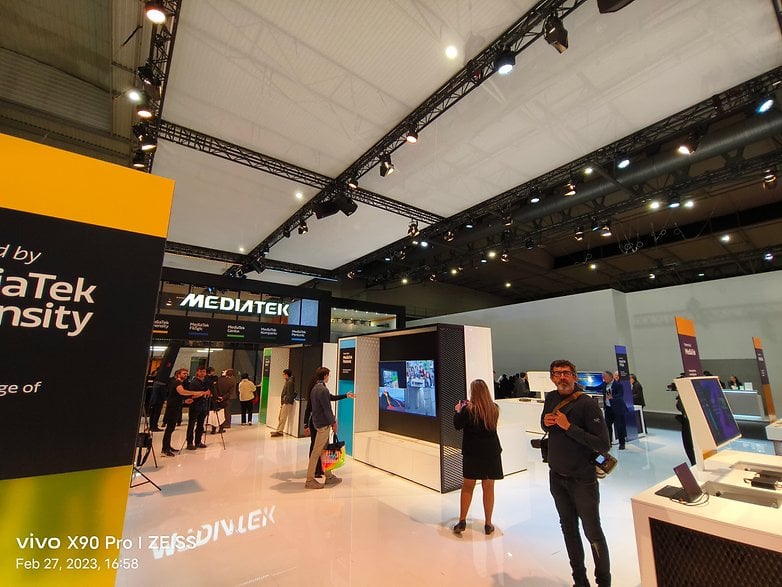 The 50 MP telephoto lens is based on a Sony IMX758 sensor and offers a native 2x zoom. According to Vivo, this lens is also in charge of the portrait mode and should offer a very professional rendering.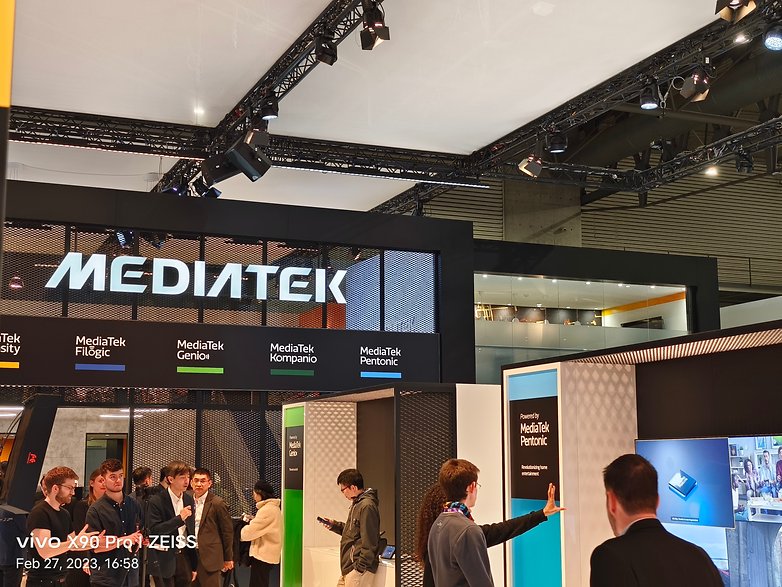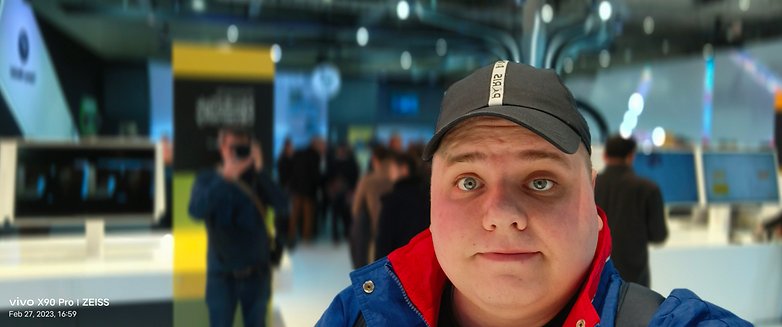 As for the selfie camera, it has a resolution of 32 MP. On the video side, the Vivo X90 Pro can shoot up to 8K at 24 FPS. I also found the photo application very complete.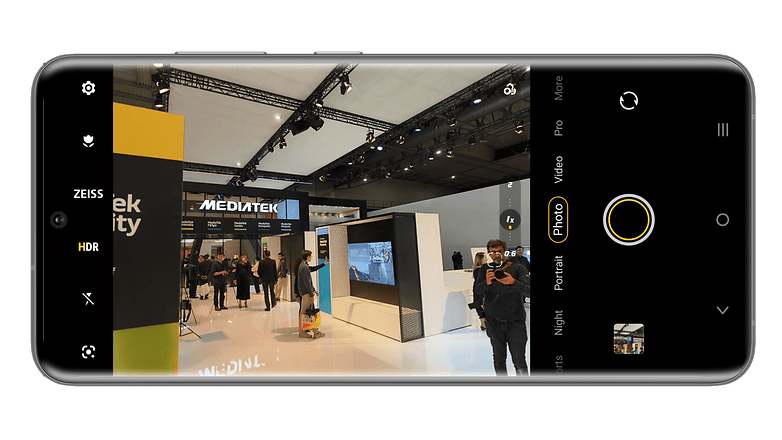 Autonomy
The Vivo X90 Pro features a 4870 mAh battery capacity that supports 120W wired charging as well as 50W wireless charging and even reverse wireless charging.
It's nice to see another manufacturer other than Xiaomi offering really fast charging. Vivo actually offers two charging modes, a normal and a fast one. In fast mode, the manufacturer assures that we can go from 0 to 50% of charge in 8 minutes and 10 seconds. But even in balanced mode, it takes only 29 minutes for a full recharge from 0 to 100%.
The Vivo X90 Pro also accepts wireless charging in 50 W and reverse wireless charging.
Technical data
Technical data
Device
Image
Design

Curved screen
SCHOTT Xensation Up glass on the screen
Vegan leather coating on the back
IP68 certification
Color: Legendary Black

Screen

Amoled 6.78 inches
1260 x 2800 pixels
120 Hz refresh rate

Memory
CPU / GPU

Mediatek Dimensity 9200 | GPU Immortalis-G715

Camera

Main Lens: 50.3 MP | f/1.8
Ultra wide angle lens: 12 MP | f/2.0 | 108° FOV
Telephoto lens x2: 50 MP | f/2.4
Selfie Camera: 32 MP | f/2.5

Video
OS/Interface

Funtouch OS 13 based on Android 13

Battery

4870 mAh
120 W wired charging
50 W wireless charging
Reverse wireless charging

Audio
Dimensions & weight

164.1 x 74.5 x 9.3 mm | 214.9 g

Connectivity

5G | Wi-Fi 6 | Bluetooth 5.3 | NFC
Conclusion: My first impressions
The Vivo X90 Pro kind of flew under my radar when it was released. But after picking it up, I'm thinking that it could totally be one of the best high-end smartphones in 2023.
Its spec sheet is very balanced or rather very complete. I really feel like Vivo is trying to check all the boxes. We have a very bright 120 Hz AMOLE screen. A MediaTek SoC with a high-frequency rate. A big 4870 mAh battery rechargeable in less than 30 minutes with the 120 W charger. And a triple camera module with a 1-inch sensor.
The Vivo X90 Pro looks very interesting on paper. I can't wait to tell you more about it in a full review once I receive a model. But to me, it's a potential sleeper. You know, like those cars that look like a classic, beige sedan, but hide a monster engine preparation. The Vivo X90 Pro is the same. It might be the good surprise of the year, we'll see.