Vivo NEX A performance test: not quite powerhouse material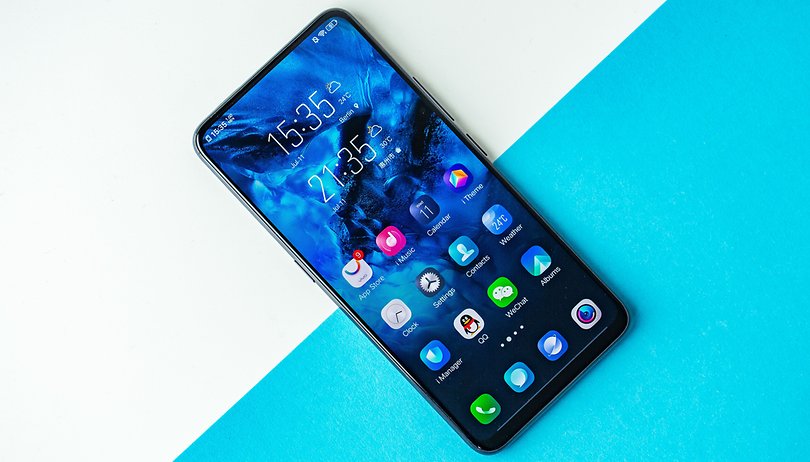 The Vivo NEX A is the somewhat cheaper version of the flagship. Equipped with Qualcomm's latest Snapdragon 710, the device should offer very good performance, but at a lower price. In our performance, we'll be looking to see if the Vivo NEX A comes in right in between mid-range smartphones like the Nokia 7 Plus and current top smartphones like the Xperia XZ2 from Sony or Samsung's Galaxy S9.
Jump directly to section:
How do we test smartphone performance?
We've selected several benchmarks for our tests, which we run three times in a row on our test devices. We use the following benchmarks:
Using these values, we can compare smartphones with one another with the help of measurable criteria. But that's not enough: what use are benchmark values if the smartphone doesn't live up to them in everyday life? That's why we also test real-world scenarios and look at current games like Final Fantasy XV Pocket Edition, Hearthstone or PUBG.
Powerful without special features
Vivo uses Qualcomm's latest SoC in the NEX A: the Snapdragon 710, the first of the 700 series, which is positioned between the mid-range SoC of the 600 series and the high-end 800 series. Take a look at our comparison table to see how the SoC in the Vivo NEX A performs compared to the SD845 and SD660.
Snapdragon 660 vs. Snapdragon 710 vs. Snapdragon 845
| Snapdragon 660 | Snapdragon 710 | Snapdragon 845 |
| --- | --- | --- |
| 14 nm | 10 nm | 10 nm |
| Kyro 260 | Kyro 360 | Kyro 385 |
| X12, 3x CA, 600 Mbps DL | X15, 3x CA, 800 Mbps DL | X20, 5x CA, 1,2 Gbps DL |
| 802.11ac, 2x2 MIMO | 802.11 ac, 2x2 MIMO | 802.11 ad, 2x2 MIMO |
| Adreno 512 | Adreno 616 | Adreno 630 |
| Spectra 160 | Spectra 250 | Spectra 280 |
| Hexagon 680 | Hexagon 685 | Hexagon 685 |
| QHD, 8 Layer | QHD+ 10 Layer, 4K HDR Playback | Ultra HD Premium |
| QuickCharge 4+ | QuickCharge 4+ | QuickCharge 4+ |
The most obvious reason to use the Snapdragon 710 in the Vivo NEX A is to lower the price. As an uncompromising alternative, there will also be the Vivo NEX S, which will feature Qualcomm's top-of-the-line SoC model, as well as the in-display fingerprint sensor. According to the current conversion rate, the top model will cost around 800 dollars to import via China.
Xiaomi Mi 8 benchmark results
Pixel 2 XL
(Snapdragon 835)
Huawei P20 Pro
(Kirin 970)
Galaxy S9
(Exynos 9810)
Sony Xperia XZ2
(Snapdragon 845)
Vivo NEX A
(Snapdragon 710)
Nokia 7 Plus
(Snapdragon 660)
Geekbench CPU
Single core
1867
1920
3645
2412
1879
1634
Geekbench CPU
Multicore
6291
6780
8820
8420
5918
5865
3D Mark
Sling Shot ES 3.1
3571
2972
3274
4679
1827
1330
3D Mark
Sling Shot ES 3.0
4714
3346
3873
6140
2789
2018
3D Mark
Ice Storm Unlimited ES 2.0
37844
30602
38488
63589
28238
26385
PassMark Memory
(RAM)
13836
14087
24721
12418
12421
12495
PassMark Disk
(Storage)
47759
64144
72538
73208
67656
49866
So how does the hardware-software combination of the Vivo NEX A compare to current top smartphones? It's not so bad at all. It's clear that the A version of the Vivo NEX can't match the processor and graphic performance of a Galaxy S9 with Exynos 9810 and certainly can't keep up with the Sony Xperia XZ2 with Snapdragon 845. But at least Vivo can nearly achieve the performance of a top smartphone from 2017. A Pixel 2 XL or Huawei Mate 10 Pro are still faster in our benchmark test, but the Vivo NEX A is not that far behind.
You have to remember that the Snapdragon 710 is also an octacore processor, but compared to the 800 series, the Kirin 970 or Exynos 9810, it functions differently. Instead of combining four energy-efficient cores with four high-performance cores as usual, the Snapdragon 710 is based on a cluster of six ARM Cortex A55 cores that are trimmed for efficiency and then just two high-performance ARM Cortex A77 cores. From this alone, you could classify the performance of the SoC in the new Vivo NEX A as "very good".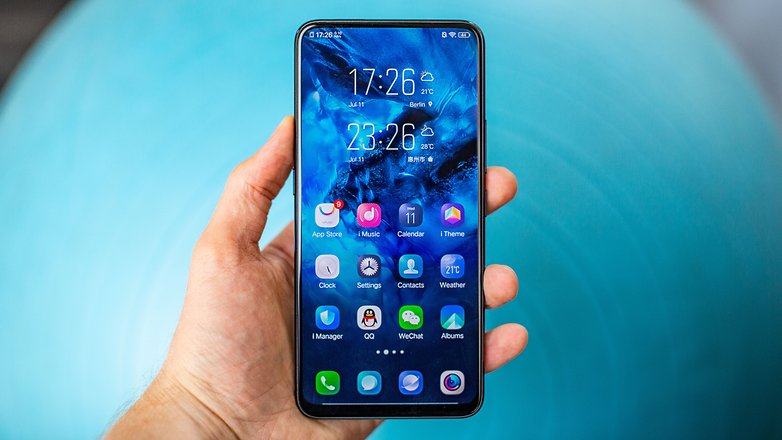 Hardly any difference in everyday performance!
Even if the Vivo NEX A can't keep up with the current flagships in the benchmarks, it doesn't mean it's a slow smartphone. The animations on the home screen and throughout Funtouch OS, Vivo's UI, run smoothly and without visible jerks. Of course, you have to get used to the peculiarities at first, but there shouldn't be taken into account in this kind of test.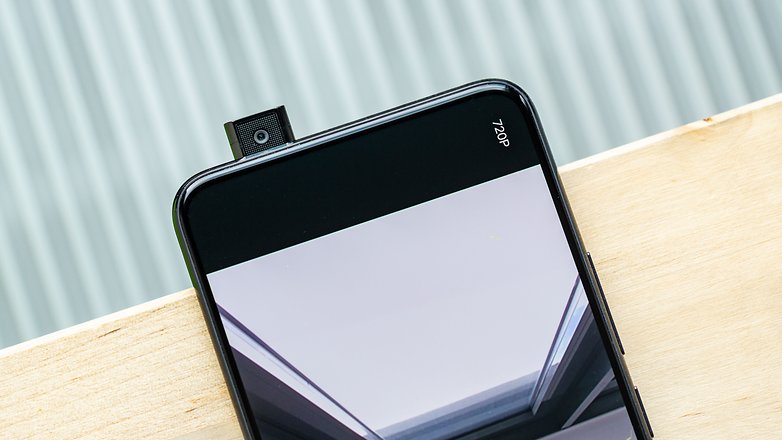 The new Qualcomm SoC can deliver consistently good results in games. Even at maximum resolution in PUBG Mobile, Final Fantasy XV Pocket Edition and similar graphic-intensive games, the gaming experience was smooth. In terms of performance reserves, the Snapdragon 710 in the Vivo NEX A has plenty of room to effortlessly bring the latest games onto the huger Super AMOLED screen for the coming 12 to 18 months.
What do you think of the Vivo NEX A? Is this variant enough for you, or does it have to be the S version with Qualcomm's best SoC and a fingerprint sensor installed under the display? Let us know what you think!