Feast your eyes on the Android games with the best graphics in 2022
Update:

New Games added for 2022!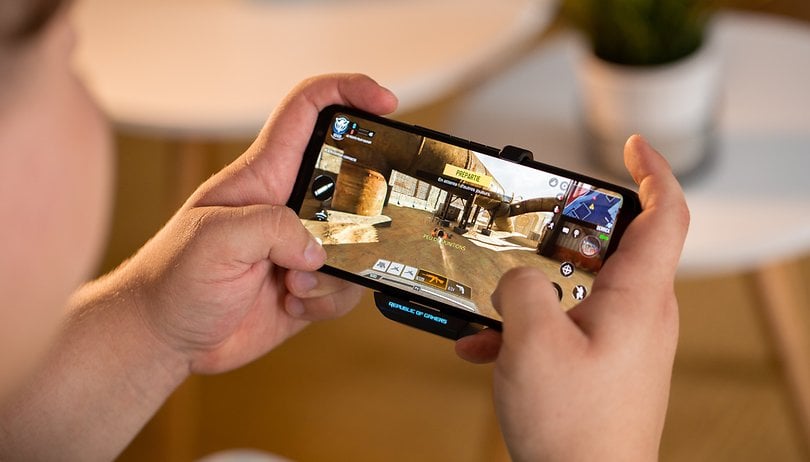 Games like Flappy Bird thrive based on their gameplay idea. Others impress with their graphics instead. Here, we would like to introduce you to some Android and iOS games with the best graphics you can find in 2022!
We last updated this list about a year ago, so it is time to ask the question again. Which Android and iOS games have the best graphics in 2022? If you want to know the answer, check out our selection of jaw-dropping games graphics on both Android and iOS platforms.
---
---
For 2022 we have added the latest releases that feature some of the best graphics you can find on mobile games on both Android and iOS. First, you can find our top ten recommendations for the best graphics on mobile. But this is not all. Aside from our initial selection of the top ten graphics for Android and iOS, we have also prepared a second list with other graphically beautiful smartphone games.
Speaking of recommendations: this list will not be able to please everybody since preferences are always subjective. We form our own opinion on games and also look to other similar lists for comparison. Of course, we are happy to have you recommend what you think are the games that deserve to be on this list as well. See if you like this list of games with the best graphics and if you still feel that we have done other unlisted titles an injustice, tell us in the comments! Without much further ado, here is the list:
Jump to:
Top ten mobile games with the best graphics you can play in 2022
PUBG is unavoidably one of the most popular games on Android right now. Yes, the game may have been dethroned from the best shooter position from our best FPS games list by COD Mobile, but when it comes to graphics, it blows the competition right out of the water. But more on that soon. PUBG Mobile is a battle royale game that pits you against about 100 other players on a large open map. Your goal? To be the last team standing! As the borders close around you, you need to find loot and outsmart your enemies to kill them.
PUBG: New State is the latest addition to the franchise and thus offers some of the best graphics you can find on mobile. It features global illumination shadows and the details look better than ever. You can break windows, make vehicles explode - and drive them - inside very detailed environments. The new game also offers faster-paced gameplay with a more futuristic theme which means that you can basically finish a match in 20 minutes. So if you are looking for the shooter with the best graphics on Android, then PUBG: New State is where you should look.
Genshin Impact has matured nicely over the past year, receiving great content. This is a game that I have always liked to use to review the performance of new smartphones. Being an action RPG title with gacha mechanics, it does share a bit of resemblance with "Zelda: Breath of the Wild", without performing any kind of outright copying.
You run across endless meadows, make your way through mountains, wade on beaches, or walk through fortresses and cities. There is so much to see and do while breathing in the fantastic graphics; Genshin Impact is one of those games where you sometimes just forget what task you have on hand simply because you want to explore the surrounding area and take a look at everything.
In any case, Genshin Impact doesn't have to be ashamed of itself in terms of graphics, as it is capable of holding itself up against console titles. The controls do require some refinement, but that is to be expected when a touchscreen is used as the primary source of input. Once you get used to how to move through the vast worlds, you will be able to trudge through the continent of Teyvat like it is second nature to you.
This is an open-world game, allowing you to wander around pointlessly. Of course, there is more purpose than to just admire the pretty in-game graphics if you were to find the right group of friends who want to have adventures by your side. As I mentioned, the game is free but relies on the gacha mechanism. Fret not, you can also play it in a very relaxed manner, without worrying about exchanging money for a sense of achievement.
Fancy an exciting race on the tracks? With the Asphalt series, Gameloft has set the standard for realistic-looking racing games on Android. And the new gameplay found in Asphalt 9: Legends is guaranteed to not disappoint when it comes to graphics because you are racing across the asphalt in incredibly beautiful vehicles. This is a dream come true for every motorhead.
You can choose from 50 different famous rides. In addition to the world-famous Ferrari, this list also includes major marques such as Porsche or Lamborghini. And if you want to further expand your collection, you will also be able to find valuable models such as the Aston Martin Vulcan, the Ford GT, or the McLaren P1. And don't worry about wrecking these desirable exotics in Asphalt 9: Legends because at the end of the day, you can compete as recklessly as possible without thinking about the consequences of mishandling such beasts.
By the way, you don't have to go at it alone. This game also provides a new online function that allows you to indulge with seven other drivers in multiplayer mode. In addition, Asphalt 9 gives you the opportunity for the very first time to use the club function so that you can create your own online community of racing drivers.
Not only has Gameloft improved the controls via the touch display, but the graphics are also unbelievable as you cruise across the various tracks. Not to forget moments when you can admire your cars in all their glory.
As with older games in this series, Asphalt 9: Legends is also meant to be downloaded for free. However, if you want to have the best vehicles in the game, in-app purchases are unavoidable.
Okay, there probably isn't much to say about the Call of Duty franchise or the need to introduce this game to anyone, right? After the game was already a hit on just about every conceivable gaming platform, the same applies to the Android and iOS offshoots known as "Call of Duty: Mobile".
The game features some of the best graphics you can find on an online shooter game even if it can't much other titles like PUBG: New State. But with all the available settings in-game, you do not have to worry. You can fine-tune your graphics to keep yourself in the middle of the action without any frame drops.
You can play this FPS in PvP and Battle Royale mode, so there is no shortage of action. And since it landed on this list of the best, you already know that not only is this game fun, but the visuals are also outstanding. Man, if only I could tell my Atari from the eighties what games would look like now, and how everything has gone mobile. My Atari 2600 would probably blow a fuse.
Another classic from the consoles and PCs finds its way to mobile with some gorgeous graphics. The Elder Scrolls: Blades is a dungeon crawler that has you exploring the darkest parts of The Elder Scrolls universe. In this game, you embark on an adventure to clear out dungeons and defeat your opponents in hectic 1v1 combat that feels pretty unique in the mobile space.
The Elder Scrolls: Blades offers some truly magnificent graphics, with beautifully detailed environments and models that would make even a Dwemer rub his eyes. The game runs in first-person and offers extensive character customization and many items to choose from that allow you to make some truly unique builds.
Gameplay is not for everyone though; as with many of the latest Bethesda titles, The Elder Scrolls: Blades suffers from aggressive monetization and nerve-breaking grinding. At least you get to do all that in some of the best environments we have seen in mobile. Thankfully in 2022, the game has seen improvements from the disastrous initial release a few years ago, so the game now deserves a second look. If not for the gameplay, at least for the beautiful graphics.
Madfinger Games is known to produce some of the most visually pleasing shooters on mobile. Their enormous success started with Dead Trigger 2 back in 2013 and if not for its age, it would have made it to this spot on the list. Madfinger has perfected its formula with Shadowgun Legends, a frenzied PvP and PvE shooter game that is set in the far future.
The graphics are detailed and the animations have a sense of gravity and impact to them that you rarely find on mobile games. In a sense, it reminds me a bit of Doom: Eternal but with space aliens instead of space demons. The design of the graphics is top-notch for a shooter with bright explosions and brightly lit, futuristic space stations blowing up all around the player. So if you want a futuristic shooter with great graphics, this is where your eyes will find peace.
Embark on an epic adventure in the world of the Witcher franchise and slay terrifying monsters in this beautiful AR game. The Witcher Monster slayer takes the Pokemon Go formula and gives it a new spin where you have to kill the monsters instead of being their friends. I mean, they kind of deserve it. The beautifully detailed monsters are a menace to humanity, and you will need a lot of wits to defeat them.
The game had a bumpy launch in 2021, receiving mixed to positive reviews, mostly due to the junkiness of the gameplay and the extreme difficulty. In 2022 these issues are mostly balanced out, and the game truly shines with new content being added regularly. To succeed in your hunt, you will need to explore your environment, learn the patterns of the monsters and craft powerful potions to defeat them.
But what truly makes The Witcher: Monster Slayer stand out is the graphics. Especially the character models recreate the folklore monsters in all of their gruesome glory. Sharp teeth, black veins, flesh overgrowths filled with bile, claws, bones, and feathers, you will be able to tell every repulsive feature of the beasts you have to slay. Simply put, this mobile game is on par with the graphical fidelity of The Witcher 3. And since it is free, you will not have to give a coin to your Witcher.
Life is strange is one of the gaming gems that has found itself in mobiles. The BAFTA-winning game has the player following the life of a teenage girl that discovers some bizarre superpowers. Following her down that trip of self-exploration the player learns that decisions matter. Many of the choices the player makes actively affect the progression of the story, which has now turned into an entire franchise! If you are interested, Life is Strange: Before the Storm, the prequel of the game, is also available in Google Play and the Apple App Store.
The nice graphics can be praised for their colors and scenery, which were considered adequate for consoles, but in mobile, they are straight-up impressive. The music is simply on a different level than what we are used to on our smartphone screens and the overall quality of the game will make you want to wind back time to experience it again for the first time.
This survival horror is a classic among fans of the genre. Something about the atmosphere that puts you inside a derelict space station with other survivors simply sends shivers down the spine. The graphics of Alien: Isolation are extremely detailed, with accurate lighting and detailed models. The cramped spaces are filled with objects, while the overall mobile port feels exactly like the main title.
Alien: Isolation manages to keep you at the edge of your seat with its numbing difficulty while the threat of the Alien that is hunting you makes your heartbeat in anticipation every time it lurks around a corner. Be careful before purchasing, though, since the game includes all the DLC's and requires 11GB of space, with the developers recommending double that before installing. But trust me, this experience is worth it.
I didn't have the mobile version of Black Desert on my smartphone until now, but when you browse the Internet to see just which mobile game offers spectacular graphics, Black Desert Mobile continues to crop one time and again. Find out why this is so by taking a look at the following clip:
When the game was launched for Android and iOS platforms a few years ago, it was not all smooth sailing. While the graphics are outstanding, there has been some criticism for the Pay2Win principle, and the creators were accused of being greedy.
In the meantime, this MMO should be more balanced so that fun in the game is maintained without having to pay more just to be better. If you have a thing for role-playing games and want to experience a graphically sophisticated environment on your smartphone, it is imperative that you should give Black Desert Mobile a go.
Other mobile games with beautiful graphics to try out
Anyone who wants to discuss the issue of having the best graphics in Android & iOS games cannot ignore Riptide GP Renegade. This jet ski racer has everything that a thrilling racing game needs - especially on the water. There is a story that links the various races to one another, but it does not distract from the action. Incidentally, Riptide GP Renegade was one of the first games to display 60 frames per second. In 2022, Riptide GP: Renegade does show its age, but the smoothness of the experience still wins an honorary mention here.
Lumino City's graphics are simply beautiful. The puzzle game will see you drive through the town of Lumino, where you and Lumi will have to solve the riddle about the sudden disappearance of your grandfather. The city was actually built by the developers using paper mache and other handicraft materials before being converted into 3D graphics of Lumino City using SLR cameras.
The puzzles are not particularly difficult at all, but the graphics are impressive at every turn in the game. You will not be short on surprises just about everywhere, and you might just want to play it just for being the graphical masterpiece that it is.
The popular Space Marshals title now has another sequel! The graphics of the Android game require plenty of processing muscle from your smartphone. Although the action is viewed from top-down, the detailed and smooth graphics are a sight to behold. Vivid explosions, bodies of enemies flying around the screen, and levels filled with objects and obstacles, make Space Marshalls 3 a graphically intense game.
Space Marshalls 3 is a top-down shooter with action elements. There is also a great emphasis on stealth while you will need to carefully plan your approaches to defeat the nasty aliens you have to hunt.
Finally, a racing title for those who want to experience a rush of adrenaline while ogling at fantastic graphics! Perhaps you winced when you saw how Feral Interactive has GRID priced at $9.99 a pop. I would like to tell you right off the bat that a) it is definitely worth it and b) this is definitely a one-time purchase without requiring any additional top-ups in-game if you want to progress.
Once you have paid your dues, the matter about money is closed. All of the issues that other racing titles present you with have disappeared over the horizon, as there are no cars or tracks that you need to further fork out money for, there is no Pay2Win to deal with - just pure racing bliss. Fork out, install it, and then drive away while smoking your opponents!
There are 100 cars and 100 tracks to choose from, with numerous gaming modes to keep you engaged. As it befits a good smartphone racing game, the use of an external controller is also supported and yes, the graphics are jaw-dropping, too. A fantastic racing game from Feral that is definitely worth the $9.99 investment.
In this fully narrated puzzle, you get to solve riddles and environmental puzzles under the guidance of the famous polymath. The House of Da Vinci 2 is the sequel to the critically acclaimed The House of Da Vinci and features beautiful 3D environments with high-definition textures and accurate physics.
The game also comes with a free demo, so if you only want to see the beautiful graphics without committing your wallet to it, here is the link. But you have been warned! After finishing the demo, you will most likely want to play more.
It plays like puzzle games from previous eras. The nostalgia-inducing MYST would be a good example. The player moves from scene to scene by tapping. But it also provides a modern take to the formula with great lighting, puzzles that rely on physics, a beautiful soundtrack, and even voice acting! The puzzles are primarily environmental, meaning that the player has to physically interact with them to figure out their solution, which only serves the game better since you are forced to look at the detailed textures.
What would a list of the most beautiful games on Android and iOS be without the game with the weirdest graphics? Monument Valley 2 lets you experience the adventures of Ro and her child in a unique 3D environment. You will both steer through the levels, which are actually spatially impossible. By skillfully moving bars or turning wheels, you ensure that both of them find their way. This is a great continuation of the classic title!
Here is yet another title for adventure buffs. Sky: Children of Light is an excellent adventure game that made it from last year's list, and it continues to be available for free. You end up in a world called the Kingdom of Heaven, which may not be the most original name for such a fantasy world, but it is presented in a graphically beautiful manner.
You can work on developing your characters meticulously while being on a journey to discover seven different worlds. Learn to where team up with others, but you can also go solo if that is your style. You should bring more light into the world, not just figuratively, but literally. In order to achieve this, you will have to carry a few candles in your luggage, where additional candles can be purchased in-game for cash.
In general, however, you can get by very well even without spending money. Your character sails through wonderfully designed dream worlds and in this case, the acoustic background also complements it perfectly. This is definitely a game that you should play while wearing a pair of headphones. It is perfect to switch off from the rest of the world and enjoy being immersed. As you can also play for free, we highly recommend it to both iOS and Android gamers.
As of February 2022, many games were added: PUBG: New State, The Elder Scrolls: Blade, Alien: Isolation, The House of Da Vinci 2, and Life is Strange are the most important additions. It should be noted that these selections are very subjective and that we depend on your feedback to improve this list. So let me know your suggestions! Older comments under this post may appear out of context because the list is being continuously updated.