Sony Xperia Z5 review: better late than never
Update:

No fingerprint scanner in US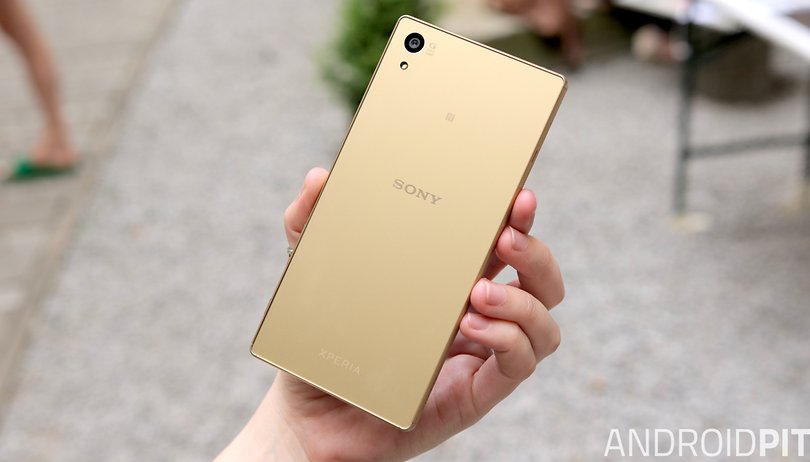 The Xperia Z3+ (Xperia Z4v in the US) was meant to be its answer to Samsung's Galaxy S6, but serious overheating issues made it a debacle. The Xperia Z5 corrects the Z3+'s wrongs and is the nicest-looking and fastest Xperia to date. Now that the US release has been confirmed (see the Release date and price section below) should you pick up the Xperia Z5? Find out in our full Xperia Z5 review. NEXTPITTV
Good
Waterproof

Excellent camera

microSD card slot

Very good fingerprint sensor

Solid battery life
Bad
No wireless charging

Sharp case edges

Expensive
Sony Xperia Z5 release date and price
The Sony Xperia Z5 release date in the US is February 7. Sony announced the release via Facebook, stating that Amazon, Best Buy and B&H would all be stocking the device. It will be available as an unlocked device, supporting only GSM networks.
Its price is set at US$599.99, making it a rather high-end purchase.
Bizarrely, Sony has decided to ditch the fingerprint scanner on the US devices. All we know so far is that it was a "business decision".
We've reached out to Sony for further comment, and we will update this page with more information as we receive it.
Sony Xperia Z5 design and build quality
At first glance, the back of the Xperia Z5 looks like it's made from metal, but it is actually frosted matte glass. This looks good but also makes it smooth and very slippery. The sides of the phone are slippier still. The edges of the phone – where the sides meet the front and the back – are slightly but significantly pronounced.
These raised edges do at least give you something to grip onto, but they also accumulate grit and grime. They also like to snag your hair, both above your ear and, if you have a beard, on the side of your chin, which can get annoying.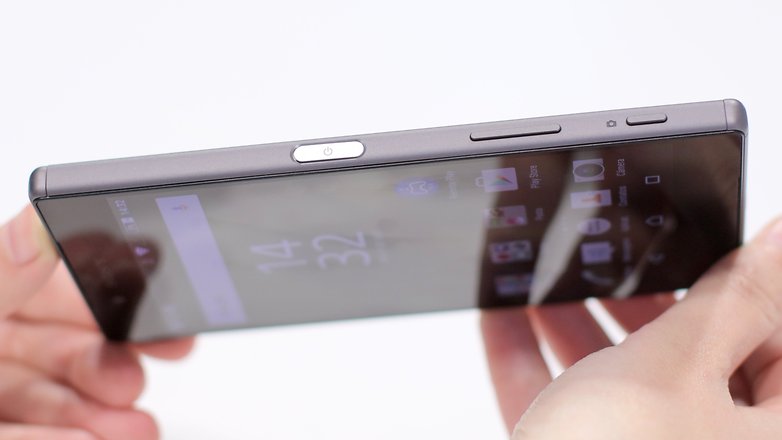 Despite these peculiar design choices, the Xperia Z5 is the best-looking Xperia device yet. It stays true to Sony's Omnibalance design but boasts some subtle improvements. The Xperia Z5 is very well put together, with Gorilla Glass 4 on the front and back, an aluminum frame and rubber bumpers on the corners to help absorb shock if the phone is dropped.
Sony released a pink version of the Xperia Z5 on January 12, 2016. The release came later in the phone's lifecycle, potentially as a drawcard for potential buyers who prefer a more eye-catching color to the frosted glass and metal design.
The Xperia Z5 is also dustproof and waterproof (it has an IP rating of IP68, which means it is dust-tight and protected against continued immersion in more than 1 m of fresh water), although you should observe Sony's advice regarding water-resistance on Xperia devices.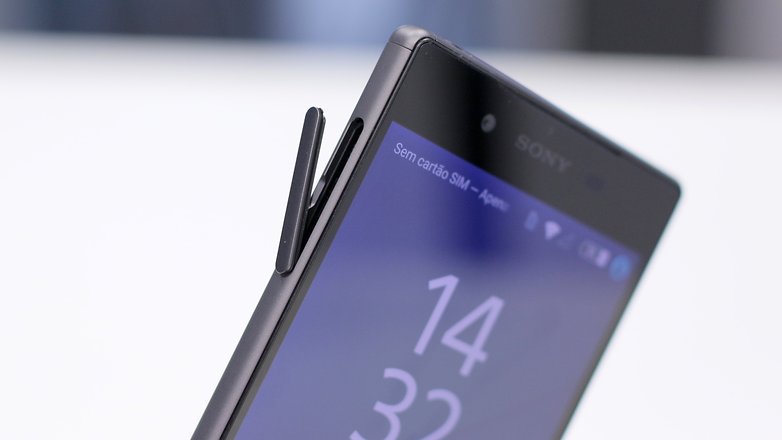 The Xperia Z5 measures 146 x 72 x 7.5 mm, but fits comfortably in your hand. The buttons for volume, camera shutter and power are all located on the right-hand side of the phone. The power button, which was circular on the Z3, is now pill-shaped, and also houses a fingerprint scanner.
The left-hand side of the device now has a stamped Xperia logo at the bottom and a flap at the top, under which you'll find the nano-SIM card slot. This slot also provides access for microSD card expansion (up to 200 GB).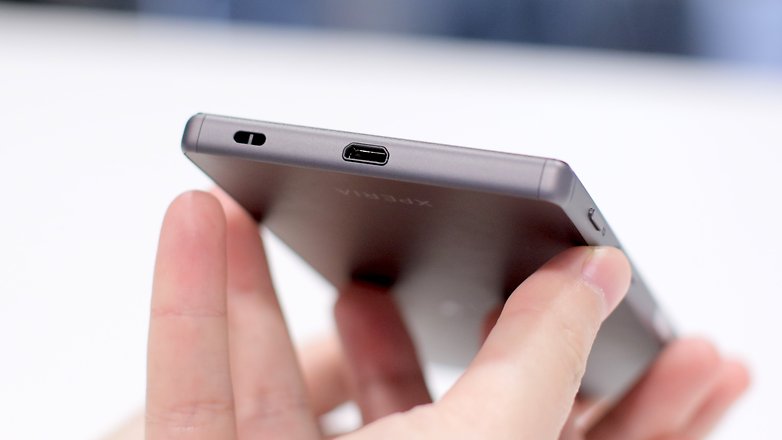 The top edge has a headphone port and a pinhole mic. The bottom features an uncovered USB 2.0 port and a small loop for attaching a lanyard. Considering the Z5's waterproof rating, it's a little surprising that there's only one water-resistant flap (older Xperia models had up to three), but Sony now treats its ports with a water-resistant coating to prevent short circuits, which is why the charging and headphone ports are uncovered.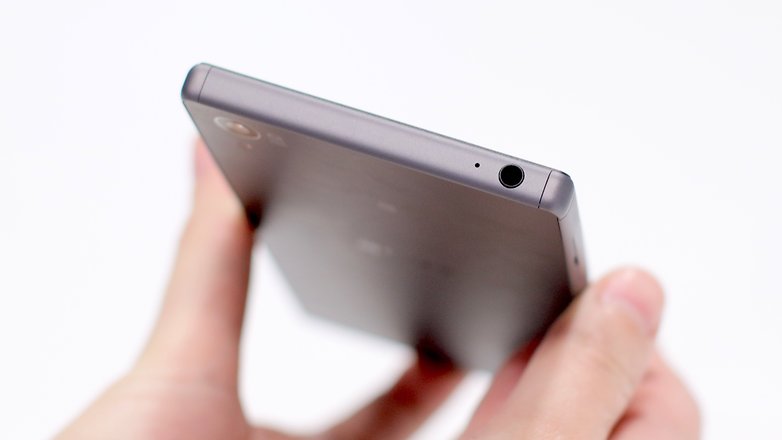 On the front of the Xperia Z5, there's a subtle Sony logo up the top, with a proximity sensor and the front-facing camera (with a 5.1 MP Sony Exmor sensor) on either side of it. The upper edge of the display glass features a barely discernible speaker cut-out. The Z5 has another speaker grill at the bottom of the display, providing stereo sound.
The layout on the back of the phone is the same as ever, with the 23 MP main camera in the top left-hand corner and a single LED flash beneath it.
Sony Xperia Z5 display
The Xperia Z5 display is a Full HD 5.2-inch IPS LCD with a pixel density of 428 pixels per inch. While the blacks are not as deep as those found on an OLED display, the Xperia Z5 handles dark colors very well and offers excellent viewing angles.
Using the brightness slider, you can turn the display brightness up high enough to operate the phone even in strong light, natural or otherwise. On the other end of the scale, you can drop the brightness low enough to comfortably read in bed at night without blinding yourself.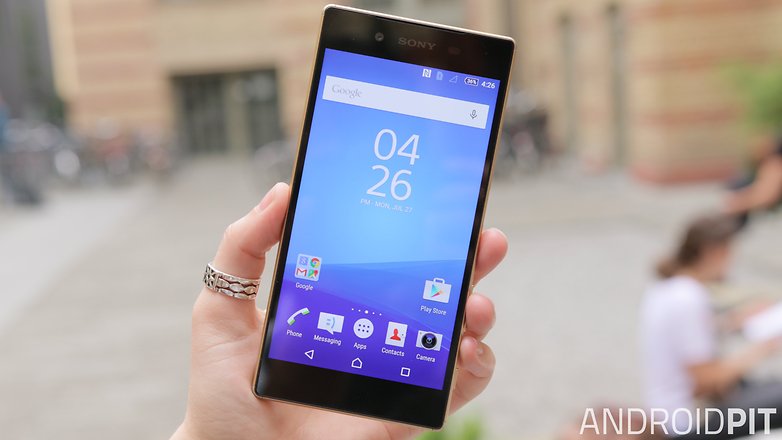 The Xperia Z5 display also excels in color reproduction and sharpness. It may not have the 4K chops of the Z5 Premium, but for Full HD resolution, the Z5 looks nice and crisp. There is a smart control option for managing the backlight and you can stop the phone from going to sleep while you're holding the phone.
There are also image enhancement options called X-Reality and Super-vivid mode, which are used for increasing sharpness and saturation when viewing photos and video. Glove Mode makes a comeback and you can also make use of the 'double tap to wake' function.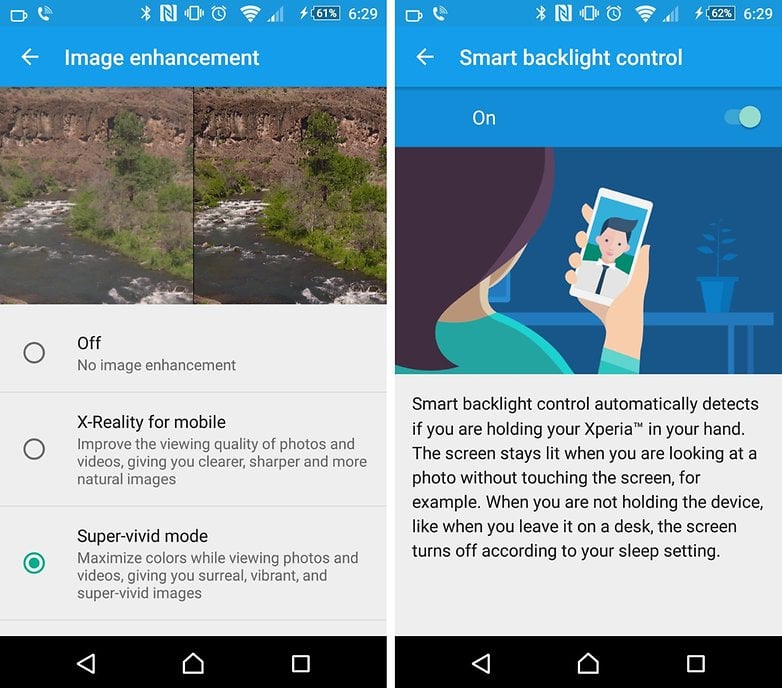 Sony Xperia Z5 special features
Fingerprint scanners may not be anything new, but Sony has really hit the nail on the head with the placement of its scanner. While Samsung continues to position the scanner in the home button on the front of the device, Sony's scanner is incorporated into the power button on the side of the device, which is a much more natural position for it.
The Z5 scanner reacts just as quickly and accurately as those in competitors such as the iPhone 6 or the Galaxy S6. You can assign up to 10 fingerprints to your profile and if, for some reason, the scanner is unable to recognize your fingerprint, you can always fall back on a PIN or password to unlock your device.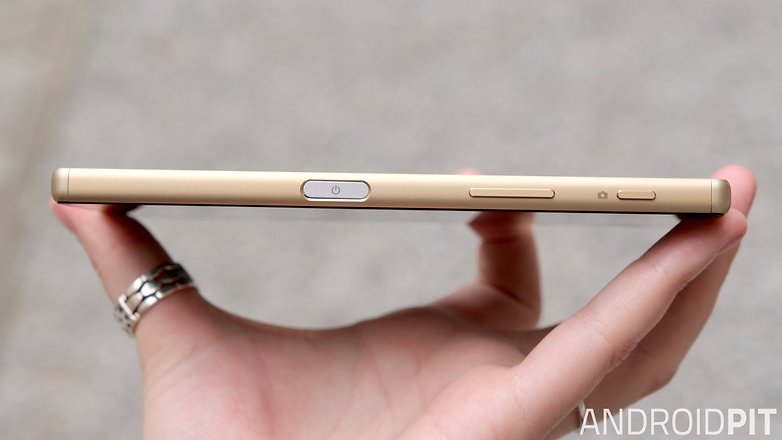 The main reason you might have issues with the scanner is related to the Xperia Z5's water-resistance. You don't need to ensure your phone is dry, but you do need to make sure your fingers are dry if you want the scanner to work properly.
Unfortunately, unlocking your phone is the only thing the scanner is used for at the moment (other than powering it on, of course). Sony hasn't tied the finger scanner to authentication of accounts or payments, but this could change when the Xperia Z5 gets the Android Marshmallow update, however, this could change.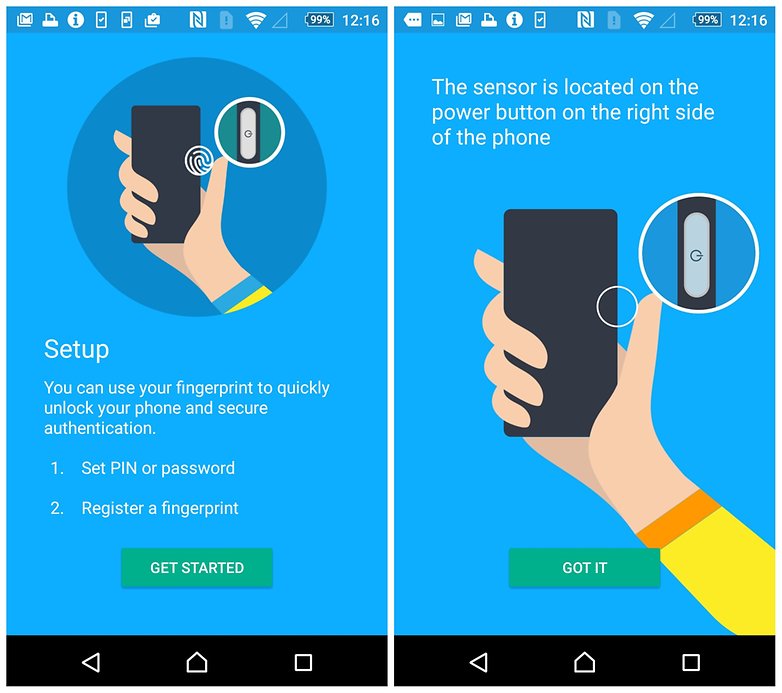 Sony Xperia Z5 software
Speaking of Android versions, the Xperia Z5 software is a new-look Xperia UI based on Android 5.1.1 Lollipop. This makeover has been a long time coming and the UI now looks a lot more like stock Android, especially in the in the notifications area and Quick Settings, although the main Settings area is still distinctly Sony.
It's a slightly strange mixture, but it's nice to see an updated look to Sony's interface regardless. This hopefully means that Android updates can be pushed out more quickly too.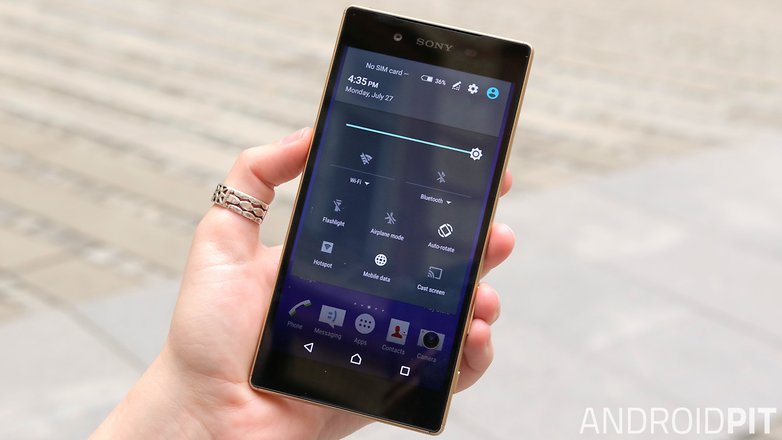 That said, Sony delivers timely Android updates for its Xperia devices for the most part. It is also very transparent about which devices are due to be updated and when, and is one of the companies promising regular security patches not tied down to major Android updates.
Once Sony pushes out Android 6.0 Marshmallow on the Xperia Z5, we'll update this review, but for now there's a fairly standard bunch of pre-installed apps. You'll get Sony's suite of Google alternatives for messaging, calling, contacts storage, camera, email, calendar and so on, but you'll also score Sony's excellent collection of entertainment focused apps.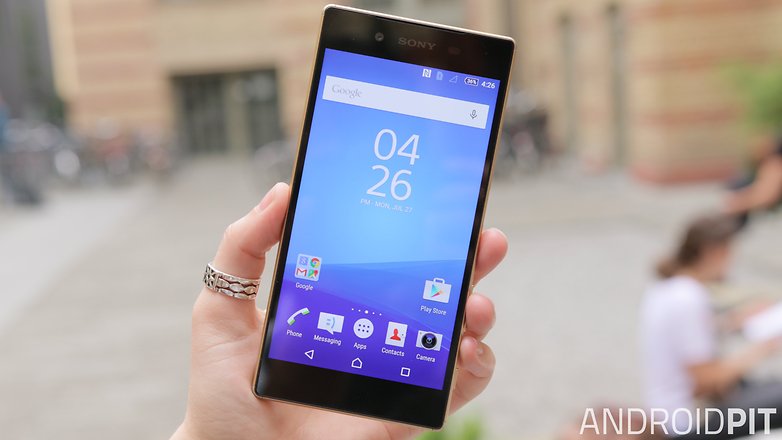 Sony's Music, Album and Video apps are great for multimedia consumption, but the most exciting thing is the Z5's PlayStation connectivity. You can remotely play games on your PS4 from your Z5, as well as purchase games on your phone to play immediately on your PS4. The PlayStation Network also offers music and video of its own and everything is synced automatically.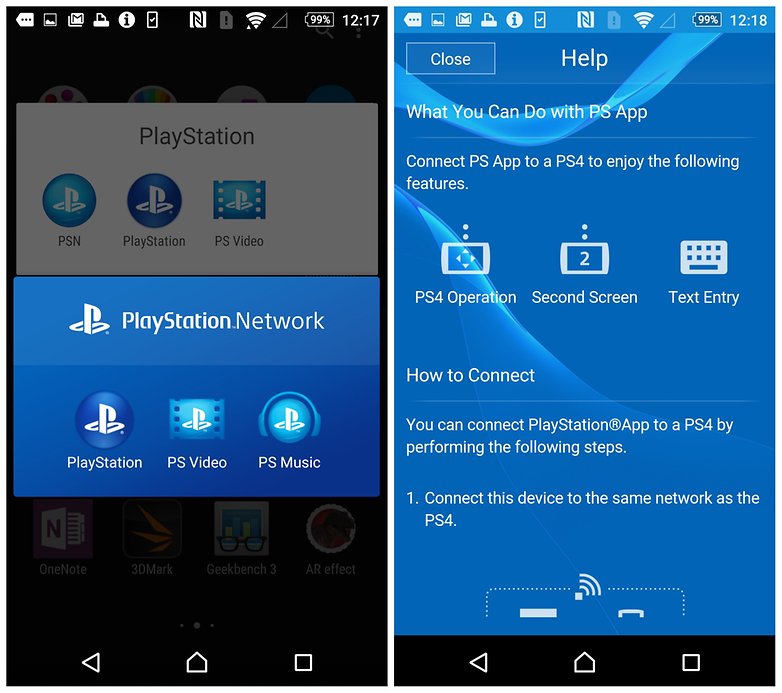 Sony's integration of multimedia is also very future-proof, as anyone thinking of picking up a Sony Android TV will attest to. Our phones will increasingly be used as a hub in our connected homes, and the lounge is beginning to play an bigger role.
Unfortunately, some of the pre-installed apps can not be uninstalled. So while you're unlikely to be fond of What's New, Movie Creator or Xperia Lounge, the best you can do is disable these apps you if don't want to use them.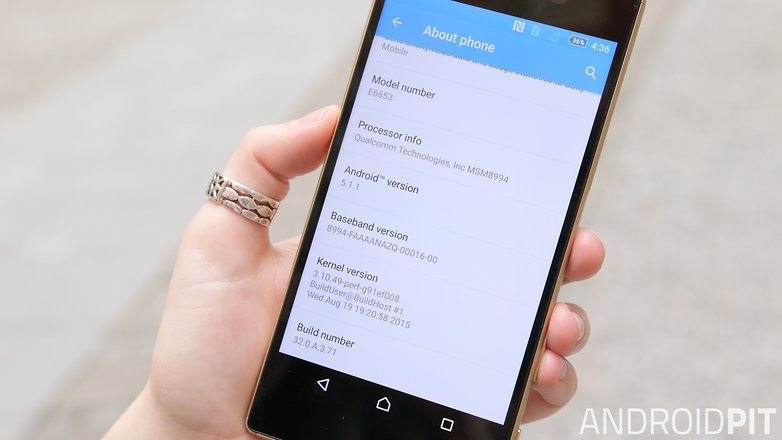 Sony Xperia Z5 performance
The power of the Xperia Z5 specs are slightly above comparably equipped smartphones, but slightly below the Galaxy S6, the current 'best in class' benchmark. Like many phones, the Xperia Z5 suffers from occasional stuttering during everyday use, mostly when launching apps, but nothing that will really affect your use of it.
The Xperia Z5 has a octa-core Qualcomm Snapdragon 810 (MSM8994) CPU with four low power cores clocked at 1.5 GHz and four high-performance cores clocked at 2 GHz. The 810 is a 64-bit chip with the Adreno 430 GPU built in alongside 3 GB of RAM.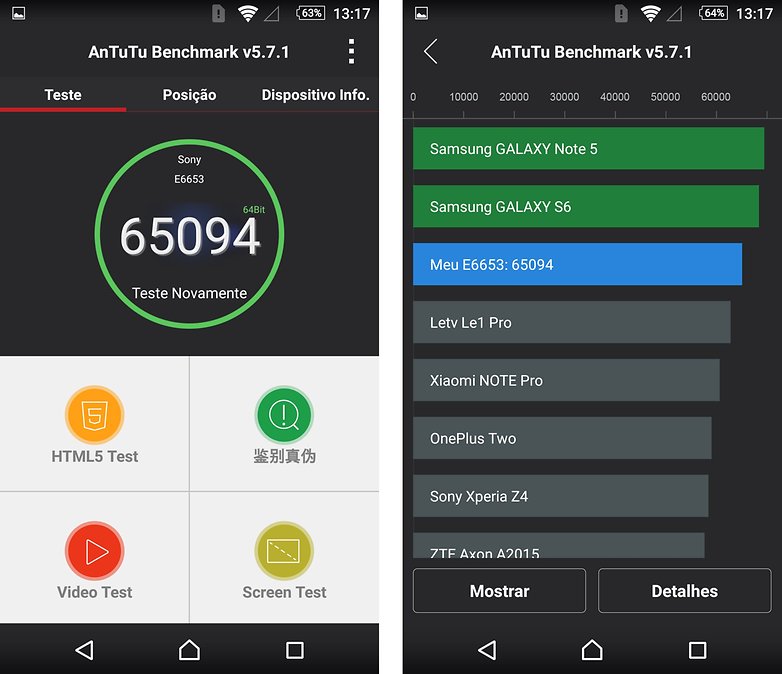 The Xperia Z5 is only offered in a 32 GB version, but that microSD card slot means you can beef up your internal storage for very little money. Android Marshmallow means external storage is treated much the same as internal storage (although it is less secure than flash memory), so once the update lands you can look forward to that.
If the Snapdragon 810 sounds familiar, that's because it is the same processor used disastrously in the Xperia Z3+. The good news is that Sony has taken care of the processor's overheating problem in the Z5, so it won't suffer the same fate as the Z3+.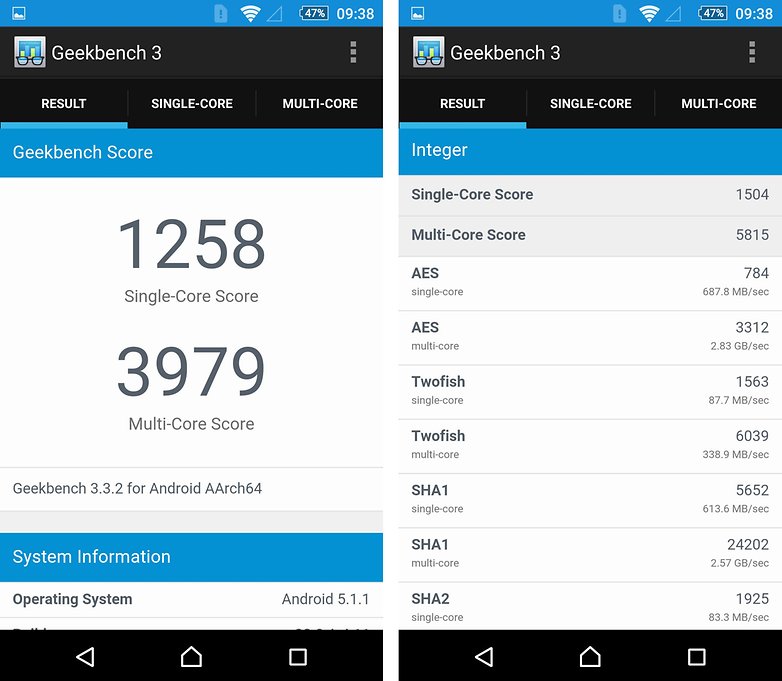 The bad news is that the first level solution was to underclock the CPU, making it slightly less powerful than it was designed to be. The other part of the solution is physical: Sony now includes heat dissipating copper pipes in the Xperia Z5 to help distribute heat. It's an interesting solution but it works very well.
When it comes to raw performance, the Xperia Z5 benchmarks at around seven percent below the scores posted by the Galaxy S6, which is currently the fastest Android smartphone on the market. In Geekbench and Vellamo, the difference grows to between 16 and 23 percent, but the Z5 scores better than any other phone with a Snapdragon 810.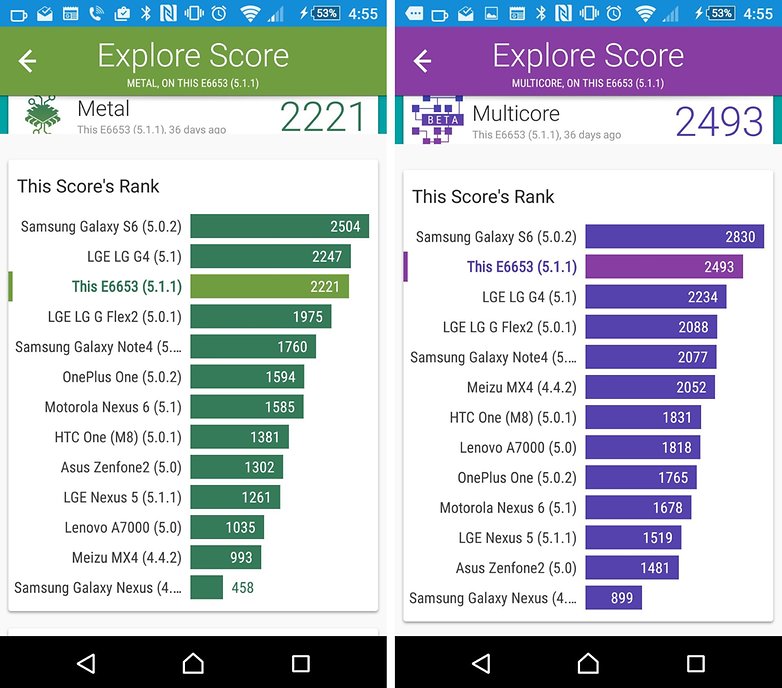 You don't have to compromise when gaming either. With scores like these, including GPU performance, it's unlikely you'll come across a game in the Play Store that will stutter or lag on the Xperia Z5. We certainly didn't encounter any during our Xperia Z5 review.
Sony Xperia Z5 audio
I've mixed feelings about the sound quality of the Xperia Z5. On the one hand, it comes with an excellent pair of headphones, and the phone has plenty of great audio tuning options on board. On the other hand, the built-in stereo speakers on our review unit have some issues.
Despite Sony's promises of improved audio quality, I wasn't knocked off my feet. When the volume is raised to above 70 percent, the vibration of the back of the device tends to take over. The volume on the Xperia Z5 has been significantly increased since its predecessor, but that isn't necessarily a good thing if the sound quality hasn't improved as well.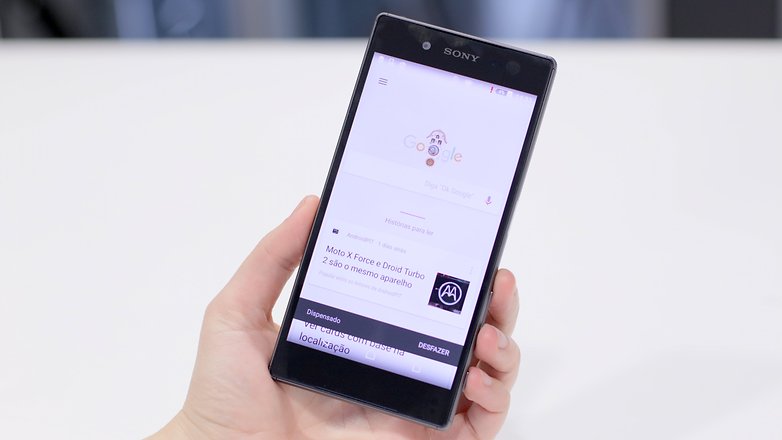 Sony has done very well with the microphones though, so call clarity is very good and you can always hear what's being said on the other end of the line. The included in-ear headphones are also very reasonable. A quick test with Audio Test Tone Generator shows audible sounds in the 8-16000 Hertz range.
The quality of the headset is good. Low, mid-range and high tones are nicely balanced. You can actually pick up these headphones for as little as US$14.15 on Amazon, so if you're in the market for some decent budget in-ear phones, check these out, with or without the Xperia Z5.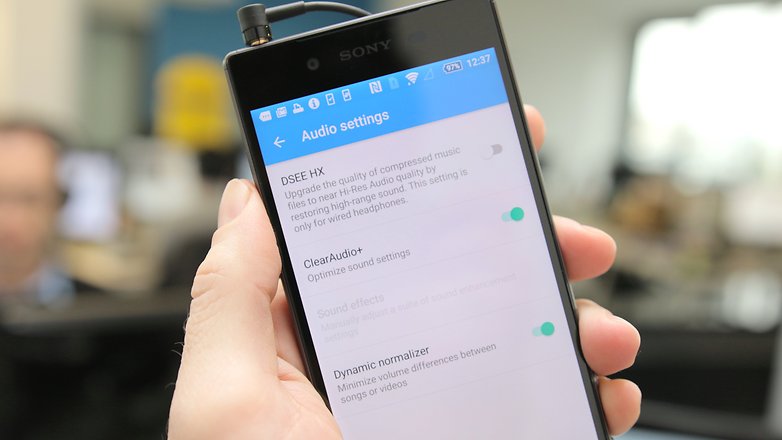 Sony Xperia Z5 camera
Sony has taken the cake with its 23 MP primary camera. The Xperia Z5 is currently at the top of our best Android smartphone camera list and renowned camera test site DxOMark has recently given the Xperia Z5 camera the top place in its mobiles ranking too, ousting the Galaxy S6 Edge, LG G4 and Nexus 6P.
Sony's new Exmor RS sensor has a super fast auto-focus speed of just 0.03 seconds. Still images have a resolution of 5,520 x 4,140 pixels and you can record 2,160-pixel video at 30 frames per second (fps). Slow motion video capture is 720p at 120 fps.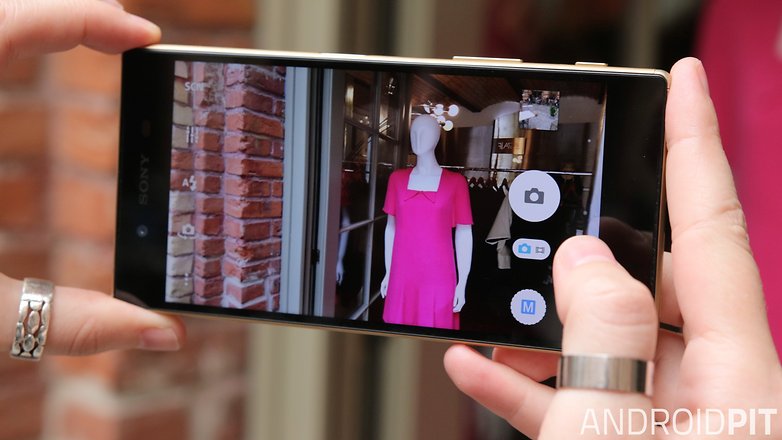 The camera has truly excellent auto-focus, at least as good as that found on any other top-tier smartphone. The camera sensor instantly detects moving images and adjusts the auto-focus automatically. Combine this with the insanely fast auto-focus speed and you're basically guaranteed in-focus images.
The quality of the captured photos is always dependent on the included software, but fortunately Sony has done a great job here as well. The camera software is very easy to use and performs well. Vibrations and hand movements are less noticeable in video thanks to the image stabilization.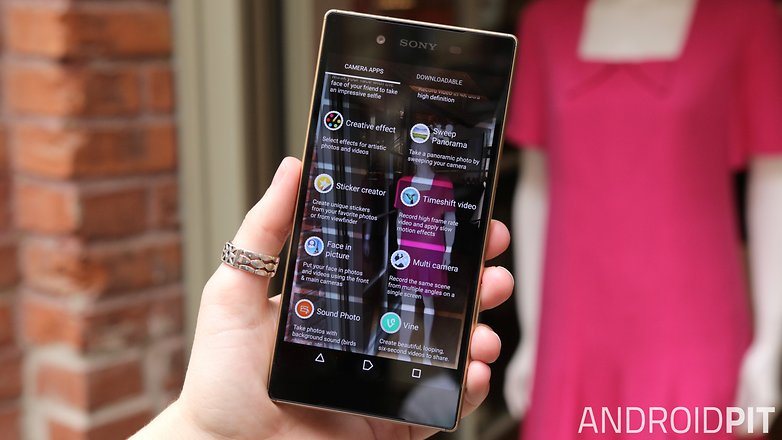 By default, still photos are taken at 8 MP resolution to allow you to make use of Sony's lossless zoom (which means you can zoom into any part of an over-sampled 8 MP image and still have sufficient pixels for a full-sized photo).
If you prefer to shoot at full resolution by default you can simply change your setting in the camera app and it will stay there. Personally, we prefer shooting at higher resolution and cropping the final image than oversampling at lower res. We also encountered the occasional post-processing problem as you'll see in the test photos below.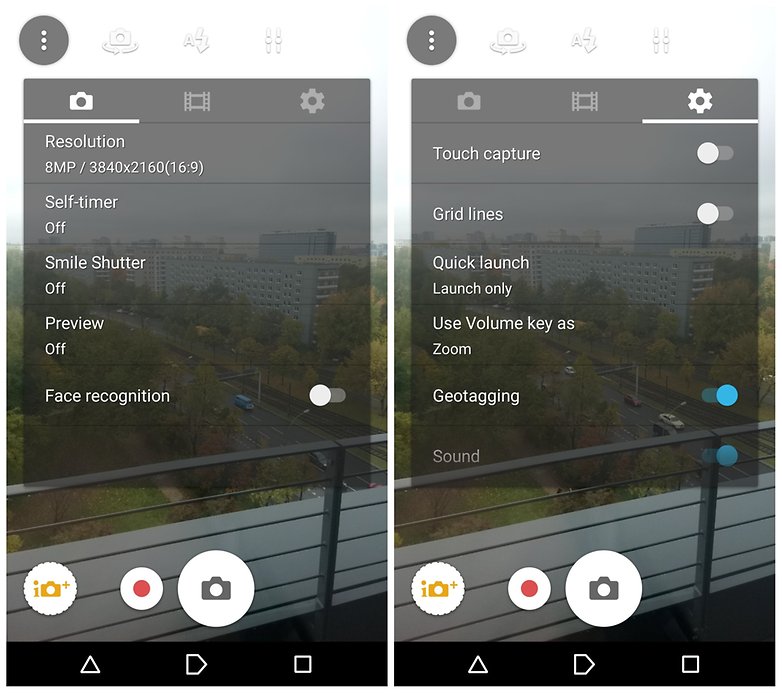 We asked Sony why it opted to use 8 MP as the default resolution. The response was that "you can permanently switch to 23 MP, but the default setting is 8 MP to enable lossless zoom – which in most cases is more important to the customer than full resolution".
One point to note is how non-user friendly the Sony camera app is for shooting video. In Superior Auto Mode you can't change video resolution. For that you have to switch to Manual Mode. But if you want to shoot video at full resolution you'll have to switch to a third mode: 4K Video.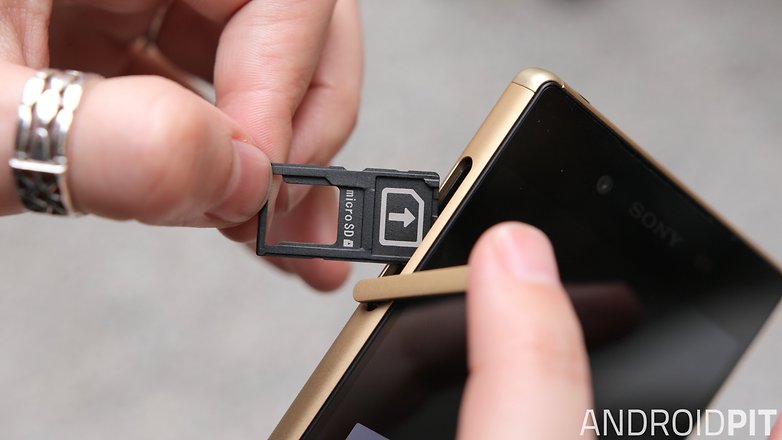 Sony Xperia Z5 battery
The battery life of the Xperia Z5 is above average and will last an entire day with moderate use. This is in keeping with Sony's typically good battery performance, despite the fact they shrunk the non-removable battery to 2,900 mAh (from 3,100 mAh in the Xperia Z3).
It's difficult to produce a standardized battery test for moderate us, so we've also run the AnTuTu battery benchmark test to give you a quantifiable score. AnTuTu combines intensive tasks, web-based content handling, 3D and multimedia.
The Xperia Z5, with full Wi-Fi connectivity, Bluetooth and NFC enabled (but no SIM card inserted), scored a decent 7,189 points, nearly identical to the Xperia Z3+. For comparison, the Xperia Z3 (in Airplane Mode, which still has Wi-Fi connectivity) posts a score of 8,400 points.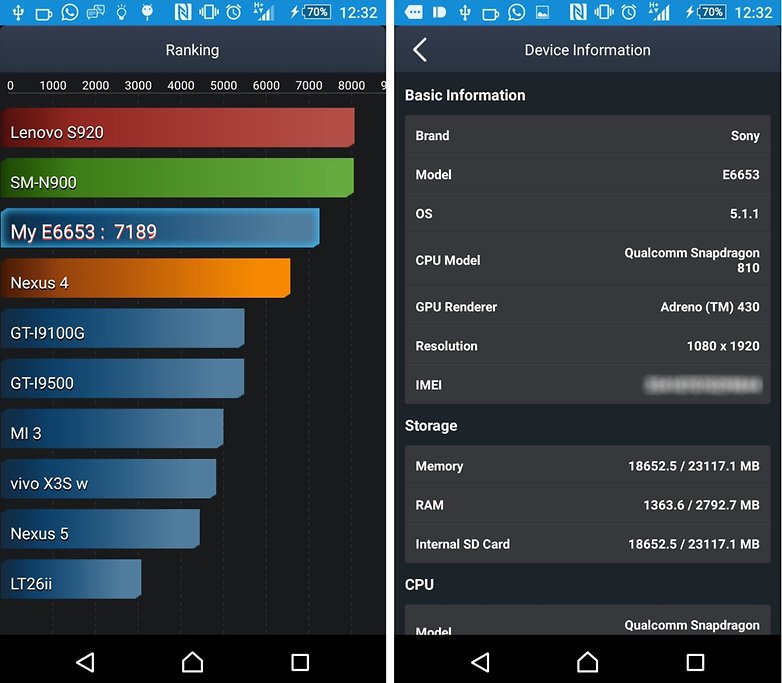 Energy-saving modes, including STAMINA Mode and Ultra-STAMINA Mode, where you can limit certain aspects of performance to prolong battery life, help the Xperia Z5 get you through a full weekend, but you'll need to greatly reduce the functionality of the device.
Using the STAMINA Modes on the Xperia Z5 will limit background processes, which can cause delays in the delivery of notifications, instant messages and email. Fortunately, you can fine tune the settings to keep selected apps running at full steam while halting others.
STAMINA Mode has an uncertain future. With the arrival of Android Marshmallow's stock Battery Saver and Doze Mode, manufacturer solutions might go the way of the dodo. Sony has always managed to improve on the core features of Android, so perhaps STAMINA will extend the battery benefits of Marshmallow even further.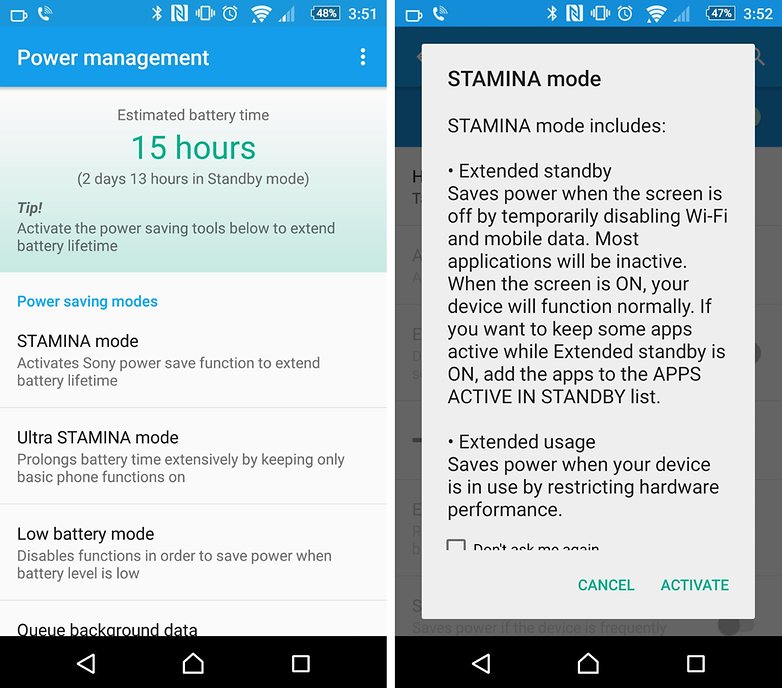 Sony Xperia Z5 technical specifications
| | |
| --- | --- |
| Dimensions: | 146 x 72 x 7.5 mm |
| Weight: | 157 g |
| Battery size: | 2900 mAh |
| Screen size: | 5.2 in |
| Display technology: | LCD |
| Screen: | 1920 x 1080 pixels (424 ppi) |
| Front camera: | 5.1 megapixels |
| Rear camera: | 23 megapixels |
| Flashlight: | LED |
| Android version: | 5.1.1 - Lollipop |
| User interface: | Xperia UI |
| RAM: | 3 GB |
| Internal storage: | 32 GB |
| Removable storage: | microSD |
| Chipset: | Qualcomm Snapdragon 810 |
| Number of cores: | 8 |
| Max. clock speed: | 2 GHz |
| Connectivity: | HSPA, LTE, NFC, Bluetooth 4.1 |
Final verdict
The Xperia Z5 is a great smartphone with great features. It has an excellent display, above-average battery life, competitive performance and the best camera on Android. It also looks great, even if it is slippery and it has a tendency to catch your hair in its corners.
The main problem is this phone should have come to the US months ago. With the failed Xperia Z3+ / Z4v not being released in the US as planned, Sony's US visibility has taken a huge hit. Should customers still consider the Xperia Z5?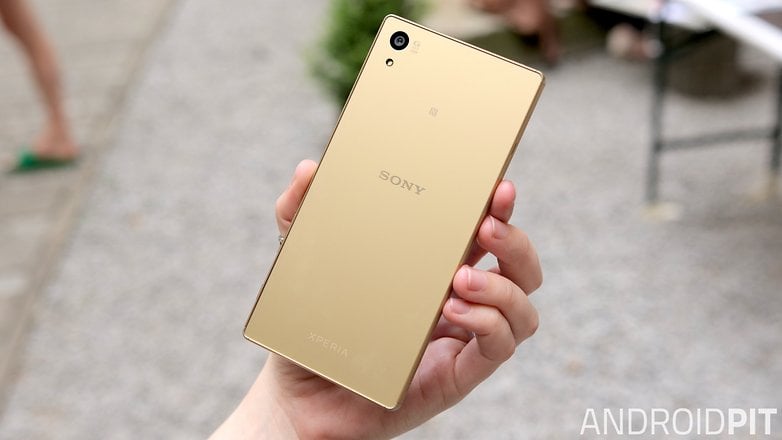 Probably not. Sony's answer to the Galaxy S6 has come too late, especially now that you can buy that phone for less than US$500 and the Galaxy S7, LG G5 and Xperia Z6 are just around the corner. Galaxy S7, LG G5 and Xperia Z6 are just around the corner.
As it stands, the Xperia Z5 is a solid all-round device that will arrive too close to the next generation of flagships to be worth buying.
That's our take, what's yours? Let us know in the comments.
This article has been updated since it was first published. Comments below may not reflect the current content.