Sony Xperia Z1 tested: small and thin is so yesterday
Authored by:
Deactivated Account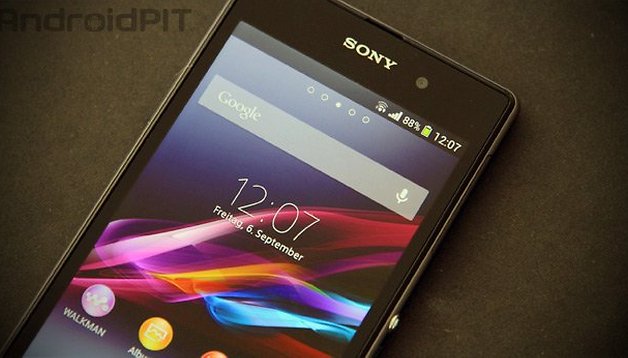 At this year's Xperia Z. Whether Sony has, within this short time, produced a worthy successor or whether it is only a luke warm improvement, will be show in my test review.
Good
Industrial design

Potent hardware

Dedicated camera button
Bad
Bigger and heavier than Xperia Z

Camera is only mediocre
Sony Xperia Z1 design and build quality
Currently, you can see the following trend in smartphones: the screens are getting bigger while appearing in increasingly compact housing. So the display is increased from the previous model, for example in the jump from the Galaxy S3 to the Galaxy S4: from 4.8 to 5 inches, but with smaller dimensions in the newer model. The LG G2, with its 5.2-inch screen is no larger than current smartphone models with smaller displays. Sony proposes here a distinctly different direction: while the Xperia Z1's screen size has not changed when compared to the Xperia Z, the entire smartphone is not only much larger but also slightly wider and heavier.

Looking purely at the size and thickness of the Xperia Z1 you have the feeling of looking at a previous model instead of the current generation of Sony's high-end sector. But that does not apply to the processing and material choice, because here Sony has improved its new flagship in important ways: the frame is made of a single piece of aluminum, giving the Z1 an industrial design look. The speakers have migrated from the lower right to the bottom and have also become larger. This makes for a more powerful and especially louder sound. And Sony improved upon two other flaws in the older model: the Xperia Z1 now has a physical camera shutter button and the headphone jack is now no longer covered by a protective flap, but is open. Nevertheless, according to Sony, it is still waterproof.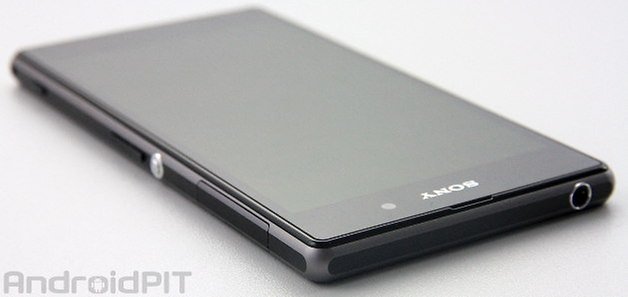 Not so nice, however, is the placement of the notification LED. This is now embedded behind the speaker on the top edge of the case and is not as bright or strong as the Xperia Z. Notifications can thus be easily overlooked.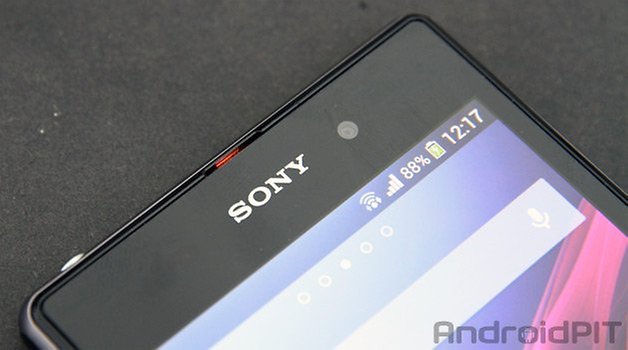 All in all, Sony has, with the Xperia Z1, again done a great job with manufacturing and showed us once again that they know their craft and can produce high-quality, premium smartphones. As for the size, it is unfortunate they couldn't make the newer model smaller than the Xperia Z. Here, Sony has clearly taken a step backwards.
Sony Xperia Z1 display
The Sony Xperia Z1 has a 5-inch display with Full HD resolution just like the Sony Xperia Z (1,920 x 1,080 pixels). The screen size is, however, slightly increased: instead of 12.7 centimeters, the Xperia Z1 comes in at 13 centimeters. This provides for a reduction in pixel density from 443 to 441 pixels per inch (ppi). The image is worse, but not by much. In direct comparison, the screen of the Xperia Z1 is not quite as bright as the Xperia Z, but the color is more genuine. My Xperia Z has a slight yellow tinge, this does not occur in the Z1. There's not much difference between the screens, though, and both deliver roughly the same picture.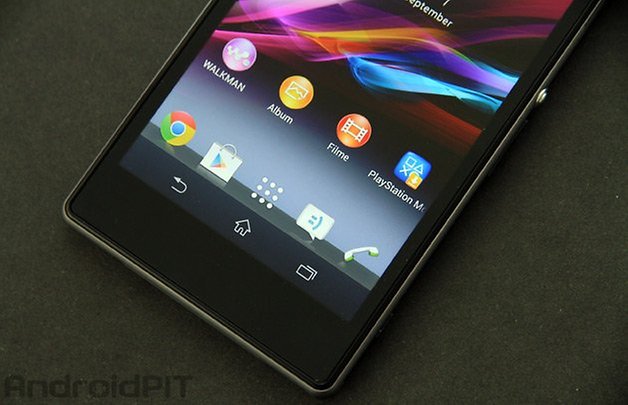 Sony Xperia Z1 software
The Xperia Z1 runs Android 4.2.2 with Sony's Xperia user interface. Compared to the Xperia Z though, Sony has done a few new things. The user interface is no longer dark, and now features bright colors. This is most clearly seen in the Android settings. Where a black background sat before, the Xperia Z1 now shows a white background. And the notification and navigation bar in apps is no longer black, but a light gray. Apart from this though, the functionality is nearly identical to the Xperia Z or the Xperia Z Ultra. There are differences in the camera app, but I will get into that one separately later on.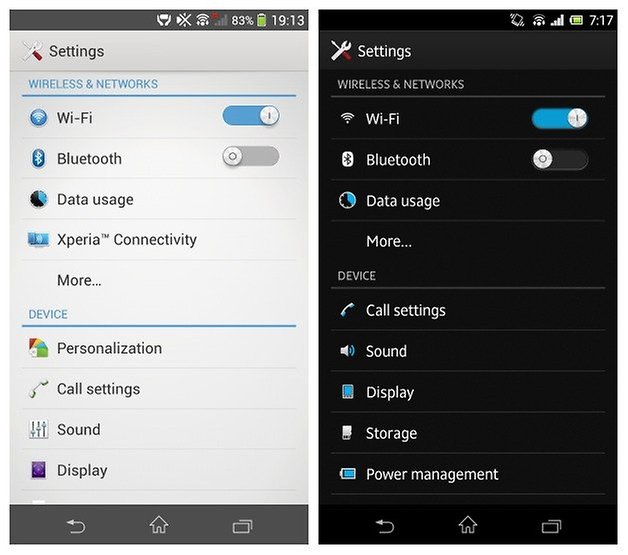 Sony Xperia Z1 performance
The Xperia Z1 hosts a Qualcomm Snapdragon 800, a potent quad-core processor with a clock speed of 2.2 GHz. This gives you smooth operation through and through. Whether you are just scrolling around the apps or home screen, in menus or games like Real Racing 3 or Dead Trigger: annoying dropouts or pauses do not exist and the general system operation is once again more fluid than the Xperia Z.
Sony Xperia Z1 camera
Johannes has already produced a detailed comparison of the Xperia Z1's camera up against some contemporaries, but during my brief testing of the 20.7-megapixel camera with Exmor RS sensor I got some pretty patchy pictures. In the default "Superior Auto" mode with autofocus, the result was very mixed. A direct comparison with the Xperia Z had the older model performing even better than the new Z1. My experiences are consistent with the conclusion of Johannes, namely that Sony build good cameras, but it can not reproduce this properly in smartphones. But see for yourself: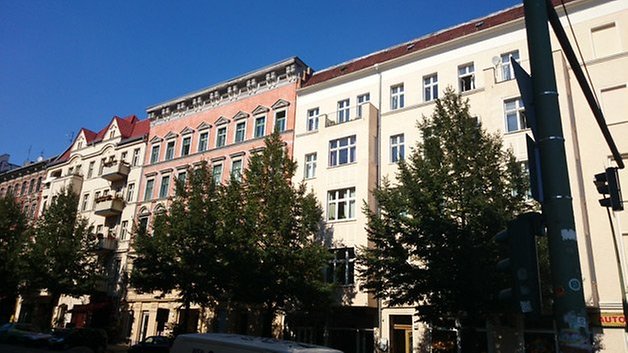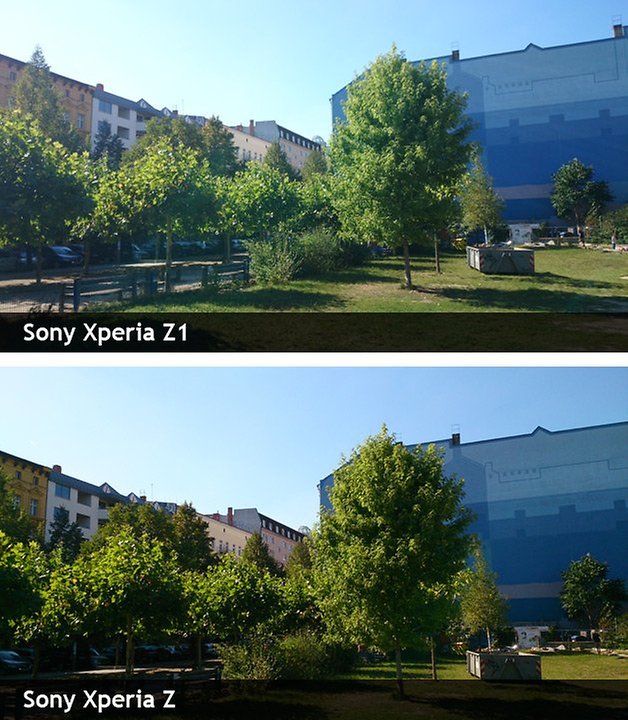 Sony Xperia Z1 battery
With 3,000 mAh of battery, the Sony Xperia Z is extremely lush and in my short test, I can attest to the solid battery life of the Sony smartphone. When I took the Sony Xperia Z1 out last night with 51 percent, I used it quite a bit, played several games and surfed the internet, and the battery was still over 10 percent this morning. It was virtually continuous operation, which is not bad at all in my opinion. As for concrete statements on run time, I can't really say based on such a short test period but as soon as I've tested it for longer I'll let you know!
Sony Xperia Z1 technical specifications
The hardware in the Xperia Z1 is first class. The processor and graphics chip are Champions League stuff and the display is very convincing, despite my reservations, thanks to its Full HD resolution and good colors. The battery is also lavishly equipped, so there should be no reason to complain here. The Xperia Z1 may have premium hardware but it will also have a premium price. There's no official pricing for US carriers just yet, but we'll update you as it becomes available, along with its specific release date.
Final verdict
With the Xperia Z1, Sony delivers a strong and high-quality smartphone where many of the criticisms of its predecessor were eradicated. Only the camera is worse than it could have been. Both Samsung and LG have installed better lenses on their new devices. As an owner of an Xperia Z, currently thinking about an upgrade...in my opinion I would rather wait for the sequel to the Z1, because as an upgrade, Sony's newest flagship simply doesn't offer enough unique features to justify a new purchase. But everyone else can get purchase happy without hesitation.