Sony speaker LF-S50G review: a real rival to Google Home?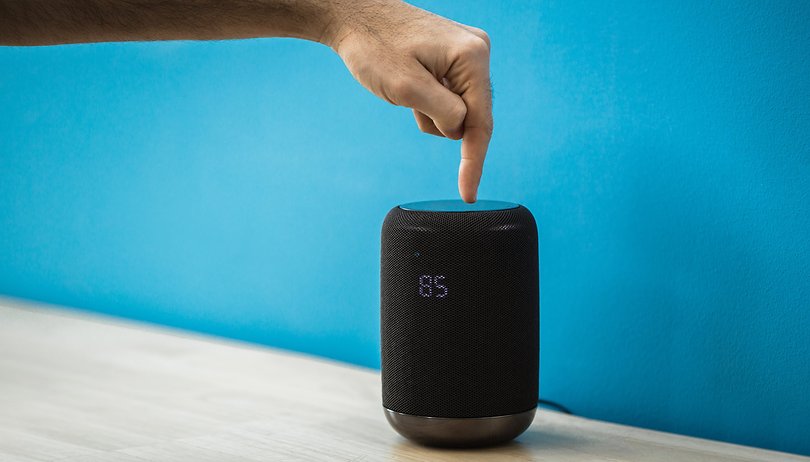 You may try to resist but smart speakers will conquer your home. Sony is placing a serious bet to fill every corner of your home with music, especially places where there are usually liquids. The Sony LF-S50G is a 360º speaker with all the power of Google Assistant and some aces up its sleeve.
Good
360º sounds with good volume

Versatile voice recognition

Compatible with Google Home

IPX3 (splashproof)

Bluetooth pairing with NFC

Clock
Bad
Gesture control needs to improve

Sound could be better
Sony LF-S50G design and build quality
This smart speaker has a very elegant design. At the top we can see the logo of the brand flanked by two holes where the microphones are located. The body is covered with a mesh fabric that gives it a very soft texture but it does stick in your hands. The base is quite thin with reflections and has non-slip rubber underneath.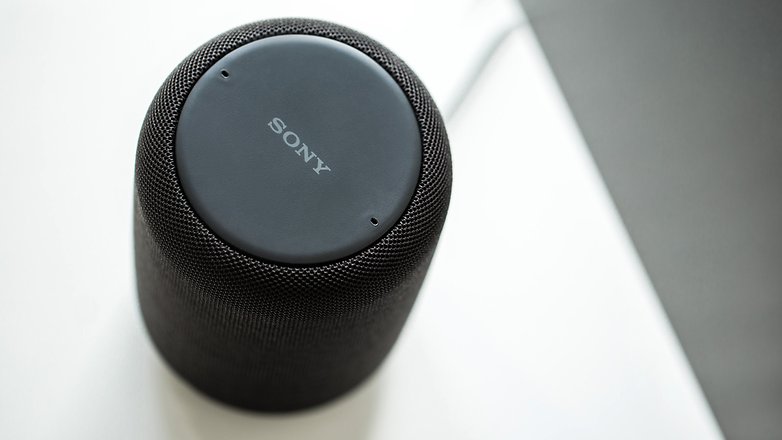 On the top back of the screen is an NFC symbol to help pair the device via Bluetooth. Near where the power cable connects we have a button to deactivate the microphones and another to pair manually via Bluetooth.
In terms of size, it's slightly more compact than the original Google Home and smaller than the Sonos One. I also really like that it has a digital clock on the front.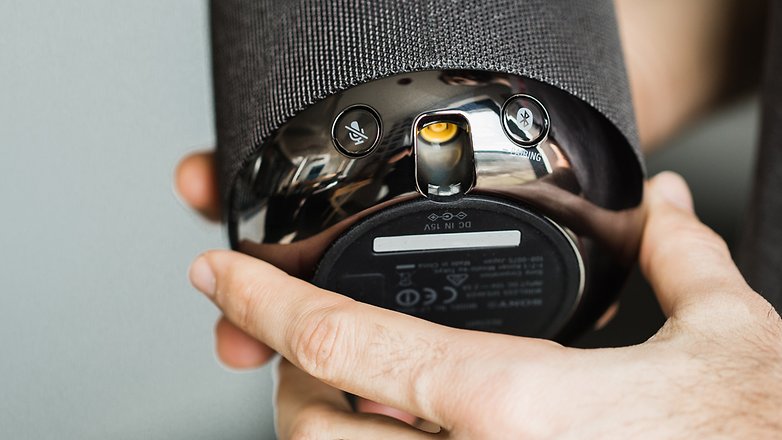 The device is splash resistant with an IPX3 certificate, but be careful: if you get any liquid directly on it, you may have problems. The cover can be removed to wash the area with fabric without danger of affecting the electronic components.
360º sound that surpasses the original Google Home
Sound is output from two speakers: a 48mm speaker and a 2.09 inch subwoofer. The quality is very decent and much better than the original Google Home, but it lags behind Sonos One, which is bigger and has more speakers. In order to project the sound in all directions, the speakers are vertically oriented and the sound is distributed by means of conical heat sinks. It also has a bass enhancement system with reflection technology. What is most surprising about the Sony LF-S50G is the high volume it can offer.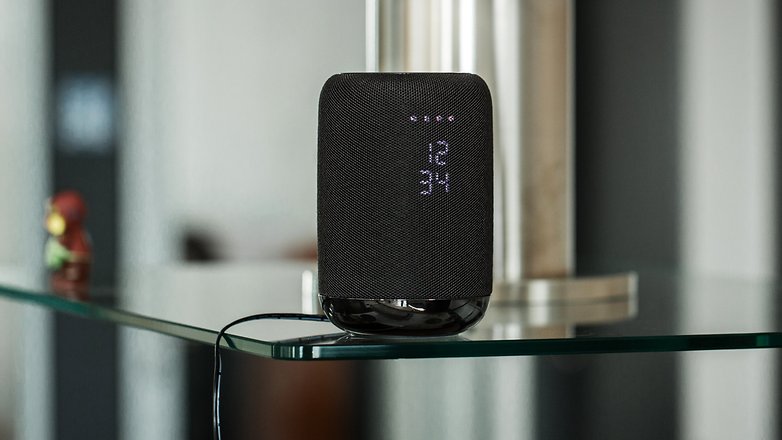 Speech recognition is spectacular. You can set it to recognize other people's commands or only those coming from your own voice. In either case the recognition is very good, unless the volume of the device is so high that it cannot hear us. The answers are also very quick, which is to be welcomed.
All the power of Google Assistant and more
To configure it we only need to have the Google Home application installed on our smartphone. This allows you to associate your device with a Google Account to use Google Assistant with. From the Google Home application we can adjust different parameters of the device.
For example, we have a night mode to reduce the volume of responses, adjust the volume of alarms, manage paired devices, enable voice recognition for other people and choose the default devices to cast, if we have more in the same room.
Making it compatible with Google Home also means that you can control other compatible devices and the Sony speaker from them, if they allow it. You can also cast from other music applications or podcasts, even if they're not recognized by the Google Home application.
If our favorite application does not support Chromecast or we simply want to play music or audio from a device that is not connected to our Google Home account, we can use Bluetooth for life. To connect a Bluetooth device we have two options: via NFC on the back of the speaker or press the Bluetooth pairing button at the bottom next to the power cord. Once paired with a device we can send music and control the volume from the smartphone.
Very futuristic gesture control
In addition to being able to control the Sony LF-S50G by voice commands from Google Assistant, it also has a number of gestures available without the need to touch the device. If you want to skip to the next song, just move your hand over the device to the right, listen to the previous song to the left again, pause or resume playback backwards, and ask Google Assistant a question forwards. These four gestures usually work quite well.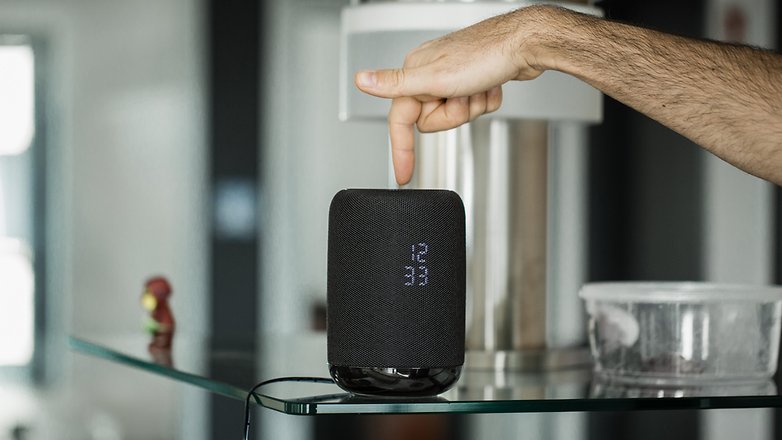 You can also control the volume by moving your finger in a circle over the speaker, clockwise to increase and counterclockwise to decrease. This gesture is more difficult to control, sometimes it is difficult to recognize and it is difficult to adjust exactly to a certain volume level.
Final verdict
The Sony LF-S50G speaker is a great alternative to the traditional Google Home. It has better sound quality and is somewhat more versatile. The Bluetooth connection works quite well and opens the field to more devices that have nothing to do with our Google Account, such as friend's smartphones. Splashproof certified and your watch is perfect for the kitchen or bathroom, a great companion for singing in the shower or while you're cooking. It has a lot of volume to sound good about all the noisy activities that take place in this area of the house.
Its starting price is about $200, which is a bit high for the sound quality it offers compared to the Sonos One. However, if it is on sale it is a good opportunity to take Google Assistant to some corner of your home.