Samsung Gear 360 review: a camera that satisfies?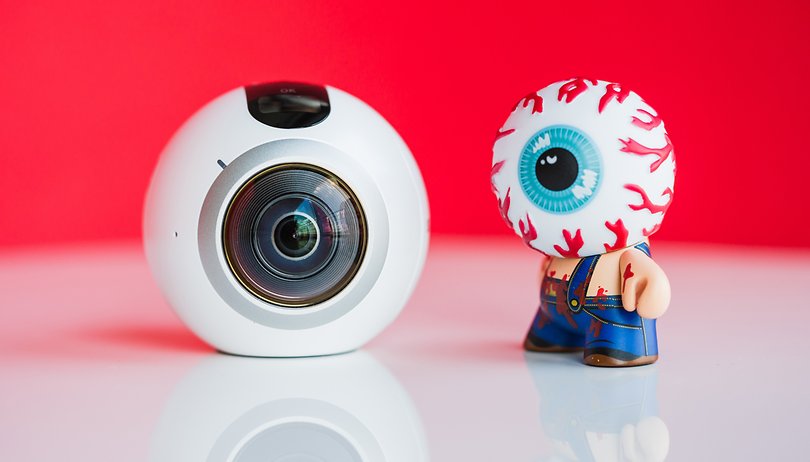 The possibility of creating 360-degree photos is, for owners of a virtual reality headset, an exciting thing. With Samsung's Gear 360, this possibility has become a reality. In this Samsung Gear 360 review, we answer the question of whether this camera meets expectations and can capture beautiful holiday memories.
Good
Very good image quality

Captures the atmosphere of an environment
Bad
Parts of images can look awkward

Unwieldy to transport

Only compatible with a few Samsung smartphones
Samsung Gear 360 release date and price
The Samsung Gear 360 costs about $350 and will be "available soon" for US customers in Samsung's online store. The camera will also be sold at other stores, but a date as to when is currently unknown.
Samsung Gear 360 design and build quality
The Gear 360 is a small ball that has a diameter of about 6 cm. A foldable mini tripod stand acts as a handle. It doesn't really fit as a pocket camera, so transportation is somewhat unwieldy.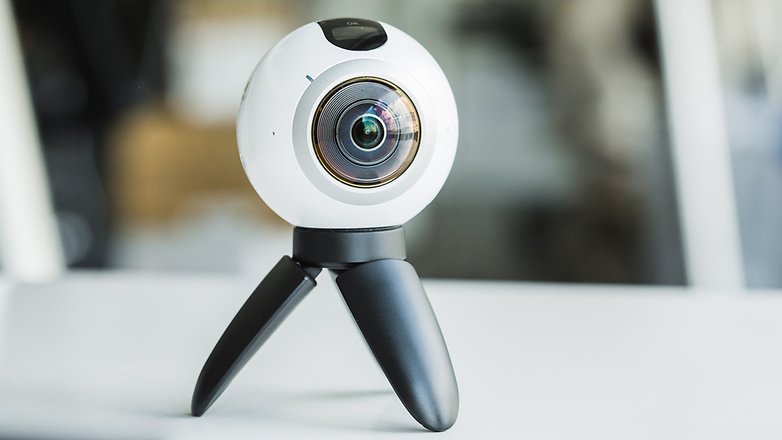 The Gear 360 is fairly robust. Regarding water spray and dust, this device is only protected with an IP53 rating, so the camera should be able to at least withstand a rainstorm. It's no action camera with this IP standard. And the 360-degree underwater panorama that you always wanted to shoot will remain wishful thinking with the Gear 360.
Try to avoid scratches on the glass front of the lens as they'll be clearly visible in pictures. Make use of that protective bag that comes with the Gear 360.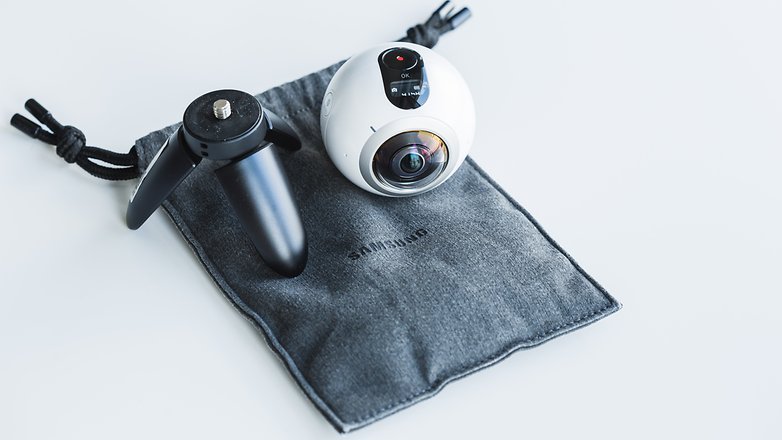 Using the Gear 360 with a tripod
The included mini tripod is used - as already mentioned - also as a handle. With this, the Gear 360 stands quite low, which is not necessarily ideal for some photos because the ground is overemphasized. Fortunately, there is a solution: the Gear 360 has a tripod socket.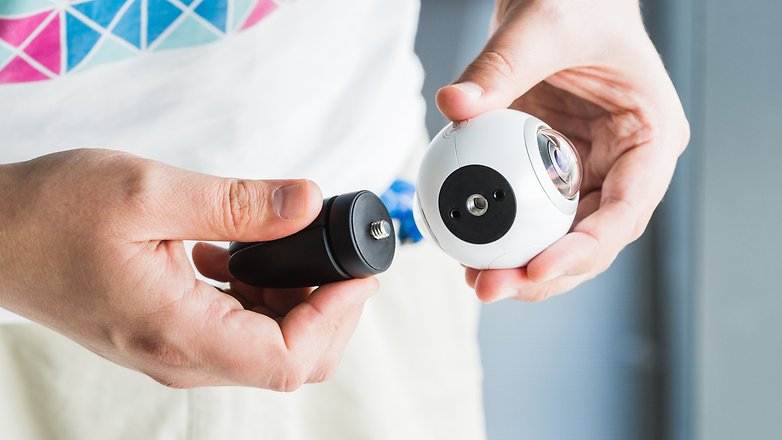 You can use other conventional tripods and monopods with the 360. In my testing, the solution proved to be a compact tripod. This brought with it the advantage that I could, on the one hand, hold the camera to a reasonable height (approximately 1.4m) and on the other hand, I could mount the camera as well.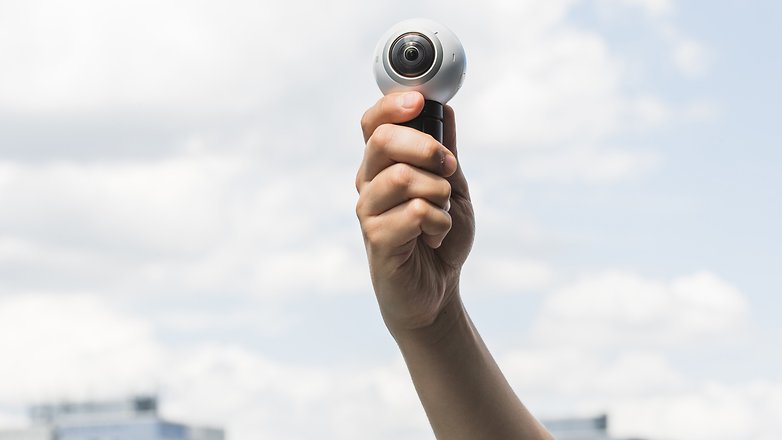 Samsung Gear 360 display
The camera has a small display that shows the current mode. Regarding the Menu button, the camera can also be operated without a connected smartphone. The main modes are directly selectable: photo, video and timelapse. The video loop function shoots videos but only around 30 minutes in length before deleting the oldest footage to extend clip length. So the point of this mode is not so obvious.
Samsung Gear 360 software
Whether photos or videos are more your thing, the Gear 360 isn't really a snapshot machine. The reason is that triggering the shutter release starts a two-second countdown. This is necessary because otherwise it is not possible to keep the camera upright or to get at a reasonable distance from it.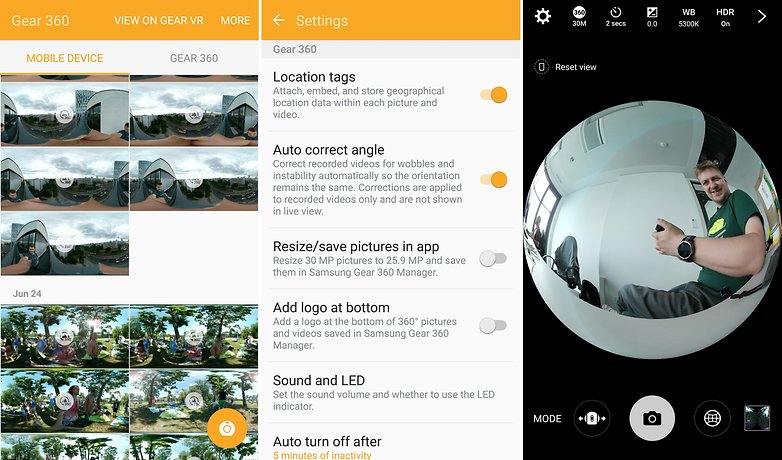 Camera management software is called Gear 360 Manager and is available from the Play Store. But note that it's only available for the Samsung Galaxy S6 and S7 and their Edge versions.
Once photos are imported, there's a missing feature. Image files can not be transferred to the memory card using 'homemade' apps. Even the Galaxy S7, with 32 GB of memory (only 24 GB of it is available), can quickly hit storage problems. However, the images can be moved with a file manager to the memory card - the Gear 360 Manager will recognize the photos. It's a shame that this process isn't easier.
Samsung Gear 360 camera
The Gear 360 snaps pictures with two lenses at a resolution of approximately 15 MP, with the originals having a strong fish-eye lens look. When running the camera with a cell phone, images are converted to an equirectangular format. These images have a resolution of 7,200 x 3,600 pixels.
The picture quality is very good, but there are some areas of the image that do not come off quite as good. This applies, for example, to a picture in which deciduous trees can be seen about 50m away: Their leaves are pretty washed out. Given the extremely small focal length of the lens, this is probably just the technical limit of the hardware.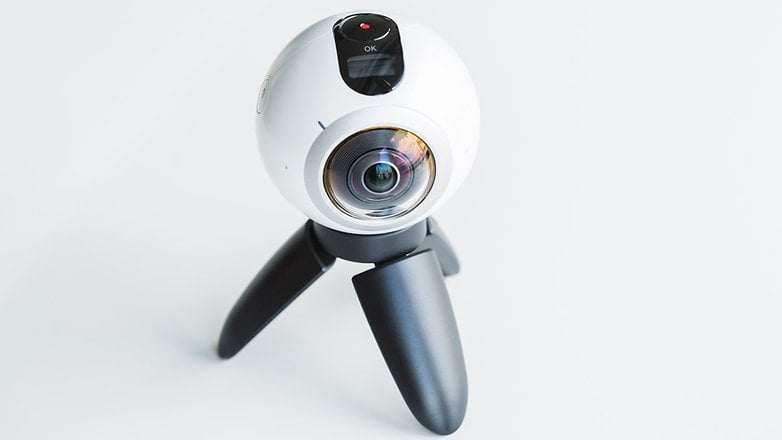 Photos are only half the battle as the Gear 360 can also record videos. Here, the maximum resolution is 3,840 x 1,920 pixels, with the camera shooting 30 frames per second (fps). Whoever wants to take fast action video can set the mode at 60 fps, with resolution dropping to 2,560 x 1,280 pixels.
The image quality of videos is fine, but the fine detail is not so high. Fast movements of a ball, for example, aren't so clearly visible with a typical 30 fps recording. The 60 fps mode is better but lower resolution leads to a poorer image.
There are hardly are errors during stitching of panoramic shots. However, the closer to the camera an object is, the more errors can be seen. At a distance of a few meters, hardly any stitching errors can be discerned.
Viewing 360-degree images
Special software needs to be used to view 360-degree images; either with the Gear 360 Manager, but also Facebook, Google Photos and even normal web pages with a Javascript plugin. Without VR goggles you can use a smartphone display to select segments.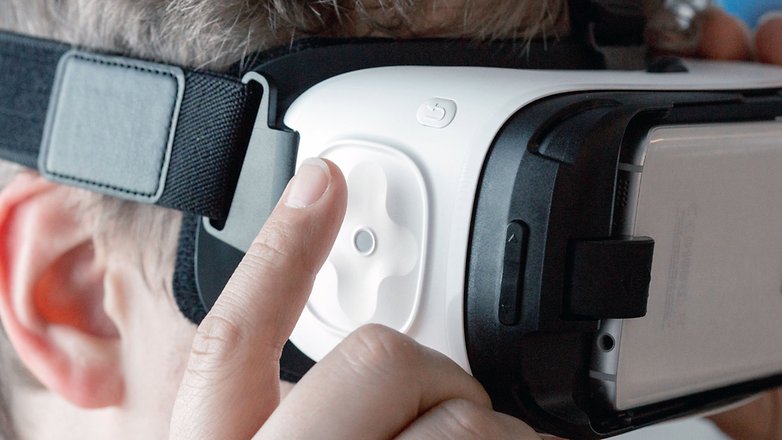 If you want to view images only with Gear VR glasses you might run into problems. That's simply because it's not so ergonomic to display this kind of content the Gear VR. The Gear 360 Manager sometimes inexplicably stops displaying the Gear VR button, without which you can't really make use of Samsung's VR headset.
The Oculus app starts automatically when the phone is inserted into the VR goggles. Now things get a bit crazy: Oculus Photo and Video apps can't do anything with Gear 360 shots. The photo app does not even display self-made content that the video app could also play. But there's really a different problem: it detects 360-degree video only if stated with the filename _360 - which the Gear 360 Manager does automatically.
So you have to change the filename manually. Feasible, but cumbersome and not very intuitive. But even then, the video app content doesn't play, but rather shows only a still picture. Whether a _playback in filenames remedy would have worked here, I wasn't able to try myself.
Alternatively, in the Oculus Store, there is at least a VR Gallery app from Samsung. This is not exactly convenient, but at least displays images and videos.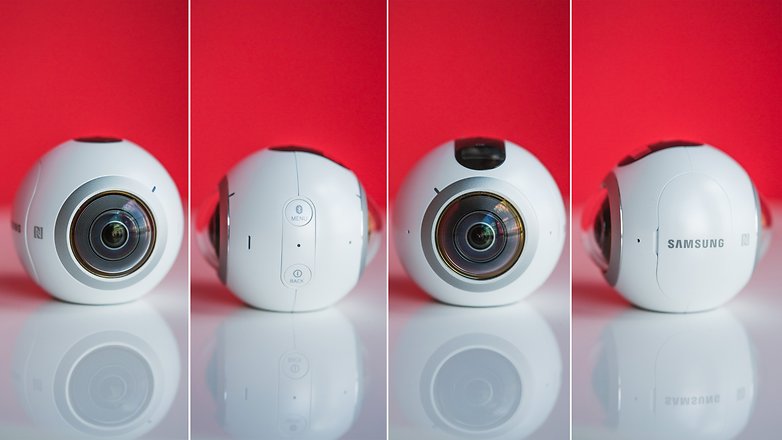 Even worse is if you would like to share images with others Gear VR owners. Facebook is the only convenient alternative if you do not want to transfer files via cloud storage. The route via Facebook has the decisive disadvantage that the images are re-compressed - meaning quality suffers significantly. In addition, you have to (more or less) publish the images.
Why not Google photos or YouTube then? Google Photos is actually the best way because you can simply use a link to access to the original images. But other Gear VR owners can not easily see the photo albums because the Photos app is only Cardboard supported. On YouTube, the same problem exists. This service only lets you (currently) use the Samsung Gear VR with a browser.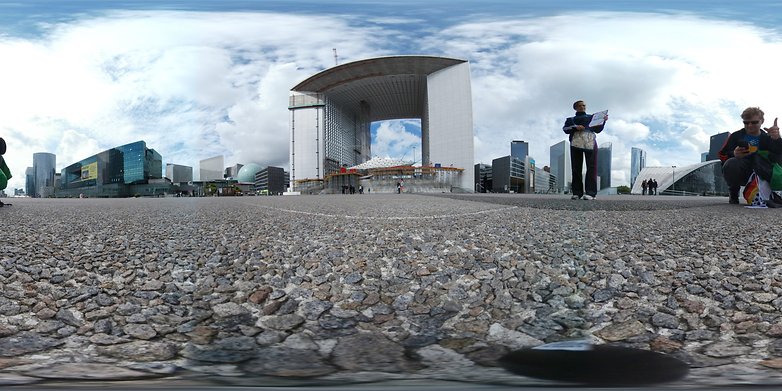 Atmosphere vs. image quality: 360-degree images and the Gear VR
Now, the Gear VR worked a treat as my photos were stored on my Galaxy S7. Regarding the VR glasses, images were impressive because the view is roughly life-size. The Gear 360 captures, in combination with VR glasses, the atmosphere of a place wonderfully. Also, video recordings are impressive, although not quite as detailed as photos. However, there are two things that are not ideal:
The actual resolution of the captured images is quite high, but the Gear VR has only the Galaxy S7 as a display medium and its pixel density is not sufficient to display a highly detailed panorama.
The focus of a 360-degree recording is not infinite. So there is a problem that only a specific image area is in focus - outside this range, depth of field suffers visibly.
A better VR platform could potentially deliver a better result in terms of image quality because the recordings of the Gear 360 have elements that simply don't compute with the Gear VR combined with a Galaxy S7.
In our Google Photos album, you can check out some of the 360-degree photos we made:
Samsung Gear 360 battery
Particularly exciting with such a camera is, of course, the question of how long it runs on a single charge. In my tests, I was not completely happy with the battery life. A busy day with lots of 360 photos and videos drained the camera quickly. For longer video sessions, the camera warmed noticeably.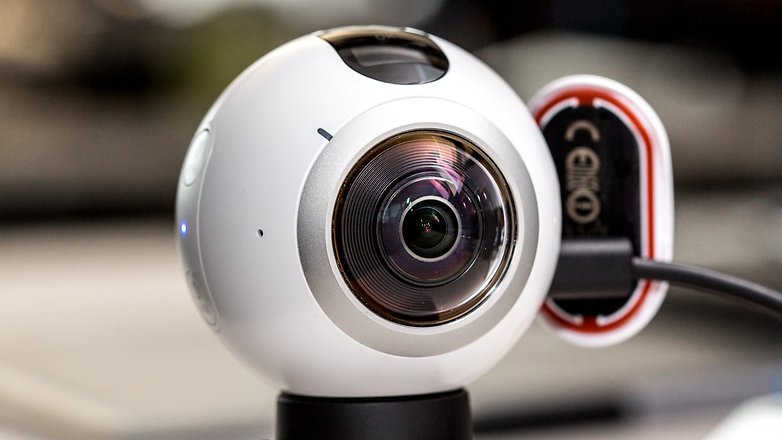 However, there are two good things to note: charging can be done with a classic microUSB connector, so a power bank is therefore enough to charge it. The second: the battery is replaceable. You mightn't be able to buy a second battery right now but, after all, it's good that the possibility is there.
Samsung Gear 360 technical specifications
Final verdict
For maximum quality of vacation memories, this camera is not so suitable in light of the extremely wide-angle lenses of Gear 360. For many, a smartphone or reflex camera would be better simply because there mightn't be a suitable 360-degree panorama during your holiday.
But for capturing them, this camera preserves the atmosphere of a place wonderfully, especially since it takes only two seconds to shoot a 360-degree photo and not several minutes as with a smartphone. Your motives to use a Gear 360 will simply be different.
A dramatic point deduction must go to the Gear 360 for the challenges of viewing 360-degree images. But sharing the images is where the real problems begin. Other friends with the Gear VR will hardly enjoy the recordings, except perhaps on Facebook, because image quality is significantly worse. Here Samsung should offer better solutions.
It all depends on your expectations of the Gear 360. But for many of us, the Gear 360 is not yet the perfect all-round photographic solution.