Samsung Galaxy S7 vs iPhone 6S comparison
Update:

Thoughts after two months with the S7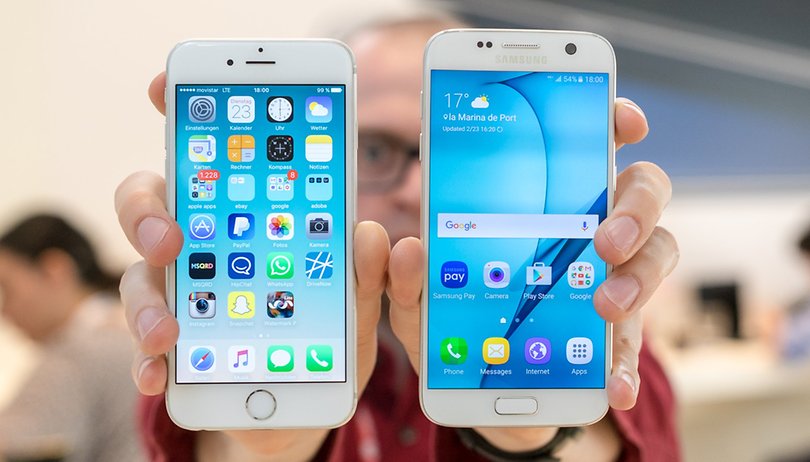 Head-to-head battles don't come any fiercer than between Apple and Samsung flagships. These manufacturers tussle every year to produce the highest quality smartphone on the market. Who is winning so far in 2016? Find out below in our iPhone 6S vs Galaxy S7 comparison.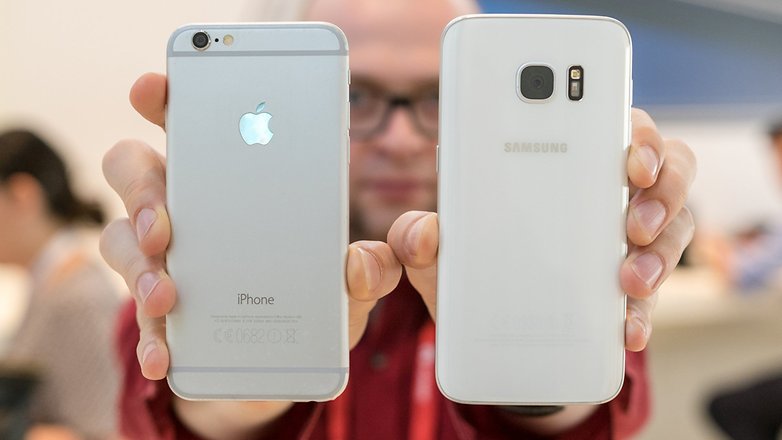 Galaxy S7 vs iPhone 6S: Design
The iPhone 6S carried very few changes in its visual design over the iPhone 6, which is standard practice for Apple when it comes to its S models. The 6S plays it cool and abides by Apple's by now overly familiar design for the iPhones, which is great if you're into it.
The Galaxy S6 marked a turning point for Samsung. Moving away from plastic towards glass, and metal made the S6 sail like the true flagship it was sized-up to be and made it easily comparable to an iPhone. This move is the first in a number of ways in which Samsung is constantly chasing Apple's tail; Samsung seems to take pleasure in snatching Apple's ideas and putting them into play six months or a year down the line.
There's very little to choose between these two sleek glass and aluminum machines
With the S7, Samsung seems as keen as Apple to stick to a tried-and-true formula. The device's design mimics the S6 almost exactly, except for curved edges on the rear of the device leading into the frame, which is a welcome addition.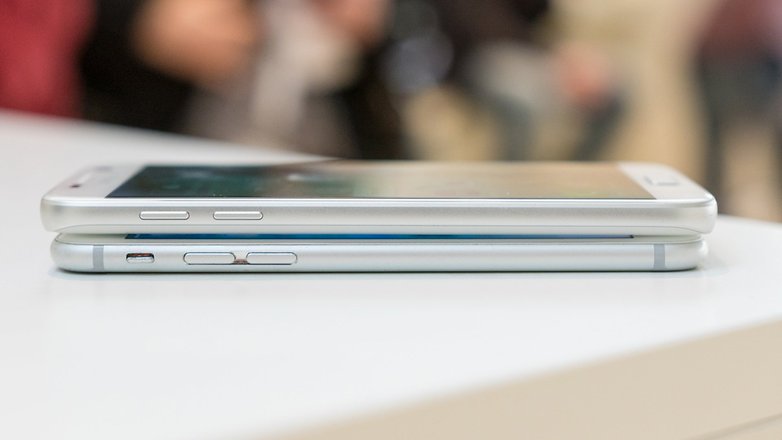 Ultimately, there's very little to choose between these two sleek glass and aluminum machines. The S7 is the best a Samsung phone has ever looked and actually the best it has ever felt. And for my money, its curved back pushes it slightly ahead of the iPhone in aesthetics.
Galaxy S7 vs iPhone 6S: Display
Samsung takes its displays seriously, and the S7 (like the S6), packs 1,440 x 2,560 pixels into its 5.1-inch display. The iPhone 6S' screen, on the other hand, measures in at 4.7 inches and 750 x 1,334 pixels. This results in 576 pixels-per-inch on the S7 against 326 on the iPhone 6S. There's no arguing with those numbers.
But the fact that the iPhone 6S has both a smaller display and fewer pixels to light means a reduction in power consumption and a boost in performance speeds. So the question is: are the absurd figures that Samsung keeps building on year after year really necessary?
Having used both devices for a while, it's clear that the extra pixels on Samsung's device don't count for much most of the time. The iPhone 6S screen is sharp and vivid and the pixels never visible. Its (LED-backlit) IPS LCD display is also fractionally brighter than Samsung's Super AMOLED screen.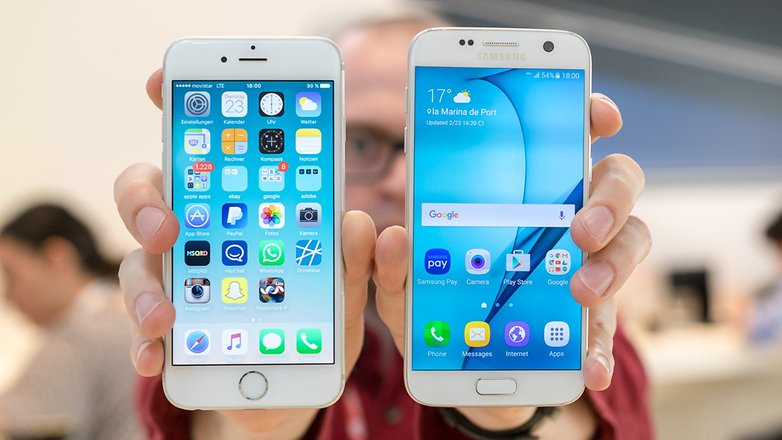 Where the Galaxy S7 pulls ahead is when viewing 1080p or QHD media. While the latter is still fairly rare, Full HD media content is becoming more common and side by side comparisons show the S7 is superior in definition (though you have to be fairly close to the handset to appreciate it).
One of the iPhone 6S' defining features is its 3D Touch technology, which allows users a greater variety of options by sensing the pressure with which the screen is pressed. This was rumored to appear on the S7, but, ultimately, it failed to materialize. Despite this, it adds little to the iPhone 6S in terms of user-experience and nothing from a visual standpoint.
With all of that in mind, which display is best? It depends on what your needs are but I forgive those who say the iPhone 6S display looks better, despite its 'low resolution'. Pixel-number isn't everything to great displays because they're only taken advantage of in some scenarios.
Both devices have brilliant, highly saturated displays and their major differences – pixel resolution and 3D Touch technology – don't really count for much in the end.
Galaxy S7 vs iPhone 6S: Software
The Galaxy S7 runs Android 6.0 Marshmallow out of the box. The latest Android OS is a relatively minor step up from Lollipop, but it does come carrying Doze, which increases battery life, something the S6 struggled with. And Google Now on Tap, which, if you actually use it, can be incredibly useful.
Samsung includes its own TouchWiz user interface pasted over stock Android. To many, myself included, this is a cumbersome and unnecessary addition and worth subtracting theoretical points over, but it has to be said that the latest version is the leanest yet from Samsung.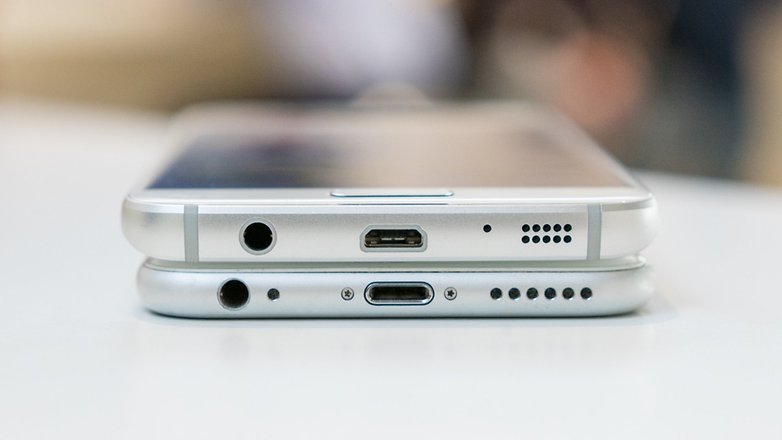 The iPhone 6S was launched with iOS 9, bringing with it improved minimalist graphics, but otherwise, it too was a small upgrade from iOS 8. Siri was improved and can now handle things like calendars and third-party apps better, but Google Now is making greater strides and seems the more able assistant.
There's little room to argue that iOS is a superbly orchestrated OS, and if you're looking for a clean and rewarding user experience, it's difficult to beat. But it does mean things are more closed off and there's less room for customization.
For a more detailed look at these two operating systems, take a few minutes to peruse our Android Marshmallow vs iOS comparison.
Galaxy S7 vs iPhone 6S: Performance
With the 6S, Apple finally made the RAM leap and doubled it to 2 GB. What's impressive is that Apple was capable of running its OS on 1 GB of RAM for so long. Android devices have been packing in more and more RAM for a while now, with 3 and 4 GB breeds a normal sight on Android safaris today.
The fact that Apple has only now had to add an extra gigabyte speaks volumes for how well iOS is optimized; RAM management and multi-tasking functions on the iPhone are par excellence.
The Galaxy S7 continues Samsung's run of producing the most powerful phones on the market
This RAM boost, coupled with a new A9 dual-core processor, makes the iPhone 6S a powerful beast, and, as iOS is so well optimized, the device is one smooth runner.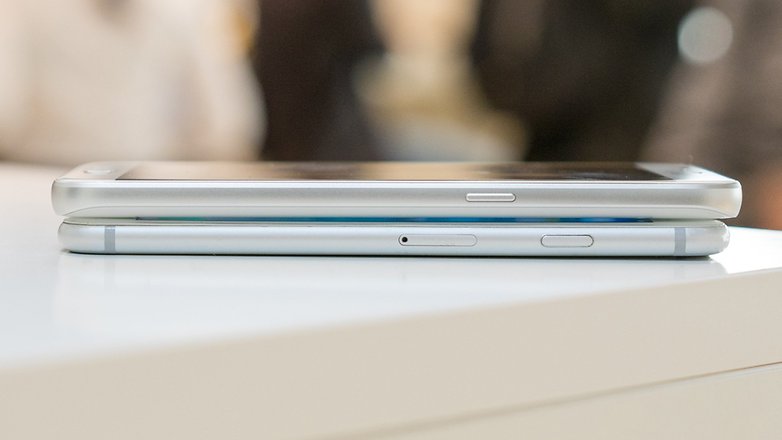 The Galaxy S7 continues Samsung's run of producing the most powerful phones on the market. Whether you end up with a model powered by the new Snapdragon 820 or Samsung's own Exynos 8890 processor, both manufactured by Samsung, the S7 is a powerhouse.
There are many YouTube videos dedicated to speed tests of these devices. However, precise speed is hard to measure and dependent on many factors. The experience differs from user to user.
Apple's iOS software is built with its iPhones in mind, Android, of course, isn't designed by Samsung. What happens when you add Samsung's interface onto the Google product is that, despite it having more RAM and more processor cores, Samsung's device can't keep up in most scenarios.
People argue time and again that Samsung's QHD display – the higher pixel count – is the reason, but this is irrelevant. Simple device operation will often require more time with the Samsung Galaxy S7. I conducted similar tests to what is found in the video above with similar results. The iPhone 6S wins this one, folks.
Samsung Galaxy S7 vs iPhone 6S comparison: Specs
Samsung Galaxy S7 vs. Apple iPhone 6s technical specifications
| | Samsung Galaxy S7 | Apple iPhone 6s |
| --- | --- | --- |
Galaxy S7 vs iPhone 6S: Camera
While the camera on the S7 is dropped from the 16 MP seen on the Galaxy S6 down to 12 MP, the overall image quality improved. This is thanks to an increased sensor size coupled with the adoption of dual-photodiode technology, which allows for better focusing and images in low-light.
The iPhone 6S also packs a 12 MP snapper, but it lacks the dual-photodiode tech and doesn't have optical image stabilization, either.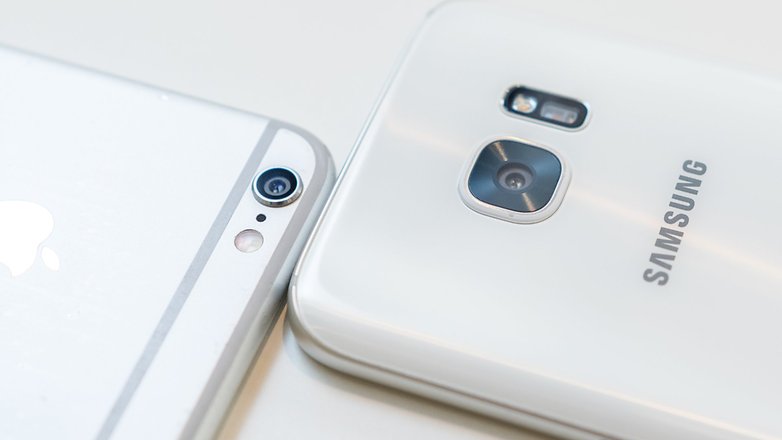 The Galaxy S6 camera has an f / 1.9 maximum aperture, compared with the iPhone 6S' f / 2.2. This is a considerable difference, resulting in the Galaxy S6's camera being capable of letting in two-thirds more light than the iPhone's. The S7 ups the ante further, with an f / 1.7 aperture.
The lens captures 56 percent more light than the S6's camera, and it's one of the most impressive Android smartphone cameras to date. Check out our Galaxy S7 snaps here.
Apple also included a new feature on the iPhone 6S called Live Photos, which, is kind of cool, but quickly forgettable. It takes 1.5 seconds of video either side of a photo you take, which can then be watched, as though the photo has briefly come to life.
While the iPhone 6S has a top class camera, Samsung probably just squeezes Apple out on this one.
Galaxy S7 vs iPhone 6S: Battery
Neither the iPhone nor the Galaxy S series is lauded for its battery life. If batteries weren't so dull, I'd describe the situation as shocking, but, in reality, it's a mild inconvenience.
The iPhone 6S even came with a decrease in battery size, down to a measly 1,715 mAh. The reduction was likely due to Apple wanting to squeeze in new features, such as 3D Touch, but when its job is to provide juice to one of the most powerful phones on the market, the results aren't pleasant.
The iPhone 6S has a 1,715 mAh capacity battery: it's hard not to shake your head at that number
Having said that, as mentioned earlier, the iPhone 6S comes with a smaller screen and lower pixel density than the Galaxy S7, leading to a comparative reduction in power consumption. Couple this with iOS's streamlined functionality and Apple is capable of squeezing more out of fewer mAhs.
But 1,715 mAh. It's hard not to shake your head at that number.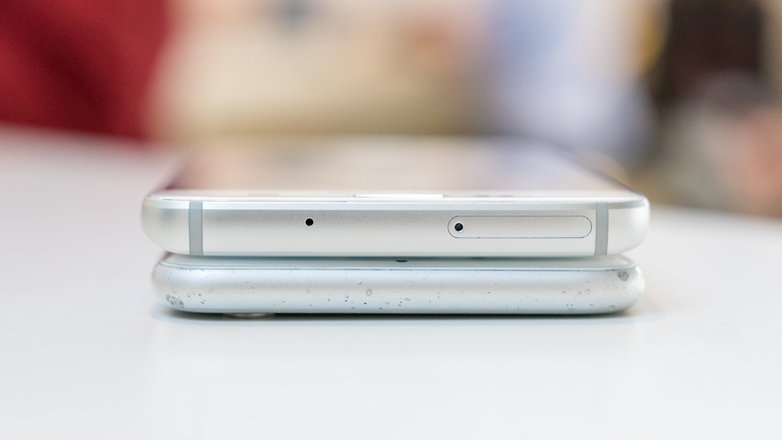 The S7, on the other hand, receives a welcome bump in battery size, taking it up to 3,000 mAh. Along with Marshmallow's Doze feature and a more economic processor, this increase means the S7 is one of the better battery performers currently on Android.
I had my reservations about how the specs would match the real world performance with these two handsets, but they're closer than I imagined. Like I outlined in the performance section, Apple's software optimizations and, what is very good work by their developers as far as I'm concerned, led me to believe the standby times would be higher than its 1,715 mAh cell suggested.
It is higher, but Samsung's Galaxy S7 still outperforms the iPhone 6S by quite a margin. ExpertReviews has carried out some pretty good research on this (though it's a stress test, rather than a real world scenario) and puts the S7 at 1068 minutes of continuous video and audio playback, and the iPhone 6S at 696 minutes, before their batteries die.
What's somewhat surprising is that this marries up quite well with the actual capacities and my own experience with the handsets.
Many factors play a part in battery consumption, even down to which carrier you're with. Despite this, battery life was far superior on the Galaxy S7 compared to the iPhone 6S in our tests. And, unlike many areas, it's noticeable.
Galaxy S7 vs iPhone 6S: price and conclusion
We all know that iPhones don't come cheap; it's one of the reasons many people choose an Android device. But the Galaxy S series of chart-topping flagships usually sit upon the same pedestal as the latest iPhones. Because of this, their prices pretty much mirror each other, though Samsung's flagships are usually a little less.
The Galaxy S7 marks the return of microSD card support
Current prices reveal that the 32 GB Galaxy S7 is being sold off contract for sometimes $100 cheaper than the iPhone 6s at 16 GB. So for the price, Samsung wins again.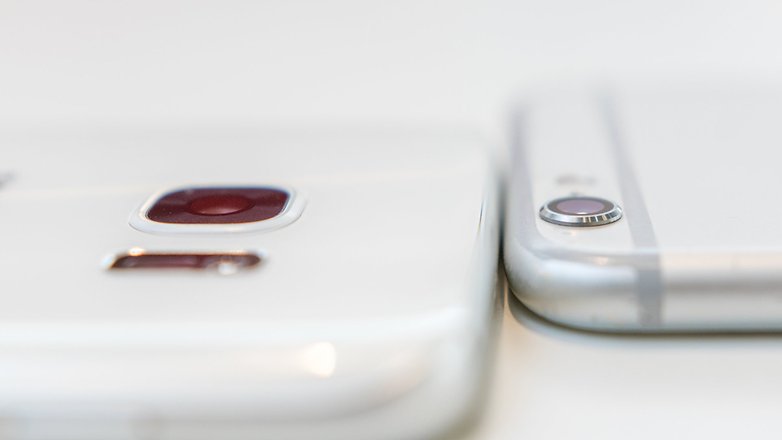 Weighing up the differences, both phones are incremental improvements over their predecessors. Samsung often seems to be playing catch-up with Apple. And if you want the latest features, like Live Photos and 3D Touch, first, then Apple is the way to go. The iPhone also offers a level homogeneity that Android is simply incapable of comparing to.
But, if you want the phone with best camera in town and superior battery life, then the Galaxy S7 is impossible to beat. It's worth noting that the Galaxy S7 marks the return of microSD card support, which means an easy way to gain a huge amount of additional storage. This is something that the iPhone seems unlikely to ever adopt.
Also, the decision comes down to a preference in operating systems, which is a matter of personal taste. For my particular tastes, the Galaxy S7 is the more capable handset where it matters, and for me the current winner of this confrontation.
How do you think Samsung stacks up against Apple? Which device would you be more likely to buy? Let us know in the comments.