Samsung Galaxy Note Pro 12.2 LTE review: the multitasker's tablet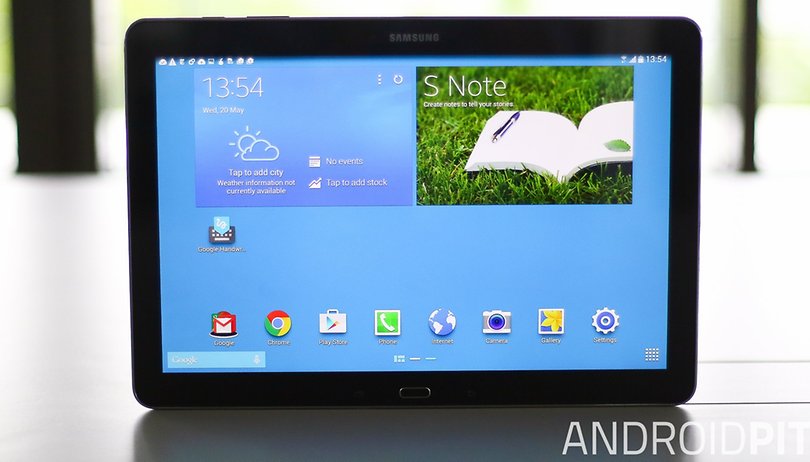 In the world of Android tablets there are casual tablets for reading on the weekends, gaming on the bus or watching movies in bed. Then, there are tablets that are basically laptop replacements for seriously mobile people with serious work to do. The Samsung Galaxy Note Pro 12.2 LTE is just that: a heavy-duty tablet with Samsung's legendary S pen stylus for multitasking and productivity on the go. Find out just how good it handles this workload in our Galaxy Note Pro 12.2 LTE review.
Good
Huge screen

S Pen features

Excellent battery life

Good camera

Great for multitasking

LTE connecitivity
Bad
Old version of Android (Lollipop planned though)

Low resolution screen

Weak speakers

Still high priced
Samsung Galaxy Note Pro 12.2 LTE release date and price
The Samsung Galaxy Note Pro 12.2 LTE release date was March 2014 with an announcement at CES 2014 in January of that year. The Galaxy Note Pro 12.2 LTE price was around 849 USD at launch but it can currently be picked up for significantly less.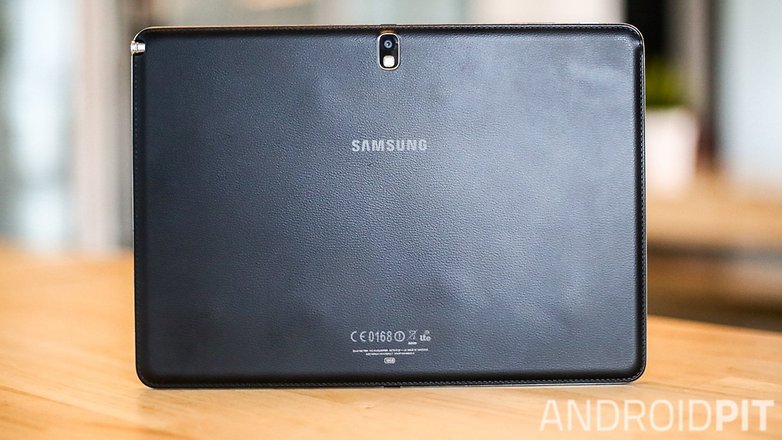 Samsung Galaxy Note Pro 12.2 LTE design and build quality
If you're at all familiar with the Galaxy Note 3 you'll know the Galaxy Note Pro already. In many ways the Note Pro looks like a super-sized Note 3, right down to faux leather and ''stitching'' on the battery cover.
At 12.2 inches, the Note Pro 12.2 (LTE) is s pretty big tablet that is clearly not for everyone, but if all that screen real estate is necessary for the kind of work you need to do on a tablet, you can't ask for more.
The front of the Note Pro is all Samsung: wide black bezels with the familiar logo, front-facing camera and sensor array up top with the physical Home button at the bottom with a Back and Multitasking button on either side.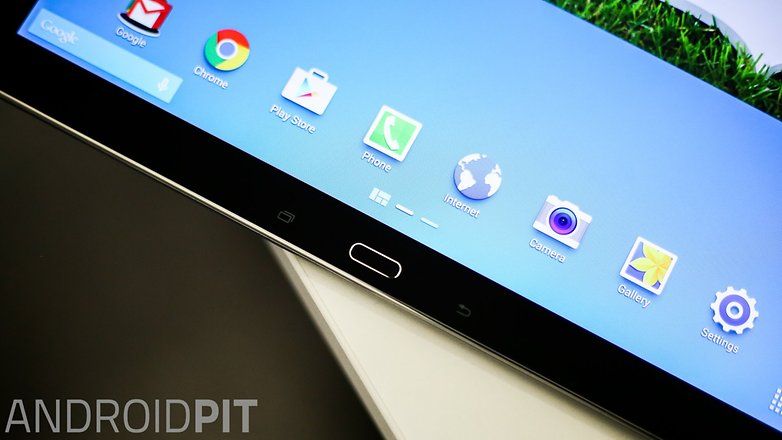 The Home button, like the tablet as a whole, has a silver lining. Unlike the Galaxy Note 3 though, which has a ribbed trim, the Note Pro has a flat edge to it in a metallic-look plastic.
The top edge of the tablet has the power button and volume rocker on the left hand side with a pinhole microphone and infrared blaster in the middle. The right edge holds the S Pen up to the top with a speaker grill below that and a USB 3.0 port in the middle.
The lower part of the right side has flaps covering the microSD card slot and SIM card slot. The left hand side of the Note Pro has another speaker grill with a headphone port at the top. The bottom edge of the tablet is clean.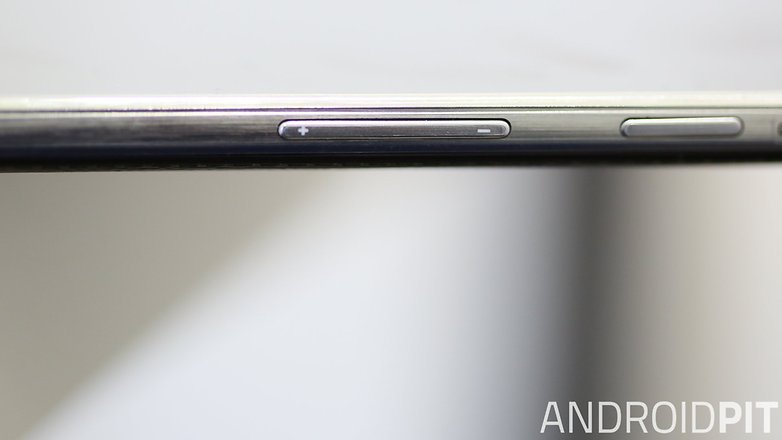 Despite being such a large tablet the Note Pro feels remarkably solid – not at all flexy like the Nexus 9 or creaky like many other larger tablets made out of plastic. It's quite heavy at 753 grams, but it is still lighter than a comparable laptop. Still, you wouldn't want to be using this one-handed for long.
The textured plastic back is comfortable and sufficiently grippy and the camera and LED flash are positioned high enough up that they are unlikely to be smeared with finger grease.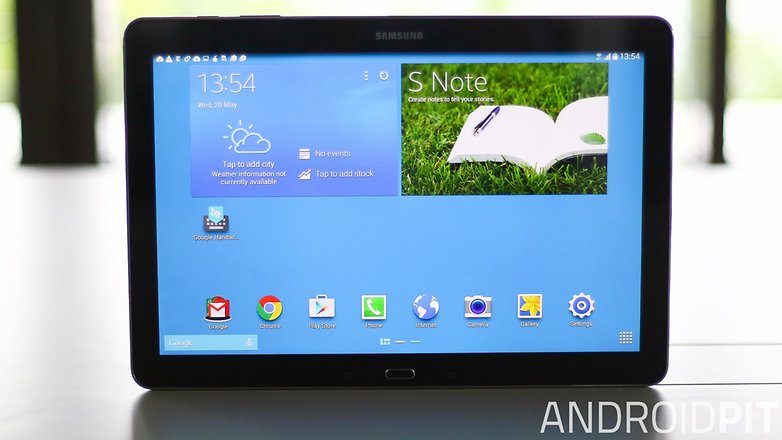 Samsung Galaxy Note Pro 12.2 LTE display
The Galaxy Note Pro 12.2 is also a great tablet for multimedia. With a screen size that rivals many laptops (but at half the weight), the Note Pro is a great device for accessing all your favorite music, movies and TV shows.
The 12.2-inch LCD display is vibrant but not quite as saturated as most Samsung AMOLED displays. Likewise the brightness and clarity is not quite there. Even at 2,560 x 1,600 resolution, the pixel density across such a large display drops to 247 pixels per inch, which is only a little better than the Galaxy S2, and the brightness is nowhere near that of more recent Galaxy devices.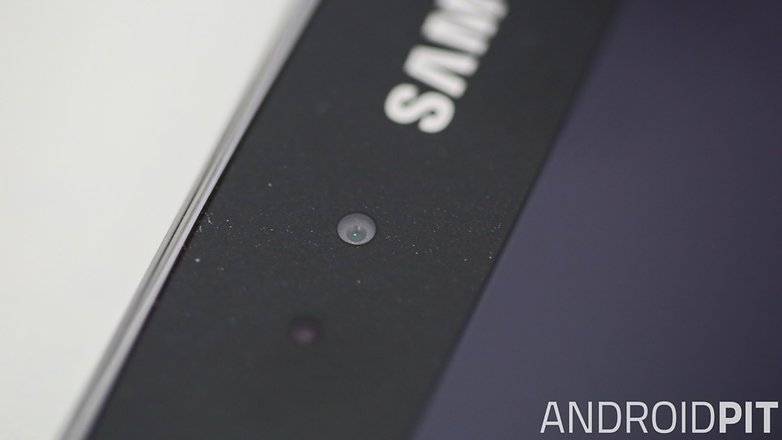 Despite not having the sharpness of smaller tablets, the Note Pro does provide a great surface on which to work. Productivity is the name of the game for the Note series, and the Note Pro 12.2 has productivity in spades.
Combining that huge screen with the awesome S Pen makes the Note Pro an unparalleled device for business applications, designers, doodlers and editors – just as long as you're not totally reliant on sharpness of detail.
Viewing angles are solid and the color reproduction is great, albeit a little vibrant for some tastes. Fortunately, Samsung provides a Screen mode setting that allows you to choose from the following options: Dynamic, Standard and Movie, with Adaptive Display automatically changing modes depending on whether you are in the gallery, camera, on the web, reading a book or watching a movie.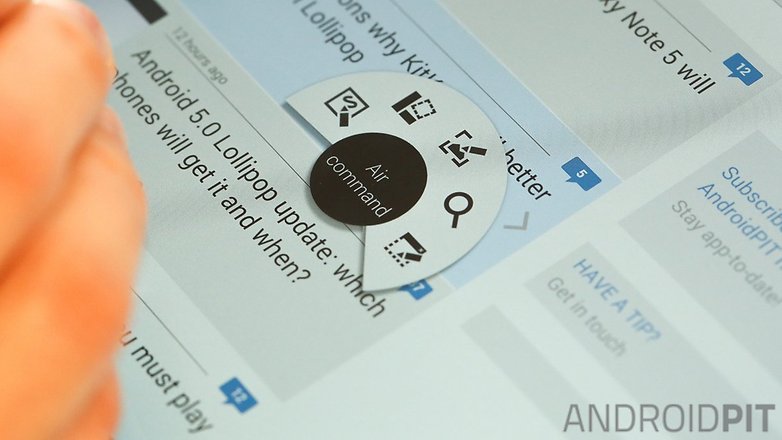 Samsung Galaxy Note Pro 12.2 LTE special features
The first thing to note about the Note Pro is that is supports LTE - a very important feature for many. The S Pen, however, is more than a special feature – it is the feature on any Note device. The Note Pro is no exception. What would otherwise be a solid tablet becomes an outstanding tablet when you throw the multitude of S Pen features on top.
When the S Pen is removed from its slot the Air Command pop-up menu is launched, providing ready access to the S pen's feature set. The Air command menu can also be brought up by pressing the button on the stylus when it is close to the screen. The Air Command options are Action Memo, Scrap Booker, Screen Write, S Finder and Pen Window.
Pen Window lets you draw a box on screen in which a mini-app window will appear. Screen Write lets you make notations on top of any screen by taking a screenshot, Action Memo provides an instant note-taking tool with associated actions (like adding a handwritten address or phone number to a contact) and Scrap Booker lets you take snippets of on-screen content. S Finder is Samsung's ubiquitous search tool, which can also be accessed in the drop-down menu.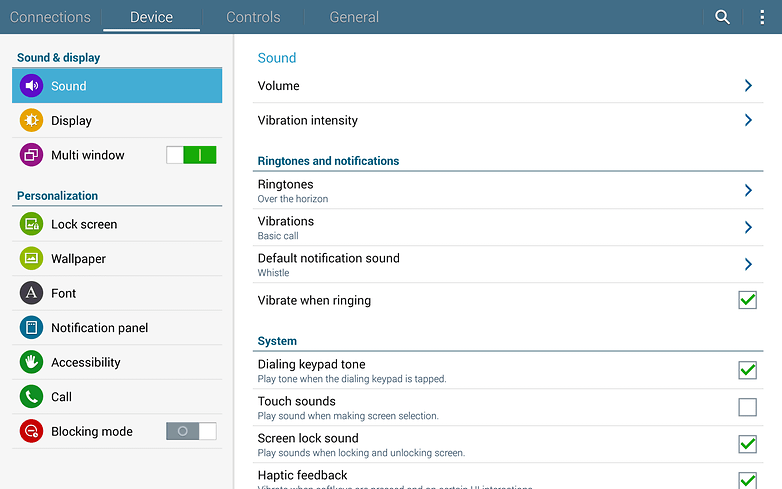 Samsung Galaxy Note Pro 12.2 LTE software
The Galaxy Note Pro 12.2 LTE features Android 4.4.2 with Samsung's TouchWiz user interface. An update to Android lollipop is in the works, but was not yet available at the time of this review. We will revisit and update once the new Android version is available).
Considering the tablet is now over a year old it has held up particularly well. Even without the optimizations of Lollipop or a 64-bit processor or even the newly rejuvenated TouchWiz, the Note Pro is still feature-rich and fast enough. You wouldn't want to rely on it for graphics-intensive applications or particularly demanding tasks, but for general usage it is more than capable.
There is a whole host of Samsung apps on board, which you will no doubt be familiar with already (and can see in the screenshot below). The Note Pro also has some good software features like Multi-Window Mode, which is perfect for such a large-screened device and lets you populate the screen with resizable floating mini-apps. Perfect for multitasking with email, images and files all at once.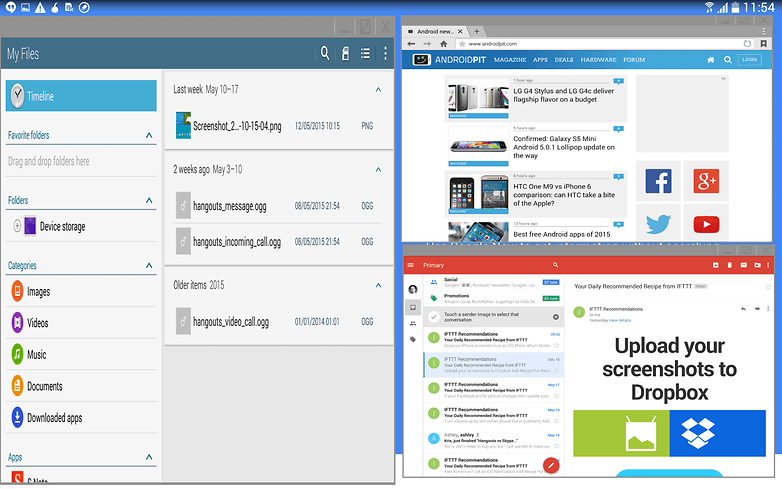 S Voice is Samsung's equivalent to Google Now – the voice-controlled assistant akin to Apple's Siri. You can access S Voice with a double-press of the Home button and make calls, set reminders, dictate notes or send text messages, all with your voice. The feature can also be disabled and replaced, or used in conjunction with, Google Now.
Network Booster is an early version of Download Booster, a feature that lets you download files over Wi-Fi and data at the same time for super-fast downloads. Blocking Mode allows you to block notifications for various features for some peace and quiet, so you can mute incoming calls, alarms or app notifications, create a ''do not disturb'' schedule and set a few exceptions (like your parents or girlfriend).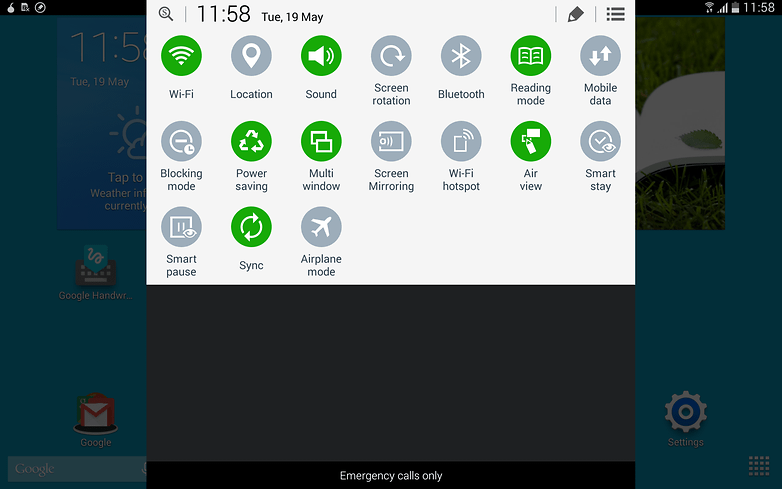 Samsung Galaxy Note Pro 12.2 LTE performance
Considering the Note Pro 12.2 LTE specs are a year-old, the tablet it holds up decently well. It is certainly far from the front of the pack in terms of raw processing power or the specs race, but for what it is designed to do it is still a great device.
Of course, if you need a high-powered business tool you might want to look at a newer generation of tablet, but if you don't need a seriously turbo-charged tablet – just a very capable and well-equipped one – then the Note Pro will serve you well.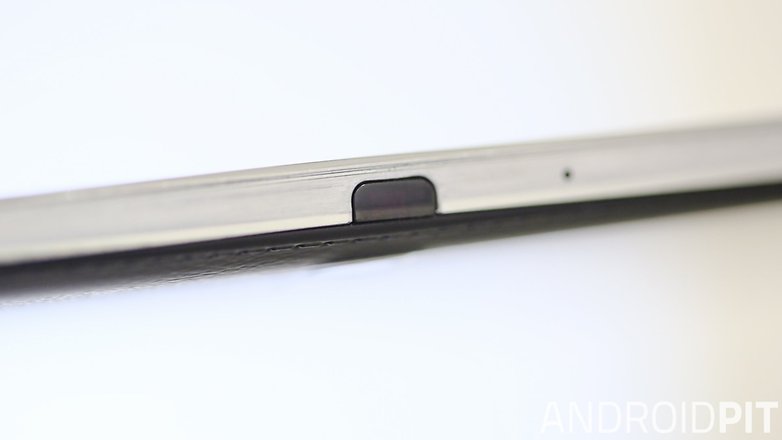 The Note Pro is powered by a quad-core Snapdragon 800 clocked at 2.3 GHz with 3 GB of RAM; a worthy spec sheet even a year after release. The Note Pro comes with two internal storage options, 32 GB or 64 GB, with micro SD expansion up to an additional 64 GB (some users claim it can support 128 GB cards though).
An Adreno 330 GPU makes short work of pushing pixels around that huge screen and even with a far-from-new version of Android I didn't find any stability issues, hiccups, stutters or significant lag. It must be acknowledged that older versions of TouchWiz, like that found on the Note Pro, are quite slow though.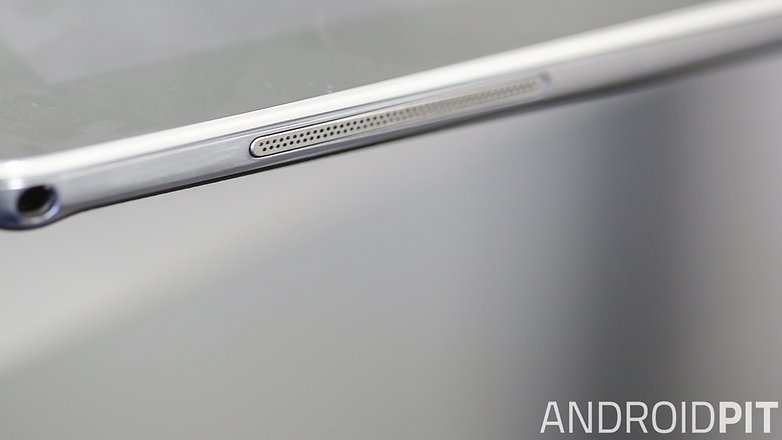 Samsung Galaxy Note Pro 12.2 LTE audio
The stereo speakers on the Note Pro are not only well-placed – nice and high so your hands never cover them up – but they are also surprisingly decent. I compared them to both the Galaxy S5 and Galaxy Note 4 and the changes were marked.
The Note Pro is by far the least loud of all, but it also easily has the most impressive bass. The S5 is louder but way tinnier and the Note 4 is louder again but pretty good overall. The note Pro has good bass and is more natural-sounding but it can't hit the treble very well.
High notes fall a bit flat but, depending on the style of music you like, that might not be so bad for you. I wouldn't recommend this tablet for serious audiophiles though, although headphone output is quite good. Call quality and mic pickup is also perfectly fine.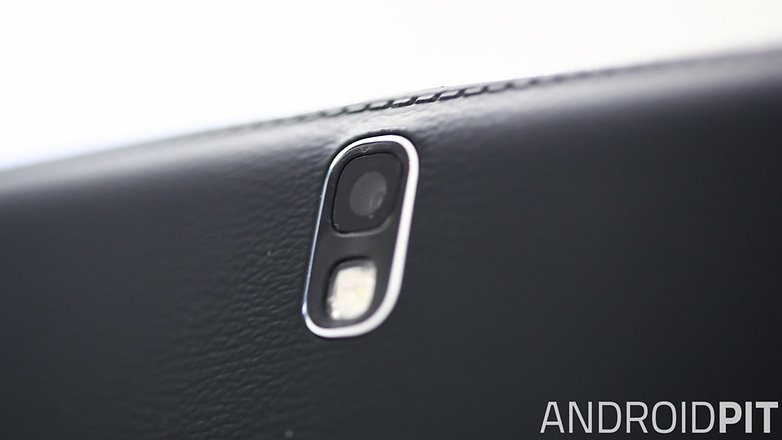 Samsung Galaxy Note Pro 12.2 LTE camera
The Galaxy Note Pro 12.2 LTE comes with a solid 8 MP main camera and a 2 MP front-facing camera. The main camera is typically good for a Samsung device and has been improved over the last year with some software updates. Don't expect anything near the caliber of the galaxy S6, but it's OK for a tablet.
The shutter is quite slow and the camera interface a bit sluggish, but all things considered it could be worse. Skin tones are great, outdoors are standard (although it doesn't handle contrast so well without HDR mode enabled) and macro is good.
Contrast causes a bit of a problem, as does motion. Color representation is generally saturated, pretty accurate and standard for a Samsung camera, although the usual Samsung vibrancy is not so evident. Again, you wouldn't buy this tablet as a smartphone camera replacement, but for the kinds of photos you're likely to take on a tablet, this will do nicely.
The usual Samsung pre-set menu options are included: Auto, Beauty Face, Sports Mode, Panorama, Drama, Sound and Shot and Best Photo. At full resolution you'll be shooting at 4:3 aspect ratio and for 16:9 shots you'll have to drop the resolution to 6 MP. The Note Pro 12.2 also comes with Smart Stabilization.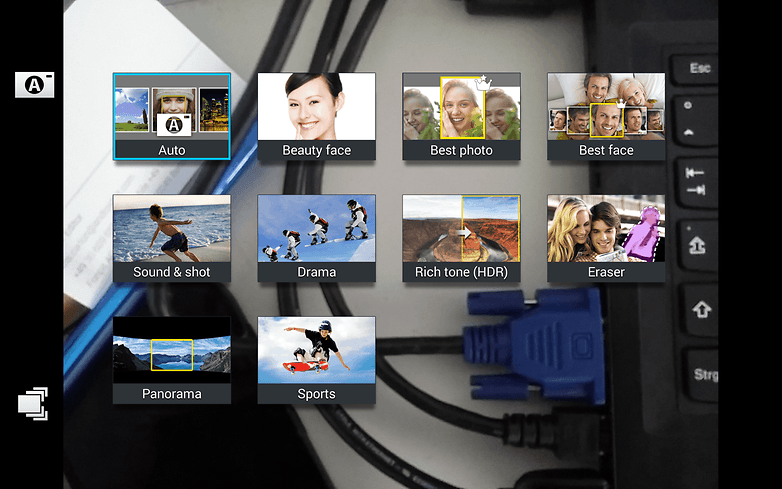 Samsung Galaxy Note Pro 12.2 LTE battery
The Note Pro 12.2 LTE has a huge 9,500 mAh non-removable battery. You can comfortably spend a lazy day watching a movie or two listening to music and playing the occasional game without worrying about a power outlet too soon.
If you reduce the screen brightness and turn Airplane Mode on, you can scrape out about nine to ten hours of usage, but eight or so is more likely. Still, for a huge tablet this is pretty impressive. It is easily one of the better tablet batteries I've seen.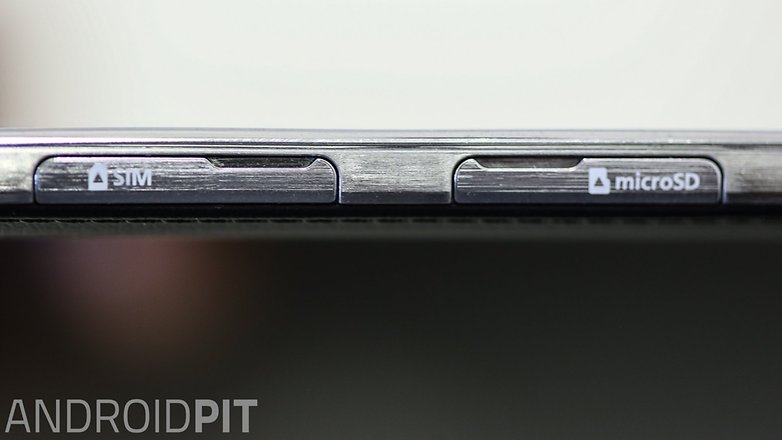 Samsung Galaxy Note Pro 12.2 LTE technical specifications
Final verdict
Despite being a year-old tablet still awaiting the latest version of Android, the Galaxy Note Pro does what it was designed to do still: provide a fantastic surface on which to multitask and manage your busy lifestyle. There's no other tablet out there with the same perfect mix of screen real estate and S Pen functionality. Not to mention LTE capabilities.
Battery life is outstanding even if speaker quality is not and the screen could do with a few more pixels crammed in there for sharper detail. The specs are getting a little long in the tooth and the camera and performance have been far surpassed since the Note Pro first appeared, but if you can pick one up on sale it would be a great bargain.
Samsung Galaxy Note Pro 12.2 LTE - where to buy?