Samsung Galaxy Note 4 vs LG G3: the Android comparison of the year!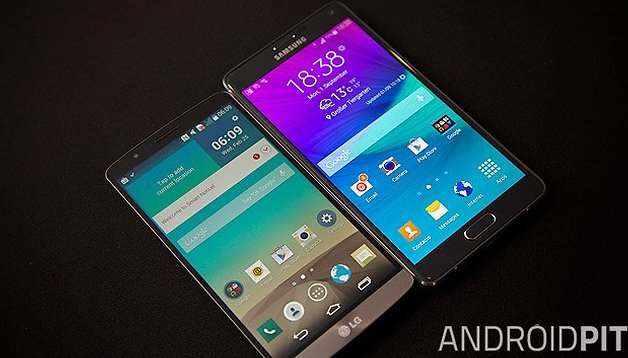 This is easily the head-to-head I've been looking forward to the most this year: the Galaxy Note 4 vs LG G3 comparison. These also happen to be my two favorite Android devices of 2014 too (although the Nexus 6 and Moto Maxx might have something to day about that!). So let's get stuck into it: which phone is better for you and why? Let's find out in our Galaxy Note 4 vs LG G3 comparison. NEXTPITTV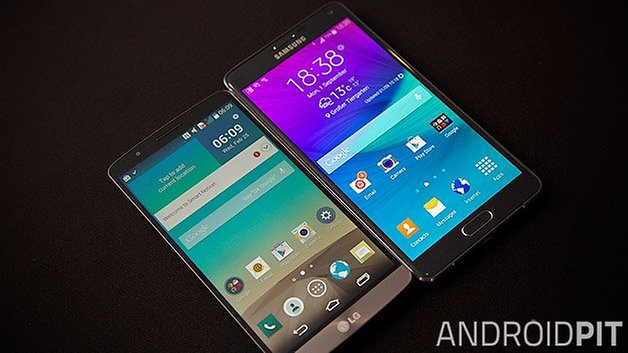 Design and Build Quality
These are two very attractive phones. Sure, the Note 4 doesn't stray too far from the standard Samsung design style, but some subtle changes have been made that go a long way. The addition of a metallic frame suddenly makes the Note 4 feel like a serious evolution from the Galaxy Note 3 and Galaxy S5. The corners are a little squarer than the Note 3 too, but take the little flare we saw introduced on the Galaxy Alpha. The back panel is yet another variation on the leatherette plastic look (thankfully without fake stitching this time). The beveled edges and silver lining all add a touch of class to what had previously been a utilitarian tool lacking in the looks department.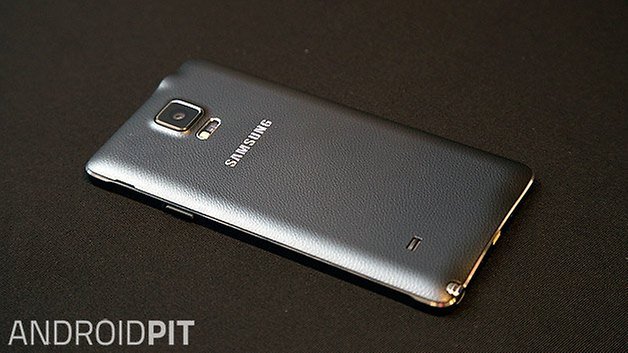 The LG G3 is a smaller device and rocks a curved back panel, making it fit the hand much more nicely than the slightly boxy Note 4 (which is also a little wider). The G3 does feel a little slippery in the hand though compared to the Note 4's grippier plastic backing. The G3 has very small bezels, metallic trim, on-screen buttons and puts all the hardware buttons on the back. Both devices have removable back covers (the G3 opts for a metallic-look plastic) to reveal microSD expansion and SIM card slots, removable batteries, and both have an IR blaster, headphone ports and USB 2.0.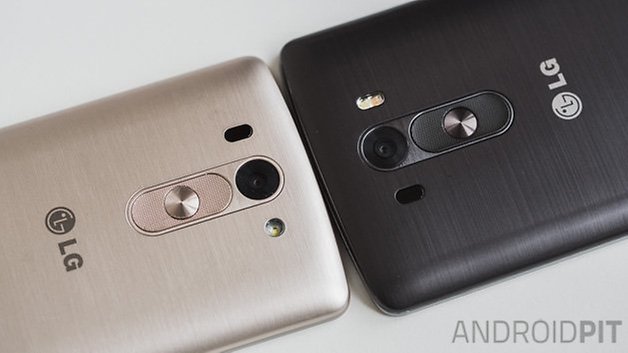 Display
This is where the fun begins. The LG G3 rocked one of the first ever QHD LCD displays: at 5.5 inches and 2,560 x 1,440 pixels, it was a stunner. But on the technical side it has a few issues. Not many that you'd see as a huge problem – it is still super sharp – but the lack of brilliance and dynamic range when compared to the Note 4 is quite noticeable. The Note 4 also rocks a QHD resolution on a 5.7-inch AMOLED display, giving it slightly less pixel density but much higher saturation, contrast and brightness. While I appreciate the more subdued palette and softer tones of the G3, the Note 4 dazzles and is easily the best display I've seen on any phone.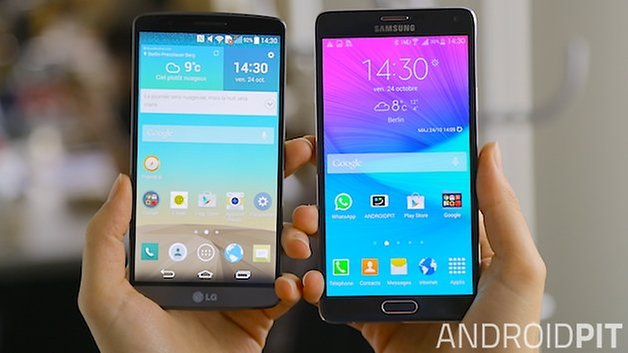 Special Features
The Galaxy Note 4 rocks the incredible S Pen stylus, which has been fine tuned into a razor sharp accessory this time around. The S pen is really more of the backbone of the Note series than an accessory, but the Note 4 is a great device with or without it. When the S Pen is removed from its slot, the Air Command window appears, providing access to four very useful tools: Action Memo for note taking, Smart Select and Image Clip for taking free-form or rectangular mini-screengrabs (including metadata) and Screen Write for screenshot note taking and endowing your friends with nifty moustaches.
The Note 4 also features the heart rate sensor on the back next to the flash, a finger scanner embedded in the physical home button on the front and three microphones for isolating and canceling out background noise in calls and audio recordings. The G3 touts laser auto-focus for the camera which we'll cover in more detail in the camera section, along with the excellent Knock On (double tap to wake) and Knock Code for super secure lock screen access. Knock Code has an almost ridiculous number of combinations and is one of my favorite Android features of the year.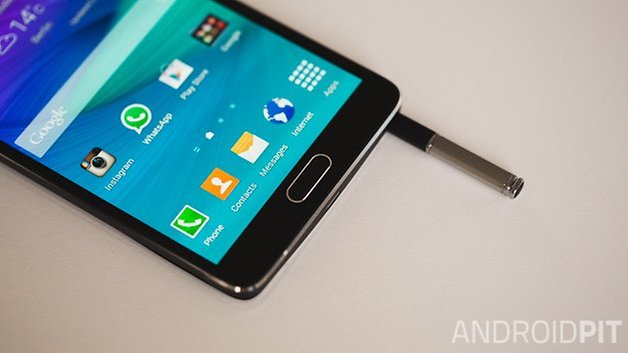 Software
The Galaxy Note 4 comes running Android 4.4.4 and Samsung's TouchWiz interface, which has been streamlined and cleaned up even more than it was back on the S5, where the UI makeover was first revealed. TouchWiz looks as good as it ever has and for once, I can actually live with it. Sure, there's still some lags that really should not exist in this day of hardware and optimizations, but TouchWiz brings a lot of additional features to the table and the Note 4 only seems to have room for the useful ones.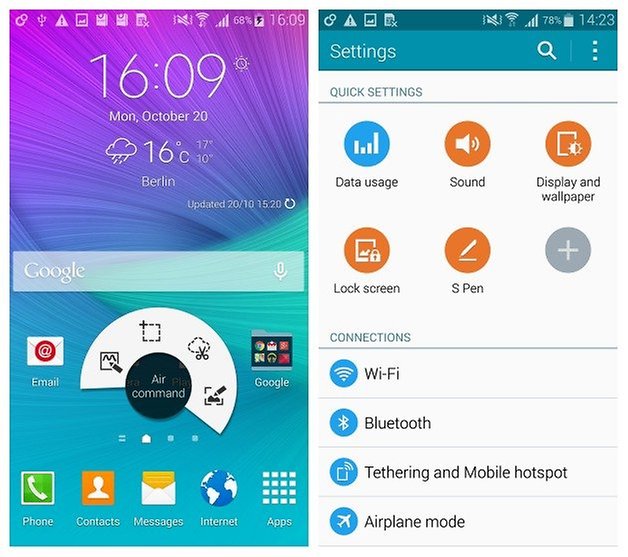 Download Booster is a fantastic tool that lets you combine your data and Wi-Fi for blistering download speeds, the battery saving modes on the Note 4 are also unsurpassed, as is the general battery life (but more on this later). You've got Multi-Window mode for screen sharing apps, mini, floating app windows for multitasking, a new Rolodex/Android 5.0 style recent apps list, S Finder, S Voice, S Health, display controls, Guest Mode, gesture controls, and a bunch more S Pen features we don't have time for here. There's even way less bloatware on the Note 4.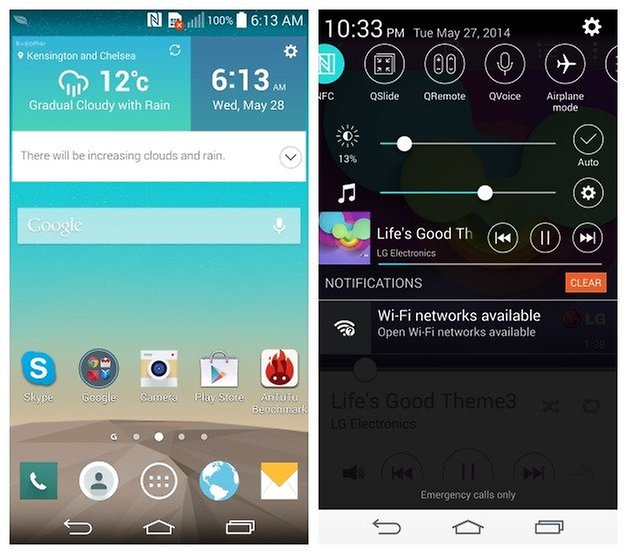 The G3 has its fair share of software goodies too though, and many of them you'd already be familiar with: Dual Window Mode, Guest Mode, customizable recent apps list, Knock on and Knock Code, QSlide floating mini apps, QMemo+ for note taking, removable pre-installed apps, Guest Mode, gesture controls, Smart Notices (kind of like a localized Google Now for your device), LG Health and a refreshed Optimus user interface on top of Android 4.4.2 (scheduled for Android 5.0 this year, as is the Note 4).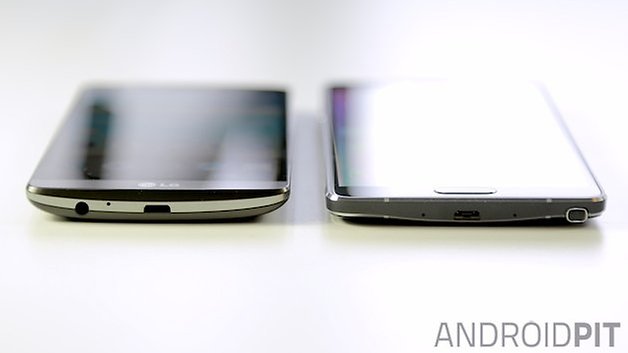 Performance
The Note 4 has a slightly better specs sheet than the G3, which came out several months earlier, but where the G3 impresses with its stability and fluidity, the Note 4 struggles occasionally. Part of this is due to TouchWiz, but as I mentioned before, lags, freezes and even reboots should not occur at all on a device with internals and software this good. Yet I experienced all of these on the Note 4 and only very, very occasionally on the G3. Both could be better in terms of stability, but both are very fast, able to handle some serious processor-demanding tasks and represent amongst the best Android performance available right now.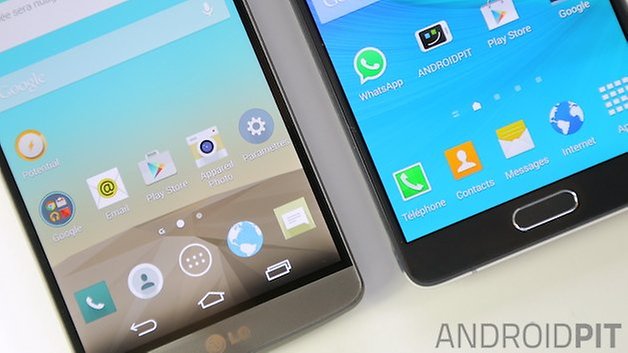 The Note 4 houses either a quad-core Snapdragon 805 CPU clocked at 2.7 GHz with Adreno 420 GPU or an octa-core Exynos 5 5433 CPU with four cores clocked at 1.9 GHz and another four at 1.3 GHz, and a Mali-T760 GPU. Both come with 3 GB of RAM and Cat. 6 LTE speeds (in the Snapdragon variant). The LG G3 rocks a quad-core Snapdragon 801 clocked at 2.5 GHz with Adreno 330 GPU and 3 GB of RAM in the 32 GB version and 2 GB of RAM in the 16 GB version. On a pure hardware front the Note 4 has the G3 beat, but I've never experienced lags and crashes on the G3 like I have on the Note 4. It is possible I just have some buggy firmware though.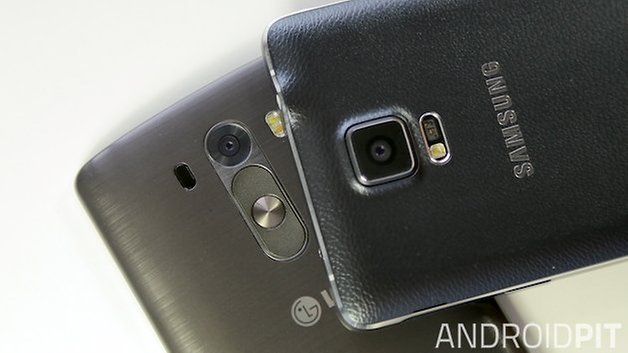 Camera
The Note 4 finally adds optical image stabilization to its 16 MP Sony sensor. Samsung cameras are typically great, but the Note 4 surprised me a little with slightly less contrasty and heavily saturated results than I would have expected. Still, they are heavier than on the G3, which seems to get the balance a bit better although it still suffers from LG's typically heavy post-processing. The G3's laser auto-focus module on its 13 MP sensor makes a huge difference though, providing super fast auto-focus and very accurate results, even in low light. The G3 is also equipped with OIS and has a dual-LED flash as opposed to the Note 4's single LED flash.
In daylight both devices post impressive results, but I tend to prefer the color accuracy in the G3's photos. I really prefer HDR on the Note 4 though, which is sometimes even unnecessary because the default setting handles high contrast settings so well. But the low light performance on the G3 is remarkably good, even if it is a little less contrasty than on the Note 4. Depending on the scene too, the processing on the G3 can be a real distraction, producing weird water-color looking effects as it attempts to smooth things out and as usual, a kind of washed out feel exists when seen side by side with the admittedly over-the-top Note 4 images. On the other hand, the Note 4 has more issues with image noise than the G3. It all depends what you want from your smartphone photography.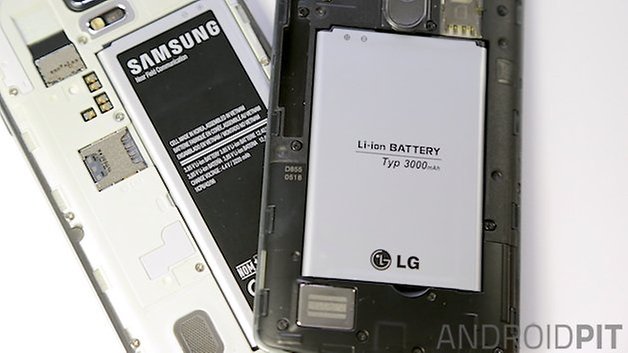 Battery
The Note comes with a modest 3,220 mAh removable battery, while the G3 houses a removable 3,000 mAh battery. The relatively underwhelming capacity of both batteries were shocking at launch, but both have proven themselves very nicely in practice. Optimizations, especially where the handling of the QHD display is concerned, really helps the G3 breeze through a solid day of use. The Note 4, however, blew me away with just how long the battery lasted, even on full brightness and without even the standard battery saving mode enabled I hit 9 hours of screen-on time.
Speaking of battery saving modes, both devices are equipped with a customizable power saving mode. The Note 4 also has an Ultra Power Saving Mode that lets you strip away almost all functionality, leaving you with a simplified grayscale interface and only a few apps. But these apps include a web browser, Facebook, Google+ and even WhatsApp. Using this feature can drag multiple days out of the Note 4, but it's really only useful in an emergency, as what is the point of a device as great as the Note 4 if you cripple all of its functions?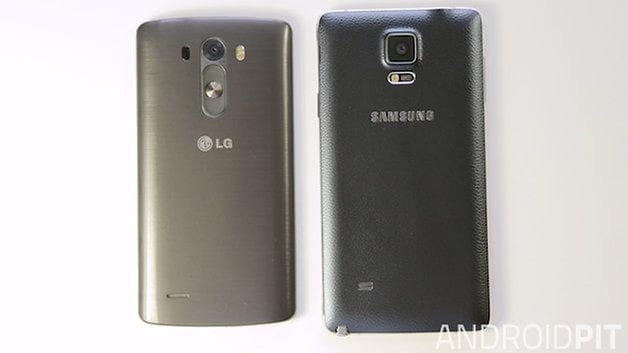 Price and Availability
The Galaxy Note 4 release date was October 17th, 2014 and the Galaxy Note 4 price ranges from 750 USD off contract through a carrier or 840 USD for an international unlocked version. The LG G3 release date was back in mid-July through carriers but the LG G3 price a few months on is around 515 unlocked on Amazon for the 32 GB version and 475 USD unlocked for the 16 GB version. The Note 4 is only available in a 32 GB version.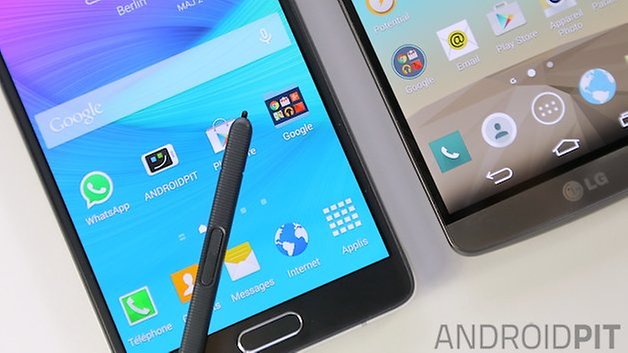 Tech Specs
| | Galaxy Note 4 | LG G3 |
| --- | --- | --- |
| OS | Android 4.4.4, TouchWiz | Android 4.4.2 KitKat, Optimus UI |
| Display | 5.7 inches, AMOLED (2,560 x 1,440 pixels, 515 ppi) | 5.5 inch, IPS, QHD (2,560 x 1,440 pixels, 534 ppi) |
| Dimensions | 153.5 x 78.6 x 8.5 mm | 146.3 x 74.6 x 8.9 mm |
| Weight | 176 g | 149 g |
| Battery | 3,220 mAh | 3,000 mAh |
| Camera | 16 MP with OIS / 3.7 MP | 13 MP, OIS with laser autofocus / 2.1 MP |
| Processor | Qualcomm Snapdragon 805, Quad-Core, 2.7 GHz, Adreno 420 / Exynos 5 5433, Octa-core, 4 x 1.9 GHz, 4 x 1.3 GHz, Mali-T760 | Qualcomm Snapdragon 801, 2.5 GHz, Quad-Core, Adreno 330 |
| RAM | 3 GB | 3 GB (32 GB version) / 2 GB (16 GB version) |
| Internal storage | 32 GB (+ microSD up to 64 GB) | 16/32 GB (+ microSD up to 128 GB) |
| Connectivity | GSM/HSDPA/LTE, Wi-Fi, Bluetooth 4.1, NFC, USB 2.0, IR Blaster | GSM/HSDPA/LTE, Wi-Fi, Bluetooth 4.0, NFC, USB 2.0, IR Blaster |
| Price | 750 USD (unlocked, carrier branded), 840 USD (unlocked, Amazon) | 515 USD (32 GB, Amazon), 475 USD (16 GB, Amazon) |
Final Verdict
I'm very happy to saw that you really can't go wrong with either of these these phones. If you want the best specs, best display and best software then go for the Note 4. But if a stylus isn't a big deal to you and you want a rock solid slightly smaller phone then the G3 could be for you. The cameras are pretty equal in many respects and the hardware on both holds up very well, although the Note 4 battery is truly impressive.
However, the extra 300 USD it'll cost you to pick up a Note 4 may just swing the pendulum back in the G3's favor. If money is no object, you simply have to have the latest and greatest or you can't live without a stylus, then the Note 4 is clearly the phone for you. But if size, price and stability is more your style then take a second look at the G3: the price alone makes it incredibly competitive. I'm happy that I get to switch between both as my mood fits, because otherwise I might just be looking at one of each. Lucky I have two pockets.
What would you invest in? Which device is better in your eyes and why?