Samsung Galaxy J7 (2017) review: a pleasant surprise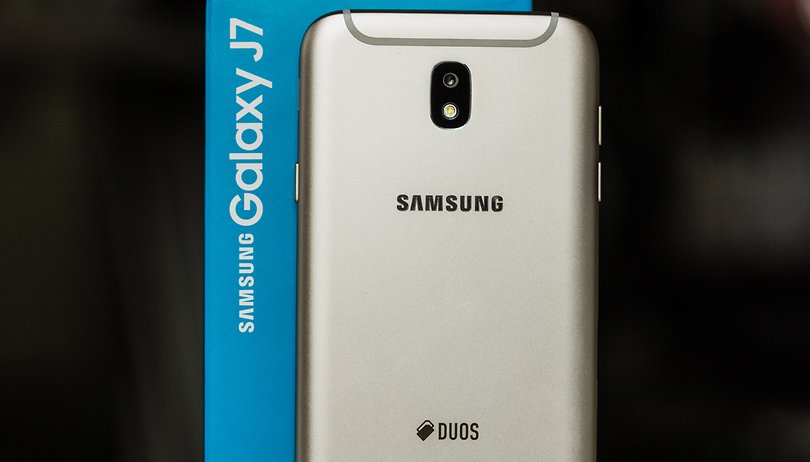 Samsung introduced its new Galaxy J7 (2017) model this past summer, and it has been very popular. Is 2017 a good year for the J series? We endeavored to find out. In the following in depth review, we explain all of the pros and cons of the device that we've found after several weeks of testing.
Good
Satisfactory performance

Good battery life
Bad
No USB Type-C port or fast charging

Unconvincing camera
Samsung Galaxy J7 (2017) release date and price
In theory, Samsung's strategy is very clear: it offers entry-level, mid-range and high-end smartphones. But, it's not clear where the Galaxy J7 (2017) fits in that line up. The Samsung Galaxy J7 is somewhere between the entry-level (J series), and the mid-range (A series). It's even on the heels of this year's Galaxy A5 model.
The Galaxy J7 (2017) is going for $219 on Samsung's website. Depending on where you get it from, there are three color options: gold, blue and black.
The smartphone comes with 16 GB of internal storage and 3 GB of RAM. There is an extra slot to accommodate a second SIM card and a microSD card, with the possibility adding an extra 256 GB of storage.
Samsung Galaxy J7 (2017) design and build quality
The J7 (2017) clearly isn't a high-end device, but it doesn't look like the bottom of the barrel either. The design takes us back to the pre-Infinity Display era with a classic Samsung look, like what we knew before the Galaxy S8 and Note 8. In other words, there's an oval home button on the front between two capacitative buttons, a micro USB port and a headphone jack.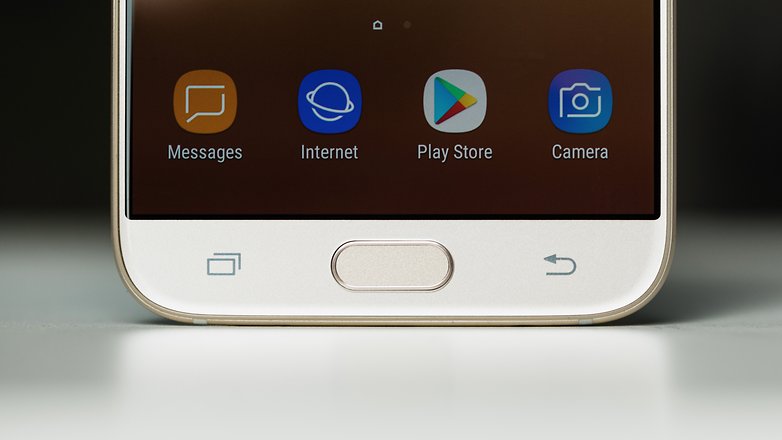 The smartphone's body is made of metal, rather than the plastic of the last generation. The build quality is good for the price and it feels nice to hold. Though, you'll probably have to use more than one hand. It is a phablet, after all.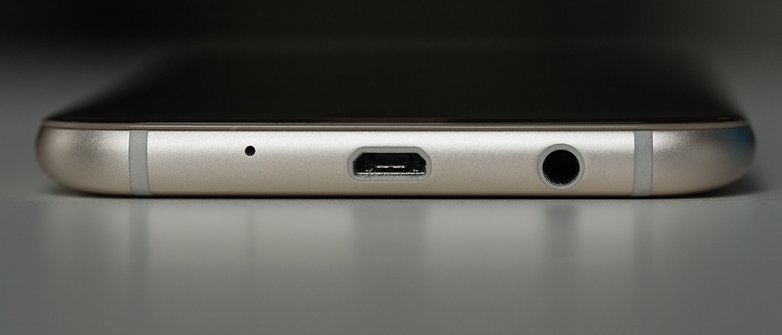 On the left side, you will find the volume buttons and the main SIM card slot. Below you will find the location for the microSD card and for the second SIM card. Note that the device is not waterproof, unlike the A5 (2017).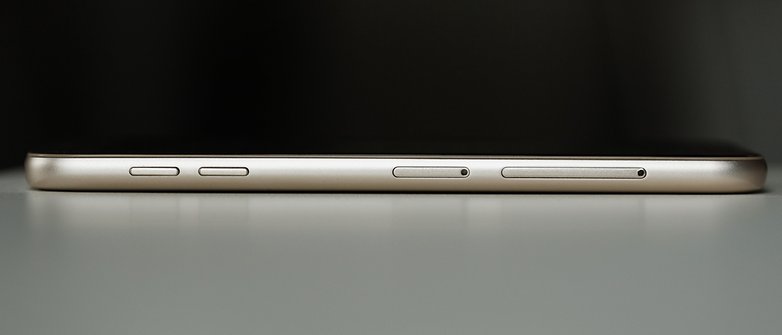 The fingerprint reader is located on the home button and it is a real pleasure to use: it is easy to reach and it works flawlessly. The Galaxy S8+ and Note 8 have their fingerprint reader located very high in the back, where it is much less convenient.
In short, the Galaxy J7 (2017) looks a lot like the Galaxy A5 (2017), but doesn't quite reach that higher level overall.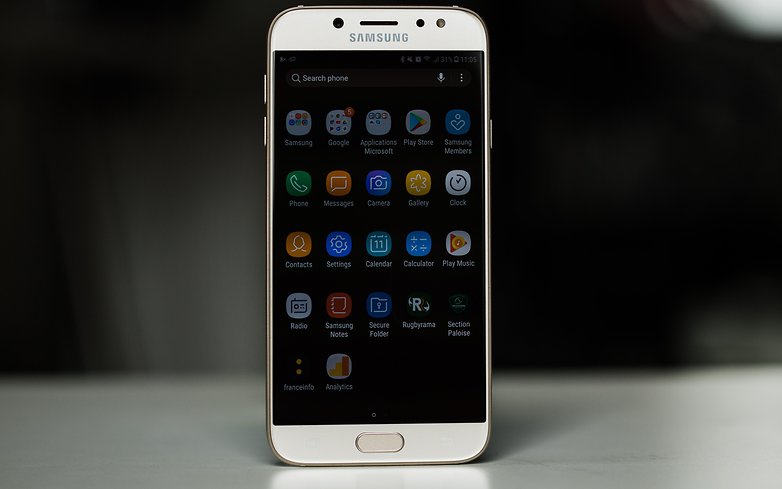 Samsung Galaxy J7 (2017) display
As usual, Samsung opted for a Super AMOLED screen on the Galaxy J7 (2017), and it leaves a good impression. Its Full HD (1,080 x 1,920 pixels) definition is an appreciable upgrade from the previous model's HD display, and the pixel density, 401 ppi, is satisfactory for a display in this range. The display is still 5.5 inches this time around, with bezels above and below the display giving it a screen to body ration of 73.1 percent.
In practice, the screen is satisfying. The color representation is good and the maximum brightness (511 cd / m²) is enough to use in the sun without trouble.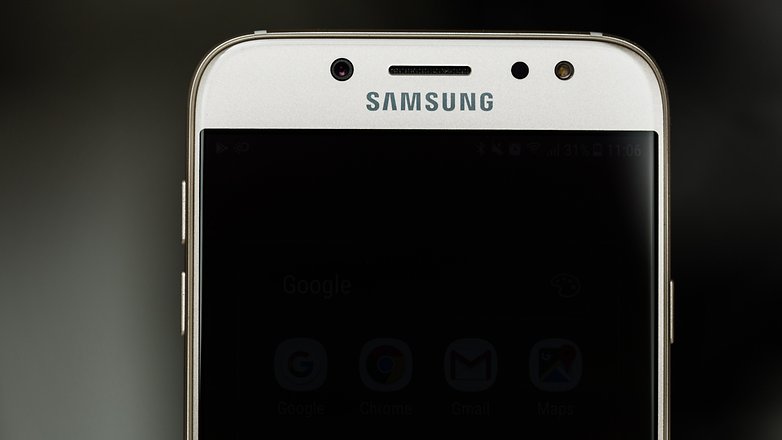 Samsung Galaxy J7 (2017) software
It's no surprise that the J7 (2017) won't ship with Android Oreo, which was released in late August. That being said, it's not even getting the newest version of Android Nougat. Instead, it's shipping with Android 7.0 and Samsung Experience 8.1. (Samsung Experience is the new name for TouchWiz, in case you hadn't heard.) Aside from this, the real disappointment comes from the security patch level, which is still at June rather than the current month of October (at the time of writing).
As I explained in the review of the Galaxy A3 (2017), Samsung has done a good job with its interface in recent years. The bloatware is limited to its own apps, Google apps and some Microsoft applications, and the Upday widget which can only be disabled, but not deleted. The interface has become more fluid and, above all, nicer to look at.
This smartphone also now has Game Launcher, like the devices in the A, S and Note series. This isn't the most useful thing in the world since this isn't a great gaming smartphone, but it's there for those interested. Another notable feature is the Always On Display mode, which can be turned off if desired.
Samsung Galaxy J7 (2017) performance
This Galaxy J7 (2017) uses the same midrange processor, the Exynos 7870, from the Galaxy A3 (2017). Yes, Samsung places a mid-range processor on its best entry-level smartphone. If it's not broken, why fix it? The processor comes with a Mali-P830 GPU which, let's be clear, will not be able to handle games with intense graphics smoothly. You'll still be able to play most simple games, though. If you're looking to buy an entry-level smartphone, you can't expect premium performance.
There's 3 GB of RAM, which guarantees a rather smooth multitasking experience. I only experienced slowdowns on two occasions while pushing multitasking to the limit. Any weakness in the device is very minor, and there's nothing disappointing to report in terms of performance. You can get a more theoretical idea of its performance by taking a look at the benchmarking scores below. Notably, the Galaxy J7 (2017) scores better than the Galaxy A3 on Geekbench and PCMark Work Performance, but it ranks lower on the other benchmarks.
Geekbench 4.0 single-core : 731
Geekbench 4.0 Multi-Core : 3679
PCMark Work Performance : 3754
PCMark Storage : 3550
3DMark Slingshot Extreme : 244
3DMark Slingshot OpenGL 3.0 : 329
3DMark Ice Storm Unlimited : 8314
Google Octane : 2965
Samsung Galaxy J7 (2017) audio
The Galaxy J7 (2017) has a speaker on the side, above the power button. This isn't a very wise placement because it means it will get covered by your hand all the time. The quality isn't perfect, but that's not a surprise for a device of this price range. The maximum volume is high enough, but there's a drop in quality that comes with higher volume, of course.
Samsung bundles standard headphones in the box and they're fine, but don't expect amazing results. It would be difficult to ask more of device at this price. In general, the volume is adequate, contrary to what is sometimes found in the competition.
As for call quality, I could understand and be understood during calls without the slightest problem.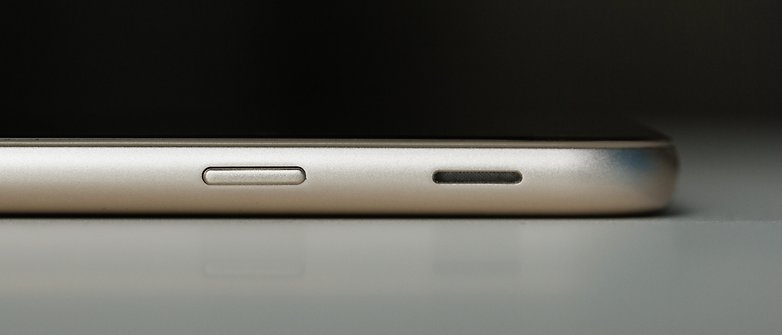 Samsung Galaxy J7 (2017) camera
The rear camera of the Galaxy J7 (2017) uses the Sony IMX258 sensor from the OnePlus X, LG G6 and the Samsung Galaxy A3 (2017). It's a 13 MP sensor with an f / 1.7 aperture. It sounds promising on paper, but it can't match the Galaxy S8 or other flagships. That said, for a camera in this range, the camera is no slouch.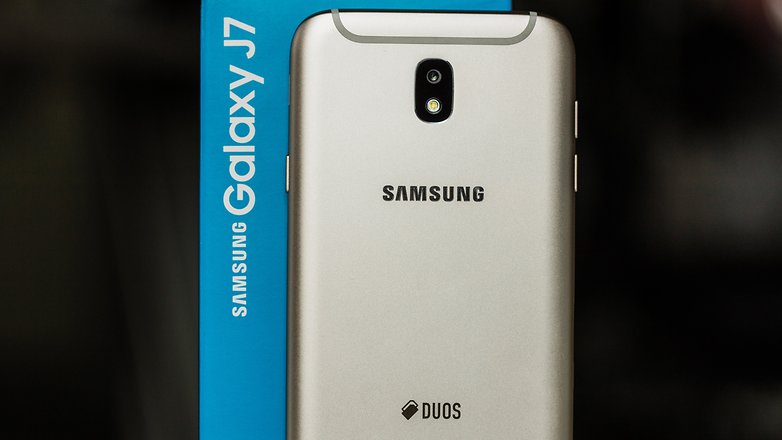 When the light conditions are decent and the contrast is limited, this 1 / 3.06 inch sensor does a rather average job. But it shows some limits and can't manage light well. In poor lighting conditions, noise becomes readily apparent. There is also no optical stabilization, which can annoy those don't have the most steady hands. And because the shutter time is 1/17 of a second, this can result in a blurred final result.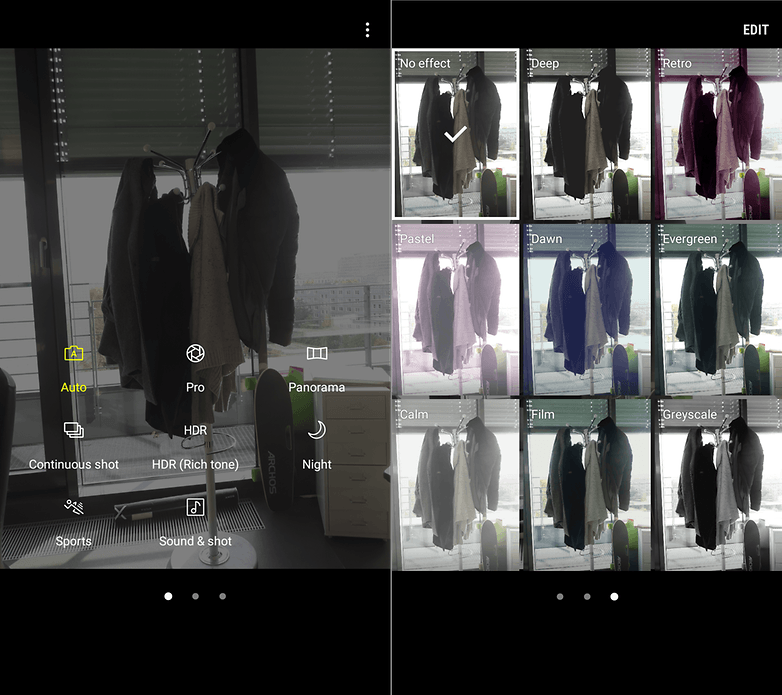 As for the color representation, there's a lack of contrast and the colors can be a little pale. Of course, if you only want to do a few pictures from time to time in good light for the simple purpose of posting them on Instagram, this smartphone should meet your needs. The pro mode allows you to set the ISO, white balance and brightness correction.
The front camera is also 13 MP (with an aperture of f / 1.9) and also has an LED flash. Overall, the result is just right for a device of this price range, but it could be better, especially with the details.
Samsung Galaxy J7 (2017) battery
Even if it is not as good as its colleagues in the A series, the Galaxy J7 (2017) has good battery life. It has a 3,600 mAh capacity, which sounds rather promising on paper. With basic use (WhatsApp, surfing, some YouTube videos...) you'll reach a full day, or even two if you aren't too greedy. Unlike the A5 (2017), the J7 (2017) does not offer fast charging, and it does not have a USB Type-C port. Instead, it packs a good old microUSB port of yesteryear.
Samsung Galaxy J7 (2017) technical specifications
Final verdict
The Galaxy J7 (2017) is a good smartphone that could even be mistaken for an A series device. It has a specs sheet similar to that of the A3 (2017). The design is also a clear reminder that it's cut from the same cloth, despite the lack of waterproofing and no USB Type-C port. All this translates into a smartphone that's not very innovative in terms of design but still pretty, and powerful enough to run most games fluidly.
It's unlikely that you'll regret your purchase if you're looking at a device of this price range. It's a great deal and it doesn't miss the mark anywhere except photo quality. Indeed, the camera's results are the only thing to remind us which range the phone belongs to.
As for alternatives, smartphones as convincing at the price point are quite rare. There are a few worthy of mention: the Huawei P9 has come down in price, then there's the smaller but cheaper Samsung Galaxy A3 and finally the Galaxy A5 which has a fairly similar price.