Samsung Galaxy J5 (2017) price, release date, specs and rumors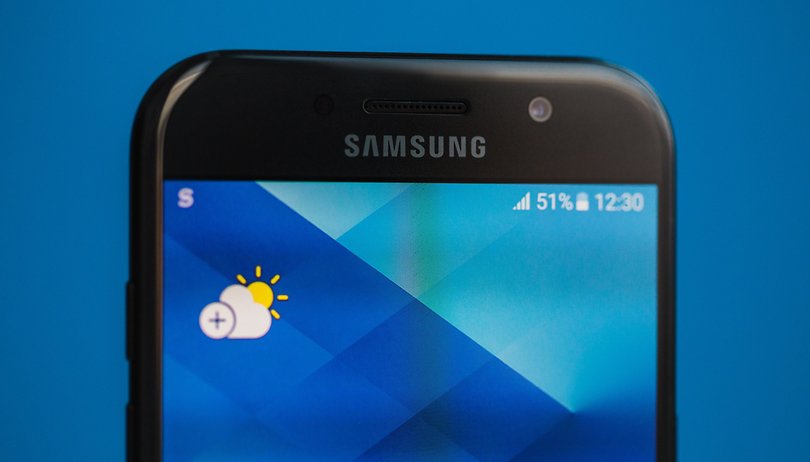 We first caught wind of the Samsung Galaxy J5 (2017) device when it popped up on Wi-Fi Alliance in February 2017 with the model number SM-J530FM/DS running Android 6.0 Marshmallow. Now, the device's specs and design have been leaked. Here are all the details.
Samsung Galaxy J5 (2017): price and release date
Two upcoming Galaxy J devices will be made available in the US, the Galaxy J3 and J7 (2017). The previous 2016 version of the J5 was released in the US, as well. So, we can assume the J5 (2017) will be sold in the US, though this is not confirmed. The price and release date are still unknown, but we will keep you updated as we hear more.
Samsung Galaxy J5 (2017): specs
The specs of the Galaxy J5 (2017) have been leaked on Geekbench, under the model number SM-J530FM. These details should give us a general idea of what to expect, but should be taken with a grain of salt.
The Galaxy J5 on Geekbench was running Android 7.0 Nougat. It had an octa-core Exynos 7870 processor, the same one from the Galaxy J7 Prime, and 2 GB of RAM. No details on internal storage, camera or battery capacity were given.
A new Galaxy J5 and J7 specs leak
A new leak from Tweakers.net lists the differences between the 2016 and 2017 Galaxy J5 and J7 models. Both devices will feature Android Nougat, a fingerprint scanner, and will go from having a metal frame to a full metal body. Additionally, their front and rear cameras will now both have 13 MP.
While the J7 and J5 will keep the same screen sizes, 5.5 and 5.2 inches respectively, the upcoming J7 will have FHD resolution. The J5 will get a 1.6 GHz octa-core processor, up from a quad-core 1.2 GHz, but a 100 mAh reduction in battery capacity. The J7, on the other hand, gets an extra 300 mAh.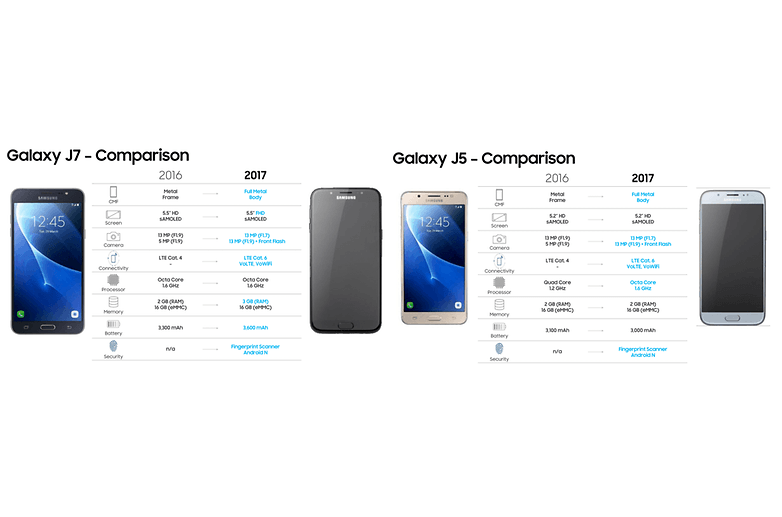 Samsung Galaxy J5 (2017): design
The Samsung Galaxy J5 (2017) design, which will mirror the J7, has just been leaked in a render posted by WinFuture. A touch more modern and ergonomic, this image shows the J5 with rounder curved corners and some subtle refinements.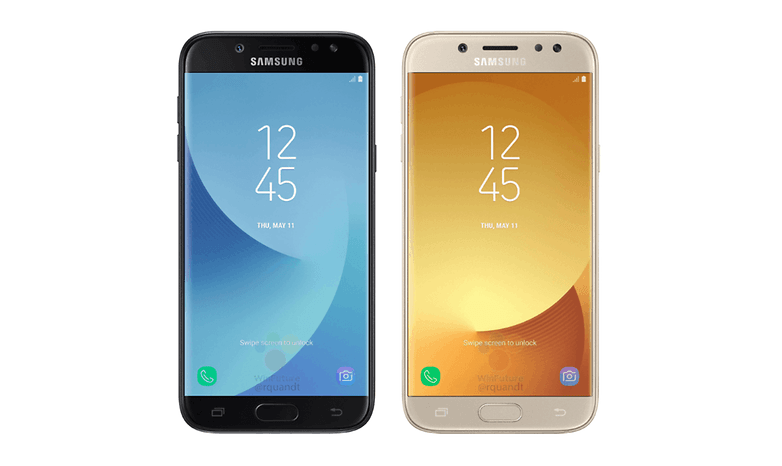 We expect more information to be leaked and rumored over the coming weeks, so stay tuned.
Are you looking forward to this device? What features and specs would you like to see?