Samsung Galaxy Fold review: a complicated love story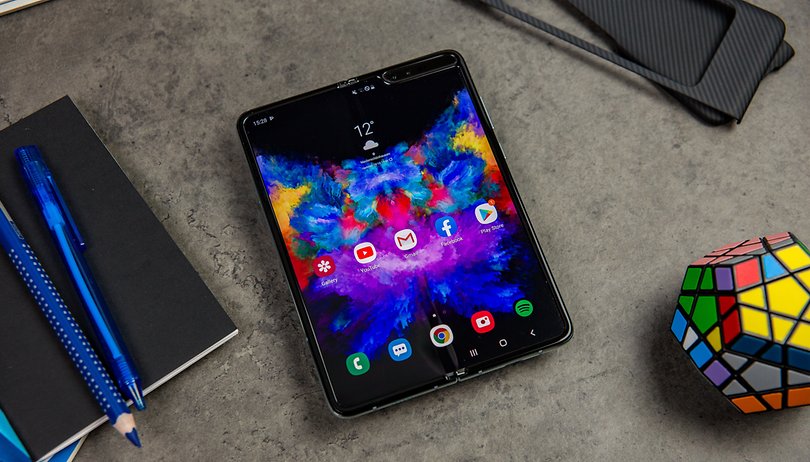 Have smartphones become boring? Maybe, but not all. The Samsung Galaxy Fold has the potential to shake the entire market. In our comprehensive review, the foldable smartphone arouses enthusiasm but unfortunately has a few issues, namely the price!
Good
Concept and realization

A tablet in smartphone format

Battery life

Performances
Bad
Small second screen

Extreme fragility

No waterproofing

Very high price
Samsung Galaxy Fold: All deals
The Fold costs as much as two Galaxy Notes
We have become used to the fact that the best smartphones cost $1,000 and more. It's not pretty, but that's the way it is. The Samsung Galaxy Fold is the crowning glory. The first foldable smartphone from the market leader is available in $1,980. Two colors are available: Cosmos black and Space silver.
Included in this price is a pair of Galaxy Buds, a protective case and a one-year warranty against accidental damage (Samsung Care+ insurance). The Galaxy Fold we tested was the 5G version. A 4G version is also available in other countries, such as the United States, where the 5G version is not yet available.
Flexible and robust - that works!
The Samsung Galaxy Fold and its design is a long story! The first version of the foldable smartphone had some weaknesses, as could be seen shortly after the presentation, namely openings in the hinge and an overly tight protective layer on the foldable OLED display. The result, if you followed the story, was a bit catastrophic for Samsung with a delay of several months for its launch to rectify the concerns.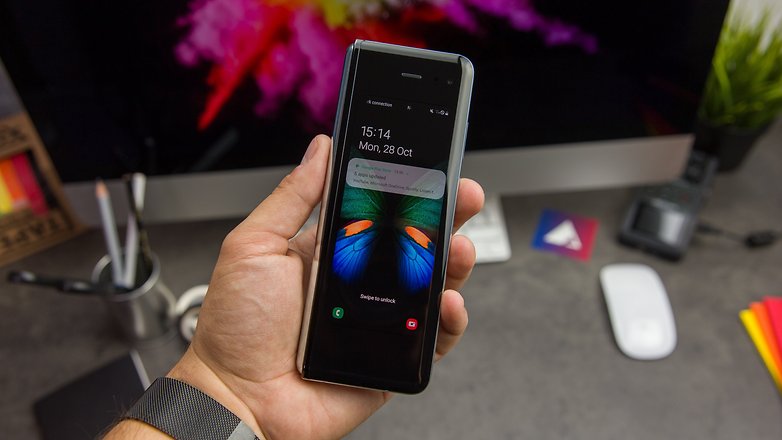 With this new version, Samsung has eliminated both problems. In the middle of the screen, there are new plastic closures at the top and bottom to prevent dirt and dust from entering. The hinge itself has been rebuilt and now offers a much smaller opening.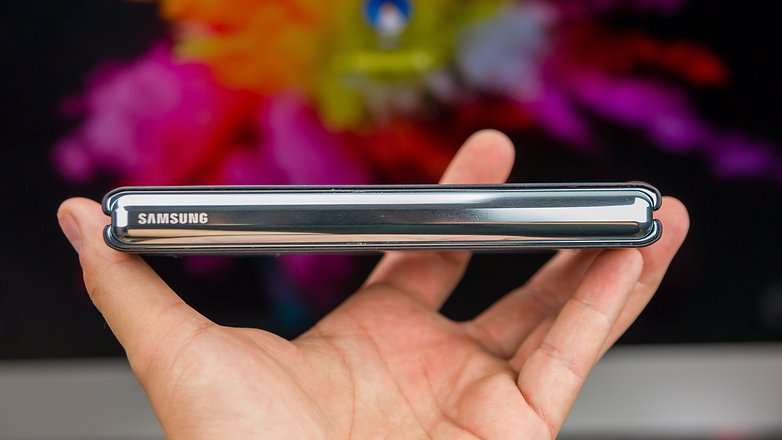 The folding mechanism of the Samsung Galaxy Fold performed very well during my review period. When closed, the hinge held firmly together on both sides of the foldable smartphone. When open, it visibly locks into place. The protective layer above the screen now protrudes below the frame, so that it can no longer be unintentionally detached and even careless users can no longer remove it.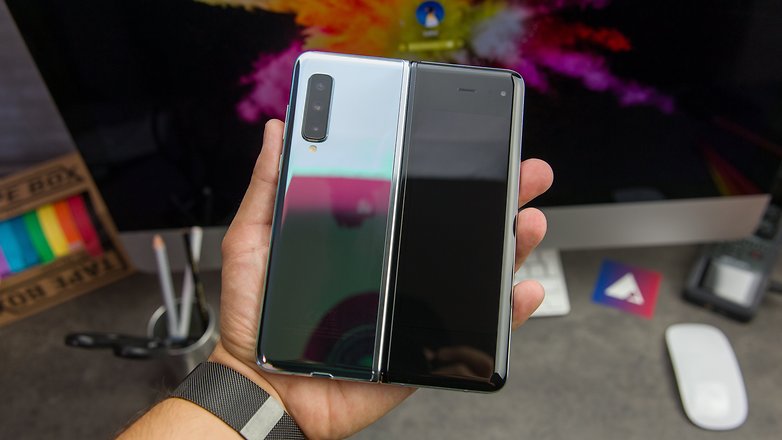 The Galaxy Fold looks much more robust than I expected: when closed, it's as thick as a laptop at over 17 millimeters, but it's also very narrow and quickly disappears into your trouser pocket. Its weight, 276 grams, is significant, but it's a foldable smartphone. It certainly wasn't a problem for me.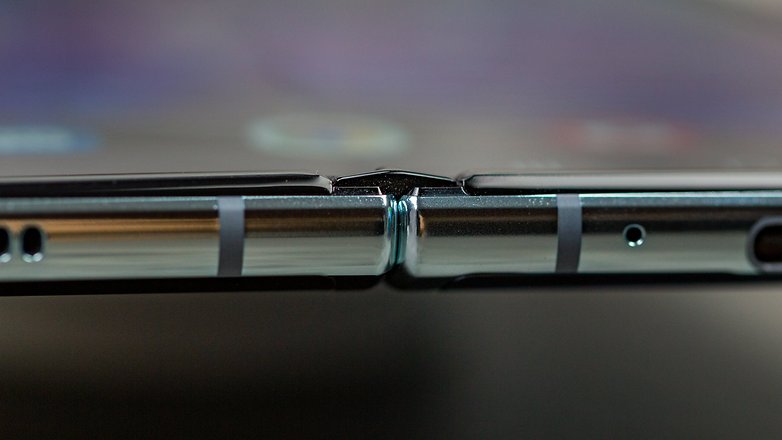 Once unfolded, you might think you have an almost square tablet in your hand. Nothing flickers or moves. I was able to hold the Galaxy Fold in one hand quite easily. Of course, two hands are required to open the device carefully. Finally, the fingerprint reader on the right side is not necessarily easy to reach, but it works without any problems.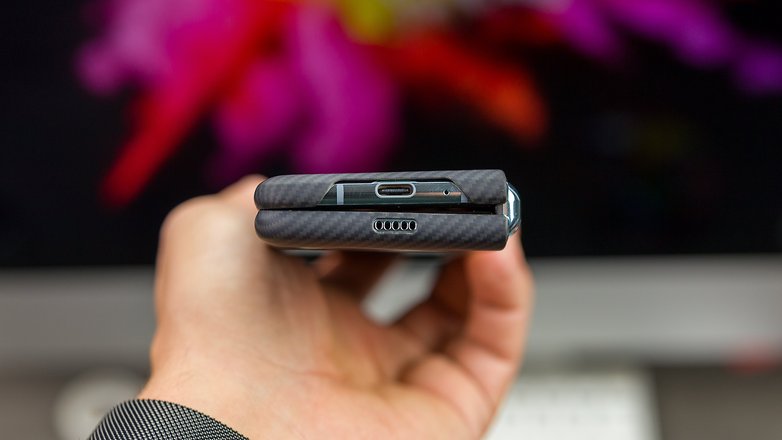 Of course, when using a foldable smartphone on a daily basis, it is also normal to wonder about the robustness of the device. As I explained in a previous article, the Galaxy Fold is not a classic smartphone. You can't use it in the same way as a traditional smartphone. It is not waterproof (no IP certification) and its format makes it a little more complicated to handle. It is also important to keep your hands clean and dry to avoid any damage. Even when you touch the screen, you should remember not to use your fingernails or you risk scratching the Galaxy Fold screen.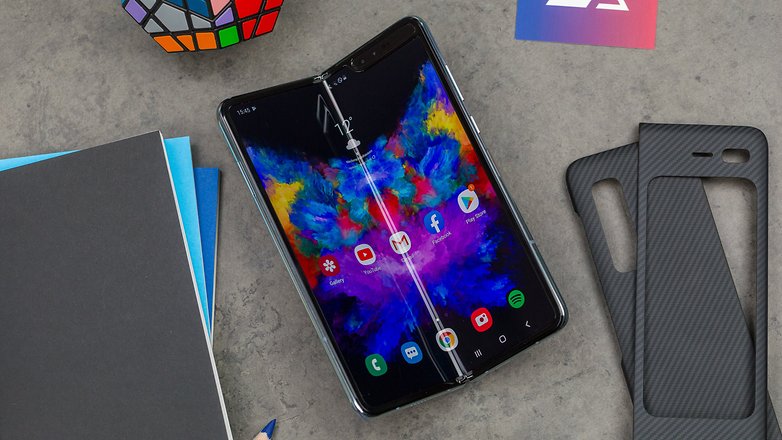 Two displays, but only one is important
The Galaxy Fold has two displays, with the 4.6-inch Super AMOLED front panel at 21:9 being less exciting. For quickly glancing at a message or other similar things, this is sufficient. The quality of the display remains absolutely fine with perfect contrasts, good viewing angles and the bright colors typical of Samsung displays. The HD definition is also sufficient given the size of the screen. But the small size is a bit of a shame.
The bezels around this small screen are indeed quite large and I hoped that Samsung, for its next generation of Galaxy Fold, improves this aspect. Even if I was able to use this screen without any problems (I have small hands), its size makes it limited for many uses. This is a pity because a slightly larger screen would allow you to do a lot of tasks without having to open the large screen, which can be painful in certain circumstances or when you are in a hurry.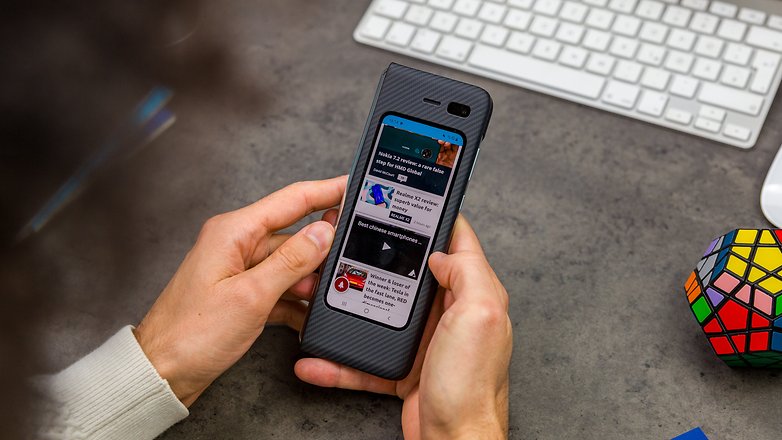 In general, you should therefore open this smartphone and use the large screen for more comfort. This one is 7.3 inches long - or 7.1 inches if you remove the rounded corners - and it is superb. The resolution is 2152 x 1536 pixels. Of course, it's not as accurate as with some high-end smartphones, but 362 dpi is perfectly sufficient for a clear display. The brightness is also excellent. There is nothing wrong with contrasts or angles of vision either. In short, Samsung provides us with top-of-the-range technology.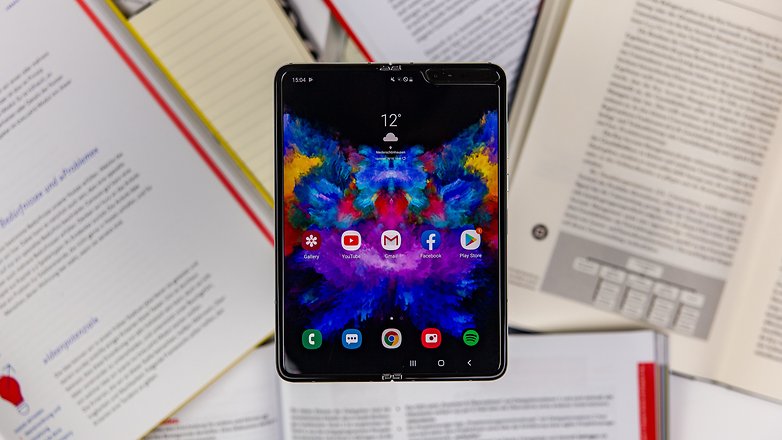 One of my big question marks with the Galaxy Fold was the fold in the center of the screen. Fortunately, I was quickly reassured. Yes, a small elevation is visible and perceptible here, but it's so minimal that you will quickly get used to it, especially when you watch a video or use a black background. The panel is not flexible or flimsy to the touch. This part of the Galaxy Fold also gives a stable impression. Whether it's photos, videos, websites, texts or games, this screen is a real dream! My only criticism is the rather large notch that sometimes gets in the way, especially of the keys when you play certain games.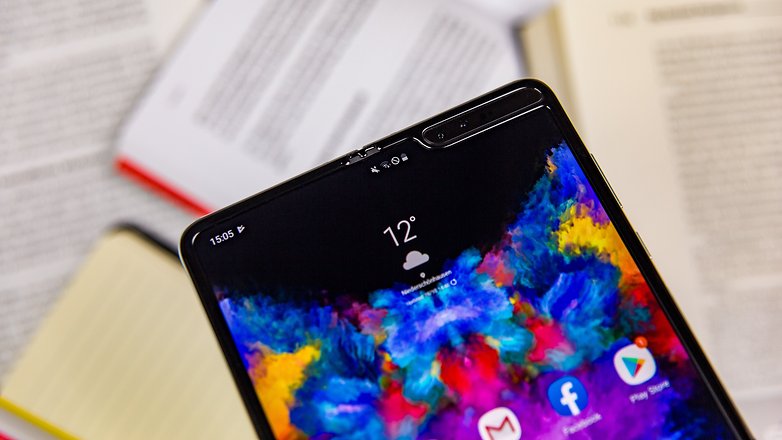 The software is also flexible
In order for the Samsung Galaxy Fold to work as a concept, the software has a strong role to play. Two things, in particular, are important here. Samsung has enhanced its One UI interface for the foldable smartphone with switching from one display to the other and the ability to use three applications at the same time.
The switching system is called Samsung App Continuity. This means that you start and use an application on one of the two screens and it will simply switch to the other screen when the Galaxy Fold is open or closed. It works surprisingly well, even with games like Asphalt 9. I didn't notice any delays, and to tell you the truth, I was very impressed! In the Settings, you can specify for each application whether it should switch automatically or not. It's all very practical.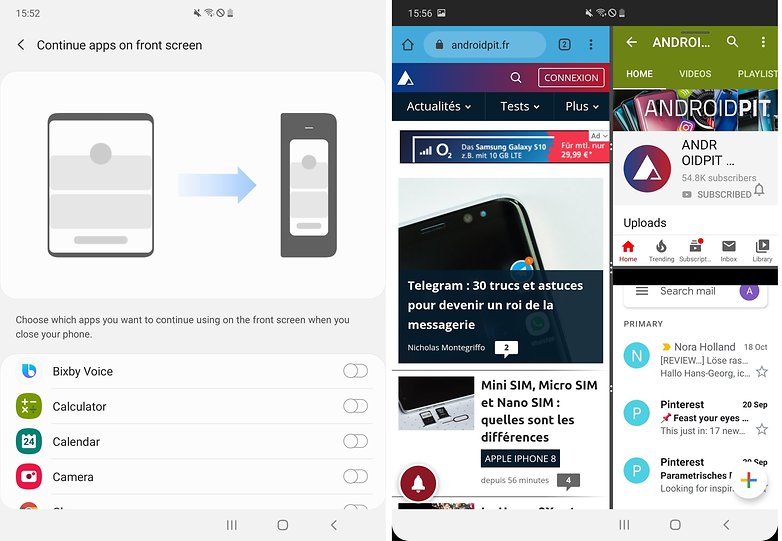 On the large screen, it is possible to run two or three applications in parallel. The screen will then be divided accordingly. Applications can be moved and windows can be resized. It's a fun aspect that should save you a lot of time in many cases.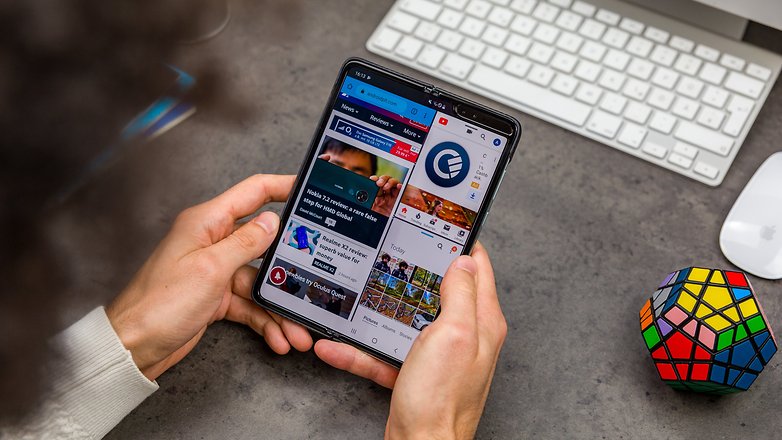 During my time with the Samsung Galaxy Fold, I didn't notice any difference in the speed of the applications when three of them were running simultaneously. It is possible to juggle between applications without any difficulty.
More power than you need
The performance of the Samsung Galaxy Fold was impeccable during my review period. Everything ran quickly and smoothly, with no jolts or latency. The Fold is a smooth and fast smartphone that doesn't overheat too much even during long gaming sessions. Not surprisingly, the Qualcomm Snapdragon 855 is very powerful and can also rely on 12GB of RAM, which should be enough for some time. The internal memory is 512GB (UFS 3.0) cannot be expanded with a microSD card.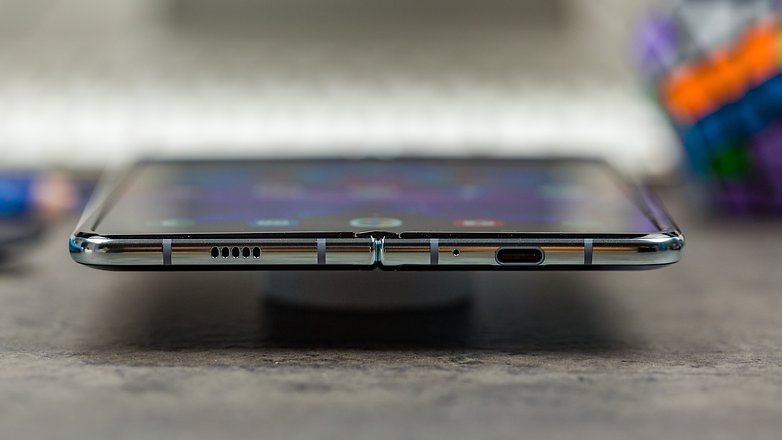 The 4:3 aspect ratio of the Galaxy Fold's large screen is particularly suitable for gaming. Most titles on the Google Play Store support this format. For the few which do not, the apps take the 16:9 format with black borders.
Samsung Galaxy Fold benchmarks comparison
| | Samsung Galaxy Fold | Samsung Galaxy S10 | OnePlus 7 Pro | iPhone 11 Pro Max | Realme X2 Pro |
| --- | --- | --- | --- | --- | --- |
| 3D Mark Sling Shot Extreme ES 3.1 | 5485 | 4905 | 5374 | 5396 | 5232 |
| 3D Mark Sling Shot ES 3.0 | 6609 | 4872 | 6958 | 5419 | 6340 |
| 3D Mark Ice Storm Unlimited ES 2.0 | 71007 | 53189 | 65808 | 96915 | - |
| Geekbench 5 (Single / Multi) | 719 / 2570 | 704 / 2283 | 733 / 2748 | 1338 / 3512 | 626 / 2638 |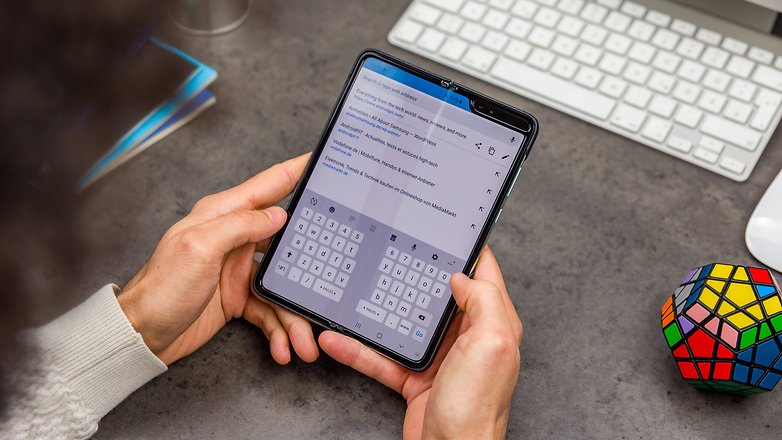 Good stereo sound
As a premium smartphone, the Galaxy Fold offers stereo speakers. There is a speaker on the upper part and a speaker on the lower part. When you hold the smartphone in landscape mode, you must therefore be careful not to hide the speakers. The sound is of very good quality and can reach a fairly high volume. However, avoid pushing the speakers too hard as they tend to distort a little.
Without a headphone jack, Samsung makes up for it by offering the Galaxy Buds in the box. These in-ear headphones are of very good quality and offer a great sound experience. Coupled with the Fold, the Buds do the job perfectly.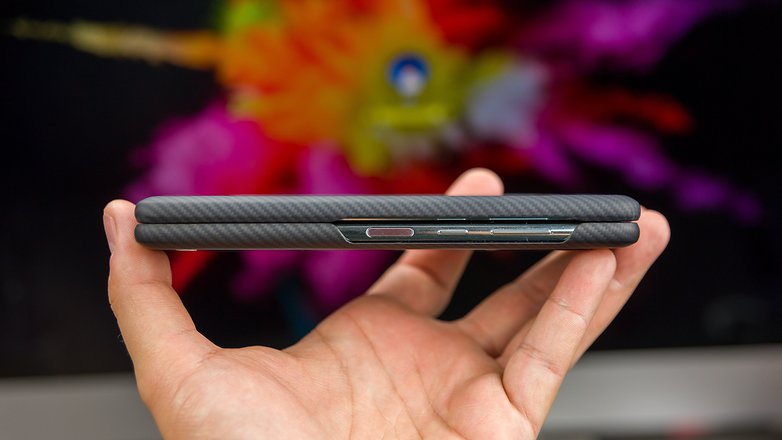 As for calls, I didn't have any concerns. During phone calls, those on the other end of the line can enjoy your voice without any choking or interference. By the way, you can only make a call in smartphone mode, not when it's open.
Six cameras in three places
The Galaxy Fold has a total of six cameras on board. The main camera at the rear is equipped with an ultrawide-angle 16-megapixel lens with f/2.2 aperture, a 12-megapixel variable aperture camera (f/1.5 and f/2.2) with OIS, and a 12-megapixel x2 telephoto lens with f/2.4 aperture and also OIS.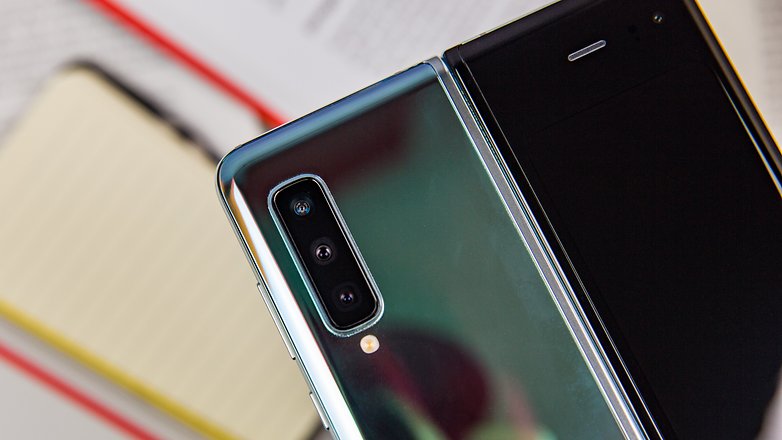 Technically, on the back, it's the same configuration as what you can get on a Galaxy S10 Plus. You can take pictures with the small screen or with the large screen. The latter is more comfortable to do so because it allows you to visualize the image you want to take more easily.
In terms of quality, it is very good and quite similar to the S10. However, artificial intelligence seems more aggressive with a result that is sometimes too far from reality. However, the level of detail remains very high and the Fold offers a very pleasant photo experience. The ultrawide-angle and telephoto lenses are also very pleasant and provide good results providing there is enough light, of course.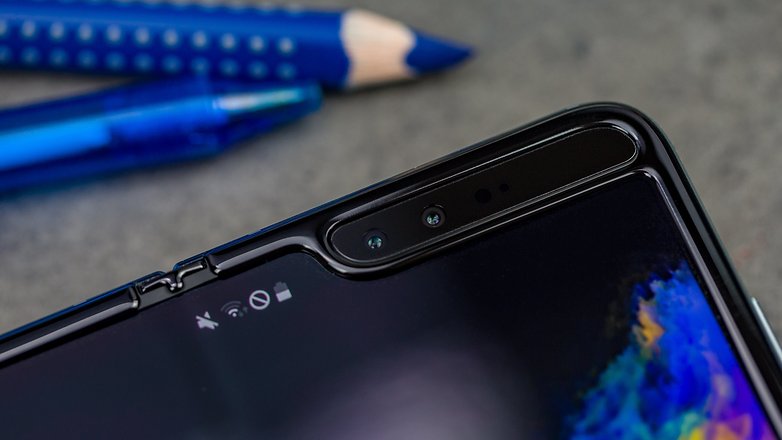 As for the front sensors, the Galaxy Fold has three: a 10-megapixel selfie camera with f/2.2 aperture is located at the front, plus dual 8 and 10-megapixel cameras (normal focal length and wide-angle) for indoor selfies on the large screen. The 10-megapixel sensor is the same as on the S10 again and therefore provides the same shots, with good selfies.
On the video side, the Galaxy Fold does not disappoint either. Samsung shows that after Apple, it is still as good at videos as ever. Google should note of these two for its Pixels. Samsung's foldable smartphone can film in 2160p at 30fps and 1080p at 30 fps.
In the end, in addition to the good quality of the photos with the Fold, it is above all the experience that changes, especially if you use the large screen when shooting. Viewing them on this large screen is more user-friendly.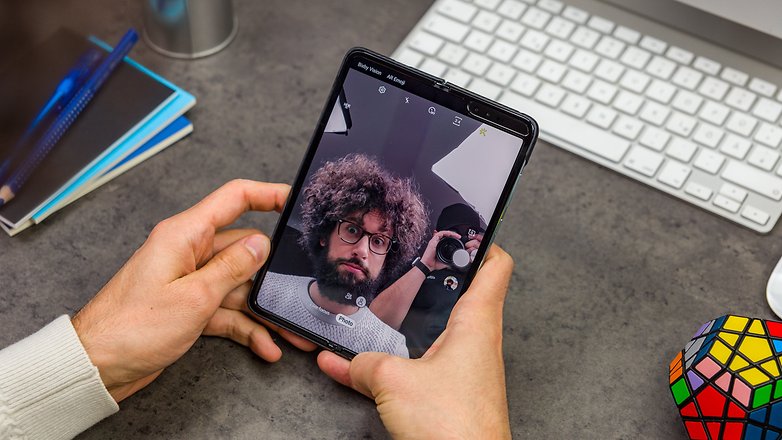 The battery life depends on you
The Galaxy Fold has a 4,235 mAh battery - or better yet, two, because the capacity is distributed over two rechargeable batteries interconnected in both parts of the case. Battery life will depend very much on how you use it, especially on how much you use the big screen, and believe me, you will want to use it very frequently.
Samsung promised pretty numbers, and reality has confirmed it. The smartphone can easily last longer than a day under fairly intensive use conditions, even if you abuse the large screen. It will be difficult to get to the end of the day without energy unless you have spent the whole day watching Netflix. If you do not use the large screen too much, it will be easy to exceed two days of autonomy. This is quite similar to what a Galaxy Note 10 Plus offers.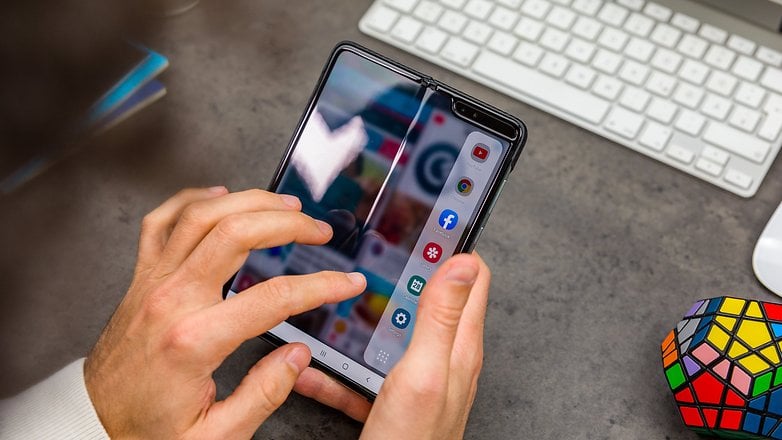 When it comes to charging, the Galaxy Fold offers a USB-C port compatible with fast charging but only at 10 Watts. It takes just under two hours (about one hour 50) to fully charge. It's a little disappointing because Samsung has gotten us used to faster charging speeds than this. I was comforted by the 10 Watt wireless charging though.
Samsung Galaxy Fold technical specifications
A great smartphone!
Let's be clear, no other smartphone in years has inspired me as much as the Samsung Galaxy Fold in a review. Yes, the smartphone is very expensive, yes once folded it is thick enough and yes we do not yet know the durability of this type of device. But one thing seems clear to me: this new form factor will enrich the smartphone market, and I look forward to discovering the alternatives coming from the competitors.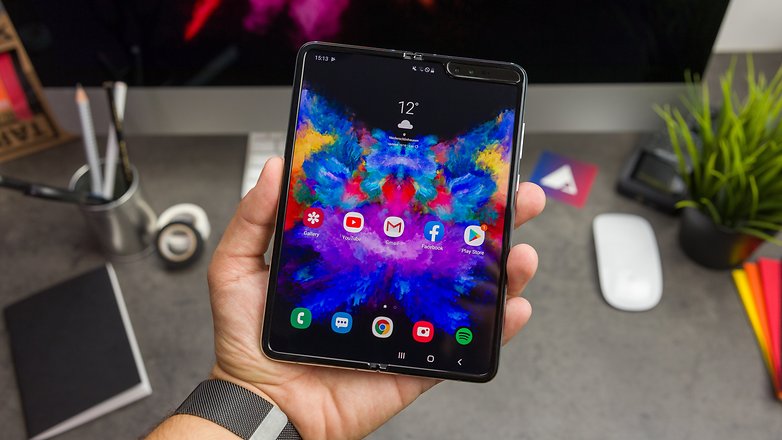 As things stand at the moment, I will obviously not recommend the purchase of this smartphone. The Galaxy Fold is aimed at a niche audience that is keenly aware of the latest high-tech innovations but also of the fragility of this new form factor.
---
We'd like to say a special thanks to Jens Herforth (@JensHerforth) for loaning us his Samsung Galaxy Fold for the purposes of this review.