Samsung Galaxy Alpha review: stylish and accomplished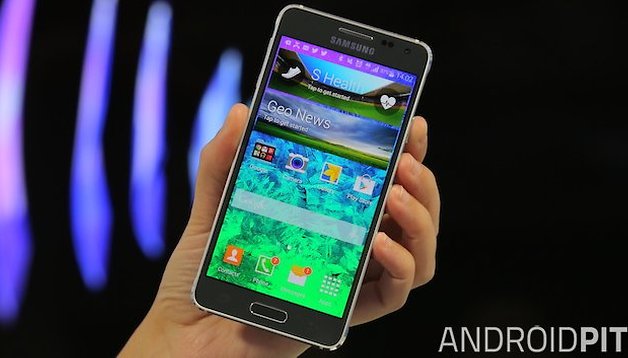 Samsung received a lot of flack upon its introduction of the Galaxy Alpha, with many people casting it off as an "iPhone clone" with even worse battery life. The device is now available and we've had a chance to put it through its paces to determine whether the initial hate was justified. How good is it? Find out in our Galaxy Alpha review.
Good
Good screen

Beautiful design

Fast octa-core processing
Bad
Small battery

Big price

No SD card slot

Poor speakers
Samsung Galaxy Alpha: All deals
Samsung Galaxy Alpha design and build quality
Samsung has long since received criticism for the design of its flagship devices, with the Galaxy S5 not only being housed in plastic shell, but also featuring an unfortunate rear design which many found off-putting. While the Galaxy S5 is not going to win any awards for the looks department, things have changed for the Galaxy Alpha.
A small, slim, with aluminium edges, the Galaxy Alpha has the premium feel that was sorely missing on the S5. Gone are the "band-aid" style backplate dimples, instead we have a much more subtle and noticeably smoother rear.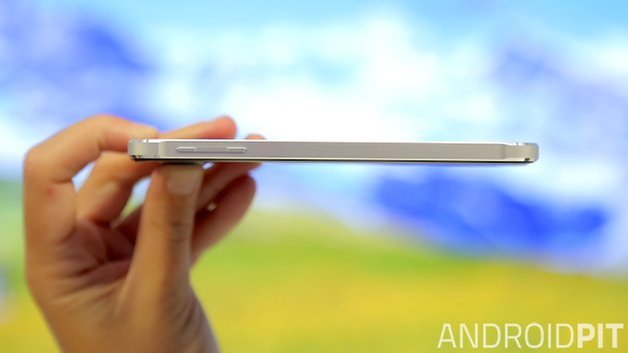 The Galaxy Alpha sides are flat, with gentle slopes leading to the backplate and the front screen; it's easily held in one hand with no fear of it slipping out. It has a typical Samsung Galaxy face with the Samsung logo underneath the speaker at the top, and home button at the bottom. The micro USB slot, second speaker, and mic can be found on the underside of the handset with headphone jack on the top.
On the right side you'll find the comfortably placed lock button, with the volume higher up on the left. The rounding of the corners is fairly sharp, giving the Galaxy Alpha quite a modern, "square" look. At 132.4 x 65.5 x 6.7 mm, the 4.7-inch screen fills the space nicely, but there is still room to grow it out for future iterations to make more use of what's available.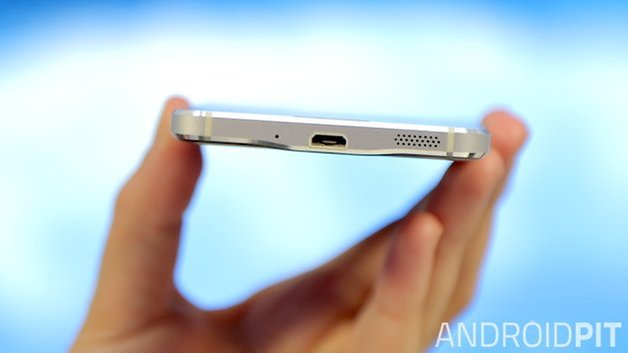 The backplate is a dark gray, pseudo leather affair the same as can be found on the Galaxy Note 4. It's textured for grip, making the Galaxy Alpha feel pretty safe, with a the slightly raised camera sensor at the top-middle.
There are, of course, some similarities to be drawn between this and the recent iPhone 5s, but what does it matter, really? In terms of pure aesthetics, it's the best Galaxy design to date. Sleek, stylish, sophisticated - take your pick. It's not a huge blocky near phablet, it's thin (Samsung's thinnest Galaxy ever) and the aluminium edges elevate it above what is found on most mid-range handsets. A strong start from Samsung here.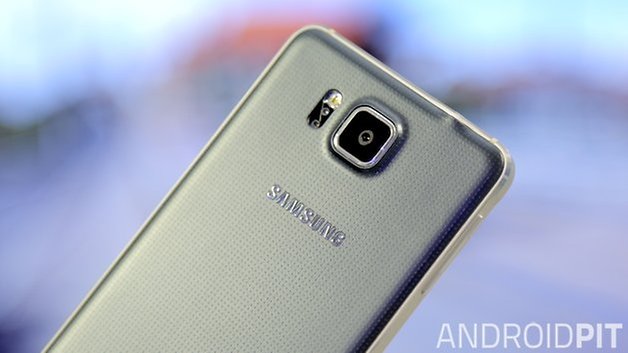 Samsung Galaxy Alpha display
Rather than go down the fancy QHD route, or even Full-HD, Samsung has equipped the Galaxy Alpha with a rather pedestrian 4.7-inch 1280 x 720 pixels (312 ppi) display. This is quite disappointing by modern standards, especially given the high price tag the the Galaxy Alpha demands.
Aside from the lack of definition caused by the low pixel count, the Galaxy Alpha display actually has great color reproduction and excellent viewing angles. It's not overly saturated, it can even come across a tad understated, but it's all to its benefit.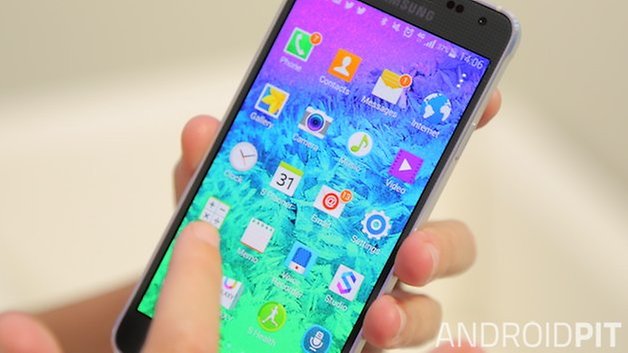 Sadly, it's not the brightest screen, it's a tad dark with lowered brightness, 50% being far darker than I would have liked, and even with the brightness whacked up it's going to struggle in certain conditions.
Overall, with a lower price tag I'd find it hard to complain about the screen. The lower pixel count hurts when playing certain games for sure, and as QHD starts to become the norm in 2015, the difference in quality will be plain to see. As of right now, just for browsing, texting, emailing etc, it's really pretty good.
Samsung Galaxy Alpha software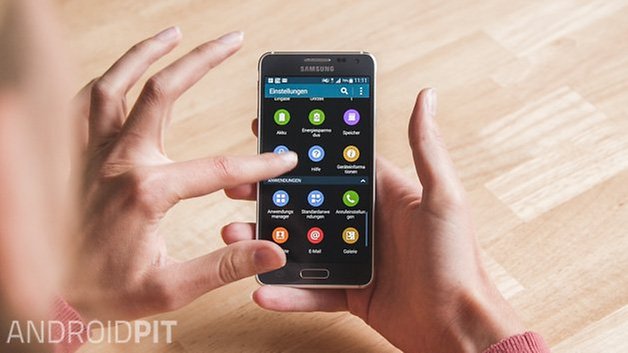 The Galaxy Alpha runs Android 4.4.4 KitKat and the latest version of TouchWiz, bringing some functions from the Galaxy S5 like S Health (the handset also features a heart rate sensor in the rear), fingerprint scanner and "private mode".
The fingerprint scanner was a much talked about aspect of the Alpha, at least from Samsung itself, and while it's essentially a gimmick, it is largely functional. You can register up to 3 prints which can be used to unlock your phone. A backup code is necessary, incase it encounters any problems, but I was able to unlock the the Galaxy Alpha everytime using the fingerprint scanner. This usually took several attempts however, unless I was being particularly careful on my first attempt, so I can't see how it provides any meaningful benefit over using a normal pin number.
S Voice, Samsung's voice control app, still leaves something to be desired. It takes a while to retrieve answers, the processing icon sits spinning for far too long, and often it fails to provide any information. It's actually almost redundant in every respect. You can use it to do actions like open your messages, for example, but the time it takes you to launch S Voice, say the command, and for the app to run the process, makes it pointless. Searches can even be typed out quicker.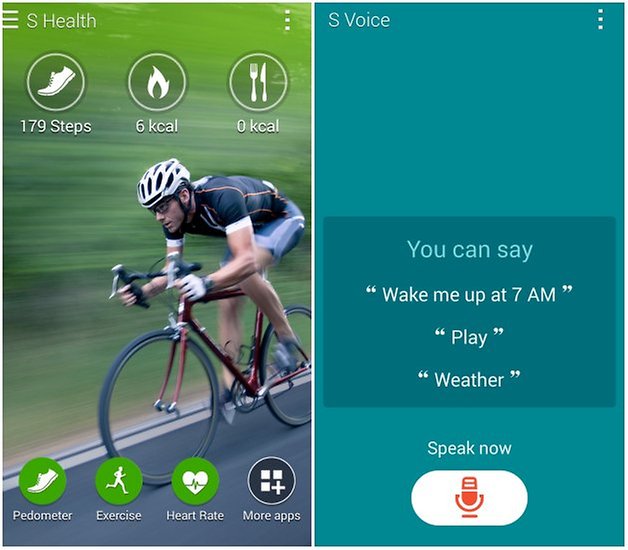 S Health is a fitness app which operates silently, tracking your steps and how many calories you've burned. There are many alternatives to this app now, but it's uncluttered and efficient. As mentioned previously, the Alpha has a heart rate sensor which can be used in conjunction with this app. It gave me three separate readings in three consecutive attempts which varied by 5 BPM, so I'd consider taking average if you are going for accuracy.
Thankfully, unlike most other pre-installed guff which can be found preloaded on smartphones, S Health and S Voice can both be uninstalled if you wish.
Private mode is a neat little feature which allows you to hide certain apps and folders, and I found it quite useful. Upon entering private mode you set up apps and folders which you wish to remain hidden, along with a password which will be required to access them. This is great for when sharing your phone, or giving it to someone else temporarily (something we add AndroidPIT do all of the time!) Again, there are alternatives in the Play Store but it's functional and nice to have immediately there in the settings.
One software aspect that continually grinds my gears is the lack of "volume down to mute" feature. Would it be so hard to make it so pressing the volume down turned the phone to silent, rather than vibrate being the quietest setting? Not a deal breaker by any means, but something that always bothers me, and continues to do so here.
Samsung Galaxy Alpha performance
The Galaxy Alpha features an Samsung Exynos 5 Octa processor, which of course, features 8 cores. Octa-core processors are finding a home on mid-range devices, despite the number of apps and features than can take advantage of so many cores being relatively few, and while I can't with any weight state whether the same perceivable performance couldn't have been achieved with less cores, the Galaxy Alpha is incredibly fast and is helped along by a healthy 2 GB of RAM.
Navigating the interface and opening apps is a breeze, especially once they've been cached (opened once before); my most used apps jump open in a flash. The Galaxy Alpha's AnTuTu benchmark score was actually one of the highest I've ever seen, and its performance in games is fantastic (of course this is partially thanks to the lower screen resolution).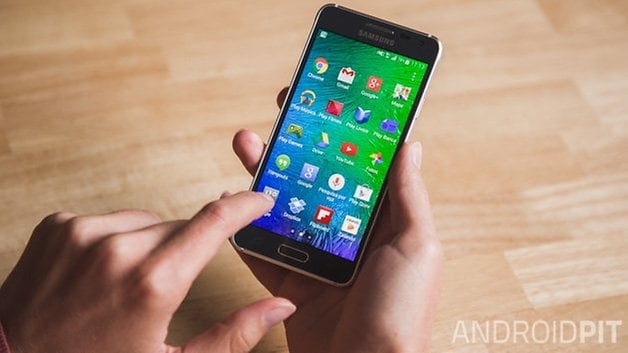 One aspect of the Alpha which lets it down is the lack of expandable storage. While the 32 GB of internal memory it is supplied with is welcome (although the OS nerfs 6 GB of it out of the box), I know some people are going to find this amount of storage space limiting, especially if wanting to use the Galaxy Alpha for a full multimedia experience, loaded with pictures, videos and games.
Regarding multimedia, it also must be stated that the Galaxy Alpha speakers are substandard, borderline dreadful. Prone to clipping, tinny even by smartphone standards, you won't want listen to any music through these, and even watching video clips might be painful for some (though truthfully I'm something of an audio snob).
Samsung Galaxy Alpha camera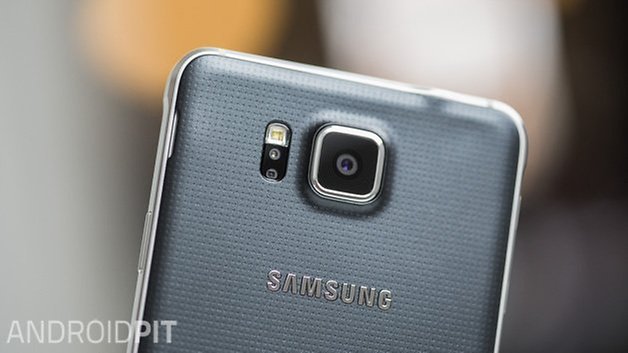 The Galaxy Alpha houses a pretty nifty 12 MP rear-camera and a 2.1 MP front facing camera. It shoots in the 16:9 format, and uses the same camera software as can be found on the Galaxy S5, with the same ISOCELL sensor. What this means, is that you basically get a very similar image quality as can be found on Samsung's current flagship, albeit with slightly lower definition.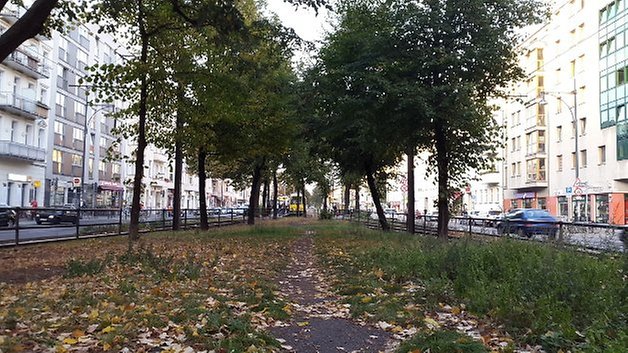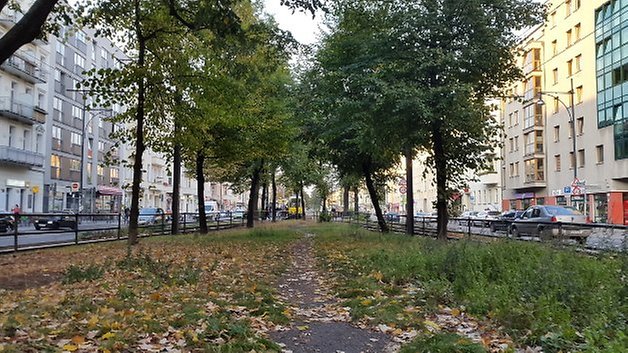 In our test of the Alpha camera it delivered great photos with some fine results in HDR mode (which also features real-time HDR preview, so you can see the effects of HDR in the viewfinder before taking the shot) and the exposure was generally balanced, with high contrast images.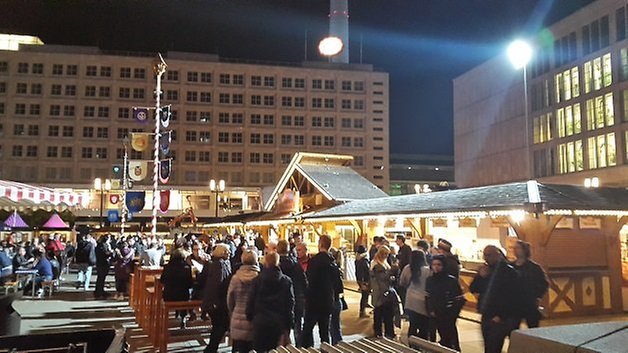 One of the weaknesses was the focus mode operation while under low light. It was always slow, but sometimes failed entirely. When it did work, the low light capture quality varied, occasionally produced some really pretty, surprisingly well-lit, scenes.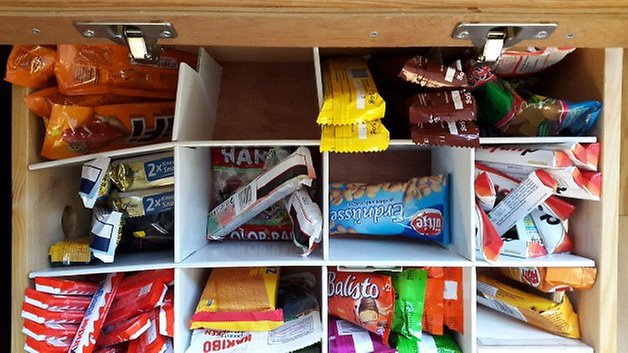 Overall, I think casual users will be impressed by the camera quality. You can usually trust Samsung to deliver on camera specs, and lot of its signature style is here.
Samsung Galaxy Alpha battery
The Galaxy Alpha battery may be its biggest weakness. At 1,860 mAh, the battery capacity is inferior to even that of the Galaxy S3, a device which is over two and half years old. This is where the lower screen resolution of the Galaxy Alpha is actually something of a benefit, as the HD screen takes less of a toll on the overall battery life, thankfully. That being said, because of the relatively dark screen, you will probably want the brightness turned up pretty high.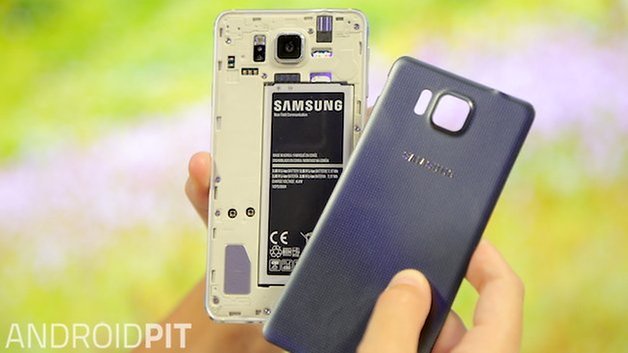 So, if you tend to use even basic apps at full brightness throughout a normal day, you will need to charge the Galaxy Alpha every night. The small battery is, expectedly, the compromise of the Galaxy Alpha's beautiful super-slim design.
Price and release date
There's no need to worry about the Galaxy Alpha release date as it is already available! The Galaxy Alpha price is currently set at 679.99 USD off-contract on Amazon.com. This means that the Alpha is exceeding the cost of Samsung's current flagship, the Galaxy S5, by over 150 dollars, as that is right now sitting at a price of 519.55 USD. Based purely on internal specs, the Galaxy Alpha is definitely overpriced.


Check out the Galaxy Alpha specs to see what else is under the hood.
Samsung Galaxy Alpha technical specifications
Final verdict
I was originally very sceptical of the Galaxy Alpha. Don't get me wrong, I jumped straight to Samsung's defense with its design philosophy regarding the Alpha, but I was still unsure about the end-product. Now, those worries have largely been cast aside: the Galaxy Alpha is a great handset.
It looks the part, it's slim and metallic and powerful; it's Samsung's sports car. The Alpha might struggle a bit if you want to take it cross-country, but keep it clean and use it just to get from A to B and you're going to have a lot of fun with it. There is a lot to be said for just making a phone that feels nice to hold and look at, but add high performance and a nice camera and it really becomes an attractive option, that is, if you can stomach the small battery life and high entry price.