Samsung Galaxy A80 review: counting the cost of creativity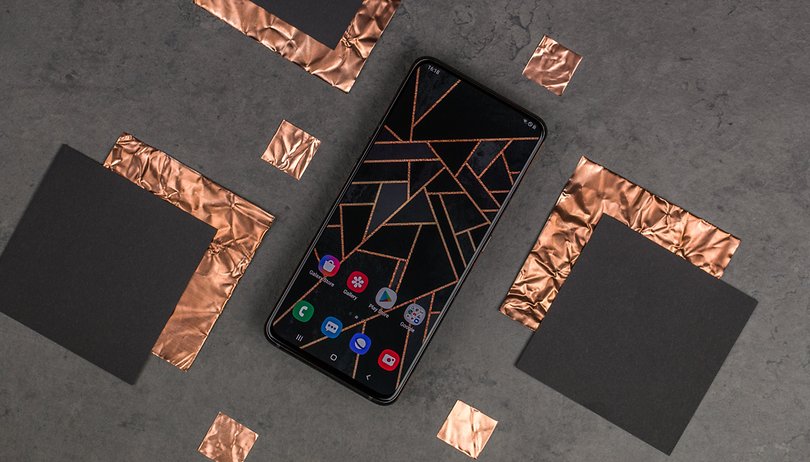 With the Galaxy A80, Samsung presented a smartphone that serves as a true flagship for its mid-range family. Like its siblings, it has a special feature to offer. This time it's a rotating pop-up camera paired with a full, bezel-less display: no hole punch, no notch. I've been using it for a couple of weeks. Here's what I thought.
Good
Excellent display

Lots of camera options

Good battery life
Bad
Biometric unlocking awkwardness

Camera mechanism is loud

RAM and processor mismatch
Samsung Galaxy A80: All deals
Samsung has a pricing problem
The Samsung Galaxy A80 is available now in the UK for the princely sum of £579. You can get up to £250 off when you trade in your old phone, but you'll need a Galaxy S9 to qualify for the full amount. The A80 will, of course, come to the US market as well, but there's no official pricing yet. At today's exchange rate, that's about $699, although there's no way Samsung will actually ask for that much in America.
The pricing strategy of the A80 is a strange one, especially for UK consumers. The top end of the A-series is directly competing with the bottom of the S-series. A new Galaxy S10e bought directly from Samsung costs just £20 more than the A80, and that has a Snapdragon 855 in it. This is not the industry-wide problem of last years flagships falling to the price of this year's premium mid-range devices. The S line and the A line are within touching distance even at launch prices.
When you factor in third-party retailers, it's even harder to recommend the A80. A regular S10 currently cost £623 on Amazon. And the S10e is a tenner cheaper than the A80 at £569. The only reason to buy the A80 then, it seems, is for that interesting new camera mechanism and the larger display. It's a gamble Samsung obviously thinks is worth taking.
The mid-range is for experimenting
Samsung is building a reputation for using its mid-range devices as a kind of testing space for new technology. With the Galaxy A8s we saw the first Infinity-O-Display, commonly referred to as the hole-punch display, which later came to the flagship S10 line. With this A80, the South Korean manufacturer is again dabbling with a new way to maximize the screen-to-body ratio with an innovative new camera solution. It's a bold and daring design.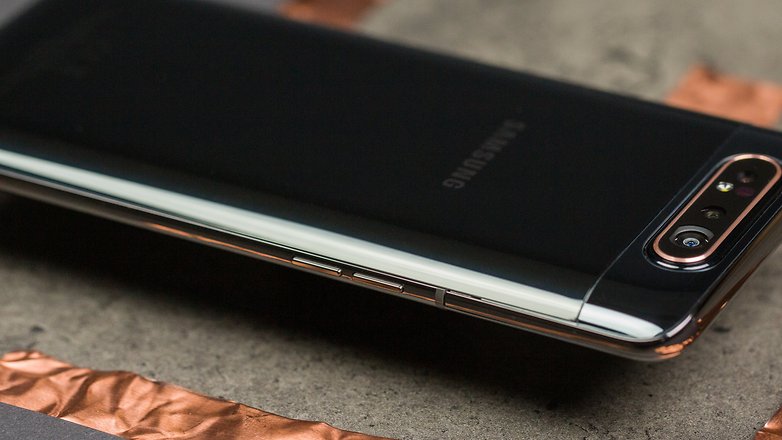 The phone looks great from the front, and it feels well made. The SIM tray is located on the bottom next to the USB port and a single speaker, whilst on the right-hand side you'll find the power button. The volume rocker, which is two separate buttons, is on the left. That's it. There's no Bixby button on the A80, which will be a relief to a lot of smartphone users, and no 3.5mm headphone jack.
Handling is a bit of an issue. At 9.3 millimeters, the Galaxy A80 is considerably thicker than its siblings. Although it is a bit bulbous, it fits well in the hand thanks to the rounded back to the long sides. It doesn't feel as bulky as it seems at first glance, you get used to it. Nevertheless, you have to be aware that this is not a slim phone by any stretch of the imagination. It's also pretty weighty, at 220g.
A huge, clean display thanks to a pop-up camera
As with the Galaxy S10, Samsung has an almost completely front-filling Super AMOLED display in 20:9 format in the Galaxy A80. That's a full 6.7 inches in size with FHD+ resolution and shines like a typical AMOLED with rich colors and deep blacks. The brightness is also sufficiently high in all situations. You know what you are getting when you buy a Samsung AMOLED, and this one is no different. It certainly won't let you down.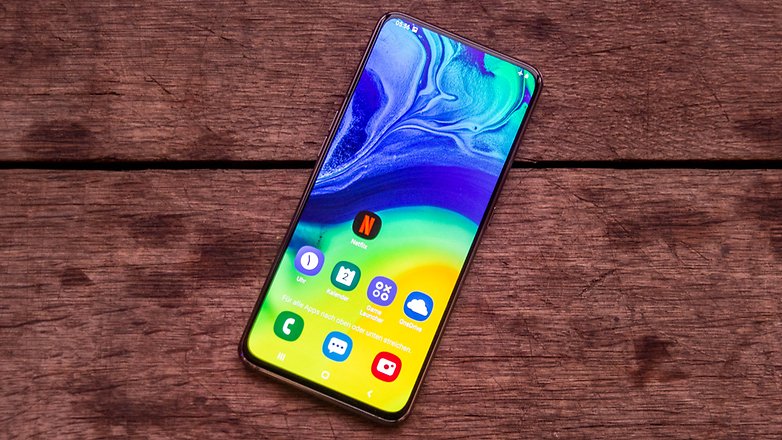 This Infinity Display is made possible by placing the proximity and brightness sensor under the display, and instead of squeezing the earpiece into the narrow frame above the display like on the Galaxy S10+, the South Koreans rely on the same technology as Huawei on the P30 Pro. When calling, the sound is transmitted via display vibration. It works great! The fingerprint sensor is also integrated into the display and scans optically, but don't get too excited about that...
One UI has come on leaps and bounds
As on all other new Galaxy-A smartphones, the software is the current Android version 9.0 Pie . Samsung puts its new One UI 1.1 over it and that's a good thing. Without an improved UI made especially for larger displays, the large Galaxy A80 requires almost exclusively two-handed operation. You can do some small tasks with one hand, but it's always a stretch. You can read more about the One UI software in this article:
There a couple of disappointments on the software side, however. The in-display fingerprint sensor is one of the most frustrating I have ever used. Recognition was so poor that I was avoiding unlocking the phone for quick tasks if I could help it. Things improved slightly when I registered the same fingerprint multiple times, but it was still poor compared to the Oppo Reno 10x I was also using at the same time.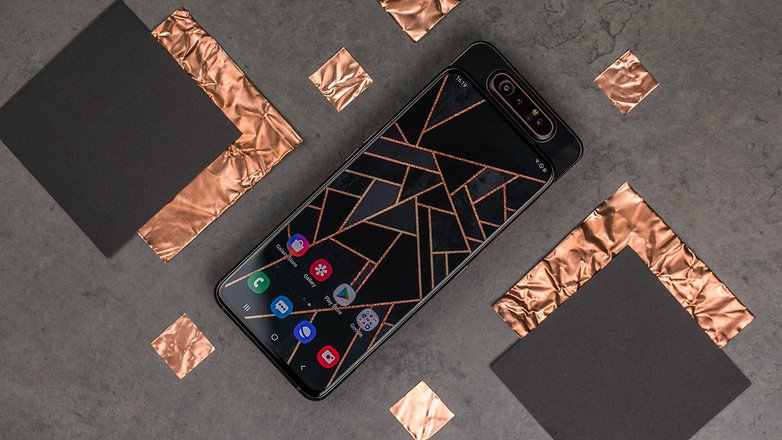 The most frustrating experience happens when you try and fail to unlock the phone with your fingerprint several times in a row, and a 30-second timeout kicks in before you can have another try. This feels like the ultimate kick in the teeth. There's no facial recognition here due to the way the camera mechanism works, so my guess is that most A80 owners will be back on PINs, patterns or passwords.
As with most Samsung smartphones, you cannot delete the pre-installed Facebook app. This is not news, of course, but I will keep highlighting it as a negative until someone at Samsung lets me delete the bloody thing.
Snapdragon instead of Exynos
There is a little surprise under the hood of the Galaxy A80. It is not one of Samsung's Exynos chipsets that is used here, but the Qualcomm Snapdragon 7150 (2.2 GHz), which is supported by 8 GB of RAM and 128 GB of expandable storage (microSD).
The reason? For what the Korean manufacturer wants to offer with the model, the Qualcomm chip was best suited. As the flagship of the mid-range series, the Galaxy smartphone was supposed to deliver superior performance. It seems the right Exynos does not really exist for this.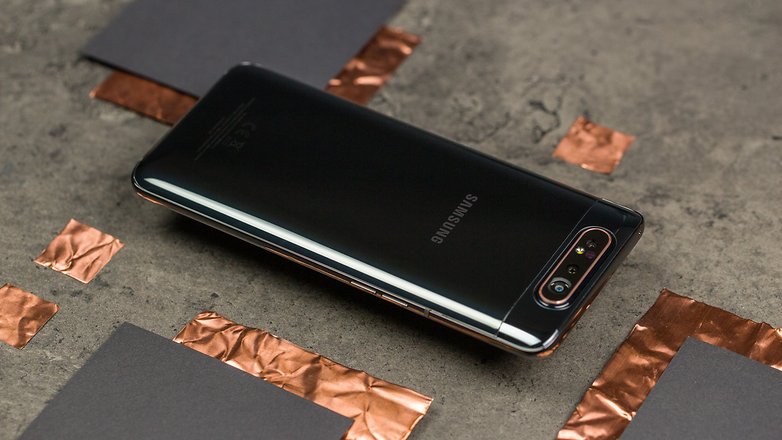 The result, however, is a little bit disappointing. Performance is fine for everyday tasks, but I started to experience slow down when I tried to push it too hard or did a lot of multi-tasking. The choice to go with 8GB of RAM is also a strange one. This is not a Snapdragon 855, and it often feels as though the processor is never really making the most of that 8GB of RAM. Would the performance be any worse with, say, 4GB? I'm not so sure. Still, 8GB looks better on the box, I guess.
As you can see in the benchmark table below, the Samsung Galaxy A80 struggles to keep up with its bigger S-series brothers - remember that S10e is only twenty quid more than the A80 - but the A80 is significantly more powerful than the Galaxy A50. Again, it is clear that power is not a selling point for this phone, it's all about that camera and display.
Samsung Galaxy A80 benchmarks
| | 3DMark Sling Shot Extreme | 3DMark Sling Shot ES 3.0 | 3D Mark Ice Storm Unlimited ES 2.0 | Geekbench 4 (Single/Multi) | PassMark Memory | PassMark Disk |
| --- | --- | --- | --- | --- | --- | --- |
| Galaxy A80 | 2403 | 2264 | 37465 | 2504/6897 | 25097 | 69420 |
| Galaxy A50 | 1288 | 1252 | 15468 | 1717/5610 | 14151 | 60032 |
| Galaxy S10e | 4387 | 3870 | 54986 | 4224/9917 | 19341 | 75600 |
| Galaxy S10 | 4299 | 4381 | 54749 | 4406/9998 | 19720 | 75832 |
Three cameras for both sides
The Galaxy A80 lacks any trace of a notch or hole punch in the display. Instead, Samsung has come up with a special trick for the camera. The manufacturer copies the slider mechanism of the Oppo Find X, and combines it with the rotating camera of the Oppo N1 . We've also seen Asus try this kind of thing with the ZenFone 6, which our man Pierre quite liked when he reviewed it.
The result is a retractable camera module that can also rotate. If you activate the camera app, the module moves out like the slider of the Find X and the oval, elongated camera module rotates 180 degrees on the horizontal axis. Thus the main camera also serves as a selfie camera.
And here users have three sensors at their disposal:
48 megapixels, wide-angle, f/2.0 aperture
8 megapixels, ultra-wide angle, 123 degrees, f/2.2 f-stop
Time of Flight (ToF)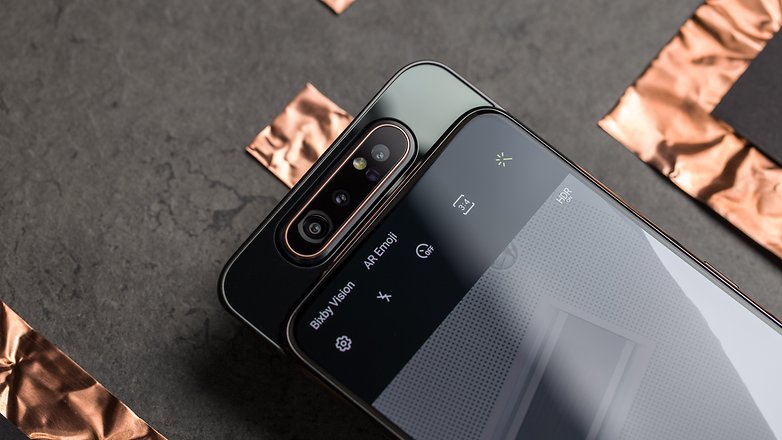 This opens up numerous possibilities for photographing, no matter in which direction. Wide-angle shots are just as possible as group selfies and portraits work excellently thanks to the ToF camera (Time of Flight). The camera also helps with depth detection in augmented reality apps. A bit of AI also plays a part in the camera app and offers scene recognition, for example, as in the current high-end models.
Shots were, on the whole, rather good. The ToF is particularly well-utilized. A new Live Focus mode lets you create a bokeh effect around your subject in real-time, and it also works when shooting video. It's a cool idea and is well executed. Samsung bet big on this camera setup and it very almost paid off, but Live Focus is definitely a win.
The camera also has its disadvantages
As interesting and unusual as the camera design is, the disadvantages were apparent during my test. The processing of the Galaxy A80 is excellent to a large extent, but some concerns remain about the mechanical approach. Once the camera has been extended, there is even more potential for dust, dirt or water. It's also incredibly loud. This is not the smartphone for sneaky selfies with unsuspecting subjects in the background.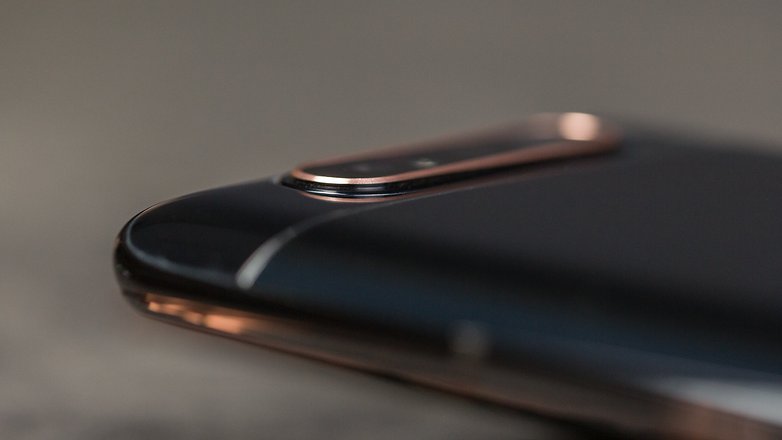 The mechanism didn't always do what I wanted, either. Sometimes, for example, the camera did not turn completely to the selfie position. It also remains questionable how long the mechanism will last if it is really used in everyday life. During our first tests, we noticed that the module immediately retracts when viewing a selfie, only to return to the shooting position when returning to the camera app, complete with the noise it makes. Samsung has now fixed this with a software update, so at least the company is listening and making tweaks to this new camera setup. The camera app is still quite slow overall, though.
The plus side here though is that if you want a Samsung phone with a fantastic display that is not hindered by a notch or a hole punch, then this could be a good option. Personally, I am a huge fan of pop-up cameras. Not because I take a lot of selfies or I think they're cool. Quite the opposite. A pop-up camera gives me the chance to have a full, clean display. I'm more than happy to have the selfie camera out of the way 99% of the time.
It can easily last you two days
Samsung uses a 3,700 mAh battery in the Galaxy A80 as an energy source, which can be recharged quickly with 25 watts via the Super Fast Charging power supply. The combination of an economical processor, an FHD resolution and said capacity, however, provides two days running time with really economical use. Getting through a single day is an absolute breeze, regardless of what you do with it.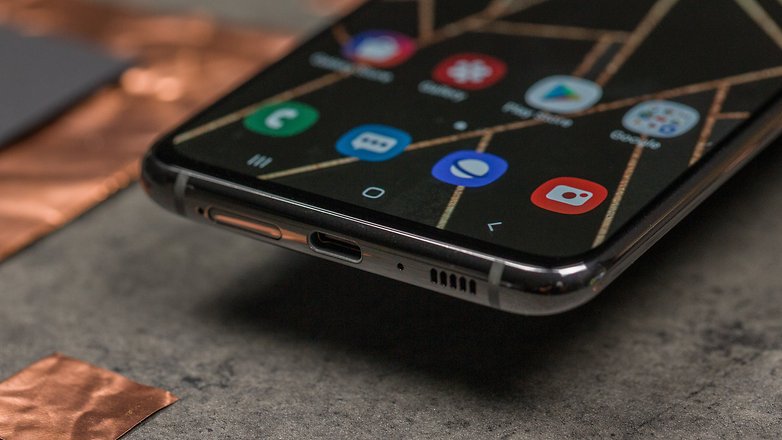 Of course, an intelligent battery management system is also used here, which analyzes habits and app usage patterns in order to optimize power consumption. It is charged via the USB-C port on the underside next to the SIM tray, as can be seen in the picture above. The battery is a big positive for this phone, bravo Samsung!
Samsung Galaxy A80 technical specifications
Innovation or sales gimmick?
The Samsung Galaxy A80 with its rotating camera could have been a really special smartphone that showed Samsung still has a bit of magic. Unfortunately, the new Galaxy smartphone also looks a bit like it was built around that camera gimmick, and the price puts in probably the most competitive sector of the entire smartphone market.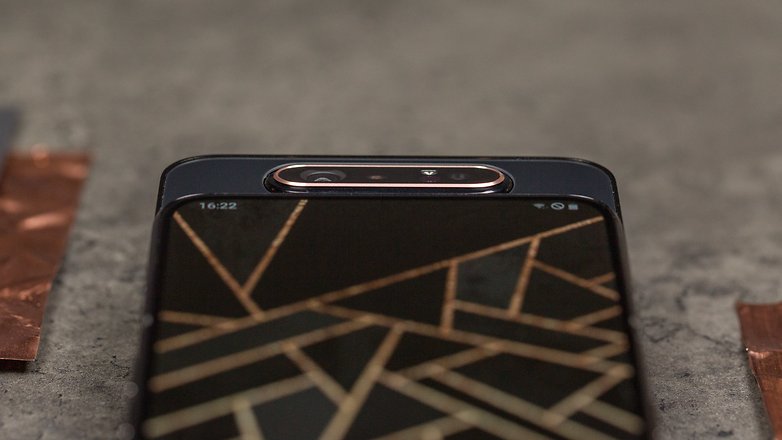 This doesn't mean that the Galaxy A80 is purely for show. On paper and in real life the smartphone makes a good first impression, even though the fingerprint sensor will eventually drive you mad if you persist with it. But the big feature, the camera, still leaves a bland aftertaste, because it doesn't seem like it will be very durable, it's too loud, and it's a bit too slow.
The bottom line is, I can't really work out who this phone is for. Someone who wants a big, beautiful display and a funky camera, but doesn't care about power or biometric unlocking methods, or long-term durability. Are there enough of those about (willing to pay this much) to make this a success? Probably not.