Samsung Galaxy A5 review: mid-range specs with flagship looks [updated: video added]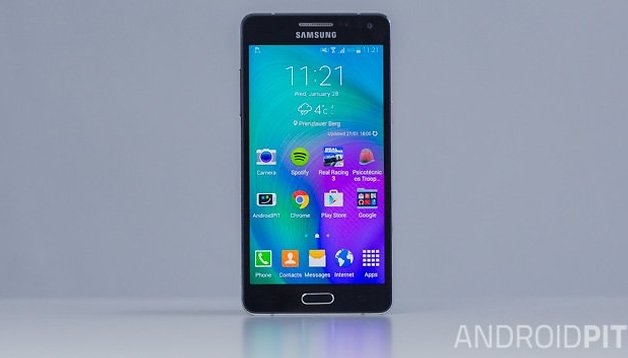 The Galaxy A5 is a new mid-range smartphone from Samsung that has all the stylish looks of a high-end phone at a more affordable price. But the Galaxy A5 offers more than just impressive design with good performance a solid part of the experience as well. Take a look at our full Samsung Galaxy A5 review for the full rundown.
Bad
Home button is loose

General lag

Price

Nano-SIM only
Samsung Galaxy A5 design and build quality
The Galaxy A5 design is quite reminiscent of the Galaxy Note 4, so it already has a premium look to it. The black metal frame with silver champfered edges looks great.
The back cover, which can not be removed, is also metal. However, it certainly doesn't feel like metal to the touch, with a much more rubberized feel than you'd expect.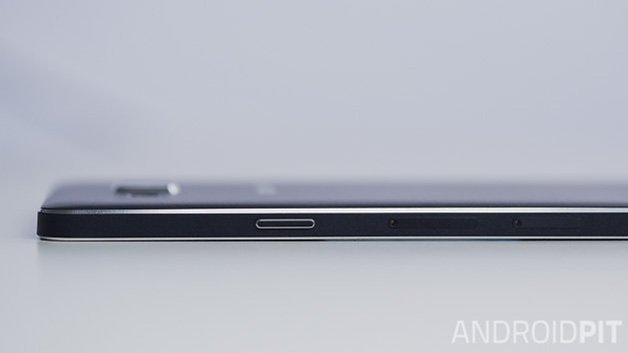 As I understand it, Samsung has given the A5 a rough coating on the aluminum specifically so that it is not as ''cold'' as other metal phones like the HTC One (M8). The ploy definitely works.

The Galaxy A5 weighs virtually nothing, at just 123 grams and it is also really thin, squeezing in at 6.7 millimeters. It has some design flaws, like a loose home button, but generally speaking it is clear that Samsung has paid more attention to design.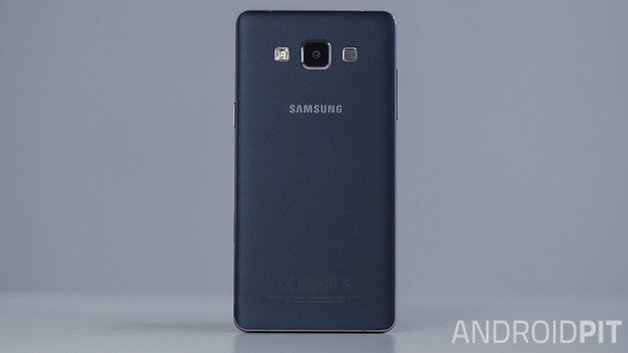 The glass layer on the front is only broken to two elements: a speaker grill at the top for calls and at the bottom by the Home button, that is also trimmed by silver metal. I must point out though that the button has a gap that worries me, which means it slops around a bit and may potentially lead to future problems.

Because we are unable to remove the back cover, we don't have access to a removable battery. The microSD and SIM card slot are located on the right side, below the power button and are nicely hidden.

On the other side, you will only find the volume rocker, while on the bottom we have a headphone port and USB 2.0 charging port, along with a pinhole mic. The top edge of the Galaxy A5 is clean other than a single pinhole mic.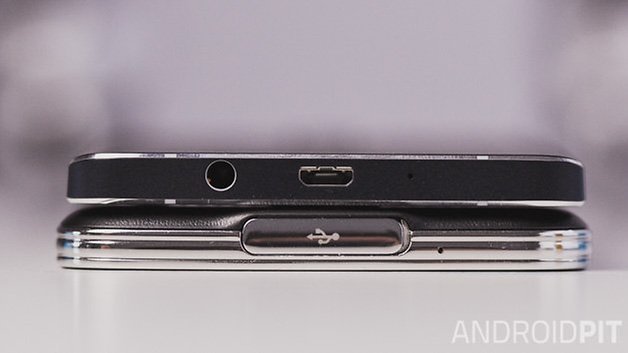 At the back we find the square-lensed camera in the center at the top, flanked by a single LED flash on the left and speaker on the right, out of which you'll get pretty poor speaker quality and volume, by the way.
The Galaxy A5 is a very clear design win for Samsung, advancing the Galaxy Note 4 and Galaxy Alpha aesthetic in ways we are expecting to see in the Galaxy S6 very soon as well. The move away from cheap looking plastics allows Samsung to give even a mid-range device a very premium look and feel.
Availability and Pricing
The Galaxy A5 price is around 400 USD in the US (via Amazon), from 315 GBP in the UK (via Amazon) or from 398 EUR via Samsung's own site.
This is a very high figure in my opinion, but as always Samsung will have its loyal customers that see enough value to justify the price. The Galaxy A5 release date is February 12th, 2015.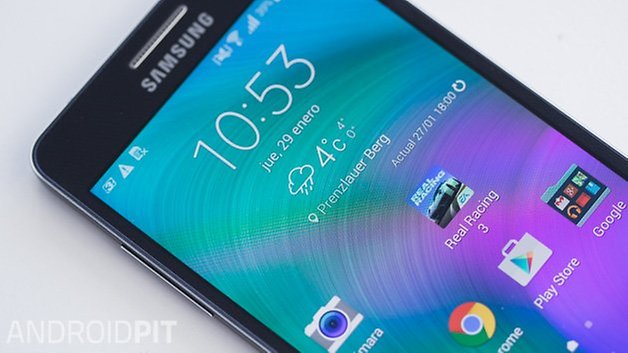 Samsung Galaxy A5 display
The Galaxy A5 display is a 5-inch, HD AMOLED screen with a resolution of 1,280 x 720 pixels, generating a pixel density of 294 pixels per inch.

As with most Samsung screens, color saturation levels are fantastic and it is very bright and contrasty. One thing is certain though: the brightness is definitely not too bright. I had actually expected a little more.
While you notice an increase in brightness from 0 to 25%, anything beyond this, even up to 100%, gives the feeling that nothing much is happening. I had no problems using the screen outdoors, but it is winter here and always cloudy, so I can't say much about bright sunlight.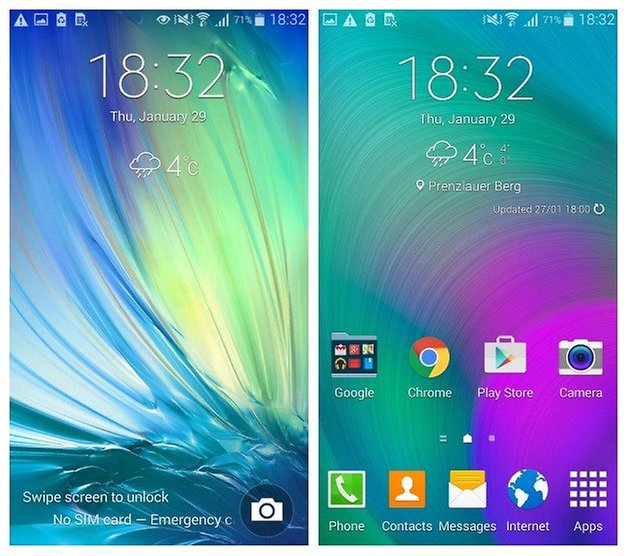 Samsung Galaxy A5 software
The Galaxy A5 features Android 4.4.4 KitKat with its TouchWiz interface. On first startup you'll have three screen configured. To the far left you have the news reader Flipboard, which is typically slow to open and has a weird jitter at the top of the screen whenever it is swiped out or swiped close. Not a good first impression.
The other two screens are the main home screen with a clock and weather widget and your main app icons. The far right screen is more of the same with a Galaxy Essentials widget pre-loaded which should be promptly removed.
As always, you can configure home screens by long-pressing the display to add more screens, add app shortcuts or widgets to your liking. Samsung TouchWiz also incorporates themes and there is a dedicated home screen settings shortcut that lets you simply remove Flipboard as well as change transition effects between screens.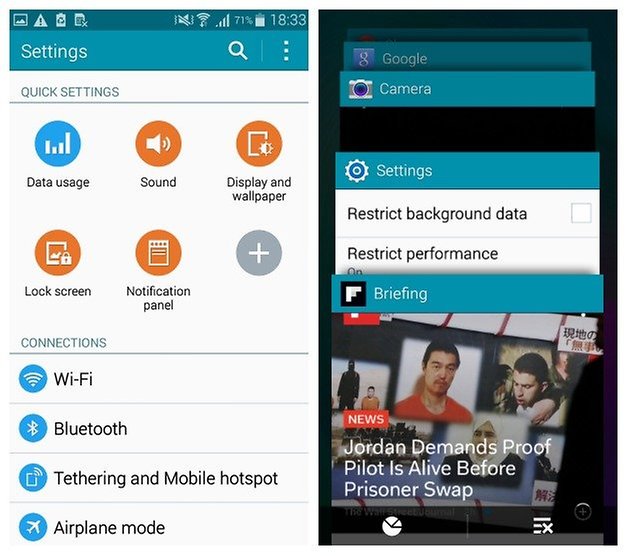 Samsung's enormous Settings menu brings options for virtually everything, but it is sometimes hard to find what you want. It is set up very much like the Galaxy S5 and Note 4 with options for list or tab view and pinned quick settings at the top.
I really like the A5's Quick Settings, where you'll get a horizontal row of shortcuts in the notifications shade when you swipe down from the top of the screen and a full list with the tap of a button.
TouchWiz will be improved in the near future, courtesy of Samsung's ''Project Zero'' which will be delivered on the upcoming Galaxy S6. The project is rumored to speed TouchWiz up considerably and with any luck it will be shipped out to other devices as part of a software update.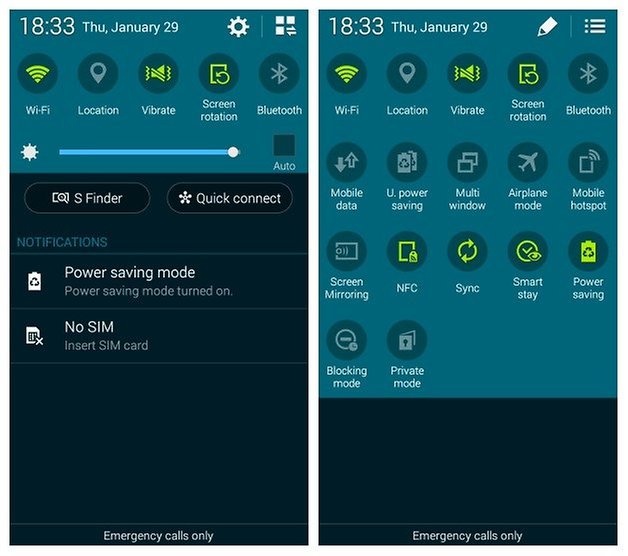 One option I particularly like is "Smart Alert," whereby the phone vibrates when you pick it up only if you have missed calls or unread messages. This means you know straight away if there is any need to actually turn on the screen to check.

In turn, you can also mute calls if you put your palm on the device or place it upside down, both options are valid and useful, but you also have the option to disable these features if you so choose. You can also take a screenshot by swiping your hand over the screen, but for some strange I could hardly ever get it to work.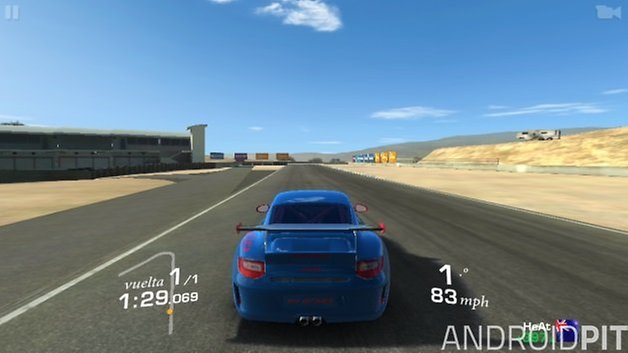 Samsung Galaxy A5 performance
For a normal user that simply wants to browse the internet, sometimes play games, read emails and catch up on social media, I have no doubt that the Galaxy A5 specs would be sufficient.
However, for users like me who test the upper limits of their mobile, you will find yourself topping out way too soon. Hi-res gaming and processor hungry tasks are the kinds of things the Galaxy A5 just can't cope with. You just need to take a look at some benchmarks to know that you cannot ask too much from the A5.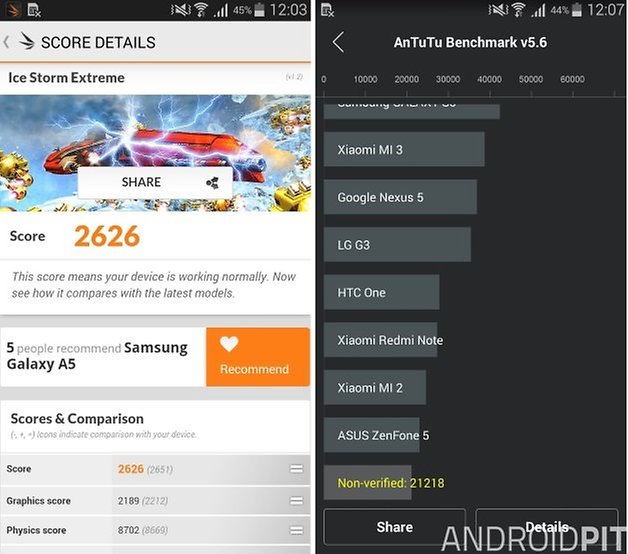 The processor is a quad-core Snapdragon 410, but working only at 1.2 GHz, along with 2 GB of RAM. TouchWiz is a little too heavy an interface for a device with mid-range specs and as mentioned above, you hit the performance ceiling way too soon.
For example, while you can play Real Racing 3 without suffering too much lag, the graphics quality is really quite poor, and does not make for a good experience. But this is to be expected when playing a flagship game on a mid-range phone.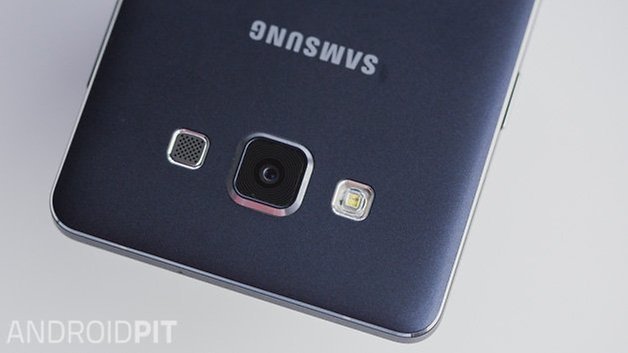 Samsung Galaxy A5 camera
One of the most interesting and impressive aspects of the Galaxy A5 is its camera. Samsung has chosen a 13 MP sensor in the rear and a 5 MP camera on the front. When taking pictures, the main camera is extremely fast, and the pictures are very clean.
The speed is greatly appreciated, and the truth is that I am pleasantly surprised by it. Props to Samsung for equipping the A5 with such an impressive camera, as mid-range phones usually tend to suffer when it comes to photography.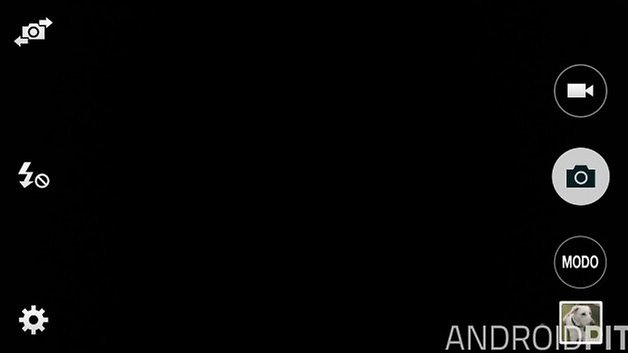 In full auto mode the camera works perfectly, although in low light situations there is some noise in the picture. While this is normal, more or less, with almost all phones and is dependent on the quality of the sensor and software, the A5 does show significant evidence of grain (or noise), which impoverishes the quality of its photos.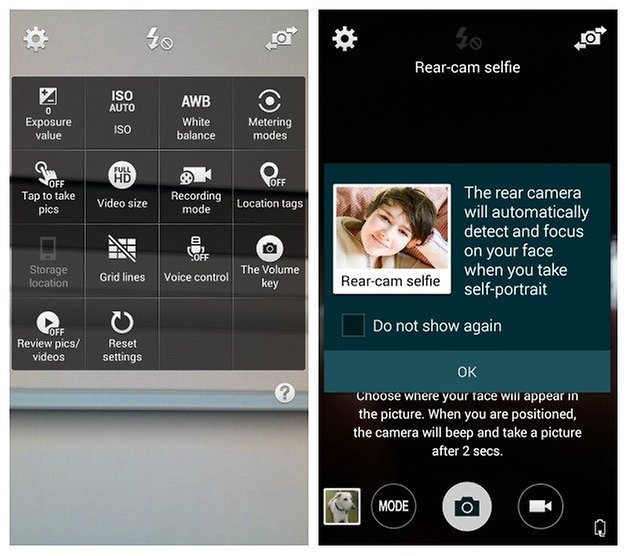 You can manually set the ISO and white balance, as well as take selfies on the front camera with a gesture, just like the LG G3. You simply hold your palm up to start a short timer. It works well, but the rear-cam selfie mode that supposedly detects your face and automatically takes a picture, would not work for me either.
I still have to say that this is one of the best 13 MP cameras I've seen. Here you have some sample pictures.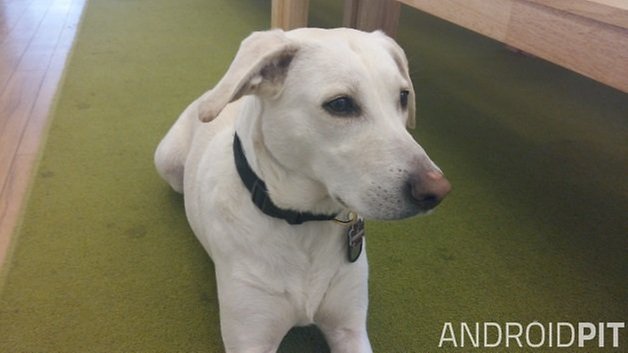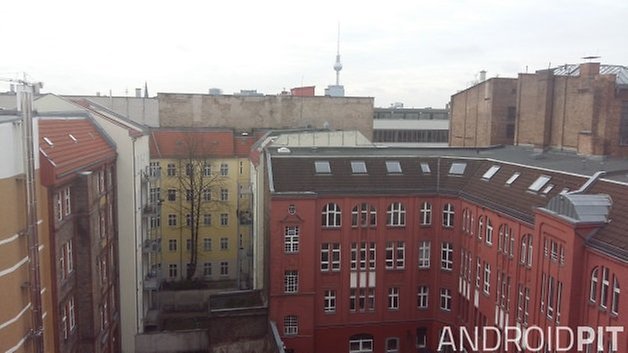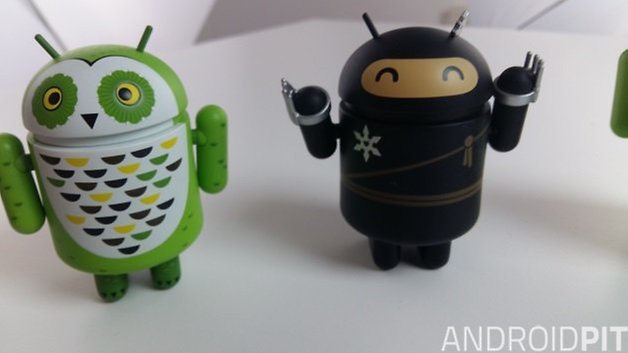 Samsung Galaxy A5 battery
The size of the Galaxy A5 battery is 2,300 mAh. In my experience, there should be no real problem getting a full day out of a single charge with average usage. This is because despite the small battery, the low resolution display doesn't demand too much of the processor or battery.
If you use the Galaxy A5 intensively, with screen brightness set at 50% or more you may have trouble getting through to the evening. You can expect around five hours of screen-on time.

However, the A5 also has Ultra Power Saving Mode and a regular Power Saving Mode, which should be enabled straight away to restrict background data, limit performance when it's not necessary and generally cut back on standard battery demands.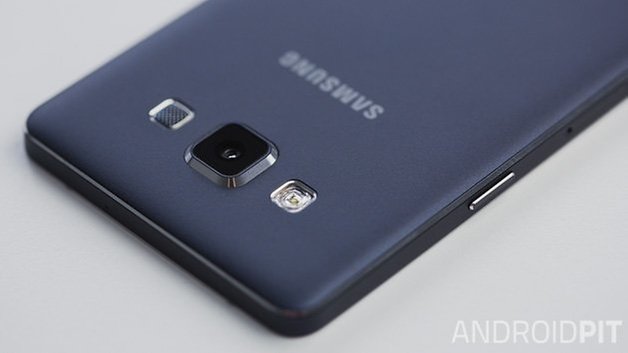 Samsung Galaxy A5 technical specifications
Final verdict
The Galaxy A5 would work well for a basic user, but is not necessarily up to par with the best Android phones around today. For many people, the Galaxy A5's look and feel will make a strong impression and it is nice and light weight too. The camera is also very good.
On the down side, TouchWiz sometimes gets choked and is terribly laggy, and some heavier tasks just can't be met by the A5's internals. The Snapdragon 410 and a HD screen are sufficient enough, but far from the best in their mid-range class.
To me the price just seems to be too high for what the Galaxy A5 offers. If the Galaxy A5 were to get a price cut of 100 USD it would be a very interesting option, but for me, at this price it just doesn't cut it.