Realme 11 Pro Review: Hey Big Boy!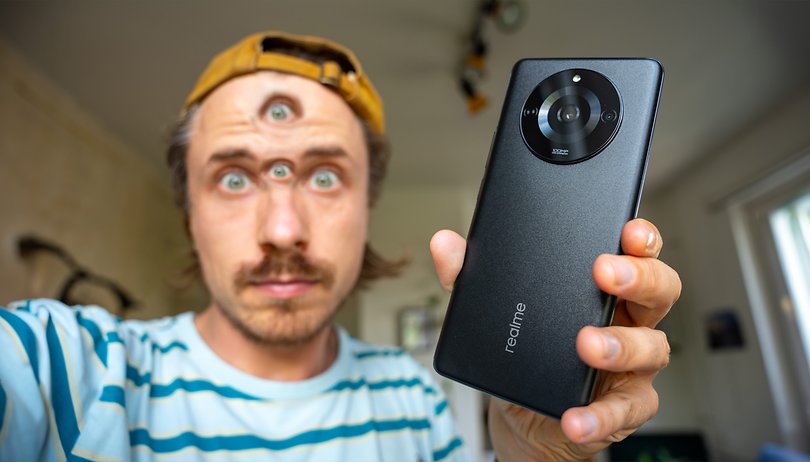 The Realme 11 Pro is yet another mid-range flagship from the BBK Electronics brand. The question remains: Is it really worth buying? In this nextpit review, the smartphone has much to do to prove whether it can hold its own against the rest of the competition in the sub-$400 category. Take note that the Realme 11 Pro is not available on sale officially in the US, either. You can pick up the Realme 11 Pro+ on Amazon though for $500 a pop.
Good
Very good display

Solid performance for a device in this price range

Great 67 W quick charging performance

Offers value-for-money
Bad
Only a single camera, ...

... which hardly impresses in everyday use

No wireless charging support

No IP certification

No microSD slot
The Realme 11 Pro in a nutshell
The manufacturer slapped a €379 (~$420) price tag for the Realme 11 Pro on Amazon. At this price point, you get 128 GB of internal storage and 8 GB of RAM with no option for other configurations at the moment. The only semblance of choice that you have would be between a boring shade of black or an eye-catching, golden color variant.
Although the Realme 11 Pro is a high-quality and solid mid-range smartphone, the smartphone's camera performance proved to be particularly disappointing. Images shown on the brilliant 120 Hz display are crisp, while photos captured using the 100 MP main camera did not impress, be it during the day or at night. Beyond that, the gigantic camera design is meant to shock and awe at first glance more than anything else. Apart from a depth sensor that is more of a gimmick than anything else, the main camera stands alone.
Design
The Realme 11 Pro reminded us of the Samsung of yore with its curved display and the rather narrow screen design. This is quite a positive point because the phone surprisingly sports a high-quality look despite having a plastic back. However, the lack of IP certification is a disadvantage in my books. With dimensions measuring 161.7 x 73.9 x 8.2 mm, the Realme 11 Pro is also quite a large smartphone.
---
Pros:
High-quality workmanship.
Good haptic feedback for the buttons.
Vibration motor is above average.
Cons:
No IP certification.
Plastic back.
Gimmicky camera configuration without any functional advantage.
---
The black color variant of the Realme 11 Pro does carry a certain sense of style. Personally, the gold color variant is too ostentatious for me, but regardless of the color, they do come with the same high-quality build. That is the very first thing I noticed after unboxing the device. Despite the really thin case that measures a mere 8.2 mm with rounded display edges, the smartphone did not look fragile at all.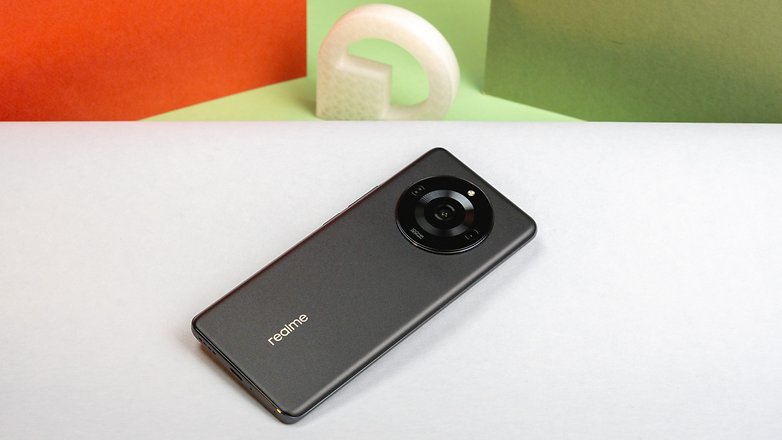 The back is made out of plastic but it did not falter in the knock test. The vibration motor also contributed to a certain sense of quality, which is surprisingly precise in nature. The same can be said about the buttons, which are all located on the right side and have good haptic feedback when pressed. You wouldn't necessarily expect a $400 phone to carry this kind of build. However, you should be careful whenever you are around water, because the Realme 11 Pro lacks IP certification.
What I found to be rather silly after thinking about it: In order to adapt to the current trends, Realme placed a huge, circular camera element on the back side. However, a closer look revealed that such a design only contained a primary camera and a depth sensor. The remaining elements turned out to be an LED flash and a...printed circle. In other words, it is there simply for aesthetics and nothing else. Placing a fragile piece of glass at the back just for design does not add value for the consumer. That makes the Realme 11 Pro a far more fragile proposition when dropped. It is simply too bad!
Display
The AMOLED screen in the Realme 11 Pro measures an impressive 6.7-inches across diagonally and offers a high refresh rate of 120 Hz. However, there is no way for you to make it adaptive in the settings, apart from lowering it to the more archaic 60 Hz. In other words, scrolling with this display will constantly remain buttery smooth, and the sharpness level is also retained thanks to its 1080 x 2242 pixels resolution. A fingerprint sensor directly integrated under the display just like the front-facing camera, which is located within a punch-hole notch.
---
Pros:
Nice and bright screen.
Smooth thanks to the 120 Hz refresh rate.
Crisp colors.
Cons:
No LTPO or adaptive refresh rate.
Rounded corners are no longer quite the trend.
---
There is so little to complain about in the Realme 11 Pro that I have included the rounded corners as a point of criticism. In other words, the display really impressed me in everyday use. It is bright enough for content to be legible even when you are under bright sunlight. At the same time, both the smooth display and the sharpness are on par with flagship handsets. The implementation of the 120 Hz AMOLED display is a real masterstroke.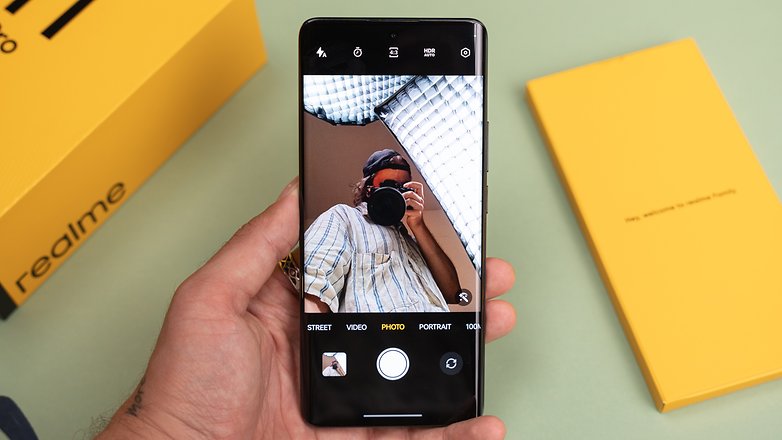 However, it is annoying that Realme did not also think about the display's energy efficiency. Without a variable refresh rate, the display ends up as a real power guzzler. You can only switch between 120 Hz and 60 Hz modes. Colors are also very vivid, but you can at least improve this in the settings if it bothers you.
While you are in the same settings menu, you should also configure the fingerprint sensor. It is very fast and proved to be an excellent help in everyday use. However, the area where you have to place your finger is a bit too small compared to the competition. However, that did not bother me too much. The display is simply excellent!
Software
Android 13 powers the Realme 11 Pro. On top of that, the manufacturer runs its own Android skin known as Realme UI, which is strongly reminiscent of BBK's other Android skins. There are some practical benefits in such uniformity, but it is the pre-installed bloatware that bothered me most after setting up the smartphone.
---
Pros:
Pretty and functional Android skin.
Always-on Display from OxygenOS integrated here.
Cons:
Pre-installed bloatware.
Only 2 Android upgrades and 3 years of security updates.
---
Since we have already told you everything you need to know about Android 13 in a separate article, I will keep it short here. This is because the Realme 11 Pro only stood out from other Android 13 smartphones with its alternative Android skin, Realme UI version 4.0 in this case. For additional thoughts on the matter, I would like you to refer to MaTT's review of the Realme GT 3!
What I found to be far more relevant in the case of the Realme 11 Pro is the rather short software update policy. Beginning with Android 13, you will receive two major Android updates and will be stuck with Android 15 in two years' time. Security updates are available for one year longer, but that is not where my complaints end. The pre-installed bloatware grates at me, making this the second of two clear points of criticism for the Realme 11 Pro.
Performance & Technology
The Realme 11 Pro is powered by a Mediatek MT6877V Dimensity 7050 SoC that was manufactured using the 6 nm process. The SoC works together with 8 or 12 GB of RAM. You can configure the internal storage with 128, 256 GB, or 512 GB capacities, depending on your needs. The phone lacks a microSD memory card slot as well as a 3.5 mm jack and a USB-C port that plods along.
---
Pros:
Smooth system performance.
Good gaming performance in mobile games.
No overheating issues.
Cons:
Memory is not expandable.
Slow USB-C port.
---
The MediaTek Dimensity 7050 SoC is a high-performance chipset that powers the Realme 11 Pro. The SoC ensures good performance for current mobile games and lets you enjoy Android 13 smoothly via the 120 Hz display. At the same time, the Realme 11 Pro offers a certain surplus of power, which should guarantee good performance with a longer runtime.
How does the smartphone perform compared to other sub-$400 phones? All are revealed in the following benchmark table with other similarly priced models. In the 3D Mark stress test benchmark, we see that Realme's cooling system does a good job. Stability is guaranteed even under permanent load and you can look forward to long gaming sessions with the 11 Pro without worrying about scalding your hands.
Realme 11 Pro
(Dimensity 7050)

Samsung Galaxy A53 (Exynos 1280)
Poco F5
(Snapdragon 7+ Gen 2)
Xiaomi 12
(Snapdragon 8 Gen 1)
OnePlus 9
(Snapdragon 888)
Google Pixel 7
(Tensor G2)
Nothing Phone (1)
(Snapdragon 778G+)
3D Mark Wild Life
2,292
2,319
7,625
Maxed out
5,879
6,656
2,809
3D Mark Wild Life
Stress test
Best loop: 2,302
Worst Loop: 2,272
Best Loop: 2,324
Worst Loop: 2,312
Best Loop: 7,632
Worst Loop: 7,582
Best Loop: 8,615
Worst Loop: 4,589
Best Loop: 5,889
Worst Loop: 3,228
Best Loop: 6,651
Worst Loop: 4,902
Best Loop: 2,832
Worst Loop: 2,816
Geekbench 6
Single: 947
Multi: 2,402
Single: 958
Multi: 2,014
Single: 1,107
Multi: 4,232
Single: 999
Multi: 3,196
Single: 981
Multi: 3,379
Single: 1,454
Multi: 3,794
Single: 796 (v5)
Multi: 2,889 (v5)
Technically, Realme did not miss out much compared to current flagship models. Having between 8 GB and 12 GB of working memory is sufficient, and the fact that you can be equipped with up to 512 GB of internal storage in some regions also makes this a very interesting proposition. While Wi-FI 6 and Bluetooth 5.2 connectivity are on board, I am surprised about the rather slow wired interface. USB 2.0 speeds via USB-C leaves a lot to be desired in 2023.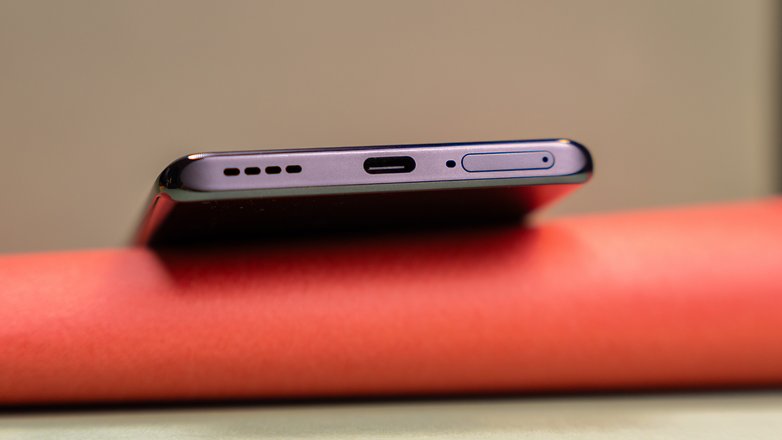 A 3.5 mm jack is also missing, which unfortunately has become more and more standardized in smartphones that cost no more than $400. The same goes for the lack of an option to expand the Realme 11 Pro's storage space. That's simply too bad!
Camera
With a 100 MP main camera, the Realme 11 Pro is ahead of many others in its class in the megapixel race. However, as we saw in our latest camera blind test for mid-range phones, a high megapixel count alone does not guarantee good photos. With a single secondary depth camera accompanying the primary camera, Realme's flagship device is extremely inflexible.
---
Pros:
Good sharpness and detail under bright light.
Cons:
Photos look pale and boring overall.
Camera is way too inflexible.
Poor picture quality at twilight and at night.
Lens draws strong reflections from light sources.
---
The Realme 11 Pro is perfect proof that having plenty of megapixels does not translate into better picture quality. This is because photos taken by the "main" camera lack contrast, even under perfect lighting conditions. Rather, they sport washed-out colors but at the very least still come with a reasonable degree of sharpness. However, this also changes when the amount of light decreases and we shoot photos in twilight or at night.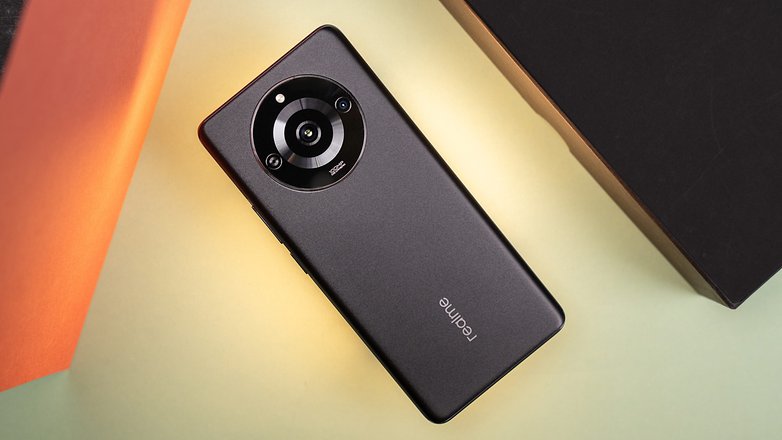 In low light conditions, photos become more and more of a pixel mush, which I have seen better in the entry-level segment. The integrated night mode in the Realme 11 Pro ensures that dark scenes are brightened, but quality does not necessarily improve. If we were to zoom in, the photo quality decreased to such an extent that the photos look bad even as a preview in the picture gallery.
Surely this is due to the tiny pixels on the 100 MP sensor, from which Realme tries to draw useful information at night. On the other hand, it's because the manufacturer included only one (!) useful camera in a phone that costs around $400. What advantage does the Realme 11 Pro offer that would justify the lack of flexibility in the camera system? There are cheaper smartphones that offer similar performance and far superior photo quality.
I found it pretty cheeky that Realme then also tried to hide this cost-cutting effort behind software tricks like having a "street photography" mode or a completely pointless mode to zoom into the subject. This is performed where the subject is zoomed in via finger tap. The Realme 11 Pro is really helpless when it comes to the camera!
Battery & Quick Charging
The Realme 11 Pro has a 5,000 mAh battery that can be recharged using Oppo's SuperVOOC technology. The manufacturer uses a 67 W charger which ensures a 50% battery charge in just 12 minutes.
---
Pros:
Solid quick-charging performance.
Large battery capacity.
Charger is included in the box.
Cons:
No wireless charging support.
---
Although the 11 Pro measures only 8 mm thin, Realme installed a large 5,000 mAh battery. It impressed us with a long battery life of 16.5 hours in the PCMark benchmark. Thus, you will get a good runtime in everyday use and can even use the phone for two days without having to resort to a charging cable. The fact that Realme included both a charger and a cable in the box is no par for the course in 2023, so that is a plus point in my books.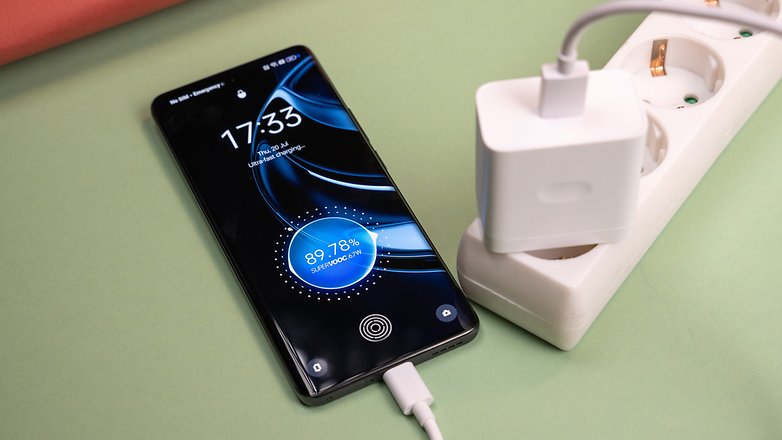 This is especially useful since Oppo's SuperVOOC charging technology is installed in the Realme 11 Pro. This recharges the battery from 10% to 100% within approximately 40 minutes. You can find the charging times in more detail in the quick-charging table below. The smartphone lacks wireless charging support despite its premium look, but that is not a major drawback in this price range.
Charging times Realme 11 Pro
| Percent | Charging time in minutes |
| --- | --- |
| 10 % | Start |
| 25 % | 4,15 |
| 50 % | 12 |
| 75 % | 27 |
| 100 % | 40 |
Conclusion
After spending a few days with the Realme 11 Pro, I have the impression that Realme only wants to impress customers in the display areas at electronics stores. At first glance, the excellent display as well as the large camera element on the phone look like a really good deal. The performance itself also made a good impression after unboxing it, while your eyes are enthralled by the 120 Hz display.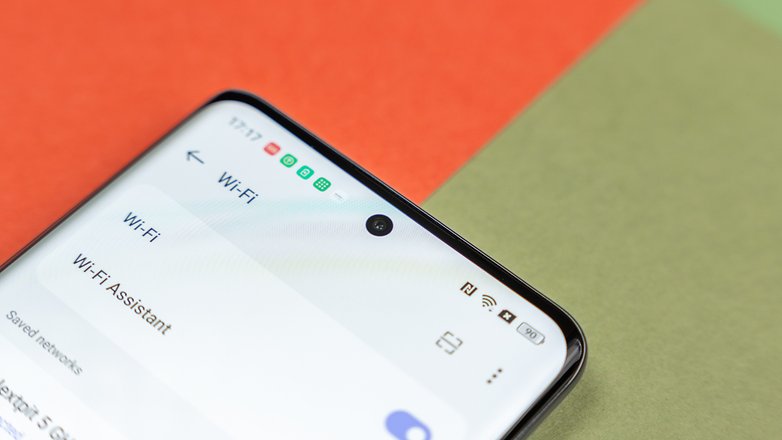 However, if you were to look deeper into the phone, you will be more and more disappointed after comparing it to the competition. This is mainly due to the extremely poor camera performance. What looked like a powerful camera turned out to be a single camera with a pointless extra sensor and too many megapixels that double up as a marketing tool. The photo quality is neither convincing during the day nor at night. At the same time, the mobile camera clearly lacks flexibility due to the lack of other lenses.
We are able to make a decent comparison because we have also seen other smartphones that offer better specifications within the same price category. The quick-charging performance is decent, as is the battery size. The display is bright, sharp, and fast, but does not support adaptive refresh rates. Wireless charging support is also missing, similarly not having decent software update support that is lacking.
The fact that we cannot buy the Realme 11 Pro officially in the US is therefore not a big loss. You are welcome to look for an alternative in our list of best smartphones for less than $400!