Razer Phone: for gaming as well as for gamers?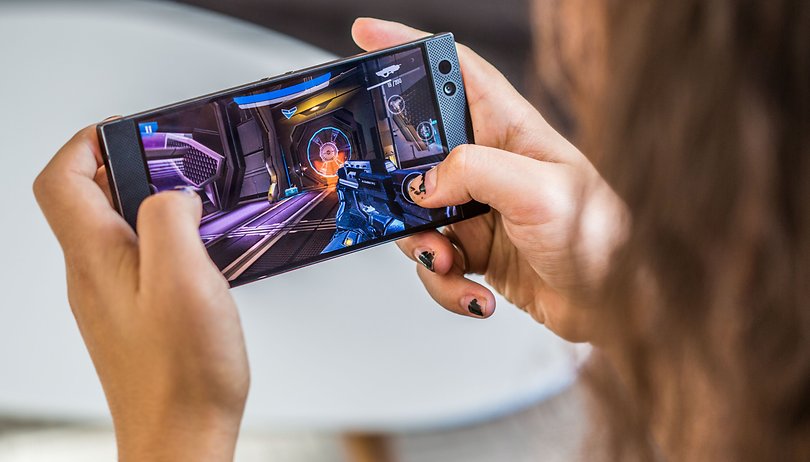 The Razer Phone sees the entry of a brand new challenger into the hard-fought smartphone arena. Razer may be newcomers in the smartphone market but they DO have plenty of experience making great products—for the PC gaming market. Razer touts their history of making high-end gaming notebooks, but can they bring that magic to the small screen in a way that makes sense for a smartphone?
"By gamers, for gamers" is Razer's motto, and as a member of that distinguished group, I have to admit I was skeptical about a smartphone coming from company who made their name in gaming hardware.
High-end PC gamers love to pour scorn on mobile gamers (and console gamers, and PC gamers with mid-to-low-end PCs, and people in general). Trust me, I was one of them. But I've learned to appreciate the experience that Android gaming can offer, while also being keenly aware of what a step down mobile gaming feels like when you're used to the good stuff.
And to Razer's credit, they do make the good stuff. The Razer Blade Pro laptop, for example, is a thing of beauty, packed with high-end hardware to smoothly run demanding modern games including a 4K display and GTX 1080 graphics card. If you've got one of these babies, or any kind of high-end gaming rig at home, why would you care about a phone for gamers?
With that in mind, I've been particularly keen to see how the Razer Phone really improves Android gaming compared to the competition.Is this really a phone for playing games on? Or simply another smartphone, but marketed to "gamers" as a consumer demographic? I've been getting to grips with the Razer Phone with an eye on its gaming experience and well, it's a little from column A, and little from column B.
Function over form
Compared to the rounded, near bezel-less flagship phones of the current generation, the Razer Phone comes across as looking distinctly unfashionable. The body is an angular, brutal black box with solid corners and thick black bezels above and below the screen.
The rectangular design of the Razer Phone betrays its lineage as the child of 2016's Nextbit Robin. But while the Robin had its eye on the cloud, the Razer Phone packs its box with some serious hardware optimized for gaming performance. Practicality, not style, is the philosophy behind the Razer Phone, and every seemingly old-fashioned aspect of it is built to purpose.
Namely, the angular design makes it a much better handheld gaming device, it rests securely in the hand, powerful speakers pointing right at you, the bezels preventing your fingers from blocking the action on the screen. It has another, less obvious advantage for gaming in its shape.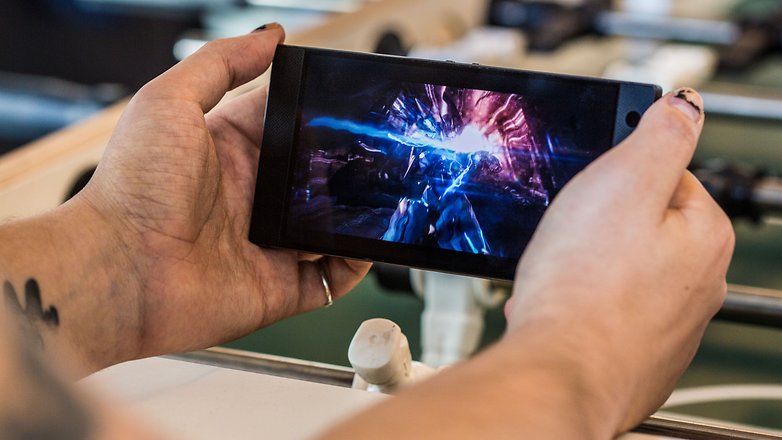 If your hands are busy with playing with a mouse and keyboard on your desktop but you still want to say, make a video call, or play a tutorial video while you game without messing around with tabs, the Razer Phone doesn't just stand out because of its design, it also stands up! Much like Sony's Xperia XZ Premium phone, this device can stand up tall and proud, but, unlike Sony's rectangle, Razer's can also lie on its side, propped up in landscape view. This just works on the side without the volume buttons, though.
Used to rounded smartphones, I didn't initially think I'd use the phone this way very much, but after a week or so of use, I find myself propping it up every day, and not just when I'm on my desktop. It's fantastic for video calling, as it allows you to free up your hands and assume a more natural position for conversations.
Those front-facing speakers are nothing to sneeze at, and I appreciated the ability to stand the phone to make sure they were pointed at me. Just bear in mind that although the Razer Phone can stand on its own, it can't do miracles, and a light tap or stiff breeze will topple it. Make sure you put it somewhere stable.
Vulgar display of power
With Qualcomm's top-end processor and 8 GB RAM, the Razer Phone packs impressive specs, it's still more or less what you'd expect of a modern high-end smartphone. Its main selling point, however, is the amazing 120Hz IGZO LCD display.
This is where Razer's gaming pedigree really shines through. If you're used to a decent gaming monitor (120Hz+), then the same picture at 60Hz can't help come across as laggy and janky.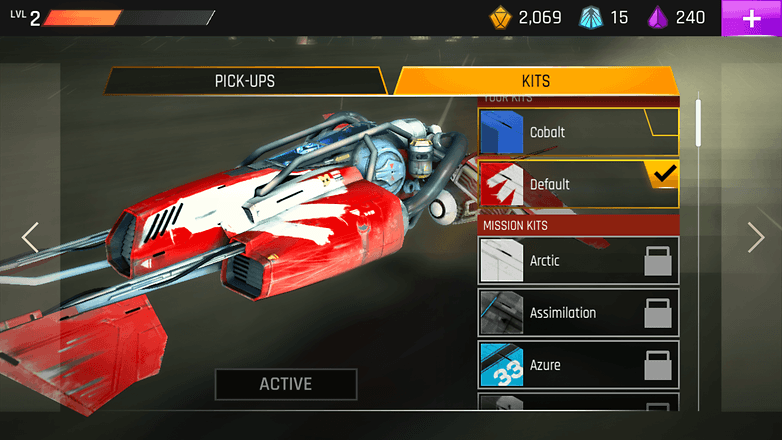 The IGZO panel works with Ultra Motion technology, Nvidia's mobile version of G-Sync for desktop monitors.This provides the major benefit of an adaptive refresh rate, no dropped frames at all.This eliminates the "jankiness" or stutters that the human eye is sensitive to.
Before we even get to games, it's worth noting that Razer has worked with Google to get Android to render properly at 120FPS (frames per second). Just browsing through the OS is wonderfully slick and smooth, even Google's own Pixel 2 seems to lag behind under my fingertips.
The 120Hz refresh rate is what could elevate the Razer Phone above the crowd as the phone of choice not just for gamers as a lifestyle brand, but people who actually want to use the phone as a mobile gaming platform in the face of competition from the PS Vita or Nintendo Switch.
The Razer Phone just chews up anything you can find on the Play Store, allowing you to play the most demanding and graphically beautiful games on the platform without compromise. Battling through Lineage 2? Blitzing through Breakneck? Blasting through N.O.V.A. Legacy? No sweat.
Thanks to the Razer Phone's high RAM count, you can switch between multiple running games and apps easily and swiftly. Razer also show off their talent when it comes to heat distribution, as the Razer Phone doesn't heat up excessively in any one area, nor does it becoming uncomfortable to hold even when it warms. And if you do feel that your heavy gaming using might be straining the phone or draining the battery, that's where the Game Booster comes in.
Game Booster: more than a gimmick
A major benefit to the Android gamer is Razer's Game Booster, where you can control various settings related to gaming, adjusting the resolution, frame rate, and processing power. If you're someone with a ton of games on your phone, some requiring more power than others, this is great for making sure your phone handles them efficiently. When you need to save battery, you can sacrifice performance and play for longer at lower settings. You can even toggle anti-aliasing and disable notifications while a game is running so that you're not disturbed.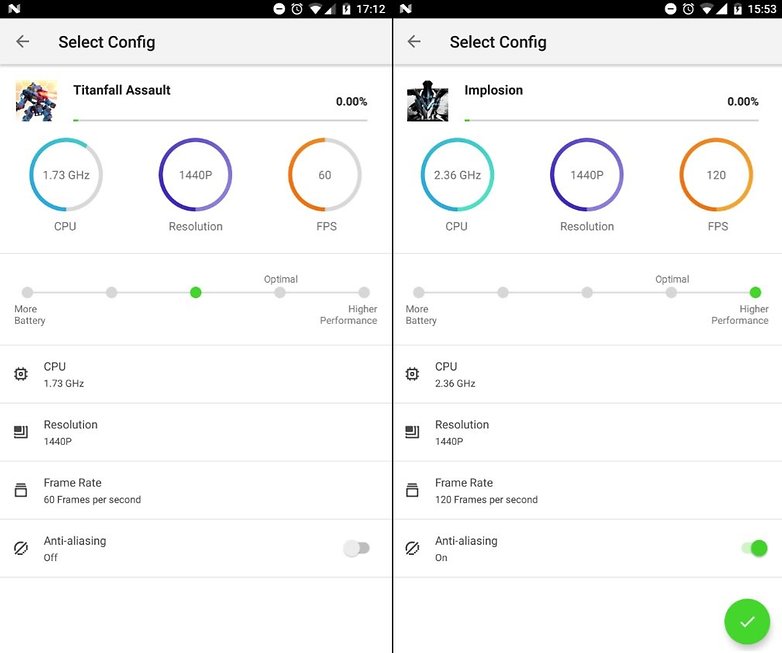 This kind of attention to detail and level of control over gaming experience really does make the Razer Phone feel like it belongs to the same family as the Razer Blade laptops. But the Razer Blade laptops have a vast library of fantastic high-end games available to buy and play on them. The Razer Phone is more limited.
A great gaming device needs great games
Right now though, the Razer Phone's potential is handicapped by the state of the Android gaming ecosystem. In many ways the mobile gaming market is the opposite of the type of premium games current fans of the Razer product line are familiar with. Most app developers, aiming for mass appeal over the range of middling to low end devices, don't focus on graphics and anyway, will lock their apps at 60 FPS max, even if the panel setting is higher, making the Razer Phone's main display advantage irrelevant.
Razer has attempted to head this off by promising games designed specifically to make use of the Razer Phone's unique advantages, namely mobile versions of Tekken and Final Fantasy XV.
This could be really exciting for the future of Android games if it takes off and the Razer Phone can build a stable of games that really push it to the limit. At the moment though, buying the Razer Phone to play games that other flagships can't is quite a gamble. It does, however, offer a better all-round gaming experience than the competition.
If you really want the gamer's smartphone, you got it...at a price
I'm not just talking about the $700 dollar price tag. There actually is a good case for the Razer Phone being the best gaming smartphone. A combination of high-end hardware, solid design, a fantastic screen and game booster elevate it above the competition. But to get this, it sacrifices in other areas important to a smartphone.
If you ideal games on Android are the likes of Candy Crush Saga, Fruit Ninja, or Clash of Clans, then the Razer Phone isn't going to add anything to your mobile gaming experience. But Razer isn't really interested in talking to Candy Crush fans. They know that the ready audience they've built through their notebooks and peripherals play certain kinds of demanding games, and are proud of it.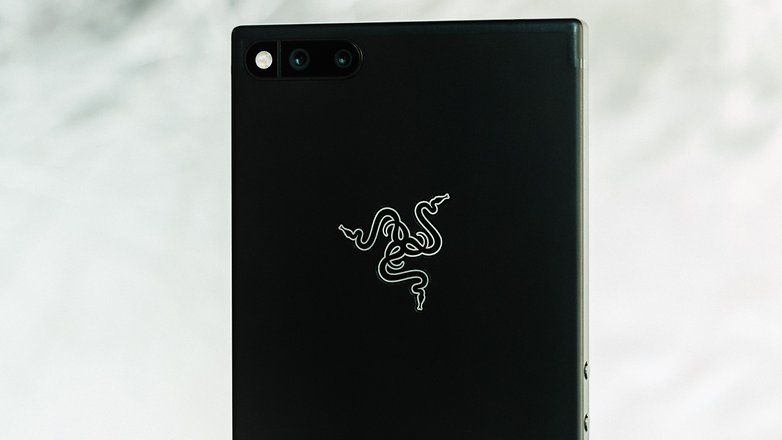 To many gamers, it doesn't matter whether mobile games aren't as impressive as PC or console games. The fact that the phone in their hands can play the best mobile games out there on max settings speaks to what's important in their lives.
Non-gamers will still appreciate the stock Android interface and buttery-smooth scrolling on most utility apps. I can just glide through my Twitter feed, eliminating that moment or two or mild irritation waiting for the refresh.
But, as we see in our in-depth technical review, the Razer Phone still lags behind the competition in a few key areas when it comes to being a good all-round smartphone. The camera, one of the most important aspects of a phone to the majority of users, is clearly not a priority for Razer, who have only ever made one camera product before (a webcam). No Optical Image Stabilization. Even previous gen Samsung Galaxy S7 or Pixel can beat it. Mobile photography is 80% software, and while it's possible that updates will improve the pictures taken with the Razer Phone, I can't see them catching up to their more experienced market rivals.
In the end, I can't think of a better compliment to the Razer Phone other than that, after getting used to it, I'm loath to go back to gaming on a more fashionable rounded handset, even a powerful flagship with a great screen like the Samsung Galaxy Note 8. When everything-display, comfort, sound, speed-is factored in, I'll reach for the Razer. And yet, I still wince every time I take a picture with the serpent-branded black brick. Because I love the gaming experience on it, I'm willing to take the hit. Whether you're willing to do the same will depend on how important high-end gaming is in your own smartphone use.
What do you think? Is Android gaming good enough to justify getting the gamer's smartphone?