Poll of the Week: Who the hell shoots films with their smartphone?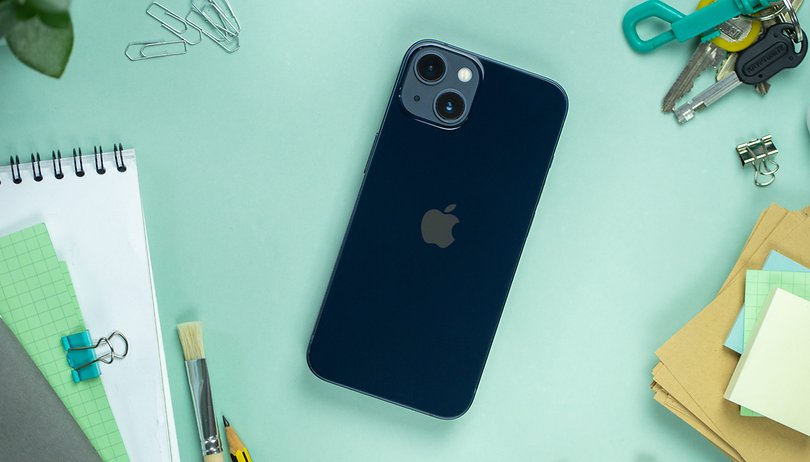 Apple and Xiaomi put a lot of emphasis on cool video features in their new smartphones. This brings up the question: Does the NextPit community actually film using their smartphones? Last week I asked this very question to readers in Germany, France, Brazil, India and the USA. Now comes the results!
There is exactly one video of my tiny, mini-me version! Little Ben, who is about four years old, looks puzzled into the lens of a huge video camera that had enough space for VHS tapes. These days, kids are used to the sight of smartphone lenses, because filming has become so much easier in recent years. To know that smartphones produce very good video doesn't take a survey.
Nevertheless, I wanted to know from you last week whether you actually use them. My suspicion was, that videos for family and friends are shot with the built-in features of WhatsApp or even Instagram. And I'm spoiling the results by saying that I've rarely been so wrong with a guess as I was last Friday. Let's go!
Mobile videos are more popular than I thought they'd be
We begin with the first poll, which asked if you film with your smartphone at all. The answers were surprisingly diverse in the different NextPit countries. While in France, in the USA, and India most readers said they don't film with their mobile phones, in Germany and Brazil the answer was "Yes, but rather rarely". In Germany there were also many votes for "Yes, often" and here there was also a lot written about their affinity to the smartphone video camera.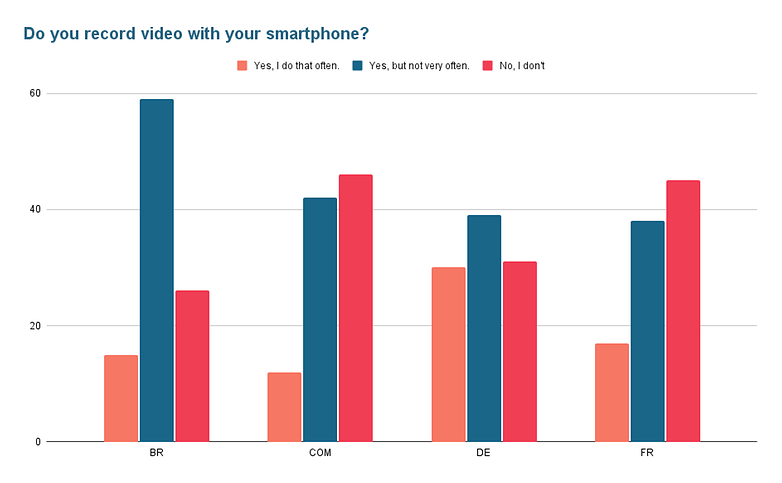 There was also a bit of frustration for asking the question in the first place. The uses mentioned in the comments range from family videos, and recordings for one's YouTube channel, to suggestions that even movies are made with smartphones. One reason, according to reader Roezal, was the Corona pandemic!
Benjamin - You are out of the loop.... The pandemic and the associated restrictions of various kinds led to a real boom of series or movies - shot with a smartphone, because a large crew was not available. - Roezal in the German community
The recording of short films was also mentioned by Apple and Xiaomi as a purpose for the new video features. And for these cases, the functions actually seem to add value. So the answers from my second question are quite expected.
You mainly record with the camera app
The pre-installed camera app usually offers the best quality, and it's also where you'll find new features that phone manufacturers are developing. Nevertheless, I assumed that many users prefer to record with the integrated video functions of WhatsApp and Co. They are quicker to access and deliver at least a sufficient film quality. However, the result shows that I was completely wrong.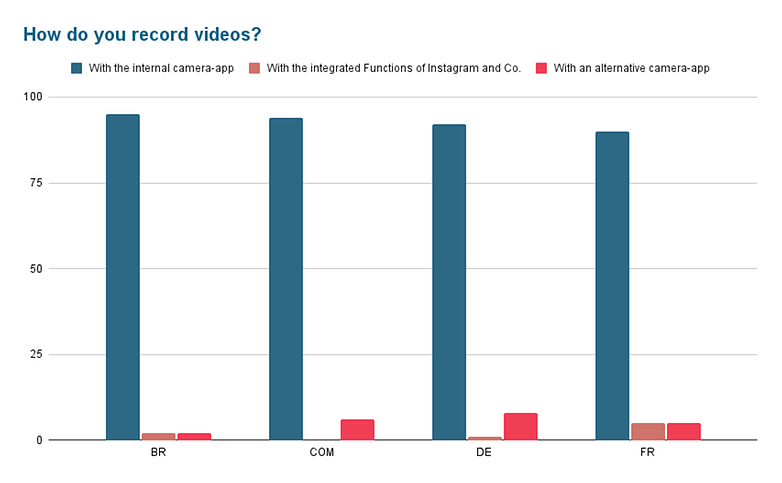 In every NextPit region, the answer "With the camera app of the smartphone" is in the lead, and you hardly paid any attention to the other options. Nevertheless, French reader Jerome69Paris has a tip for you in his comment:
For my part, to record videos, I use the excellent app "OpenCamera" because it brings a feature that my Xiaomi Mi Max 3 original video app does not have, stabilization in 4k mode / 30fps. Oddly enough, the original app only stabilizes up to 1080p / 60fps (although you can enable stabilization in 4k, but does not work), while the smartphone clearly has the ability to stabilize perfectly in 4k / 30fps thanks to OpenCamera. - Jerome69Paris from the French community
A German reader also complained that the answer "With a real camera" did not appear here. Of course you could answer that in the first poll, the second question was just in case you also film with your phone.
Are camera apps just for "show-off"?
Last but not least, I made a guess which concerned the motivation behind the development of Cinematic Mode and Cinemagic from a manufacturer's perspective. Do these new modes simply show off what the new processors and cameras are capable of? Your answers were again quite clear.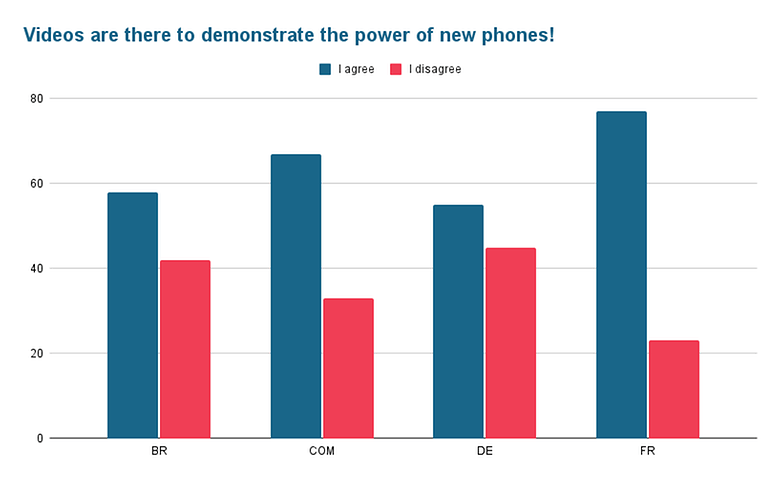 In all countries, the readers tended to agree with my assumption. Trying to distance myself, I ask if this is a negative thing at all. If a manufacturer just wants to show off with a video feature, but it is interesting and impressive, then in the end there is an added value for the user. And that's basically what we all want, right?
Thank you very much for all the answers to the respective polls and of course for the numerous comments. See you next time!
---
Original article
Apparently Apple and Xiaomi recognize a need in smartphones that I apparently am short-sighted to see that it is a need. Video features have been a common theme throughout the initial launches in the tech fall. This begs the question: who films with their smartphone at all, and if they do, do they really use the built-in camera app to do so? Let's get down to business with the poll of the week on NextPit.
Have you been following the Apple and Xiaomi product launches over the past few weeks? If not, let me give you a quick recap! Apple unveiled the iPhone 13 series, introducing an exciting video mode called "Cinematic Mode" along the way. A few days later, Xiaomi unveiled the 11T and 11T Pro, also placing a lot of emphasis on magical video features, which it has dubbed "Cinemagic".
As nice as these features are to look at, there is one question on my mind: who actually films with their smartphone? I don't mean recording short videos for friends on WhatsApp or followers on Instagram and TikTok. I mean elaborate videos using the integrated camera app, where the background has to be blurred or when you want a vertigo effect à la Alfred Hitchcock.
Do you film with your smartphone?
So let's begin with the main question: do you shoot video with your smartphone? This means recordings that you consciously save as memories and that were taken with the camera app. If so, those recordings might benefit from the brand new video features from Apple and Xiaomi.
Personally, I take such videos for a less 'fun' reason, as I do so when reviewing new smartphones. But in our reviews, video features are generally something that we tend to neglect. Perhaps that will change if it turns out that the NextPit community consists of hobbyist filmmakers. But let's not dwell any longer and look at the next question!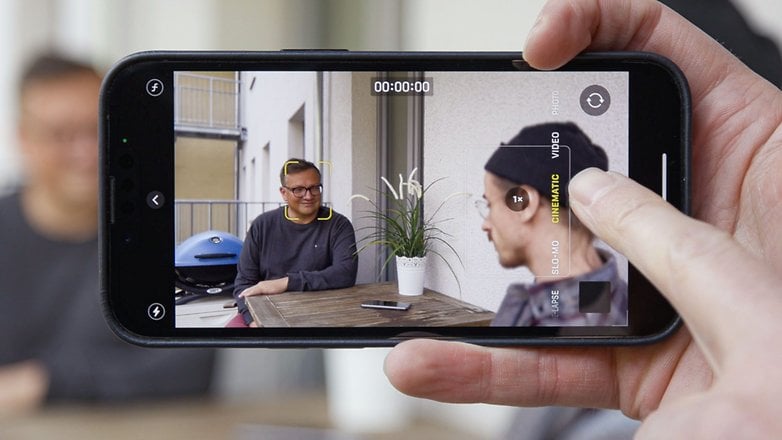 Do you guys use the stock camera app?
When I was at scooter maker Unu's place the other day for NextPit, I captured a quick story on Instagram. So while I am on the move, it's much easier to capture a quick impression of places or products using the social media app's built-in video feature. The same applies if you just want to capture a nice moment for the family group on WhatsApp, Telegram, or Snapchat. Here's my follow-up question:
Last but not least, I'd like to add a quick opinion on the apparent importance of video features on smartphones. This theory will be tested next Monday. Of course, I'm interested in your opinion here as well.
Thesis: Video features as a demonstration of the smartphone's performance
It's possible that smartphone manufacturers aren't even responding to a need with their new video features. Smartphone hardware is now so powerful that it can hardly be pushed to its limits in everyday use. At most, this is performed by mobile games or video functions. Apple's new Cinematic Mode, for example, is so demanding that Apple cannot enable older iPhones with the feature due to insufficient processing muscle.
So my thesis is this: video features are a way for manufacturers to create a need for new devices, even though older models can still render most apps and mobile games smoothly. They legitimize the use of ever more powerful processors, larger memory options, and more gigabytes of RAM. Do you agree with me on this?
Now, "Shut up!" or however they say it in the movie business. I'm especially looking forward to your thoughts in the comments this week, and I'm almost hoping I've got my blinders on too much here. So see you on Monday at the latest, when we'll be evaluating the results of this poll.