Oppo R5 review: the second slimmest smartphone in the world!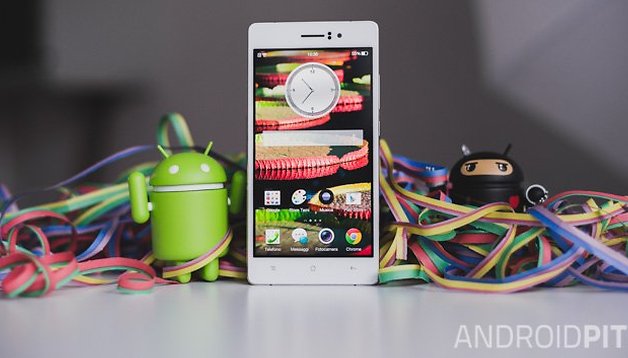 Good
Bright display

Attractive design

Super-fast charging
Bad
Some performance issues

Often overheats

Overall battery life is poor
Oppo R5 design and build quality
The most impressive aspect of the Oppo R5 is undoubtedly its slim design that, until just a few days ago, gave it the title of world's thinnest smartphone. The Chinese manufacturers new smartphone comes in at just 4.85 mm thick, beaten only by 4.75 mm Vivo X5 Max.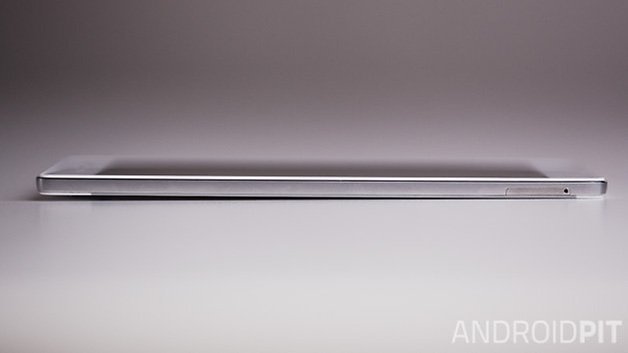 Record aside, the Oppo R5 sports a steel body, surrounded by a slightly raised metal edge which gives the handset a touch of elegance. The backplate is, unfortunately, non-removable, and beholds a metal design in the central part, which a lacquered material on the upper and lower portions of it.
The overall design of Oppo R5 reminds us much the iPhone 6, with similar camera placement and use of materials. Personally I don't mind the similarity between Android's eternal rival, but I prefer the complete aluminium body of the Galaxy Alpha.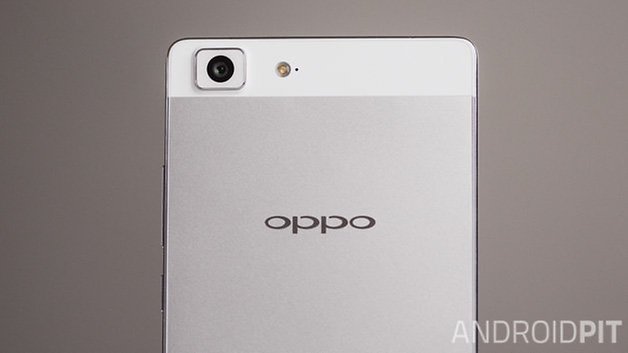 The minimalist design is compact and durable, the particular PVD (Physical Vapor Deposition) coating employed makes capable of taking a lot of pressure on both sides (said to be about 25 kg). In short, don't underestimate this little guy in terms of strength and durability. You can take a look at this fun video released by the Chinese brand to show how robust the Oppo R5 really is:
With its 148.9 × 74.5 × 4.85 mm size and 155 grams in weight, the Oppo R5 turns out to be pretty comfortable, even for smaller hands, though one hand operation might be out of the question.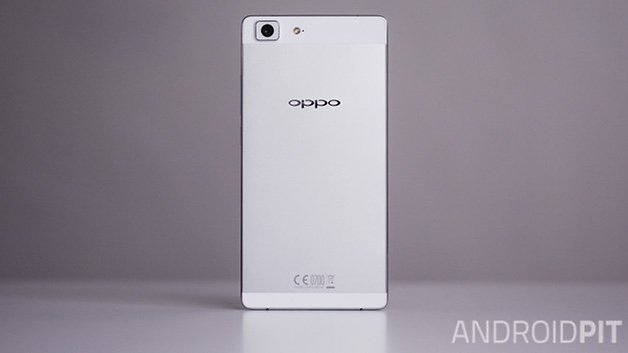 On the right side we find the volume control, followed by the power button, and on the underside is the USB port. There is no headphone jack, but the device comes with an adapter which allows you to connect headphones to the USB port. You will need a hairpin or something similar to open the slot dedicated to the Micro SIM card.
Above the display we find the infrared sensor and the front camera lens, while below appears the home, menu and back buttons. It's a carefully assembled and well-thought out design.
Oppo R5 display
The Oppo R5 sports a 5.2-inch full-HD (1920 x 1080 pixel resolution) AMOLED display, with 423 pixels per-inch. As soon as you pick up the smartphone, the bright and vivid colors will jump right out. Under direct sunlight, reflections on the display don't hurt the visibility of the text or other content. If, like us, you're particularly picky, you will notice that at maximum brightness, compared to other devices, the white shade tends towards a bluer hue.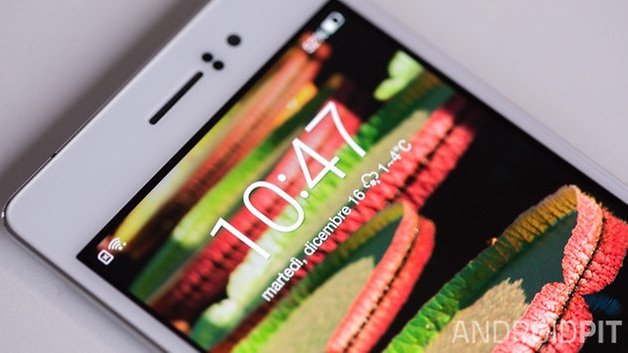 Contrast, viewing angles and brightness are all fantastic, with visibility at almost 180 degrees, but the display is at its best when playing videos and games in HD: the images are well defined, and highly detailed.
Oppo R5 special features
One of the interesting things about the Oppo R5 is that you can uninstall many of the pre-installed apps, including the system app, very easily. However it's the R5's use of gestures that is really impressive. Here are some cool things you can do with them:
Take a screenshot: slide three fingers up or down at any point on screen;

Take a screenshot by sliding three fingers on the screen! / © ANDROIDPIT

Adjust the volume: scroll with two fingers up or down on any screen;
Use with one hand: slide your finger starting from the bottom, left or right of the screen toward the center;
Activate the torch: on the screen with your fingers off draw an arrow pointing down;
Adjust the music: when the screen is turned off, drag two fingers down to start or stop a song;
Activate the camera: if the screen is active, place three fingers on the screen and spread them apart as shown in the tutorial below. If the display is off, draw a circle clockwise or counterclockwise;

Draw a circle on the screen when it is switched off and the camera will magically start! / © ANDROIDPIT

Adjust the zoom: with a triple tap on the screen you can enlarge any content displayed - keyboard and navigation bar excluded. To temporarily enlarge what is under your finger touch three times and hold for a few seconds. To return to the previous state, remove your finger from the screen.
If these gestures don't satisfy you, you can always create your own to work with different functions such as making a call, sending a text message, recording video, etc.
Oppo R5 software
The Oppo R5, like its big brother the Oppo N3, runs Android 4.4 Kitkat. If you were you hoping to find Android 5.0 Lollipop installed, don't worry, it will come eventually. In the meantime you can enjoy the intricacies and unique functions of the Oppo's ColorOS V2.0 version of Google's OS.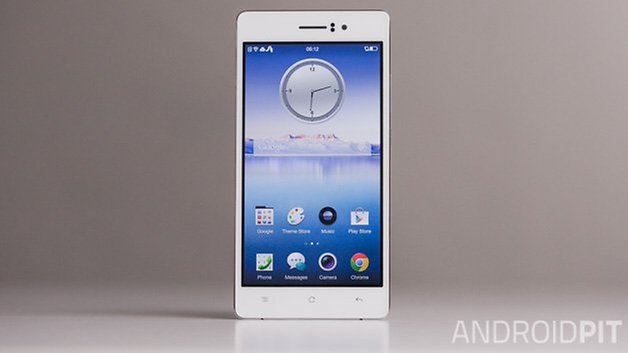 The overall user experience is generally intuitive, but in the test I did find some annoying slowdowns when using the keyboard, which didn't always respond quickly, and when dragging the notification bar up or down, which had similar response issues.
Among the settings there are a number of useful gestures for things like activating the camera, taking a screenshot, turning on the torch, adjusting the volume and more and the menu icons are nicely colored, though some entries in the settings have not been translated.
Oppo R5 performance
The Oppo R5 is equipped with an octa-core Qualcomm Snapdragon 615 processor running at 1.5 GHZ clock, which, despite its 8 cores, didn't always ensure brilliant performance. The processor is supported by 2GB of RAM and 16 GB of internal memory. If you usually fill your device with lots of files and apps, you might want to employ the services of something like the Cloud Play Store to get a bit more storage space.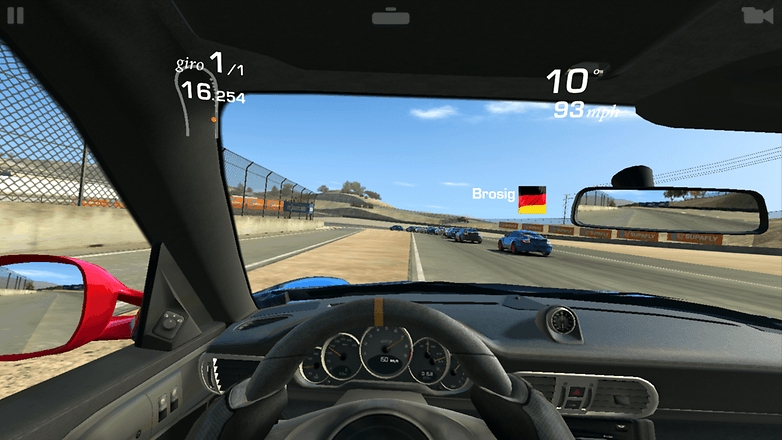 Video game lovers we have also thought of you, putting the R5 through its paces with Real Racing 3, Contract Killer Zombies and Soda Candy Crush Saga. During testing I was disappointed by the time taken to load some games: after 12 minutes of waiting, CK Zombies had loaded by 30%, but the same game took six minutes on Samsung Galaxy S4. Real Racing 3 required around 10 minutes before being ready for use, while Candy Crush Soda Saga took only a few. During the time I played, thankfully, there were no crashes whatsoever but I did find that after just 30 minutes of play the device started to overheat quite extensively, and even did so (to a lesser extent) when downloading apps.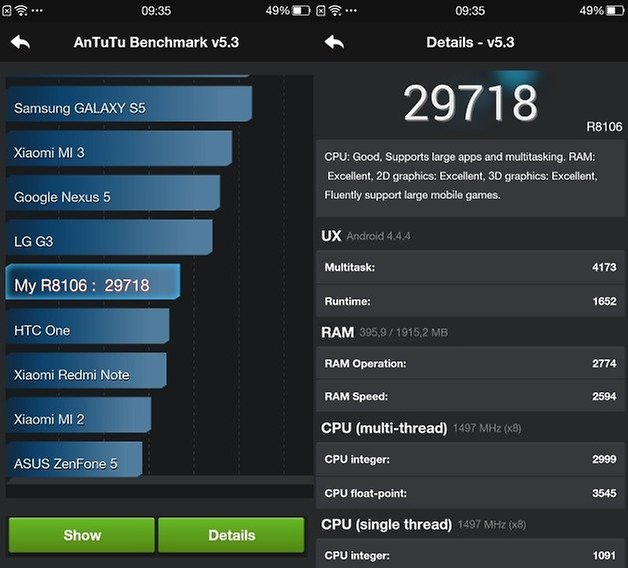 Oppo R5 camera
The Oppo R5 sports a 13 MP rear camera, with a sensor manufactured by Sony, and a 5 MP front-facing snapper with wide-angle lens. It seems that the Chinese brand wanted to focus on a good photographic experience and has implemented a number of shooting modes such as the Ultra-HD, to take pictures up to 50 MP, Night colored, for night photos, Slow action, Beauty, and Expert, with which you can manually change the ISO, exposure, focus and white balance.
Beauty mode is perfect for selfies and portraits in general and, even if you love Instagram, you'll be happy to find that the Oppo R5 has 7 great filters of its own.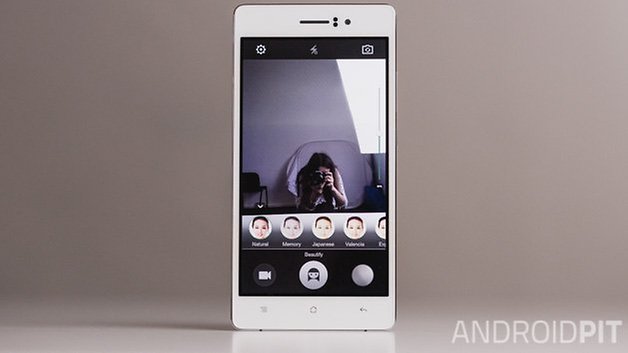 In our camera test, both photos indoors and outdoors offered vibrant and realistic colors, even in low light conditions. When viewed on a desktop computer, however, the photos don't look quite as sharp. The less powerful front camera also caused frequent blurring, and even in normal mode, without a filter, it seems that the colors have been slightly modified. Check out some of the pictures below.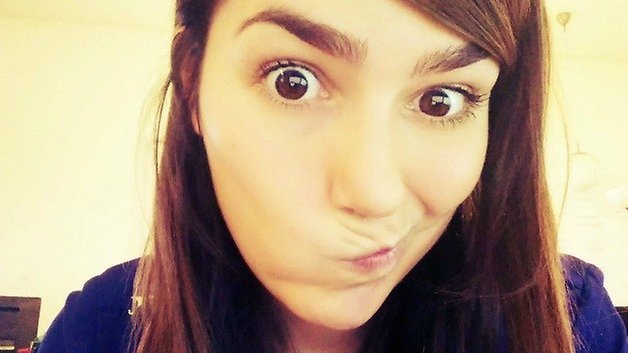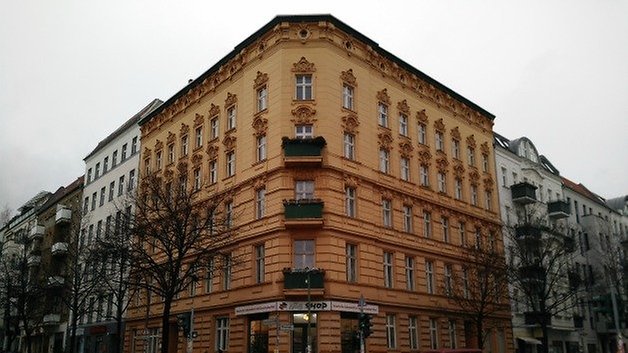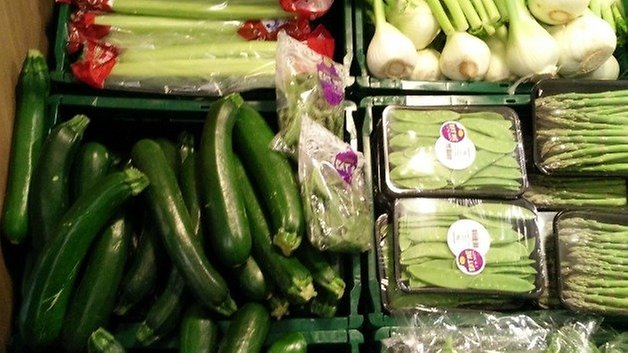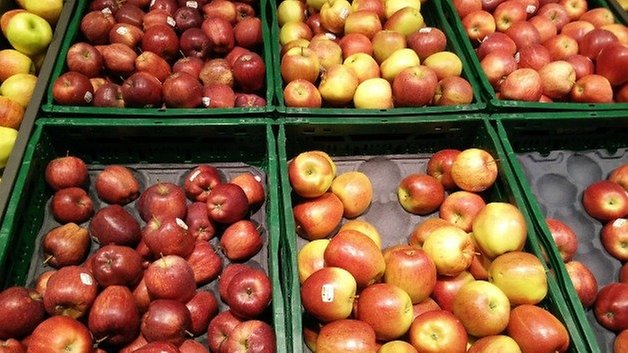 Oppo R5 battery
The Oppo R5 incorporates a non-removable 2000 mAh Li-Po battery with quick-charge. At 19% battery, I charged the battery with the supplied VOOC charger, and after an hour the Oppo R5 was fully charged. This is an extremely fast charge, but because the battery has a relatively small capacity, it also runs out quickly.
I used the smartphone from 12:00 to 18:00 to play games, download apps, sharing files via e-mail, rummage through the settings and take pictures: the battery went from 100% to 30% in those 6 hours. Moreover, a display so large and bright and a processor with 8 cores can really put a strain on the overall battery life.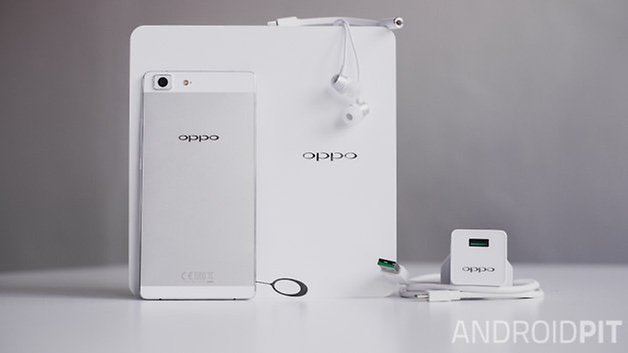 Turning to settings, you can activate a super saving battery mode, which keeps only the Phone, Contacts, Messaging and watch functions going. You can also find out the details of battery consumption and turn on a reminder which will notify you to charge the device when the battery reaches 40% charge.
Oppo R5: Price and release date
The Oppo R5 release date has not been confirmed beyond "end of December 2014" and Oppo R5 price is set at 499 USD. You can pre-order now on the official site oppostyle.
Oppo R5 technical specifications
| | |
| --- | --- |
| Dimensions: | 148.9 x 74.5 x 4.85 mm |
| Weight: | 155 g |
| Battery size: | 2000 mAh |
| Screen size: | 5.2 in |
| Display technology: | AMOLED |
| Screen: | 1920 x 1080 pixels (294 ppi) |
| Front camera: | 5 megapixels |
| Rear camera: | 13 megapixels |
| Flashlight: | LED |
| Android version: | 4.4.4 - KitKat |
| User interface: | ColorOS |
| RAM: | 2 GB |
| Internal storage: | 16 GB |
| Chipset: | Qualcomm Snapdragon 615 |
| Number of cores: | 8 |
| Max. clock speed: | 1.5 GHz |
| Connectivity: | LTE, NFC, Bluetooth 4.0 |
Final verdict
The Oppo R5 features a slim and elegant design, and some unique functions provided by the software which work really well. Despite my early positive impressions of the R5, though, further investigation revealed some problems which shouldn't be overlooked. The user interface is smooth, but the system can lag and the battery is just too small to power an octa-core processor and a large display. It's a nice design, but a slim body does not justify the 499 USD price tag.
Translated from the original review by Jessica Murgia of AndroitPIT Italy.