Oppo Find N2 review: The best is not good enough for the US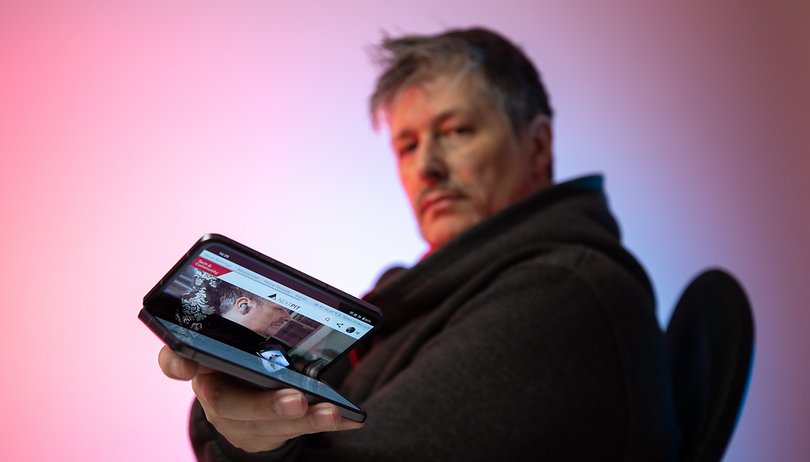 The Oppo Find N2 could establish itself as the star among foldable smartphones with its unique form factor. However, for reasons unknown to us, the OnePlus parent company would rather sell the Oppo Find N2 Flip internationally and jump on Samsung's success train of clamshell foldables. Nevertheless, we had the "middle ground" between Fold and Flip delivered to the NextPit editorial office and reviewed it in detail.
Good
Ingenious form factor (for now)

Decent battery life

Performance is more than sufficient

Ample memory

Outstanding main camera
Bad
No wireless charging support

No IP certification

Software does not maximize the form factor

Still expensive
The Oppo Find N2 in a nutshell
It is no big secret: The Oppo Find N2 follows its predecessor, the Oppo Find N, as a China exclusive handset. Instead, the Oppo Find N2 Flip, which was introduced in China at the same time, will be offered for sale in Europe and other western markets. Only the company knows why the BBK subsidiary wants to enter the global folding competition with the clamshell foldable of all things. In my opinion, an entry with the Oppo Find N2's unique form factor would have been much easier and more competitive.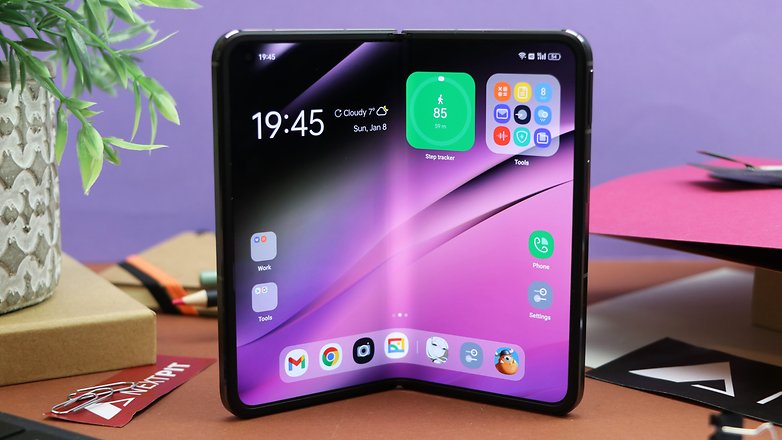 If you still don't want to be told which foldable smartphone is right for you, TradingShenzhen is there to help those of you who reside outside of China. The Oppo Find N2 is available in white, green, and black colors. The latter is available with imitation leather, the other two with a glass back. The storage options are 12/256 GB or 16/512 GB. The Chinese price is 7,999 yuan and 8,999 yuan, respectively, which is approximately $1,180 and $1,330 respectively, depending on the exchange rate.
At TradingShenzhen, you currently pay (as of 01/29/2013) 1,457 Euros for the base model or 1,579 Euros for the full configuration.
It is currently unknown whether the Oppo Find N2 will be sold outside of China at a later point in time.
Design & Display
Everybody says that the Oppo Find N2 has a special form factor. However, the aluminum frame with its volume rocker and the combined power and standby button including the fingerprint sensor on the right side is not what makes up the form factor, never mind the fact that it is chic.
What you might not immediately notice in a photo of the Oppo Find N2 is the striking difference in size compared to a "normal" smartphone. If we were to place my OnePlus 9 Pro and the Oppo Find N2 side by side in this example, the significantly smaller dimensions of 132.2 × 72.6 millimeters of the N2 automatically catches the eye.
What I liked:
Pleasant form factor.
Very good display properties.
High-quality workmanship.
Full-fledged AOD display.
What I disliked:
No IP certification.
Sharp folding edge.
Frequent unintentional contact with the fingerprint sensor.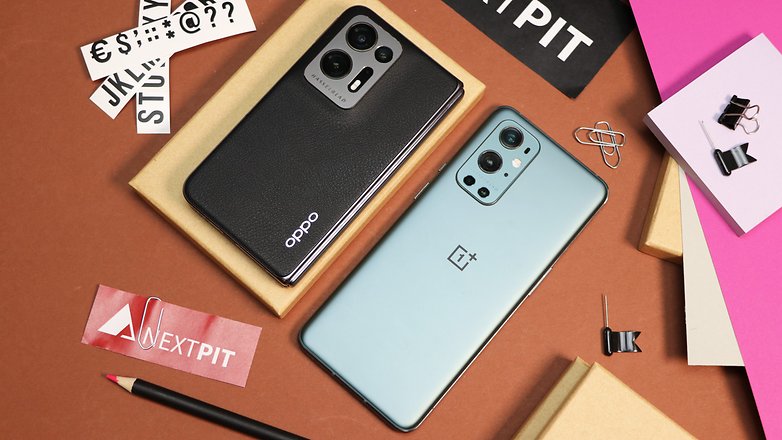 Of course, the folded Find N2 is more than twice as thick as a conventional smartphone at 14.6 millimeters. The competition—most recently with the Xiaomi Mix Fold 2 reviewed by Antoine and its "thickness" of 11.2 millimeters—performs that much better. The weight of the N2 stands at 237 grams, which is not much heavier than a conventional smartphone.
But before I go on to praise how well-made the Oppo Find N2 is, I will go ahead and ask the more important question about this foldable smartphone: What makes our review unit so special?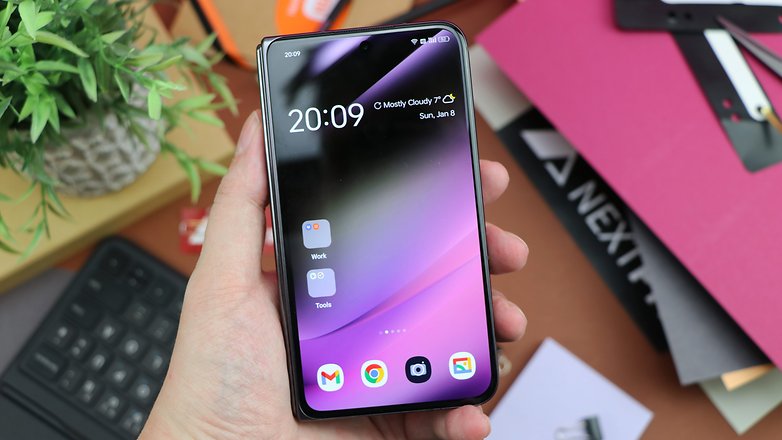 It is bigger than a Samsung Galaxy Z Flip 4 (review) or Motorola Razr 2022 (review) and smaller than a Galaxy Fold 4 (review) or Xiaomi Mix Fold 2. In greater detail, it has a 5.54-inch AMOLED display in 18:9 format on the outside. The resolution stands at 2,120 × 1,080 pixels and delivers a maximum refresh rate of 120 frames per second while being protected by Corning Gorilla Glass Victus. The maximum brightness stands at 1,000 nits, with 1,350 nits at peak. Thus, our outdoor display is a full-fledged display, something which the clamshell foldables simply lack.
The Find N2 only shows its full potential when opened.
On the inside, we find a 7.1-inch AMOLED panel—opened to 132.2 × 140.5 millimeters. It offers room for 1,792 × 1,920 pixels (370 PPI), which can even be brightened up to 1,550 nits in peak (normal: 1,200 nits). The refresh rate is automatically regulated between 1 and 120 hertz by the LTPO technology if desired, which definitely benefits the power consumption. The aspect ratio is 14:15, so it is a tad wider than tall.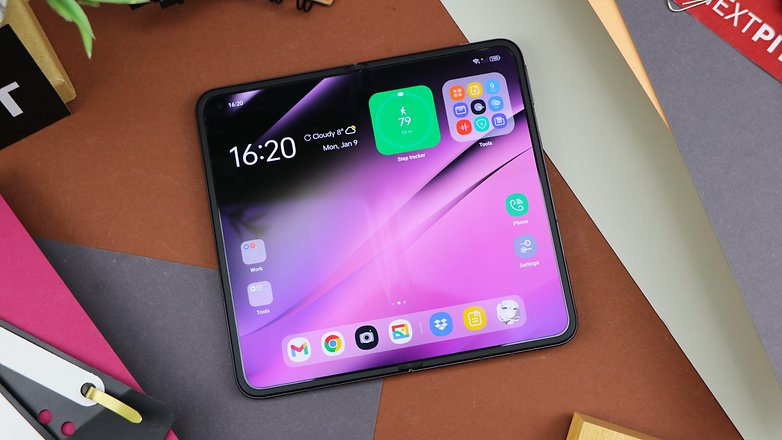 But there is one issue that is definitely noticeable when viewing YouTube, for example. Those who read my first hasty review will remember that I was thrilled by the feature that the N2 provides a video at the top while the comment area is located beneath. However, this only happens when it is turned to the right. This is because the "longer" edge of the panel has to be in landscape mode. This also causes the stereo speakers to be at a major disadvantage, whose sound I would describe as average and not too loud, as they end up partially covered by the left hand. They no longer radiate downwards but to the left (or right) side.
I don't want to and can't beat around the bush any longer at this point: Both displays offer a high contrast and dynamic range, the brightness also copes well with direct sunlight, and the viewing angle stability of both screens is also outstanding. But I am missing the big "wow" factor, the one that justifies the hole of almost $1,400 in the household budget.
No question: Once you get used to dual screens, the N2 plays out its advantages mercilessly, since it is not as unwieldy as a typical foldable smartphone. The "small" display works for quick tasks and the "big daddy" when you have two (or more) applications open at the same time for productivity tasks. People with big hands will probably be able to use the device with only one hand.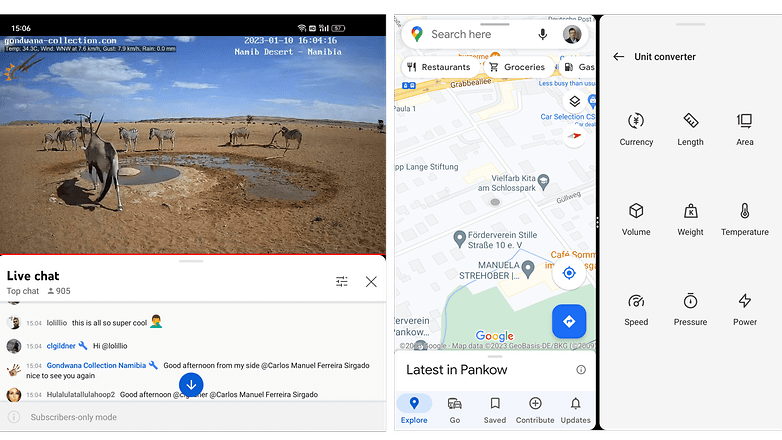 A clamshell foldable doesn't have this large of a display. Its display is simply as big as that of a conventional smartphone. At least on the Motorola Razr 2022—the Flip 4 is a bit too narrow for that. My concerns have probably become clear so far: The Oppo Find N2 is ultimately just a compromise— albeit an expensive one.
One final word: Despite the improved hinge, which can stay in any position, there is a clearly visible and noticeable folded crease, which was not present in the predecessor.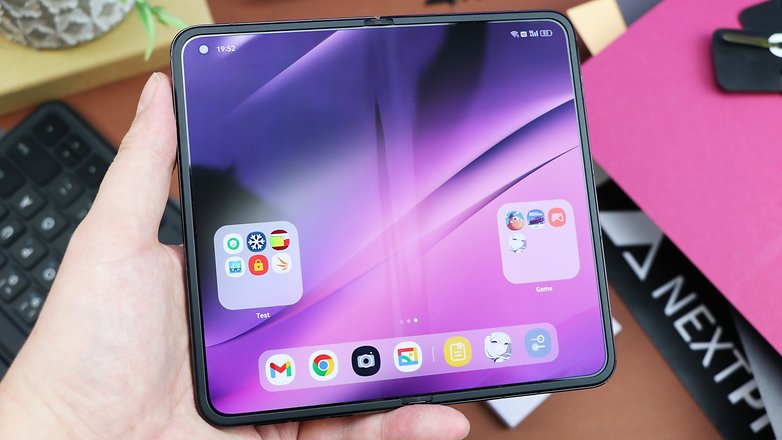 Software: ColorOS 13.0
The Oppo Find N2 arrived at the NextPit editorial office with ColorOS 13.0 that is based on Android 13. The Google security patch is dated December 5, 2022 (as of 01/28/2013). According to recent reveals, the company offers five years of security updates and four Android operating system upgrades.
What I liked:
Basic Android 13 on board.
A good update policy in principle.
A decent attempt at specially optimized software.
More languages to choose from.
Full HD streaming support.
What I disliked:
No support in the west.
Too few flex mode features.
Everyone who is thinking about getting the Find N2 will probably ask themselves the crucial question: Is my language available for the operating system and can I uninstall the useless applications that are available in no other languages but Chinese? The N2 is quite well positioned in terms of languages from the factory. Apart from traditional Chinese and English, we were surprised to find French, Japanese, Arabic, Vietnamese, Russian among others in the language selection.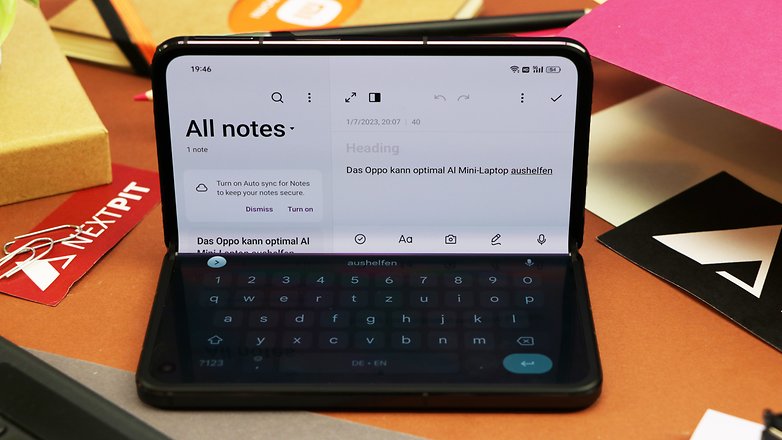 As far as the software is concerned, I have to say basically the same thing that I complained about last year with the first Find foldable: There is definitely too little software that has been optimized for Western needs. That would of course be understandable for a smartphone, which is also not intended for the global market.
I found a total of five applications that specifically support the 90-degree mode (FlexForm) and then, of course, except for the camera app, they are all only available in Chinese. In this context, it should be mentioned that almost all pre-installed apps can be uninstalled, though.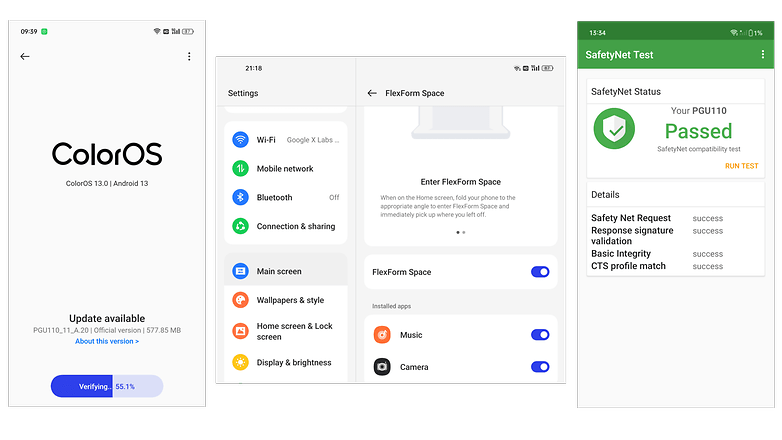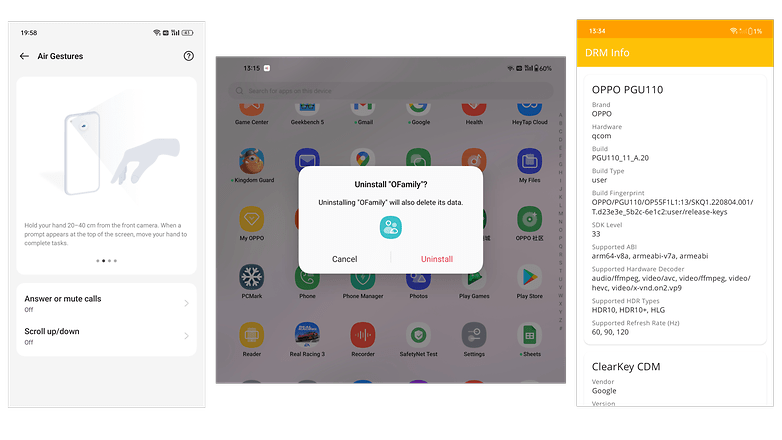 With the Google Mobile Services (GMS) including Google Play Store preinstalled by TradingShenzhen, nothing stands in the way of accessing the general app world—unlike Huawei. Both the SafetyNet and DRM (Digital Rights Management) tests have been passed and show Widevine L1 certification and approval for contactless payment via Google Pay (Google Wallet).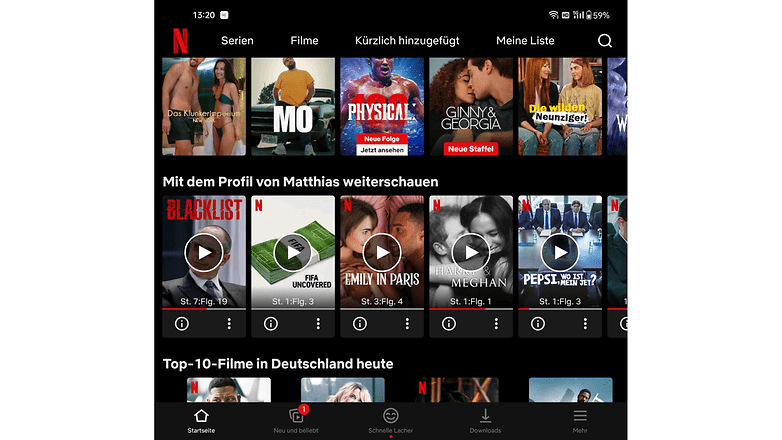 Oppo Find N2 performance
Oppo's Find N2 has a Snapdragon 8+ Gen 1 installed underneath the hood. The octa-core processor is not from the latest generation chipsets, as the 8 Gen 2 is already used in the Xiaomi 13 and 13 Pro. However, the Qualcomm processor with the Adreno 730 GPU (Graphics Processing Unit) is perfectly sufficient now and will remain so for many months to come. Even more so, since the Plus variant installed here is already known as a power-efficient and relatively cool chip.
What I liked:
Snapdragon 8+ Gen 1 delivers great perfromance.
Plenty of memory.
Equipped with LTE band 20.
What I disliked: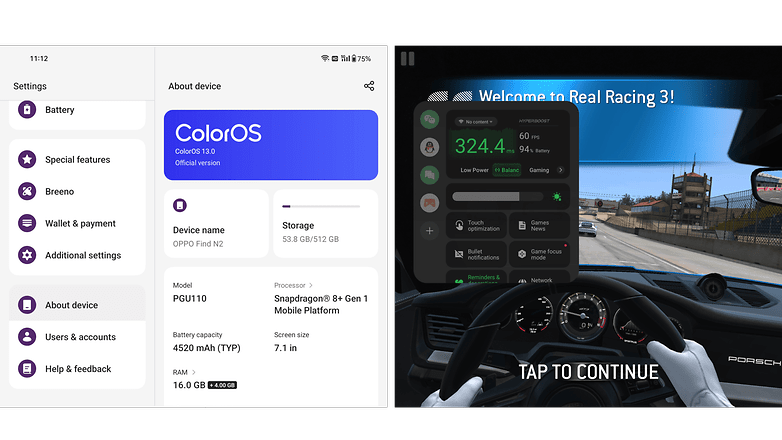 And what can I say—even on a foldable, you can and should probably also game properly. It won't surprise anyone that neither the processor nor the 16 GB RAM with its 512 GB internal UFS 3.1 ROM put a spoke in the proud owner's wheel here. Of course, there is also a slightly smaller capacity version of the N2 for "smart spenders", which comes with 12 GB of RAM and 256 GB of storage. It is questionable whether a missing microSD card slot is really a disadvantage in view of the available selection.
The N2 never let me down in terms of performance. The aforementioned heat development was also within limits, although it should be mentioned to Oppo's advantage that our review unit was adorned with an imitation leather finish.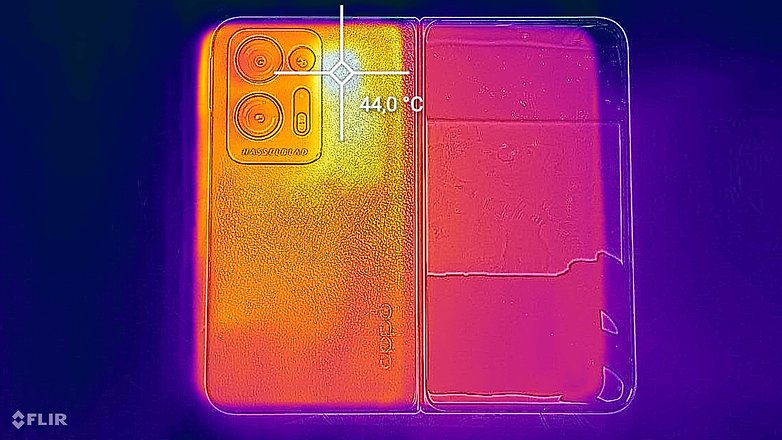 When it comes to cold, hard facts, we have the 3D Mark Wild Live and Geekbench benchmarks. For the first benchmark, the Find N2 had too much power right from the get go. It can clearly emerge as the winner in the stress test, and then only just has to admit defeat to the Galaxy Z Fold 4 in Geekbench 5.
Oppo Find N2
Samsung Galaxy Z Fold 4
Samsung Galaxy Z Fold 3
Huawei Mate XS 2
3D Mark Wild Life
Maxed Out!
8,611
5,683
5,793
3D Mark Wild Life Stress Test
Best loop: 10,389
Worst loop: 6,459
Best loop: 10,332
Worst loop: 5,606
Best loop: 5,579
Worst loop: 3,435
Best loop: 5,782
Worst loop: 3,267
Geekbench 5
Single: 1,046
Multi: 3,556
Simple: 1,332
Multi: 3,947
Single: 1,095
Multi: 3,239
Single: 840
Multi: 2,759
Oppo Find N2 camera
It did not really take long for the industry to provide decent camera hardware in the foldable smartphone sector as well. In the case of the Oppo Find N2, it is a 32 MP front-facing camera with a 1/3.14 inch image sensor, 22 mm equivalent focal length and an aperture of f/2.4 for the two displays alone. That is quite an announcement - but after all, the traditional Swedish name Hasselblad is at stake.
What I liked:
Terrific photo results for a foldable.
Decent front cameras.
The MariSilicon X image-NPU.
4K video at 60 fps.
What I disliked:
No 8K video.
Only 2x optical zoom.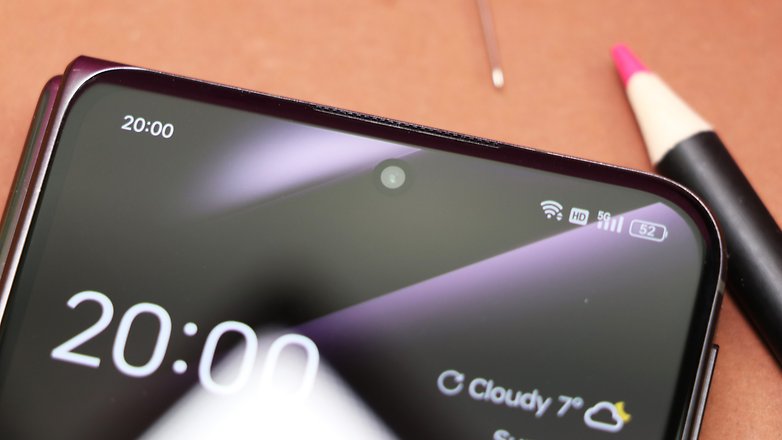 Things continue to convince ys at the back as well: the triple camera with the Hasselblad logo offers a 48 MP ultra-wide angle camera with a field of view of 115 degrees and an equivalent focal length of 14 mm at the very top. Below that is the 50 MP main camera with a 1/1.56-inch sensor that creates an equivalent focal length of 24 mm at a maximum aperture of f/1.8.
And next to the two vertically arranged "big" optics is the 32 MP telephoto zoom camera with an aperture of f/2.0 and an equivalent focal length of 47 mm. Oppo grants a 2x lossless zoom with the camera, digitally this goes up to a 20x magnification.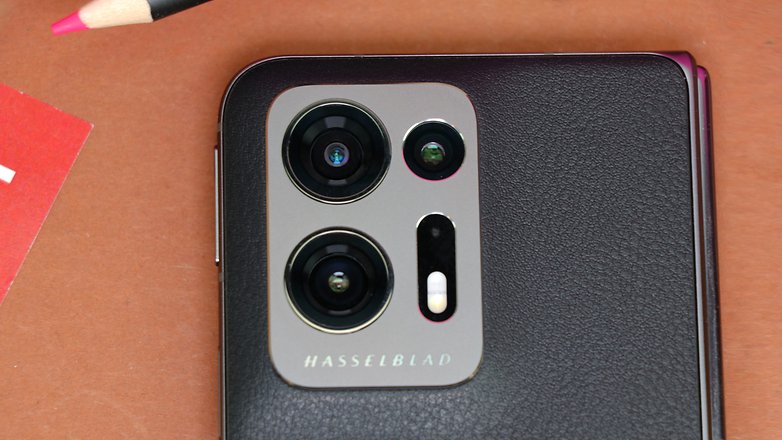 While the ultra-wide angle camera also takes care of macro shots, the telephoto camera reports for duty when it comes to portrait shots. Oppo has once again installed the MariSilicon X processor in its second-generation foldable. We were already impressed by it in our review of the Oppo Find X5 Pro. The (NPU) is primarily responsible for night recordings (videos and photos) as well as the lossless 20-bit RAW processing.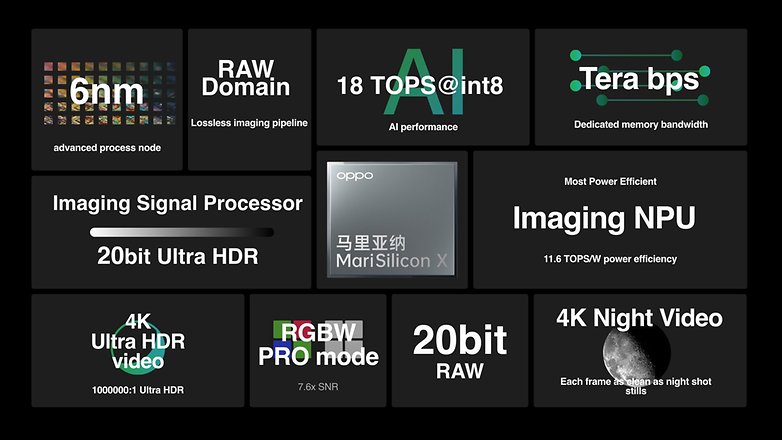 Unfortunately, this review took place at a more than unfavorable time in terms of weather. There is no bright sun, no blue sky, and nature did not have much in the way of colors to offer otherwise. We have taken great pains to publish a small portfolio of sample photos so that you can get a first impression of the Oppo Find N2's really good camera features.
Nevertheless, it is easy to see that the camera can get quite a bit out of it, especially in the field of low-light shots. Daytime shots, wide-angle, color fidelity, contrast, dynamics, and even macro shots succeed anyway. It is a shame to take sample photos in this weather, but the foldable unfortunately had to move on.
Oppo Find N2 battery
The Oppo Find N2 has a 4,520 mAh battery installed. It will not break any world records; but it has more than what the Samsung Galaxy Z Fold 4 offers with its 4,400 mAh and more than the predecessor, which is equipped with 4,500 mAh. Admittedly, I would have hoped for a bigger increase, but definitely not a drop in the feature set. But wireless charging and reverse charging have been done away with in this 2023 foldable.
What I liked:
Large 4,520 mAh battery.
67-watt power supply.
What I disliked:
No wireless charging.
Charging takes longer than advertised.
What's there in return? The Find N2 can now charge twice as fast. The 67-watt SuperVOOC power supply catapults the foldable smartphone from 0 to 100 percent battery capacity within exactly 60 minutes. That actually surprised me a bit, since Oppo advertised 42 minutes for the full charge. But after said time, it was just over 60 percent of the total battery capacity on my review unit.
The "PCMark Work 3.0 Battery Life" test did not run quite as smoothly either. With two displays, I thought to itself, I would have to do two different battery benchmarks—once for the display inside and once for outside. Using the inner panel, which by the way had to be turned down much further to reach the required 200 nits, I reached 11 hours and 31 minutes in the test—starting from 80 percent. I had problems with the stability of the battery benchmark in the test. Starting from 80 percent, eleven and a half hours is a very decent value—and that is also in line with my daily use.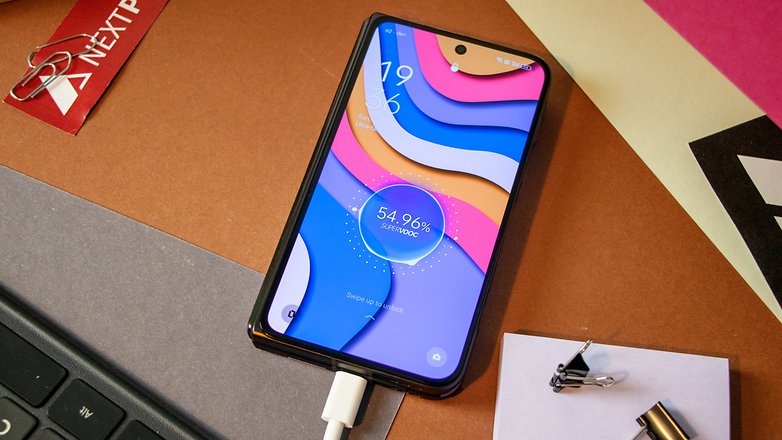 The external display, on the other hand, managed a whopping 13 hours and 44 minutes. In conclusion, however, it has to be noted negatively that the loss of wireless charging is annoying, especially since the predecessor was still able to do that and there is no adequate replacement, such as a much bigger battery. Again, an official explanation for the loss was not available. In fact, wireless charging is still an exception for a foldable and it does not really need it, since it easily gets through the day. But as the saying goes: Better to have more than to be in want.
Oppo Find N2 technical specifications
Technical data
Device
Image

Internal screen
7.1-inch AMOLED, resolution 1,792 x 1,920 pixels, 120-hertz refresh rate (LTPO)
1,200 nits (HBM), 1,550 nits (peak)
Outer screen
5.54-inch AMOLED, resolution 2,120 x 1,080 pixels, 120-hertz refresh rate
1,000 nits (HBM), 1,350 nits (peak) - Corning Gorilla Glass Victus
Dimensions
opened: 132.2 x 140.5 x 7.4 mm (H x W x D)
closed: 132.2 x 72.6 x 14.6 mm (H x W x D)
Weight
233 g (incl. battery) imitation leather
237 g (incl. battery) Corning Gorilla Glass
SoC
Qualcomm Snapdragon 8+ Gen1 (TSMC N4)
Memory
12/16 GB RAM
256/512 GB UFS 3.1 ROM
Software
Android 13 | ColorOS 13.0
Expandable memory
None
Main camera
50 MP | f1.8 aperture | 1/1.56 inch image sensor | 1.0 µm pixel size | OIS | PDAF
(Quad pixel binning 12.5 MP/2.0 µm)
24 mm equivalent focal length
Ultra-wide-angle camera
48 MP | f/2.2 aperture | | 0.8 µm pixel size | 115° viewing angle |
14 mm equivalent focal length
Telephoto camera
32 MP | f/2.0 aperture | 1/2.74 inch image sensor | 0.8 µm pixel size | PDAF
47 mm equivalent focal length | 2x optical zoom
Selfie inside
32 MP | f/2.4 | 1/3.14 inch Image Sensor
22 mm equivalent focal length
Selfie outside
32 MP | f/2.4 | 0.7 µm Pixel Size (Quad Pixel Binning 8 MP/1.4 µm)
Video (main camera)
Video (front camera)
4K at 30/60 fps | 1080p at 30/60/240 fps | Gyro-EIS | HDR
1080p 30 fps | Gyro-EIS
Audio
Stereo Speaker | Dolby Atmos
Battery
4,520 mAh
Charging via cable
Max. 67 W
Wireless charging (Qi)
No
UWB
No
Final verdict
I beg your pardon? Only 3.5 stars for a smartphone that is praised to the skies in every corner? Yes, I admit that it is a bit incomprehensible under certain circumstances. But the crux is not so much the smartphone itself; i.e. that an IP certification, an audio jack, or a microSD card slot are missing, for example. The displays, both inside and outside, are also very convincing, the performance is sufficient, the memory can be accessed to a sufficient extent, and I am also satisfied with the battery capacity and charging speed.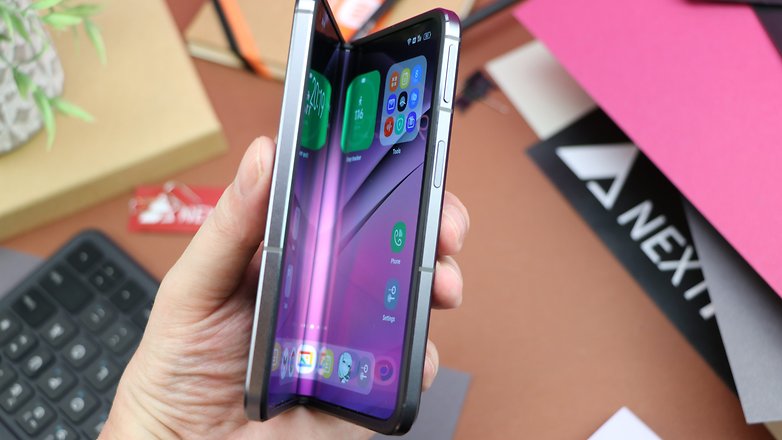 Even the Hasselblad camera is fundamentally a winner. However, in my opinion, Oppo does too little with this - and now for the last time - genius form factor. There would have been a lot more here in terms of how the almost square folding display could have been used. Of course, it is a smartphone that is only officially available in China. But even for Chinese standards, the five optimized applications are simply too few for me.
Once you have found a few applications that you can ideally use on the "big" screen at the same time, the decision to buy the Oppo Find N2 is justified. Because the fully functional 5.5-inch "small" outdoor display reliably takes care of all other tasks. If that is not the case, wait until the foldables get significantly thinner. Otherwise, the bulge in the trouser pocket might also be a burden in everyday life.