OnePlus Nord CE review: Great experience at a fair price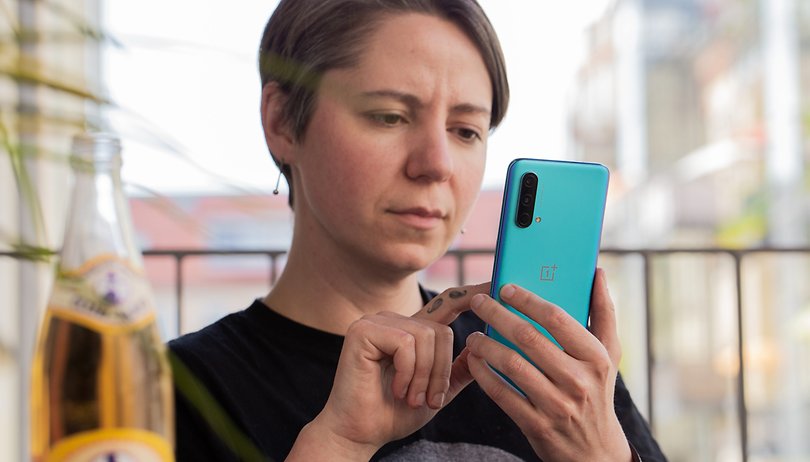 The OnePlus Nord CE 5G is the most affordable version of OnePlus' Nord series at this moment, and taking a look at its hardware and features, it is a strong contender to go toe-to-toe against Samsung's hugely popular Galaxy A52 5G handset. Considering this mid-range handset had to make some compromises on the camera and processor segment in order to keep the price at a competitive level, will it all work out in the end? Read on to find out more in our review.
Good
The device feels great to touch

Good battery life and fast charging supported

90Hz Full HD AMOLED display

5G support

3.5mm headphone jack
Bad
Limited camera capability

No microSD card slot

No IP certification
OnePlus Nord CE in a nutshell
The concept of OnePlus' Nord line was based on the idea of finding the "true north". Since I started using this smartphone, my constant impression is that the Nord CE is actually the essence of OnePlus. That is, the manufacturer has decided to give up on some important features, but continued to look forward to offering a great experience with the device. And to do so at a very affordable price is a very commendable effort.
With the OnePlus Nord CE, you will have a great experience with the software, without any limitations on the use of Google applications for instance, and a very smooth user experience. Battery life and charging time happen to be the highlights here, accompanied by a sleek, modern design in a lightweight chassis.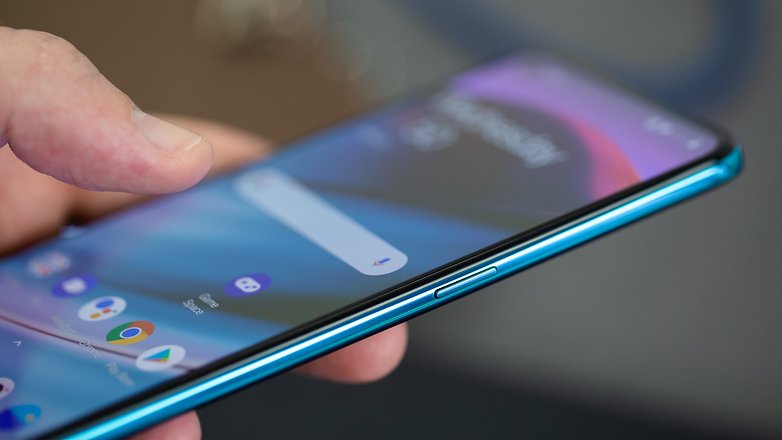 Enjoying media on this bad boy is a very pleasant experience due to the quality of the display and the inclusion of a 3.5 mm headphone jack - offering great value for those using affordable mid-range smartphones.
You will no doubt be able to enjoy support for at least two years of Android updates and three years of guaranteed security updates with the Nord CE. This would mean you would most probably be able to enjoy a solid three years' worth of use with the OnePlus Nord CE before looking to upgrade to a new smartphone.
However, the cameras on this device is far from brilliant, as this is where OnePlus decided to compromise in order to keep the price affordable. Performance-wise, it is also average, so don't set too high expectations when using this smartphone for intense gaming sessions and hoping to indulge in advanced graphics, as you would certainly have to reduce the graphics quality in order to maintain a stable frame rate.
Anyway, gaming is not the main purpose of this device in the first place, so it isn't such a big deal.
The acronym "CE" stands for "Core Edition", which again brings me back to the word "essence", but this time, in relation to what a smartphone should deliver: a great experience at a fair price. And that's exactly what the OnePlus Nord CE does.
Unfortunately, similar to the other models from the manufacturer, the OnePlus Nord CE 5G is not available for purchase in US now, but it can already be found in markets like Europe and China.
Sober, pleasant, and a very lightweight design
Even as a cheap smartphone, the OnePlus Nord CE is a very handsome device that feels great in the hands. The review unit that I received came in a shade of Blue Void, and even though the triple camera module protrudes in a rather obvious manner from the back, the sober design of the OnePlus Nord CE won me over in the midst of so many Samsung and Apple devices that are currently available.
What I liked:
Excellent grip
Just the right degree of thickness
The Blue Void color is a welcome addition in the mid-range smartphone market
A 3.5mm headphone jack!
What I didn't like:
It does not have water and dust resistance certification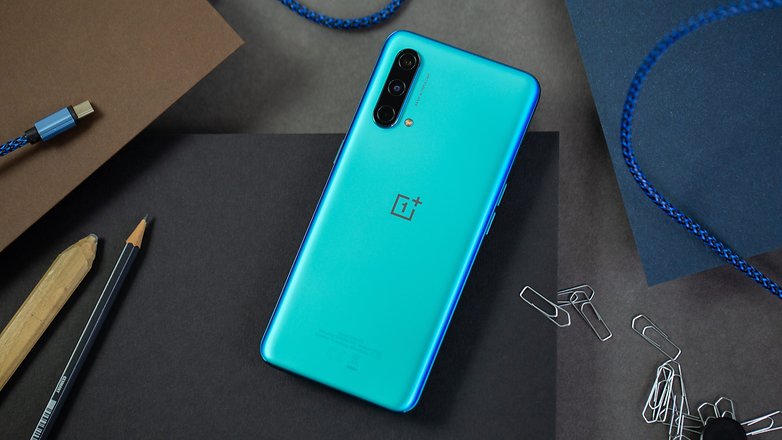 The matte finish at the back ensures that this does not end up as a fingerprint magnet, although it does so in a limited manner and the Charcoal Ink-colored model might be less capable in this department. At the beginning of this review, I used the Nord CE with an exclusive case sent by OnePlus, as the protrusion of the camera module bothered me somewhat. However, I stopped using it a few days later, as I appreciated the Blue Void shade and the smartphone's grip more than worrying about the device's physical safety.
Incidentally, despite having a 4,500 mAh battery, the OnePlus Nord CE is really thin, particularly when I compare it to models like the new Motorola Moto G30. This handset measures only 7.9 millimeters thick and weighs 170 grams. According to the manufacturer, this is the company's thinnest smartphone since the OnePlus 6T, and yes, it is something that you would quickly notice.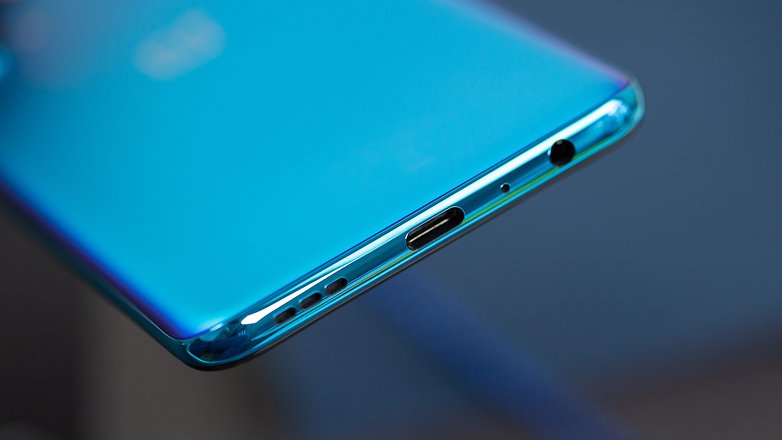 One of the features of the device that OnePlus made sure of highlighting was the 3.5mm headphone jack. Which, honestly, is not a surprise given that we're talking about a mid-range smartphone here.
A major downside is the device being made from polycarbonate and doesn't feature a Gorilla Glass display in front. We also miss out on an IP certification on the Nord CE, which leaves the device behind competitors such as Samsung. That's because the Galaxy A52 5G comes with IP67 certification right out of the box.
Also, some OnePlus fans will also be disappointed that we don't have the classic button at the side that allows you to switch to silent or vibrate modes quickly. However, this doesn't really affect the overall Nord CE experience, and it helped cut costs in order to keep it affordable.
Overall, the OnePlus Nord CE is a very nice looking device, feels great in the hands, but it's not as rugged as some of its competitors. So you might want to use it along with a protective case to avoid future issues with the camera module, for example. The fact that it is thin and light makes a difference when compared to models in the super battery life category.
90Hz Full HD AMOLED display
The display of the OnePlus Nord CE is a 6.43-inch AMOLED screen that delivers Full HD resolution. OnePlus has chosen to include a 90 Hz refresh rate and HDR 10 compatibility. In other words, we end up with a very good experience for media consumption, web surfing, and gaming.
What I liked:
Vivid colors and good degree of brightness
Fast fingerprint sensor
Dynamic refresh rate
What I disliked: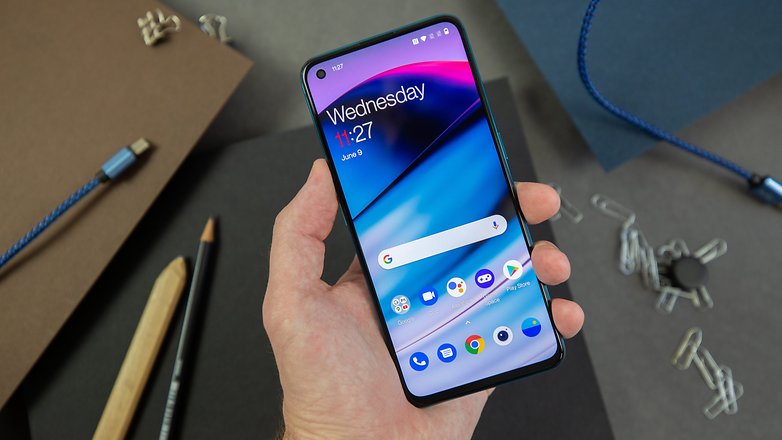 I'm a big fan of the OnePlus Nord CE's 20:9 screen aspect ratio, which provides the device a more elongated look and is great for watching videos. Also, due to OnePlus' software features, you gain a lot of flexibility when accessing the notification bar from anywhere on the screen.
Some people may criticize the fact that the Nord CE doesn't have a 120 Hz refresh rate, like the Galaxy A52 5G, for example, or the Xiaomi Redmi Note 10 Pro, which also used an AMOLED display. However, both models have a higher starting price point. For the sake of cost-effectiveness, I preferred not to put that as a negative point in this review.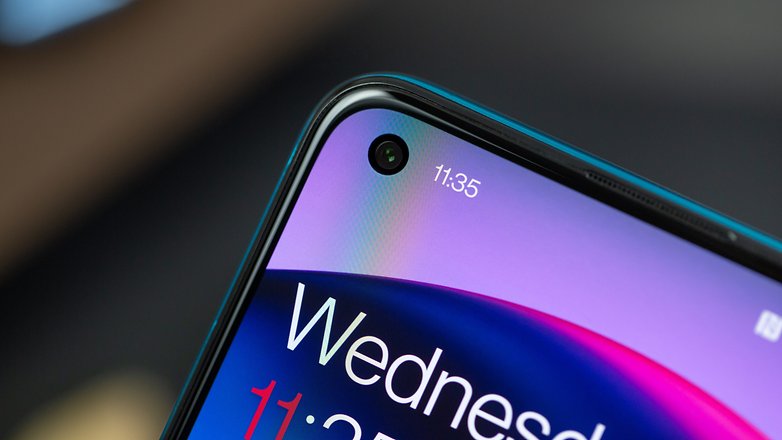 By having the dynamic refresh rate option, it allows the system to recognize content type on the screen and switch between 60 and 90 Hz, thus helping save battery life when we're watching a series on a streaming service. On the other hand, when we're browsing the internet, the system switches back to a faster refresh rate, making it a smoother viewing experience.
The biometric sensor was mounted on the screen right at the bottom, and I had no issues with it registering my thumbprint. I do not remember having problems during the entire time I used the smartphone.
The OnePlus Nord CE's screen is great for watching videos on YouTube or TV series and movies via your favorite streaming service. The 90 Hz is enabled by default and given the price of this smartphone, I understand that the company chose to offer a more affordable price over a higher refresh rate.
Intermediate SoC without microSD support
Just like the Galaxy A52 5G and the Xiaomi Redmi Note 10 Pro, the OnePlus Nord CE is powered by the Snapdragon 750G processor that offers 5G network support, mated to the Adreno 619 GPU. Memory and storage options are rather competitive for this mid-range smartphone, and we are presented with two variants: 6GB/ 8GB RAM and 128GB internal storage, and 12GB RAM and 256GB internal storage. However, OnePlus does not offer the ability to further expand the memory by using a microSD card.
What I liked:
Consistent performance
Two years of Android updates
Three years of security updates
Hardware doesn't overheat
5G network support
What I disliked:
The OnePlus Nord CE did very well in everyday tasks, which is expected from this mid-range SoC from Qualcomm, having been released in 2020. Here, all eight cores of the Snapdragon 750G do a great job and, as I mentioned above, with the dynamic refresh rate, we have a very fluid experience when using the smartphone not to mention being able to enjoy some more battery life to last you throughout the day.
Despite the good variety of storage options, the lack of a microSD memory card slot can be a problem for many people investing in smartphones within this price range. However, I need to highlight the fact that OnePlus doesn't even bother to offer a 64GB storage variant, which once again reinforces the "Core Edition" idea as mentioned above.
For this review, I had the chance to use a SIM chip with 5G internet, and while we don't have a lot of spectacular network experiences at the moment, I have to say that added to the overall experience, with 5G makes everything even smoother because of the minimal degree of latency.
I didn't experience any notable hardware overheating either, but I'm no gamer like my colleague Antoine Engels. During my OnePlus Nord CE review, I tested out games like Alto's Odyssey, Asphalt 9, and Free Fire. Everything ran very smoothly, without any noticeable performance drop.
However, this is a mid-range Qualcomm processor and as such, it has limitations on games that boast more advanced graphics. While you can even enjoy some of the more demanding titles, however, the reduction of the graphics quality will be necessary to maintain a stable frame rate. Check out the OnePlus Nord CE benchmark results below:
OnePlus Nord CE 5G benchmarks results
The OnePlus Nord CE was reviewed using the following configuration: 12 GB of LPDDR4x RAM, 256 GB of storage, and the Oxygen OS 11.0.3.3 operating system
Benchmarks
OnePlus Nord CE 5G
(Snap 750G)
Galaxy A52 5G
(Snap 750G)
Galaxy A72
(Snap 720G)
3D Mark Wild Life
1.116
1.090
1.048
3D Mark Wild Life Stress Test
1.106 ~ 1.111
1.090 ~ 1.093
1.044 ~ 1.048
Geekbench 5 (single/multi)
640/1.875
620/1.740
548/1.616
As far as software is concerned, the OnePlus Nord runs on OxygenOS 11 that is based on Android 11. The company guarantees at least two major software updates and three years of security updates. This means the OnePlus Nord CE has a longer shelf life for those who decide to buy the phone in 2021.
Using OnePlus' interface was also a breather from the pure Android experience of my Google Pixel 5. I was able to notice some small details that, at the end of the day, made using the smartphone even more enjoyable. One example of this is the red color that indicates the battery status of the headphones on the Bluetooth icon. Sometimes this helps alert me to charge my Bluetooth headphones before leaving the house.
Features like multi-window and multi-tasking worked really well on this device. I even caught myself using multi-windows given that the Nord CE's screen format allows for a nice experience with the feature.
In conclusion, despite not offering the option to expand the memory via microSD, OnePlus has chosen to offer competitive storage variants. However, it is clear that the price increases as the storage becomes larger, and this can be a negative point when compared to the competition. Both operating system and hardware fluidity are in line with what we expect from the internal components and what we have in the market. So, if you need more power, you might have to opt for devices with a higher price tag.
Triple camera without any surprises
OnePlus has placed a triple camera module in the Nord CE, with a 64 MP shooter as the main camera. We don't have a telephoto lens option here, while the zoom is digital, as well as lack a macro camera - something that is common in models within this category, and that's a good thing. OnePlus does offer fixes on its camera software to correct any flaws or bugs, but they don't always work.
Main camera: 64 MP, f/1.8 aperture
Ultra-wide camera: 8 MP, f/2.3 aperture, 119° field of view
Monochrome camera: 2 MP
Selfie: 16 MP (Sony IMX471), f/2.5 aperture, 1/3.0" sensor, 1.0µm (pixel size)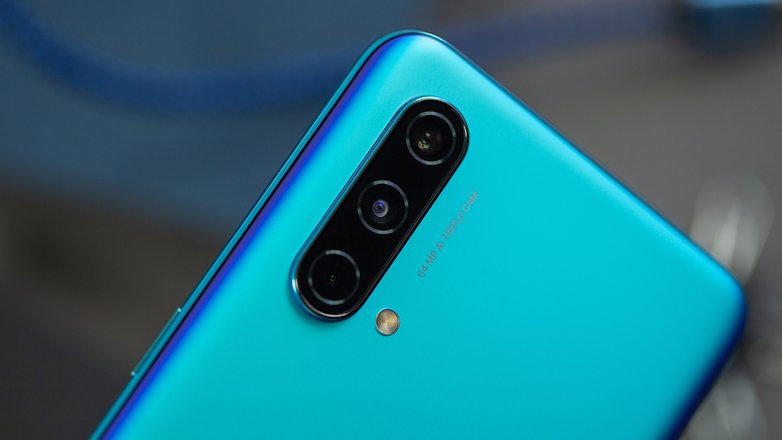 What I liked:
Colorful photos with good detail under good lighting conditions
What I disliked:
Software over-processes photos
Night mode is not always reliable
Proximity between lens and object confuse the software
It's no surprise that the camera of an affordable mid-range device offers lower image quality compared to more expensive models. This is also the case with the OnePlus Nord CE, where the camera does not deliver an amazing experience, but does well under good lighting conditions. The main camera of the Nord CE combines the 64 MP in groups of 4 to form a final 16 MP image, using a technique known as pixel-binning, which ensures a more detailed and lighter image.
During the day or in well-lit environments, the OnePlus Nord CE takes photos with good details, respecting the colorimetry, but the contrast can get lost in shadows. However, the software can sometimes overdo the processing, which tends to happen in night shots.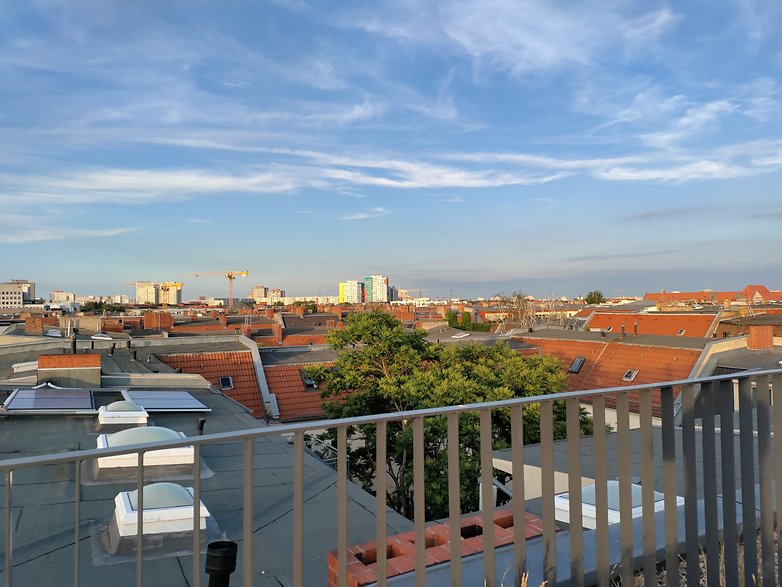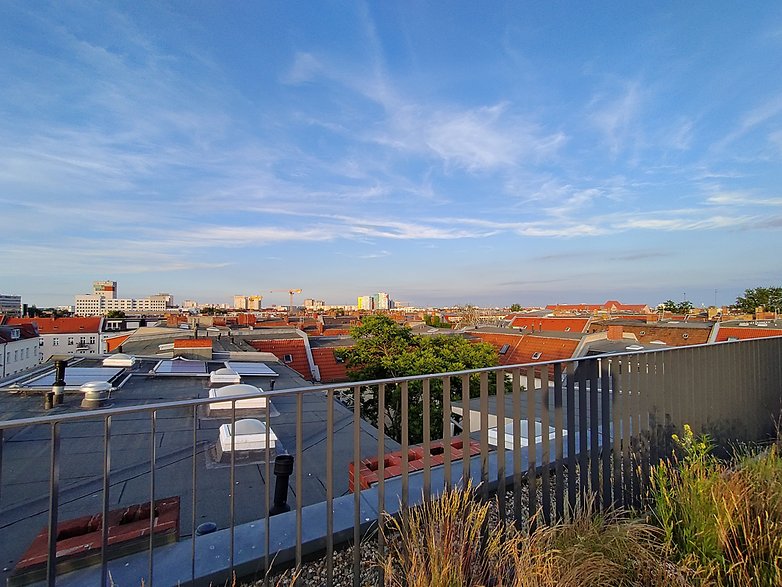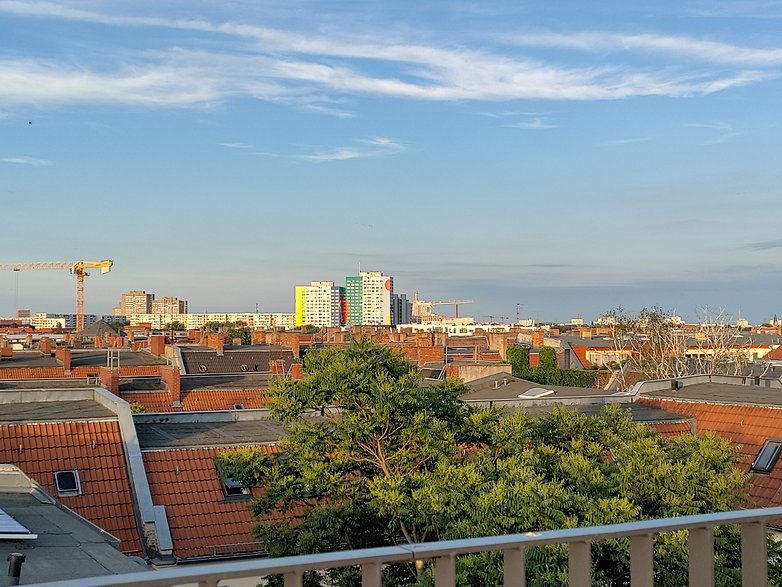 Also, when we bring the lens too close to the object we want to capture, the result is bad, because the software simply cannot make up its mind on what to focus upon as you can see in the almost-disfigured roses below.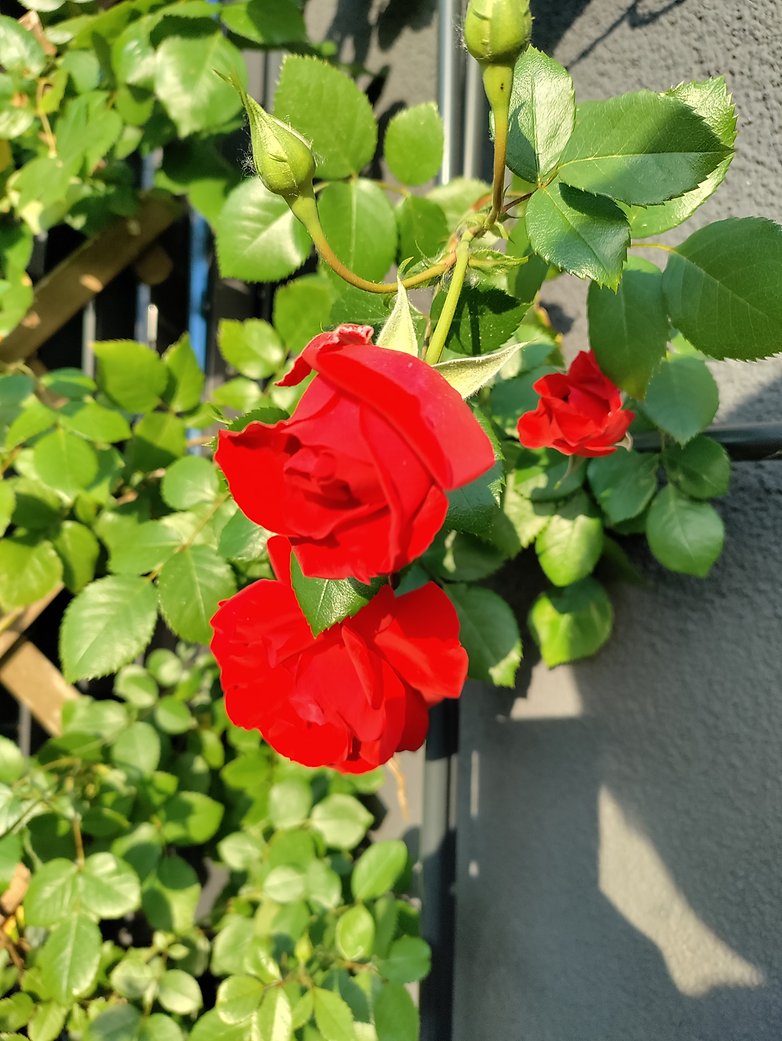 Using night mode is a lottery, sometimes it's good, other times, not so good. Depending on the scene, we get an over-processed photo with artificial colors at times. Below, here are some decent night mode shots: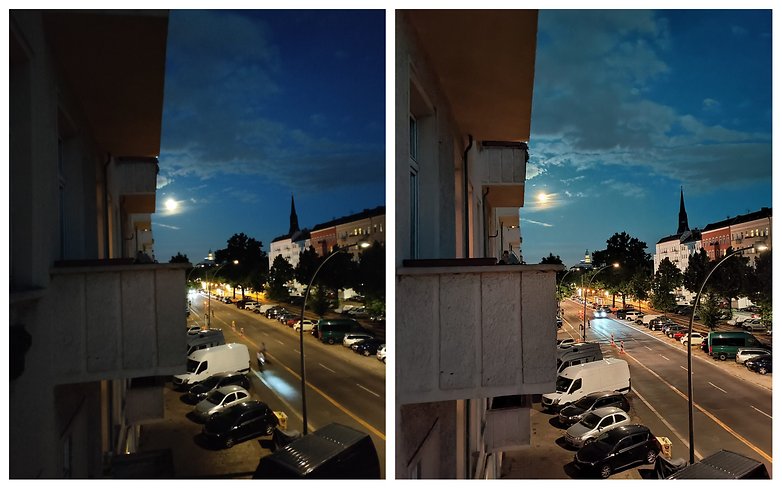 The front camera is good, and in good lighting conditions, it offers warmer colours, with detail and smooth contrast. However, when we enter low light territory as is the case of the photo in the center below, there is a certain imbalance of tones, where everything becomes more metallic. It does seem to me as though the software is trying to overcompensate for the absence of light once again.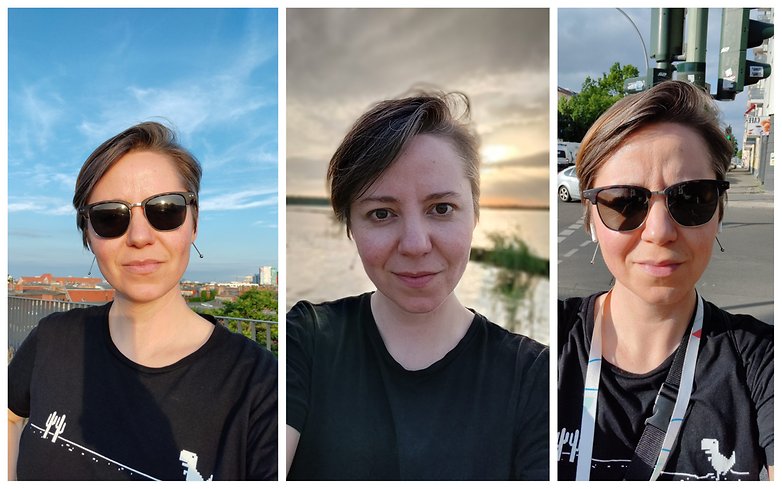 The camera isn't the highlight of the OnePlus Nord CE, but it does a good job overall. Under good lighting conditions, the photos respect the real-life colors and you can quickly share those shots with your contacts and on your social networks without any trepidation. When it comes to the night, you end up with more problems especially in indoor environments with low light. You also need to control the over-processing of the software from the settings to maintain a realistic look.
Really fast fast charging
The OnePlus Nord CE features a 4,500 mAh battery, with support for their "Warp Charge 30T Plus" charging technology. When compared to the OnePlus Nord which was released last year, we end up with a 10% increase in battery capacity.
What I liked:
Long battery life
Fast charging excels over the competition
Smart software options
What I dislike:
The battery life of the OnePlus Nord deserves to be highlighted as does its display. I had no problem arriving at the end of the day with a battery capacity of 30% and sometimes more. Of course, this is common in devices with 4,500 mAh, however, because it is so thin, I ended up forgetting about it and was very surprised to notice this achievement.
But even more important to me is the OnePlus Nord CE's charging time, which goes from 0 to 26% in just 10 minutes using the 30W Warp fast charging. A full charge was achieved in just 42 minutes.
Some software features also caught my attention, such as the aforementioned dynamic refresh rate and Optimized Charging (standard on Android).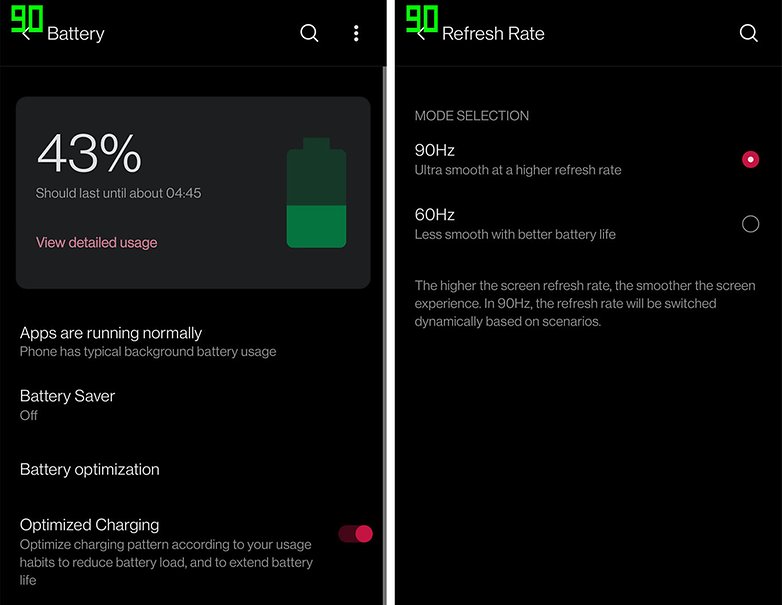 Overall, I was able to use the OnePlus Nord CE during the day without worrying about charging the device at the end of the day. The fast charging was one of the highlights of the device for me, as I had never used OnePlus' Warp Charge before. This is certainly a highlight over Samsung's Galaxy A lineup in 2021.
OnePlus Nord CE 5G technical specifications
In addition to the specifications sheet, here are some information that may be of interest to the NextPit Community and is summarized below:
The OnePlus Nord CE has NFC, and is compatible with proximity payment systems
The review unit allowed the use of two carrier SIMs, but has no microSD card slot
The operating system takes up 18 GB of storage space
The review unit came with a 30 W charger, a charging cable, a SIM tray opening tool and a protective cover
The software version during the review was OxygenOS 11.0.3.3.EB13BA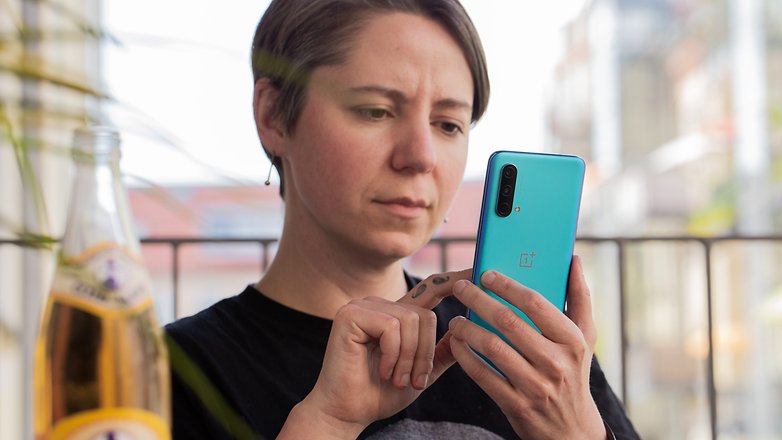 OnePlus Nord CE
These are the hardware features of OnePlus' new mid-range smartphone
Model
OnePlus Nord CE
Processor
Snapdragon 750G
Memory
6/8/12 GB
128/128/256 GB UFS 2.1

Expandable storage

None

Connectivity
5G
Screen

6.43-inch, AMOLED,20:9
2400 x 1080 pixels, 410 ppi
90 Hz

Size
159.2 x 73.5 x 7.9 mm
Weight
170 grams
Rear Camera

Main wide-angle 64 MP: f/1.8 aperture, 26mm equivalent, 0.7µm (pixel size), PDAF
Ultra wide-angle 8 MP: f/2.3 aperture, 119˚
2 MP monochrome

Front-facing camera

16 MP:(Sony IMX471) f/2.5 aperture, 1/3.0" (sensor size), 1.0µm (pixel size)

Video

4K@30fps video
1080p video @30/60/120fps
Gyro-EIS

Battery Capacity
4,500 mAh
Charging technologies

Warp Charge 30T (wired) 30 Watts

Audio
Mono speaker / 3.5 mm headphone connector
IP Certified
-
OS
OxygenOS 11 based on Android 11
Colors
Blue Void, Charkoal Ink, Silver Ray
Price

Starting from €299
Conclusion: A great experience at a fair price
The main weak point of the OnePlus Nord CE would be the camera, which I consider to be only decent. However, this was OnePlus' sacrifice to place an affordable smartphone on the market. Compared to the models available in the same mid-range, you might think that the Nord CE lags behind. 
However, the experience it offers at the starting price of £299 makes it more affordable than that of the Galaxy A52 5G and the Redmi Note 10 Pro. And yes, that alone makes a big difference.
On a day-to-day basis, the OnePlus Nord CE proved to be an excellent companion, particularly as it offers a really fast charging time, a great quality screen, and a set of cameras that deliver satisfying results.
What I liked most about this device, however, is what it represents: it's the essence of what a smartphone should offer at a fair value. You get what you pay for, and vice versa. Of course, if you need more storage space, a higher screen refresh rate, or superior performance, there are other options available out there. However, none of those make the OnePlus Nord CE an inferior device.
Unfortunately, the device is available only in limited markets now.
So, what's your opinion about the OnePlus Nord CE? I'm curious to know in the comments below.